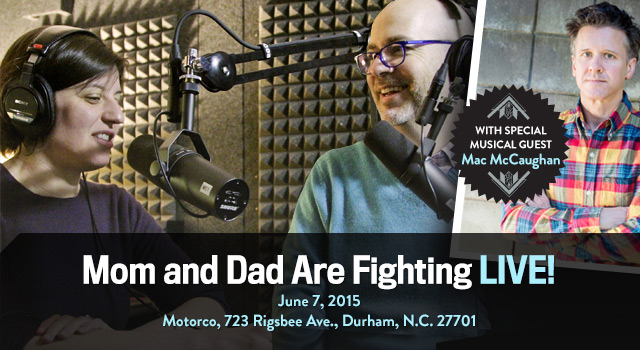 Slate's Mom and Dad Are Fighting LIVE!: The Indie Rock Parenting Edition
Hosted by Allison Benedikt and Dan Kois with special guest Mac McCaughan.
Advertisement

Slate's parenting podcast Mom and Dad Are Fighting is coming to the Triangle! Join us Sunday, June 7, for a live podcast recording at Durham, North Carolina's Motorco.
Hosts Allison Benedikt and Dan Kois are excited to welcome special guest Mac McCaughan, co-founder of Durham's own Merge Records, Superchunk lead singer and songwriter, and solo artist whose new album Non-Believers is out now. Allison, Dan, and Mac will discuss indie rock dadhood, reveal triumphs and fails, talk about parenting in the news, and more. Plus: Mac will finish up the show by playing a few songs from his life as a dad.
Pre-sale for members starts at 8 a.m. on Tuesday, May 12 and will end 8 a.m. on Wednesday, May 13.
If you are a Slate Plus member you will receive 30 percent off your ticket purchase. Use your Upcoming Events tool in the Slate Plus dashboard on the right side of the Slate Plus home page to receive your individualized discount code. The discount code will also unlock the 24 hour pre-sale.
If you'd like to become a Slate Plus member, click here.
Featured Speakers Bios

Allison Benedikt is Slate's executive editor. Follow her on Twitter.

Dan Kois edits and writes for Slate's human interest and culture departments. He's the co-author, with Isaac Butler, of The World Only Spins Forward, a history of Angels in America, and is writing a book called How to Be a Family.
Map