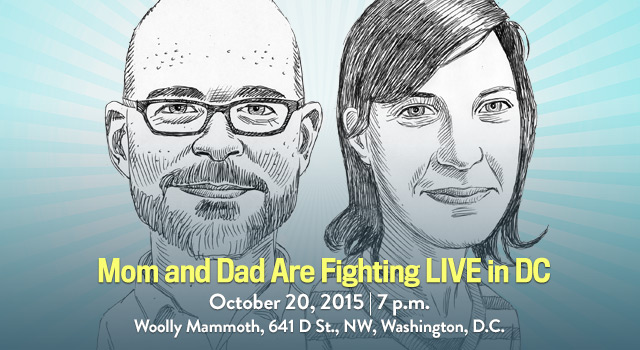 Slate's Mom and Dad Are Fighting LIVE! With Special Guests Valerie Jarrett, John Dickerson, and Stephen Thompson

Slate's parenting podcast Mom and Dad Are Fighting is coming to the District! Join us Tuesday, Oct. 20, for a live podcast recording at Woolly Mammoth Theater.
Advertisement

Hosts Allison Benedikt and Dan Kois are excited to discuss the triumphs and fails of parenting, talk about parenting in the news, and much more. They'll be joined by White House Senior Advisor Valerie Jarrett, plus John Dickerson of CBS's Face the Nation and Slate's Political Gabfest. Stephen Thompson of NPR's Pop Culture Happy Hour will also join us to discuss the joys of imposing your own pop culture taste on your children!

Woolly Mammoth Theatre Company continues to hold its place at the leading edge of American theater. Woolly Mammoth Theatre Company has become one of the best known and most influential midsized theaters in America.
You can buy your cocktail ticket AND a show ticket for $35 or a show ticket for $15.
Doors open at 5:30 p.m. for cocktail hour and 6:30 p.m. for the live show.
If you are a Slate Plus member, you will receive 30 percent off your ticket purchase. Use your Upcoming Events tool in the Slate Plus dashboard on the right side of the Slate Plus home page to receive your individualized discount code.
Featured Speakers Bios

Allison Benedikt is Slate's executive editor. Follow her on Twitter.

Dan Kois edits and writes for Slate's human interest and culture departments. He's the co-author, with Isaac Butler, of The World Only Spins Forward, a history of Angels in America, and is writing a book called How to Be a Family.
Map