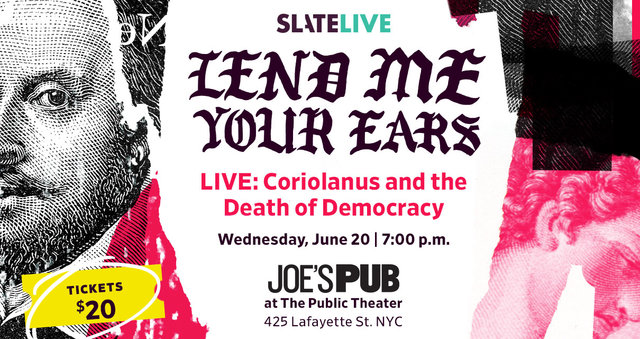 Join Isaac Butler, the host of Slate's new Lend Me Your Ears podcast, Michael Sexton, the Director of the Public Shakespeare Initiative, and a panel of experts and artists for an exploration of Shakespeare's Coriolanus, the story of what happens when an ill-informed, easily manipulated populace elects the wrong man – and then un-elects him. Lend Me Your Ears is a new podcast from Slate that examines the ways Shakespeare's plays can inform, illuminate, and interrogate our current political moment. The evening will also feature readings from Coriolanus.
If you are a Slate Plus member, you will receive 25 percent off your purchase. Use your Upcoming Events tool in the Slate Plus dashboard on the right side of the Slate Plus home page to receive your individualized discount code to access tickets.
Featured Speakers Bios

Isaac Butler hosted Slate's Lend Me Your Ears podcast. He is the co-author, with Dan Kois, of The World Only Spins Forward: The Ascent of Angels in America, and is currently working on The Method, a narrative history of method acting, for Bloomsbury.
Map