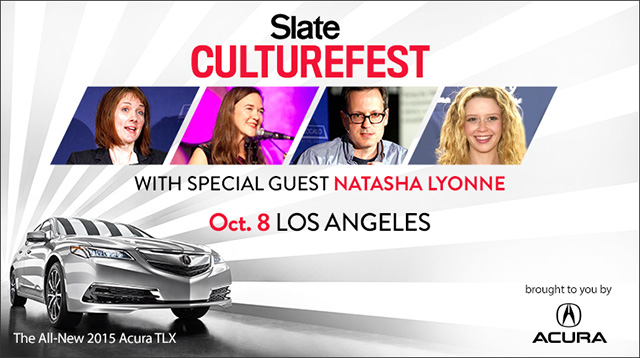 Slate's Culture Gabfest podcast traveled to Los Angeles for a live Culturefest show on Oct. 8! Slate editor-in-chief Julia Turner, Slate movie critic Dana Stevens, and Slate critic at large Stephen Metcalf offered a provocative and wildly entertaining evening of conversation and analysis of cultural news. They covered the best of fall culture, from film to TV to music and more, and special guests—including Natasha Lyonne from Orange Is the New Black, actress and stand-up comedian Jenny Slate, and John August and Craig Mazin of the popular screenwriting podcast Scriptnotes—were on hand to ignite thought-provoking conversations. Don't miss the opportunity to listen to the live podcast below.
If you'd like to become a Slate Plus member, click here.
Featured Speakers Bios
Julia Turner, the former editor in chief of Slate, is a regular on Slate's Culture Gabfest podcast.

Dana Stevens is Slate's movie critic.
Map