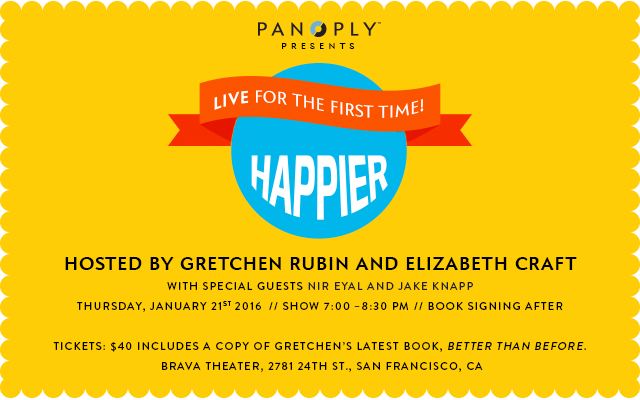 Panoply's Happier LIVE for the first time! Hosted by Gretchen Rubin and Elizabeth Craft

Gretchen Rubin, #1 bestselling author of The Happiness Project and Better Than Before, and her younger sister, Elizabeth Craft, a TV writer and producer living in Los Angeles, are the charming duo behind Panoply's Happier podcast. Each episode features a fun conversation full of practical, manageable advice about happiness and good habits. Now you can see them on stage together for the first time. Happier's first-ever live show will be at Brava Theater in San Francisco on Thursday, January 21st.

Gretchen and Elizabeth will be joined by special guests Nir Eyal and Jake Knapp. You'll leave happier!

All attendees are invited to stay after the show to celebrate the paperback release of Gretchen's latest book, Better Than Before. Tickets to the show include a copy of the book and opportunity to meet the hosts and have your book signed.
Advertisement

If you are a Slate Plus member, you will receive 30 percent off your ticket purchase and 24-hour early access to tickets. Use your Upcoming Events tool in the Slate Plus dashboard on the right side of the Slate Plus home page to receive your individualized discount code that will unlock the pre-sale and discount.

Map