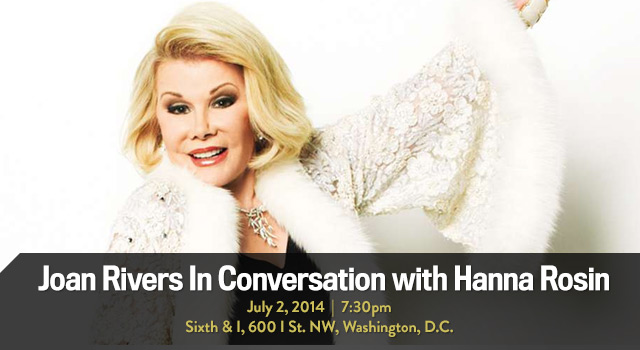 DETAILS
A Sixth & I Event.

Following up on her New York Times best-seller I Hate Everyone…Starting With Me, the unstoppable Joan Rivers is at it again with Diary of a Mad Diva. When her daughter, Melissa, gives her a diary, at first Joan is horrified—who the hell does Melissa think she is? Bridget Jones? But as she begins to record her day-to-day musings, she realizes she has a lot to say.
About everything. And everyone. God help them.
Follow Joan as she delivers blistering critiques on current events and excoriating insights about life, pop culture, and celebrities, all in her relentlessly funny signature style. Diary of a Mad Diva is a provocative exploration of an age in which Joan has lived on and on and on and on. Rivers will be in conversation with Hanna Rosin, a senior editor at the Atlantic, a founder and editor at DoubleX, and author of The End of Men.
Doors open at 6:30 p.m.

Featured Speakers Bios

Hanna Rosin is the co-host of NPR's Invisibilia and a founder of DoubleX. She is also the author of The End of Men. Follow her on Twitter.
Map