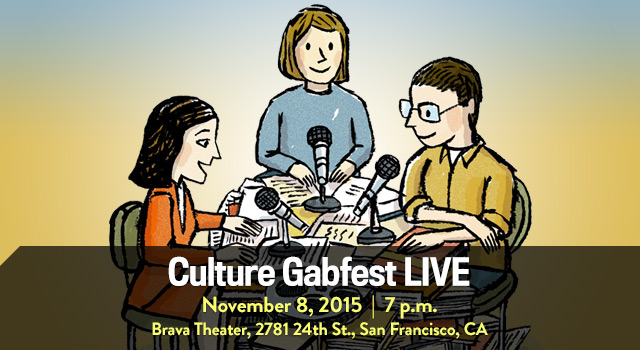 Slate is bringing the Culture Gabfest, its wildly popular weekly podcast, to San Francisco!
This live recording of the show will feature regular co-hosts Stephen Metcalf, Julia Turner, and Dana Stevens as they discuss and debate the most compelling cultural happenings of the week. Audience members will be treated to a number of lively discussion segments and encouraged to engage with the hosts during a live Q-and-A following the show.
We will also have a preshow cocktail hour with the hosts from 5:30 p.m.–6:30p.m. Each ticket holder will receive one complimentary drink. Only 40 tickets for the cocktail hour will be sold, so get them while they last!
Doors open at 5:30 p.m. for cocktail hour and 6:30 p.m. for the live show.
If you are a Slate Plus member, you will receive 30 percent off your ticket purchase. Use your Upcoming Events tool in the Slate Plus dashboard on the right side of the Slate Plus home page to receive your individualized discount code.
Featured Speakers Bios
Julia Turner is the editor in chief of Slate and a regular on Slate's Culture Gabfest podcast.

Dana Stevens is Slate's movie critic.
Map