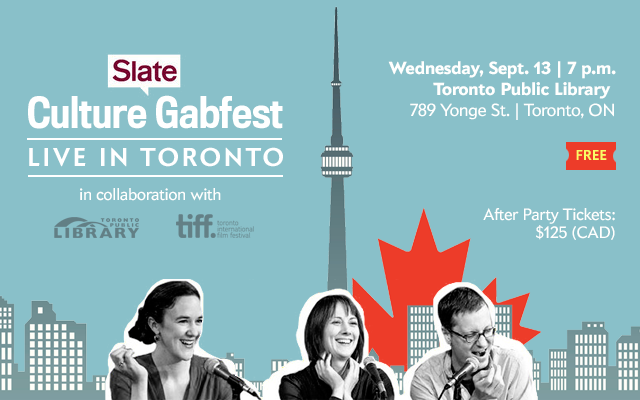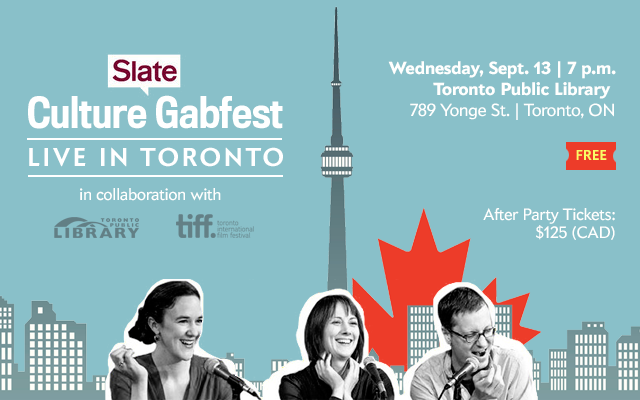 Want to party with the hosts of Slate's Culture Gabfest? Reserve your spot now.
Join Slate's Culture Gabfest for its first Toronto live show in collaboration with the Toronto Public Library and the Toronto International Film Festival. Hosts Stephen Metcalf, Dana Stevens, and Julia Turner will be in town to discuss and debate the most compelling cultural happenings of the week. They'll be joined by Slate's music critic Carl Wilson. Audience members can stick around for a live Q-and-A session after the show.
The live show is free and open to the public. You'll be able to register with the library beginning at 9:00 a.m. on August 23. Seating is available on a first come, first served basis and will not be guaranteed.
A very limited number of fans can purchase tickets now to attend an exclusive after-party with the hosts from 8:30–10 p.m. Ticket holders will have a guaranteed spot at the show, and will join the hosts and special guests for drinks and light food immediately after. The venue will be within a short walk of the library, and an email with location will go out two weeks prior to attendees.
Doors open at 6:00 p.m. for the live show and 8:30 p.m. for the after-party.
If you are a Slate Plus member, you will receive 20 percent off your after-party ticket purchase. Use your Upcoming Events tool in the Slate Plus dashboard on the right side of the Slate Plus home page to receive your individualized discount code.
If you'd like to become a Slate Plus member, click here.
Featured Speakers Bios
Map