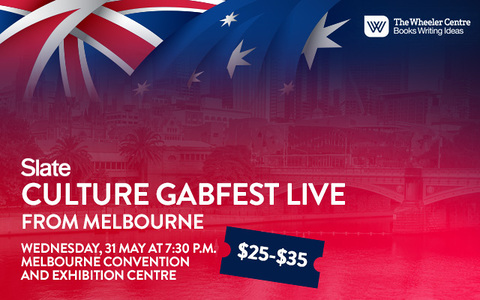 Slate's Culture Gabfest is both a stalwart and a pioneer of American podcasting and one of its most consistent successes. For almost a decade, the show's fizzing erudition has been collecting fans with its precise, entertaining, and illuminating discussions of culture—high, low, and other—and its social and political implications.
Each week, hosts (and Slate staff critics/editors) Stephen Metcalf, Dana Stevens, and Julia Turner choose three topics to discuss, sometimes joined by an insightful guest. Their quick-witted (and typically self-effacing) rapport underpins lively, substantial arguments about their chosen texts. They're funny. They disagree, sometimes furiously. But whether they're elevating or eviscerating one another's points, their love of culture—and awareness of how inescapable it is, for what it says about how we live and understand our lives—is a constant.
In Australia for the first time, and live in Melbourne, Turner, Stevens, and Metcalf will record an episode in front of an audience, joined by indie rock auteur Courtney Barnett. So, whether you're into music or film, or premium or reality TV, or books, theatre, or longform essays—whatever your entertainments—come and talk it out.
Featured Speakers Bios

Dana Stevens is Slate's movie critic.
Julia Turner is the editor in chief of Slate and a regular on Slate's Culture Gabfest podcast.
Map