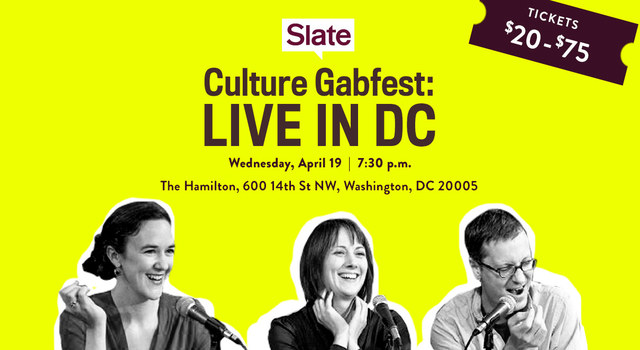 See the Slate Culture Gabfest live in D.C. for the first time. Hosts Stephen Metcalf, Dana Stevens, and Julia Turner will discuss and debate the most compelling cultural happenings of the week with their typical verve and charm. Audience members can stick around for a live Q-and-A session immediately after the show.
For a very limited number of fans there will be a pre-show cocktail hour with the hosts from 5:30–6:30 p.m. Those who purchase the cocktail package will receive one complimentary drink with the hosts beforehand and select seating at the show.
Doors open at 5:30 p.m. for cocktail hour and 6:30 p.m. for the live show.
If you are a Slate Plus member, you will receive 30 percent off your ticket purchase. Use your Upcoming Events tool in the Slate Plus dashboard on the right side of the Slate Plus home page to receive your individualized discount code.
If you'd like to become a Slate Plus member, click here
Featured Speakers Bios

Dana Stevens is Slate's movie critic.
Julia Turner is the editor in chief of Slate and a regular on Slate's Culture Gabfest podcast.
Map