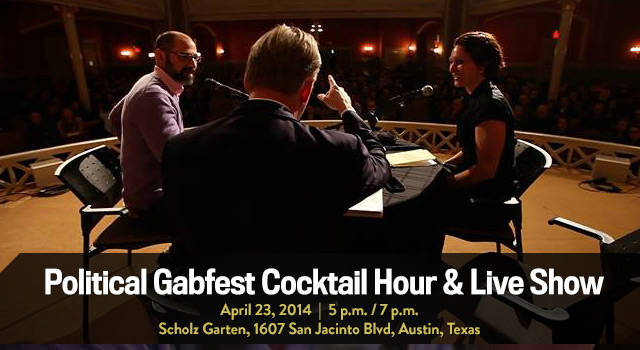 April 23 2014 7:00 PM
1607 San Jacinto Blvd., Austin, Texas 78701 (map)
Tickets: $55 for Cocktail & Show/ $25 for Show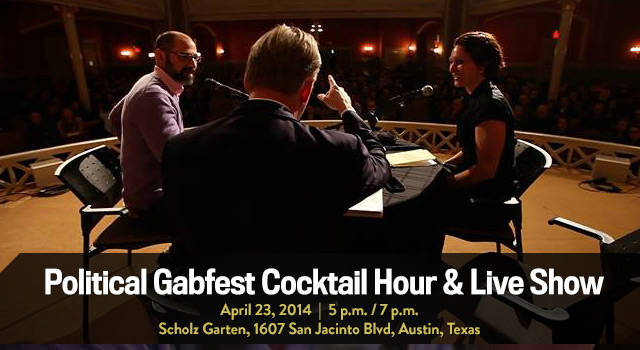 Join Slate and the Texas Tribune for a live Political Gabfest in Austin on April 23 at Scholz Garten.
Emily Bazelon, John Dickerson, and David Plotz will talk about the political news of the day on their regular Gabfest. In the second half of the show, they'll team up with the Tribune TribCast of Ross Ramsey, Emily Ramshaw, and Reeve Hamilton for a special Texas segment. And of course, cocktail chatter!
We will also have a preshow cocktail reception with John, Emily, and David, from 5–6 p.m. Each ticket holder will receive one complimentary drink. Only 30 tickets will be sold, so get them while they last!
Doors open at 5 p.m. for cocktail hour and 6:15 p.m. for the live show.
Get Tickets
Featured Speakers Bios

David Plotz is Slate's editor at large. He's the author of The Genius Factory and Good Book.
Emily Bazelon is a staff writer at the New York Times Magazine and the author of Sticks and Stones.

John Dickerson is Slate's chief political correspondent and author of On Her Trail. Read his series on the presidency and on risk.
Map
TODAY IN SLATE
Politics
The Democrats' War at Home
How can the president's party defend itself from the president's foreign policy blunders?