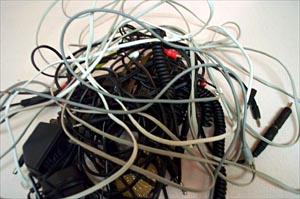 TANGLED MASS OF WORTHLESS ELECTRICAL WIRE
This is a mass of electrical wire. The wire is irretrievably tangled and stripped in numerous places; it smells like old cottage cheese; a family of trapdoor spiders appears to be living somewhere in the interior. Anyone so foolish as to use this wire for any purpose related in any way to electricity risks certain death. This item has absolutely no value, intrinsic or otherwise.
Payment must be received within 10 days of the end of the auction, $3.50 shipping and handling to be paid by winning bidder, insurance extra.
Washington resident pays 8% sales tax.

Please look at my other items for sale!