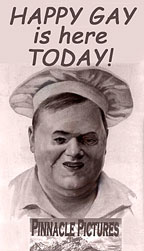 RARE NITRATE PRINT, "WAFFLES, WAFFLES, WAFFLES!"
Cineastes and film-lovers alike will want to bid on this rarity, a mostly intact print of comedian Happy Gay's 1916 masterpiece. Little remembered today, Gay was the star of over 2,600 shorts produced between 1914 and 1917 by Pinnacle Pictures, recently honored with a retrospective at the prestigious Blorple Falls Film Festival. Tipping the scales at 500 pounds, Gay was known as the Giddy Fat Man; in the memorable words of film historian Ian Braithwaite-Dunwiddie, "The only thing morbid about [Gay] was his obesity." In this laff riot, Gay and frequent foil Jinx Jocelyn make quick work of a roadside breakfast spot—and let the syrup spill where it may! Please note: This is an original nitrate print and subject to spontaneous combustion. Store with caution, and handle with care. Not responsible for singed arm hair, blown-off eyebrows ... or hilarity!


Payment must be received within 10 days of the end of the auction, $3.50 shipping and handling to be paid by winning bidder, insurance extra.
Washington resident pays 8% sales tax.

Please look at my other items for sale!