Reporting on Politics and Policy
 | 
Posted Friday, May 24, 2013, at 12:57 PM
Austan Goolsbee, former chairman of the Council of Economic Advisers under President Obama, testifies before the Congressional Joint Economic Committee on February 28, 2013 in Washington, DC.
Photo by Chip Somodevilla/Getty Images
The Washington Examiner does some of the best conservative investigative reporting in this business, so it's surprising to see this misfire in its pages. The ominous headline by Richard Pollock tells us that "some [Ed - some?] wonder if IRS scandal began with Goolsbee remark on Koch taxes," and the lede at least is interesting. Treasury "completed but never released a 2011 law enforcement probe of White House economic advisor Austan Goolsbee," because Goolsbee referred to Koch Industries as one of "a series of entities that do not pay corporate income tax." How did he know? Six Republican senators asked the IG to investigate.
IG spokesman David Barnes refused to discuss the report, saying "unfortunately, we can't provide any information on investigations."
But in his Aug. 20, 2011, email, Carney told Koch Industries in the August 2011 email that the report "would now be available through a Freedom of Information (FOIA) request."
Koch filed a FOIA request, but the IG office refused to acknowledge the report's existence, saying in a Sept. 12, 2011, letter that it "can neither admit nor deny the existence of responsive records."
That's unsettling, and that FOIA should be answered, but ... wait, what's this Pollock says at the end?
Despite the veil of secrecy surrounding the report, Goolsbee claimed in a May 14 tweet that his information came from an article in a Florida newspaper that included no confidential tax information.
Pollock doesn't link the tweet, but here it is:
Yep, Goolsbee screwed up. He read a (December 2003!) article about Bill Koch, who's not a donor to any huge political groups. Koch's entities didn't pay any corporate income tax. This reveals that Goolsbee made a lazy mistake, and smeared David Koch, which led to an IG investigation. Did the IG investigation find that Goolsbee was leaked tax information, or that he was reading an article somebody had passed on to him? We should be able to read that report.
But that's not the scandal Pollock was hinting at here. This is the scandal.
[D]uring the same period when Goolsbee made his remark, IRS Exempt Organization officials were demanding conservative groups seeking tax-exempt status "explain your relationship to Americans for Prosperity."
The tax agency demanded that the conservative groups disclose "copies of any contracts with AFP ... describe the training program by AFP ... and provide copies of the training materials" as a prerequisite of gaining tax exempt status.
The word "during" does a lot of work here. Goolsbee made his remark on Aug. 27, 2010. According to the IG report, that was five months after the IRS started to compile a cheat sheet for investigating conservative applications. It was in March 2010 that "the Determinations Unit Group Manager asked a specialist to search for other Tea Party or similar organizations' applications in order to determine the scope of the issue." On Aug. 12, the notorious "Be on the Look-Out" (BOLO) document was finished. So unless the Obama administration posessed a time machine—you never know where that stimulus money went—Goolsbee's quote couldn't have "sparked" the investigation.
There's a lot of confusion-for-a-purpose steaming around this story. The larger 501s that basically practice politics, not social welfare—Crossroads, American Bridge, AFP, True the Vote, etc.—are yoking their struggle to the struggle of tiny organizations that the Obama administration never criticized.
UPDATE: Kim Strassel, who was on the "Obama criticizes Romney donors and thus has an enemies list" beat last year, chimes in with more stories of political activists done wrong.
None of this proves that Mr. Obama was involved in the IRS targeting of conservative nonprofits. But it does help explain how we got an environment in which the IRS thought this was acceptable.
We're just going to keep hearing that meme until it sinks in, I suppose.

 | 
Posted Friday, May 24, 2013, at 11:32 AM
Sen. Max Baucus, D-Mont., is trailed by reporters April 23, 2013, on Capitol Hill in Washington, D.C. It was announced earlier that Baucus, after 36 years in the Senate, will not seek re-election in 2014.
Photo by Mark Wilson/Getty Images
My colleague Matthew Yglesias is up with a classic SlatePitch: A collection of evidence that implementing Obamacare will go just fine in the states that are actually trying to implement it. His hook is the idea that implementation will be a "train wreck." This might be a good time to explain where that quote came from, and enjoy the ways it's been mutilated by the press.
So: On April 17, the Senate Finance Committee called HHS Secretary Kathleen Sebelius to testify on implementation and other issues. Montana Sen. Max Baucus, the chairman of the committee, one of the fathers of Obamacare, raked Sebelius over the coals about a decision that cut the PR budget for implementation. The administration requested $554 million for PR. House Republicans, understandably, cut the entire budget for implementation. The fiscal cliff deal slashed the overall spending on the Prevention and Public Health Fund from $15 billion (over 10 years) to $10 billion. So Sebelius moved money out of PR and promotion and tried to make up that money by asking health care companies to chip in.
That ask became an outrage all its own. That was the context in which Baucus asked Sebelius how HHS was possibly able to educate patients and providers about a new law that was deeply confusing.

"A lot of people have no idea about all of this," he said. "People just don't know a lot about it, and the Kaiser poll pointed that out. I understand you've hired a contractor. I'm just worried that that's gonna be money down the drain because contractors like to make money ... I just tell ya, I just see a huge train wreck coming down."
What would cause the "train wreck"? Insufficient awareness of how the law worked. Not the law itself. Neither at that hearing nor in the month since has the (always pretty mush-mushed) Baucus said the law itself would be a disaster if implemented.
But that's how Republicans used the quote. In a column by Baucus' former colleague John Sununu:
Baucus led the effort to craft and pass Obamacare through the Senate. So it made news last month when he called the health care law "a huge train wreck coming down." His candor reflects the reality he sees on the ground. The federal government has just four months before an October deadline to design and implement online insurance exchanges to serve 20 million people across 34 states. It is woefully behind schedule.
In a speech by Baucus' current colleague Mike Johanns:
I'm certain that you've seen stories in the last few weeks about the difficulty expected in implementing President Obama's health care law. One of the bill's authors, in fact, Senator Max Baucus, said the law's implementation would lead to a train wreck, to use his words. Majority Leader Reid agreed with him.

Reid actually agreed that it would be a "train wreck" only if it wasn't promoted the right way, but whatever, this was from Mitch McConnell:
What's happening here is that everything Senate and House Republicans predicted with regard to Obamacare is coming true. Jobs are being lost. Premiums are going up. If you have a health insurance policy that you like, you're not going to get to keep it. The chances are you will lose it. This is, as the chairman of the Finance Committee said, "a train wreck."
It wasn't just Republicans expanding a quote about PR and implementation to cover every aspect of implementation. In an April 30 press conference question from NBC News' Chuck Todd:
Max Baucus, Democratic Senator, referred to the implementation as your health care law as a potential train wreck. And other Democrats have been whispering nervousness about the implementation and the impact -- and it's all self-centered a little bit -- the impact that it might have on their own political campaigns in 2014. Why do you think -- just curious -- why does Senator Baucus, somebody who ostensibly helped write your bill, believe that this is going to be a train wreck?

Sean Hannity has gnawed on the "train wreck" line like a starving dog who found a soup bone. On April 30:

Mr. President, Obamacare implementation is, to quote Democratic Senator Max Baucus, "it's a train wreck." And here's a prediction, the disastrous effects of Obamacare will be a huge and hugely negative factor for Democrats in the 2014 midterm elections.
Keep in mind that even when the president is able to implement a piece of his radical agenda, it doesn't always work out the way he planned. Take, for example, Obamacare. Now the liberal law that has now has Democrats calling it a, quote, "train wreck." Even Harry Reid uttered the agreement in that statement.

Even Charlie Rose got into it on May 17, asking panelists about implementation: "Does everybody, in the words of Max Baucus, consider this a train wreck?" It was conventional wisdom—even the author of Obamacare said the law would be a train wreck if implemented.
This is a useful study of the power of misapplied quotes. There are plenty of stories about Obamacare implementation gone wrong. Start with the saga of the Pre-Existing Condition Insurance Plan, expected to enroll 400,000 people at a cost of $5 billion. They're a third of the way there and the money's running out. But Baucus was trying to say that implementation could work if the promotional budget wasn't cannibalized or squandered. That's been lost to a far sexier story built on a misunderstood quote.
 | 
Posted Friday, May 24, 2013, at 9:54 AM
Former Rep. Anthony Weiner speaks to voters in New York City on May 23, 2013 after announcing his bid for mayor.
Photo by TIMOTHY CLARY/AFP/Getty Images
I'm about to take off for two weeks (exciting details at the end of the day! Actually, not that exciting, but definitely at the end of the day) and didn't want to disapparate without mentioning the Anthony Weiner renaissance. His campaign launch, which was mostly covered for its schlock value, touched on something that voters who don't cover Congress all the time probably don't know. Weiner says he "campaigned for real health reform"—true! But his version of campaigning backfired enormously on more strategy-minded liberals.
The ideal Weiner bill never got a vote, and Democrats dropped it before their November 2009 passage of the "public option" package. The debate moved to the Senate. There, liberals were attempting to add a "Medicare buy-in" to the bill, letting people under the retirement age pay to enter the system. Weiner endorsed it. "Extending this successful program to those between 55 and 64," he said, "a plan I proposed in July, would be the largest expansion of Medicare in 44 years and would perhaps get us on the path to a single payer model."
Liberals fumed, because Weiner – for what, a spot on a TV show? – had given away their blueprints. Within a week, Sen. Joe Lieberman (who'd backed a Medicare buy-in during his 2004 presidential campaign) bailed, telling reporters that "Congressman Weiner made a comment that Medicare-buy in is better than a public option, it's the beginning of a road to single-payer," and he was spooked. Perhaps Lieberman, whose final term was a symphony of dyspepsia, was always going to cut the rug out from under fellow Democrats. But Weiner's grandstanding didn't help.
Sex scandals are sort of a blind spot for me. There's a school of thought that Weiner's punishment was several leagues of magnitude greater than the crime; I think I agree. But I just watched Mark Sanford turn a race from policy into a self-help exercise, the sex issue so dazzling that it obscured everything else. Let's not do that again? Please?

 | 
Posted Friday, May 24, 2013, at 8:24 AM
Adam Kokesh of Iraq Veterans Against the War participates in a vigil across from the White House on March 19, 2009.
Photo by TIM SLOAN/AFP/Getty Images
First day in a while without a congressional hearing. It feels so ... cold.
I recently sent Barro his 2010 article praising Ryan's plan. After rereading it, he ticked off its flaws: He had filled in every ambiguity by assuming the best faith on Ryan's part, while ignoring Ryan's punishing cuts to Medicaid. The budgetary weaknesses he had identified, he had framed as problems that "need to be fixed," whereas he now recognizes that Ryan is unwilling to do what's needed to fix them (primarily, raise taxes).
Rep. Tom Cotton (R-AR), the Muad'Dib of the neoconservatives, introduces legislation to make it legal to prosecute family members of those who violate sanctions against Iran. Zach Carter brings the obviousness:
Article III of the Constitution explicitly bans Congress from punishing treason based on "corruption of blood" -- meaning that relatives of those convicted of treason cannot be punished based only on a familial tie.
If there is a line drawn then we will march up to that line and we will request permission to pass. If denied, then we'll take our grounds for a lawsuit with us and turn around peacefully.
 | 
Posted Thursday, May 23, 2013, at 7:53 PM
Barack Obama, earlier today:

Journalists should not be at legal risk for doing their jobs. Our focus must be on those who break the law. That is why I have called on Congress to pass a media shield law to guard against government over-reach. I have raised these issues with the Attorney General, who shares my concern. So he has agreed to review existing Department of Justice guidelines governing investigations that involve reporters, and will convene a group of media organizations to hear their concerns as part of that review. And I have directed the Attorney General to report back to me by July 12th.
Mike Isikoff, a few hours later:
Attorney General Eric Holder signed off on a controversial search warrant that identified Fox News reporter James Rosen as a "possible co-conspirator" in violations of the Espionage Act and authorized seizure of his private emails, a law enforcement official told NBC News on Thursday... The law enforcement official said Holder's approval of the Rosen search, in the spring of 2010, came after senior Justice officials concluded there was "probable cause" that Rosen's communications with his source, identified as intelligence analyst Stephen Kim, met the legal burden for such searches. "It was approved at the highest levels-- and I mean the highest," said the law enforcement official.
I spot a tiny problem here. Holder signs off on the Rosen warrant. He recuses himself, but has no stated problem, with the warrants for AP phone records. Since when does he "share a concern" about these sorts of dragnets that pull in the communications of journalists? I was a little remiss earlier in only naming four Obama punts of responsibility to the Congress. Asking for a shield law is a punt, too. What's preventing the administration from asking an IG to look into the DOJ's practices -- I mean, besides the likelihood of returning a pile of redactions?
The story's elevated by the play HuffPost is giving it.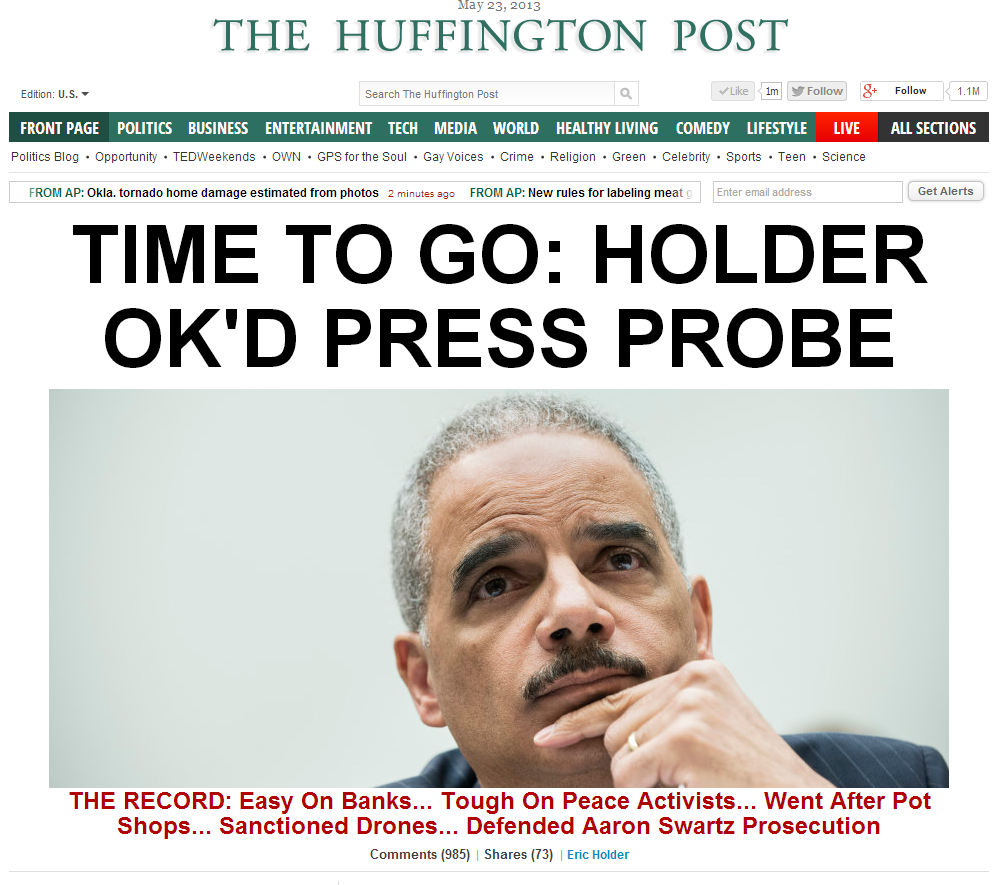 Read the subheds, conservatives -- the liberal beef with Holder pre-dates this story by roughly four years. But HuffPost had some luck in its frontpage-shaming of Democrats who didn't endorse gay marriage, didn't it?

 | 
Posted Thursday, May 23, 2013, at 4:14 PM
Eric Cantor heads onto CNBC and gets a friendly quiz about the IRS story. Is he on board with the White House's version of events? No, he is not.

"If you've got an ongoing IG investigation or audit and there comes to you information about this type of behavior where you are discriminating against political opponents," says Cantor. "I do not accept the fact that the White House says we couldn't interfere with that audit or with that investigation. That's not true. They knew that kind of activity was going on. That was clearly a point at which they should have gone in and said 'Don't do that anymore.'"
And here we have an example of the confusion and doubt creeping into this story -- or maybe, an example of the usefulness of timelines. The White House was not, apparently, informed of the IG report until April 24, 2013, when WH Counsel Kathryn Ruemmler got "a thumbnail sketch" of the findings. Reummler and the Chief of Staff "agreed that it would be best not to share it with President Obama until the independent audit was completed and made public, in part to protect him from even the appearance of trying to influence an investigation."
Scandalous! But it happened long after the IRS stopped sending out the creepy letters, and after the BOLO document "targeting the Tea Party" was rewritten. According to the IG report, the letters went out in January 2012. The negative media coverage started in February. On February 29, "the Director, EO, stopped any more additional information request letters from being issued on advocacy cases until new guidance was provided to the Determinations Unit." On May 17,
The Director, Rulings and Agreements, issued a memorandum outlining new procedures for updating the BOLO listing. The BOLO listing criteria were updated again. New criteria reads: "501(c)(3), 501(c)(4), 501(c)(5), and 501(c)(6) organizations with indicators of significant amounts of political campaign intervention (raising questions as to exempt purpose and/or excess private benefit)."

That was 11 months before Ruemmler got the "thumbnail sketch." In the intervening months, appointed IRS commissioner Dennis Shulman resigned. By every account, the dark era of "targeting" was long over.
Now, might a smarter government have tackled the problem sooner? Oh, yes. Some reporters were breaking news about the IRS targeting in February 2012. Soon thereafter, Darrell Issa urged the IG to look into this. "his is one of those things where it's been, in a sense, an open secret," said Issa last week, "but you don't accuse the IRS until you've had a nonpartisan, deep look."

UPDATE: From Cantor spokesman Rory Cooper.
As soon as questions were raised or an investigation known, IRS and Administration leaders could have and should have reiterated the nonpartisan operating principles to employees, and perhaps taken further steps, to ensure this political targeting of American taxpayers had ceased and would not happen ever again. The White House continues to say that an investigation ties their hands completely, and that simply is not true.

 | 
Posted Thursday, May 23, 2013, at 3:36 PM
US President Barack Obama speaks as a protester shouts during a speech about his administration's drone and counterterrorism policies, as well as the military prison at Guantanamo Bay, at the National Defense University in Washington, DC, May 23, 2013.
Photo by Saul Loeb/AFP/Getty Images
Maybe that headline's a little unfair. We have a divided government; Congress holds the purse strings; Congress passed the 2001 Authorization of Force in Iraq. But most discussion of foreign policy focuses on the president, the commander-in-chief. Why didn't he close Gitmo, like he promised? Is he saying he and he alone can kill citizens with drone attacks?
At four moments in his speech today, the president pointed at Capitol Hill and asked it to move on or admit its role in the security decisions that have become so controversial.

1. "After I took office, my Administration began briefing all strikes outside of Iraq and Afghanistan to the appropriate committees of Congress. Let me repeat that – not only did Congress authorize the use of force, it is briefed on every strike that America takes. That includes the one instance when we targeted an American citizen: Anwar Awlaki, the chief of external operations for AQAP."
Translation: Congress has been aware of these drone attacks. Its leaders have not leaked. They support the policy.
2. "Over the past decade, we have strengthened security at our Embassies, and I am implementing every recommendation of the Accountability Review Board which found unacceptable failures in Benghazi. I have called on Congress to fully fund these efforts to bolster security, harden facilities, improve intelligence, and facilitate a quicker response time from our military if a crisis emerges."
Translation: That's enough finger-wagging about Benghazi, and I align myself with Democrats who say the real problem was that you guys weren't pouring enough money into the diplomatic budget.
3. "I look forward to engaging Congress and the American people in efforts to refine, and ultimately repeal, the AUMF's mandate. And I will not sign laws designed to expand this mandate further."

Translation: Instead of attacking me for whether I use the word "terror" in a speech, if you're actually concerned about the shadow war you can absolutely repeal the authority that lets us fight it. (Rand Paul has talked about doing so.)

4. "Given my Administration's relentless pursuit of al Qaeda's leadership, there is no justification beyond politics for Congress to prevent us from closing a facility that should never have been opened. Today, I once again call on Congress to lift the restrictions on detainee transfers from GTMO."
Translation: The Gitmo debacle is on you. You ground me down in 2009, promising to block funding and locations for prisoner transfers, before turning around and attacking me for breaking a campaign promise.

 | 
Posted Thursday, May 23, 2013, at 2:19 PM
President Barack Obama speaks about his administration's drone and counterterrorism policies, as well as the military prison at Guantanamo Bay, at the National Defense University in Washington, DC on May 23, 2013.
Photo by SAUL LOEB/AFP/Getty Images
Without further ado, here are President Obama's remarks given at National Defense University today:

It's an honor to return to the National Defense University. Here, at Fort McNair, Americans have served in uniform since 1791– standing guard in the early days of the Republic, and contemplating the future of warfare here in the 21st century.
For over two centuries, the United States has been bound together by founding documents that defined who we are as Americans, and served as our compass through every type of change. Matters of war and peace are no different. Americans are deeply ambivalent about war, but having fought for our independence, we know that a price must be paid for freedom. From the Civil War, to our struggle against fascism, and through the long, twilight struggle of the Cold War, battlefields have changed, and technology has evolved. But our commitment to Constitutional principles has weathered every war, and every war has come to an end.
(Full speech after the jump.)
Read More »
 | 
Posted Thursday, May 23, 2013, at 1:06 PM
The Rio Grande snakes toward the Gulf of Mexico at the U.S.-Mexico border on May 21, 2013 near Harlingen, Texas.
Photo by John Moore/Getty Images
"The word is actually out that many Republicans are interested in immigration reform," said South Carolina Rep. Mick Mulvaney yesterday. "It scares many Democrats to death, including apparently Mr. Leahy. He wasn't interested in pushing his amendment and shipwrecking the immigration bill."
Mulvaney was speaking at an open meeting of House conservatives (sponsored every month by the Heritage Foundation), one day after Pat Leahy decided not to attach gay marriage reciprocity for visas to the immigration bill. Leahy's decision, and the bill's 13-5 mandate from House Judiciary, ushered in the end of a popular theory—that Democrats would prefer the immigration "issue" to an actual bill. (Ted Cruz is usually the proponent of the theory in the Senate. He voted against the bill.) The Senate's move makes final passage in that body more likely.
House Republicans, four of whom are working on their own comprehensive bill, are grappling with that. At the forum, one of the House's "gang of eight" was asked whether maybe a 70-vote win in the Senate would give their bill more monentum.
"When did they get elected to the House?" laughed Idaho Rep. Raul Labrador.* "I missed when they were sworn into the House of Representatives. It's not going to happen, and it has nothing to do with what happens in the House of Representatives."
What did "it's not going to happen" mean, though? I asked Labrador again whether the movement in the Senate would nudge along a House bill.
"I knew it was gonna pass in the Senate, because it's a Democratic bill, mostly," he said. The question is can they get enough votes on the floor. I think you'll see Republicans, including some members of the [Senate] Gang of Eight, introduce amendments that will make the bill more palatable. If those amendments don't pass, it's going to be hard for them to pass out of the Senate."

What sort of changes would clean up the bill for House Republican consumption? They just need to accept that the American people will not be responsible for the health care cost of people who are not citizens," said Labrador. "We need to know what triggers are going to be in place before any benefits are given to the 11 million. The only way you can have reinforcement is actual triggers ... and the Senate bill makes the wages too high after a year or two. What you have then is a black market and you'll have a bunch of people hiring illegals again."
For Labrador—again, we're talking about the House Republican that Democrats think they can do business with—the Senate's compromise merely paved the road for more compromises. "We have issues with Obamacare and immigration, entitlement spending and immigration," he said. "Instead of saying I'm going to be against immigration reform because it costs money—immigration reform doesn't cost money. What costs money are the programs ... and are the Democrats going to be able to put immigration reform ahead of their labor interests, and ahead of an entitlement program for every single person in the United States? If they can't put those interests aside, they're asking Republicans to sacrifice."
What if they can't? Could a rump coalition of Democrats and a GOP minority pass a moderate bill?
"I will not vote for a bill that violates the Hastert rule," said Labrador, referring to the unofficial policy (broken three times in 2013 so far) of not passing a bill unless a majority of the majority party backs it.

*Switched some words around earlier and ID'd Labrador as being from another state.

 | 
Posted Thursday, May 23, 2013, at 10:43 AM
At last, we have a high-level analysis of Anthony Weiner's tawdry fall and slightly-less-tawdry comeback attempt.
One reason Mark Sanford was able to front "humility" in his comeback was that he was seeking a less powerful job: Congress, not governor. Here and elsewhere, Weiner's scandal is put in the stream of "mayors gone wrong." But he's not a mayor! He was a mediocre congressman who gave good quote, and he ran for mayor once. Ben Adler has a slightly more serious study of the campaign here.