Reporting on Politics and Policy.
Iowa GOP Chairman Quits, Then Joins Rand Paul's PAC
On Saturday, with no warning, Iowa's Republican Party chairman announced his resignation. A.J. Spiker, a supporter of Ron Paul's presidential campaigns, had benefited from the "liberty movement's" organizing—an effort that won Paul most of Iowa's delegates to the 2012 Republican National Convention.
In power, Spiker had been under attack, regularly, from the other factions of the party. Most of the time they criticized him for failing to raise enough money; the subtext was that the "mainstream" wanted the reins back from the Paul family. They got 'em. As Jennifer Jacobs reported, Spiker resigned after more moderate Republicans "showed up in large numbers to at-times tedious and lengthy county conventions typically frequented by only the most diehard activists."
The counter-revolution had been a long time coming. So was the upside. Ever since Spiker took over the party, and promised not to lead it through 2016, it was assumed he would return to the Paul fold. And now he has. RANDPAC, Sen. Rand Paul's political organization, has announced that Spiker will come aboard as a "political advisor."
"There is no better champion for liberty lovers then Senator Rand Paul," said Spiker in a statement. "I look forward to working with the team, together we can make a difference. I am eager to hit the ground running."
CPAC 2014: Steve Stockman's Awesome Hot Tub Party
On Saturday night, as CPAC ended and its thousands of attendees scattered, I followed some friends and reporters to find what was already known as the "Stockman party." Rumor had it that Stockman was hanging out in a suite at the Gaylord, the monumental hotel/resort that had hosted the conference.
Now that an attendee has leaked photos from the party, I might as well report that the rumor was true. One of the hotel's suites—living room, den, veranda, garden, hot tub—was playing host to dozens of people. There were students, strategists, and reporters, decompressing after three days of networking and panels. And there was Rep. Steve Stockman, a few days on from his defeat in the Texas GOP Senate prmary, holding court near a stack of Little Caesars pizzas. He was dressed down in a pullover, talking to young conservatives who seemed stoked to be in his presence. They filled their cups from a rapidly diminishing stash of brown and clear liquors.
I happened to arrive just as Stockman was offering $20 to anyone who'd jump into the hot tub. I proposed a toast, to "screwing with the left." The cups were raised; Stockman amended the toast.
"Fuck the left!" said the gentleman from Texas' 36th District.
I walked up to Stockman, wearing a "Run Ben Run" button that had been placed on me by an activist who wanted to draft Ben Carson for president. Stockman asked about the button, I told him its origins, then I introduced myself as a reporter.
"You have nothing to fear," I said. "You're not running anymore."
"Why am I covered so much?" he asked.
"I think it's because of the Twitter account and all the things you say," I said.
"I get it," said Stockman. "By the way, were you here when I spoke earlier?"
I assumed he was talking about some speech he'd given to the room. The state of the liquor bottles and pizza boxes indicated that the party had been going for a while, so I'd probably missed Stockman's remarks.
We were just starting to talk small when a young Republican ambled over and the congressman wrapped his arm around her. "We've known each other for years," explained Stockman with a laugh. She was inviting him to a join a smaller, and presumably less reporter-friendly, conversation in an adjoining room. Stockman was clearly breaking away, so I asked him about what he'd told the Dallas Morning News about maybe running statewide in the future.
"I'm being facetious," he said. He extended his hand for a high-five. I reciprocated. "See ya, brother."
None of the other reporters in the room was bugging Stockman, so I rejoined the party. An organizer found me and told me that "what happens in the room stays in the room." For that reason, I won't say who else was there or who might have taken the photo. But Stockman's a public figure, and he talked to me after I told him who I was and who I worked for.
Honestly, the brief encounter made me more confused than ever about the invisible-man strategy Stockman had just used in his disastrous Senate run. Why'd he hide from the press and the electorate? This was an affable guy who said what he thought and adhered to the principle of YOLO. It's like people said after Al Gore and Bob Dole lost the presidencies, then went on late-night comedy shows and revealed themselves to be human beings. Where was all that on the trail?
I hung around for a while, in a friendly, off-the-record environment (well, while writing some shorthand notes about what Stockman had told me), planning to leave when my friends did. On the way out, I saw the scene captured in the leaked photos—Stockman making good on his promise to pay the people who'd jumped in the hot tub.
UPDATE: Gene Berardelli, of Brooklyn GOP Radio, broke the omerta about the party after this post went up. It was thrown to promote the show, and pitched to possible attendees with a note on the official Facebook page of Reaganpalooza, the traditional post-CPAC party. "Stockman had been a friend of the show for years," said Berardelli. He was out "by 10 p.m." (The party started after 6.)
How'd they get the suite? Actually, the Gaylord bungled their original $269-per-night reservation, and given them the opulent room to make up for it. Organizers spent around $600 on liquor and provisions, and entertained around 300 people, 299 of them not currently serving in Congress.
California Democrats Now Officially Support Legal Marijuana
Seema Mehta reports from the California Democrats' annual convention:
On the marijuana issue, state Democrats "support the legalization, regulation and taxation of marijuana, in a manner similar to that of tobacco or alcohol," the platform reads. ... There was no debate on the proposals, only cheers and then a voice vote at the Los Angeles Convention Center.
Keep in mind that the California Democratic Party rules the state with only token challenges. It runs every statewide office. It has overwhelming control of the legislature, a supermajority unless one of its members manages to end his career with a scandal. (Hey, it happens.) That doesn't even matter like it used to, because in 2012, voters undid the supermajority requirement for tax increases that had been in place since the late 1970s. Barack Obama was the first presidential candidate since FDR to carry the state with more than 60 percent of the vote—twice. (No, not even Reagan pulled that off.)
So it's safe for the Democrats to back legalization. Hey, in 2010, 47 percent of Californians voted to legalize marijuana. That was a relatively weak campaign in a horrible year for Democrats. Pro-legalization groups learned to save their energy for better years; they plan to back legalization on the California ballot again in 2016, when a larger electorate comes out to (we assume) give 60 percent or so of the vote to Hillary Clinton's presidential campaign. By that point, marijuana legalization may be even more mainstreamed as a revenue source—not as offensive to conservatives, quite attractive to tourists.
Conservatism in America, 2014
NATIONAL HARBOR, Md.—Last year, Sarah Palin showed up to the CPAC stage with a Super Big Gulp, a reference to the (then-fading) proposal of New York City Mayor Mike Bloomberg to limit the sale of sodas in his city. (It would not have applied to 7-Elevens.) This year: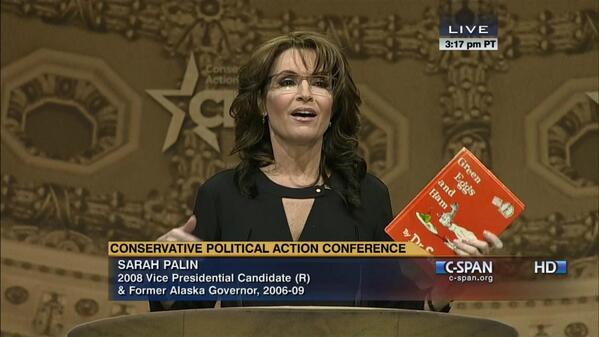 Poor Rick Santorum. On Friday, the probably 2016 presidential candidate whom the media isn't quite sure how to cover gave a well-received, condensed version of a speech he's been giving to Republican groups. Its theme: Republicans should not—could not—simply talk about "job creators" and who "built that" business. They needed a positive economic agenda; they needed to realize that government had the power to organize and persuade, just as anti-smoking laws cut down the numbers of smokers to unthinkable lows.
And then Sarah Palin closed out the conference by telling "Beltway Republicans" (like her 2008 ticket partner John McCain) to back off of immigration reform because "that victory you won in 2010? You didn't build that!"
Palin's speech was a pretty typical collection of memes, alliterative insults, and sentence fragmentation, but the one thing that stuck with me was her endorsement of the theory that Ted Cruz's demand that the CR not include funding for Obamacare was itself the reason that Obamacare had become unpopular. Also, that Cruz had acted on this demand with a "filibuster." To every pollster and (cough) Beltway Republican, the two-week government shutdown was an obvious and predictable disaster, a real-time bailout of the Democrats that distracted from the absolute nadir of Healthcare.gov's problems and gave the president a poll boost, and to everyone familiar with Senate rules, Cruz's marathon speech was not actually a filibuster.
It does not matter. On the activist right, the reality is closer to what Palin said.
CPAC 2014: Rand Paul Wins the Straw Poll, as Marco Rubio's Support Collapses
NATIONAL HARBOR, Md.—A few minutes before the CPAC 2014 presidential straw poll was released, Fox News' great political reporter Chad Pergram tweeted an error. He claimed to have the results: Ted Cruz over Rand Paul, 42–17. But he had mistakenly tweeted the Senate Conservatives Fund's numbers, released at 5:45 p.m. on a Saturday, from an online poll that few reporters had noticed.
Good on the SCF—they took advantage of a media obsession. Pergram fixed the tweet.
Cruz wins Senate Conservative Fund straw poll for prez with 42%. Rand Paul 2nd at 17%. WI Gov Walker 3rd with 10%.

— Chad Pergram (@ChadPergram) March 8, 2014
The actual CPAC straw poll was, for the fifth time, dominated by young libertarians. No surprise: Seventy-eight percent disapproved of "NSA's use of data collection." Some kind of surprise: Forty-one percent wanted to legalize marijuana, 21 percent wanted just medical marijuana legalized, and only 33 percent wanted it to remain illegal. That spoiled the results of the straw poll, which I've written below, parenthetically noting the results from 2013.
Rand Paul: 31% (+6)
Ted Cruz: 11% (+7)
Ben Carson: 9% (+5)
Chris Christie: 8% (+1)
Rick Santorum: 7% (-1)
Marco Rubio: 6% (-17)
Paul Ryan: 3% (-3)
Rick Perry: 3% (+3)
Bobby Jindal: 2% (-1)
Condi Rice: 2% (+2)
Mike Huckabee: 2% (+2)
Sarah Palin: 2% (-3)
Paul's team was so eager to win that spokesman Sergio Gor materialized in the press rows before the results had been read in full, distributing a statement from RANDPAC: "I am grateful to all of the attendees who stood with me." The statement would have worked had Paul won or lost.
CPAC 2014 and the Chamber of Echoes
NATIONAL HARBOR, Md.—It's actually quite difficult to be at CPAC and keep aware of how CPAC is being covered outside. Apparently Donald Trump's speech was worth wire stories, and Michele Bachmann's slap at Hillary Clinton went viral. Apparently, too, this video of a South Dakota state legislator is zooming around the left, provoking confusion.
"Mmm, mmm, mmm?" What does that mean? Why, it's a reference to this 2009 video of schoolchildren learning a song in which the name of Jesus Christ has been swapped out for the name of "Barack Hussein Obama." It got around because it was 1) creepy and 2) "mmm mmm mmm" sounded weird.
A small event, but sort of demonstrative of how ideas can rocket back and forth within a movement and get no traction outside it. The world at large has forgotten that Barack Obama once referred to "57 states"—that was in 2008—but Grover Norquist mentioned that he had a few states left to visit "to get to 57," and it killed.
CPAC 2014: Dr. President Ben Carson vs. the "PC Police"
NATIONAL HARBOR, Md.—In his short career as a conservative icon, Dr. Ben Carson has traveled the traditional stations of the cross. The media, surprised by his first political speech at the 2013 National Prayer Breakfast, has covered his view of gay marriage (unnatural, just as bestiality is unnatural), of Obamacare ("the worst thing to happen since slavery"), of Nazi Germany (parallels to today). This has bound the movement ever closer to Carson; Alexandra Jaffe's piece on the Draft Ben movement captures just how much.
I wandered into the CPAC exhibition hall just as Carson was wrapping a grin-and-grab for premium ticket holders. Helaina Ciaramella, a Carson fan from Staten Island, had grabbed "Ben Carson 2016" signs from the Draft Ben booth and started handing them out.
"I told him, it's his destiny to run for president," said Ciaramella. He'd take the presidency because "if Republicans win at least 17 percent of the black vote, the Democrats can't win."
Turned out that this exact line was in the Draft Ben brochure, as well as an explanation of how Herman Cain had threatened to pull 40 percent of the black vote from Obama. I was about to leave the booth when—there he was, Ben Carson sheepishly walking by and waving at the Drafters, without stopping. He was surrounded by three security guards and a filmmaker who documented his events.
Carson had two appointments—one with the Washington Times, one with National Review. The security guards blocked the entrance to both publications' booths as Carson did his exclusives. (The Times is launching a new magazine for black conservatives next week, as Carson told his audience.) He was in and out, posing for photos then speeding to his speech, standing room only.
"One of the principles of Saul Alinsky is that you make the majority think their ideology is outdated, and nobody thinks that way," Carson told the audience. The media had done all that, and lied about him, like when it claimed he had compared Obamacare to slavery.
"Of course they're not the same thing," said Carson. "Slavery is much worse. But keep in mind what happens with Obamacare," a massive transfer of power from the people to the state.
CPAC 2014: Persecuted, the Christian Persecution Drama That You'll All Be Talking About
NATIONAL HARBOR, Md.—The sponsors of this year's CPAC earn the right to see their names advertised in every large room or hallway: One America, a news network announced at last year's conference with a pledge to be a "platform," not an impediment, to conservatives; Tea Party Patriots, the venerable (five years old last month) coalition of activists that's only recently launched a PAC; and the film Persecuted, a fable about a Christian preacher who's ruined by the government as part of a war on religion.
The trailer plays at every other break in the main ballroom's action.
CPAC 2014: Prison Reform and the Resurrection of Bernie Kerik
NATIONAL HARBOR, Md.—The rise of conservative sentiment in favor of prison reform, felon voting rights, and mandatory-minimum rollbacks has confounded the media. That's to the advantage of the conservatives themselves. The idea that the GOP and the Reaganite movements are inherently "tough on crime" has made heads turn when someone—Rand Paul, typically—contradicts it.
But the counter-revolution isn't obscure anymore. Tea Partiers and libertarians in Texas and Georgia, states now run completely by the Republican Party, have pushed their legislatures to embrace prison reform. The Texas Public Policy Foundation, a think tank whose Brendan Steinhauser became chairman of Sen. John Cornyn's re-election bid, did the hard lifting in that state. For forty-five minutes, to the surprise of a distractable press corps, Rick Perry joined Grover Norquist onstage to explain why prison reform was a natural cause for the right.
Perry and Norquist were the draws, but the most captivating member of the panel was Bernie Kerik—former NYC police commissioner, former nominee to run DHS, former inmate. Kerik told of a class he taught in prison, where he encouraged a fellow prisoner to get a GED. "I'm black and I'm a felon," the prisoner told him. No way was he getting a job. Conservatives had to get as outraged about this as they are by anything else that deletes a member of society.