| 
Posted Monday, May 13, 2013, at 12:48 PM
Marco Rubio's PAC is on the air in New Hampshire with an ad defending Sen. Kelly Ayotte from the slings and arrows of outrageous bloggers.
This would rate a minor eyebrow-raise if it happened in a vaccuum. But it's been only five days since the NRA went on the air with a less campaign-esque, more issue-focused ad insisting that Ayotte voted the way any fan of background checks might have wanted.
Conservatives are admitting, with their ad dollars, that the throttling of Manchin-Toomey really did hurt a few Republicans. Ayotte isn't even up for re-election until 2016! In a state like New Hampshire, which regularly elects Republicans statewide but has trended towards the Democrats, they need to pretend that Ayotte really did support a background checks bill. Only the NRA ad attempts to source that claim, citing Ayotte's aye for the Grassley amendment. But gun control advocates opposed the Grassley amendment; it loosened the prohibition on sales to people "adjudicated mentally ill," it didn't close the private sales loophole, and it was basically thrown down at the last minute to give Republicans something to vote for. And it worked—here are the TV ads allowing Ayotte to be portrayed not as someone who went along with the GOP plan to kill Manchin-Toomey, but as a moderate who voted for something.

 | 
Posted Monday, May 13, 2013, at 11:39 AM
Between the release of the Heritage Foundation's immigration study and his decision to resign from the Heritage Foundation, Jason Richwine didn't really talk to the press. I emailed him during my own reporting on the scandal over his writing about race and IQ; when he didn't get back to me, I totally understood why. But Richwine contacted Byron York, the Washington Examiner's lead political correspondent. The result: a sensitive character study ("The son of an engineer and a bookkeeper from the suburbs of Philadelphia, Richwine was quantitatively inclined") and a discourse on how awful it is to be accused of racism because you're intellectually daring.

Richwine tells York, unsurprisingly, that he "had read Charles Murray's The Bell Curve" and was fascinated "the author's approach to a complex topic." Richwine later worked with Murray, thanked him in the first page of his dissertation, and was defended by him when Heritage dropped the ax. But another part of Richwine's intellectual biography caught my eye.
Richwine pointed to a piece a few years ago by Slate's William Saletan that discussed the fact that there are IQ differences between groups but that many people simply don't want to hear about them, preferring instead to believe in an ideal of intelligence equality. "Saletan called this 'liberal creationism,'" Richwine said. "For liberals, that's their creationism -- something that is obviously not true from a scientific perspective, but that they have to believe." In the article, though, Saletan included all the caveats and explanations that Richwine had left out of his remarks at AEI back in 2008. As Richwine learned, those "nuances" are absolutely critical when discussing the issue of intelligence in a political context.
This is a slightly redacted version of the story. As anyone who clicks through to Saletan's series can see, its first three parts consist of a pretty careful look at diversity between racial groups. "There's a mountain of evidence that differential evolution has left each population with a balance of traits that could be advantageous or disadvantageous, depending on circumstances," wrote Saletan. The fourth part of the series is a short apology; one of the studies cited was connected to the racist Pioneer Fund. Saletan was "not an expert," just a reporter looking at new data on human biology. (I joined Slate in August 2010, pretty long after the controversy.)

It's curious to see Richwine compare his insights with those of a journalist. He, unlike Saletan, was working toward a career in policymaking. He didn't use much "nuance" because he was presenting IQ research as cold, hard data that had to influence the making of laws.

Were people too cruel to him anyway? York lets the idea hang in the air.

"The accusation of racism is one of the worst things that anyone can call you in public life," he says. "Once that word is out there, it's very difficult to recover from it, even when it is completely untrue." ... A Google search for "Jason Richwine" and "racist" now yields four million hits.

Here's a sidebar that might actually prove useful for understanding the story. In 2009, York wrote a column asking whether Barack Obama's "sky-high ratings among African-Americans make some of his positions appear a bit more popular overall than they actually are." I wrote a cheeky blog post asking why York was so surprised, or why the discrepancy mattered at all, characterizing the column as: "Democrats wouldn't be so popular if it wasn't for the 14th Amendment. Or something." I didn't think I'd called York a "racist." Indeed, I never used the word, because that would be crazy—he's not a racist! But other pundits piled on, and a year or so later, when I ran into York at an event, he explained just how offensive my item had been—he'd been called a racist—and made it clear I should talk to someone else.

I respected that, because there's entirely too much false modesty and false forgiveness in D.C. But it was reflective of a sense on the right that ... well, it's like Richwine says. To accuse someone of "racism" is to tar them forever, ding their name on Google, try and bully them out of the public debate. Conservatives see liberals accusing everything they dislike of being rooted in racism, or as Michelle Malkin calls it, "raaaaaaaaaacism!" It's especially tiring in the Obama era, when they might be accused of hating black people because they dislike a president who happens to be black. In the long run, this points the way to Richwine's redemption on the right. In the meantime, I think I'm with the Harvard advisers and Heritage colleagues who disagree that Richwine's research really led to his preferred policy conclusions.

 | 
Posted Monday, May 13, 2013, at 9:38 AM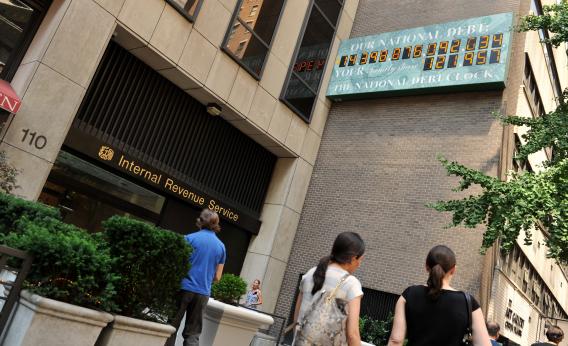 The New York office of the Internal Revenue Service in 2011.
Photo by STAN HONDA/AFP/Getty Images
That was fast. On Friday, the IRS tried to pre-empt a report that showed it slow-walked applications from tea party groups for tax-exempt status. Today, Ohio Rep. Mike Turner is working on the Taxpayer Non-Discrimination & Protection Act of 2013, a reaction to the scandal, which according to his office "would amend Title 18 of the U.S. Code to make it a crime for an IRS employee to discriminate against an individual or group on the basis of their protected rights, and expressly clarifies that political speech and political expression are protected rights."
Right now, of course (or maybe not "of course"—who pays attention to the IRS' workings?), the maximum penalty available for someone who abuses his/her power at the IRS is termination. Turner wants to copy the penalty available to members of the president's Cabinet who use their clout for political purposes. The conniving tax investigator could be hit by the maximum $5,000 fine, five years in prison, or both.

 | 
Posted Monday, May 13, 2013, at 8:20 AM
Tea Party supporters sing the National Anthem before a rally on September 5, 2011 in Manchester, New Hampshire.
Photo by Justin Sullivan/Getty Images
Ross Douthat traces the IRS' scrutiny of tea party groups to the "Brown Scare" spooking liberals about conservativism. The irony, he says, is that the panic had started to recede.

The Tea Party had won its midterm victory, and as the movement's ardor cooled and its influence diminished, the fears of its critics began to diminish as well. With Beck off Fox and the Tea Partyers off the streets — replaced by Occupy Wall Street and union protesters, often shouting none-too-moderate slogans of their own — it became harder to look at American conservatism and see Brownshirts or grand wizards on the march.
On Tuesday, BuzzFeed is hosting a forum on immigration reform that had been scheduled to include a mix of pro- and anti- voices. On Sunday night, the Heritage Foundation pulled its participation from the forum after Jason Richwine, the co-author of the foundation's recent immigration study, resigned on Friday. The statement from BuzzFeed:
We're disappointed that Heritage's damage control efforts are preventing them from discussing their ideas but we're happy Mickey Kaus is stepping up. And as we told National Review this weekend, there's still an open invitation for a member of Congress who's skeptical of the proposed immigration reform to join us as well.
Jaron Lanier's thoughts about technology and the middle class are worth breaking your own personal rule about trusting white guys with dreadlocks.
Jake Sherman reports that the speaker of the House is running point on Benghazi.
The night before last week's high-profile Benghazi hearing, Boehner and House Oversight and Government Reform Committee Chairman Issa discussed strategy for 30 minutes in the speaker's office. For the hearing, Issa gave committee members assignments and directed them to stick to pre-approved lanes to avoid confusion or duplicative questioning, several lawmakers said.

 | 
Posted Friday, May 10, 2013, at 6:31 PM
The best and angriest report on the IRS's admission that it investigated Tea Party groups above and beyond its purview comes from Kevin Williamson. His most powerful argument is simply a recitation of what was demanded from the targets.

Those tea-party organizations were sent letters of inquiry demanding information that would seldom if ever be demanded of any other applicant in the process. The IRS demanded lists of donors, names of spouses and family members, detailed information about political views and associations — all of that "under penalties of perjury." Many applicants dropped out of the process. The questions were remarkably invasive: For example, the IRS demanded to know not only whether political candidates participated in public forums conducted by the groups, but which issues were discussed, along with copies of any literature distributed at the forum and material published on websites. (The IRS has been less forthcoming with its own materials related to this investigation.) If the organizations collected dues, the IRS demanded to know how much they were. It demanded everything down to the résumés of employees. The inquiry was not limited to members of the organization, its executives, or its directors, but included even their family members: The IRS demanded to know — again, under penalty of perjury — whether any of their family members might be thinking about running for office. Its demand for the names of all donors — and all recipients of grants — is in violation of IRS policy.
Why were they doing this? The IRS has already mea-culpa'd, in the sort of self-parodying way that suggests they need more experiece with damage control. ("Mistakes were made"! Who still says that?) Republicans, starting with Eric Cantor in the House, have pledged to hold investigations on why the IRS did this. But if they had a defensible reason (big "if") it was probably a combination of two worries. One: Tea Party groups flowered quickly, and in situations like that you want to see where the money went. Two: As Ezra Klein explains, the rules governing nonprofits are increasingly ill-suited to the reality of nonprofits. The secrecy accorded to 501(c)4s has made them incredibly attractive for people who want to stack money away without having to disclose their donors. Battling this is a big goal on the left right now—the Sunlight Foundation, for example, is obsessed with it. That campaign loses much of its oomph if the IRS becomes scared of asking political groups to prove that they should be free from taxes.
 | 
Posted Friday, May 10, 2013, at 3:49 PM
The Heritage Foundation tells me the news without much more detail. The full explanation:
Jason Richwine let us know he's decided to resign from his position. He's no longer employed by Heritage.
It is our long-standing policy not to discuss internal personnel matters.
Some background: I'd been asking whether Heritage read Richwine's dissertation, or talked about any of the potentially explosive IQ research, before hiring him. No answer as of yet, though his deparature means the story will fade.
UPDATE: Charles Murray weighs in.
Thank God I was working for Chris DeMuth and AEI, not Jim DeMint and Heritage, when The Bell Curve was published. Integrity. Loyalty. Balls.

— Charles Murray (@charlesmurray) May 10, 2013
 | 
Posted Friday, May 10, 2013, at 2:14 PM
Sen. Orrin Hatch (R-UT) (C) confers with Sen. Chuck Grassley (R-IA) (R) and Sen. Chuck Schumer (D-NY) (L) during the Senate Judiciary Committee's markup for the immigration reform bill on Capitol Hill May 9, 2013 in Washington, DC.
Photo by Win McNamee/Getty Images
Between Niall Ferguson's joke about Keynes and the saga of Jason Richwine, it's been a lousy week for Harvard. Richwine, you may remember, was the Heritage Foundation policy wonk who co-wrote the cost estimate of the immigration bill—a document that was derided by Republicans who wanted the bill to pass. It got worse for Richwine after that, with reporters noticing his long record of research into race, IQ scores, and immigrants. So I talked to his dissertation advisers.

At the start of his dissertation, Richwine thanked his three advisers—George Borjas, Christopher Jenks, and Richard Zeckhauser—for being so helpful and so bold. Borjas "helped me navigate the minefield of early graduate school," he wrote. "Richard Zeckhauser, never someone to shy away from controversial ideas, immediately embraced my work."
Yet they don't embrace everything Richwine's done since. "Jason's empirical work was careful," Zeckhauser told me over email. "Moreover, my view is that none of his advisors would have accepted his thesis had he thought that his empirical work was tilted or in error. However, Richwine was too eager to extrapolate his empirical results to inferences for policy."
Borjas' own work on immigration and inequality has led to a few two-minutes-hate moments in the press. He wasn't entirely convinced by Richwine, either.
"I have never worked on anything even remotely related to IQ, so don't really know what to think about the relation between IQ, immigration, etc," Borjas told me in an email. "In fact, as I know I told Jason early on since I've long believed this, I don't find the IQ academic work all that interesting. Economic outcomes and IQ are only weakly related, and IQ only measures one kind of ability. I've been lucky to have met many high-IQ people in academia who are total losers, and many smart, but not super-smart people, who are incredibly successful because of persistence, motivation, etc. So I just think that, on the whole, the focus on IQ is a bit misguided."
There's a lot more here about the underworld of anti-immigration thinkers online and in D.C.
 | 
Posted Friday, May 10, 2013, at 12:14 PM
Internal Revenue Service Commissioner Douglas Shulman in 2012.
Photo by Win McNamee/Getty Images
Lois Lerner, who oversees IRS investigations of tax-exempt groups, apologizes for having "inappropriately flagged conservative political groups for additional reviews during the 2012 election to see if they were violating their tax-exempt status." It's like Kurt Cobain sang: Just because you're paranoid doesn't mean they're not out to get you.

"On our bus tours the local Tea Party groups were all screaming about it," says Sal Russo of Tea Party Express. (They're a PAC, so they weren't one of the groups under the gun.) "It was so pronounced around the country that it was obvious that the Tea Party groups were being targeted. Not unlike any bureaucracy, the first reaction is to deny everything even when they don't know the facts. Glad they finally acknowledged what was obvious to everyone else. Law breaking is bad enough, but especially insidious when done by the government. This isn't a stupid mistake like falling asleep on the job or inappropriately putting up offensive items on a bulletin board, this was a malicious effort to silence a political view they disagreed with. There isn't a bigger threat to democracy that when government tries to suppress dissent and free speech. Everyone who cherishes freedom and liberty should be appalled."

Judson Phillips, whose Tea Party Nation held the sole "National Tea Party convention" in 2010, says he was only stunned the IRS apologized."
"It isn't just 2012," says Phillips. "This goes back to 2009 with the formation of the Tea Party movement. I've heard stories of the IRS taking years to deliver needed documents and demanding massive amounts of information to 'process' the paperwork for non-profit status. I think Congress should hold hearings into this. If anyone believes this was just a couple of low-level employees doing this, I have some ocean-front property in Tennessee for sale. This is why the IRS should be a totally nonpartisan agency, removed from the control of the administration. In the '90s, the Clinton IRS routinely audited Clinton's enemies. While it has not been nearly as bad under Obama, this kind of 'targeting' is way out of line."
UPDATE: And from Amy Kremer of Tea Party Express:
Just like with Benghazi, the truth comes out after the election. This was nothing more than an effort to silence the opposition. Unfortunately, the administration never accepts responsibility, but always blames it on low level employees. For an administration that is looking out for the little guy, you wouldn't know by their actions.
 | 
Posted Friday, May 10, 2013, at 10:03 AM
Mitt Romney speaks at the Conservative Political Action Conference in National Harbor, Maryland on March 15, 2013.
Photo by NICHOLAS KAMM/AFP/Getty Images
Jonathan Karl, who's owned the politics-of-Benghazi beat all week, obtains a campaign ad that the RNC designed but never released in the fall of 2012. It's simple, which lends it some emotional punch.
Because it broke in the final stretch of the election, Benghazi was always covered as a political story—something that could beat Barack Obama. Hence the outrage over the administration's early talking points, and the questions about why "terror" was sliced out of them. "We have a pretty good gut feeling as to why the talking points were changed," said Sean Hannity after Wednesday's hearing. "It was in the heat of an election."
But why are Republicans convinced that this would have altered the election? Four Americans died in the attack in Benghazi. For the first time since the Carter administration, a diplomat was among the fallen. That was unspinnable. That did a certain amount of damage to the Obama campaign, like it should have. Where Hannity et al lose people is on the "cover-up"—why would the phrasing of talking points have ended the outrage? Why, because the administration was telling voters that the death of Osama bin Laden effectively ended the War on Terror, and that there was nothing new to fear, so we could go on not talking about "Islamism" and be perfectly safe.
This was never going to work. We learned why, not during the election, but during the weeks around the George W. Bush Presidential Center dedication. Bush, you'll remember, was president during the deadliest terrorist attack ever on American soil. Yet Bush's defenders credited him with Keeping America Safe. How? As Jennifer Rubin put it (though you could quote one of dozens of pundits), "there was no successful attack on the homeland after 9/11" while Bush was at the wheel.

This is mockable (Charlie Pierce calls it "the great mulligan") but astute. Bush got re-elected on this theory. Americans are fretful about terrorism only to the extent that it might kill them in America. The Bush-era response to terrorism led to two fitfully successful land wars in central Asia, with thousands of military deaths; more relevantly, when we're talking Benghazi, the Bush years saw 64 attacks of varying scale on American diplomats and embassies. None of them hurt his re-election. A terrorist attack of the same scale in, say, Indianapolis would have. Not overseas.

As a pure election-time issue, Benghazi reminded me of the 2004 "Rathergate" controversy. The common attack on CBS News at the time, after it ran stories about George W. Bush's National Guard service, was that it was trying to "bring down the president." That assumed a lot of voters who'd elected Bush once, knowing he'd merely served in the Texas Air National Guard during Vietnam, would be so angry at the new details that they'd reject him. Was anyone in the Obama administration, in September 2012, worried that classifying the Benghazi attack as "terrorism" would hurt their jobs? It seems that way, though I guess the president undercut them on Sept. 12 by putting the attack in the context of "acts of terror."
 | 
Posted Friday, May 10, 2013, at 8:31 AM
Vice President Joe Biden speaks during a dedication ceremony naming a Capitol Visitor Center conference room in honor of former Rep. Gabrielle Giffords' slain aide Gabe Zimmerman at the U.S. Capitol in Washington, DC, on April 16, 2013.
Photo by SAUL LOEB/AFP/Getty Images
The vice president's Rolling Stone interview (with Doug Brinkley) is, like you'd expect, goofy and newsy. On the gun bill:
A lot of our colleagues – a few Democrats and a lot of Republicans who know better – thought, "The public hasn't changed, if I vote with you, I get beat up. . . ." The 17 or 18 people I called and spoke to thought they would get in trouble supporting any additional, quote, "burden on gun ownership." The ones who still said no, the four Democrats and remaining nine or 10 Republicans, they didn't offer any substantive reasoning to be against it. In one form or another, they all said the same thing: "Joe, don't ask me to walk the plank, because the House isn't going to do anything, anyway." The other one was, "Joe, I know it's 85-15, 80-20, 90-10 in my state. You know how it works: The 10 percent that are against, they're all going to be energized; they're going to organize against me. And the 90 percent who are for it, it's not going to be a determining vote for them." My argument was, "You've got it wrong. The public has changed."

Mark Ames asks whether the Boston bombings were "blowback from a very dark and savage game being played out by America's leading hawks, Cold Warriors and oil imperialists."

In the Massachusetts Senate race, Ed Markey's campaign keeps up its flurry of punches against Gabriel Gomez, and generates headlines like this: "Gabriel Gomez Defends $280,000 Tax Break On Cohasset Home." In 2010, Democrats sat and slept while Scott Brown built the indelible image of a likeable truck-driving bro in a barn coat. (Only after the campaign did voters realize he'd bought the truck to transport his daughter's horse.) Markey's job: Do whatever damage it takes to Gomez's image so he becomes a generic Republican, and thus easy to roll over.

Zack Beauchamp muses on why conservatives link race and IQ, a topic I've done some reporting on for a story that'll appear later today.

Gosnell-mentum continues as Republicans ask all 50 state health departments to prove they're inspecting abortion clinics.