| 
Posted Wednesday, May 8, 2013, at 10:30 AM
Brooke's Your Reflector Number I (Personality) Quiz from the Secretarial Training Program in Waco, Texas from January 1959 to June 1959 (Online catalog identifier 7280725).
This personality quiz, recently unearthed at the National Archives at Fort Worth, was meant for future secretaries taking a course with the Department of Labor's Bureau of Apprenticeship and Training.
Published in 1959, the quiz was most certainly directed to young women, who would have made up almost all of the pool of future administrative professionals. As such, it's a valuable representation of the kinds of emotional work that women were expected to do in the office.
Read More »
 | 
Posted Tuesday, May 7, 2013, at 12:30 PM
Photo courtesy of Alex Bateman.

During World War II, soldiers serving in Allied armies formed several exclusive clubs honoring troops who survived harrowing ordeals. Though unofficial, these clubs offered a morale boost to their members, as well as to other soldiers, as proof that survival—against all odds—was possible.
Read More »
 | 
Posted Monday, May 6, 2013, at 11:00 AM

On May 6, 1937, the German airship Hindenburg exploded in New Jersey, after more than thirty successful transatlantic trips. That day, a combination of unfortunate events (a storm that charged the ship with static electricity and a mechanical failure that led to a hydrogen leak) caused a disaster that would effectively end the promising practice of travel by airship.
Read More »
 | 
Posted Thursday, May 2, 2013, at 1:30 PM
During the eighteenth century, mothers who left their babies at London's Foundling Hospital would deposit something small, but unique, with the hospital to serve as an identifier, in the event parents returned to reclaim their children. These "tokens"—scraps of fabric, small metal objects, or bits of jewelry—were sealed in the child's official record as proof of the parental connection, even as the babies themselves were renamed and vanished into the institutio
Read More »
 | 
Posted Wednesday, May 1, 2013, at 11:15 AM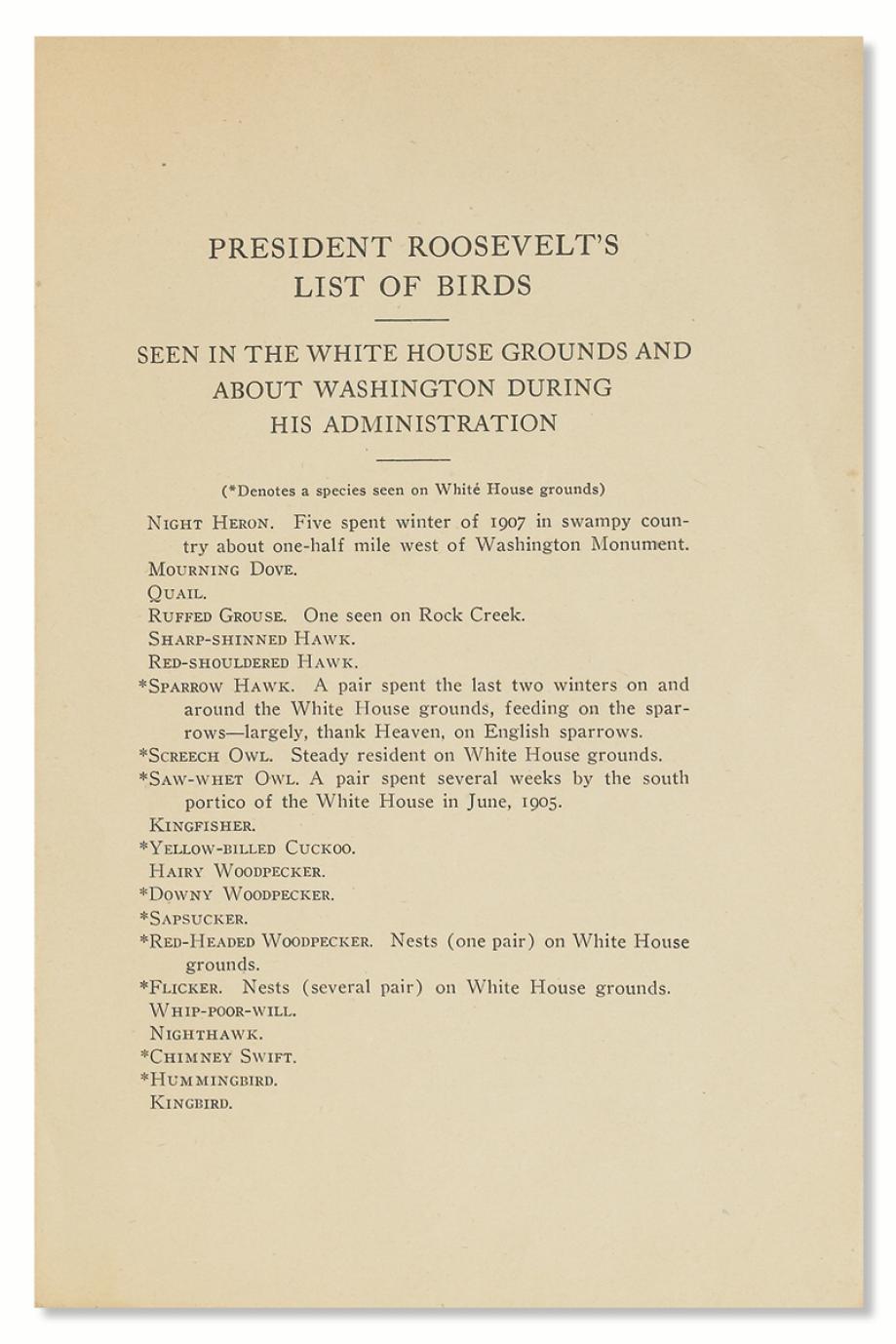 Theodore Roosevelt, "President Roosevelt's List of Birds Seen in the White House Grounds and about Washington." Three printed sheets, 1909. Image courtesy of Swann Auction Galleries.

In 1908, Theodore Roosevelt compiled this list of ninety-three species of birds that he saw around Washington, D.C. during his presidency. (This is the first page of three. You can see the complete list here [PDF].)
Roosevelt, an avid natural historian, was a birdwatcher from an early age. In 1877, at age 19, he co-authored an article titled "Summer Birds of the Adirondacks," which was his first publication. Throughout his political career, he maintained friendships with ornithologists, and took bird-watching trips in the course of his official duties.
Read More »
 | 
Posted Tuesday, April 30, 2013, at 11:30 AM
While Napoleon Bonaparte waged war across the continent in the early 19th century, European satirists living in countries threatened by his encroachments represented his progress in a flood of caricatures.
These prints, published in French-occupied Germany in 1813, depict a parade of ragged French soldiers. Some are mounted on sorry-looking horses, some are missing limbs, and most lack shoes and lean heavily on canes. Any semblance of military uniformity has dropped away, as the men appear swathed in rags and tatters.
Read More »
 | 
Posted Monday, April 29, 2013, at 11:25 AM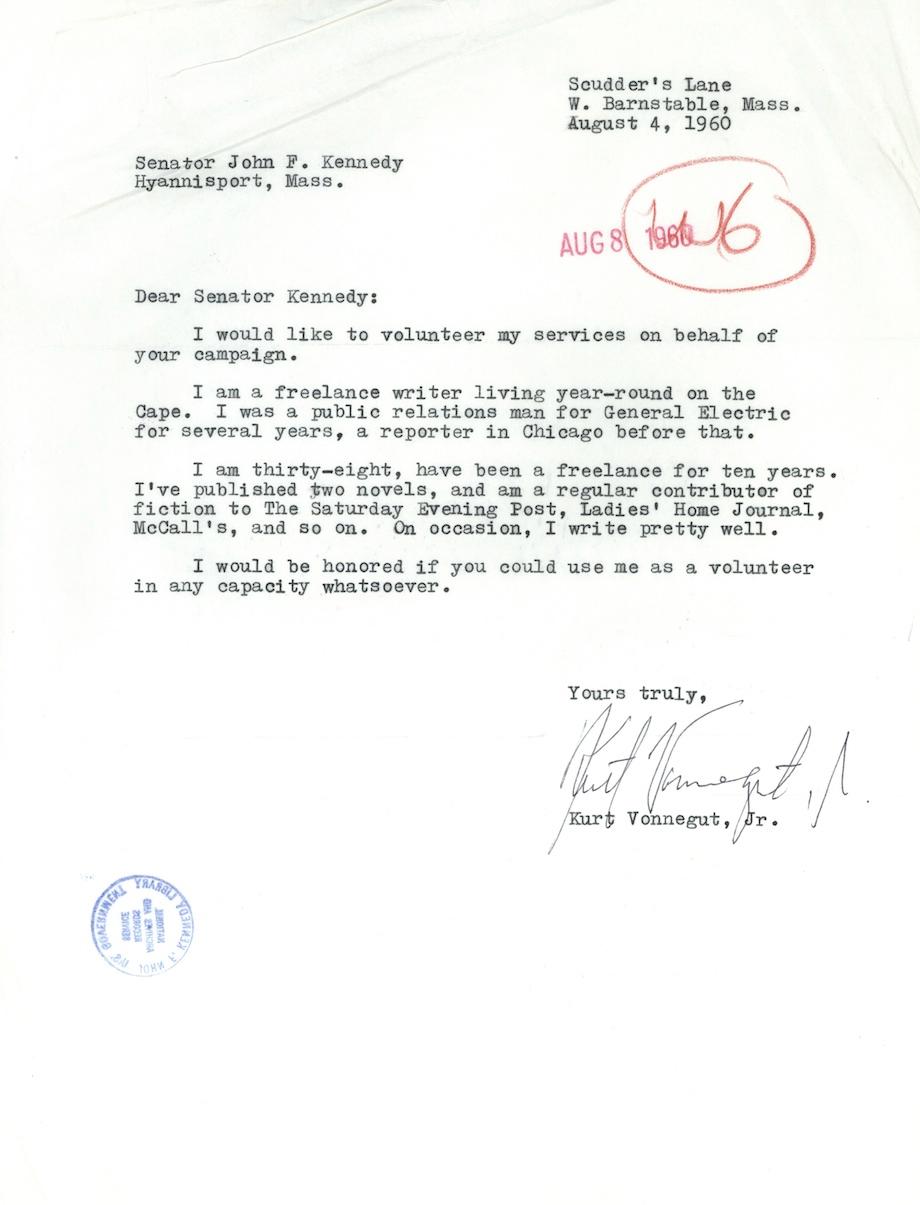 In this short letter from 1960, Kurt Vonnegut, Jr. volunteers to work for the campaign of candidate John F. Kennedy.
Writing in a plain style, Vonnegut describes his writing career up to that point, quickly glossing his work in PR for General Electric and as a reporter, and describing himself as "a freelance" of ten years' experience. (Other jobs from that period of his life that he doesn't mention: teacher for special-needs kids, owner of a Saab dealership.)
Read More »
 | 
Posted Friday, April 26, 2013, at 11:30 AM
As a U.S. Marine Corps fighter pilot serving in the Pacific during World War II, 2nd Lt. Sam Folsom received several blood chits, or rescue patches, to assist him if he found himself behind enemy lines. The chits, or official IOUs from the U.S. government, requested help for a stranded airman and promised a reward for those who came to his aid. Usually written in various languages, depending on where the pilots operated, the chits were often sewn on flight jackets, or issued as letters or cards.
Read More »
 | 
Posted Thursday, April 25, 2013, at 12:15 PM

This 1817 lithograph was a cheat sheet for young dancers, meant to remind them of the etiquette called for in various situations on and around the dance floor. The American Antiquarian Society, which holds this item, suggests that the folds in the paper might have resulted from the sheet being carried around in a dancer's pocket for easy reference.
Read More »
 | 
Posted Wednesday, April 24, 2013, at 11:00 AM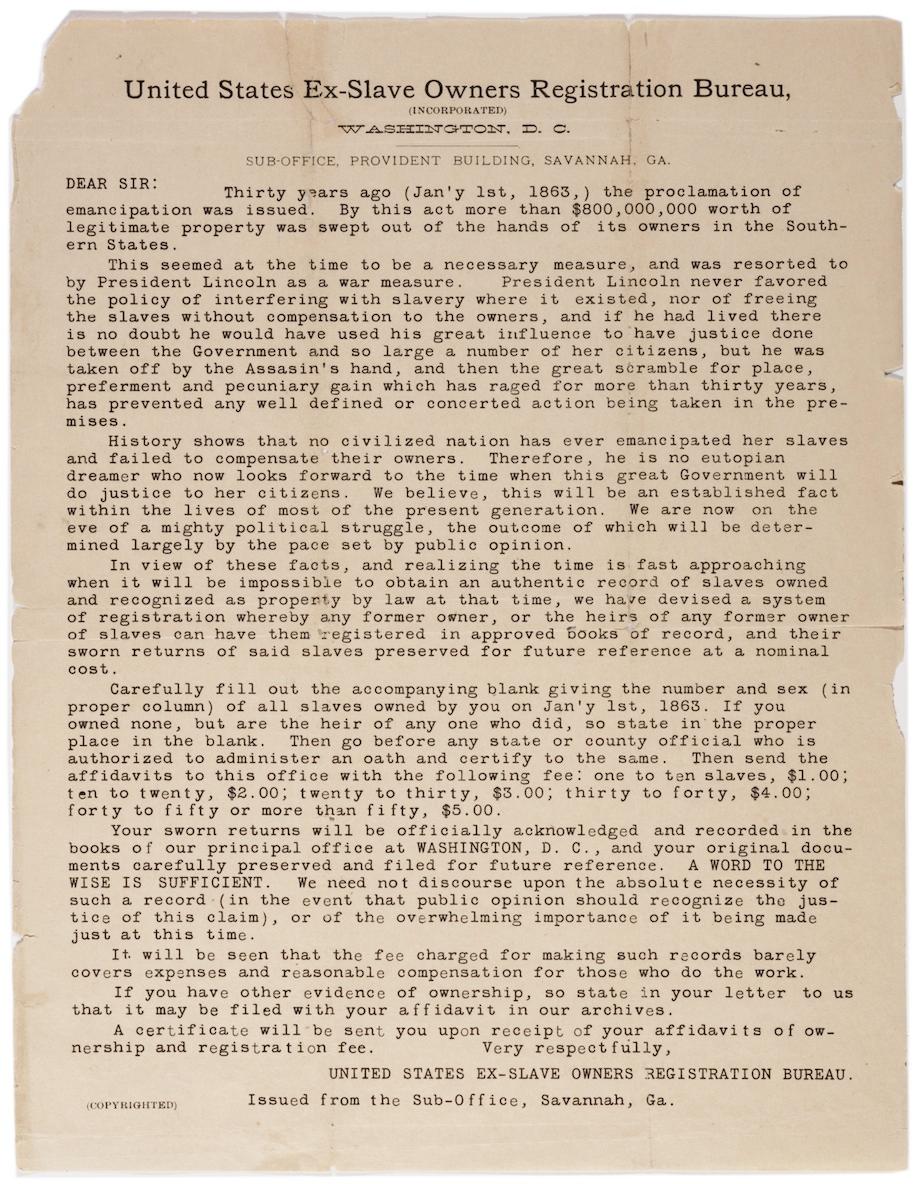 This broadside, from a business calling itself the United States Ex-Slave Owners Registration Bureau, was sent to select Southerners in 1893.
Noting, in outrage, that the 1863 Emancipation Proclamation had "swept" "more than $800,000,000 worth of legitimate property…out of the hands of its owners in the Southern States," the anonymous author asked readers to send him names of their slaves, evidence of ownership, and a small fee for the services of the registry. The Bureau promised to keep these records safe, until the time when "public opinion" might "recognize the justice of this claim." After all, the author argued, "no civilized nation has ever emancipated her slaves and failed to compensate their owners."
Read More »