Your News Companion by Ben Mathis-Lilley
CNN Reporters in Ferguson Provide Wall-to-Wall Coverage of CNN Reporters in Ferguson
Shortly after St. Louis County Prosecutor Bob McCulloch's announced that the grand jury had decided against indicting Darren Wilson, CNN's Jeffrey Toobin provided what would prove to be the best insight from the network all night.* "Let's see what the evidence says," Toobin said, a reference to CNN's promise to dive into the massive trove of testimony and other evidence that McCulloch was making public.
It would take roughly two hours before CNN would talk about that evidence in any detail—and then they did so only in passing. In the meantime, the network would provide wall-to-wall coverage of the reactions on the ground in Ferguson. (During President Obama's late-night statement to the nation, CNN even ran a split-screen with images of the unrest.) In the process, their cameras captured the first clashes between sometimes-violent protesters and a police force that appeared quick to use tear gas to crack down on many peaceful demonstrators.
The images were powerful and important. Unfortunately, though, they were not all that informative, because the live shots were accompanied with on-air reporting from the ground that was occasionally contradictory, often confusing, and, whenever possible, self-referential. It's true that, as has been the case since the protests over Michael Brown's killing started, reporters did become part of the story at certain points. Early on Tuesday, CNN reporter Sara Sidner appeared to be hit with a rock live on the air. But aside from that one incident, there was little that justified CNN's egocentric coverage.
On-camera interviews with protesters or community leaders were scarce at best, as was confirmation of many of the rumors that were mentioned on air, ranging from anecdotes about gunshots to one about a protester reportedly having a heart attack.
In their stead were a half-dozen CNN reporters wandering the streets, recounting what was personally happening to them and their colleagues. Among the many exchanges between the CNN contributors was Van Jones and Don Lemon talking about the latter's gas mask not being on tight enough, and reporters warning other reporters to stay safe. Jake Tapper, clad in a CNN jacket, narrated as he walked toward a flaming trashcan to confirm that it was, in fact, a flaming trashcan. Earlier in the night, Lemon delivered this gem to the audience at home: "Obviously there is the smell of marijuana in the air as well."
Wolf Blitzer set the tone even before the grand jury's announcement was official. The CNN anchor went to great lengths Monday evening to point out that his network had reported that a decision had been reached before officials had alerted Michael Brown's family. The reason for Blitzer's boasting? He was interviewing the family's lawyer.
The network would show more than an hour's worth of on-the-ground coverage from their team before Anderson Cooper would finally alert viewers that it was not all of Ferguson that was burning, but only a small section of it. "I do think it's important to put this into some context," Cooper told viewers who had gone without it until then. "What we're talking about—what you're seeing, the images—are from a relatively isolated and limited location. We're talking about a several block area."
"Elsewhere things are calm, people are at their homes," Cooper would go on to conclude. "Many people are just watching this on television." Given that's the case both in Ferguson and outside of it, let's hope CNN has better luck in the coming days finding a way to talk about what's happening on the ground without talking about themselves.
*Correction, Nov. 25, 2014: This post originally misspelled the name of St. Louis County Prosecutor Bob McCulloch.
Here's What Darren Wilson Looked Like After Shooting Michael Brown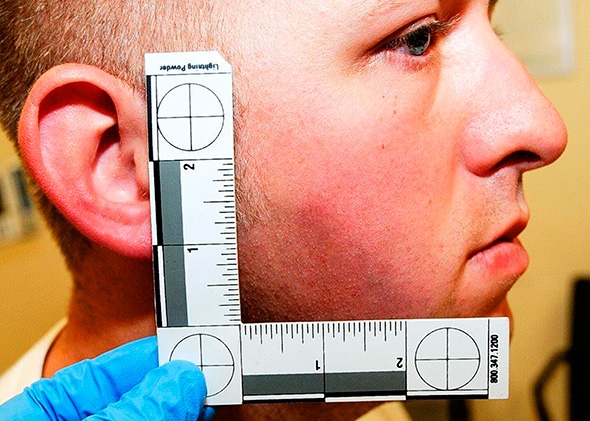 Surreal Images of Obama Speaking Calmly While Ferguson Erupts
At 10 p.m. Monday, President Obama addressed the nation, urging calm and peace in Ferguson in the wake of a St. Louis County grand jury's decision not to indict police officer Darren Wilson in the fatal shooting of an unarmed teenager, Michael Brown. Obama was quiet and composed as he called for the protests to remain peaceful.
"There will inevitably be some negative reaction," he said, "and it will make for good TV."
Even as he was uttering those words, smoke was rising from the Ferguson streets as police tried to disperse the outraged crowd. Rather than choose between his speech and the chaotic scene unfolding in Missouri, many news channels went to a split screen, showing one alongside the other. The result was, as many on Twitter pointed out, a surreal juxtaposition.

Here is what the nation saw as Obama delivered his remarks.
Ferguson's Tank Man
Ferguson, Missouri, 2014:
Tiananmen Square, Beijing, 1989:
Darren Wilson Will Not Be Indicted for Killing Michael Brown
Ferguson police officer Darren Wilson will not be indicted for the fatal shooting of unarmed teenager Michael Brown, St. Louis County prosecutor Bob McCulloch said in a statement on Monday night. After months of deliberation, on Monday a grand jury returned its decision that Wilson will not face charges, as the St. Louis suburb braced for potential unrest as a result of the decision.
"We are profoundly disappointed that the killer of our child will not face the consequence of his actions," the Brown family said in a statement after the announcement. "While we understand that many others share our pain, we ask that you channel your frustration in ways that will make a positive change… We respectfully ask that you please keep your protests peaceful."
The grand jury—made up of nine white and three black jurors—first took up the case on Aug. 20, in order to decide if there was probable cause Wilson committed a crime on Aug. 9 when he shot Michael Brown while on duty. Over the last three months, all twelve jurors were present at each of the 25 grand jury meetings, which amounted to more than 70 hours of testimony, according to St. Louis County prosecutor McCulloch. "Officer Wilson took the unusual step of testifying before the grand jury, appearing for more than four hours on an afternoon in September to defend his actions, and he said he was convinced that his life was in danger," according to the New York Times. Here's more on what the jurors had to consider from the Times:
At 12:01 p.m., Officer Wilson appeared on the scene, driving alone in his police vehicle. Through the driver's side window of his Chevrolet Tahoe, he issued an order: Leave the street and walk on the sidewalk. At this point, accounts differ widely. Mr. Johnson has said that Officer Wilson reached through the open window and grabbed Mr. Brown by the neck, choking and pulling him. According to an account that Officer Wilson gave to various authorities, Mr. Brown was the aggressor, punching him in the face and scratching him on the neck. Pinned in his vehicle, Officer Wilson, according to his statements to the authorities, feared for his life and, with his right hand, drew his gun from the holster. As the two continued to struggle, Officer Wilson fired the gun twice, forensic evidence revealed. One shot hit Mr. Brown in the hand, a county autopsy found… Officer Wilson left the car, pursued Mr. Brown on foot and continued to fire. Two construction workers who were on Canfield Drive at the time said in interviews with the news media that they had seen Mr. Brown with his hands up when he was shot. One of the workers said "the officer was chasing him." Other witnesses said Mr. Brown had turned around and was moving toward Officer Wilson.
The shooting became a flash point triggering weeks of protests in Ferguson that occasionally turned violent. The Brown shooting, as well as the police's military-like response to protests, reignited a national debate on race and the police. In the lead up to the grand jury's decision, local and and national leaders appealed for calm. President Obama weighed in over the weekend saying in an interview: "Using any event as an excuse for violence is contrary to the rule of law and contrary to who we are." Ahead of the announcement, the New York Times reported, "[a]round this St. Louis suburb, law enforcement authorities were on alert and the Missouri National Guard stood by; political leaders, including Gov. Jay Nixon, were holding last-minute meetings with community members; and residents, including parents of schoolchildren, were bracing for what might come next."
*This post has been updated.
The Latest From Ferguson: A Curated Twitter Stream of Live News Updates
Earlier this year when protesters in Ferguson faced heavy backlash from a repressive police force, the best place to go for live information on what was happening on the scene was not the television networks. Rather, if you wanted up-to-the-second reporting, your best bet was Twitter. Now that the grand jury has come down with a verdict in the shooting death of unarmed teenager Michael Brown, we've created this list of the best Ferguson reporting on Twitter.
Former Hagel Foes Blame Obama's Policies for the Defense Secretary's Fall
Chuck Hagel's old antagonists aren't really dancing on his grave. The former Republican senator from Nebraska who became secretary of defense last year is stepping down—and/or being pushed out, and/or being scapegoated—and the response from his former conservative foes isn't as acerbic as one might have expected.
When Hagel was going through the confirmation process, many conservatives—both in the media and on Capitol Hill—fought tooth and nail to keep him from ascending to Secretary of Defense. Conor Friedersdorf handily charted conservative media's anti-Hagel agitation here—who could forget Breitbart News's debunked charge that Hagel had received campaign contributions from a group called "Friends of Hamas." For the most part, Republicans were not fans—so much so that, Friedersdorf argued, some were eager to buy into any paper-thin argument that he wouldn't get confirmed.
But confirmed he was, with just four Senate Republicans voting in his favor. Almost two years later, some of his most vocal detractors show little schadenfreude. Weekly Standard editor Bill Kristol, a vehement opponent of his confirmation, was quite kind to him in a column on Monday morning.
"I'm really sort of sad for Hagel," he later told me over email. "He wasn't up to the job, but Obama should have known that, and I think [he] did, but didn't care."
"Obama appointed him for cynical reasons (he's a Republican, and he was someone who'd be weaker than Gates and Panetta), and now he's thrown him overboard for cynical reasons," Kristol continued. "The whole sad episode should redound badly on Obama much more than on Hagel."
Michael Goldfarb of Center for American Freedom, who was deputy communications director for Sen. John McCain's presidential bid, also wasn't coy about his opposition to Hagel's confirmation back in early 2013. Now he says Hagel's brief tenure wasn't a surprise.
"It was destined he wouldn't last long or do much of value," he said via email. "I don't think they understood just how irresponsible they were being in pushing ahead with the pick though, mostly because they believed their own bullshit, they believed their policies were working, and it wasn't until about half-way through Hagel's short run as Secretary of Defense that it became really clear to everyone that Obama's foreign policy was a total train-wreck that just happened to be taking place in slow-motion."
On the Hill, Senators who opposed his confirmation—all of whom were Republicans—were similarly non-triumphal about Hagel's fall.
"Today's resignation reflects the ongoing damage caused by President Obama's misguided foreign policy of leading from behind," said Sen. Ted Cruz, who suggested former Sen. Joseph Lieberman as a potential replacement.
"[I]t is not clear to me that all of this administration's failings fall at Secretary Hagel's feet," said Sen. Marco Rubio, adding that he hopes Hagel's resignation "is just the beginning of a shakeup of the President's national security team."
The emerging response from the right: Obama's foreign policy, not Hagel's time at the Pentagon, is the problem. And his ouster doesn't fix much.