Your best source for knowledge.
Wolverine vs. Honey Badger: Who Would Win?
This question originally appeared on Quora.

Answer by Rory Young, professional guide, ranger, and tracker with 23 years in wildlife and forest management.:
Both of these animals are the largest and most successful mustelids in their respective ranges.
They are equally renowned for their ferocity, their ability to take punishment, and their unbelievable gluttony.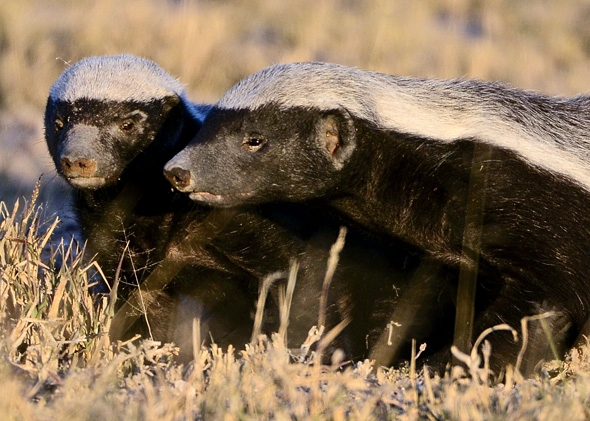 The honey badger measures up to 96 cm is length, up to 28 cm at the shoulder, and weighs up to 16 kilograms.

The wolverine is much larger; up to 107 cm in length, up to 45cm at the shoulder, and weighs up to 25 kilograms.

I will break down the respective weaponry and defenses for each species.

Firstly the wolverine.
The wolverine's teeth are unique. They have a special molar that is revered 90 degrees which is used for breaking through bone. Their jaws are powerful and the combination of strong jaw muscles and special molars allow them to eat every part of the animal including hooves, bones, and teeth.
According to Dr. Jens Persson from the Swedish Wolverine Project, wolverine claws are believed to be semi-retractable but are actually fixed. However, the toe biomechanics effectively allows them to perform a similar action, which of course allows them to be kept sharp. These claws are also curved and therefore ideal for hooking and shredding.
In terms of behavior, the wolverine is fearless. It has been recorded killing a polar bear by latching onto the throat with its jaws and suffocating the animal. Its primary means of killing is suffocation by biting the throat and not letting go, and also by crushing with its powerful jaws and specially adapted molars.
The wolverine's main defense against predators is its ferocity. It uses this together with its sharp claws, sharp teeth, powerful jaws, and thick skin and fur to protect its kills against much bigger predators, including wolves and bears.
Although the wolverine is known to have a thick hide, wolverines have been recorded killed by North American porcupine quills in a number of instances.

Now let's look at the honey badger.
Other than its willingness to fight to the bitter end, the honey badger's defenses are fourfold.
First, it is built to take a beating. Honey badgers live in an environment inhabited by many much larger predators, including lions, leopards, hyaenas, Cape hunting dogs, cheetahs, and of course, as we both evolved in Africa: man.
It is normal for predators in this environment to attack and kill any other predator. This is most likely to reduce food competition. That means that honey badgers have evolved to survive in the same environment as these much larger and well equipped carnivores.
Honey badgers need to be exceptionally tough to survive. Lions, leopards, and hyaenas are all well-known to attack and attempt to kill honey badgers. These attempts are sometimes successful but very often they are not. The honey badger will fight non-stop until it is dead or the attacker tires, at which point the honey badger will make a break for it.
The honey badger has an exceptionally tough, thick, and loose hide, specifically evolved to defend it against biting, clawing, and stinging. It is almost 6mm thick and extremely tough. A good example of how tough is the fact that African porcupine quills rarely penetrate it. Bear in mind that African porcupines are three times the size of their North American cousins.
Their second defense is tirelessness. They can literally keep fighting for hours on end. This is a problem for a predator already battling to gnaw through the skin. The effort is tiring, and the whole time, the honey badger is struggling and counterattacking with its own claws and teeth.
The third defense of the honey badger is that when attacked, it will go for its attacker's groin. There are records (Stevenson-Hamilton 1947) from the Kruger National Park in South Africa of adult male Cape buffaloes having bled to death after being savaged by honey badgers in this manner.
Lastly, the honey badger has a reversible anal gland. The smell produced by it is described as "suffocating."
The honey badgers weaponry includes a set of much smaller but sharper teeth than that of the wolverine, sharp claws, and equal ferocity and stubbornness to that of the wolverine.
In my opinion, it boils down to whether the wolverine could get through the honey badger's defenses to kill him and whether the honey badger even has the tools to kill a wolverine.

While the wolverines weaponry is formidable, it does not approach that of lions, leopards or hyaenas. Below is a link to a video of a leopard battling to kill a honey badger. It succeeds in the end, but takes one hour to do so.
Another video shows a honey badger fending off six lions and then making good his escape.
Now, let's look at a hypothetical fight between the two animals.
I think we can pretty much discount either animal's claws doing much other than superficial damage to the other. The wolverine's greater strength and powerful jaws and teeth would very likely enable it to overpower the honey badger. However, like the much more powerful leopards and lions it would very likely have a very hard time getting through the honey badger's hide. This would take it possibly hours to do. Would it have to have the stamina to keep fighting the struggling honey badger, which would not give up till the death?
As for the honey badger, its teeth, although smaller than the wolverine's would very likely be able to penetrate the wolverine's hide. However, it would not be able to kill the wolverine by biting it to death. There is of course the question of whether the wolverine could suffocate the honey badger via biting the throat. This is highly unlikely because of the same loose, thick hide that makes lions and leopards take so long to kill them though they have more powerful jaws and wider gapes.

In my opinion, honey badger would either rip off the wolverines genitalia, thus causing it to bleed to death, or both would die via prolonged mutual mutilation.
After all this talk of these animals' strengths, I would like to point out the one big weakness they both possess. They are worse than pigs. They will eat anything and everything they can get their greedy gobs ahold of. In the case of wolverines, they are so greedy that they have been recorded dying after stuffing themselves full of porcupine without taking the time to remove the quills.

I have witnessed the disgraceful and the debilitating extent of honey badger gluttony after one got into a store room at a safari camp I once worked at. After spending the entire night gorging himself on every foodstuff imaginable, he was discovered by one of the workers who ran to tell everybody. We were of course worried about how we would get him out of there. We needn't have worried. When we opened the door he literally crawled out on his belly. He had eaten so much that he went straight past us without even glancing left or right and groaning not growling. I wouldn't have been surprised if he had died as a result.

We didn't see him again for a week and when we did, he had a very embarrassed look about him.

So, if you ever have to kill one of either of these species, the easiest way would probably be to just feed the bugger to death...

Please support: The Wolverine Foundation Inc., and http://www.rateltrust.org/. If you don't you may receive a visit from them and their pets.
Correction, Nov. 5, 2013: This post originally contained a photo of a Eurasian badger, not a honey badger.

Why Are People in Hong Kong so Fashion Crazy?
When you get a large number of Chinese in a small piece of land where there is a large amount of cash flowing around, they need to know their status with regard to each other.
Expensive clothes and accessories are a good way to tell.

Answer by Sanjay Sabnani:
To answer this question correctly, you have to go back to the late '70s and early '80s when Hong Kong was the garment manufacturing capital of the world. "Made in Hong Kong" was a punchline for mass produced goods. The local populace got access to all the latest fashions because everything you bought in an American department store was made in Hong Kong. It was only natural that retailers carried some of these export quality styles for their homegrown customers. Unbranded of course, since the locals could not afford what Americans could.
As Hong Kong's middle class emerged and manufacturing gave way to a larger service sector, there were people with greater discretionary incomes who ultimately were no longer satisfied with non-branded goods. They wanted more and this gave rise to Hong Kong becoming (at that time) the knockoff capital of the world. Many gray-market branded items were also labeled as factory rejects for the purpose of siphoning them off to locals and tourists alike. Hong Kong became the world's shopping destination following the same model of low cost manufacturing to knock offs to grey market and ultimately, the real McCoy.
Hong Kong people are so fashion crazy because there was a time when we brought fashion to the world. Designs from a runway in Milan would be in production in less than 30 days. This was before the Internet and FedEx.
Things have changed and the billionaires, centi-millionaires, and just plain old multimillionaires who made their fortunes from manufacturing, shipping, export, and retail just became so wealthy that they are now able to bring the world's best to them for their own amusement.

What Kind of Stress Do Full-Time Composers Experience?
1) Being a full-time contemporary classical composer in the United States essentially means teaching and/or arts administration. With national funding and commissioning for music in the state that it is, nearly all U.S. composers make their living (or the bulk of it) through organizational and institutional affiliation. This duality of purpose and focus is stressful by nature. How is one supposed to be an effective teacher/professor/director/conductor all day and then have enough time (or even motivation) to fit in composing at a consistently high level? Some composers find frustration in this system, dissatisfied that their craft of composition, which they value and devote so much time toward, is not financially self-sustaining. The fact they need to do so many other things that may have varying relations to their core passion is upsetting at least from a time-optimization point of view.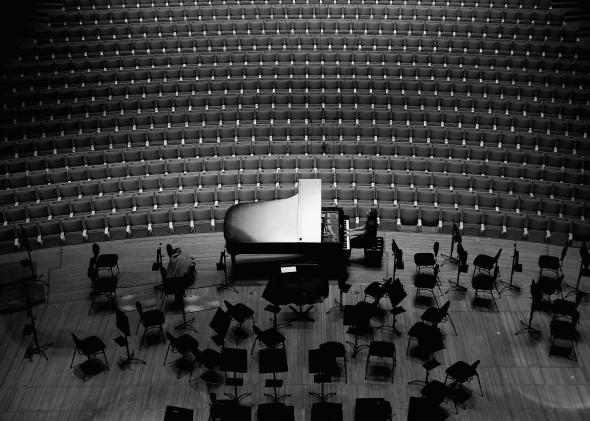 2) The level of awareness (or lack there of) the general public has toward contemporary classical music is also depressing. Part of this is a misunderstanding of the goals a modern composer has when writing a new work. Many concertgoers are not prepared to listen to challenging music. Whether it be the normal top 40 on the radio or even the classical canon, the average audience member is used to being spoon fed the same ideas time and time again. When presented with an experimental work, they have not been taught how to process or evaluate it. I often get shocked responses from non-new music types about how (for some reason) they thought my music would sound like Mozart. Yet, these same people would never expect a new film to be a carbon copy of a classic film like Citizen Kane.
3) Another facet of stress is likely to do with the lack of exposure new music has even within venues dedicated to this Western concert tradition. Unfortunately, not all lovers of classical music, no matter how die-hard they may be, are supporters of living composers via performance or patronage. As a result, it can be at times stressful to continually explain what it is you do and why it is culturally significant for classical music to be a living art form, always progressing rather than stagnating. In the fine art world, popular "modern" museums have millions of visitors a year with lines out the door for equally experimental projects, albeit with a differing medium. Abstract art has become trendy in American culture, fetching thousands (even millions) of dollars for the top artists. What was the last contemporary classical work to bring the composer millions
4) Lastly, composition as a career is an extremely competitive environment. As mentioned above, it is often necessary to have the support of an institution, such as a university or conservatory, in order to make a living in the U.S. as a contemporary classical composer. With the example of becoming a faculty member at a university, a composer generally needs: a) to have a solid grounding in performance and musical fundamentals from high school or before b) gain admittance at a top undergraduate composition program [these usually accept 10 percent to 20 percent] c) gain admittance at a top master's composition program [these usually accept 5 percent to 15 percent] d) participate in numerous festivals, workshops, masterclasses, internships, competitions, etc. e) gain admittance at a top doctoral composition program (many of these take four students a year out of 100-plus applications; f) wait until a current university composer retires or dies, and then be one of the few lucky applicants to land a professorship (at any given time there may be only a dozen or so institutions hiring, and there will always be top competition from all over the world for these spots).
Please note that many, many composers do care a lot about these other musical disciplines (education, administration, performing, conduction, directing, etc) and are glad they are able to carry out these additional roles. Nevertheless, it is still a point of stress that comes with being a composer.

What's a "Sudafed Smurf"?
This question originally appeared on Quora.

Answer by Bob Cooke, retired special agent-in-charge, California Department of Justice, Bureau of Narcotic Enforcement:
These guys are part of a network that go from store to store buying PSE (pseudoephedrine). In some cases, they are addicts. But in the great state of California "smurfers" are part of organized crime. You wouldn't believe it by looking at them. But they are. They usually travel in groups hitting every pharmacy, Walgreens, and CVS in the area at a time. They shred the pills/tablets from the blister packs and sell them in bulk to a wholesaler that will furnish them to a methamphetamine lab operator.
California was identified as the "Source Nation" for meth in the 1980s. Our state's illegal production of methamphetamine (meth) had exploded. The previous recipe and chemical precursors changed with the Mexican drug trafficking organizations (DTOs) introduction of the ephedrine and red phosphorus method of manufacturing meth. The results led to the "ice" problems that we have today. This recipe results in a much more potent form of meth and ice than the older Phenal-2-propanon method, commonly referred to as "biker" meth.
Huge shipments of ephedrine were imported from China through Mexico into California. The cook cycles were reduced to 36 hours, including bulk packaging. Back then, we (California law enforcement) would snicker when we heard of other states having small toxic labs fueled by pseudo ephedrine, or Sudafed pills gathered by these "smurfers." We were seizing huge meth labs and large seizures of PSE that was destined for meth production. Our super labs were defined as any lab capable of manufacturing 10 pounds or more in a cook cycle. We were seizing thousands of these yearly even though the DTOs continued to market California-manufactured meth to many other states across the USA.
Eventually, the U.S. government worked a deal with Mexico, led by California's Dianne Feinstein pushing the Combat Meth Act, to put an end of all legal importation of ephedrine into Mexico. Notice that I said "legal." Because illegal importation has remained a problem.
Now, fast forward a few years and law enforcement is dealing with these Smurfers. They purchase the 60 mg blister packs for $15-$35 and sell them for $55-$65 or more. Huge trash sites have been seized throughout the California Central Valley with heaps of hundreds of thousands empty blister packs. These trash sites indicate that the Mexican DTOs were still operating in high gear even though bulk forms of PSE are not available.
Low and behold, we discovered that we needed to control the sale of over the counter pseudo-ephedrine. That problem still exists in California with Big Pharma fighting law enforcement over this control effort. Oregon was the first state to put PSE as prescription-only, and the state reduced lab seizures by 90 percent this first year the law enacted. We still don't have the sales controlled.
This drug only got worse when drug producers and users found out how simple it was to convert powdered meth into the smokable Ice. Smoking anything increases the chances of addiction, and we have lost a lot of people to ice. Everyone in California has been touched by the meth/ice problem. Either as a victim of crime or a friend or family member in treatment.

I still visit the website Faces of Meth every once in a while, too. If you want to see what ice can do to a user, you need to take a look at it, too.

Is It Harder to Investigate Crimes That Happen Inside Prisons?

This question originally appeared on Quora.

Answer by Tim Dees, retired cop and criminal justice professor, Reno Police Department, Reno Municipal Court, and Pyramid lake Paiute Tribal Police Department:
The investigation will be a little like going after a crime committed in a neighborhood where there is a lot of gang activity. Lots of people were around, but no one saw anything.
Being labeled as an informer in prison isn't just going to make you a pariah—it's close to being a death sentence, or a sure trip to protective (solitary confinement) custody. The very best you can hope for is a reduction in sentence and being shipped off to a distant facility under an assumed name to serve the rest of your sentence. Prisons do this fairly often under an interstate agreement. State A sends State B ten (or whatever number) of their problem prisoners to house; State B does the same thing to State A. Most of those prisoners will be informers, former cops or corrections officers, or child molesters.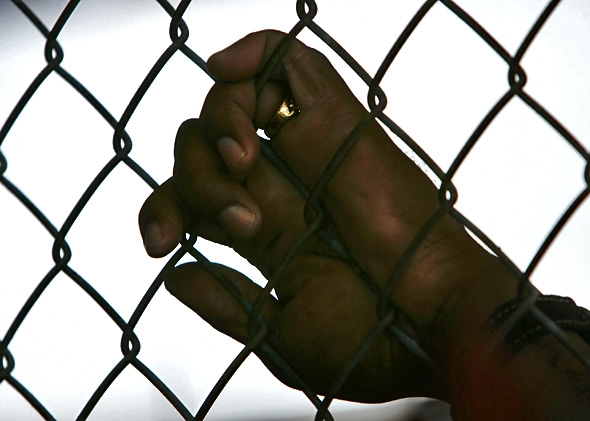 It's highly likely you'll recover the murder weapon, but by the time you find it, it will either have been wiped free of any latent prints, or there will be so many prints on it (a result of the weapon being quickly passed along to get it out of the target area) that it will be impossible to determine who it originally belonged to.
If you do identify a suspect and your witnesses are inmates, the trial will still be problematic. All of your witnesses will be convicted felons, and the defense will make sure the jury understands this.
One of the most unjust aspects of our prison system is that the institution cannot guarantee the safety of inmates. An inmate who wants to simply serve his time may still have to live in fear of attack. The alternative (which may not even be available, due to overcrowding), is to live in solitary confinement, which can be maddening.

What Sounds Do Astronauts Hear During a Spacewalk?
This question originally appeared on Quora.

Answer by Garrett Reisman, former NASA astronaut:
Mostly what you hear is the sound of the pumps and fans that circulate air and water through your suit. It's not terribly annoying or anything, but it's not the silent lonely environment with no sound other than your own breathing like often depicted in the movies.
Plus, you are wearing a headset so you have the sound of your crewmates and the folks in Mission Control talking to you fairly regularly.
It is true, however, that sound cannot travel in a vacuum so you do not hear things outside. When you drive a bolt or tap a piece of equipment with a tool, you don't hear a thing.
One interesting thing that happens is that when you put your crewmates in the airlock to perform an EVA and then shut the hatch, at first you can hear a bunch of clanging as their metal tools softly strike the other equipment, handrails, or the hull of the small airlock. Then as you depress the airlock it still looks exactly the same through the hatch window. But now the clanging sound is gone. You can see their equipment bumping into stuff as before, but now it is silent.
As an EVA is in progress, you can hear the spacewalkers bumping and clanging along as your crewmates translate on the exterior of your module. It sounds kind of like ghosts in the attic dragging chains. Although without the scary moaning sounds!
And one more thing: As Stephen Colbert and I proved, it is true that in space, no one can hear you scream. Check out the link to our interview so you can see for yourself!


More questions on Astronauts:
What Is It Like After You Graduate the Police Academy and Become a Real Cop?

This question originally appeared on Quora.

Answer by Tim Dees, retired cop and criminal justice professor, Reno Police Department, Reno Municipal Court, and Pyramid Lake Paiute Tribal Police Department:
Like any other challenging course, it's a relief to be done and exciting to move on to the real thing. The elation is short-lived, however.
Despite having learned a lot about a topic that most people don't understand well (even though many think they do), the real-world task of applying that knowledge to practical situations can be bewildering.
I had a similar experience when I became an EMT. I thought I had learned everything I needed to know, but the first time I was confronted with a real-live patient who was expecting me to do something for them, I couldn't decide where to start.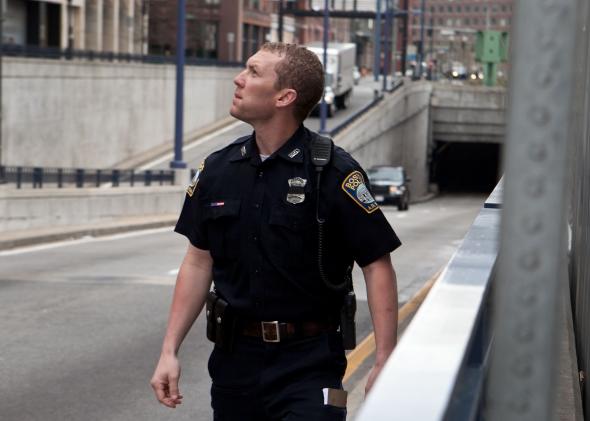 The first time you walk into the police station as a new rookie officer, you feel like you belong anywhere but there. Everyone around you is relaxed and confident. You don't know what to say, where to stand or sit, what you're supposed to do first or next. Your gunleather creaks every time you move because it's stiff and hasn't broken in yet.
This is where your field training officer (FTO, called a coach or mentor in some places) can make life easy or hard for you. He can leave you to fend for yourself and not tell you what you're supposed to do, or, worse yet, he can call you something derogatory like "boot" or "rookie" and make you feel like an idiot. When I became an FTO, years later, and I saw my new trainee looking especially lost in the briefing room, I'd try and pick out the oldest, saltiest, most senior cop in the room and point him out to the trainee. "See that guy? He also had a first day."
How your first few days go depends, again, on the FTO. Some FTOs put the rookie behind the wheel of the car right away. My first FTO didn't let me drive the entire time I was with him. My second (and last) FTO split the driving with me 50-50. He would ask me at the start of the watch, "Do you want to drive first or last?" At the midpoint of the watch, he would tell me it was time to switch.
My first assignment was in the drunk wagon, patrolling downtown. There was always at least one wagon on duty (we had two), and it was arguably the busiest unit in patrol. Even on a slow shift, the wagon team would make at least ten arrests, and three times that number was not unheard of. Most of the cases were simple ones -- drunk in public and other "quality of life" issues -- but there were a lot of searches of people, handcuffing, and trips to the jail.
My policy as an FTO, learned from other FTOs I had the opportunity to watch and learn from, was that I did the first one of everything: the first traffic stop, the first crime report, the first field interview, etc. If the task was a complex one, like a DUI arrest, I might do the first three or five. As each of the three four-week training phases progress, the FTO is supposed to shift more and more of the workload to the trainee. In the FTO program model, my department used (by the time I was an FTO, but the one I trained under was far less structured and formal), called the "San Jose model," there were three four-week phases, each on a different shift and under a different FTO. This was followed by a fourth phase with the original FTO, sometimes called the "ghost" or "shadow" phase. In this two-week period, the FTO works in street clothes, with the trainee in uniform. The FTO is there only as an observer (unless something goes really, really wrong), reporting on the trainee's activities.
During the FTO program, the FTO writes an evaluation on the trainee every day. The trainee is rated on about 20 different categories, such as personal appearance, knowledge of the law, patrol car operation, interviewing skill, defensive tactics, report writing, etc. The number and types of categories vary from one agency to the next. Each category is rated on a scale of one to seven, with anything below a "4" as "below standard." Any rating of 1, 2, 6, or 7 has to be documented in the narrative portion of the evaluation. A recap, summary evaluation is written every two weeks. As you might expect, quite a bit of paperwork is involved in this process. Most agencies do it electronically now (This company: Law Enforcement Public Safety Documentation Software produces the software that manages this process).
Now that concealed weapon permits are somewhat more common, carrying an off-duty gun may not be a new experience for the novice officer. When I was a rookie, carrying a gun off-duty was almost exclusively something that cops did, and most new cops can't wait to do it. Academy students are told to keep the guns concealed, but few newbie cops can resist showing off the hardware now and then. It's something that most cops, fortunately, grow out of as they mature in the job.
The field training program is the first exposure to actual police work, but I know the first time I really felt like a cop was the day I got into the car alone for the first time. It's still bewildering. I wound up calling a sergeant for advice on my very first call for service. I was supposed to take a report on a stolen car, and when I arrived and spoke to the complainant, I found he was drunk. We weren't supposed to take reports from drunks, but at the same time I didn't want to have someone make a complaint against me for refusing to take the report. The sergeant told me to write an incident report documenting the circumstances, and that took care of it.

I don't think there are very many jobs that have as much of a learning curve as policing. It's not only a knowledge challenge, but also an intense socialization. Just about every aspect of your life changes. The job is difficult to acclimate to, and just as difficult to make the adjustment when you leave.

Should We Be Excited About the New Breast Cancer Vaccine?
Vincent Tuohy, an immunologist at the Cleveland Clinic, has a vaccine. But even now, three years later, there remains a big catch: It's so far been tested only on mice, and it isn't likely to be available to women for another 10 years. And that's only if it passes a rigorous Food and Drug Administration approval process.
There is promise, though. In September, an investor ponied up an undisclosed sum to cover the cost of an FDA Phase 1 clinical trial to test the drug on humans. The Cleveland Clinic also formed a company called Shield Biotech, a key step to commercializing the drug.

The vaccine has proved to be both safe and effective in preventing breast cancer in mice, including mice bred to have a genetic predisposition for breast cancer. The research was originally published in Nature Medicine in May 2010.
The vaccine activates the immune system against proteins, including the prototypic protein alpha-lactalbumin, expressed only in breast tumors. This leads to the destruction of the tumor before it has a chance to grow and take root, Tuohy told Yahoo News.


So how long will it take to prove that this vaccine can prevent breast cancer? Well ... first it will have to go through Phase 1 safety trials to rule out significant toxicities. It will probably take them two years or more to go through the regulatory steps needed treat their first patient because they will probably have to go through other animal and even chimpanzee testing first.
Then, it will take them several years to perform and analyze toxicity data. The regulatory steps will be very onerous because this vaccine is to prevent breast cancer, not to treat advanced breast cancer. That means that they will be testing otherwise healthy human subjects. Virtually any significant side effect will close the study down.
Assuming phase 1 trial safety data is good, they will then need to test Phase 2 trials. Presumably they will test a group of high-risk patients and follow them over a number of years to see if their breast cancer risk will be lowered. Presumably they will use patients who carry the high risk breast cancer gene (BRCA, the same gene mutation Angelina Jolie has). It's estimated that breast cancer risk for carriers of deleterious BRCA mutations is about 4 percnet per year if preventative mastectomies are not performed and there is no other intervention. It will take years to show statistically significant results because most patients are not going to opt out of preventative mastectomies when they carry the BRCA gene to try something that may have no benefit. It will be hard to find patients to enroll.
The FDA then will probably require a Phase 3 randomized study to document effectiveness. This will take another bunch of years to perform and analyze.
If you see where I'm going with this, it's very hard to be excited about a potential vaccine that probably will take longer than a decade, and possibly two decades, to bring to market. So time will tell whether it's "for real."
This vaccine report is certainly nothing to be excited about at its current state of underdevelopment. With that kind of a time horizon, it's also not a particularly good biotech investment. But as someone who specializes in breast cancer, it would be great to be proven wrong.

To What Do You Attribute the Success of Your Marriage?
Answer by Marcus Geduld, Former dateless nerd, now 20 years into a relationship:
We've been married for 17 years and together for 19. Aside from that mysterious thing called "chemistry," here are the things that work for us.
I want to be really clear that each of the following has worked well for me and my wife. I am not saying that all marriages should be like ours. For reasons I don't quite understand, when people ask me why my marriage works, and I tell them, they assume I'm judging other marriages. I'm not. If your marriage works via some different criteria, good for you!
2. We got married when we were both almost 30. I have friends who married younger and are still happily together, but that's not the norm in my experience. Most of the folks I know who married young are now divorced or in troubled relationships. By the time my wife and I got married, we had worked all sorts of issues out. We both knew who we were and what we wanted from life. We'd gotten over issues we had with our parents, etc.
4. We continually work on projects together. Some of these happen naturally, due to shared interests. Others are more planned. If we didn't need to work on something together, we'd invent a project, e.g. learning to cook Indian food or whatever.
5. We communicate constantly. Even while we're at work, we call, email, and IM each-other multiple times a day. And we talk about everything. I know I can tell my wife any dumb, depraved, wicked, or embarrassing thought, and she won't judge me. And I'm the same with her.

6. As much as possible, we hang out in the same room, even when we're both doing our own thing. Often, we sit on the sofa together, me on my laptop and my wife on hers. I'm on Quora and she's doing ... whatever she does. But we're in the same room, and from time to time we make eye contact and share some tidbit on information, e.g. "Guess what some guy on Quora just wrote?"
7. We play together. And I mean play as in "children playing." We chase each other around our apartment, put on puppet shows for each other, play pranks on each other, and get each other surprise gifts. There's a whole brain module in my head devoted to doing silly things to my wife. (Recently, I photoshopped a picture of her with an elephant's trunk and posted it on her Facebook wall. Hee hee!) We've both learned to think of marriage as a playground.
8. We are both committed to the idea of marriage, see our marriage as something important that we've co-created, and are determined to keep it alive. I'm not going to say there's nothing that could end it, but I know that before either of us would even consider divorce, there would be many attempts to save the marriage.
I never take my marriage for granted. I never think, "I have to work hard at work, but when I come home, I don't need to do anything." My marriage doesn't feel like work, but I'm always thinking about it and problem-solving to make it better.
As far as I'm concerned, there are no deal breakers. For instance, if I discovered my wife had been having an affair, I'd be very hurt and angry. But I wouldn't say, "That's it. I'm out." I'd at least see if there was a way to salvage the marriage. If my wife didn't want to work on salvaging it with me, it would probably end, but I know her, know her values, and know she would work on it. Because we both believe in it.

9. Gender isn't an issue for us. I don't believe there's anything I should do because I'm a man or she should do because she's a woman. If we decided to have kids, we wouldn't take it for granted (or as a default) that she would stay home with the kids. This is an equal partnership.
10. We both like pie.

...

Answer by Jon Davis, Married high school sweetheart. Still together:

Puzzle pieces, homework, spreadsheets, a dog, and a sign.

Jennie and I have only been married for nine years, but in those nine years we have been through more than most marriages experience in a lifetime. We have been forcibly separated for two of the first four years, endured two deployments to Iraq when I was in the Marines along with numerous training deployments, the tragic death of a parent, loss of two grandparents (we haven't even reached year five by this point), seven cross country moves, two degrees, ran a small business, and endured numerous personal failures. And did I mention, we were married when we were only 18? Statistically, studies have shown that any one of these happening to a couple have caused marriage survival rates to drop into the single digits. When combining these together, I am pretty sure that statisticians would call it a miracle, but I think it comes down to who we are and what we have done to make it work. I can honestly say that I hate a few people who have no idea how easy their marriages are. Still, we are happy together. I suppose that counts as a validation of a degree of expertise in the matter.
For Jennie and me, it is a remarkable degree of attributes that come together in the correct manner to perfectly fit our lives. I know how clinical that sounds, but I've come to the conclusion that people who think that marriage is at it's best a miraculous rainbow of love and self-affirmation and at it's worst "hard work," are hopelessly deluded into what it takes to survive a marriage when the world is against you. Of course there is hard work, but if you are not a person capable of hard work then it really isn't the work that is the problem is it? Frankly, if you are working hard just to be married, you have already screwed something up that now you need to fix. Marriage should not be by default hard work, but an escape from the hard things that happen in life. It is my belief that two people are either right for each other, or they aren't, and only two very, very right for each other people can survive some of things we have. I do believe, however, that there are things that we have done or stumbled into that has granted us a special edge in this fight to overcome seemingly insurmountable Still, in the hopes of helping others, here are some things that I find incredibly crucial to surviving life while being married.

1. Puzzle Pieces
I have this belief certain people just fit together and most people just don't. I know this is a bit trite, and the weak among you will start to question yourselves already, but I feel it is a fundamental truth that more people need to accept sooner into their failed relationships. I also couldn't resist the obvious sexual innuendo. As I see it, and this is based off nothing other than my own observations, we all have certain characteristics that we can't change. You aren't aware of all of them, but they are a part of you that only gets fixed in romance novels and Disney movies. You are how you are and you can't be changed and neither can they. Your job now is to find someone who fits who fits into you perfectly and vice-versa. That's called dating and not the first year of marriage by the way.
I really hate the opposites attract trope. They don't. You might think that some things are opposite and it is so good that you balance each other out like magnets or something, but you need to completely and fanatically agree on so many things for for a marriage to work. I like the chemistry analogy. No I don't think that the first kiss is where it is. That is a chemical cocktail of endorphins, hormones, perfumes and is more closely related to something along the lust/euphoria spectrum than love and compatibility. I mean the way two different different, but complementary elements can come together to form a bond that is not easily broken. Most of the time, different elements will just sit around doing nothing in the presence other elements. A few will explode brilliantly and then are blasted in opposite directions. Then there are a few that just marry perfectly together forming a lasting bond that is not easily broken. These two elements have to have just the right properties and those don't change, but when they come together they make something really important. That's all for that analogy, because frankly I think that makes hydrogen a slut and I only got a C in chemistry anyway.
The point is that there are a ton of very unique things about each other that are valuable and must be different to make the marriage successful. I'm a thinker and a dreamer while Jennie is the doer and is focused. I motivate and encourage while she soothes. She hates the pizza crust and I love it. I write, she proofreads. Importantly though in other things, we are perfectly in sync, such as our views on religion, finance, family, politics, and obscure childhood cartoon shows. That combination of unique and different, but complimentary, can not also have the base of agreement on many things.
Honestly you can't just get together with anyone and it be a successful relationship. Most possible combinations are going to fail. You had a nice night once. You think she is beautiful. It doesn't matter. You have to do your homework to find out what type of people you are, how well you are going to fit for the long term, and if this thing is worth the work your going to invest into it.

2. Homework
Yay for segues. This is the most important step in making it work, checking if it will work.
Before Jennie and I got married (at 18 remember), we were highly encouraged to speak to our preacher and take part in a pre-marital counseling. The truth is that our preacher didn't give us any blessing or "allow" us to marry, but was a trusted person who gave us the information to decide if we were ready. The point of this was to help us make sure we were aware of what it meant and would be ready. We spoke to my youth minister, because I was still technically in the youth group (ha-hah!) for about an hour one afternoon after school. That's when he started asking us the tough questions like views on faith in marriage, how many kids we wanted, education for each other, what would we do if... He even gave us a workbook to go through; parts of it individually, parts together.
This is a real test for most people. Being 18, how much do you think we talked about kids? Well, you're wrong. We nailed it! We had already had long conversations about all these issues just because it was just sort of the thing we wanted to talk about. We even knew how many kids each other wanted and preferred gender combinations. Part of our "I had a bad day" ritual through our senior year was just laying on the bed and pretending what all we wanted in our dream house of our future marriage. Along with all that came a lot of questions that we answered, well before anyone told us we should be thinking about it. Suffice it to say, we talked about being married a long time before the actual planning for getting married. I am actually astounded that just as a product of chance we happened into those conversations and found them so enjoyable. I say that this counseling was one of the most important things we did on our road to matrimony, not because we needed it, but because it gave us confidence that we had in fact found the right one and were making the right decision. We needed that being such an extraordinary case.
That's why I always give the advice to young couples to take counseling like this. No one ever listens. It gets a lot of things you may not have thought about out in the open. It builds confidence in the team and lays the groundwork for the marriage. I swear that the most stupid thing I see over and over and over is people who spend months and months planning for a giant wedding and overly elaborate honeymoon and don't even know simple things like, "Would you rather have boys or girls?" Guess what, our wedding consisted of six tiki torches, a portable cd player, a preacher paid in leftovers from the reception, and a lake. We couldn't keep the lake. We also didn't have a honeymoon. Why? Because I had to report to boot camp six days later. You just don't need to focus on one day, when hopefully goal is lasting closer to 18,237 (50 years for the mathematically challenged).
Go to a pre-marital counseling. Churches give great ones, but it doesn't have to be religious. Just make sure that you speak with someone impartial professional who can make sure to ask you questions about:

Children, religion, careers, sex, money, living standards, education, homes, sex, politics, finances, travel, retirement, sex, and mostly your own life goals.
These are all the things that you really don't talk about in polite society, but you had better know their opinions on the matter by heart before saying "I do." I don't really believe all these people who say that being together on all these things is not important. At some point in the next 50 years or so, you are going to run into a few of these issues like a truck and a brick wall. If you aren't in sync for these you're going to get fazed by one of these existential dilemmas that break apart marriages decades after you say "I do."

3. Spreadsheets
Did you know that most couples divorce on account of money? Did you also know that most people suck at math? We know that and have done as much as we can to fix that situation. What is also important is that we both grew up poor and terrified of being without money. We are also incredibly fastidious with our money. For years now, we have known where every dollar was, where it was going, when another was coming in and what to do in an emergency long before there was an app for it. Why? Because I like spreadsheets.
In business school, I heard a mantra that stuck with me. "Treat your business like a family." I thought that was utterly ridiculous. I go to work so that I can feed my family, who I actually want to be with and who I don't want to choke to death. But it did get me thinking. "What if you were to treat your family like a business?" Before you get to deep into that, I was studying a lot of accounting at the time and enjoyed the way that numbers moved around and told a story. So no, I am not talking about firing your wife or cat, or the advantages of taking on a new "partner" in this joint venture you've created. I'm talking about focusing on the numbers. I kind of sucked at accounting, but I had learned enough to make use of it. I went home and designed several spreadsheets that helped us track everything that was going on in our home. It was actually much easier then what we used to do. We used to go through every single receipt, line by line, and total up our expenses down to how much we spent on what types of items at the grocery store. Because candy is not laundry detergent, you don't pool them together as "groceries." We made cuts and adjustments and never once had to worry about money like other people do. We never made a lot of money, but got by. Not in our entire first decade have we ever been truly close to broke. Can you imagine two twenty years olds you know doing that, sitting down every month with all the bills, receipts, an old notebook, and calculator to make sure the ends were meeting? Didn't think so. I also don't many twenty year olds who experience a ten year anniversary before they turn thirty. In any case, the spreadsheets saved us a massive amount of time to where we only really need about an hour every month to make sure we are on track.
Technically no, you don't need to be as meticulous as us in your financial endeavors. You don't actually need the spreadsheets. I just enjoy making them for some reason. What you do need is someone in the relationship, really both of you, who cares very, very deeply about tracking the money. You need rules, limits, allowances, and balances that you both agree to and that you both enforce. I want to say again that money is the single leading cause of divorce for a reason.
Another thing that I want to say, but it doesn't really fit anywhere else is this; don't have separate bank accounts. I know a ton of people of will argue with this point and say that it works for them, but here is my logic behind it. Are you willing to combine your living space, your future, and your DNA with this person, but not trust them with knowing how much you make and how you spent the money? First of all, in our family we don't have individual money. Everything goes into the family account. Everything that is bought is bought with some family goal in mind or with the blessing of the other party. Jennie called me the other day to make sure that it was OK if she bought $70 dollar shoes for work. Of course its OK. 'Why is she still asking me this?' I thought to myself, but the answer is that she knows that spending money is either an investment for the family, something to be shared or it hurts us and our goals. It's about teamwork and I appreciate her for that.

4. Get a Dog
So here you two are, happy that you are together and blissful that your existence together forever is assured. Then someone starts to think that it is lonely and that there is "something missing" in your home. Someone starts talking about the pitter-patter of little feet, the feeling of caring for something, being needed and loved unconditionally, since I guess now your love is worth little more than day old bacon. Well let me tell you something very honestly, all of these things can be done by a dog. Not only that, but if you aren't an idiot about it it, they can be potty trained in three days, know where to find the food you leave them, and will give you all the love and support you need.
What I am really saying? Wait to have kids. Kids are a blessing so I have been told. All my friends love theirs. I haven't seen any of them take one back to the store, but I think a trial run is just wise. Dogs are a great way to do that. In that nowhere-near-as-hard-as-having-a-kid sort of way, you get to work with your partner in developing the parts of a marriage that focus on those who are dependent on the two of you. You practice care and nurturing, namely feeding and cleaning, but more importantly training and discipline. Yeah, if you two can't decide on if spanking a dog is too big a moral hurdle to cross, do you think you are ready for kids? P.S. A bad dog that you screwed up is only is only going to be a bad dog for around fourteen years. You're stuck with the decisions you made "just winging it" with your kids for life.
Seriously, getting a dog can add two years to the time that you need to have kids. You also see if that person is right for handling someone in their care. It gets you ready to adjust your schedules around that little thing, making sure that you plan for it when you are away, thinking of its feelings and needs along with your own, and all the other things that go into having kids, if only in the smallest degree. You also get to see how that person acts or reacts when the dog acts up. Will they stick to their guns and to your plan or renig at the last minute because they lack heart. Still, a dog is much better than a baby book at getting you ready for one. Plus they're just awesome. Seriously, Allie is a member of our family. We are those people.

5. A Sign
There is a sign in our room that I have threatened to take down on numerous occasions.
I wanted to add the idea of rituals that bind your behavior. Rituals are the big little things that just don't matter, but really do. They are the neurotic things you do together that remind you of your shared history. These are the small events in your everyday routine that reemphasize your commitment to each other and to the values you share. It can be things as small as how I always get her a coke when she gets in from work or how, as I have discovered, the first words I say to her should be (must be), "Hi, Sweetie. How was your day?"
Others are deeply important for very sentimental reasons. Like this one, every Thanksgiving, we will go to McDonalds. We will have one of the few times where we go in, order, and sit down in the store and eat our meal, laugh, carry on, and reminisce about old times before going to work on the big meal of that holiday. We do this to remember our first Thanksgiving as husband and wife. I was training in 29 Palms, California, while she was still in Oklahoma. We had been married since June, but had not yet seen each other for more than three weeks, since. Everyone got a long weekend for Thanksgiving, so we planned to have her fly down and spend it with me. (Just so you know, I wasn't allowed to go home to be with her, in case you are wondering.) After months of being apart, we were going to spend one whole day together in Palm Springs which, appropriately, is an oasis. Don't forget, also, that this was being done on the pay of a 19 year old Marine Corps PFC, so it amounted to a major financial sacrifice to do it. What we didn't really think about was that on Thanksgiving weekend ... no one is open. No one. We walked around the city for more than an hour looking for something to do and somewhere to eat. It was Thanksgiving and we were starving, a fact we laughed about for about a mile. Then there was one sign still lit, a pair of golden arches. Whatever, we'll take it. We had our burger, and shared a shake, and loved every bite of it, because we were together, and this was our first Thanksgiving dinner together. Since then we have moved the Thanksgiving burgers to the day before Thanksgiving, for practical reasons, but it still reminds us that Thanksgiving isn't about a turkey or the work that goes into it. Rituals like this help codify family values and the stories help to enrich and teach the next generation about their importance, as well as continually bringing us closer together.
Of course, this isn't even our most important ritual. That would be our "Goodnight" ritual. Every single night since we have been married, we have ended it the same way. We go to bed together. After reading or talking, we lean over and I softly whisper "Goodnight." She echoes. "Sweet dreams." She echoes again. We kiss. "I'll see you in the morning.", "Goodnight", and one final kiss. These two kisses and twenty four words have been part of our routine every single night for nearly ten years. Even when I was in Iraq. Every day I could, I would call her and even if it was night for me and seven in the morning for her, we would still say this ritual, if only to ensure that it was said. Barring a few black out periods where I literally couldn't communicate back home, we have said this to each other each and every single night. We even closed our letters with this ritual.
It came about as combination of two other things. One, on our wedding day, we received some advice from the best couple I have ever seen, our role models as married people, my cousins Donnie and Rene. Rene told us, "Never go to bed angry." The actual wording came from a ritual my mother said to me when I was a little child and she would tuck me in. Together, these two have become our nightly ritual. And we must do it.
It has become such an important thing that a sign reading "Always kiss me goodnight" is the exact sign that hangs above our bed. It is the physical reminder of what the ritual means. The importance of this act isn't that it is just something we say. We have to mean it. It is very hard not to fight in a marriage. It is also extremely hard not to hold a grudge because of something someone said. What goodnight means to us is that each and every single night, we have to make up and go to sleep on good terms. This has meant dozens of nights where we are up until four in the morning and has had resulted in hurt feelings, told secrets, repressed emotions, unknown context, and a lot of tears. But I can say this, they always have ended. On a few occasions Jennie has wanted to give up and I threaten to take down the sign, and that reminds her of its importance. A few times, she has said it to me. It's a reminder that we can't escape a promise we made to each other never to carry one day's burdens on to the next and to wish each other a pleasant rest from whatever happened on this one. We have done this every day, without fail, no matter how hard it was, for the last nine years. If I had to pick one thing, this is probably the least cool thing we do, but is probably more important to our success in marriage than any other act you have done since getting married.
Summary
Look you can take our advice or leave it. Suffice it say I suggest you at least consider it because, frankly, we have been through more in our first decade then most marriages see in a lifetime. I know I sound cocky, but you would do well to consider what I have to say instead of risking your marriage to prove me wrong. There is a lot of value in learning from my experiences instead of dealing with the emotional heartache of discovering it for yourself.
Obviously I don't attribute my marriage to just metaphorical puzzle pieces, homework, spreadsheets, and a dog. No ritual practice is going save a failing marriage. The truth is that it took two people who were just the perfect amount of whatever they were, to be what they are today. We had to have balance and a ton of teamwork. We had to be that crying shoulder and well timed joke. We had to be the distraction and we had to push each other towards our goals. It took a lot of character from two people who had a very difficult childhood to meet each other that molded them into being what they would become. The little notches in our figurative puzzle pieces were earned through heartaches and struggles before we ever met, and they could only be filled by someone who had experienced them to. Some of these four little items represent some of the things that we luckily stumbled into when we were young and that I wish more people would do in their marriages. Some are just good ideas. All of them I think would make for a better marriage if people would be give them a try, but in the end of the day it just comes down to character. A successful marriage has little to do with what you do, but who you are... and who they are... and who you are together.

What Are Ventriloquists Doing With Their Vocal Tracts?
This question originally appeared on Quora.

Answer by Marc Ettlinger, Ph.D., Linguistics, UC-Berkeley:
The articulators ventriloquists have to constrain are the lips and jaw. Everything else can't be seen (except the larynx moving up and down, which most audiences wouldn't notice; next time you watch one, especially a man with an Adam's apple, keep an eye on the neck).
With the jaw, they set it at a fixed point that is relatively closed so people can't see the tongue moving inside but is open enough to produce many of the sounds. And the lips are open enough so as to be able to make vowels and coronals and velars consonants, plus a w-ish sound.

What's left are the Labial consonants, i.e., b, p, m, v, f and w.
With the only constraint being that the lips can't move away from this near-fixed position (though look carefully and many will cheat on the occasional b) the trouble is really only with these sounds.
Obviously, the first trick is to try to avoid words with these sounds in them. When they can't, they'll substitute one sound for another: b with d, p with t, m with n , v with w and f with th.
You can see these substitutions if you pay careful attention.
In this You Tube video Look at the way this guy says Simon (jump to 3:17):

He's really saying Sinon.

Or, in this video, notice how this woman says fresh as thresh (at 0:20):
(Compare, for example, the common substitution of th for f in certain English dialects, e.g., I'm free years old).

There are two reason why we don't really notice.

First, acoustically, n and m aren't that distinct.
Same with b and d:


Vowel formants of b and d with certain vowels. Notice the similarities.

Third, and more importantly, our perception of speech is driven as much by top down versus bottom-up processing (Top-down and bottom-up design). That is, what you're expecting to hear makes you hear things that might not be there. It's why all that stuff with devil's messages worked on back-masked records: There really was nothing there, but if someone tells you what you're going to hear, you somehow make it out.

A famous example is the Ganong effect (Gallery) where people hear an ambiguous sound, between d or t, in a context that makes them a word or non-word (e.g., dash and task, where tash and dask aren't words).

For the same exact sound, people think they hear the sound that makes the word:

It's a pretty phenomenal effect: It really sounds like two different sounds. I did something similar with h and sh here: PsycNET (PDF) and even though I knew what was going on, I couldn't not hear the trick.

The same thing is happening with the ventriloquist: They take advantage of top-down processing to make you hear the sounds they're not making.

One last thing on the linguistics associated with ventrilloquism:
When a ventriloquist does fix their jaw, another important thing to note is that the tongue is compensating for the lack of jaw movement resulting in the sound being made in a different way than usual.

Compare, for example, your jaw position for regular ee and ah.


Now, start by making an ee, then change it to an ah without moving your jaw, as a ventriloquist would do. You can compensate pulling your tongue down and back.

This sounds a little bit off from a normal ee. That's because you're not in canonical optimal position. The reason we have the vowels we do—every language has ee most have u and many have ah—is because the mouth is an optimally designed resonator for certain vowels. Making the ah differently no longer takes advantage of this quantal vowel space (Vowel Theories). That is, while tongue position is continuous, clearly articulated vowels are not.

What is linguistically interesting with this tongue compensation for the fixed jaw/lips is that you likely should have been able to make this non-canonical ah even if you haven't ever tried before.

That's because of a feedback loop between your ear and your mouth. This feedback loop has been tested in some cool ways. Folks like Prof. Frank Guenther, John Houde and Sazzad Nasir (Sensorimotor Learning Laboratory) have played around with acoustic and sensorimotor feedback and its effects on speech using contraptions like this:


What they've found is that the human language system is incredibly dynamic in terms of reaching the target speech sounds it wants to make. Adjustments are made with incredible accuracy and speed. That's what ultimately makes ventriloquism possible: our ability to take what's coming into our ear and adapt our articulation accordingly to make the sounds we need to without explicit thought.

More questions on Speech and Language Pathology: