A blog about business and economics.
Is Living in an Expensive City a "Consumption Choice," Just Like Buying a Fancy Car?
Let's talk a little more about what it means to be "rich" in New York City.
In most of the country, a family with a low six-figure income—say $150,000 or $250,000 a year—would be considered pretty affluent. But in New York, some would say that's just middle class, since life in the city can be pricey.
Advertisement

Last week, I argued otherwise. First, while New York real estate is expensive, the city's low-cost public transportation system makes it more affordable than it's given credit for. (Most households get away without driving any cars, much less two.) Meanwhile, according to the Census Bureau, New York's income distribution is surprisingly similar to that of the United States writ large. For instance, in the U.S., about 22 percent of households earn at least $100,000 in a year. Across the five boroughs, it's 25 percent; nationwide, just 4.6 percent of households earn at least $200,000, while in NYC, 6.9 percent hit that mark. New Yorkers enjoy somewhat larger paychecks than other Americans. But Wall Street's riches aside, they're not living in another financial universe.
After my post about New Yorkers' financial means, I got some pushback from readers who thought I was ignoring the obvious: When well-paid, white-collar New Yorkers complain about being too poor for the city, they actually mean they're too poor for ultra-wealthy Manhattan—where 17 percent of households earn more than $200,000 a year—and the fancier parts of Brooklyn. As my podcast buddy Felix Salmon put it in a couple of tweets, "When New Yorkers talk about NYC, they mean 'the places where people like me live and work.' So when you tell New Yorkers they're wrong about NYC being expensive, you're misunderstanding what they're saying."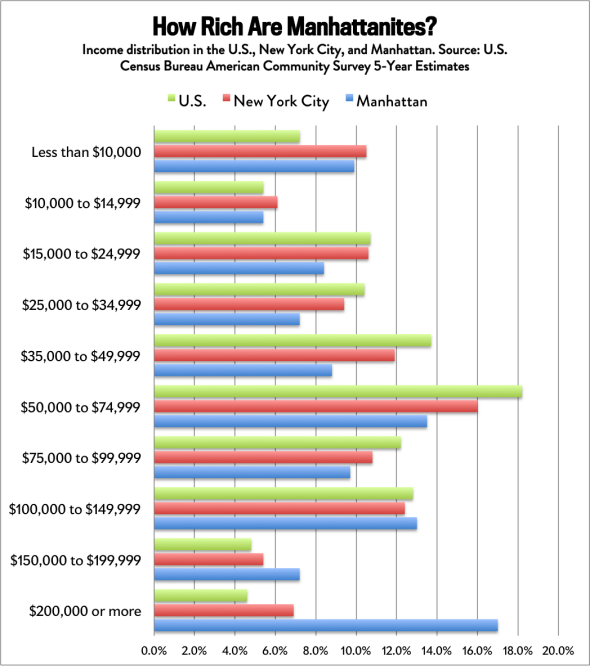 In other words, we're talking about a problem that has to do with social class as much as New York's income curve. Creative types and other educated professionals in New York who don't rake in million-dollar bonuses want to live in the same nice neighborhoods as their wealthier friends, send their kids to similar schools, and eat at the same awesome restaurants they see reviewed in New York magazine. That world revolves around a small section of the city, and living in it takes more of their income.
But here's another way of framing that problem: There are wealthy people in New York who still want to live beyond their means. Some writers, like Megan McArdle, like to argue that living in an expensive city like New York is a "consumption choice"—just like buying a fancy car or adding a pool into your backyard. I think that's a bit unfair: People are drawn to cities that offer career opportunities and are tied to them by personal relationships that they can't just pick up and move if they want a cheaper home.
That said, choosing an especially expensive neighborhood in the city you call home is mostly a consumption decision. You might think that living within walking distance of a pretty park or a yoga studio is essential to your mental health, but in the end those are amenities, and enjoying them, along with all the other benefits of living in New York City, is a luxury. Children do complicate the equation because of to school districts. But in the end, it's possible to raise a happy, healthy family in the lesser-known corners of Brooklyn or in a slightly suburban seeming block of Queens. If that seems like an untenable choice to you, it says more about your sense of class than the constraints of a $100,000 or $200,000 income.
For the extra curious, I've charted out the income distributions of each of the five boroughs below. Note that, even after years of gentrification, Brooklyn still looks an awful lot like the rest of the country.

Home Depot Might Be the Latest to Suffer a Huge Data Breach
Which has more stores in the U.S.: Target or Home Depot? It might surprise you to learn that as of the end of fiscal year 2013, the winner of that faceoff was in fact Home Depot, which had 1,977 U.S. locations, as opposed to Target's 1,795. And that might help explain why a newly discovered data breach at the home improvement chain threatens to exceed the one that compromised the credit and debit card information of about 40 million people who shopped at Target.
Brian Krebs at Krebs on Security is reporting that Home Depot might be the victim of a recent and massive data breach tied to a new batch of stolen credit and debit cards that hit the black market Tuesday morning. Paula Drake, a spokeswoman for Home Depot, told Krebs that the company is "looking into some unusual activity" with the help of banks and law enforcement. While the information is far from complete, Krebs said that early analysis suggests the theft could have been carried out by the same Russian and Ukrainian hackers that struck Target:
Several banks contacted by this reporter said they believe this breach may extend back to late April or early May 2014. If that is accurate — and if even a majority of Home Depot stores were compromised — this breach could be many times larger than Target, which had 40 million credit and debit cards stolen over a three-week period.
Advertisement

The Target breach, which at last count affected the credit and debit cards of 40 million people and the personal information (names, mailing addresses, phone numbers, etc.) of 70 million, has had far-reaching consequences for the retailer. The security lapse sent several high-ranking executives packing, including former chief executive Gregg Steinhafel. Traffic to stores has declined for seven straight quarters and in its latest earnings report Target cut its outlook for a second time this year as profits fell 62 percent.
Shares of Home Depot slipped about 2 percent to $91.15 in afternoon trading on reports of a possible hack. Should the data breach wind up matching or exceeding last year's breach at Target, they'll likely have a lot further to fall.

Germany Tries to Bring Uber to a Standstill
Uber is facing its stiffest challenge yet in Germany after a court in Frankfurt ruled that Uber was competing unfairly with local taxis and banned its service until a hearing later this year. Should Uber continue operating in Germany (which it said it intends to do), the company could face fines of up to 250,000 euros (or $330,000), and local employees risk going to jail for up to six months.
Europe in general has not taken kindly to Uber. Back in June, traffic snarled major cities across the continent as thousands of taxi drivers protested the service. Uber is also banned in Brussels, where it faces a fine of 10,000 euros each time it gives fares to drivers without a taxi license. Paris, in its own attempt to stymie the company, decided late last year to make all car services except for licensed taxis wait "at least 15 minutes" between booking a ride and picking up a passenger.
Advertisement

The Frankfurt court reasoned that Uber posed unfair competition to the local taxi industry because some of its drivers did not have appropriate licensing and insurance. "Our main concern is that, while competition is healthy, everyone has to be playing by the same rules," Arne Hasse, a spokesman for the Frankfurt state court, told the New York Times. The ban applies only to UberPop, the peer-to-peer segment of Uber's service in Germany that connects drivers with riders. UberBlack, a limo-style service, will not be affected.
What Hasse says may be true, but it also sounds a lot like the reasons regulators love to give to protect establishment industries and ward off threatening competition. A flat-out ban on Uber suggests an interest in keeping the newcomers out rather than working with them to meet local standards. And between the decision in Germany and constant bickering with rival service Lyft closer to home, Uber's newest hire David Plouffe is sure to have his hands full.

The 10 Fastest Growing Companies in New York City
Believe the hype: New York City is home to more fast-growing companies than any other city in America. Two hundred and four of them, to be exact, made it onto the 2014 Inc. 5000.
Advertisement

Let's zoom in on just the top 10 of those, which together form a fascinating and diverse portrait of modern commerce. Two are trying to take a bite out of Madison Avenue. Three are fresh spins on old hospitality industries. Two of these businesses would likely not exist without social media.
These are New York's fastest-growing young companies. And they certainly do have an Empire State of mind.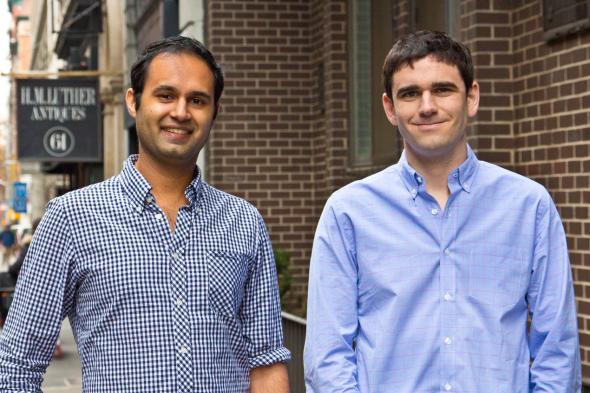 Three-year revenue growth: 3,039 percent
Founders: Russ D'Souza (pictured above, at left) and Jack Groetzinger (at right)
Business objective: "To make a better way to buy tickets," says D'Souza.
Light bulb moment: "My co-founder and I really like going to shows, and there just wasn't the technology out there to find tickets, the way there is a Kayak or Orbitz for airline tickets," D'Souza says. SeatGeek, which is an Inc. 30 Under 30 alum, also does a tidy business in selling tickets to sporting events.
Measuring success: "We've helped people find, and buy, more than $100 million in tickets this year," D'Souza says.
Neighborhood: Union Square
Why they ♥ NY: "We are in entertainment and sports, and many of our media publishing partners are here," D'Souza says. "Also, when we do interviews on Fox or CNN, the studio is just a quick cab ride away."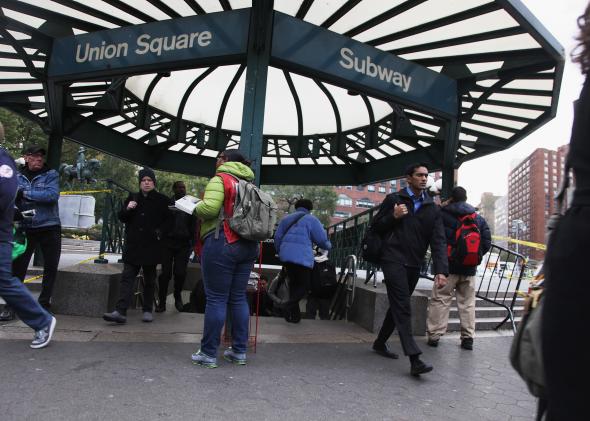 Three-year revenue growth: 3,231 percent
Stepping in: Knoll joined Integral Ad Science, a company that matches advertisers with desirable placement online, two years into its existence. "It was a really big opportunity to add value for advertisers by using the company's existing technology to see what makes the biggest impact for them," Knoll says.
Building culture: "We do team exercises once a quarter," Knoll says. "Teams must do something unrelated to work, like volunteer or complete a scavenger hunt. Then they are judged." Recently, Vanilla Ice was a surprise judge.
Neighborhood: Union Square, which is pictured above. (IAS is moving to the West Village this year.)
Why they ♥ NY: "First of all, this is where the largest marketing budgets are," Knoll says. He also says New York is a rich talent hub for engineers and data scientists, with nearby Princeton University and New York University graduating new young experts each fall. And even for recruiting long distance, "It's not too hard to convince someone to move to the heart of New York," says Knoll. "It's great for recruiting."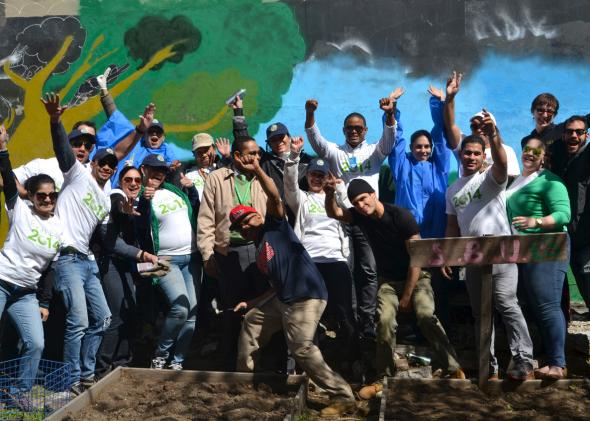 Three-year revenue growth: 3,588 percent
Founders: Maximo Centeno, Johnny Jaar (deceased), Lissette Reynoso, and Vladimir Reynoso
Business objective: "Supermarkets use more energy per square foot than any other retail business," says Vladimir Reynoso. "Our first project, we saved a supermarket $100,000 in a year." The supersimple concept--adding nighttime covers for refrigerator cases, replacing lights with LEDs, and switching out ancient fan motors for efficient models—took off. The company has completed 3,000 energy overhauls over the past five years. Above, a group of employees is pictured volunteering at a community garden on Earth Day.
Fun fact: Each of the four founders is of Dominican descent.
Bonus fact: The founders hired their first employee through LinkedIn. Now that hire is on the executive team.
Why they ♥ NY: "About 60 percent of our employees are based in the Bronx, so it's convenient," says Reynoso. "We do business in all five boroughs, Connecticut, and New Jersey--and our location gives us easy access via highway to everywhere in the region."
Three-year revenue growth: 4,011 percent
Founders: Andreas Leptourgos and Steven Francess
Light bulb moment: "We were both working in finance in New York City when we realized, for selling used electronics, eBay and Craigslist don't make any sense," Leptourgos says. "To use them, you have to, like, meet a stranger in a parking lot. If you're into meeting someone in a parking lot, by all means, go for it. But we didn't want to."
Humble beginnings: Both founders moved back into their parents' homes, at ages 24 and 25, in order to afford their first office for BuyBackWorld, which purchased used phones and other electronics from consumers and resold them. "It was a little bit of swallowing the pride," Leptourgos says.
Finding success: The company now buys and sells through its website, which offers free shipping both ways on 10,000 electronics. It booked more than $4 million in revenue in 2013.
Neighborhood: Long Island City, Queens
Why they ♥ NY: Both founders are New York natives who love Queens, owing to its central location, reasonable real estate prices, and the simple fact they do a lot of shipping and receiving. "You can't have mail trucks coming in and out of Manhattan; it would be a mess," Leptourgos says.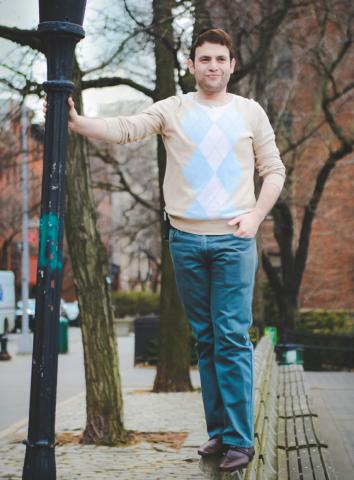 Three-year revenue growth: 4,146 percent
Founder: Eli Ostreicher (pictured at left)
Humble beginnings: "I was 22 years old at the time, I lived in Miami, and it started from my bedroom, and my first client was my uncle," says Ostreicher of his now-booming luxury travel business. "Slowly, word got around."
Claim to fame: Customers include Rolex, Berkshire Hathaway, and the band Maroon 5.
Secret to success: "I kept pumping the concept of service, personal touch, 'I will always be there for you,' at a time when so many travel companies were going digital and distant," says Ostreicher.
Neighborhood: Borough Park, Brooklyn
Why they ♥ NY: "The truth is, New York comes with perks that no other city in the world has," Ostreicher says. "It's a city where, if you really have your goal set on something, nothing is unreachable. If you live by a theme of 'not taking no for an answer'--which is sort of my motto--then New York City is your platform."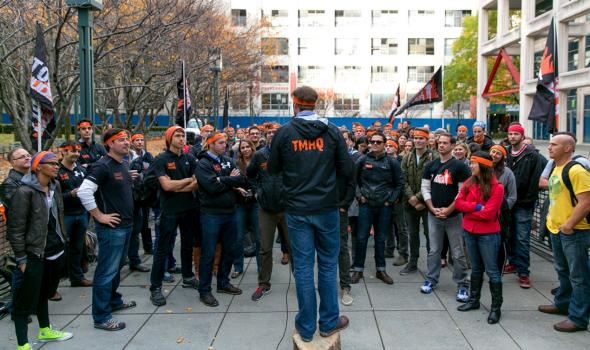 Three-year revenue growth: 4,737 percent
The game plan: Dean drew up plans for Tough Mudder while attending Harvard Business School, and started bootstrapping the event company, which hosts extreme runs through inventive—and curse-inducing—obstacles, upon graduation. With just $8,000, he marketed the first Tough Mudder event on Facebook. More than 4,500 people signed up, and a company was born. From there, "it went gangbusters," says Alex Patterson, Tough Mudder's vice president of brand. "It was totally a word-of-mouth thing."
Operational guidelines: "We set goals way outside of what we logically can accomplish, and then break all our existing systems to get it done," says Patterson.
Current status: Today, Tough Mudder hosts more than 60 events in seven countries.
Neighborhood: Downtown Brooklyn
Why they ♥ NY: The company started here, out of Dean's wife's (then girlfriend) apartment in Brooklyn Heights. Over the past five years, "it's really benefited us to have the vibrant talent in New York; it's a lot of young people growing their careers with us," Patterson says.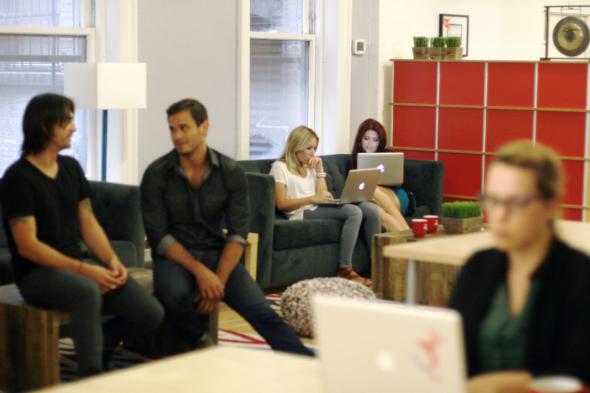 Three-year revenue growth: 5,217 percent
Spinoff: Crowdtap, which created a social-marketing platform, was founded by Brandon Evans and Kareem Kouddous inside the youth-and-campus marketing agency MRY. It spun out on its own and took an infusion of venture capital funding in 2011.
The mission: Get social-media influencers to represent brands. "Younger generations are immune to traditional advertising in a sense," says Foster. "But they are natural content creators. As brands live in the hearts and minds of consumers, it's important to inspire consumers to become storytellers for brands."
Big clients: Walmart, Nestlé, and Campbell's
Why they ♥ NY: "Not only is it where a lot of our clients are—whether they are agencies or brands—but also, being downtown communicates this important image that we are innovative and doing big things," Foster says.

Three-year revenue growth: 5,505 percent
Founder: Morgan Hermand-Waiche
Light bulb moment: "The birthday of my girlfriend was coming up, and I wanted to buy her some lingerie, and I couldn't find something as nice as I wanted in my budget," says Hermand-Waiche.
Building a business: The Harvard Business School-educated McKinsey & Company veteran decided to hire a former Victoria's Secret designer and get to work. "Everything is sold on our website now," Hermand-Waiche says. "We shoot our phenomenal products on beautiful models. And shipping is free." Shown above are some of the company's products, on display and in design.
Neighborhood: Fashion District
Why they ♥ NY: "New York is the heart of everything in fashion," Hermand-Waiche says. "The building we are in is called the Fashion Building, and the avenue we are on is called Fashion Avenue. Could it be any better?"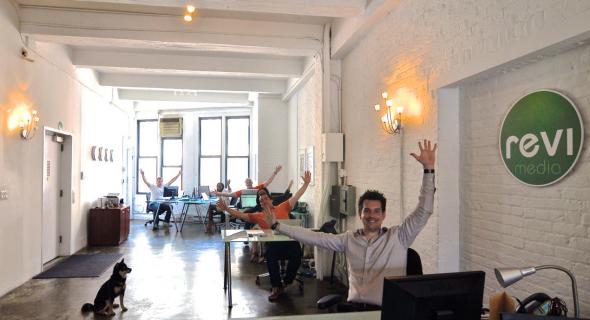 Three-year revenue growth: 5,817 percent
Founders: Frans van Hulle and Sebastian Offers
Starting up: "We started without a business plan, I would say," van Hulle says. "But we did have a relatively innovative concept in lead generation."
How it works: The duo built their online lead-generation tool, which provided quiz-format interactivity to potential customers of the insurance, automotive, and home-security industries, into its own technology platform. Now, "the platform has taken on a life of its own," van Hulle says. It's the company's main revenue driver.
Claim to fame: More than seven million leads generated for other businesses.
Why they ♥ NY: "My business partner and I are both Dutch, but New York is in our DNA as a company," van Hulle says. "We are very attached to New York."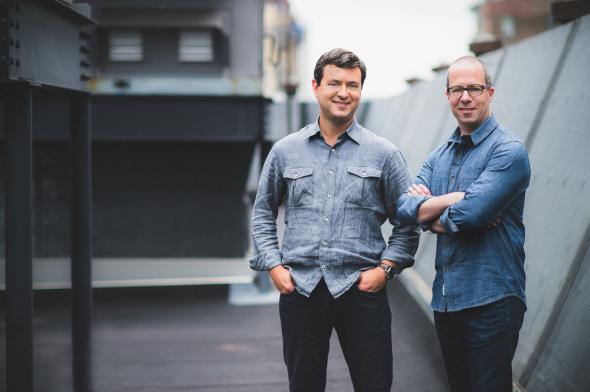 Three-year revenue growth: 6,898 percent
Founders: Jason Albanese (pictured above, at left) and Brian Manning (at right)
Light bulb moment: "We saw a gap in business services: Traditional large companies that are not in the business of digital were not getting the services they need to become more digital," says Albanese.
Building a business: Albanese, a serial entrepreneur, teamed up with Manning, a digital consultant who had spent years at the digital divisions of large companies, including CitiGroup and Barnes & Noble. "Digital is the tip of the spear in our consulting firm," Albanese says.
Lean days: Centric spent its first two years working closely with just a couple of clients while bootstrapping and making meager revenue. "We went very deep with a couple of clients before spreading out among many," Albanese says. Still, the company didn't take outside funding while growing fast.
Advice to startups: Stay focused. "One of the things we've done very well here is stay very focused," says Albanese. "A problem a lot of young companies face is they get distracted from what their business plan is. We said no to a lot of things early on. It felt scary, but it allowed us to stay focused."
Why they ♥ NY: "Because we have a heavy client-services side to our business, and have clients based all over and outside the United States, we felt having a premium address—everyone has heard of Fifth Avenue!—helped," Albanese says.
At Work, Every Friday Should Be a Summer Friday
This article originally appeared in Science of Us.
Summer doesn't officially end until late next month, but who are we kidding: This is our last real week of summer, which makes August 29 our last summer Friday of 2014. If you're lucky enough to work at a company with "summer Fridays," that wonderful seasonal tradition of closing the office early on the Fridays between Memorial Day and Labor Day, you're about to head back into the cold reality of the five-day, 40-hour workweek.
But you shouldn't have to. The concept behind summer Fridays should be a year-round perk, several researchers who study workplace productivity and employee well-being told Science of Us, because giving workers more freedom to decide when and how they work may ultimately result in them getting more done.
Many companies already have a summer hours policy in place, and this provides management with an already tested blueprint showing how permanent flex-time policies—or, even better, some have argued, a shorter workweek—will likely work for their businesses. "If it works well one day a week during the summer, why not make that year-round?" said Jennifer Glass, a University of Texas at Austin sociologist who studies workplace flexibility, in an email. Why not, indeed.
So You're Rich for an American. Does That Make You Rich for New York?
New Yorkers have a notoriously skewed sense of wealth—at least when they work in industries like finance or media and live in Manhattan or Brooklyn. It's hard not to, seeing how we're surrounded by expensive restaurants, expensive apartments, and expensively dressed people who seem able to afford it all.
So, as an econ writer, it's usually a somewhat strange experience when I get into conversations here about class. If I mention that a six-figure salary counts as rich in much of the country—that just $250,000 gets you into the top 2 percent—the response is usually, "Sure, but that's not New York rich."
Advertisement

Except, it sort of is. While working on my column today about what counts as rich in America, I pulled a bit of Census data to compare income in New York City and the entire United States. The greater New York metro area may be home to an enormous share of the country's 1 percenters, and it's certainly a magnet for exorbitant, plutocratic wealth. But in the city itself, the basic income curve isn't that exceptional. In the entire U.S., according to the Census, about 22 percent of households earn six figures. In NYC, it's about 25 percent.
What about cost of living? Don't working professionals in New York—those of us who aren't Wall Street plutocrats—have a right to feel a bit poorer because of the insane amount of money we pay to live in shoebox apartments? Real estate here is expensive, and we don't get much square footage for our buck. But as I wrote yesterday, the high rents in this city are balanced out somewhat by the low, low cost of commuting on the subway. (Not paying for a car, or gas, or car insurance is pretty financially sweet.) Combine that with the fact that salaries are somewhat higher than average here, and New York is reasonably affordable compared with other large cities. Of course, you can easily make it unaffordable by moving to that lovely tree-lined block in Brooklyn or Manhattan that's just steps to the park, a great coffee shop, and a subway station. But those are consumption choices.
The upshot: If you're rich by U.S. standards, you're probably also rich by New York standards. Now, if you do want to see a city where incomes are crazily out of line with the national norm, check out San Francisco, where 39 percent of households make six figures—it really is becoming a city for the rich.
76 Ways to Make Money in Digital Media

In much the same way I used to quiz my grandmother about how she survived the Great Depression, a younger colleague recently asked me what online journalism was like in the 1990s (we started Slate in 1996). As I started to talk about it, I realized that the journalism itself hasn't changed that much—blah blah social media, blah blah interactives, blah blah longform—but what has changed is the money. There didn't used to be any. Now there's a lot.
As an exercise, I made myself two lists: all the sources of revenue I can remember for 1998 digital journalism and all the sources of revenue I can remember for 2014 digital journalism. I'm not exactly sure what they explain, but I suspect it's a lot.
Advertisement

In 1998, the sources of revenue for online journalism were:
In 2014, the sources of revenue for digital journalism are:
Funding from some rich person (e.g., eBay founder Pierre Omidyar's First Look Media)


Funding from some rich company that is making a long-shot bet (e.g., some of Bloomberg's ventures)


Ads from real (i.e., not network) advertisers


Ad network ads


AdSense ads from Google


Outbrain-style links to other people's content that pays when readers click it


Native advertising


Make the native ads yourself and get a production fee


Build a microsite for the native content and get paid separately for that


Subscription (no content unless you pay)


Paywall (some content, then you have to pay, à la the New York Times)


Micropayment (pay for each individual piece of content)


Membership (content is free, but bonus stuff—discounts, Easter eggs—for members; e.g., Slate Plus!)


Tablet-only subscriptions


Paid app


Tip jar (asking for support without perks)


Kindle subscriptions


Sell swag and merchandise directly to readers.


Amazon Associates revenue (via links in stories)


Amazon Associates revenue where you assign stories about products in order to get the sales cut


Sell your own merchandise but through a company that fulfills it and pays you a cut (e.g., Café Press)


Lead generation—send a reader who becomes a customer, get paid


Syndicate stories to other digital publishers to run on their sites


Syndicate stories to print publications


Syndication for textbooks/academia (e.g., PARS)


LexisNexis


Syndicate content for advertiser's microsite


Public events—ticket revenue


Public events—corporate sponsor revenue


Conferences for professionals—ticket revenue


Conferences—other forms of sponsorship (badge sponsorship, mobile service sponsorship)


Paid parties: Readers pay to socialize with you


Conferences—booths/expo revenue


Events as sales spiel—bring people in for content of event, then sell them something


Native events—events put on for advertiser


Foundation funds journalism on a favorite subject


University funds journalism on a favored subject


Donations from foundations not tied to a particular project


Mobile banner ads


Mobile and tablet interstitials


Video ads from real advertisers


Network video ads


Google/YouTube pays to have you create video


YouTube video revenue share


Podcast ads—not host-read


Podcast ads, host-read, paid for click-through/sign ups


Podcast ads, host read, not paid for performance


Podcast festivals


Podcasts created for sponsors


Cruises for readers


Teach classes for readers or other journalists


Webinars


Sell photo archives both digitally and as prints


Publish physical books of your digital content


Kindle singles and other e-books


Sell unusual books for non-Amazon publishers, as Slate did with this Ursula LeGuin book


Sell movie and TV rights


Product placement—get paid for using products and reviewing them


Use your Google page rank power to put in links to other places and get paid for referrals (which undoubtedly infuriates Google)


Sponsored tweets


Get paid to make Facebook posts on a particular subject.


Ads in emails


Kickstarter fundraising (à la 99 Percent Invisible)


Build apps for people


Higher-end specialized product (e.g., Politico Pro)


Targeted research for subscribers who pay a premium (e.g., BI Intelligence)


Create viral content for advertisers and charge for virality in a BuzzFeed-y manner


Get people to sign up for an email list for an advertiser, as Upworthy does


Sell your subscriber data


Sell your email lists


Build a platform, put great journalism on it, and sell the platform (e.g., the Atavist)


Wine Clubs


Sell access to archives (hat tip: Joe Turner)


Get government funding to create journalism, e.g., USAID (hat tip: Joe Turner again)


More than a tip jar—straight-up donations, à la Brainpickings and NPR (hat tip: David Harvey)


White papers
Forget the Rent: Why New York and San Francisco Are Actually Amazing Bargains
New York and San Francisco are synonymous with out-of-control rents. But they're more of a bargain than most of us realize. The New York Citizens Budget Commission, a nonprofit devoted to state and city government issues, recently ranked 21 large U.S. cities and found that New York, San Francisco, and Washington, D.C., (also thought of as an expensive place to live) were actually among the most affordable. How is that possible? First, families in these cities tend to earn more. Second, they spend less money commuting. The typical New York household, for instance, pays a ludicrous amount of rent, but most don't own a car, since they can use the subway or a bus to get to work instead.
Like all rankings, this one should be taken with a grain of salt. The Budget Commission based its work on the Department of Housing and Urban Development's Location Affordability Index. Play around on the government's website for a while (it's fun, I swear) and you'll find that for some households, Atlanta or Dallas might indeed be more affordable than New York. In the end, I think the graph stands in for one big point. Americans tend to move in the direction of cheap housing. But my guess is that many families who go off to the Sun Belt in search of a moderately priced home with a yard end up underestimating the impact of commuting costs on their finances, since they're simply more difficult to predict. (Do you know where the price of gas will be in two years? Neither do I.) And while housing is the single biggest piece of most family budgets, transportation comes in second, eating up about 17 percent of all expenditures. As the New York's budget commission puts it: "The rent is too damn high! But the Metrocard is a pretty good deal."
Advertisement

Why You Should Look for Strategic Investors in Unlikely Places
Since my time in the United Kingdom watching Dragon's Den, and now in the U.S. watching Shark Tank, I have loved seeing entrepreneurs battle with a complex question: Whose money should I take now that I have multiple suitors? And why? Is it better to own a large stake in a smaller company, or a smaller stake in a much larger one?
Advertisement

With so much money flowing into venture capital and private equity funds, it seems like a greater proportion of investors these days are purely financial. They offer no real operating or distribution know-how; they simply ask budding entrepreneurs to supersize their business more quickly. VC and PE clearly have a critical role in supporting the growth of many small companies, but where do you turn once that utility is maxed out?
Two companies I follow closely have recently pursued strategic investors to help them accelerate. Both have ended up with unlikely, yet what appear to be excellent, strategic investors.
Before there was DogVacay or Rover.com, there was Camp Bow Wow, a franchised business offering pet-sitting, walking, and ancillary services. More than 10 years into the current business model, the company now boasts more than 120 locations, more than $70 million in sales, and an average client spend of around $1,500 per year.
Owner and founder Heidi Ganahl is aware of the need to grow more rapidly to keep up with the upstarts in the space and has a goal of operating from 1,000 locations as soon as possible.
With this backdrop, she recently sold the business. Not to a VC-backed new entrant. Not to a PE shop. Not to a competitor. No, Ganahl has done something quite different by selling out to VCA, a $3 billion Los Angeles–based company that operates more than 600 animal hospitals. Ganahl will still be involved, but VCA's deeper pockets should allow an acceleration of Camp Bow Wow's proven business model. Who knows how much additional impact the cross-marketing will bring to both companies, but I am sure all the existing franchisers are licking their lips, and another 800 entrepreneurs seem to be needed too.
Scotland-based Design LED Products is another company that's about 10 years old and at its own tipping point. The company designs LEDs for use in innovative and energy-efficient commercial and consumer lighting products. Their bulbless lamps are a particular favorite of mine, with their promise of no more time balanced precariously on a stepladder replacing worn-out bulbs.
Founded by scientist James Gourlay and led by Stuart Bain, the company has historically tapped angel and VC sources for funding. Now with a clear product suite to monetize, the company just announced a major funding round. It would sound like just another VC round if it were not for the source of the capital infusion: Ikea's GreenTech fund is the new name on the share register, investing alongside existing funders who are clearly excited by this development, given Ikea's goal of only selling LED-based lighting products by September 2015.
The lesson here seems pretty clear. Smart management teams should be considering investment money from a broad range of strategic investors and thinking about where there just might be operating or marketing synergies that are not immediately apparent. I look forward to seeing how these companies grow from here.
The Biggest Peer-to-Peer Lending Site Just Filed for an IPO
Online financing site Lending Club filed for an IPO on Wednesday, and according to DealBook, the debut could be one of the 10 biggest for an Internet company.
Lending Club is the biggest marketplace in the peer-to-peer lending space, which helps investors connect with borrowers seeking funds online. To qualify for a loan on Lending Club, borrowers need FICO scores of 640 or higher and clean credit histories. Interest rates average 14 percent. To date, Lending Club says it has financed more than $5 billion worth of loans (of which $1 billion were started last quarter) and paid nearly $500 million in interest to investors on the site.
Advertisement

Lending Club is one of several companies that are trying to overhaul how we get a line of credit. One of the main selling points these firms have with their clients is that they avoid traditional banks and all the headaches and red tape that can come with them. Cutting banks out of the process is also supposed to help borrowers pay lower interest rates than they would otherwise, while investors see higher returns than if they put their funds into a savings account or something relatively low-risk.
Of course, a model like this has plenty of risks. In its prospectus, Lending Club details pages upon pages of risk factors for its business, such as flaws in its own algorithm for assessing the credit-worthiness of borrowers, errors in data on borrowers from third-party providers, and, of course, any sort of fraudulent activity or security vulnerabilities. One fear among investors is that in an effort to bring in more borrowers and increase transaction volume, Lending Club might consider lowering its standards for who qualifies.
If it doesn't already have answers to assuage those concerns, Lending Club will be coming up with them as it pursues its IPO. Because in this particular endeavor, Lending Club—and not the borrowers on its platform—is the one looking to raise some funds.