A blog about business and economics.
Soda and Fries Have Lost Their Charm for Both Consumers and Investors
People just aren't into sugary drinks the way they used to be. Coca-Cola is keenly aware of this, which is why it embarked on the "Share a Coke" campaign in June, putting ordinary names on cans and bottles of Coke in the hopes that mass personalization would make people more eager to buy soda. For a while, it appeared to be working: Sales of Coke soft drinks in the U.S. rose more than 2 percent over the summer. But based on the company's latest earnings report, that campaign alone wasn't enough to turn things around.
Shares of Coke sank 6 percent on Tuesday after reporting flat soda volume and lower revenue in the third quarter. Along with the disappointing figures, Coke said it would trim annual costs by $3 billion over the next five years by "streamlining and simplifying our organization." Coke CEO Muhtar Kent told investors that his team is taking "additional steps to get us back on track over the longer term and we will do whatever we have to do to get there, to get us across the bridge." But until the numbers start to perk up, that reassurance is unlikely to silence the critics calling for new leadership at the company.

Advertisement

Over at McDonald's, things aren't much better. In its third quarter, profit fell by 30 percent and sales at restaurants open at least 13 months slipped 3.3 percent. That's in sharp contrast to the tremendous 19.8 percent jump in sales that Chipotle reported in its earnings for the same period on Monday. Even McDonald's CEO Don Thompson couldn't scrape together a positive spin on the results, bluntly calling them a "significant decline versus a year ago" in his prepared statement. McDonald's stock slipped only 0.63 percent during Tuesday's session, but it's down more than 8 percent in the past eight months.

Both Coke and McDonald's have their excuses. Coke CEO Kent told investors that the company is struggling with "a challenged disposable income growth environment" and a consumer who "is challenged everywhere around the world." McDonald's cited a "higher effective tax rate" and "unusual events in the operating environments in APMEA and Europe." But the bigger problem might be the products and experiences the two are selling. Fast-food restaurants are being upstaged by fast-casual, slightly more upscale rivals like Chipotle. Soda is battling concerns over obesity and artificial sweeteners. For whatever reasons, consumers are no longer charmed with Coca-Cola and McDonald's, and so investors aren't either.

Walmart Is Killing the Rest of Corporate America in Solar Power Adoption
Walmart might be an unadulterated, union-busting evildoer in the eyes of organized labor. But when it comes to another liberal priority, green energy, it's becoming something of a corporate hero. For a few years now, Walmart has been installing solar panels on its stores' capacious rooftops to improve its corporate image while controlling energy costs. Other big-box retailers such as Ikea, Costco, and Kohl's have done the same. But thanks to its huge real-estate footprint, Walmart's efforts are reaching enormous scale.
This week, the Solar Energy Industries Association, a trade group, reported that Walmart has installed 105 megawatts of solar capacity, up 16 percent from last year, and more than twice as much as the next closest company, Kohl's. All told, the 25 corporations with the most solar have added 569 megawatts combined—roughly one-sixth of which belongs to the pride of Bentonville, Arkansas.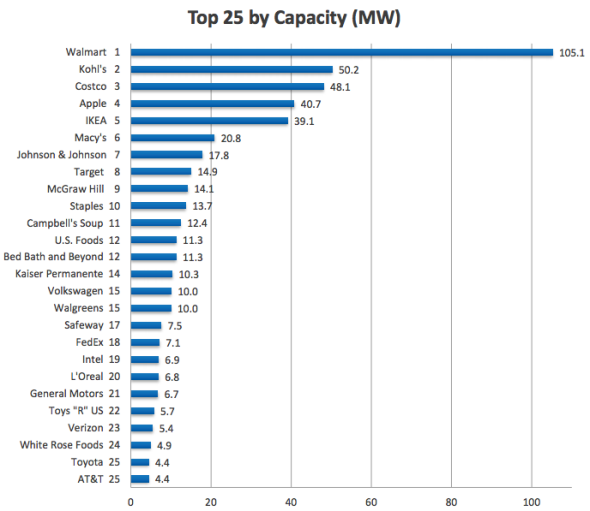 Advertisement

Here's another comparison that puts Walmart's efforts into perspective: According to SEIA spokesman Ken Johnson, the company now has more solar capacity than 35 states and the District of Columbia. It lags behind California, Arizona, Colorado, Florida, Georgia, Hawaii, Maryland, Massachusetts, North Carolina, Nevada, New Jersey, New Mexico, New York, Pennsylvania, and Texas. That's it. (Last year, using a different data source, Bloomberg reported that Walmart had more capacity than 38 states).
Walmart's efforts are also only just beginning—it has pledged to double its solar installations by 2020 and says that, long term, it wants to get all of its electricity from renewables, up from about a quarter of its worldwide consumption today. So while smaller companies like Kohl's and Whole Foods, which according to the Environmental Proection Agency get all of their power from green sources, have made faster progress shifting their own power consumption to renewables, Walmart has the ability to keep growing the solar market.

All of which helps explain why President Obama chose to use one of Walmart's stores for a backdrop during a speech on green energy. At the time, liberal critics savaged the decision, in part because he appeared to be lending respectability to a company with an awful labor record. But Walmart's notoriously ruthless cost-cutting might actually burnish solar power's reputation as an economically viable choice rather than some goofy liberal fixation. The company wouldn't be building out an entire state's worth of capacity if solar didn't make fundamental financial sense. Corporate America doesn't get any more hardheaded—or mainstream—than Walmart, and that's great news for green energy.

The Global Millionaires Club Is Booming and Losing Its Exclusivity
Is it still cool to be a millionaire? Perhaps not by 2019. Over the next five years, the global millionaires club is expected to grow by 53 percent, from 35 million to 53 million members. According to a new report from Credit Suisse, that rapid expansion makes millionaires the fastest growing segment of the world's wealth pyramid. By comparison, the global middle class is predicted to increase 30 percent by 2019 and the upper-middle class by just 22 percent in the same period.
The biggest regional growth in millionaires is expected in China, where that population could nearly double from its current 1.18 million members to 2.29 million by 2019. The U.S. should have less of a spike—forecasts show its millionaires increasing by 39 percent over the next five years—but will easily retain its title of Most Millionaire-Filled Nation with almost 20 million of them by 2019.
Advertisement

Worldwide, millionaires (defined in the report as "with wealth above USD 1 million") are still a small portion of the population. They account for less than 1 percent of all adults and together own 44 percent of global wealth (approximately $115.9 trillion). But relative to that, their ranks are booming. Particularly in countries and regions that don't currently have a lot of millionaires—Malaysia, Chile, Poland, and Africa, for example—their numbers are expected to swell by 80 to 110 percent over the next five years. Those millionaires who are no longer feeling special might want to set their sights a little higher: The world's billionaire club still has only 2,325 members.

Chipotle's Magical Burrito Empire Keeps Growing, Might Be Slowing
Chipotle is no longer cheap. In New York City, a nationwide hike in menu prices means that a chicken burrito costs $8.27, a steak burrito $8.96, and a carnitas burrito $8.73. Want guacamole? That will be another $2.30. But so far, Chipotle consumers have yet to blink.
That's the takeaway from Chipotle's third-quarter earnings, which it reported Monday afternoon. Sales at restaurants jumped 19.8 percent over the same period the prior year on increased foot traffic, and profit soared 56.9 percent to $130.8 million. The company's operating margin came in at 28.8 percent. For the sake of comparison, comparable sales were flat at McDonald's in the second quarter and profit declined 1 percent. At Yum Brands' KFC, Pizza Hut, and Taco Bell, sales fluctuated in both directions by a few percentage points in the third quarter and the highest margin (at Taco Bell) was 20.7 percent.

Advertisement

"We are extremely pleased with our performance for the third quarter," Chipotle CEO Steve Ells said in the earnings release. "Recent industry trends suggest the Chipotle model is resonating with customers, who are realizing there are better alternatives to traditional fast food." That model—"fast casual"—is often described as the sweet spot of the dining world: to provide the ambience and food quality of a casual sit-down restaurant while maintaining the quick service of a fast-food establishment. "This formula has worked extremely well for us since the beginning—and others are starting to notice," Ells said on the company's earnings call. In a July ranking of 65 fast-food and fast-casual restaurants by around 32,000 customers, Ells said Chipotle topped the list. Chipotle has also built strong consumer loyalty, keeping people coming even as menu prices climbed higher.

Despite the strong results, shares of Chipotle dropped a little more than 4 percent after the bell on a conservative sales forecast for 2015. Unlike the double-digit growth of the last quarter, Chipotle said it expects "low to mid-single digit" sales growth at restaurants in the following year. And some good news for customers: At least for now, Chipotle executives aren't planning another menu price hike in 2015. Guacamole for everyone!

Apple: Still Enormously Profitable
I'm starting to the think that the relationship between U2 and Apple is more than a misbegotten co-branding exercise—there's pretty clearly a deep spiritual simpatico at play. Youthful icons of the 1980s who had some '90s-era hiccups before a turn-of-the-millennium revival, they've both settled into a groove as dull but enormously lucrative enterprises. U2 keeps cranking out forgettable albums and enormously successful tours. Apple continues tweaking its iPhones and iPads, then watches the money pour in.
Today, the company announced its fourth-quarter earnings, which were robust as usual. The company earned $42.12 billion, beating expectations and up 12 percent year over year. IPhone sales keep rising, while iPad sales are slumping. Business Insider notes, meanwhile, that the Mac, "is the surprise of the quarter. Apple sold more Macs this quarter than any other quarter in its history." Chances are, the iPad and Mac stories are related. The Wall Street Journal suggests tablet sales are getting "squeezed" as laptops get ever thinner and smartphones evolve into phablets. (Ugh, that word.) So maybe the PC isn't dead, as long as it has an Apple logo somewhere on it.

Advertisement

(How much money is $42 billion? Well, it's roughly the annual gross domestic product of Luxembourg. Price Waterhouse Cooper estimates that the entire North American sports market was worth $53.6 billion in 2012.)
Of course, questions always hover over Apple's continued dominance. Can it continue to expand in China? Its sales grew just 1 percent year over year in that all-important country, though management says it's still "bullish" on the market. And what about its famously thick margins? Apple's have remained incredibly healthy, while its chief rival, Samsung, has seen its profits erode due to competition from inexpensive Chinese handset makers. Can Apple float above that fray forever?
And what of Apple Pay? The company just launched the mobile payment system, which allows users to pay for merchandise with a wave of their phone at the checkout counter. Apple has been promoting the app's convenience—no need to fumble with those pesky credit cards!—but its data security features may prove to be the real sell. Should that happen, it has "the potential to grow into a whole transactions empire for the company," as my colleague Lily Hay Newman put it.
But for now, Apple is still a reliable behemoth that makes little hand computers that lots and lots of people want to buy. And thankfully, its new phones still get better reviews than U2's albums.

Whole Foods Desperately Wants Customers to Feel Warm and Fuzzy Again
Whole Foods has a national branding problem. Once synonymous with "healthy" and "organic," Whole Foods has lately been derided for high prices and quackery. Its grip on natural has slipped as new competitors—most formidably Walmart—have stocked their shelves with organic foodstuffs for a fraction of its costs. The formerly elusive bag of high-quality quinoa has become, for Whole Foods, horrifyingly ubiquitous.
How do you fix a national branding problem? With a national branding campaign, which is what Whole Foods announced on Monday. Headlined "Values Matter," the campaign is designed to restore customers' faith in Whole Foods values in two senses: its prices and its ethics. "Not everyone knows what makes Whole Foods different from other grocers," Jeannine D'Addario, global vice president of communications at Whole Foods, said in a statement. "This campaign will distinguish what makes our brand special, our food different, and our quality superior."
Advertisement

The campaign features 22 video ads, which were uploaded to YouTube in a "Values Matter" playlist between Friday and Monday. Two 31-second ads are marked as TV commercials—one for produce (above) and one for beef (below). They play heavily to the sustainability-conscious, emphasizing that Whole Foods produce is "grown locally on over 1,000 U.S. farms" and its beef is "from cattle who've had room to roam." Inspirational string music hums in the background and the sun glistens on workers picking vegetables and a herd of cattle striding through fog. "Whole Foods Market: America's healthiest grocery store," the ads conclude.

Whole Foods hasn't disclosed how much it spent on the campaign, but the New York Times reports that the budget is estimated between $15 million and $20 million. In previous advertising sprees, the store has spent less and focused on promoting specific products or marketing to local and regional customers. Since 2008, Whole Foods has spent between $4 million and $8.4 million on advertising each year. Its latest campaign targets people ages 25 to 49, the company said, and will run through winter 2015. It also seems geared to high-end consumers—print ads will appear in Bloomberg Businessweek, Rolling Stone, and the Times, among other publications. In presumably another effort to appeal to that demographic, Whole Foods also said Monday it will begin accepting Apple Pay.
Whole Foods, in other words, is not trying to radically expand its consumer base with this new campaign. It probably knows that it will never be able to compete with the likes of Walmart in increasing affordability and access to organic foods, so it's not really trying to. What Whole Foods thinks it can do better than Walmart is values—of the ethical kind. "We're trying to advertise who we are. We're trying to change what we think is a negative narrative about our company," co-CEO John Mackey told investors in July. What remains to be seen is whether that will be enough to win frustrated and disillusioned customers over again.

Even When They Go to College, the Poor Sometimes Stay Poor
Over the weekend, the Washington Post's Matt O'Brien published this killer graph that captures just how unequal the economic playing field is for children of the rich and poor. Low-income kids who graduate from college, it shows, have the same odds of ending up at the bottom of the economic ladder by age 40 as high-income children who drop out of high school.
Unfortunately, the article's headline—which has been burning up Facebook and Twitter—is misleading. It isn't true that "poor kids who do everything right don't do better than rich kids who do everything wrong." The graph, adopted from a new paper by Brookings researchers, makes that clear. If you're a low-income kid who graduates from college, you're much more likely to end up in the top 40 percent of earners than a privileged schmuck who flunked out of 11th grade.
Advertisement

The real issue, as O'Brien points out, is that rich kids enjoy lots of advantages that keep them from falling to the very bottom of income distribution, and sometimes those advantages keep them at the very top. They might be able to go to work for family businesses, for instance, or family friends. Researchers like Brookings' Richard Reeves call that collection of advantages "the glass floor." Educated poor kids are in the exact opposite position. Many attend second- or third-rate (and possibly for-profit) colleges that churn out less-than-useful degrees. And instead of a floor propping them up, their families and friends can act like an anchor pulling them down. A classic example: a college-educated woman who goes home and marries a boyfriend who never made it past high school and has trouble holding down a job.
America's lack of class mobility is still largely a problem of education. As of now, low-income kids have low high-school graduation rates, rarely go to college, and tend not to finish when they do, all of which keeps them out of the middle class. But education alone isn't the issue—there are plenty of forces that keep rich underachievers rich and poor strivers poor.
The Fed Will Probably Stop Injecting Huge Sums of Money Into the Economy This Month
The Federal Reserve is most likely sticking to its plans and taking away Wall Street's favorite punch bowl: the tremendous bond-buying program that began two years ago in an unprecedented effort to stimulate the economy.
A little over a year ago, any notion of winding down the purchases—not to mention stopping them entirely—was too soon for Wall Street. The market threw several "taper tantrums" last spring and summer after then–Fed Chairman Ben Bernanke hinted that the central bank would consider dialing back its stimulus if the economy continued to improve. Now, though, there's much less separation anxiety. The Fed started trimming its asset purchases in January and has slowly been weaning Wall Street off of them ever since.

Advertisement

In an interview with the Wall Street Journal this weekend, Boston Fed President Eric Rosengren said that the Fed will probably adhere to its October timeline for wrapping up the program. "The bond purchase program was started under the context that we needed to make substantial improvement in labor markets," Rosengren said. "Unless my forecast of labor markets changes dramatically between now and the end of the month, I would think that the criteria for substantial improvement of labor markets would have been met."
The September jobs report contained some encouraging news on that front: The economy added 248,000 jobs and unemployment fell below 6 percent for the first time since July 2008. That's not to say the economy is golden—Americans keep leaving the workforce and long-term unemployment remains severe. But as Rosengren pointed out, jobs growth "has been pretty strong over the course of this year," and that seems to be good enough for the Fed.

How YouTube's Biggest Star Got His Start
Felix Kjellberg, better known by his online gaming alias "PewDiePie," has one of the fastest-growing channels on YouTube—a sign of some serious entrepreneurial juice.
Advertisement

PewDiePie posts videos of himself playing video games, along with humorous commentary for viewers. The gamer hit an impressive 30 million followers in September, making his channel the most subscribed and the most viewed on YouTube for the month. His videos also have caused spikes in sales of games he's featured, such as Slender, Goat Simulator, and Flappy Bird, showing an influence he himself describes as "scary." But how did he get to where he is today?
"I just want to entertain; that is my main objective and what comes before everything else," PewDiePie told Swedish magazine Icon in a May interview.
Kjellberg comes from humble roots: Born in Gothenburg, Sweden, he gave up his pursuit of an industrial economics degree to focus on his YouTube career—something that, until recently, wasn't even considered a career. Yet his channel's revenue, which comes primarily from YouTube ads, ranges between $140,000 and $1.4 million a month, the Atlantic reports.
PewDiePie's Web personality is remarkably human: He jokes, swears, shrieks, and giggles, all the while referring to his massive fanbase as his "bros" or "bro army." He ends almost every video with an affectionate fist bump (dubbed the "brofist"), encapsulating the entrepreneurial experience by effectively saying: I'm one of you, viewers.
And he's not afraid to be candid with his audience, either. In September, after reaching the 30-million-follower milestone, he posted a video titled "Goodbye Forever Comments," in which he remarks: "I'm not trying to offend you bros who show a lot of support, but I don't see it as much anymore. … I go to the comments and it's mainly spam, it's people self-advertising, it's people ... trying to provoke. … Just all this stuff that to me isn't anything."
After announcing that he would disable the comments section forever, he smiled cheekily and ended the video with his trademark fist bump. (On Monday, Oct. 13, however, he brought the comments section back, in a walkthrough of Alien: Isolation.)
Like any true entrepreneur, PewDiePie is devoted primarily to his project and to his consumers (read: bros). "The thing that has made YouTube so successful is that you can relate to the people you're watching to a much higher degree than to the people you see on TV," he tells Icon.
PewDiePie's contract with Maker Studios—the largest network of channels on YouTube—is up in December. In the interview with Icon, PewDiePie announced that he may be starting his own network instead of renewing the contract, though he wouldn't go into further detail.
Illegal Airbnb Rentals Are Hugely Profitable and Gobbling Up Lower Manhattan
After launching an investigation into Airbnb's practices several months ago, the New York State attorney general's office released its findings in a report this morning. "Until now, the discourse has centered more on opinions and anecdotes than facts," it states in the introduction. "This report seeks to bridge the gulf between rhetoric and reality."
Airbnb, according to the AG's analysis of 497,322 transactions for stays between January 2010 and June 2014, is largely illegal, hugely profitable, and quickly consuming lower Manhattan. Rather than helping the average New Yorker make ends meet, much of Airbnb in New York City is making money for a small number of commercial hosts running large, multimillion-dollar operations. Here are a few quick facts and figures from the office's report (which makes droll and ample use of Airbnb's signature salmon-pink color scheme):
Advertisement

72 percent of "private short-term rentals" (renting out an entire apartment or private room when the host is not present for less than 30 days) were illegal
Private short-term rentals have increased tenfold since 2010
6 percent of Airbnb hosts accept 36 percent of private short-term bookings and make 37 percent of all host revenue
The top Airbnb commercial operator in NYC ran 272 listings and made $6.8 million in revenue during the period examined
41 percent of host revenue comes from bookings in the Lower East Side/Chinatown, Chelsea/Hell's Kitchen, and Greenwich Village/SoHo. Just 3 percent comes from Queens, Staten Island, and the Bronx combined.
"This report raises serious concerns about the proliferation of illegal hotels and the impact of Airbnb and sites like it on the City of New York," Attorney General Eric Schneiderman said in a statement. He said his office and city officials have launched a program "aimed at aggressively tackling this growing problem" and will be working to track and shut down illegal hotels.

In a statement responding to the report, Airbnb said it is ready to "move forward" and "work together on some sensible rules that stop bad actors and protect regular people who simply want to share the home in which they live." It also contested the accuracy of the findings. "The report's conclusions rely on incomplete and outdated information," Airbnb said. "For example, the findings do not account for the more than 2,000 listings we have already removed from our community in New York."
Even granting that, the AG's report is certainly adding some hard numbers to the growing pile of Airbnb horror stories. One of the most striking of those, reported in late September by New York magazine's Jessica Pressler, involved a European designer in his 40s whose three Airbnb listings include a spare condo near the West Side Highway (rented to a Russian oligarch) and a rent-controlled studio in the West Village (the owner thinks he has a lot of relatives come to stay).
At the time, Airbnb denied that its business was having any effect on the New York housing market and cited a study finding that Airbnb could "make urban housing more affordable for more families." On the other hand, Airbnb commissioned that study. According to the AG's analysis, thousands of short-term rentals on Airbnb are displacing long-term options from the already limited housing stock. And if Airbnb is truly making the supply of long-term rentals go down, odds are it's also contributing to the price of those rentals going up.