A blog about business and economics.
Starbucks Can Thank Mobile Payments and Breakfast Sandwiches for Its Incredible Quarter
The latest quarter was a "stunning" one for Starbucks, CEO Howard Schultz said on Thursday. The company grew revenue by 18 percent to $4.6 billion to beat expectations while profit jumped 16 percent. Sales of food were strong, with breakfast sandwiches in particular recording 35 percent year-over-year growth. But perhaps more important were the numbers Starbucks gave on its signature My Starbucks Rewards program. Last quarter, a record 1.3 million new members enrolled in the loyalty program to bring total active sign-ups to 10.3 million.

"We are now seeing large numbers of last holiday's first-time gift receivers become loyal, engaged, repeat Starbucks customers, supporting and contributing to the growth we are seeing across our global base," Schultz said on the company's earnings call. More than $1.1 billion were also loaded on Starbucks cards during the same period, for 19 percent year-over-year growth. "We know that increased Starbucks cards sales drive increased My Starbucks Rewards membership, and in turn increased traffic and sales in our stores," Schultz said.
Advertisement

Much has been made of Starbucks not just being a food company but also a tech company. That was certainly a theme Thursday. Kevin Johnson, Starbucks' recently appointed president and chief operating officer, hails from the tech industry. Starbucks is now processing more than 8 million mobile payments per week. Its mobile order-and-pay program, which lets customers place orders ahead of time and then pick them up in-store, has been added to more than 600 stores in the Pacific Northwest and is exceeding all internal goals, company execs said. Once rolled out nationwide, the pre-order program is expected to be a major driver of store traffic in the U.S.
"If there were one word to describe Starbucks' record performance in the quarter, I think it would be innovation," Johnson told investors. Sure, that's corporate cheerleading. But it's an awfully tech-y thing to say, too.

Google Misses on Earnings. Investors Distracted by Project Fi's Cheap Wireless.
In the first quarter of 2014, when Google missed expectations for both revenue and earnings per share, its stock fell more than 5 percent after hours. This year Google fell short again, but investors pushed shares up almost 3.5 percent in after-hours trading. What gives? Maybe it's all the neato stuff Google has going on.
Google reported revenue at $17.26 billion against a $17.5 billion industry prediction, and earnings per share of $6.57 compared with a $6.63 forecast. Foreign exchange rates negatively impacted revenue by about $795 million and the strength of the dollar also ate at sales. The company attempted to explain away concerns about its rocky performance in mobile advertising and was adamant that the competing Apple Pay is actually a good thing for its Google Wallet and Android Pay mobile payment platforms. ("It's wonderful to see that the industry is opening up here," Google chief business officer Omid Kordestani said, optimistically.)
Advertisement

OK, but enough about business. Let's get to the fun stuff. That new wireless service sounds cheap! Yesterday Google conveniently announced Project Fi, which offers voice and text for $20 per month, plus $15 per gigabyte of data. Outgoing CFO Patrick Pichette said on the earnings call that projects like Google Loon and Google Fiber are funded by Google's assets as an investment in innovation. By contrast, Pichette views Project Fi as an extension of existing infrastructure. "We wanted to try this new idea of fast and easy wireless service," he said. "This one is really about how can we use today's platforms to actually just drive for more innovations. We're pretty excited. It will be interesting to see how the market responds to it."

Google is known for throwing things against the wall to see what sticks, but the company also wants to be clear that it's not all skateboarding and keg stands. "This is a disciplined organization that looks at the facts," Pichette said. Whether it's because they want cheaper cellphone bills or because they actually believe him, investors seem satisfied.
Report: Comcast Will Walk Away From Its Huge Deal With Time Warner Cable
Comcast is planning to drop its $45.2 billion bid for Time Warner Cable, Bloomberg reports, citing "people with knowledge of the matter." The company will reach a final decision on Thursday and could make a formal announcement as soon as Friday, according to Bloomberg. Comcast declined to comment to Bloomberg.

Should Comcast walk away, it would spell the end of a mega-merger that would have created a company with some 30 million customers and control of more than 57 percent of the market for broadband and 30 percent of the market for pay TV. Late last week, Bloomberg reported that lawyers at the Justice Department were getting ready to recommend blocking the Comcast–Time Warner Cable deal on antitrust concerns.
Advertisement

Comcast met with officials at the Department of Justice on Wednesday, and late that night the Wall Street Journal reported that the Federal Communications Commission had recommended the proposed merger head to a hearing—a decision widely viewed as a death knell for the deal. "Mergers are never put to hearing in order to approve them," Robert McDowell, a former Republican commissioner of the FCC, told the Journal over the weekend. "They are designated for a hearing in order to kill them."
A Lesson From Tidal: Nobody Cares About Artists, Especially Rich Ones
Tidal, the new music streaming service from Jay Z, already looks like a wash. Less than a month after launching, it is sitting in the deep, subterranean reaches of the App Store's U.S. app charts, at No. 664. By comparison, Spotify, the leader in on-demand streaming, is the 17th most downloaded app in America. Beats Music, which is in the middle of getting a major revamp from owner Apple, is in 58th place. "Any hot new app will see a big drop in downloads after the hype from its launch dies down, but it doesn't look like Tidal was all that hot to begin with," Gawker's Jay Hathaway noted Wednesday. "It briefly peaked at #19 overall before falling out of the top 200 less than two weeks later."
It's hard to pick out just one reason why Tidal is failing. You can start with its oblivious marketing message. The service promised to compensate musicians more fairly than its competitors, namely Spotify, which is known for effectively paying pennies per stream. But at its glitzy unveiling ceremony, the company shared few specifics about exactly how it would do so. Meanwhile, Jay Z was joined on stage by a phalanx of his fabulously wealthy pop-star friends, including Madonna, Jack White, Kanye West, Daft Punk, Rihanna, and Nicki Minaj, in a rather tone-deaf demonstration of solidarity among superstar entertainers (all of whom, it was revealed, owned equity in the project). As Death Cab for Cutie's Ben Gibbard put it, "I think they totally blew it by bringing out a bunch of millionaires and billionaires and propping them up onstage and then having them all complain about not being paid."
Advertisement

But the problems go deeper than poor optics. Tidal is a paid service—it costs $9.99 for a basic package, or $19.99 for lossless, high-fidelity audio (which nobody but a few fanatics cares about). Unlike Spotify, there is no free, ad-supported tier to get users hooked. So, in order to attract subscribers, it needs to offer a truly superior service, or really press the moral case that Spotify is screwing over the industry. The problem is that there's absolutely no evidence fans particularly care about artists, at least as an abstract category of professionals. Sure, Nielsen has produced surveys finding that listeners will pay extra for exclusive content, which Tidal is offering. But the past 15 years of revealed preferences tell us that most people just want cheap access to as much music as possible. That's why piracy became a problem. That's why Spotify gained traction, despite the wailing of singers and songwriters about their paltry checks. As industry analyst Bob Lefsetz wrote a while back, people "love their money more than their favorite artists, never forget it."
Things are a bit different when we talk about how fans connect with individual artists. Amanda Palmer has succeeded at raising money from her rabid devotees on Kickstarter, while Patreon, a service that lets fans pledge a certain amount of money for each new piece of work their favorite artists produce, is showing promise. But that's the thing: We're talking about specific bands and musicians. It's a bit like the Nicholas Kristof principle in action.* Much in the way readers get more invested in the story of a single impoverished girl in India than they do in an abstract stat about the fate of the poor, people care more about a single beloved band than they do the nebulous category of struggling musicians. Likewise, as anybody in philanthropy will tell you, people are much more willing to give money when they know exactly how it will be used. And, to a lot of people, paying for music feels a bit like philanthropy.

It doesn't help matters that, in the end, it doesn't look like Tidal really is all that more generous, anyway. Whereas Spotify pays 70 percent of its revenue out to artists and rights holders, the Los Angeles Times reports that Tidal is paying 75 percent. If you think streaming screws your favorite band, Tidal is only going to screw them the tiniest bit less. Not that many of us care.
*Correction, April 23, 2015: This post originally misspelled Nicholas Kristof's last name.

It's a Good Day for Pizza and Doughnuts on Wall Street
Investors are gobbling up stock in Domino's Pizza and Dunkin' Donuts today after both companies impressed the Street with unexpectedly strong quarterly sales. Shares of Domino's are surging roughly 10 percent, or around $10, on the company's best U.S. same-store sales growth in "at least the last 65 quarters," according to analysts at Janney Capital Markets. At Dunkin', the stock has popped 8 percent, or a little less than $4, on sales that were surprisingly unhampered by the miserable New England winter as well as big gains in same-store sales for Baskin-Robbins.
The current fervor for Domino's stock is so great that it's pushed shares to a new all-time high of $109 and change. In the U.S., same-store sales grew 14.5 percent in the first quarter. Abroad, they added 7.8 percent, which Domino's reports was the 85th straight quarter of international same-store sales growth. Earnings per share and revenue also came in well over expectations. J. Patrick Doyle, Domino's president and CEO, called it an "outstanding" start to the year.
Advertisement

Over in doughnut land, Dunkin's stock is approaching a similar all-time high. Shares of Dunkin' Brands Group (the official name of the company that makes the deliciously sprinkled doughnuts you see above) peaked in March 2014 right around the $53 mark. Now they're only a little ways off from that, at $51.73 as of midday trading. Beverage sales, which tend to carry the highest profit margins, were strong, with orders of iced coffee and dark roast coffee leading the way. Dunkin' also reports seeing "continued breakfast sandwich momentum" in its core breakfast offerings, as well as with the relatively new "croissant donut," the chain's answer to the Cronut.
FCC Recommends a Potentially Deal-Killing Hearing for Comcast–Time Warner Merger
The Federal Communications Commission has recommended that the proposed $45.2 billion Comcast–Time Warner Cable merger head to a hearing, the Wall Street Journal reports, citing "people familiar with the matter." What does that mean for the deal? Robert McDowell, a former Republican commissioner of the FCC, told the Journal over the weekend that "mergers are never put to hearing in order to approve them ... they are designated for a hearing in order to kill them." Here's more from the latest Journal report:
The [FCC] staff reached a conclusion that the best option for the FCC is to issue a "hearing designation order." In effect, that would put the merger in the hands of an administrative law judge, and would be seen as a strong sign the FCC doesn't believe the deal is in the public interest.
Advertisement

A merger of Comcast and Time Warner Cable, the No. 1 and No. 2 biggest cable operators in the U.S., respectively, would create a cable and Internet behemoth serving roughly 30 million customers. Right now, Comcast has nearly 22 million high-speed Internet users and slightly more video subscribers. The resulting Super Comcast would control approximately 30 percent of the market for pay TV (i.e. your traditional channel bundles) and 57 percent of the market for broadband.

Comcast was scheduled to meet with officials from the Justice Department on Wednesday to discuss the proposed merger. Late last week, Bloomberg reported that lawyers at the DOJ were getting ready to recommend blocking the deal on antitrust concerns. Comcast, for its part, has maintained that the merger isn't anti-competitive and will "bring substantial benefits to consumers." For more on who you should believe about that, see Slate's Comcast-TWC explainer.
PayPal Has Officially Overtaken eBay's Marketplace in Sales for the First Time
Dan Schulman, PayPal's CEO-to-be, thinks online payments are having a bit of a moment. "We are currently in one of the most exciting periods for financial services," he told investors on Wednesday afternoon. "The online and offline payments worlds are digitizing and converging through mobile experiences." Wall Street might agree, judging from the 5-plus percent that shares of eBay, PayPal's parent company for a few more months, are up in after-hours trading. In the first quarter of 2015, PayPal's total net payment volume jumped 18 percent to $61 billion. During that same period, PayPal added 3.6 million new accounts and processed some 1 billion transactions.
PayPal, which encompasses payments system Braintree and popular mobile payments app Venmo, is scheduled to spin off from eBay in the third quarter of this year. After the split, PayPal and eBay will be separate public companies but will continue to share many business relationships. As part of a deal reached a few weeks ago, eBay will continue routing roughly 80 percent of its gross merchandise sales through PayPal for the next five years, while PayPal will agree not to set up its own e-commerce marketplace. "We are deeply committed to setting up eBay and PayPal to succeed," eBay President and CEO John Donahoe said in a statement.
Advertisement

Early last month, PayPal spent a reported $280 million to acquire Paydiant, a payments startup that helps big retailers create mobile wallets and mobile payment programs for their customers. PayPal's executives are bullish on this acquisition, which they say will let PayPal capitalize on that online-offline spending convergence even faster. It will also presumably help PayPal compete with the likes of Apple, Google, and Samsung by giving retailers a more personalized option for handling digital payments. Executives are also hoping that recent changes to Google's mobile search algorithm to favor mobile-friendly Web pages could end up driving more traffic toward PayPal's mobile-first site.
"Everything we've done in the first six months of my tenure is positioning PayPal to take advantage of what I see as one of the greatest opportunities for growth the payments industry has ever seen," Schulman said.
As for eBay, revenue from its key Marketplaces segment—which includes sales from eBay.com as well as specialized sites like StubHub—fell 4 percent to $2.07 billion from the first quarter of 2014. On the whole, eBay beat analysts' targets for earnings per share and also reported sales above expectations. PayPal's revenue, by contrast, grew to $2.1 billion, which according to the Wall Street Journal marks the first time that quarterly revenue from PayPal topped that of eBay's core marketplace. With just a few months left before the two companies go their separate ways—to the glee of activist investors like Carl Icahn, who felt eBay was strangling PayPal's growth—perhaps that's a timely changing of the guard.

Is Texas Headed for a Recession?
With oil companies shutting down rigs left and right thanks to the low price of crude, Texas' economy is finally showing some serious signs of strain. In March, it shed more than 25,000 jobs, by far the most among all 31 states where payrolls fell. (And adding insult to injury, the Lone Star State's spiritual arch nemesis, California, tacked on almost 40,000 new jobs.) While the Texas Workforce Commission finds that only 2,800 of March's job losses were in "mining and logging"—the umbrella category that includes pumping oil—it's safe to say the sector's woes led indirectly to a much greater share of the fall.
How big were last month's losses, really? JPMorgan Chase economist Michael Feroli, who late last year suggested the oil bust could lead Texas into a regional recession, points out that "a proportional loss on the national scale would be if the U.S. lost 304,000 jobs." That doesn't necessarily mean Texas' total economy is shrinking—sadly we won't have data that can tell us for some while—but as the Wall Street Journal notes, the situation is certainly "recession-like."
Advertisement

The big question is how deep the pain will become for Texas in the coming months. Optimists argue that the state's economy is more diversified than in the 1980s, when an energy bust plunged it into a prolonged slump. But oil and gas extraction, along with the activities that support it, still make up more than 13 percent of Texas' total economic output, nearly the same as in 1985. And while drillers themselves may only employ about 0.9 percent of the state's workforce, their troubles tend to ripple powerfully because so many industries, such as construction, trucking, and even banking, rely on them for business. Roughnecks and engineers also tend to make good salaries, which means that layoffs in the oil fields can disproportionately hurt spending in local communities. Finally, shrinking oil-industry tax revenues could compound those problems by forcing government budget cuts and layoffs.
In the end, the Council on Foreign Relations has estimated that a 50 percent drop in the price of crude, similar to what we've seen in the past half year or so, would lead to a 1.2 percent employment decline for Texas. But even if that comes to pass, there is a silver lining for the state. Its unemployment rate is currently just 4.2 percent. That's still something for California (unemployment rate 6.5 percent) to be jealous about.
McDonald's Still Set on Becoming a "Modern, Progressive" Burger Chain
It was another rough quarter for McDonald's. Sales declined and earnings per share missed. Revenue also came in narrowly below analysts' targets. The company is closing 350 more underperforming restaurants than it initially planned in 2015. And things won't be getting better anytime soon. McDonald's says it expects global comparable sales (those at restaurants open at least 13 months) to be negative again in April.
At the same time, investors have apparently acclimated to McDonald's slow, steady decline, or something like that, because while sales continued to slip in the latest month and quarter, the company's stock is up more than 2 percent in midday trading. Keep in mind that over the past year, McDonald's U.S. comparable sales declined in nine months, and global comps fell in 10 of the last 12 months.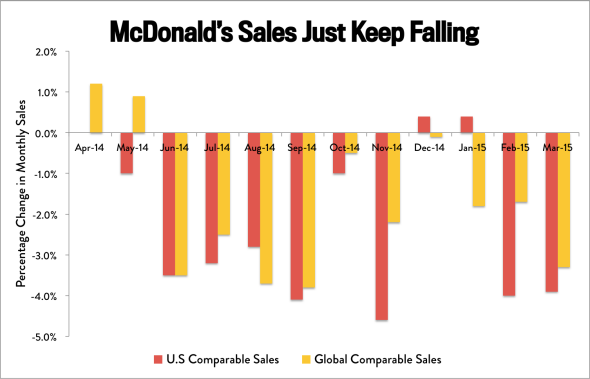 Advertisement

Steve Easterbrook, McDonald's recently appointed CEO, emphasized that the chain is "keenly focused" on its turnaround, which it plans to detail more on May 4. He reiterated on the earnings call that McDonald's needs to become a "modern, progressive burger company" to compete in the current fast-food landscape. "We are evolving to be more responsive to today's customer," Easterbrook said. As part of that, McDonald's plans to simplify its menu and improve its value-menu offerings. "We can't afford to carry legacy attitudes, legacy thinking," Easterbook said.
Like usual, breakfast was a bright spot for McDonald's while lunch and dinner remained weak. The company announced late last month that it would begin testing all-day breakfast at 94 restaurants in the San Diego area. This was exciting, since people tend to like McDonald's breakfast and had long wondered why it was only served until 10:30 a.m. McDonald's decision to finally take that feedback to heart might suggest it really has embraced its mission of becoming more responsive to today's customers. We'll find out more next month.

Chipotle Plans to Raise Prices on Its Steak and Barbacoa Burritos
Chipotle's usual burrito magic isn't working on Wall Street this time around. The fast-casual chain fell short of expectations for first-quarter revenue, and sales at stores open at least 13 months also missed their target. Chipotle also says a carnitas shortage that began in early 2015 and has affected roughly one-third of its restaurants will last through the "peak" spring and summer periods. Shares are down approximately 5 percent—or $35 and change—in after-hours trading.
The current carnitas crisis hit in mid-January after the company discovered and suspended a supplier that had violated its animal-welfare standards. The choice—while potentially smart given Chipotle's ethics-minded branding—has been disruptive to restaurants in the short term. Some 1,700 Chipotle locations are no longer carrying carnitas, which makes up between 6 and 7 percent of entree orders. Had carnitas been available at all restaurants, Chipotle executives said on the earnings call that they believe same-stores sales could have finished higher.
Advertisement

All of this was the backdrop for the big news of the call: Some Chipotle prices are going up. That's a slightly awkward pivot for the chain. When Chipotle reported last year's Q4 earnings in February, it said entree prices were expected to remain mostly the same in 2015. Analysts found this statement confusing, as ingredient costs were expected to keep rising, but Chipotle defended its decision as partly about its "accessible and affordable" branding. Just because the chain could eke a few more dollars out of its loyal patrons (which it certainly can) didn't mean it ought to.
Now, though, Chipotle says prices on steak and barbacoa orders will likely rise 4 to 6 percent before the end of the year because it "undershot" when pricing in the inflationary costs of beef. Food costs made up 34 percent of Chipotle's revenue in the latest quarter, with increases hitting beef and, somewhat inexplicably, tortillas. Keeping Chipotle accessible is important, the company explained on its earnings call, but menu prices need to stay in line with ingredient costs. "We're underpriced on steak right now," an exec admitted. Between that and the carnitas shortage, maybe it's time to switch to chicken or sofritas.