A blog about business and economics.
 | 
Posted Tuesday, May 21, 2013, at 1:52 PM
How much money does Apple save with its various tax avoidance methods? It's difficult to say precisely. Any company—just like any household—normally does what it can within the bounds of the law to reduce its tax burden, but if you roll over the graphic below you'll see that viewed broadly it's an awfully big deal.
 | 
Posted Tuesday, May 21, 2013, at 1:35 PM
Jamie Dimon said that if he was forced to step down as chairman he would step down as CEO as well
Photo by Jemal Countess/Getty Images for Time
The movement to force JP Morgan Chairman and CEO James Dimon to step down from the chairman job and serve as a mere CEO failed today, as shareholders rejected a proposal to split the jobs. In fact, with job-splitters garnering just 30-something percent of the vote they're actually losing ground from where they were a year ago, which is surprising because they seemed to be gaining momentum with shareholder advisory firms. Dimon was able to push back by deploying a highly effective tactic that just happens to illustrate precisely why he shouldn't hold both jobs: He threatened to quit.
He said that if he was forced to step down as chairman he would step down as CEO as well. And shareholders thought, not implausibly, that doing so would throw the firm into disarray and hurt its share price. So they stuck with Dimon.
That's the kind of high-stakes bluffing and gamesmanship you don't like to see from a banker. It also only makes sense if you assume that Jamie Dimon the Chairman is doing a terrible job. After all, any CEO might quit at any moment. Running a company is hard work, and CEOs are so rich already that it's hard to use a pure financial incentive to get one to hang on if he decides he'd rather play golf. Plus any CEO might die in a car wreck on any given day. One of the very most important jobs a chairman can do is ensure that there's some kind of reasonable succession plan in the works. Someone waiting in the wings who'll have the confidence of the board and the executive team and who'll be able to keep things running smoothly. There's no such thing as a totally seamless transition, but it's certainly possible to have a non-catastrophic one. Dimon held on to the Chairmanship by essentially saying he'd failed as Chairman. There is no succession plan beyond "après moi, le deluge."

 | 
Posted Tuesday, May 21, 2013, at 10:04 AM
Apple CEO Tim Cook poses with an iPad Mini during Apple's special event in San Jose, Calif. on Oct. 23, 2012
Photo by KIMIHIRO HOSHINO/AFP/Getty Images
Here is the report from the Senate Permanent Subcommittee on Investigations about Apple's tax avoidance strategies (PDF) and here is Tim Cook's prepared testimony in response (PDF).

Substantively speaking, Cook's point is that Apple pays a lot of U.S. corporate income tax, employs a lot of Americans, and all things considered if Apple vanished off the face of the planet or pulled up its stakes and moved to Taiwan that would be bad for America. The Subcommittee's point is that Apple engages in a lot of creative accounting tactics to minimize its corporate income tax bill. The most striking fact is that this isn't just a matter of shifting profits to lower-tax jurisdictions, but that some of Apple's profits aren't taxed by anyone anywhere due to jurisdictional gaps.
The unfortunate thing here is that Carl Levin, the senator with the interest in this matter, chairs this investigations committee rather than, say, the Finance Committee. There really isn't a great deal to "investigate" here. It's not like it turns out that Apple minimized its tax bill by blackmailing IRS agents by secretly reading their iPhone emails. The issue here is with the tax code not with Apple. Portraying it as a showdown between the Senate and a CEO makes for better television, but the actual issue here is one of legislators versus legislators. Apple has its favorite tax strategies and General Motors has its favorite tax strategies. It's a question of public policy how much revenue we want to raise via corporate income tax and what sectors do we want to coddle with loopholes.

 | 
Posted Tuesday, May 21, 2013, at 9:48 AM
Advertising participants flash signs during an announcement in New York that Yahoo acquired the Tumblr blogging site in order to upgrade its Flickr site
Photo by EMMANUEL DUNAND/AFP/Getty Images
There is certainly some truth to that narrative, but I also want to push back a bit. In particular, a number of people suggested to me that the success of Instagram shows that Yahoo really blew it with Flickr. They had the lead, they now have a cool Flickr mobile app, and had they not fallen behind the Instagram curve they could be having all of Instagram's success. But the question here is what success? Now don't get me wrong. I say hip hip hooray to Instagram's founders. Starting a company that makes a product people love and has no revenue model and then selling that company for $1 billion to a larger tech company and then letting the new owner take the fall when it's inevitably either "ruined" or killed is the Silicon Valley dream. I hail anyone who's able to pull it off as a Hero of Consumer Surplus.
But Yahoo was not a scrappy startup. Taking its existing photo service, Flickr, and adding to it a wildly popular but revenue-free mobile app would not have accomplished anything for the company. That's why they didn't do it.
Before Instagram really took off, some of my friends who were more into photography were using Hipstamic a cool paid app that had social features and photo filters that were used to create award-winning pictures. This was a successful product in its day, but it ultimately proved less popular than a similar product that you could use for free (surprise!). Hipstamic the company is still out there, pivoting to new products and it's a good team and I wish them well. But looking back, it's clear that Hipstamic made a mistake. They were a small startup, so the "burn some VC money growing a free service as fast as possible and then sell it to make the revenue issue someone else's problem" would have worked for them. But how could it have worked for Yahoo? It's like a funhouse mirror version of the innovator's dilemma. Competing against cheap, fast startups is hard for any entrenched incumbent, but it's downright impossible when the startup is able to operate with total disregard for revenue. Then from the Facebook viewpoint, they bought Instagram right before an IPO that made Mark Zuckerberg a lot of money and since the IPO the stock is down 30 percent while the broad market has soared. Despite being publicly traded, Facebook is wholly under Zuckerberg's personal control and perhaps he simply doesn't care (in fact, good for him for not caring). But Yahoo wasn't a controlled company like that. It can't just launch high-profile failed business ventures and shrug the failure off because the service is still cool.

 | 
Posted Tuesday, May 21, 2013, at 8:54 AM
The larger tell is that the scandals aren't driving Barack Obama's approval ratings into the mud
Photo by SAUL LOEB/AFP/Getty Images
Last December, Business Insider's Joe Weisenthal and I were talking at a holiday party about the risk that 2013 would be a post-crisis era in which basically good economic news made our jobs boring and diminished audience interest in what we do. Six months later, I think it's safe to say that the scenario has arrived. The return of 1990s-style scandal politics after long years of "war on terror" and economic crisis is one tell. The larger tell is that the scandals aren't driving Barack Obama's approval ratings into the mud.

One interpretation of that is that people don't care, at all, about the (real) mismanagement at the IRS, the (fake) Benghazi cover-up conspiracy, or the more-detailed-than-ever revelations about the Obama administration's crackdown on investigative journalism. But that seems unlikely. Certainly I've ratcheted my estimate of the administration down a peg or two over some of what's come out over the past two weeks.
The more reasonable theory, detailed by Nate Silver today, is that losses are simply being offset by improved news about the economy. Certainly we can see that poll questions that drill down specifically into assessments of economic conditions are all pointing up. Normally you'd expect increasing consumer confidence and growing optimism about the state of the economy to lead to rising presidential approval ratings. And anyone who remembers the 1990s will remember that these kind of fundamentals ultimately trump everything else. If things are going well for people in their actual lives, they'll be relatively content with the powers that be no matter what the news out of congressional hearings is. The bad news for America, the world, and Obama's approval rating is that the state of the economy in 2013 is nowhere near as good as the state of the economy in 1998.
But it is greatly improved from where we were two years ago. Even better, on the legislative front Congress seems to have turned away from the pointless quest for a grand bargain and toward the quest for a comprehensive immigration reform bill. Scandalmania does not appear to be derailing immigration reform. In fact, by de-centering Obama from the process it's arguably helping immigration reform by keeping the focus on the bipartisan Group of Eight. And immigration reform, unlike a grand bargain, will give the economy a short-term boost and further improve matters.

 | 
Posted Monday, May 20, 2013, at 4:32 PM
Above you'll find the Leichtman Research Group's analysis of what's happening in the multichannel pay television ("cable") market over the past quarter and the past year. Basically, cable companies are bleeding subscribers. Janko Roettgers at Gigaom seems convinced that we are at last seeing the rise of the cord-cutters.

I think the picture is quite a bit less clear than that. If you look at the past year, there's been a net reduction in the number of people subscribing to pay television. But if you focus on the last quarter, high-end fiber optic services from Verizon and AT&T have grown faster than cable has shrunk. The yearlong view supports the idea that cable is losing out to the cheaper alternative of cord-cutting, but the quarterly view suggests that cable is losing out to high-end competition from fiber. That those two interpretations are out there only underscores the extent to which the cable industry is in long-term decline faced with competitive threats on both sides.

Something to note if cord-cutting does continue to gain traction is that although you can save a lot of money by canceling your cable right now and just getting broadband (this is what my wife and I do right now), if everyone drops television service, it's likely that the price of broadband will rise a lot to compensate. Just as a la carte won't fix cable, cord-cutting won't really fix it either. The issue is that there's a lack of competition in the industry and every different approach to regulation you can think up has serious problems associated with it.

 | 
Posted Monday, May 20, 2013, at 3:29 PM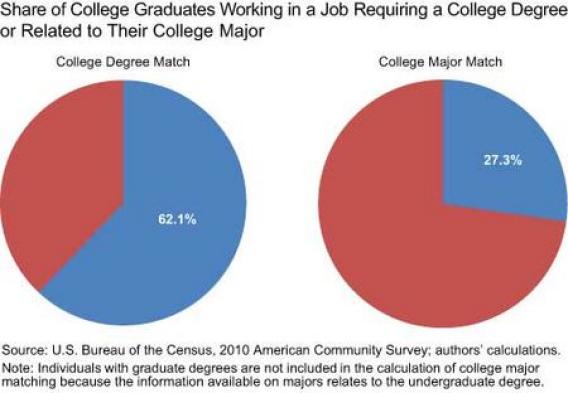 According to the paper, they're measuring relatedness by using the National Center for Education Statistics' Classification of Instructional Programs "occupational crosswalk" function. So I thought I would look up my own major, philosophy, and see what the federal government has to say about my career choices. They think that the only job I'm suited for is as a post-secondary teacher, teaching philosophy or religion classes at a college. In other words, I am one of the 73 percent.
But I would dispute the claim that my job has nothing to do with my college degree. My view is that undergraduate philosophy majors get a crash course in persuasive writing and logical argumentation. Any kind of liberal arts degree where you need to read a lot of texts and then learn to write persuasively based on said texts is a decent preparation for working in journalism. But philosophy is a particularly good one to study, because for better or for worse, journalists are typically asked to be generalists. As a philosophy major you read and discuss people who are not only great thinkers but people who managed to make meaningful intellectual contributions to the world without obtaining tons of new empirical information. Particularly in my little subfield of Web-based punditry, that sort of thing is crucial. You of course don't learn shoe-leather reporting as a philosophy major, and that's an important part of the journalism ecosystem. But large swathes of journalism have relatively little to do with shoe-leather reporting, and philosophy is a damn fine thing to major in if you want the skills you need to succeed in those swathes.

My larger point here is that it's really important to pay attention to data quality. If existing labor markets do a poor job of matching college graduates to things the NCES CIP "occupational crosswalk" function says are major-appropriate jobs, is that a fact about the labor market or a fact about the statistical series?

 | 
Posted Monday, May 20, 2013, at 1:54 PM
Two charts from Horace Dediu show that last quarter Apple reached new nonholiday highs in terms of visitors per retail store and revenues per retail store. And he writes: "[O]n a sales per square foot basis, Apple retail continues to perform twice as well as Tiffany & Co., the second best retailer, and three times as well as lululemon athletica, the third best retailer."

This is an enormous success, but it naturally raises the question of why Apple isn't opening more stores. If you have a level of revenue per square foot that's way out of line with common industry practices, that's probably a sign that you're leaving money on the table by not opening more stores. Tiffany is presumably making the calculation that purchases of expensive jewelry are not that sensitive to store locations. But Apple's retail situation is very different. The stores are key ambassadors for the brand. What's more, the stores are locations were Apple's products are serviced. If you doubled the number of U.S. Apple store locations, it's extremely unlikely that sales would double. But it's also extremely unlikely that sales would stay flat and simply be spread across a larger number of stores. In other words, by aggressively expanding the number of stores and letting the revenue per square foot metric drop to something less stratospheric, you might be able to push overall sales up.
 | 
Posted Monday, May 20, 2013, at 1:25 PM
Sen. Elizabeth Warren speaks at a press conference in April.
Photo by Stan Honda/AFP/Getty Images
Matthew Chingos and Beth Akers have a useful rundown of competing legislative proposals over how to set the interest rate on federally subsidized students loans that includes an epic burn on new Sen. Elizabeth Warren (D-Mass.) whose proposal, we're told, "should be quickly dismissed as a cheap political gimmick." After briefly dismissing it, they write that "[s]etting aside this one embarrassingly bad proposal, the remaining proposals raise a set of questions that need to be answered in order to select the ideal policy. ... "
Warren's proposal is unquestionably a cheap gimmick. But I don't remotely see why it's a bad proposal.
To recap, Warren's stunt is to argue that the federal government should, as a one-year measure, peg the student loan rate at the same low interest rate (0.75 percent) that the Fed offers to banks at the "discount window" for overnight loans. Chingos and Akers offer the following breezy critique:

It proposes only a one-year change to the rate on one kind of federal student loan, confuses market interest rates on long-term loans (such as the 10-year Treasury rate) with the Federal Reserve's Discount Window (used to make short-term loans to banks), and does not reflect the administrative costs and default risk that increase the costs of the federal student loan program.
The case for gimmickry here is airtight. The discount window is an overnight loan, and a student loan is a long-term loan. Long-term loans always carry higher interest rates than ultra-short ones, so the implication here that the government is somehow screwing college students while coddling banks is totally wrong. It's pure political theater. But the Chingos/Akers critique has an air of "the food is bad and the portions are too small" to it. If the problem with lowering the student loan rate to the discount window rate is that it's too fiscally costly, then making it a one-year measure is the solution. Over the long term, having the federal government lose tons of money through student loan defaults would be a bad idea.
But in the short term with unemployment more than 7 percent and the inflation rate running well below the Federal Reserve's self-imposed 2.5 percent threshold, there's nothing wrong with having the federal government lose money. Cutting student loan rates to an ultra-low level will leave indebted twentysomethings more able to buy chairs and socks and all the rest, raising demand and creating jobs, and there will be no crowding out of private business investment. As long-term policy, this would be totally unsustainable, but as one-year policy, it's a nice little boost to the economy.
Is it totally arbitrary? Yes. I'd say it's also a bit unfair. Even people who don't have student loans deserve to benefit from some stimulus. As I've said many times, my preferred approach would be to print some money and mail it to everyone, giving equal help to all people whether or not they're grappling with college debt. But compared to the status quo, this is a fine idea.

 | 
Posted Monday, May 20, 2013, at 10:39 AM
San Francisco Financial District in 2377.

Screenshot via Memory Alpha

Frank Chiachieri tweeted this morning "[s]aw Star Trek yesterday and now awaiting @mattyglesias post on how Federation $$ convinced SF NIMBYs to accept massive density increases."
I don't think Federation money is the real issue here. It's simple logic. Memory Alpha, the Web's leading Star Trek wiki states:
Clearly the key factor here is the influx of Vulcan logic. NIMBYism in prosperous urban areas is essentially an insider-outsider conflict. Incumbents view it as contrary to their interests to upzone and allow for increased development. But relatively few people are comfortable with a politics of naked selfishness, and that's especially true for the kind of ostensible left-wingers who populated coastal cities such as San Francisco. But human beings are extremely good at rationalizing, and so Bay Area NIMBYs have a lot of pseudo-progressive pseudo-reasons for taking anti-density stands. That kind of politics of rationalization goes entirely out the window once Vulcans arrive on the scene. With their cool logic, Vulcans swiftly persuade the people of earth that severe land-use restrictions are a deeply negative-sum form of public policy. The slogan that the needs of the many outweigh the needs of the few further punctures the insider-outsider politics of anti-density zoning.
With logic-based land use reform sweeping all across earth, it turns out that the San Francisco Bay Area has a combination of high average incomes, pleasant climate, and a longstanding spirit of diversity and assimilation that's difficult to match. Construction booms also occur in London, New York, and other major cities but ultimately San Francisco outpaces them. Eventually San Francisco/San Jose comes to surpass Tokyo/Yokohama and Seoul/Incheon in scale and that, combined with its lack of historical service as a political center for a nation-state, make it the logical headquarters for the United Earth government and, later, the Federation Council.