A blog about business and economics.
The Maker of Bud Wants to Buy the Maker of Miller
Because no amount of fizzy yellow water can quench its thirst for market share, Anheuser-Busch InBev, the world's No. 1 beer-maker, is reportedly talking to bankers about plans to buy No. 2, SABMiller. Between them, the companies control almost one-third of the planet's beer sales. Nothing is formal yet, according to the Wall Street Journal, but AB InBev has been trying to secure financing in order to make the long-rumored marriage a reality.
AB InBev owns Budweiser, while SABMiller produces Miller (as well as Milwaukee's Best, Keystone Ice, Leinenkugel, and more). It would be bad for American consumers if the two companies were allowed to combine their stateside operations, but chances are that won't happen thanks to antitrust concerns. When AB InBev purchased Corona-maker Grupo Modelo last year, the Justice Department forced it to spin off a new brewer that would produce all of the Mexican beer titan's brands in the U.S., thus preserving domestic competition. Something similar might happen in the event that AB InBev gobbles up SABMiller.
As of now, SABMiller's brands are brewed and sold in the U.S. by MillerCoors, a company it co-owns with Molson Coors, maker of Coors and Coors Light. The two created the joint venture in 2007 in order to better compete with Anheuser-Busch; today, it controls about 27 percent of the American market, according to data from Beer Marketer's Insights, versus AB InBev's 45.6 percent share. Should AB InBev manage to buy SABMiller, it will likely have to sell off MillerCoors to placate regulators.
So in short, even if this monster merger were to happen, there will probably still be plenty of competition among makers of mass-market American swill.
Olive Garden Has Been Committing a Culinary Crime Against Humanity
Hedge fund Starboard Value delivered the mother of all food reviews this week with a 294-page slide presentation tearing apart Darden Restaurants, the struggling parent company of Olive Garden. It charges the Italian chain with all manner of incompetence—from serving too little alcohol to serving too many breadsticks—but the most powerful accusations are reserved for its pasta.
Here's why: Olive Garden has stopped salting its pasta water.

"According to Darden management, Darden decided to stop salting the water to get an extended warranty on their pots," Starboard, which is in a proxy fight for control over Darden's board, explains. "Pasta is Olive Garden's core dish and must be prepared properly. This example shows how disconnected Darden management is from restaurant operations and how little regard Darden management has for the guest experience. If you Google 'how to cook pasta,' the first step of Pasta 101 is to salt the water."
Elsewhere, Starboard calls the decision to stop salting "appalling," and concludes that it "results in a mushy, unappealing product that is well below competitors' quality despite similar cost."

For the non-home cooks out there, salting water is essential for correctly flavoring pasta.* Once the noodles are done cooking, you can also use starchy, briny leftover water to prepare a nice pan sauce. It's all basic stuff, and an act of culinary bad faith for any restaurant not to do it.
Anyway, Starboard also says that these days Olive Garden's breadsticks taste like "hot dog buns." Vicious stuff.
*Correction, Sept. 14, 2014: This post originally misstated that salting water helps pasta cook correctly by increasing the liquid's boiling point. Despite the dearly held beliefs of many home cooks, adding a moderate amount of salt does not significantly change the temperature at which water boils.
The Apple Watch Will Make Everyone Around You Just a Little Worse Off
When Apple launched the iPad in 2010, it precipitated a long and surprisingly acrimonious debate about screens. Specifically, is it better to read from a screen that reflects light, as the Kindle does, or one that emits light, as the iPad does? In the end, as even Amazon realized, the difference was not enormous; what really matters is the resolution of the screen. Ink on paper is extremely easy to read just because it's very high-res, and any device that can approach or replicate that resolution will also be easy to read.
When the Apple Watch goes on sale next year, I suspect that the screen debate is going to return louder than ever. Only this time it's not going to be about reading or resolution. Instead, it's going to be about how glowing screens on people's wrists inflict what economists call negative externalities on everybody else.
I'll admit that I'm particularly sensitive to sensory distractions. If you're wearing a strong scent, it will give me a headache, and if there's a TV screen behind you I will find it much more difficult to pay attention to what you're saying. But then again, I'm only being human; we have evolved to be attuned to scents and to shiny moving objects. That's why perfume and jewelry are such big business — and it's also why strong perfume and ostentatious jewelry are considered déclassé.
A glowing screen attached to someone else's wrist, of course, is shinier than all but the blingiest of jewels. On American men, especially, it's weird to see such a thing. This summer, I've talked to a number of men wearing some kind of Pebble or Android smart watch, and in every conversation, the watch was intrusive and distracting — especially when it was on. (So far, interestingly, I haven't found myself talking to any women wearing one.)
You know exactly what I'm talking about if you've ever found yourself in a movie theater with someone texting in the row in front of you. It doesn't matter if they've set their phone to silent: that glowing screen is incredibly annoying to everybody nearby. A glowing Apple Watch will be just as annoying, and I doubt that theaters will be particularly successful in asking patrons to turn off their watches for the duration of a film or a play.
Apple, and all other smart phone manufacturers, must make it very easy to turn on a "dark mode," in which the watch is still on but the screen doesn't light up. But realistically, most Apple watches are going to be in "light mode" nearly all the time. And that's going to end up being a minor irritation to everybody in their vicinity. Not a huge irritation, to be sure. But it adds up. Your Apple Watch might be a wonderful gadget, for you. But it's also going to make everybody around you just a little bit worse off.
Which is one reason (there are others) why I'm not going to buy the Apple Watch when it comes out. Instead, I think I'm going to get a Withings Activité — a smart watch with a simple, elegant design that doesn't emit any light at all. No battery anxiety, no complex operating system of taps and presses and twiddles to learn — and no negative externalities. It's the polite smart watch, and I wish it the very best.
Uber Just Caved on a Big Policy Change After Its Drivers Threatened to Strike
Uber is famously unafraid of clashing with government regulators. But it might just be terrified of taking on its own drivers.

While Uber has brashly forged ahead with its ride-sharing service in the face of stiff opposition from German authorities (not to mention other protests across Europe), the company on Friday abruptly backed down from recent policy changes that had stirred protests and strikes among as many as 1,000 drivers in New York City. Uber infuriated workers on Labor Day when it said that drivers of its higher-end "Black" and "SUV" services would be sent UberX and UberXL fares as well. "Starting now, all BLACK and SUV partners will automatically receive uberX / uberXL requests," the company wrote in an email on Sept. 1. Some drivers chose to decline those requests; over the next two weeks, they were told by Uber that declining too many rides could risk deactivating their accounts.
[Update, Sept. 12, 2 p.m.: Here's a bit more background on these various tiers of Uber service. UberX and UberXL are the cheapest services Uber offers in New York City, billed as "the low cost Uber" and "low-cost rides for groups," respectively. The fare minimum for UberX rides is $8 and it's $12 on UberXL, while rides on UberBlack and UberSUV—the company's higher-end car services—start at $15 and $25. The more upscale services also have higher base fares and charge riders more per minute and per mile.]

Chakib Seddiki, an Uber SUV driver who has worked with the company in New York for two and a half years, said he knows several people who had their accounts shut down for 24-hour periods over the last week after they declined too many UberX requests. Seddiki's own account was deactivated from 4 p.m. on Monday until 4 p.m. on Tuesday, and he was told that if his ride acceptance rate fell below 90 percent it would be turned off again. Ifram Chaudri, an Uber SUV driver of eight months, said Uber shut down his account from Wednesday afternoon until Thursday afternoon for a similar reason. Chaudri and Seddiki provided Slate with the messages that Uber sent them upon deactivating and reactivating their accounts:

Late on Friday morning, Uber abruptly backtracked. "Effective immediately, UberBLACK and UberSUV partners can choose when and where to receive UberX requests," the company wrote in an email blast sent to drivers. Further down in the message, it showed an option on the Uber app that allows drivers to switch between accepting UberX rides and limiting requests to only Black and SUV customers. When asked for comment, Uber pointed to that email.

Drivers say Uber's brief decision to make them accept UberX fares was the latest in a string of shifts that have made working for the company steadily less profitable. Over the summer, Uber slashed fares on UberX by 20 percent to make it "cheaper than a New York City taxi." At the same time, it has increased the share it takes from drivers. Uber now collects 20 percent of UberX fares (up from 10 percent), 25 percent on Uber Black fares (up from 20 percent), and the same 28 percent on Uber SUV fares.
Uber defends its price cuts and push for drivers to use UberX by arguing that servicing more frequent, albeit cheaper, fares actually leads to increased income for drivers. "[U]berX demand has grown dramatically over the last year, to the point where uberX partners have actually been earning MORE per hour than UberBLACK drivers, after all deductions and expenses," a company representative wrote in an email to Seddiki. "To address this and help boost BLACK and SUV partner earnings, we allowed partners to opt-in to accepting uberX/XL trips over the summer. The results were dramatic: drivers who accepted X and XL trips earned 35-50% more per hour on average than those who did not. While partners sometimes had slightly higher gas and operating costs from doing more trips, our summer test showed that drivers' increased earnings more than covered this cost."
Seddiki contests this math. His own experience shows that it takes, on average, 10 minutes to drive to get an UberX fare and then another five to 10 minutes for that person to come out for the ride. From there, it takes about 10 minutes to complete the usually short rides UberX passengers take. Altogether, that's 30 minutes for which Seddiki typically gets the $8 minimum. Uber's 20 percent commission deducts $1.60 and sales tax and black car fees take out another $0.80. Because Uber drivers are contractors and not employees, they also have to cover any expenses they incur while working. For half an hour of driving, Seddiki expects his SUV to consume about $2 worth of gas—much more than the hybrid vehicles used by most UberX drivers will eat up in the same period. "That means before car depreciation and insurance, I end up with $3.60 from $8," he says. "If we look at it by the hour, that will be $7.20."
Protests against Uber over wages have already broken out in other parts of the country. On Sept. 2, around 50 Los Angeles–based Uber drivers gathered in a North Hollywood parking lot to rail against recent fare cuts. Earlier this week, 200 drivers assembled outside Uber's office in Santa Monica to further protest the pay cuts and their treatment by the company. Uber has also been hit with several class actions over its practice of including tips in the commission it collects from drivers. By conceding to drivers on the UberX policy—admittedly a rare step for Uber to take—the company is likely preventing days of bad press and protests that could draw consumers attention to the unrest and accusations of bad labor practices.
Despite Uber's reversal, organizers said on the Uber Drivers Network NYC Facebook page that the strikes planned for Friday will continue and that a meeting scheduled for 4 p.m. in Queens will still take place. "This is a victory for us," the network posted on its page. "However our fight MUST continue, because we've won a battle but the war is not over."

Uber is of course interested in keeping rates low to provide its customers with the cheapest fares and most efficient service possible. But riders are only one half of Uber's platform. And in a market brimming with competition, aggravated drivers have other companies they can choose to work with. Already, Chaudri and Seddiki say they have seen colleagues abandon Uber for its main competitor, Lyft. "In the beginning Uber was very nice with us. Now when you go to the office they treat you like a slave," says Chaudri, who has also started taking rides for Lyft's platform. "When Lyft asked me if I had any questions, I said only one: You will be smiley and nice with us all the time or just for a few months, like Uber?"

The Case Against Apple Pay
You don't need Apple Pay. Of course, I could say that about many other products Apple has succeeded in convincing you to love. But with the tech giant's newest foray into the incestuous morass of mobile payments, Apple is taking on a particularly tricky challenge. (Yes, even more than with its ridiculously elaborate timepiece.)
I've long been a skeptic about mobile payments. Tech companies and big banks have been trying to make their "digital wallets" happen for years, with little luck. (Just ask Google, and that company formerly known as Isis.) Why construct an elaborate fix to something that's not broken? Why bother with smartphones and thumbprints and buggy digital scanners at the checkout counter, when you could just swipe a piece of plastic and go?
"The core challenge Apple faces is that buying things with a credit card isn't nearly as onerous a process as they make it out to be," as the New York Times adroitly summed up this week. And there's an even better argument for Apple Pay skepticism in Thursday's Wall Street Journal, which boiled the hurdle for Apple down to numbers.
That is, 220,000 versus 9 million: the number of U.S. retailers where you can use Apple Pay starting in October, versus the number of places where you can currently use a credit or debit card. In other words, Apple Pay isn't going to work at 97.6 percent of the places where you can shop in this country—and retailers aren't exactly rushing to embrace the newest technology. Best Buy, for example, has installed the digital scanners that its checkout clerks would need to scan your iPhone 6, but "switched them off in 2011 because the cost of supporting the platform was too high" and "has no plans to change course following Apple's announcement," the WSJ reported.
That's really the crux of the problem for Apple, and Google, and PayPal, and that Isis that President Obama isn't promising to destroy. You can sell consumers any new kind of technology (or new ballad-rock album, for that matter) if you wrap it up with something they already love and plan to buy. But you can't control how they use it, if they use it, or indeed if they can use it. Right now retailers are the ones who control how consumers use this kind of technology, and they are far from fully on board.
Businesses, especially startups, have several reasons to resist upgrading their technology. There's the cost of installing the new scanners, and the cost of training staffers to use them. There's the fact that many of the smallest businesses, the food trucks and the startups that rely on Square or Amazon or PayPal to accept credit cards, won't be able to use Apple Pay. Those systems "aren't equipped to process NFC payments," the WSJ wrote, referring to the "near-field communication" technology used to scan the digital wallets on smartphones.
And then there are the potential increased costs to small businesses if Apple Pay takes off. Accepting credit and debit cards is already an expensive proposition for retailers, especially the small ones that don't have a lot of negotiating power with the big banks and credit card processing companies. Retailers pay, on average, 2 percent of every sale in these so-called swipe fees, which are split between banks, networks like Visa and MasterCard, processors, and sometimes a whole host of other companies. Now Apple is coming in and asking for a piece of the action, too.
Bloomberg reports that banks will pay the tech company a fee for each Apple Pay transaction, cutting into the $40 billion in profits that the banking industry collects from retailers every year. And if the banks and credit card companies are giving up some profits to Apple, how long do you think it will be before they start charging businesses higher swipe fees to make up the difference? That prospect won't make retailers rush to embrace anything.
So the case against Apple Pay seems pretty easy to make—which isn't to say there aren't reasons the technology could eventually take off. The primary ones are security and convenience, though the former is a bit of an awkward conversation for Apple and CEO Tim Cook in the wake of iCloud's implication in the celebrity photo-theft debacle.
But if Apple can shake that, it might convince both businesses and consumers that its digital wallet could help prevent future data breaches. The iPhone's fingerprint-only payment access and the "tokenization" feature of Apple Pay are two features that could help stave off the recurring massive thefts of consumer data from retailers.
Tokenization is "a technical way of saying that the merchant never sees the credit card information the consumer is using when buying items using Apple Pay. … Breaches at [retailers like] Target and Home Depot wouldn't happen if the companies didn't have consumer credit card information in the first place," my former colleague Rob Blackwell wrote at American Banker this week.
And then there's the convenience factor—or, to be clear, the distant but still potentially attainable prospect of the convenience factor. It's a great prospect. I am not immune to daydreams about the day when I can leave my home with only my phone—no keys, no wallet, no credit card or cash, no subway card, no driver's license, and no work ID needed.
So if the state government and the New York subway system and Apple and the banks and all the places where I want to shop and my office building and my apartment building could work together to get all of that digitized and put onto the iPhone 7 or 8 … I'm in. Skepticism assuaged. I might even wait in line to buy one. But until all of that happens, it's hard to see Apple pulling off what it does with its best products and turning Apple Pay into something you never realized you needed.
Time for a Vacation in Europe?
What happens when your central bank cuts interest rates and the value of your currency declines? If you were America in 2009, following the financial crisis, you would have seen a flood of tourists breaking down your doors for cheap vacations and to go on shopping sprees for iPhones, designer jeans, and the like.
Well guess what: Five years later, the tables have turned. In the wake of the European Central Bank's decision to cut its main interest rate last week, which instantly caused the value of the euro to drop, Americans are expected to return the favor, pouring millions of dollars into the Old World as the value of goods and services decreases overseas.
While that may help the various struggling countries that make up the EU, the U.S. is expected to see a shortfall of tourists, which could wreak havoc on cities that depend on income from their vacations. Among those metropolises is New York City, which could experience a drop off of up to $30 billion in tourism dollars in the next year, or 50 percent of the current total, according to the New York Post.
Last week the European Central Bank cut its interest rate, for the second time this year, to 0.05 percent. It also sliced its deposit rate to below 0 percent, in a bid to get banks lending again. (The negative rate would effectively punish banks for hoarding cash.) Both moves, in turn, caused the euro to fall. It is now down more than 7 percent since May, at around $1.29.
In fact, the euro is expected to reach parity with the U.S. dollar by the end of 2017, according to a recent report from Goldman Sachs.
While that's good news for vacationers, it's bad news for U.S. exporters, many of whom have benefited from years of a weakened dollar. Since the recession, about one third of the U.S. economic growth has been fueled by exports, U.S. Secretary of Commerce Penny Pritzker said recently in a news conference. Over the past four years, exporters have set records, exporting $2.3 trillion worth of goods in 2013 alone, Pritzker said.
Peter Thiel Reveals His Favorite Rap Artist and More in a Reddit AMA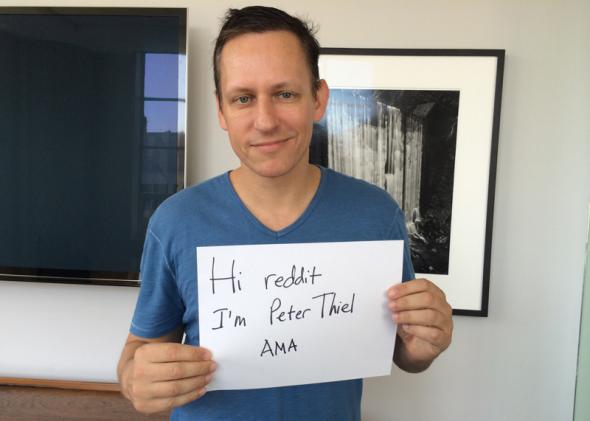 Peter Thiel, billionaire founder of PayPal, naysayer of the American college system, and famously outspoken libertarian, took to Reddit on Thursday for an "Ask Me Anything," or AMA, session. For about one hour, Thiel answered questions from the Internet on everything from Silicon Valley fashion to the National Security Agency and Edward Snowden. You can learn a lot from reading his responses—perhaps most importantly, that Thiel has a sense of humor.
On Silicon Valley fashion:
No absolute and timeless sartorial rules.
But, in Silicon Valley, wearing a suit in a pitch meeting makes you look like someone who is bad at sales and worse at tech.
On the American health care system:
We would never design a system like this if we were starting from scratch.
If technology involves doing more with less, than US health care (like US education) is the core of "anti-technology" in this country: For the last four decades, we have been spending more and more for the same (or even for less).
On how Snowden has impacted the cloud, security, and startups:
It is a much-needed debate.
BTW, I don't agree with the libertarian description of the NSA as "big brother." I think Snowden revealed something that looks more like the Keystone Kops and very little like James Bond.
The first thing an intelligence agency should do is counter-intelligence, and the NSA could not even figure out that there was something suspicious about an IT person downloading all those files. And once they knew Snowden had done this, they apparently still couldn't figure out what all he had taken...
It was inappropriate that the US was tapping Angela Merkel's cell phone. But I suspect that this was news to Obama as well. And more generally: the NSA has been hovering up all the data in the world, because it has no clue what it is doing. "Big data" really means "dumb data."
On artificial intelligence:
I think AI is still a fair ways off. But the economic questions (e.g., how will this impact our work?) are secondary to the political questions (e.g., will AI be friendly?).
The development of AI would be as momentous as the landing of extraterrestrials on this planet. If aliens landed, the first question would not be about the economy!
Not optimal if you break the law to the point where the company gets shut down (think Napster). I'm not saying that will happen to Uber, but I think they've pushed the line really far.
PayPal built a payment system but failed in its goal in creating a "new world currency" (our slogan from back in 2000). Bitcoin seems to have created a new currency (at least on the level of speculation), but the payment system is badly lacking.
I will become more bullish on Bitcoin when I see the payment volume of Bitcoin really increase.
On his favorite rap artist:
On whether Palantir is a front for the CIA:
No, the CIA is a front for Palantir.
How Uber and Lyft Stack Up in the United States
Lyft in recent months has accomplished a tremendous feat. Once an afterthought—if a thought at all— in discussions of ride-sharing services, the company has worked its way into practically every conversation about the industry alongside its rival, Uber. This is all the more impressive considering that Uber dwarfs Lyft by just about every measure. Lyft's $700 million valuation is tiny compared with Uber's $18.2 billion estimate. Lyft operates in fewer places than Uber in the U.S. Abroad, it has no foothold, while Uber runs in 45 countries around the world.
To shed more light onto how the two stack up in the U.S. specifically, FutureAdvisor, an online investment management site, examined the purchases of 3.8 million of America's active credit and debit card users. From that sample, FutureAdvisor identified more than 96,000 customers who spent a combined $28.6 million on the two services between June 2013 and May 2014. In that period, more than 82,000 people used Uber, while only about 14,200 employed Lyft. Uber facilitated seven times as many rides as Lyft did and its trips on average were also more expensive. Lyft is growing slightly faster than Uber month-over-month, but Uber is adding more customers, more rides, and more revenue than Lyft in absolute terms.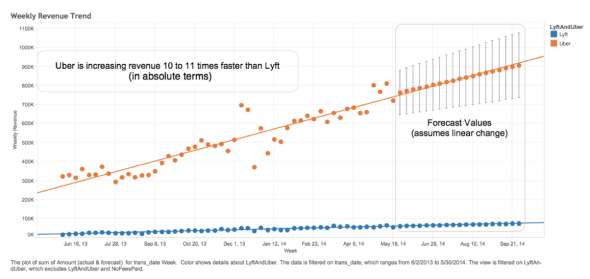 For both riders and weekly revenue, the upward slope of the orange Uber trend line is greater and faster than that of the blue Lyft trend line. On the other hand, when it comes to the rate of growth of new customers in the U.S., both companies are slowing. What was once monthly growth of 15 to 30 percent appears to be leveling out at 9 or maybe 10 percent. That's still fast for corporate America, but less groundbreaking for Silicon Valley.

Chris Nicholson, a spokesman for FutureAdvisor, said the decreasing growth rates of new customers help explain why competition between Uber and Lyft is so fierce. "They both feel that the only way to maintain their growth rate in the U.S. is to grab each other's market share," he says. If that's the case, the data suggests that Uber is so far doing a better job at getting ahold of its competitor's riders. Of the total riders examined in the set, about 2,400 had used both Uber and Lyft. FutureAdvisor frames this fact as "only 2.5 percent of all riders used both services during the period studied." Put like this, that seems to indicate very little overlap. But using the rider counts FutureAdvisor gives for Uber and Lyft it can also be phrased like this: 3 percent of Uber riders have also used Lyft, while 17 percent of Lyft riders have also used Uber.
There are a couple of potential explanations for this discrepancy. Because Uber operates in more U.S. cities than Lyft, some of its customers simply don't have Lyft as a choice. On the flip side of that, because Lyft is almost always competing against Uber, its customers are more likely to have a choice between the two services and opt for whatever happens to be cheapest and most convenient. That 17 percent figure seems to support what Farhad Manjoo argued a few weeks ago: Lyft and Uber are becoming indistinguishable commodities.
But is it fair to say that the services have so tapped out their ridership in the U.S. that they need to steal each other's users? That's less clear. Sure, Uber is in more than 90 U.S. cities and Lyft in nearly 70, but those are the low-hanging fruit. People in metropolises are likely to embrace Uber and Lyft as a convenient taxi alternative. But the true goal and value potential of ride-sharing services is to convert people who have no need for taxis from car-owners to Uber and Lyft users—and that market isn't saturated yet. Then again, it's probably easier for Uber to head to new cities overseas and battle Lyft for its share of the lucrative U.S. urban landscape than to try changing the lifestyle habits of non-city-dwelling Americans.

Millennials Are Better-Read, Vastly Superior to Rest of Population, Says Science
On Thursday, as A.O. Scott mourned the death of adulthood in American culture (R.I.P.), a new study by the Pew Research Center confirmed that it's young adults who are keeping American (literary) culture alive. Contrary to reports that have questioned whether or not millennials read, younger Americans actually read more than their older counterparts: 88 percent of Americans younger than 30 reported having read a book in the past year, compared with 79 percent of those older than 30.
What's more, libraries are not a cherished refuge of the old, but a destination for the young: In a September 2013 survey, 50 percent of respondents between the ages of 16 and 29 had used a library in the past year, compared with 47 percent of their older counterparts, and 36 percent of people under 30 had used a library website in that same time frame; compared with 28 percent of the over-30s. (Admittedly, the numbers for high school and college-aged respondents may actually seem surprisingly low, given their reliance on libraries and books for school research.)

Elsewhere according to Pew, those over 30, as well as millennials between the ages of 25 and 29, are more likely to read the news on a daily basis than younger people. Perhaps the report's most remarkable finding, however, is that 62 percent of Americans under 30 believe that there's a lot of important information that exists outside of the Internet, while only 53 percent of older Americans believe the same. Millennials, it turns out, are the keepers of that (old, adult) Socratic idea that the more one knows, the more one understands how little one knows. They must have read that in a library book.
RadioShack's Death Is Just Around the Corner
RadioShack admitted in a filing this morning what analysts have been saying for months: The end might be in sight. "If acceptable terms of a sale or partnership or out-of court restructuring cannot be accomplished, we may not have enough cash and working capital to fund our operations beyond the very near term, which raises substantial doubt about our ability to continue as a going concern," the company stated grimly. RadioShack said in the same filing that its same-store sales plummeted 20 percent in the second quarter as the consumer electronics market remained weak and people went elsewhere to purchase their cellphones.
The writing has been on the wall for RadioShack for some time. At its peak during the dot-com boom, shares of RadioShack sold for $78 apiece. But in June, the beleaguered company's stock began trading below the $1 threshold for the first time in its 90-year history and has recovered little since then. RadioShack's net loss grew to $137.4 million in the latest quarter to mark its 10th-straight quarter of decline. Michael Pachter, an analyst for Wedbush Securities who lowered the price target on RadioShack to $0 earlier this week, told Reuters, "It would surprise me if we got to Nov. 1 without a bankruptcy."
It's surprising that RadioShack has managed to hold on this long. The company long ago fell behind its more Internet- and technology-savvy competitors. In a last-ditch attempt to turn its business around, RadioShack had hoped to shutter around a quarter of its 4,300 stores but was forced to abandon the plan when it didn't get appropriate support from lenders. Around the same time that its shares dipped into penny-stock territory, another analyst slashed his price target on the stock to $0 and declared there was "no recovery in sight." Based on today's filing, he was right.