A blog about business and economics.
Why Is Uber Threatening to Leave San Antonio?
Uber is accustomed to barging into cities and continuing to operate regardless of what local regulators do and say. But in San Antonio the company is currently trying a different strategy: threaten to leave if it doesn't get its way.
On Sunday, Leandre Johns, an Uber general manager, sent a letter to the San Antonio mayor and city council stating that if certain regulations were adopted this week, it would "likely result in Uber closing their operations" in the area. "The only people to benefit will be those who own the taxi companies," the letter continues, adding that keeping Uber around is "important to attract and keep our younger citizens."
Uber brought its low-cost ride-sharing platform known as UberX to San Antonio in March, and spent several months waiting for a local task force to present recommendations on how its service should be regulated. The proposed changes, according to Johns' letter, would require drivers to get a "full physical and eye exam before driving," "take a pre-scheduled drug test," be certified as able to read and speak English, complete a "defensive driving course," and subject their vehicles to "random checks." Uber estimates that complying with all of this would cost drivers about $300 apiece.
In addition to sending that letter, Uber has started an online petition asking San Antonio residents to "help stop this bill!" The petition currently has 9,077 signatures, about 25 percent away from its goal of 12,000. Here, Uber takes care to sound far more helpless than it does to the mayor and city council—telling readers that local regulators "will force Uber out of San Antonio," not that Uber might choose to leave rather than comply.
Rallying local citizens to its cause has become a tried and true strategy for Uber, which readily admits that it is running a political campaign as much as a business one. When Germany imposed a nationwide ban on Uber in September, the ride service ignored the ruling and kept operating, making the familiar bet that demand for its service would overwhelm attempts by local regulators to suppress it. (Uber's bet turned out to be right; the ban lasted all of two weeks.) As Uber becomes bigger and more pervasive, this tactic gets less and less risky. For every city or country that tries to ban its service, Uber can point to dozens of others that have not, and marshal support from the hundreds or thousands of other riders in nearby areas who like and support its operations.
As San Antonio's government prepares to vote on the proposed regulations, Uber is facing a fresh wave of resistance around the world. In Portland, Oregon, it was hit on Monday with a lawsuit and asked to suspend operations immediately. On Tuesday, it was banned in Spain and Thailand, and over the weekend it was kicked out of New Delhi after a driver was accused of raping a passenger.* In each of these cases, though, the local regulators aren't trying to regulate Uber—they're trying to stop it. Which might explain why Uber is not threatening in these cases to leave, but to stay.

In Portland, Uber is already mustering a counteroffensive with a petition; in New Delhi it has pledged to improve the background check process. In Spain and Thailand it's too soon to tell what will happen, but odds are Uber plans to keep Ubering on anyway. San Antonio alone is the outlier. Right now, Uber claims it's ready to leave if it doesn't get its way. Should the proposed regulations actually pass this week, they'll be an interesting test of how credible that threat is.
*Correction, Dec. 9, 2014: This post originally misspelled New Delhi.
Airbnb's Latest Milestone: 1 Million Homes, and Hardly Anyone Who Noticed
On Sunday, Airbnb chief executive Brian Chesky shared some news on Twitter: Airbnb now has 1 million homes on its platform, and is adding more than 20,000 new ones each week.
While Chesky's tweet isn't anything groundbreaking, 1 million homes is a lot. For the sake of comparison, InterContinental Hotels Group—the owner of brands such as Holiday Inn and InterContinental, and one of the world's largest hotel companies—said at the end of September that it has 4,760 hotels globally, for a total of 697,048 rooms. Airbnb's figure, if true, is much greater than that. Even so, hardly anyone in the press seems to have taken note. And maybe that's notable.
Compare the media's treatment of Airbnb to its recent handling of Uber, which it treats like both the golden boy and the enfant terrible of the "sharing economy." Uber can hardly budge without eliciting a flood of press coverage. Over the past week, stories on Uber included, but were not limited to, its new $40 billion valuation, its launch in Portland, Oregon, without the approval of local regulators, a ban it received in the Netherlands, and another ban in Delhi after one of its drivers was accused of raping a passenger.
As for Airbnb's last week: The San Jose City Council is set to pass a plan on Tuesday that would tax Airbnb rentals at the same rate as hotel rooms and legalize the "home-sharing" arrangement. A column in the New York Times scrutinized it for offloading the risk of renting apartments onto its homeowners. But it's not by any means under the same kind of microscope as Uber.

How is it that Uber can't catch a break, while Airbnb can quietly announce a major, if largely psychological, milestone? It might be as simple as culture. In a column for Harvard Business Review last month, Arun Sundararajan, a professor at New York University's Stern School of Business and expert on the sharing economy, observed that Airbnb has invested in "creating community and a feeling of partnership" whereas Uber "unfailingly appears to place distance between the platform and its providers." Put another way: Airbnb tries to come to cities as a friendly new neighbor, Uber more often than not as a conquerer.
Airbnb, of course, has its share of controversies and, as Jessica Pressler detailed in New York magazine, is fighting long, drawn-out wars in cities like New York. But for a company that has 1 million homes and counting, it's also flown remarkably below the radar—and Uber might want to think about taking a page from its book.

The Great Wealth Meltdown: Middle-Class Families Are Worth Less Today Than in 1969
How thoroughly did the Great Recession savage middle-class America's finances? Economist Edward Wolff will tell you. The New York University professor has updated his long-running analysis of wealth in America to include data from the Federal Reserve's 2013 Survey of Consumer Finances. The big takeaway: Thanks to the recession, the median U.S. household is now worth less than in 1969. (Back in July I guessed this might be the case based on a slightly different data set.)
A little context: Net worth equals a family's assets, such as a home or retirement account, minus its debts. Or to put it another way, it's what you own minus what you owe. In his analysis, Wolff doesn't count consumer goods like televisions or furniture as assets because they're not easy to sell off, and usually aren't worth a whole lot anyway. A tiny bit more controversially, he doesn't count vehicles either, because most people can't just choose to get rid of their car when they need money (you have to commute to work, after all). Meanwhile, setting aside arguments about inequality, there are lots of reasons to care about the net worth of the middle class. First, it gives families a financial cushion. Second, there's a documented "wealth effect" on spending—households are more willing to open their wallets when their home prices are rising and stock portfolio is flush. In other words, when the middle class feels wealthy, it's good for all of us.

The story of why middle-class wealth collapsed is familiar by now. Americans loaded up on debt—especially mortgage debt—in the lead-up to the recession. Then the housing market collapsed, and suddenly families were left with little home equity, and lots of financial obligations. Many found themselves underwater on their mortgages, meaning they owed more than their house was worth.
What's somewhat remarkable is how weakly the middle class has bounced back, even as the percentage of underwater homes has steadily declined. People are still struggling with their debts from years back, and even if the real estate market has gotten healthier, it's not close to where it was in the bubble days (nor should it be). And you can see the economic scars lingering in the states where the housing bust was worse.
How Broke Are Millennials? This Broke.
The millennials landed on the job market at a miserable moment in economic history. On the upside, that should give us something to lord over our children when we're middle-aged and cranky. On the downside, our poor timing will probably depress our incomes for some time to come, since graduating into a recession can drag down your earnings for years.
So, exactly how broke are we? And how much worse do we have it than, say, Gen X? Recently, the activists at Young Invincibles took a stab at this question by using Census data to break down how salaries for young adults have evolved in the industries where they're most likely to work. For Americans between the ages of 25 and 34, annual income earned from wages has fallen in four of the top five biggest employment sectors—retail (down 9.9 percent), the leisure and hospitality business (down 14.65 percent), manufacturing (down 2.87 percent), and professional and business services (down 4.28 percent).1* The one exception is health care, which has been on a tear as America gets older and spending on medicine keeps rising. And even there, yearly pay has essentially stayed flat (up just 0.10 percent).
In short, the hiring climate has been so bad in the past few years that young people's incomes are stagnant even when they work in a hot industry where you often hear about purported labor shortages. For those who work in businesses that aren't a hiring binge, incomes are down.
(Note that I'm using the word "income," not "wages," as Young Invincibles itself and some journalists have when writing about the findings. That's because the group is measuring annual, not hourly, pay—which unfortunately makes it a little tough to interpret their stats with any depth. The report's authors told me they didn't know whether young adult incomes were falling because workers were making less per hour, or because they were working fewer hours total.2 My guess is it has more to do with the latter—given the post-recession rise of joblessness and part-time employment.)

Here's another way to look at the pain of the last few years. As the Census Bureau's historical data tables tell us, the dot-com bust and Great Recession combined to essentially wipe away the pay gains twenty- and early thirtysomethings gained during the late 1990s. At $30,759, the median young adult income is its lowest in inflation adjusted terms since 1995.** So, right now millennials are earning like Gen Xers, but without the prospect of an Internet-driven economic boom right around the corner to lift up our living standards. (It's the same basic trend at basically every education level).

Then again, young adults aren't the only demographic whose incomes have been beamed back to the grunge era. Middle-aged and older workers are in the same boat.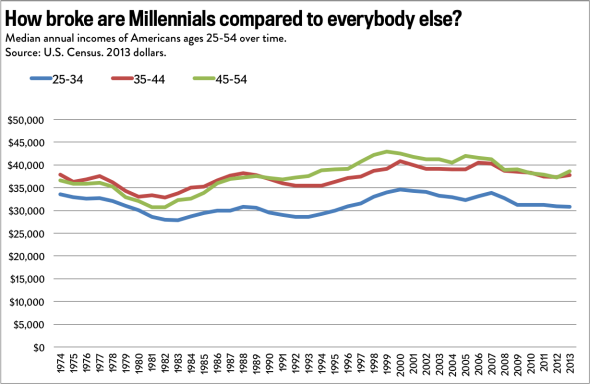 So what makes this generation different from all other generations? Well, first, there's the problem of widespread unemployment, though boomers who started working in the early 1980s recessions faced similar challanges. So at the risk of beating a mostly dead horse, the real answer is probably debt. Thanks largely, though not entirely, to student loans, we have a lot of it compared with what we make (the graph below, via Pew, includes households up to age 40, but still gives you the idea).
Millennials aren't much more poorly paid than young adults who came before us. But we are stretching the same wages to pay off a bigger heap of loans. We don't seem exceptionally broke if you just look at our pay stubs, but, collectively, we are deep in a hole.

Footnote1: I'm not convinced professional and business services is a useful category, since it's an enormous umbrella category that includes everything form lawyers to accountants to office temps. But we'll live with it.
Footnote2: Young Invincibles also analyzed wages from 18-to-24-year-olds, but it seems sort of pointless to look at wages of the prime college-age demographic without distinguishing between full- and part-time workers.
*Correction, Dec. 8, 2014: This post originally misstated that education incomes had fallen 2.87 percent for 25-to-34-year-olds. Manufacturing incomes have fallen by that amount.
**Correction, Dec. 15, 2014: This paragraph the two graphs that follow it originally referred to household incomes. They are based on Census data for individual incomes.

Are Facebook Video Ads a Threat to YouTube?
Facebook's auto-play video ads got a big endorsement on Friday, when a Heineken executive told Adweek that he considers YouTube and Facebook "equal players now, or at least close to it." According to Ron Amram, senior media director of marketing for Heineken USA, the brand racked up 5.5 million views in three days while promoting ad spots for Heineken Light in October. During those three days, the ads were pushed out to the newsfeeds of 35 million Facebook users.
The auto-play ads that Heineken rolled out on Facebook in October debuted a few months earlier on TV, and featured Neil Patrick Harris wondering why he couldn't actually drink the Heineken Light he was promoting. (For the answer to this, see Adweek's explainer on the Television Code and other regulations.) After reintroducing the ads on Facebook, Amram said traffic accelerated, with October yielding better results than August or September. "What we're finding is that we have to consider Facebook as the key video partner going forward because not only does it have the reach but the effectiveness," he told Adweek.
Facebook began testing auto-play videos in late 2013 and said that December that it would extend the option to advertisers. As of this fall, it started looking like Facebook could pose some serious competition to YouTube. In September, Facebook said it was doing a billion video views per day and that so-called organic video views—things shared by friends—had increased 50 percent from May through July. And just this week, the company said it was expanding its auto-play video offerings to give marketers more options for featuring their content. With brands like Heineken also on board, Facebook might be ready to give YouTube a real run for its money.

A Jobs Day to Feel Good About
Bravo, economy! The U.S. added 321,000 jobs in November, the biggest monthly boost in almost two years. Meanwhile, the unemployment rate stayed steady at 5.8 percent.
Here's the long-term post-recession picture.

And here's the three-month rolling average, which should give a slightly less erratic look and the long-run trend.
So, is this a "dominant" jobs report, as some have put it? Well, we did add lots of jobs, which is something to feel good about. And there's certainly more good news packed inside the government's release. The Department of Labor revised up the last two months of job gains. The labor force participation rate, which is at lows not seen since the 1970s (you know, before women had fully entered the workforce), has at least managed to hold steady since April. Some of the broader measures of pain in the labor market, which count Americans who can't find a full time job for economic reasons or who want a job but have given up on searching, have also been trending steadily downward. On the other hand, private sector wages are still only up a low 2.1 percent for the year—which is to say, the job market isn't getting so hot that employees suddenly have the power to ask for a significant raise. When that happens, then we'll really have something to celebrate.