A blog about business and economics.
Uber: It's Like Uber, nut for Billion-Dollar Funding Rounds
Uber's $40 billion valuation, eye-popping by any private technology company's standards, remains unchanged since the company first announced its round in December. It is one of the most richly valued private technology start-ups, second only to Xiaomi, the Chinese smartphone manufacturer.
Uber presumably plans to put this money toward its aggressive international expansion and development. The company, while rich, is thinly spread across 54 countries and hundreds of cities. Uber is simultaneously mired in regulatory battles, leading a global campaign for ride-hailing, expanding into the delivery business, fighting taxi incumbents, and fending off other on-demand ride startups. It sounds exhausting. More importantly, it sounds expensive.

Can Coffee Subscriptions Make Starbucks Cool Again?
Starbucks used to be special—a small Seattle roaster. Then, under chief executive Howard Schultz, it grew, and grew, and went public, and kept growing. Today it is the international coffee Goliath that sells the pumpkin spice latte. True coffee snobs have moved on and left Starbucks wondering how to win them back.
On Tuesday, Starbucks presented part of its answer to that question. Starting in March, it will make its highest-end beans—a line of "super-premium, small-lot coffees"—available to customers in the U.S. through monthly subscriptions. Each month, for $24, subscribers will get shipped a different 8.8-ounce bag of a "roaster's pick." The beans are supposed to be packaged and shipped within 48 hours of when they are made at the company's special tasting room and roastery in Seattle, resulting in what Schultz calls the "freshest, fastest, and most innovative whole bean coffee experience in the marketplace."
Freshness and speed aside, what this otherwise standard mail-order program seems to be about is exclusivity. The small-lot coffees Starbucks is marketing will only be available through one of these subscriptions or on site at the specialty roastery in Seattle. For most of America, of course, the latter isn't a realistic option. According to my coffee-consuming colleagues, $24 for a bag of beans while pricy, also isn't too absurd for a super-specialty roast (shipping is included). Blue Bottle, the new "it" coffee brand that has lured away many Starbucks customers, ships subscribers 12-ounce bags of beans for $17 apiece. Stumptown sells 12-ounce bags of its own roaster's pick for $20, which doesn't include shipping.
In his opening remarks for Starbucks' first-quarter earnings last month, Schultz said that the new specialty roastery, which opened in early December, had been the "strongest opening in the 40-plus-year history of our company" and was "exceeding even our most optimistic projections." The roastery, he continued, "represents both premiumization of the coffee experience and a new chapter for Starbucks." In coming years, Schultz said Starbucks will open 100 stores devoted entirely to marketing the company's premium small-lot beans.

It should be notable that Starbucks feels ready for a new chapter. By most conventional corporate measures, the chain is doing just fine. In Q1 2015, it notched its 20th consecutive quarter with same-store sales growth of 5 percent or more. It matched expectations on earnings and revenue. Traffic to stores increased. But in terms of intangibles, Starbucks is worried. The trendy and premium cards are tough ones to lose. The new chapter will be about getting them back, which is probably why Schultz has begun using awful words like "premiumization." And also probably why Starbucks is now rolling out these exclusive-ish coffee subscriptions.

The Great Law School Bust Is About to Claim Its First Victim
In 2014, law schools watched their new enrollment numbers collapse to lows not seen since the 1970s, as the tales of horror and woe from the legal job market continued to scare off would-be applicants. The lack of students has, of course, presented some financial difficulties for the academy. Schools have tried to tighten up their budgets in response (one especially oversize J.D. mill even closed a campus), but it was starting to seem inevitable that at least one would have to shut down entirely.
We haven't quite reached that point. However, two law schools in St. Paul, Minnesota, have now announced plans to merge in order to stay afloat. Pending approval from the American Bar Association, Hamline University School of Law and William Mitchell College of Law will combine their operations starting next fall. The reports make it sound, more or less, like Hamline is getting absorbed by its old rival. According to the Minneapolis Star Tribune, the new school will operate "independently" of Hamline—mostly out of William Mitchell's campus—and will be headed by William Mitchell's current dean. No word yet on layoffs.

These two institutions have apparently been considering a tie-up for some years because the Minneapolis metro area was somewhat overserved by the four separate law schools (a midsize city probably doesn't need that many). But the fallout from the great law school bust evidently pushed them over the edge. William Mitchell's first-year class has declined 45 percent since 2011, to 169 students, according to Keith Lee of Associate's Mind; Hamline's has fallen 56 percent to just 90.
According to an American Bar Association spokesman, this is the first time "in memory" that two accredited law schools have merged. (The ABA does not keep records of law school closings on hand, but the spokesman said no staff knew of any similar instances.) As far as the organization knows, no accredited law school has ever closed outright, either. But don't be shocked if it eventually happens.

The World-Historic Depths of Greece's Economic Misery, Charted
After some failed talks on Monday, Greece may be headed back to the bargaining table with its European creditors, now that it's ready to ask for an extension of its current loan agreement. So, who knows, perhaps it'll strike a deal to avert any near-term financial catastrophes before the week is over. Or maybe Athens and the EU will drag this out right up until the bailout deal is set to expire at the end of the month.
But while this story is unfolding, it's worth keeping in mind the salient fact behind the whole drama, which can sometimes get lost in the daily news scrum: Greece's economy has suffered like none other in Europe since the continent's crisis began. Here, briefly, are three graphs that should drive home the extent of the carnage.
Since the beginning of 2008, Greece's gross domestic product has shrunk by more than a quarter. While other distressed eurozone members are still recovering from the downturn, their economies didn't retract as severely. In stagnant Italy, for instance, GDP is down around 10 percent.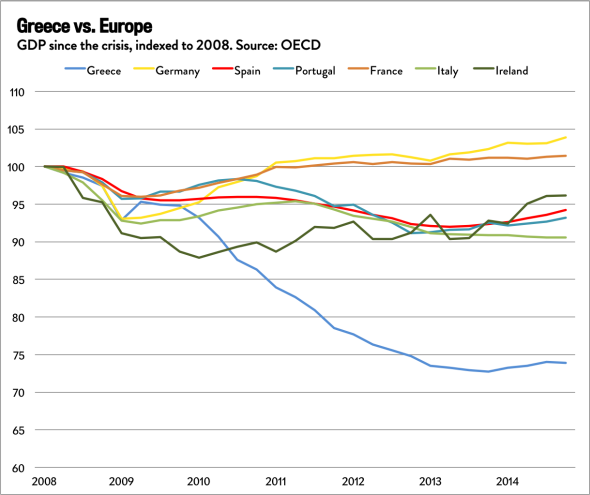 So what is an appropriate historical analogy for Greece's ordeal? Both the Economist and the Washington Post's Matt O'Brien have suggested the American Great Depression. Although, after seven years of misery, the U.S. was actually further along in its recovery than Greece is today.

In fact, Greece's economy is so bad that, as Paul Krugman recently wrote at the New York Times, it almost looks as if it lost a war. The damage wrought by the recession has been as severe as the collapse Germany suffered after it was defeated in World War I. Krugman's bigger point is that it makes just as little sense for the EU to demand austerity and large primary budget surpluses from modern Greece as it did for the allies to demand unsustainable war reparations from a hobbled Weimar Republic.

While Greece officially exited recession in 2014, its economy shrank slightly in the last quarter of the year. The bailout showdown, which has led worried Greeks to start pulling their money from banks, might also shave some points off growth. But if ends with the government winning a slightly less punishing bailout program, the sacrifice might be worthwhile.

Manhattanites: Amazon Will Bring You Toilet Paper in Less Than an Hour
Sadly, I wasn't in Slate's New York office that day to witness the feat. And, at the time, I wasn't the only one missing out. Amazon Prime Now, the same-day delivery service that facilitates free two-hour delivery on select items and one-hour delivery for a fee of $7.99, was then limited to the ZIP codes of central Manhattan.
But take note: Amazon Prime Now, as of Tuesday, is available to all of Manhattan. That means that from 6 a.m. to 12 a.m., seven days a week, paper towels and batteries and phone chargers and other necessities ordered through the Prime Now mobile app will appear at the doorstep of Manhattan-dwelling Prime members for free in just two hours, or in 60 minutes or less for a $7.99 fee.
When Amazon first introduced Prime Now in December, the company said it was excited to bring the service to more cities in 2015. Back then and still now, Amazon hasn't shared a timeline for that expansion. But the e-commerce giant is undoubtedly feeling pressure from a growing group of "on-demand economy" startups that, as the label might suggest, have made it their mission to supply everything from rides to food to groceries instantaneously. Just last week, ride-hailing company Sidecar announced it was combining those services into one with "People + Packages," a new initiative that would let the drivers on its platforms transport people and make deliveries of things like Chinese takeout at the same time.
So considering how competitive the on-demand delivery space is getting, it makes sense that Amazon is focusing not just on rolling this service out, but also on making it a perk for Prime members. Amazon's membership program is a pillar of its company, in terms of both values and finances. Amazon prides itself on providing exceptional customer service, and so it's pledged to keep Prime great. But Prime is also a huge source of growth for Amazon—in 2014, its subscribers jumped 53 percent worldwide and 50 percent in the U.S., even as its cost rose by $20. For that kind of growth to continue, Amazon needs to keep Prime great.

And that's the thing—for a long time, Amazon Prime offered free two-day shipping, and that was enough to make it great. Because free two-day shipping used to be revolutionary. Now companies like Uber and Instacart and Sidecar and Seamless have made two hours the new two days.
Amazon, it seems safe to say, has no intention of getting left behind.
Greek Bailout Talks Just Broke Down Again
It looks like Greece's game of chicken with the European Union will continue for at least the rest of this week, as bailout negotiations between the two sides collapsed yet again Monday. The parties walked out of discussions after Greek officials shot down a draft agreement that they called, among other things, "absurd," "irrational," and "unacceptable." This is the second time in less than a week that high-level talks have ended without progress. However, there seems to be a strong chance they will all sit back down for another meeting on Friday.
Here's the basic outline of where things stand now: Greece's current bailout deal, complete with its demands for fiscal austerity, expires on Feb. 28. Without additional help, the Greek government could run out of cash shortly thereafter, which could force it to leave the euro. (That would give Athens the power to print its own currency, but at the likely cost of a massive financial crisis.)
To avoid such a scenario, Greece's newly elected, leftist government—which ran on a staunch anti-austerity platform aimed at ending the old bailout—wants a short-term "bridge loan" with fewer budget conditions attached that could tide the country over until its leaders can work out a permanent deal with its European lenders. However, EU lenders would prefer to temporarily extend the current agreement during talks. Monday, as the Wall Street Journal and others report, they asked Greece to agree to a six-month continuation. Greece said no thanks, which is less than surprising. Earlier this morning, its finance minister, Yanis Varoufakis, published an op-ed in the New York Times reiterating that Greece wasn't bluffing when it said it wanted to end the current bailout. To wit:
The "extend and pretend" game that began after Greece's public debt became unserviceable in 2010 will end. No more loans — not until we have a credible plan for growing the economy in order to repay those loans, help the middle class get back on its feet and address the hideous humanitarian crisis. No more "reform" programs that target poor pensioners and family-owned pharmacies while leaving large-scale corruption untouched.
It's pretty hard to publish that paragraph, then agree to an extension.
So, where does that leave things? For what it's worth, I don't think it's quite time to hyperventilate about a Grexit. All sides theoretically need to reach an accord by Friday, so that parliaments in Germany and elsewhere can have time to approve it. Assuming that's a hard deadline, it makes sense for Europe's leaders to push talks as close to the brink as possible to increase pressure on Greece (just ask our own Seth Stevenson). If, for instance, depositors begin to pull money out of Greek banks in the coming days, it could make the government more desperate for a deal.
I'm not saying I approve of trying to induce a minor financial panic in order to win a negotiation. I'm just saying, there's a logic to it.
In the meantime, there have already been glimmers of what a potential compromise might look like, once both sides decide they're truly out of time for posturing. It may be possible, for instance, to play around with the current bailout so that any new loans would legally qualify as an "extension," even if the terms are vastly different. Meanwhile, Greece would (very reasonably) like to be allowed to run a smaller primary budget surplus (that is, run a smaller surplus before debt repayments). Monday, during a press conference, EU officials said there was "some flexibility" in the current bailout on that front. There should be room for both sides to budge here.
On the other hand, maybe Congress' habit of striking last-minute deals when faced with potential doom has me feeling overly optimistic. When you push these confrontations to the brink, there's always a chance you'll fall over it.
Rand Paul Has a Remarkably Silly Idea for a New Currency
Rand Paul's nutty animosity toward the Federal Reserve and modern monetary policy in general are old news by now, so it's not surprising that he'd be intrigued by the idea of cryptocurrencies, given that they aren't controlled by a central bank. However, as Dave Weigel reports at Bloomberg Politics, the senator from Kentucky told a libertarian tech conference that he's a bit unsure about the biggest cryptocurrency of all, bitcoin, because it isn't backed by any kind of a commodity. (Paul is extremely taken with the concept of tying the value of the dollar to a basket of commodities, presumably including gold.) Instead, he likes the notion of companies issuing their own currencies, possibly backed by their own stock, so that they can cut out credit card companies and their fees.
With Bitcoin my concern always was whether or not something has real value. I could imagine a kind of coin that was exchangeable. This gets back to the whole idea of whether money has to be exchangeable for something to have value. What if Bitcoin or Wal-Coin was exchangeable for Wal-Mart stock? What if Wal-Mart, K-Mart, Kroger and maybe 20 retailers got together and issued a coin to deal against a basket of stocks? I think that might be something I'd be interested in investigating. If they do it with a goal of—I hope Visa and Mastercard are not listening—eliminating the credit card companies from the equation—what if Wal-Mart's doubling their profits from 4 percent to something like 8 percent?
This isn't a disastrous suggestion so much as a sort of silly one. Setting aside the existence of gift cards, which are basically currency you can redeem for goods and services at a specific retailer, companies can already go ahead and start their own virtual currencies if they really want. Amazon, for instance, already has. But, as Noah Smith notes, the fact that most of corporate America hasn't jumped on the bandwagon suggests boardrooms see the idea as pointless. Moreover, I doubt many of them would want to deal with the inevitable regulatory headache of issuing "money" that could automatically be converted into shares of an index fund, as well as whatever weirdness that might do to their stock values.
The longer you think about it, though, the odder and more complicated the concept gets. Take pricing: Would the purchasing power of Walmart/Kroger/K-Mart bucks rise and fall with the index fund? Or would they always be worth $1 at the register? The first route could turn into a terrible deal for the companies, since customers would be able to buy more merchandise as their shares appreciated ($1 paid yesterday could turn into $2 of purchases tomorrow). If they chose the latter approach, they'd essentially be issuing a super stock, the value of which could only go up from the original purchase price, which would likely lead to hoarding.
Anyway, Rand Paul had a strange idea. In other news, it's Thursday.

The World Is Drinking a Lot More American Beer Than It Used To
Americans are drinking less beer than they used to, and when they do imbibe, they're more and more often choosing craft brews. Yet, financially, big American brands like Budweiser are still basically doing fine. One big reason is the graph below, posted by the U.S. Census Bureau this week, which shows U.S. beer imports (the blue line, right axis) and exports (the green bars, left axis). Two big points: First, we still spend more than eight times as much money buying brews from the rest of the world than the world spends buying beer from us. Second, after years of (rightfully) mocking American macrobrews as tasteless fizz, the world is coming around to them. Our exports grew 78 percent, to about $448 million in 2012, the last year with data.*

This is something useful to keep in mind every time you read an article about, say, Budweiser's decline among young U.S. drinkers. Thanks to a growing presence in growing markets like China and Brazil, Anheuser-Busch InBev has said that 44 percent of its sales were overseas in 2011, up from 28 percent in 2008. Presumably, that percentage has only increased as the brand has continued growing abroad. These days, the future of the most famous beer in America isn't really in America.
*Correction, Feb. 12, 2015: This post originally misstated that exports grew to $448 billion in 2012.

Whole Foods Cut Its Prices. You'll Never, Ever Guess What Happened Next.
For the second time in a row, it's a good quarter for Whole Foods. The company said Wednesday that it did a record $4.7 billion in total sales in the first part of fiscal 2015 and that traffic to stores picked up. Sales at stores open at least 57 weeks increased by 4.5 percent. Earnings came in at $0.46 per share, a slight beat on the $0.45 target analysts had set. Shares added about 3 percent from their closing price of $53.51 in after-hours trading.

While all companies want good earnings reports, Whole Foods seriously needs them. Between October 2013 and July 2014, Whole Foods stock lost nearly half its value as the chain hit one stumbling block after another—customers tiring of high "whole paycheck" prices, mainstream groceries stocking once-elusive foods like quinoa, mega-store Walmart debuting a line of cheap organics, etc. At the end of last July, Whole Foods was the second-worst performer in the S&P 500 of 2014.
The point is, a good quarter for Whole Foods is a good quarter, and a reassuring sign that the comprehensive rebranding campaign it rolled out late last year is actually working. Under its new "values matter" slogan, Whole Foods has tried to remind shoppers of what separates it from competitors—sustainability, locally grown produce—but it's also committed to being more pragmatic. Whole Food has lowered prices to bring them more in line with competition.
"Our value focus is on perishables, where we see opportunities to broaden our selection of products at entry-level price points," Whole Foods co-CEO John Mackey said on the earnings call. "We are encouraged by the pricing experiments we are running in several markets, and if results continue to be positive, we expect to expand our test to more markets during the year."
Of course, price cuts come at a cost. Whole Foods says it expects its gross margin will decline in fiscal year 2015, but trusts that "this is the right strategy to drive sales growth over the longer term." Walter Robb, the company's other co-CEO, said that based on the last quarter, Whole Foods is "finding a nice balance" between keeping up gross profit margins and bringing back customers. "It's more of an art than a science," he said.
If You Aren't Rich by 45, Give Up
Life may begin at 40, according to any number of Hallmark cards, but by 45, your chances of ever landing a major raise are pretty much dead. At least, that's one of the many takeaways from a recent paper by a group of Federal Reserve researchers in Minneapolis and New York, who used a massive trove of Social Security Administration data dating back to 1978 to analyze how men's earnings evolve over time.
For the rich and poor alike, the economists found that "the bulk of earnings growth" happens in the first 10 years of work, typically between the ages of 25 and 35. During the next decade of their career, men can expect smaller raises overall. After 45, those in the bottom 90 percent of lifetime earners see their earnings decline as a group, in part because people often start cutting back their hours around that time, especially if they do manual labor for a living. Meanwhile, even 1 percenters only see relatively minor pay bumps after middle age.
For the visually inclined, here are those trends graphed. On the x-axis, you have where each man falls on the income distribution based on his lifetime earnings. On the y-axis, you have earnings increases during each decade of life. Again, note that most of the growth happens during the first 10 years in the working world (the blue line).
Here's another, perhaps simpler, way of looking at the trend, from a related paper released earlier this year based on the same dataset. For the super-rich (0.1 percent), rich (1 percent), and the rest (99 percent), income basically plateaus after the early-40s.
Of course, we're only talking about averages. There are people out there who have late-age renaissances and start earning like never before. But most of us are not Louis C.K. We set up our careers by our mid-30s, either by working up through the ranks of a company or going to school to position ourselves for a pay bump once we have our fancy degree. By middle age, we pretty much are what we are, professionally. Or, as Schopenhauer supposedly said: "The first forty years of life give us the text; the next thirty supply the commentary."