A blog about business and economics.
West Virginia Is for Egalitarians
Rising income inequality is a national issue. Actually, scratch that—it's a global issue. But at the same time, it's interesting to look at the rise of the rich on the state level, both because it might reveal a thing or two about inequality, and because Americans never tire of petty geographical rivalries.
This week, the Economic Policy Institute, a liberal think tank, released a very cool analysis of how the top 1 percent of earners in each U.S. state has grown its share of income since 1979. The overarching point is that the story of American inequality isn't just about Wall Street financiers from New York or Connecticut gobbling up an ever-growing share of the country's economy. Rather, the affluent are pulling away from their neighbors all over the country, from Portland to Palm Beach.
This strikes me as an interesting, though not exactly surprising, point. One percenters aren't all hedge funders and bankers. They're doctors, lawyers, and business executives too, and sometimes live in places like Missouri and Tennessee. Of course, just because you're in the 99th percentile of earners in, say, the Deep South, that doesn't mean you make the cut for the U.S. as a whole. In Alabama, for instance, it only took an income of $272,000 to make the 1 percent threshold in 2012, compared with about $394,000 nationally, according to the World Top Incomes Database. But the past few decades have delivered a rising share of income to the workaday rich, too—the top 5 percenters, who bring down low six-figure incomes, and live all over. If you're wealthy by any state's standard, you've done pretty well over the past few years.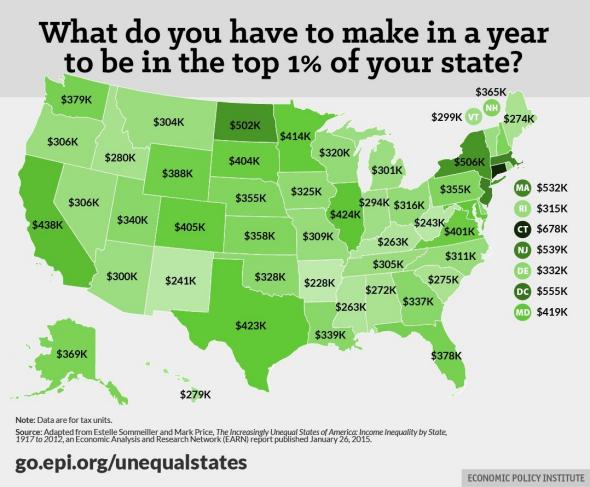 At the same time, I think there's another, probably unintentional, message that one can take away from EPI's data—that while inequality might be important, it isn't absolutely everything. (Note: EPI emailed me the numbers in the map below, since they weren't contained in the original report).

Some states where the top 1 percent eat up a relatively low share of income—such as West Virginia, Mississippi, New Mexico, and Alabama—suffer from widespread, intractable poverty or terribly low rates of economic mobility (sometimes both). Their income distributions might be flatter than some other corners of the country, but in part that's just because fewer people ever get really rich. Meanwhile, less egalitarian states like Connecticut, Massachusetts, and New Jersey have lower-than-average poverty rates, better life expectancy, and better education systems. Of course, we could all aspire to be more like Hawaii—low inequality, lots of longevity, relatively little poverty, and fabulous weather. But barring a miraculous turn of events in which the whole country transforms into Maui, it's worth remembering: Even if the rich make out like bandits in a state, it may well still be a pretty good place to live.

The iPhone 6 Just Shattered Apple's Own Sales Records
Heading into Tuesday's earnings announcement, analysts were expecting Apple to report massive iPhone sales numbers. Those polled by Fortune predicted Apple would say it sold 66.5 million iPhones in the quarter that ended on Dec. 27. That would have been an impressive 30 percent more than in the same period a year ago. A few particularly optimistic forecasts suggested iPhone sales might even top 70 million.
Well, Apple didn't just eclipse the 70 million mark—it shattered it.
Apple sold a record 74.5 million iPhones in the latest quarter, the company said. It also reported record quarterly revenue of $76.4 billion and record quarterly net profit of $18 billion, or $3.06 a share. In the earnings release, Apple CEO Tim Cook called it an "incredible quarter."
What was behind those stunning figures?
For starters, the iPhone 6. On the earnings call, Cook declined to break out sales of the iPhone 6 versus the 6 Plus, but did say the iPhone 6 was the most popular one sold in the last quarter.
Next, China. Apple said Tuesday that $16.1 billion of its revenue came from "Greater China"—growth of 70 percent from a year ago. And for the first time, the iPhone is the best-selling smartphone in China, according to an estimate released Tuesday by research firm Canalys. Before that, the iPhone had never ranked higher than fourth in China, a market with more than 500 million smartphone users, Canalys said.
Other Apple results were more tepid. Sales of iPads came to 21.4 million, and Macs to 5.5 million. The bulk of Apple's revenue ($30.6 billion) also continued to come from the Americas. But as the New York Times noted, Cook recently said it is only a matter of time until that switches to China. For Apple, which has staked its hardware business on the bet that consumers will pay more for a nicer product, that's a big win.

Yahoo Just Found a Way Around Its Potentially Multibillion Dollar Tax Bill
For the past couple of years, Yahoo's value hasn't really been about Yahoo—it's been about Alibaba.
Yahoo has had a significant interest in the Chinese e-commerce giant since 2005, when it purchased a 40 percent stake for $1 billion. Over the next several years, the value of Yahoo's stake grew alongside the value of Alibaba. At the same time, Yahoo's revenue growth stagnated. Analysts began to speculate that, without its Alibaba and Yahoo Japan assets, Yahoo's business was just about worthless.
When Alibaba finally went public in September, discussions were renewed about what Yahoo and chief executive Marissa Mayer would choose to do with the lucrative shares. On the day Alibaba debuted, Yahoo's stake was valued around $38 billion. But no one was even sure if the holding was worth that much, because of the taxes Yahoo might have to pay. "If Yahoo gets hit with a tax rate of, say, 25 percent," DealBook's Peter Eavis wrote at the time, "it would net Yahoo $28 billion, not $38 billion."
Which is why it's a big deal that Yahoo has found a way to avoid paying taxes on its remaining Alibaba holdings. (Yahoo sold $10 billion in Alibaba shares in September as part of the IPO and was hit with about $3 billion in taxes on the transaction.) According to the plan announced Tuesday, Yahoo will move its 384 million shares of Alibaba, worth $40 billion, into a new company called SpinCo (apparently they weren't going for subtlety with the name). That stock will then be distributed to Yahoo shareholders, making SpinCo a separate publicly traded company.
"Through share repurchases to date, we have returned approximately $9.7 billion of proceeds from Alibaba," Mayer said in a release. "Post-spin, using the closing price for Alibaba as of January 26, we will have returned nearly $50 billion dollars of value to our shareholders. This level of capital return is historic, especially for a company of our size."
Also on Tuesday, Yahoo reported fourth-quarter and full-year earnings for 2014. Mobile revenue rose 23 percent to $254 million from the same quarter in the previous year, and search revenue increased as well. Both of these things are good signs for Yahoo. Fixing mobile products has been a major goal of Mayer's, and one she's invested in heavily. In early December, research firm eMarketer projected that Yahoo would soon pass Twitter as the third-biggest player in the U.S. mobile ad market (Google and Facebook remain comfortably in the No. 1 and 2 seats). And in search, Yahoo recently displaced Google a bit, reaching a five-year deal to become the default search engine on Mozilla's Firefox browser.
Of course, it's much too soon to know whether the Alibaba spinoff and advances in mobile and elsewhere are enough to turn Yahoo's struggling operations around. But at least for now, shareholders are happy. Yahoo's stock is up more than 7 percent after hours. Following the beating Mayer took on her most recent earnings call, that's probably a welcome relief.

The Myth That Middle-Class Students Don't Get Financial Aid
Paying for college is obviously expensive for middle-class families, just like it is for everyone who doesn't have thousands of free dollars to throw around each year. But every once in a while, you'll hear someone argue that the middle class is especially out of luck when it comes the cost of higher ed, because they're stuck saving for school while poor kids get financial aid. Glenn Reynolds makes a version of that point this week while arguing against President Barack Obama's proposal to tax 529 college savings plans. "This doesn't hurt the very rich—who just pay for college out of pocket—or the poor, who get financial aid, but it's pretty rough on the middle– and upper–middle class," he writes.
Let's leave aside the issue of 529 plans for a moment (I say tax 'em, for what it's worth). Is it really true that the middle class gets left out in the cold these days when it comes to financial aid?
Not really. Thanks in part to a shift toward awarding grants based on academic "merit" instead of need ("merit" can be a pretty loose term), colleges today are fairly generous toward families in the middle of the income pack.
Defining the "middle class" is more art than science—I generally tend to set the bar below $100,000—but let's be generous and go with the Obama administration's de facto line of families that earn less than a quarter million dollars a year. At public four-year colleges, about 20 percent of students from families that earn between $150,000 and $250,000 get institutional aid. That's compared to roughly 30 percent of students whose parents make up to $65,000 per year. No matter how wealthy they are, most students who receive aid get somewhere under $9,000.
Private schools are even more willing to lend a hand. Again, low-income students are indeed more likely to get institutional aid. But about 70 percent of students from families earning $150,000 to $250,000 get some amount of help. Roughly 39 percent of them get more than $20,000 a year. Some might try to say that those aid dollars simply don't stretch that far, because upper-middle-class students are often paying to attend incredibly expensive, highly selective schools. But to some degree, that's a personal consumption choice, and in the end, they're still getting help.

That's the schools. What about the government? Contrary to popular belief, federal aid dollars are spread across different income groups pretty well. Pell grants target lower-income families. But tax breaks, which make somewhere around half the federal aid budget if you don't count loans, tend to reach higher up the income scale. (Note: The American Opportunity Tax Credit is in red, while the Lifetime Learning Credit is in purple.)

Here's another way of looking at how tax aid gets distributed, in dollar amounts. In general, richer families reap the biggest rewards. Now, there are some higher-ed experts who don't really consider tax breaks "financial aid," strictly speaking, because it becomes available after students have already paid their bills. In my book, that just makes it poorly designed aid that has the political advantage of being hidden in the tax code. (For those wondering, these numbers do include tax breaks on 529 accounts, but if you subtracted out that $1.98 billion, it probably wouldn't change the basic pattern too greatly).

So middle- and upper-middle-class students get plenty of help from schools and from the feds. One area where they might get the short end of the stick is in state scholarships, which are frequently need-based. But with that said, large states like Florida and Georgia run large merit-based scholarships programs, and a number of other states have begun targeting scholarship dollars at families with low six-figure incomes.
To recap, then: College is expensive for everybody. But the middle class also gets plenty of help, whether it feels that way or not.
Chipotle's Sofritas Promotion Was So Popular That a Bunch of Locations Sold Out
Monday was Chipotle's big Sofritas promotion. To get customers to try its new and somewhat weird-looking vegan entrée, the chain had promised that anyone who came in and purchased a Sofritas item would be able to redeem his receipt over the next month for a free burrito of any kind. As it turned out, the offer was so popular (who doesn't want a free burrito?!) that a bunch of Chipotle locations completely sold out of Sofritas. People weren't thrilled.

@ChipotleTweets Went to my local Chipotle yesterday for the sofritas deal and they were sold out! Any chance you'll run it again soon?

— Randy Skellington (@randy_wrecked) January 27, 2015
I tried to get @ChipotleTweets Sofritas in the storm so I called it Snowfritas which wasn't funny & they were out so I got Nofritas

— Metropolis Records (@MetropolisRec) January 27, 2015
I checked in with Chipotle today, and the company acknowledged that yes, it did run out of Sofritas in "some restaurants" during its promotion (it declined to give an exact number). So were those Chipotle-goers who got there too late out of luck? One of my colleagues who works out of D.C. reported that when his neighborhood Chipotle ran out of Sofritas, a Chipotle employee made a note on his receipt indicating that he had asked for Sofritas, and that the receipt should be honored anyway. You can see a photo of his receipt below:

But when I asked Chipotle whether the company had decided to honor the receipts of people who weren't able to get Sofritas, a spokeswoman reiterated that per the promotion, customers had to buy Sofritas entrées and present their original receipt to get the free burrito later on. Now, I kind of doubt that Chipotle plans to turn away people like my colleague, who essentially got a Sofritas rain check. That said, if your Chipotle was out of Sofritas yesterday, and you didn't have an employee note on your receipt, you're probably out of luck. And even for those who did get Sofritas, it will be interesting to see how many cash in on their free burritos. As Vox was smart to point out, only about 7 percent of on-receipt coupons were redeemed in 2012, according to retail technology firm Inmar. So many people today are just used to throwing out receipts without a second thought. Maybe Chipotle is counting on that to keep its burrito giveaways under control.

Microsoft Is Selling More Phones Than Ever, but It Isn't Nearly Enough
This afternoon, Microsoft reported its second-quarter earnings for fiscal year 2015. The results were mostly in line with what analysts expected: Revenue increased to $26.5 billion, and earnings per share came in at $0.71. Despite that, shares are slipping. The stock initially declined about 2 percent, then kept sliding after the company's chief financial officer said she expected revenue growth in the third quarter to fall 4 percent because of poor currency exchange rates.
The report wasn't without its bright spots: Microsoft's cloud business continued to grow; Surface revenue was up 24 percent to $1.1 billion; and search advertising revenue grew 23 percent as Bing increased its market share. And the company sold 10.5 million Lumia phones. This last one was a big mark to hit. Microsoft had sold 9.3 million phones the quarter before this one, and topping the 10-million mark, as TechCrunch put it, was a "big psychological win."
But was it big enough? On the one hand, 10.5 million phones is nothing to discount. On the other, Microsoft's revenue from Windows Phones fell 61 percent in the current quarter. The company says this is mostly because of its terminated commercial agreement with Nokia—Microsoft acquired Nokia's handset division in early 2014 and has faced ongoing costs from that, in addition to losing its biggest licensee. Windows Phones' already small market share also dwindled in 2014, from 3.3 percent to 3.1 percent, according to estimates from eMarketer.
Compare that to the figures Apple and Samsung are posting in mobile. Samsung, the biggest smartphone-maker since late 2011, sold about 78 million smartphones in its third quarter. Apple, which reports results on Tuesday, is expected by analysts to have sold 66.5 million iPhones in its latest quarter.

Of course, it's hard to take too much away from any single earnings report. Microsoft also recently premiered Windows 10, a surprisingly fresh operating system designed to work across all Windows devices—computers, tablets, phones, and even Xbox. But since the second quarter ended on Dec. 31, 2014, and the product doesn't even have a set release date yet, the company can't really expect to see any impact from that on its financials for a while.
Microsoft faces an uphill struggle in the phone business. People don't buy Windows Phones because all the good apps are on Android and iOS devices. But all the good apps are on Android and iOS devices because people don't buy Windows Phones. Perhaps Windows 10 will finally break that cycle. If it doesn't, Microsoft will have a hard time making its Nokia acquisition pay off.
Uber Will Cap Surge Pricing in East Coast Cities During the Worst of the Blizzard
As snow slams New York City, normally volatile Uber fares won't surge more than 2.8 times higher than normal.
Uber emailed New Yorkers on Monday to inform them that, per a policy the company rolled out in mid-2014, surge pricing will remain capped as long as a state of emergency lasts. Back in July, when snow was a far-off concern, Uber announced that it had reached an agreement with New York State Attorney General Eric Schneiderman to put a ceiling on surge pricing during state-declared emergencies. The change was made so that Uber would comply with a law New York passed in the winter of 1978–79 to protect consumers from price gouging during an "abnormal disruption of the market" caused by "extraordinary adverse circumstances":
For purposes of this section, the phrase "abnormal disruption of the market" shall mean any change in the market, whether actual or imminently threatened, resulting from stress of weather, convulsion of nature, failure or shortage of electric power or other source of energy, strike, civil disorder, war, military action, national or local emergency, or other cause of an abnormal disruption of the market which results in the declaration of a state of emergency by the governor.
Under Uber's now-national policy, price surging is capped during disasters and states of emergency at the fourth-highest nonemergency surge seen in the previous two months. Uber has also agreed to donate the 20 percent commission it takes on any trip with a surge price to the American Red Cross. Lyft, arguably Uber's biggest competitor, alerted its New York City users that "Prime Time" pricing (its surge equivalent) would not exceed 200 percent of normal prices. Gett, another on-demand ride company that is currently offering rides in central Manhattan for a flat rate of $10, said its promotion will remain in effect throughout the storm. In a press conference earlier this afternoon, Mayor Bill de Blasio reminded New Yorkers that price gouging during emergencies is illegal and encouraged them to alert the city by calling 311 if they spotted it.

Governors have currently declared states of emergency in New York, New Jersey, Connecticut, and Massachusetts. Uber said surges in Boston will be capped at 2.9 times the normal fare and in New York, New Jersey, and Connecticut at 2.8 times the normal fare. It is possible for different cities within the same state to have different surge caps, though in this case that hasn't happened yet. Uber is alerting riders to storm-imposed surge caps on a city-by-city basis.
And while surge pricing is always controversial—especially in times of crisis—it's worth remembering that increasing the payout for drivers encourages people to stay on the road and makes it more likely you'll still get a ride as conditions worsen.
I Was a Flight Attendant, and I Also Thought SkyMall Was Incredibly Weird
I don't think SkyMall really cared about selling you all of that stuff.
I never received a SkyMall memo or went to a SkyMall training hour. In the three years I spent working as a flight attendant on Delta Air Lines regional flights from 2011 through 2013, no one ever told me how to help customers who wanted to make a SkyMall purchase.* In the rare instance in which a passenger asked, I said something like, "I think you need to go online or something."
I was the closest thing SkyMall could have had to a sales associate, and I knew nothing about the company. This seemed to me like no way to run a business that's focused on direct retailing. And perhaps it wasn't, particularly in light of Friday's news that SkyMall and its parent company Xhibit Corp. had filed for Chapter 11 bankruptcy.
Several boogeyman feature in the story of SkyMall's decline, according to Xhibit's filing: more planes with Wi-Fi, more passengers with electronic devices, Amazon and eBay. "The direct marketing retail industry is crowded, rapidly evolving and intensely competitive," said chief financial officer Scott Wiley in the filing.
But this makes it sound like the SkyMall catalog was the problem, when the truth is that SkyMall (the business) had long since moved on from SkyMall (the catalog). In other words, Skymall had ceased to even be a direct retailing company.
According to Xhibit's annual report from 2013, the year it acquired SkyMall, 66 percent of SkyMall's consolidated revenue came from its "loyalty business," mainly from three partners: Caesars Entertainment, Capital One, and Marriott Rewards. SkyMall wasn't making most of its money from its catalogs. By 2013, it earned more money by acting as a middle man for credit card companies and other partners: When a credit card holder spends enough money on a card, these reward programs allow you to redeem reward points for magazine subscriptions, cheap electronics, and other junk. SkyMall handled the fulfillment.
The proximate cause of Skymall's bankruptcy? Xhibit Corp. is a strange, spammy-seeming company with a history of financial losses. In September 2014, it sold the loyalty business for reasons I can't easily ascertain from its financial documents. The company used the proceeds to pay down debt.
SkyMall began its loyalty business in 1999. From a 2001 filing by SkyMall Inc., we know that the loyalty business accounted for no more than 15 percent of SkyMall's revenue in 2000. We don't know exactly what happened to SkyMall from 2001 through 2013, a period during which it was privately held. But what's happened since the millennium, it seems, is that SkyMall depended less and less on the revenue it made from the catalogs in your seatback, and more and more on revenue from its credit card partnerships.
Maybe that explains why no one trained me to support your SkyMall purchase.
*Correction, Jan. 26, 2015: This post originally misidentified Delta Air Lines as Delta Airlines.
Uber Study Finds Driving for Uber Is Great. Uber Study Is Flawed.
As 2014 wound down, Uber Chief Executive Travis Kalanick laid out an ambitious vision for the coming year. "In 2015 alone," he wrote on the company's blog, "Uber will generate over 1 million jobs in cities around the world." Less than one month along the road, Uber has settled on its message to potential workers for achieving the ambitious 1 million target: Driving for Uber is a fun, flexible, and reliable way to earn a living.
On Thursday, Uber released a comprehensive new study on driver earnings and satisfaction in support of that narrative. The report, co-authored under contract by Princeton University economist and former Obama administration adviser Alan Krueger, and Jonathan Hall, the company's head of policy research, contains a lot of fresh information. For example: Uber paid out $656.8 million to its U.S. drivers in the last quarter of 2014. The number of active drivers on its low-cost UberX platform (those giving at least four rides a month) is growing exponentially. Half a year after joining Uber, 70 percent of drivers are still actively using its system.

The points that are really vital to Uber's storyline, though, come from a survey conducted on its behalf by the Benenson Strategy Group in December 2014. It's good to take what follows with a grain of salt. Just 11 percent of those surveyed, or 601 drivers, actually responded, and they were financially incentivized to do so. Still, the results were impressive. Seventy-eight percent of Uber drivers are "satisfied" with their experience driving for Uber. Seventy-one percent report their income has improved. And 73 percent say they would rather have "a job where you choose your own schedule and be your own boss" than "a steady 9-to-5 job with some benefits and a set salary." Now combine that with Uber's own data, which show that 81 percent of drivers work part time (51 percent work between one and 15 hours per week; 30 percent work 16 to 34 hours). The picture emerging is clear: People driving for Uber like setting their own schedules and working hours convenient to them, and overwhelmingly, they do that.
But here's the single most important insight Uber has to offer: On a city-by-city basis, UberX drivers seem to earn about the same amount per hour, on average, no matter how many hours they choose to work.

This is a big deal. The concept of a "part-time pay penalty"—that people, especially women and those in low wage jobs, get paid disproportionately less when they work below 40 hours a week—is well documented. Uber's data on average hourly earnings suggest that the penalty just isn't there. Or, as the study puts it, "The finding that hourly earnings for Uber's driver-partners are essentially invariant to hours worked during the week ... makes Uber an attractive option to those who want to work part-time or intermittently, as other part-time or intermittent jobs in the labor market typically entail a wage penalty." It's the point that ties everything Uber is promising prospective drivers—a flexible, empowering, and reliable job—together.
So it's kind of a shame that those figures on average hourly earnings might also be some of the most misleading in the entire report. Here's why I think that. About two months ago now, Uber released some data on several thousands of its drivers in New York City. As part of that, the company created a scatter plot showing how the average net hourly earnings of drivers varied with the total number of hours they worked each week. For full-timers the average hourly earnings were fairly consistent. But for part-timers, and especially for those working between one and 15 hours, the data looked like a shotgun blast (imagine the shooter standing to the right):
When I first spoke with Krueger about the study, I mentioned this. After all, the fact that the average of drivers' hourly earnings in the same city is the same doesn't mean that there isn't also a great deal of variation. As the graph above shows pretty well, trend lines and averages can mask a lot. Krueger's response was that "the requirements in New York City are different than in many other areas." This is true. To drive for Uber in the city, you have to be licensed with the Taxi and Limousine Commission. But that alone doesn't seem to explain why the earnings data for part-time drivers in other cities might not follow the same pattern. (Side note: It would help if the study included standard deviations for these averages, but it doesn't, and when I asked Krueger for that he said he didn't have it.)
This isn't to say the study should be discounted entirely. As Danny Vinik points out at the New Republic, "whatever their actual net income, drivers are, on average, happy with their employment situation." That's good news for Uber and good news for the people it's putting to work. Moreover, Uber's driver base has continued to grow even as the economy has strengthened in recent months, suggesting that the supply of contract workers for Uber and other "on-demand" economy companies like it might not dwindle as we head back to full employment. Working for Uber is flexible. It pays pretty well. And at least based on one Uber-commissioned survey, drivers are happy. But are the earnings always reliable? That we still can't say.