The Citizen's Guide to the Future
European Parliament May Call for "Unbundling" of Google
Google has grown too powerful, European politicians are convinced, and it may be time for the government to break it up.
That's the gist of a draft resolution that leaders in the European Parliament are preparing for a possible vote on Thursday, as reported by the Financial Times and Reuters. It would be a non-binding resolution, as the parliament does not have the authority to directly order a Google break-up. Still, its backers are confident the non-binding resolution will pass, which would put pressure on the European Commission to take action.
Advertisement

The draft motion, brought by members from Germany and Spain, never mentions Google by name, Reuters points out. But the Mountain View-based giant is widely understood to be the target of its call for the European Commission to consider "unbundling search engines from other commercial services" in the interest of fair competition.
The idea is that the dominance of Google's search engine gives it too much control over what people see when they use the Internet. For instance, it's often accused of prioritizing its own services in search results over those of rival companies, like Yelp.
Google was cleared of similar charges by the U.S. Federal Trade Commission last year. As I explained at the time, Google wasn't actually cleared of manipulating its search results. It's just that the FTC decided that such manipulation could be "plausibly justified" as good for consumers.
Europe has been far less inclined to give Google the benefit of the doubt. The European Commission has been investigating Google for years, and its recently departed competition chief threatened formal antitrust charges. How the case proceeds will be up to his successor, Margrethe Vestager, who took over on Nov. 1.
Google was already dealt a blow earlier this year by the European Court of Justice, which ruled that it would have to honor people's "right to be forgotten" by hiding defamatory links about them.
But an attempt to break up the company would amount to a more radical attack on Google's operations in Europe, and could conceivably provoke a U.S. response of some sort. Even a non-binding resolution by the parliament would mark a rather dramatic step. As the Financial Times notes, "A vote to effectively single out a big U.S. company for censure is extremely rare in the European parliament and is in part a reflection of how Germany's politicians have turned against Google this year."
Reuters adds that resentment in Europe has been building for years:
Google has tried to counter that mistrust, which its executives believe is linked to European perceptions of the United States in general. But recent revelations about U.S. surveillance practices, including that Washington monitored German Chancellor Angela Merkel's phone, have ignited a strong backlash, particularly in Germany, where the historic experiences of Nazism and Communism have left people deeply suspicious of powerful institutions controlling personal data.
Google supporters, however, believe European politicians are motivated largely by the desire to protect their own countries' media and publishing companies.

You can read the full Reuters story here.
Don't Worry (Yet). The East Coast Probably Will Not Get a Big Thanksgiving Snowstorm.
A weekend warm-up also portends a potentially severe flood. That much snow converts to about 5 or 6 inches of water, and the coming temperature whiplash means it may all melt in about a day. The local National Weather Service office has already issued a flood watch, noting that "a southerly breeze and rising dew points will make for a more efficient melting of the snowpack." Meteorologists from the National Weather Service still don't really know for sure what they're dealing with here, so they have reportedly been taking core samples of the snow to further refine the flood risk.
Advertisement

The warm-up will come courtesy of an especially intense Midwestern cyclone that will feature low-level winds (about a mile off the ground) roaring at nearly 100 mph. That storm will drive warmer temperatures northward up the length of the East Coast and bring a temporary end to cold weather in Minneapolis. The last 12 consecutive days have been below freezing there, the longest stretch since 1880. On Thursday, the Upper Mississippi River was closed to shipping traffic near the Twin Cities due to a buildup of ice—the earliest winter closure since U.S. Army Corps of Engineers records began in 1969. The risk of blowing snow could lead to blizzard conditions on Monday in Minnesota, the National Weather Service noted in a technical discussion Friday.
After the storm passes, the East's extreme-weather joyride will swerve into unknown territory.
The National Weather Service's Weather Prediction Center, which handles medium-range (three-to-seven-day) outlooks, continues to note a "significant amount of forecast uncertainty" for the period following Tuesday. Many meteorologists have picked up on the latest model runs, which show the potential of a significant East Coast snowstorm on Wednesday—traditionally the busiest travel day of the year.
Get ready for a social media asplosion over *potential* NE snow next week. 70" in Buffalo's got nothing on 12" in Worcester

— Matt Lanza (@mattlanza) November 21, 2014
But that doesn't mean you should freak out (yet) about a Thanksgiving-ruining nor'easter snowstorm. Sure, this map for Wednesday may look scary:
But look at what this same weather model (the newly upgraded GFS) was showing over its previous three runs:
The National Weather Service offices in New York City, Boston, and Washington, D.C., are all aware of the potential storm, but it's still much, much too early to even think about changing travel plans yet.
Here's NWS NYC: "As expected six days out, there are timing and intensity differences among the models." They continue: "However, it should be noted several members of the 00z GEFS show a slower and stronger low closer to the coast. Will need to monitor future model trends as this will be occurring during the busiest travel day of the year. Uncertainties exist in how far west the precipitation shield will reach, and the extent of cold air in the low levels that will be available."
Here's NWS Boston: "Temps … suggest the possibility of wintery precip in the interior, but may be too warm along the coast. Still too uncertain here to make any calls, but worth watching given the potential travel implications."
And NWS DC, which barely gives it a second thought: "At this time we also see differing model solutions in the handling of a developing low along the stalled front."
You should barely give this storm a second thought, too. If the storm is still showing up in weather models on Monday, feel free to re-evaluate your respective freak-out levels.
Building Christopher
Alan Turing may be the star of The Imitation Game, but the truly central figure in the film is Christopher. Named after Turing's childhood friend and first love, the machine not only breaks the German Enigma code during World War II, but also becomes a forbear to nearly every computer out there (including the one you're reading this on).
Advertisement

The real Christopher was named the "Bombe" (later "Victory") and although the filmmakers took some liberties in naming their device, they went to great lengths to make sure it looked as much like Turing's revolutionary computer as possible. The letter-covered rotors, the wires, the dozens of ports—it's all there. However, production designer Maria Djurkovic (Tinker Tailor Soldier Spy) did make it open-able so the audience could see its impressive construction. She also ran more red wires into the machine, so as to give it the appearance that it has nerves—and blood running through its veins.
"The actual design is absolutely based on the reality of it," Djurkovic says. "You extrapolate—you have to make something that's credible, you have to make something where those cogs turn at different speeds and it effectively has to be doing what the Bombe was doing."
What's even more impressive is that she was able to build the machine for £30,000 (about $48,000). The film had a mere $15 million budget so it was a lean build—and cheaper than the one in the film, which Turing (Benedict Cumberbatch) says will cost him about £100,000 to make—and what Djurkovic crafted holds up well to scrutiny. So well, in fact, her Christopher has been given a home at Bletchley Park, the UK compound where Turing and his fellow code-breakers created the original Bombe. (It'll be on exhibit at Bletchley for a year starting this month.) Here's how she did it.
First, Go to Blechley to See the Bombe
Bletchley Park has a replica of Alan Turing's code-breaking machine, but the filmmakers couldn't exactly borrow it and let Benedict Cumberbatch play with it. So Djurkovic and director Morton Tyldum went to Bletchley, which is now a tourist attraction, to figure out how to recreate one. They also brought supervising art director Nick Dent, who took photos and measurements of the machine. (The Christopher replica ended up being a foot or two taller than the original.)
Then Decide What Liberties Need to Be Taken
After seeing Turing's machine, Djurkovic and company decided they wanted to make one that could be opened up so audiences could see just how intricate the design was. "We sort of wandered around this thing 360 degrees and stood at the back of it saying 'This is actually much more interesting—the nerve center of the machine,'" she says. "There and then we decided we would build it into two sections and split it."
Next, Draft Design Concepts for the Machine
Designing Christopher required a bit of actual engineering. To do so, Dent drew his design in Illustrator using a CAD plug-in. "It turns Illustrator into a technical drawing package but retains the artistic and visual qualities that the original package allows," Djurkovic says, citing Dent's explanation. "Rather than AutoCAD or Vectorworks, which doesn't allow for texture or light to be included." (Click through the slideshow above for Dent's illustrations of Christopher.)
After it was designed, the art department had just a few weeks to build Christopher before filming. Djurkovic estimates it took her team—a collection of staffers and interns—about five weeks working in three-person teams to finish the Bombe. "We do everything insanely quickly. When I look back on a film after I finish I just think, 'How the bloody hell did we actually do that?'" she says. "It's not just Christopher, it's every single aspect of the film."
Like most movies, The Imitation Game was shot out of order; that meant that Christopher had to be able to look like it was in different stages of completion. "It's this business of having to in-build the ability to pull it apart," Djurkovic says. "You don't know how it's going to work in the schedule, if you're starting with it finished or starting with it in the middle stage. You have to adapt."
Don't Worry If It Can Actually, Like, Be a Computer
Djurkovic's replica looks very close to the real McCoy, but it lacks one important feature: It can't actually crack any codes. "Oh, no, no, no. Absolutely not!" she laughs when asked if her Bombe can do any calculations. "The sum total of its mechanism was that its wheels turned in a sequence similar to the real thing."
Make a Whole Other Machine for the Beginning and End of the Film
The Imitation Game jumps back and forth in time from Turing's time code-breaking in World War II to his childhood to his life in Manchester right before his death. Those scenes from his later years show him tinkering with a Christopher-like device. The truth is a bit different. That machine wasn't in Turing's home, it was at the University of Manchester. And it didn't look as much like the Bombe as the one in the film. "That one was much less closer to the reality, because Morton wanted it to echo Christopher," Djurkovic says. "He wanted there to be a visual echo so we departed from reality." But, she adds, a lot of the other details in his home were accurate. "Everything that you see on the walls of that Manchester house at the start of the film, that's not some whim of mine. That's based on absolutely the kind of things he was studying at that period of his life."
35 Percent of Total Bandwidth Usage in the Evenings Is From Everyone Watching Netflix
While a lot of video streaming services are vying for your attention and subscription dollars, Netflix may seem like the most popular choice. Now a new study shows just how definitive its lead really is.

A report from Canadian broadband company Sandvine, surfaced by Quartz, shows that "34.9 percent of downstream traffic in peak evening hours" in North America is from Netflix use. In contrast, only 14 percent is from YouTube, 2.58 percent is from Amazon Instant, 1.41 percent is from Hulu, and 1 percent is from HBO Go.
Advertisement

All of the data collection is from the evenings, when people use streaming services the most, so it isn't necessarily reflective of broader averages throughout the day. Quartz also points out that the study doesn't factor in mobile bandwidth. But 35 percent, compared with single digits, is a pretty commanding margin for Netflix in the evening hours.

New Yorkers Get Worse Internet Service Than People in Bucharest
You've probably looked at your monthly Internet bill and groaned, thinking that it was far more expensive than it should be. Well, you were probably right. It turns out that if you live in New York City or San Francisco, you could be paying more than twice as much as a customer in Paris or London for a considerably slower broadband Internet connection.
It's no secret that when it comes to speed and price, U.S. broadband options often pale in comparison with some of the great deals available in other cities around the world. We know that cost is one of the key barriers to adoption for unconnected Americans, and that Internet service providers rank at the very bottom of consumer satisfaction surveys, below the airlines and healthcare industry. But a recent study by New America's Open Technology Institute provides more data about what the American broadband market looks from the customer perspective. "Cost of Connectivity" documents the actual high-speed Internet packages available in 24 cities around the world, giving you a glimpse about what, for example, a 25 Mbps connection costs if you live in Los Angeles, London, Hong Kong, or Kansas City. And the results are not very pretty. (Disclaimer: I am one of the authors of the study, and Future Tense is a partnership of Slate, New America, and Arizona State University.)
Finding Fido: New App Can Help You Track Down Your Lost Furry Friend
Reprinted from

More than 10 million pets are lost each year, and sadly only one in 10 is ever recovered. This is 2014. We can do better.
Advertisement

A new company called Pawscout thinks so, too. Rather than building on traditional pet-locating methods like microchipping, it's created a separate connected pet ID tag that tracks your pet's location by creating a mesh network of smartphones.
"How people find pets is still a community problem," Pawscout founder Andrea Chavez told Wired. "If you don't have a community, the whole thing falls down."
Pawscout aims to create this community first by getting its tag onto pets. The tag costs $30 and is available for preorder through its website, and will ship in February. At that price, it's something you can actually see being sold at Petco and other places where pet owners shop.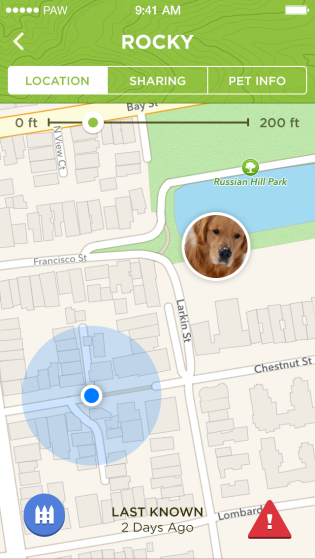 Pawscout's also trying to develop this community via a free mobile app. Here, pet owners can create a profile of their dog or cat with key information including breed, personality traits, and whether it has any health or behavioral issues, or medicinal needs. The app will be able to tell you how close your pet is within a 250-foot Bluetooth range. If you're out at the dog park, or tying your mutt up outside a cafe, you can set up a virtual leash that alerts you if they get outside a preset perimeter.
But it's when you put the app in lost mode that the full utility of Pawscout comes out. Chavez says they spent a tremendous amount of time and effort perfecting the platform so that it tracks real-time data and relays it meaningfully and simply. In lost mode, anyone who has the app and comes within 250 feet of your pet can be notified that your pet is lost. Through mesh networking, your pet's location is updated and relayed to you.
Unfortunately, as with all mesh networking schemes, there's a bit of a chicken-or-egg problem. When everyone is using this, there will be a lovely network covering the globe (or at least your neighborhood) so that whenever a pet escapes, it can be located, retrieved, and reunited with its owner. But until a critical mass start using the app, the benefits of Pawscout are minimal to nonexistent.
Luckily you don't need to purchase a tag, or even own a pet, to help out. If you want to help pet-owning friends, family, or neighbors in the future, you can download the app, too. App users can elect to be notified if a lost pet wanders into their 250-foot detection bubble, at which point they'll get the lost pet's owner's contact information. You can also choose to have your phone act passively as a node in the network, allowing the pet owner another chance for a phone to pick up their pet's tag and relay its location. Either way, just by downloading the app, you could end up helping someone find their missing four-legged friend.
The Pawscout tag itself is powered by a standard watch battery that should last a year, and the app will warn you before the battery dies. The back of the device can also be patterned or engraved, like a normal pet tag. It attaches to a collar, or you can buy a separate flush mount so the tag lies flat against your pet's neck instead of dangling.
Pawscout will be partnering with the ASPCA so that its technology can get into the hands of more new pet owners.
Microsoft Tried Out Robot Security Guards on Its Silicon Valley Campus
It seems like robots are everywhere these days, and now they're rolling around Microsofts Silicon Valley campus R2-D2-style to fight crime and keep everyone safe. At least that's the idea behind a pilot program the company ran last week to test a fleet of five K5 security guard robots.
Designed and manufactured by robotics company Knightscope, K5s weigh 300 pounds and are 5 feet tall. They use cameras and sensors to keep track of their surroundings and look for suspcious activity. They can "see" license plate numbers and even analyze faces. While K5s aren't equipped with weapons (and can't run or get in someone's face anyway), they do have onboard alarms and sirens to alert people if something bad is going on. And if they spot something that a person should handle, they can call a human security guard over. The K5s also use laser scanning and GPS for navigating, weather sensors, and, of course, Wi-Fi connectivity.
Advertisement

Stacy Stephens, Knightscope's co-founder and vice president of sales and marketing, told MIT Tech Review, "This takes away the monotonous and sometimes dangerous work, and leaves the strategic work to law enforcement or private security, depending on the application."
K5s are mostly meant for spotting strange or unusual behavior, but if you're in trouble you can also use them to call for help. They have battery life of about 24 hours and can automatically bring themselves back to their charging stations when they're low on juice. And it's true that there's artificial intelligence coordinating an A5's actions and making decisions about where it should go and what it should do next. But reaction to the robots seems kind of alarmist.
ExtremeTech writes that by testing the robots, Microsoft is "[s]howing a rather shocking disregard for the long-term safety of human civilization." That and other comments might be meant as tongue-in-cheek, but the A5s don't seem any different from the robot guards South Korea piloted in prisons in 2012 or even Boston Dynamics' Atlas robot, which is designed to be used in dangerous situations like natural disaster relief or fire rescues.
If they were armed, A5s might seem scarier, but as eyes and ears that never get tired and can just endlessly putter around a big campus, A5s seem like a reasonable solution.

Texting Is Bad For Your Spine. Duh.
A new study published in the journal Surgical Technology International concludes that frequently hunching over a smartphone puts significant strain on your cervical spine (neck). Spine surgeon Kenneth Hansraj used a computer-generated spine model to calculate that the force can be 60 pounds or possibly even more. It's sort of like picking up an elementary school student with your neck.

Human heads weigh 10 to 12 pounds, and when a person bends over her phone, she increases the force pulling on the muscles and joints in her neck. In the paper, Hansraj explains, "The weight seen by the spine dramatically increases when flexing the head forward at varying degrees. ... As the head tilts forward the forces seen by the neck surges to 27 pounds at 15 degrees, 40 pounds at 30 degrees, 49 pounds at 45 degrees and 60 pounds at 60 degrees."
Advertisement

But Simon Tang, who studies the biomechanics of the skeleton and soft tissues in the Department of Orthopaedics at Washington University in St. Louis, says that the findings are solid but not exactly novel. "Particularly in occupational biomechanics this is certainly not a new thing," he said. "Smartphones are now surrogates ... for blue-collar work that requires assembly lines, and people who work in front of the computer for prolonged periods of time."
Tang notes that most occupational health studies run for years or even decades, so smartphone use is certainly in the early stages of analysis. But he says that the basic question the paper is trying to answer is simple enough. "This is a physics problem that I could have my students work out," he said. "The idea of bad posture altering your biomechanics and making you more susceptible to injury is an old idea."
Phony Tech Support Companies Swindled Customers Out of $120 Million, Says FTC
On Wednesday, the Federal Trade Commission shuttered two telemarketing companies for offering fraudulent tech support services to customers. An operation that used the names Boost Software Inc. and OMG Tech Help, as well as a developer that made "PC Cleaner" software, are both facing FTC scrutiny for allegedly collecting a combined $120 million from customers without providing the services they promised.
Both groups are based in Florida and are structured as telemarketing firms. As the Washington Post reports, they might scam unsuspecting computer users by calling them, suggesting that their computers have viruses, and proposing a software cure—which at worst is malware and at best is benign bloatware. The money comes in when the company tells the user to pay between $29 and $49 to activate the supposed anti-virus software.
Advertisement

These operations prey on consumers' lack of technical knowledge with deceptive pitches and high-pressure tactics to sell useless software and services to the tune of millions of dollars ... There's no excuse for it, and we are pleased the court has taken steps to temporarily shut down these scams while our lawsuit proceeds.
The scams are a good reminder that tech support isn't just a general customer service, but actually a specialized field that requires knowledge of, you know, technology. As a former employee of one of the Florida operations told the Palm Beach Post, "Nobody who answers the phone is a technician; they're all salesmen."