The Citizen's Guide to the Future
Amazon Is Now a Gadget Company
Seven years ago, Amazon released its first gadget, the Kindle. An instant hit, it helped pave the way for the tablets of the future. But while Amazon produced successors to the Kindle, it didn't follow up with a full-fledged tablet of its own until late 2011, a year-and-a-half after Apple announced the iPad. And it wasn't immediately clear whether the Kindle Fire, with its attractive price but mediocre quality, would have staying power.
As recently as a year ago, it was fair to say that Amazon was still "dabbling" or "experimenting" in the consumer electronics business. Not anymore.
Advertisement

On Wednesday, Amazon announced not one, not two, but six new devices: four Kindle Fire tablets and two Kindle e-readers. Not one is revolutionary. Each is either a successor or a variation on some device that has come before. But each appears to be a worthy competitor in its category, and at least a couple of them appear to set new bars in quality-to-price ratio.
Throw in Amazon's new smartphone and set-top box, and you have a product line whose range and quality is beginning to rival that of the world's leading consumer electronics companies. Heads up, Samsung and Apple: Amazon is not messing around.
The flagship of Amazon's new line is a new Kindle Fire HDX 8.9-inch tablet. At $379, it's the finest of Amazon's hardware offerings—but maybe also the least interesting. Yes, it's 20 percent lighter than the iPad Air, boasts a snappy processor and high-resolution display, and comes with perks like Dolby Atmos surround sound, a first for a tablet. Watch Transformers on it, and your senses will be as thoroughly assaulted as Michael Bay intended. It also pairs nicely with an ultra-thin Bluetooth keyboard and comes with some interesting software features, like Firefly, that Amazon first introduced earlier this year with its quixotic Fire Phone. In short, the new HDX looks like a worthy follow-up to its predecessor, but nothing scintillating in the scheme of things.
More intriguing are a trio of new low-end offerings, starting with the Fire HD 6" and Fire HD 7" tablets. At $139, the 7-incher is the same price as its predecessor, which was already extremely cheap for a tablet. But at $99, the 6" Fire HD's price is almost eye-popping. It's the price that a lot of industry watchers were hoping for way back when Amazon introduced the first Kindle Fire three years ago. Amazon couldn't pull it off then, but apparently it can now.
It came about, Amazon vice president Peter Larsen explained, because Amazon saw that a lot of people were buying sub-$100 tablets on its website. But those tablets, by and large, haven't gotten very good reviews. Among other problems, customers complain that their cheap tablets are poorly constructed, break easily, run slowly, and sound tinny. Amazon sought to address those issues with its Fire HDs, which offer crisp, high-definition displays, peppy processors, Gorilla Glass screens and sturdy frames that don't break when you drop them.
More importantly, at $99, the Fire HD 6" is priced more like a toy than a computer, which is refreshing at a time when Apple and Microsoft are making tablets that soar past the $500 and creep toward $1,000. Some might even be tempted to buy one just for their kids—which is where Amazon's fourth new tablet, the Fire HD Kids Edition, comes in.
The Kids Edition, which is a variant of the Kindle Fire HD that uses the same hardware, actually starts at $149 for the 6" version, not $99. But Amazon more than justifies the extra cost. First, the Kids Edition comes with a bulky, brightly colored case that keeps the tablet safe from all kinds of drops and spills. But Amazon also recognizes that kids are quite resourceful when it comes to ruining things—and so it throws in a 2-year "no-questions-asked" warrantee. "If they break it, we'll replace it," Amazon pledges. Do your worst, kiddos.
On top of that, the tablet comes with a year's subscription to FreeTime Unlimited, a sort of Amazon Prime for rugrats that offers free access to a wide library of children's content. And it has built-in settings that block access to the Amazon stores and in-app purchases, so your 4-year-old can't surprise you with hundred-dollar presents while your back is turned. The Kids Edition also makes it easy to set time limits on the kids' usage of the tablet, or to require that they complete certain educational tasks before they can play games.
Finally, there are two new Kindle e-readers. Devices with grayscale screens that do little more than display text aren't as exciting in 2014 as they were in 2007, of course. But Amazon has managed to keep the Kindle line relatively fresh with incremental improvements that hold value for bibliophiles, if not Michael Bay fans. At $199, the new Kindle Voyage is pricier than you'd expect for an e-reader, but appears to offer about the best reading reading experience you can get anywhere (outside of, you know, an actual book). Ultra-thin, with a razor-sharp display and an adaptive front light that automatically adjusts the brightness to match that of the room, it's really a niche device aimed at Kindle addicts with money to spare. It comes with free 3G data service, so you can download books even without Wi-Fi.
Finally, the new base Kindle comes with a touchscreen at last. At $79, it's the price of a few hardbacks.
With the exception of its e-readers, Amazon has yet to dominate any of the hardware categories it has entered. And its first foray into phones looks like it could be a straight-up flop. But with Wednesday's new releases, its tablets now appear to be right up there with those of Samsung, Apple, and Google. And the Fire TV already vies with the best set-top boxes. In short, Amazon is now a viable consumer electronics company, in addition to being an online megastore, a cloud services provider, a television studio, and all the other things that Amazon has become.
What makes Amazon so dangerous as a hardware company is that it doesn't have to make money on its hardware. What was true of the original Kindle remains true of all the company's Kindles and Kindle Fires today: More than gadgets, they're gateway drugs for all the other stuff you can buy on Amazon. Only now the gateway drugs are getting pretty addictive in their own right.
MIT Researchers Are Using Smartphones to Interact With Other Screens
Slate video editor Chris Wade thinks that someday—when all data is in the cloud and the materials used to make screens advance—computers, tablets, smartphones, and everything else will converge and your digital life will become a completely continuous experience accessible from any screen, any time. That theory makes sense to me, but especially now that I've seen this:
Researchers from MIT Media Lab's Tangible Media Group and Fluid Interface Group are working on a project called THAW that allows smartphone cameras to identify what's happening on another screen and interact with it. You can use the touchscreen of the smartphone to highlight files on a computer screen and drag them onto the phone. You can also continuing playing a video game on your smartphone that you started somewhere else.
Advertisement

Philipp Schoessler of the Tangible Media Group told Fast Company, "We live in an increasingly digital world, but that world is fractured between many screens and interfaces. The question we wanted to try to answer with THAW was how can we combine these computer interfaces and screens into a single seamless experience."
THAW detects position using a smartphone's camera and a color grid on the bigger computer or television screen. And once the smartphone sensors place the other screen, you can, for example, pinch to size objects on the other screen using the smartphone.
The video above shows THAW's proof of concept, but long-term the possibilities for the approach are basically endless. If the digital world feels ubiquitous now, this could facilitate a universality for things like seamless file sharing, video games, and work setups that isn't possible now. And you could finish reading an article and watching a movie on your shirt sleeve screen while you commute in your driverless car.
If Fixing Global Warming Is Free, What's the Holdup?
A new report released Tuesday said an ambitious global plan to rid the world of fossil fuels—and generate half of the world's new energy from renewable sources in just 15 years—could produce more economic benefits than costs, considering the anticipated boost to public health. The report is timed to coincide with next week's United Nations climate summit in New York and defies conventional wisdom, arguing that the act of decoupling the global economy from carbon emissions is not only necessary for the health of the planet, it's also one of the best ways to generate widespread economic growth.
The Guardian has a summary of the seven key takeaways from the new report, which was led by former Mexican president Felipe Calderón. The report was produced by a group called the Global Commission on the Economy and Climate, made up of CEOs and current and former political and economic leaders, appointed by countries as economically diverse as Ethiopia and the United Kingdom.
Advertisement

Essentially, the report takes a refreshingly short-term look at what many still assume to be a long-term problem. Here's the basic calculation: Assume $90 trillion is likely to be spent on infrastructure anyway over the next 15 years, and it would take only an additional $4 trillion to rapidly scale up climate-friendly alternatives. The biggest issue is, at current rates, an additional $9 trillion would be spent in subsidies to the fossil fuel industry over the same time span—a gross misallocation of funds if we're serious about tackling global warming.
Basically, if we just end government's long-term relationship with the fossil fuel industry, we could fix climate change. For free.
The report is not without critics. Earlier this year, the Intergovernmental Panel on Climate Change refused to put a hard number on the economic benefits of improved public health resulting from less fossil fuel pollution due to the difficulties inherent in making such an estimate. The New York Times quotes an author of that report, Ottmar Edenhofer, a German economist and skeptic of the new report's methodology, as saying "climate policy is not a free lunch, but it is a lunch worthwhile to buy."
The plummeting cost of solar and other renewable energy sources has changed the economic calculus, the new report says, and it's time to take advantage. The recommendations emphasize the need for immediate action: setting a price on carbon, ending fossil fuel subsidies, modernizing global agriculture, and banning new coal-fired power plants. The world's poor would stand to benefit the most, as cheap renewable energy would help the more than a billion people who still don't have access to electricity.
In an op-ed for USA Today, Calderón wrote:
For years we've heard that fighting climate change will hurt economic growth. But new analysis finds this is simply not true. In fact, reducing greenhouse gas emissions requires action in the very same areas that throughout history have driven economic growth: investment in efficiency, infrastructure and innovation. Well-managed policy and business investment in these fields can create growth and reduce the risks of dangerous climate change at the same time.
For world leaders, the report should be a wake up call. (This is especially true in the United States, which is smack in the middle of a fossil fuel renaissance.) There is no other reason remaining other than vested self-interest to continue to fund the fossil fuel industry with public money.
On Twitter, Barack Obama welcomed the new report:
Despite Obama's rhetoric on climate, during Obama's presidency, fossil fuel subsidies have grown by 45 percent, a result of his "all of the above" energy strategy. Mr. President, it's time to put your money where your mouth is. America's oil age is coming to an end. Prolonging it with our tax dollars isn't just short-sighted—it's irresponsible.
IOS 8 Comes Out Today. Do Not Put It on Your iPhone 4S.
Today is the day when you pretend to be doing some very important "tech stuff" at work while you're actually just updating the operating system on your iPhone. Android users running the pure OS will have their moment when L launches, but today it's all about getting the expanded iMessage features and custom-keyboard goodness of iOS 8.
If you have an iPhone 4, you may be feeling kind of down, because today your phone becomes obsolete. It can't handle running the new operating system, full stop. But if you have an iPhone 4S, you may be feeling pretty pleased. Your handset looks like a 4, but has Siri, a better camera, and the ability to upgrade and stay with the operating system pack. Apple says that the 4S is good to go and has even updated the 4S landing page to say that its standard operating system is iOS 8.
Advertisement

But don't listen. I repeat: Wall yourself off from this madness. Your mission is to ignore.
Just thinking about the situation abstractly, it's pretty clear that iOS 8 on the 4S is not a good idea. First of all, iOS 8 is optimized for big smartphone screens. Really big. The iPhone 6 has a 4.7-inch screen and the Plus has a 5.5-inch screen. Things are all right on the iPhone 5 and 5S' 4-inch screen, but the iPhone 4s has a 3.5-inch screen. That's two full inches smaller than the Plus. Come on now, how flexible can iOS 8 possibly be?
The other big issue is processing power. The new operating system is fluid, responsive, and packed with features. Unfortunately, none of that can run on people's love of new Apple releases. Something has to crunch the 1's and 0's that make all of the animations and tools function. When the 4S came out in 2011, its dual-core A5 chip was definitely faster than the iPhone 4's A4, but reviewers noted that added features like Siri were processor intensive, so the speed boost didn't really translate to daily use.
Ars Technica confirms that upgrading the 4S to iOS 8 introduces speed and rendering problems. Plus, the 4S lacks a lot of the hardware that iOS 8's snazziest features depend on. You won't be able to use AirDrop, TouchID, Handoff, or Apple Pay even if you do update. "iOS 8 can add as much as 50 percent more time to the same task compared to iOS 7," Ars writes. "The other problem is something that's not so easily measurable: animations ... are markedly more choppy and inconsistent in iOS 8 than they ever were in iOS 7" on the iPhone 4S.
Perhaps because it's not in the spirit of technology's progression to intentionally hold devices back, Ars writes that, "Despite the problems we ran into, we think the answer for most people will still be 'yes' " when it comes to upgrading the 4S to iOS 8. It's hard not to update when you're getting notifications all the time, but I disagree that you should forge ahead no matter what.
If you have a 4S, it's probably because it's working fine and you don't want to buy something new that you don't need. This could be because you don't have the money, you're trying to make an ideological or environmentally-minded decision, or you just don't care about smartphones. All of these are completely legitimate reasons to have an iPhone 4S. They are also all reasons not to risk the stability and usability of your phone for an update that basically just adds a few nifty extras.
You can do this. You can ignore all of those prompts to update and just stay on iOS 7. You can flout the societal pressure. It's pretty weird that it exists anyway.
This iPhone 6 Feature Will Change Weather Forecasting
The iPhone 6 and 6 Plus have a lot of nifty added features like near field communication for secure transactions and screens with serious pixel density. But one of the most noteworthy pieces of new hardware that Apple stuffed into the handset is a barometer (which measures atmospheric pressure). But as lots of people have been quick to point out, barometers have been in Android phones like Samsung's Galaxy line for years. Indeed, as Jesse Ferrell of AccuWeather.com points out, "I got a digital watch with a barometer in it for my 10th birthday in 1985." So does it matter that Apple is finally giving the little sensor some play?
Sure! Apple plays a big role in bringing technologies to the mainstream, whether or not they're novel. Now that iPhones have barometers, other smartphone makers that weren't concerned about adding them before may think twice now.
Advertisement

And that's good news for meteorologists who want to crowdsource hyperlocal weather data from the barometers in everyone's smartphones. As James Robinson, who developed the OpenSignal crowdsourcing app, told the Washington Post last year, "The ultimate end is to be able to do things we've never been able to do before in meteorology and give those really short-term and localized predictions."
In fact, the weather crowdsourcing idea is already in motion. Companies like Cumulonimbus, which makes the localized forecast app PressureNet, are part of a growing group of startups founded around the concept. Even Slate's own weather blogger Eric Holthaus worked on a weather crowdsourcing iOS app before the iPhone had a built-in barometer.
Local pressure data could help create more reliable forecasts so we can all make more detailed decisions around weather affecting us, from little showers to tornadoes. It could also broaden meteorologists' access to weather data in remote regions all over the world.
All of this and the iPhone's barometer will probably be primarily used as a way of measuring users' elevation for fitness apps. Typical.
Why We Need a Federal Robotics Commission
This month, on the heels of its policy paper on our cyborg future, Brookings Institution has put forth a new publication on robotics—and this time, it's explaining why we need a new federal commission to deal with them.
The idea for a federal robotics commission came out of workshop of a paper that author Ryan Calo (who will, in the interest of full disclosure, be a participant in a Future Tense event this October) was presenting at Fordham Law School. Following the discussion, Calo decided to treat the idea of a new commission to deal with robotics and its importance as a standalone subject.
Advertisement

In a phone interview, Calo explained that he envisions a bipartisan, independent, and, at least initially, small agency, with two commissioners from each party, structured much like the Federal Trade Commission. The commission, he specifies in the report, would be composed primarily of "a handful of engineers and others with backgrounds in mechanical and electrical engineering, computer science, and human-computer interaction, right alongside experts in law and policy."
Calo's commission would not be a pre-emptive, regulatory one. Rather, it would act in an advisory capacity, writing reports and serving as a resource for states with questions on, for example, how to regulate driverless cars. (There is already reason to believe that they will, in the not too distant future, need someone to whom to turn: As Calo notes in the paper's introduction, the Department of Transportation has already had to turn to NASA to deal with a case of inexplicably accelerating Toyotas.)
But the case for a commission isn't only in what could happen were we to create one—it's also what will happen if we fail to do so. Calo worries that, without such a commission, and without thinking about robotics consistently and centrally, "People will strike the wrong balance between innovation and safety," meaning that we won't allow robotic advancements to be made out of fear. Alternatively, we might allow them to happen, but they'll come with missteps, poorly thought-out rules, and lack of regulations.
What's more, if we don't establish such a commission, other countries will. In fact, they already are. Calo points to the central planning of Japan, and the consistent (albeit permissive) attitude toward drones in Australia and Canada, and the RoboLaw project developed by the EU (for which Calo was an advisor). Without dedicated and sustained policy attention paid specifically to robotics, robotics will go forward to the future—but with it, we have a better chance of leading them there.
You Can Play the Original Doom on a Hacked Canon Printer
Printers aren't exactly hip these days, but they still lurk in our offices and homes. They've subtly advanced over the last several years to include extras like Wi-Fi connectivity and nice color screens. Unfortunately, adding new features to uninteresting devices means that security isn't always on developers' minds.
All of this has allowed one cybersecurity researcher to install and play the 1993 classic video game Doom on a Canon Pixma printer. Which is both worrying and awesome.
Advertisement

Michael Jordon, a researcher at Context Information Security, wrote a blog post for Context detailing his hack and "demonstrating current insecurities in devices categorised as the 'Internet of Things'." Though it took four months to get Doom up and running, Jordon's broader goal was to experiment with the vulnerabilities he had found and present them in an interesting way to get people's attention. Canon says it will fix the vulnerability "as quickly as is feasible."
The Web interface that Pixma printers use to allow remote status checks of things like ink levels isn't protected by a password because it doesn't do much. As Jordon explains out, "you could print out hundreds of test pages and use up all the ink and paper, so what?" But he found that in the process of updating the firmware (the code that coordinates the interaction of hardware and software in a device), he could freely control where the printer checked for the update. This means that a malicious hacker could direct the printer to install an "update" that was really malware. And if the newly infected printer was, say, on an office network, that malware could then be used to infiltrate deeper and into more information-rich devices like servers.
Pixma firmware is encrypted, which is good. But Jordon says he was able to crack the encryption and use that to his advantage, because it allowed him to make his malware look trustworthy to the printer he was installing it on. Jordon reports that there are thousands of vulnerable Pixma printers online right now.
He told BBC News, "Running Doom, that's real proof you control the thing." The printer he used has convenient specs for Doom, including a 32-bit Arm processor and a screen with the correct aspect ratio. "I had all the bits, but it was a coding problem to get it all running together," he told the BBC. You can watch a video of the printer running Doom here.

At least something good came out of this bug.
Slate Exclusive: Why Greenland's "Dark Snow" Should Worry You
Jason Box knows ice. That's why what's happened this year concerns him so much.
Box just returned from a trip to Greenland. Right now, the ice there is … black: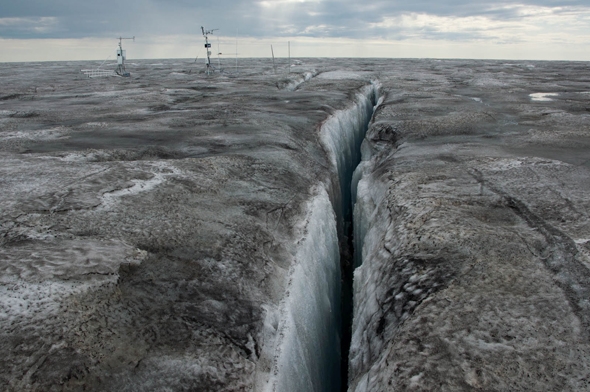 Advertisement

The ice in Greenland this year isn't just a little dark—it's record-setting dark. Box says he's never seen anything like it. I spoke to Box by phone earlier this month, just days after he returned from his summer field research campaign.
"I was just stunned, really," Box told me.
The photos he took this summer in Greenland are frightening. But their implications are even more so. Just like black cars are hotter to the touch than white ones on sunny summer days, dark ice melts much more quickly.
As a member of the Geological Survey of Denmark and Greenland, Box travels to Greenland from his home in Copenhagen to track down the source of the soot that's speeding up the glaciers' disappearance. He aptly calls his crowdfunded scientific survey Dark Snow.
There are several potential explanations for what's going on here. The most likely is that some combination of increasingly infrequent summer snowstorms, wind-blown dust, microbial activity, and forest fire soot led to this year's exceptionally dark ice. A more ominous possibility is that what we're seeing is the start of a cascading feedback loop tied to global warming. Box mentions this summer's mysterious Siberian holes and offshore methane bubbles as evidence that the Arctic can quickly change in unpredictable ways.
This year, Greenland's ice sheet was the darkest Box (or anyone else) has ever measured. Box gives the stunning stats: "In 2014 the ice sheet is precisely 5.6 percent darker, producing an additional absorption of energy equivalent with roughly twice the US annual electricity consumption."
Perhaps coincidentally, 2014 will also be the year with the highest number of forest fires ever measured in Arctic.
Box ran these numbers exclusively for Slate, and what he found shocked him. Since comprehensive satellite measurements began in 2000, never before have Arctic wildfires been as powerful as this year. In fact, over the last two or three years, Box calculated that Arctic fires have been burning at a rate that's double that of just a decade ago. Box felt this finding was so important that he didn't want to wait for peer review, and instead decided to publish first on Slate. He's planning on submitting these and other recent findings to a formal scientific journal later this year.
Box's findings are in line with recent research that shows the Arctic is in the midst of dramatic change.
In total, more than 3.3 million hectares burned in Canada's Northwest Territories alone this year—nearly 9 times the long term average—resulting in a charred area bigger than the states of Connecticut and Massachusetts combined. That figure includes the massive Birch Creek Complex, which could end up being the biggest wildfire in modern Canadian history. In July, it spread a smoke plume all the way to Portugal.
In an interview with Canada's National Post earlier this year, NASA scientist Douglas Morton said, "It's a major event in the life of the earth system to have a huge set of fires like what you are seeing in Western Canada."
Box says the real challenge is to rank what fraction of the soot he finds on the Greenland ice is from forest fires, and what is from other sources, like factories. Box says the decline of snow cover in other parts of the Arctic (like Canada) is also exposing more dirt to the air, which can then be more easily transported by the wind. Regardless of their ultimate darkening effect on Greenland, this year's vast Arctic fires have become a major new source of greenhouse gas emissions from the thawing Arctic. Last year, NASA scientists found "amazing" levels of carbon dioxide and methane emanating from Alaskan permafrost.
Earlier this year, Box made headlines for a strongly worded statement along these lines:
If even a small fraction of Arctic sea floor carbon is released to the atmosphere, we're f'd.

— Jason Box (@climate_ice) July 29, 2014
That tweet landed Box in a bit of hot water with his department, which he said now has to approve his media appearances. Still, Box's sentiment is inspiring millions. His "f'd" quote is serving as the centerpiece of a massive petition (with nearly 2 million signatures at last count) that the activist organization Avaaz will deliver to "national, local, and international leaders" at this month's global warming rally in New York City on Sept. 21.
More Than 3 Million Told the FCC What They Think About Net Neutrality. Why Hasn't Obama?
The FCC has received more than 3 million comments on Commissioner Tom Wheeler's controversial plan to rethink net neutrality. If the last couple of million comments are anything like the first 1.1 million, 99 percent of commenters were strongly in favor of protecting net neutrality. They include startups, small businesses, artists, and small- and medium-size broadband providers, among many others.
One comment was missing, though—President Obama's. While President Obama campaigned heavily on net neutrality and recently reiterated his support for it, he hasn't filed a thing to the FCC. The president has alluded to the FCC being an independent agency, and therefore suggested he should not publicly encourage the commission to fulfill his campaign promises. Yet since becoming president, his Executive Branch has submitted more than 200 filings to the FCC in over 80 proceedings. (If you want proof, see this spreadsheet.)
Advertisement

If the administration were to file comments, it might come through a White House office, such as the National Economic Council or the Office of Science & Technology Policy, or the Commerce Department's National Telecommunications and Information Administration (NTIA). In 2009, the NTIA submitted comments telling the FCC that the "NTIA expects to offer views on the issues presented in [the network neutrality] rulemaking at the appropriate time." You would think that we have reached the appropriate time. But President Obama has stood largely silent while his FCC chairman, Tom Wheeler, barrels toward dismantling an open Internet and threatening the entire economy that now rides atop it.
The president should advocate for strong net neutrality rules under something called "Title II" of the Communications Act. Title II is simply the necessary legal basis for net neutrality, as all network neutrality champions have acknowledged, and the only way the FCC could effectuate the president's vision, according to the judges who struck down the FCC's last rule. It's the only approach that would accomplish the president's stated vision of ensuring we don't have "differentiation in how accessible the internet is to different users."
Indeed, even George W. Bush's Department of Defense supported Title II. When the FCC was considering reclassifying phone companies to Title I, Secretary of Defense Donald Rumsfeld filed with the FCC in to say National Security and Emergency Preparedness "communication functions will be best served if the provisioning of broadband Internet access over wireline facilities remains classified as a 'telecommunication service' that can be regulated by the Commission under Title II of the Act."
Obama has proclaimed that he "will take a backseat to no one in my commitment to network neutrality." By not commenting in the FCC proceeding, the president has taken a back seat to dozens of tech companies, including Etsy, Kickstarter, Vimeo, Reddit, and Tumblr, the AARP, dozens of senators and members of Congress, and millions of people that have strongly filed or commented in favor of real, strong Title II network neutrality. It's time for that to change.
Disclosure: The author is a lawyer who has advised startups and nonprofits on net neutrality issues.