The Citizen's Guide to the Future
Netizen Report: Battling "Annoying" and "Insulting" Emails in India, Mozambique
The Netizen Report original appears each week on Global Voices Advocacy. Lisa Ferguson, Hae-in Lim, Sarah Myers, Bojan Perkov, Sonia Roubini, and Ellery Roberts Biddle contributed to this report.
Global Voices Advocacy's Netizen Report offers an international snapshot of challenges, victories, and emerging trends in Internet rights around the world. We begin this week's report by looking at legislation targeting "annoying" and "insulting" online messages in India and Mozambique.
Most people don't like bothersome emails, but does this mean they should be criminalized? We think not. Next week, India's Supreme Court will hold a hearing on several petitions challenging the constitutionality of amendments made to the country's Information Technology Act in 2008, including Article 66A, under which email and messages deemed "grossly offensive" or causing "annoyance or inconvenience" are illegal.
Can You Spot the Most Dangerous Storm in This GIF?
For example, see if you can pick out the strongest storm in this satellite loop of the current weather over the Pacific Ocean: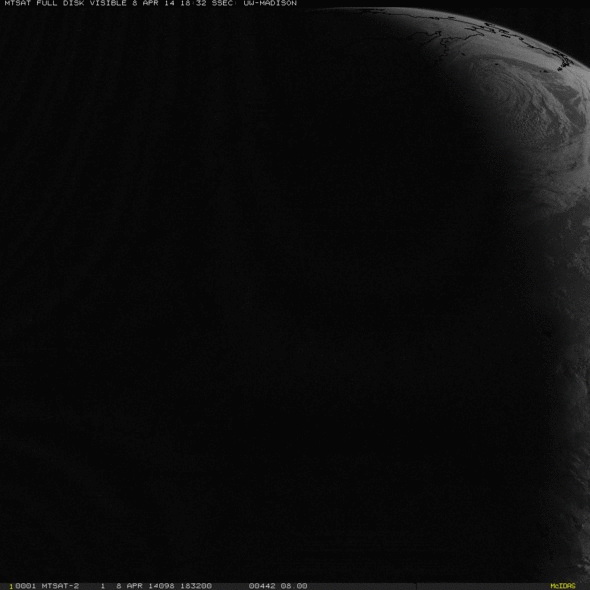 If you're like me, your eye was immediately drawn to the ginormous swirl that's heading for Alaska.
That's an extratropical cyclone that has fully "occluded"—meaning, the clashing masses of warm and cold air that led to the storm's creation have now almost completely mixed together. It's a mature storm in the process of dissipating, and it's dying a beautiful death.
As we saw with Hurricane Sandy, which began the transition to an extratropical cyclone just as it was making landfall in New Jersey, these types of storm can cover a vast territory. They do their damage by a thousand pinpricks: millions of square miles of rough seas, gusty winds, and similar forms of oceanic viciousness.
Waves with the Alaskan storm are about 25 feet tall right now and winds well offshore are near tropical storm force (40 mph or so), but that's really nothing hardy Alaskans can't deal with. Up there, storms like this happen on nearly a weekly basis this time of year.
These images come our way via the astute scientists at the Cooperative Institute for Meteorological Satellite Studies at the University of Wisconsin-Madison, who make a business of identifying strange and wonderful atmospheric phenomena like these occluding Alaskan storms.
Compare the size of Tropical Cyclone Ita approaching Australia with that monster low approaching the Aleutian Islands http://t.co/Ww7JeVuhj7

-- Scott Bachmeier (@CIMSS_Satellite) April 9, 2014
What you might have missed on your first glance at the gif was the small tropical cyclone that's currently off the northeast coast of Australia. That's Tropical Cyclone Ita.
That storm is a compact menace, packing winds about three times as strong as the giant swirl near Alaska. The Australian storm was born a few days ago in the very warm waters of the equatorial Pacific Ocean and has quickly intensified.
The U.S. Navy's Joint Typhoon Warning Center forecasts Tropical Cyclone Ita to make a direct hit somewhere north of Cairns by late Friday night or Saturday. Just before landfall, the storm will grow to the equivalent of a Category 3 hurricane or stronger, packing wind gusts of up to 150 mph. Not a good beach weekend.
Tropical storms, unlike extratropical cyclones, gain their energy from warm water (which there isn't much of, up near Alaska). They are also typically much more compact, and concentrate their force in a ring of intense thunderstorms around the center, sometimes no wider than a couple dozen miles. That frequently creates wind speeds well over a hundred miles per hour, in the strongest cases. Sandy, which began in the tropics, was the worst of both worlds: hurricane-force winds spread out in a monster the size of a continent. It was the biggest Atlantic hurricane that we've ever seen, by far.
The Australian Bureau of Meteorology will have updated forecasts of Tropical Cyclone Ita throughout the week.
Building a Computer Out of Dominoes
This Numberphile video is ostensibly about creating a computer from 10,000 dominoes, but to get there it goes through an impressive amount of basic (don't worry, very basic) math and engineering to make sure everyone is up to speed.
Sure, the video is 18.5 minutes long, but if you don't remember binary, circuit diagrams, or anything about logic gates from school, you're going to relearn it here—painlessly. Sometimes it's kind of mind-blowing to take a step back and think about what a computer is in its most simple form, and how basic mechanical operations underlie everything our laptops and smartphones do.
Even if you already know about all of this, seeing a computer laid out in dominoes is pretty great. Especially because the 10,000-domino chain reaction can add any two four-digit binary numbers and return a five-digit binary sum result. Not bad for some hunks of plastic.

Land Rover Unveils Transparent Hood, Wins Over Sci-Fi Fans Everywhere
The New York International Auto Show is still more than a week away, but new technology from Land Rover is already in pole position to be among the coolest of this year's concept car reveals. The tech breakthrough—dubbed the "Transparent Bonnet"—is essentially a cloaking device for the front of the car, with a superimposed heads-up display making the hood appear see-through. So, yeah, pretty cool stuff.
While we're on the record as being skeptical about the viability of invisibility cloaks and other sci-fi staples of that ilk, this is a different thing entirely: Land Rover is merely mimicking the appearance of transparency. Using cameras mounted in the grill, the view from underneath the hood is simply relayed back to the heads-up display and projected onto the windshield, thereby giving drivers an unparalled look at the road between their wheels. According to Land Rover, practical application of the Bonnet will allow drivers climbing steep inclines or moving in close quarters "to see an augmented reality view capturing not only the terrain in front of the car but also the angle and position of the front wheels."
You can watch a demonstration of the technology in the video above, but don't salivate over it too much—it's unclear when or even if Land Rover plans to usher the Bonnet out of the concept stage and onto the road.
Juggalos Have Their Own Cryptocurrency
If you're looking to invest your savings in an untraceable digital commodity whose value is based on a complex algorithm, who would you trust more: a shadowy mathematical genius who may or may not be a reclusive model train enthusiast, or guys who think that magnets are magic?
Vice reports that this week will mark a watershed in global monetary history—the launch of JuggaloCoin, the world's first cryptocurrency intended solely for use by followers of the Insane Clown Posse at the annual gathering of the Juggalos. Writes Drew Millard:
Vendors at the Gathering of the Juggalos to establish relationships that will allow JuggaloCoin to be accepted at the Gathering, which will in turn lead to the official ICP online store to accept JuggaloCoin, which will lead to the entire Juggalo universe dealing in JuggaloCoins.
On JuggaloCoin.org, Papa Nutt, the innovator behind this enterprise, promotes the currency as a means of "keeping funds in the family," "promoting the positive aspects of the Juggalo lifestyle," "supporting Juggalo charities," and "promoting recognition of February 17 as international 'Juggalo Day.' "
Speculators beware, though. Non-Juggalos are not welcome to purchase JuggaloCoin as "that's basically stealing from the Family." (Update: Papa Nutt reached out to me via Twitter to clarify that "Non-Juggalos are welcome to buy JuggaloCoin, they just don't get it free." The headline of this post has been edited to reflect this.)
Like Nakomoto, Papa Nutt's identity is mysterious. The Daily Dot notes that the website doesn't include a contact address and lists his address as "1 Clown Lane."
It seems quite possible this is all a good joke, but given the purchasing power of the Juggaloes, the Faygo company might want to update its payment system just to be safe.
Once Advertisers Co-Opt an Internet Trend, You Know It's Doomed
Last week, Red Sox designated hitter David Ortiz took a selfie with Barack Obama while visiting the White House. You can't blame a person for taking a presidential selfie—that opportunity just doesn't come around that often. But as happens with so many Internet trends that try to interface with the real world, the selfie ended up causing some drama.
As the photo started circulating, Samsung retweeted it and noted that it was taken with a Galaxy Note 3. And then the company took credit for the whole thing. Plus Sports Business Daily reported that Ortiz had recently become Samsung's "MLB social media insider." Samsung told the Boston Globe,
We were thrilled to see the special, historic moment David Ortiz captured with his Galaxy Note 3 during his White House visit. It was an honor to help him capture such an incredible and genuine moment of joy and excitement. Similar to the selfie Ellen was able to capture during the Oscars, this was an opportunity for David to share the incredible moment with his fans. ... When we heard about the visit to the White House, we worked with David and the team on how to share images with fans. We didn't know if or what he would be able to capture using his Note 3 device.
But Ortiz and his PR team deny that the photo was taken for Samsung, or that he was prepped beforehand. Which is weird because Samsung clearly said that he was. Ortiz told the Globe, "That was one of those things that just happened. I gave him the jersey, and the photographers were going to take their pictures and I thought, really at the last second, maybe I should snap a shot with my phone while I have the chance. ... It had nothing to do with no deals."
But the White House had other reasons for being angry, too. Press secretary Jay Carney said in a briefing a couple of days after the Obama-Ortiz selfie, "As a rule, the White House objects to attempts to use the president's likeness for commercial purposes, and we certainly object in this case." And a few days after that, senior adviser Dan Pfeiffer said on Face the Nation, "Well, [President Obama] obviously didn't know anything about Samsung's connection to this, and perhaps maybe this will be the end of all selfies." Some Olympic athletes who visited the White House after these comments even reported that they weren't allowed to take pictures with the President using their own cell phones.

Yet somehow it doesn't stop there. On Monday, almost a week after the controversy started, Carney said "there's no discussion of a ban" on selfies for Obama, and that Pfeiffer "was saying [that] humorously."
Whatever the status of an official moratorium, though, the real issue with all of this is that it's boring. It's a technicality. Selfies have gone from an Internet art form—perhaps loathsome but still genuine—to a policy issue. And this is what happens whenever advertisers get their hands on Internet memes. A commercial that attempts to tap an Internet trend may be the thing that makes the meme uncool, or it may just be the harbinger of a trend that has already peaked, but either way it's never a good sign.
It might be Jimmy Kimmel creating his own version of a viral twerking video to point out how absurd the trend is (was?) and promote his show.
It might be Abercrombie & Fitch inexplicably using "What Does the Fox Say?" in a commercial, even though the song seems to go against the company's branding in almost every way.
Not all memes will resonate with you. Some will seem hilarious, while others just feel pointless and lame. So be glad if you see a commercial that invokes a meme you hate, because at that moment you'll know the trend is losing its cool.
How to Save Yourself From Infuriating Reply-All Email Chains
No storm leaves as long a swath of destruction in your email inbox as the endless reply-all chain, and this week a Category 5 has been tearing through the journo-verse: a PR notice (for Netflix's new show Marco Polo—see it!) that made the fatal error of listing all recipients in the public CC field, rather than the private BCC field. What happened next will not surprise you:
When you have a screener of the first episode, send it along and I'll be happy to review it!
Replied, of course, to everyone on the list. Followed quickly by:

Please don't reply all. Thanks
Why am I getting 400 emails about this?
Wow, MAJOR PR FAIL! I don't know how this is happening and hope this isn't going to everyone, but, please take me off this damn list.
We've all been here before. The dad next door emails 150 solicitants for Ellie's neighborhood bake sale. Carl asks everyone he's met from age 5 to 33 for a contact in Iowa City. Disaster ensues. And you are left contemplating your limited options: You could trash the unwanted emails as they come, but this can feel like bailing out a tidal wave. You could wait it out, head to the hills for a few days and return to clean the mess all at once. You could be the brave soul who feels this time will be different and wade directly into the tempest, sending your own small plea for the deluge to stop. (Hint: It never works.)

Or you could use this simple Gmail button:

As explained on Google support, the "mute" button will hide all future messages in the conversation—but not delete them, should you ever one day desire to confront the darkness you once avoided. Why Google gave such a powerful tool such a slight (though appropriate) name and tucked it under the "more" menu, I don't know. But I know better than to question the gift.
For cubicle dwellers, Microsoft Outlook has a similar function—but only for Windows—called "ignore." You can find it under the home tab: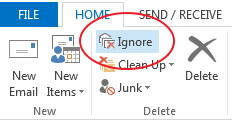 Mac Outlook users, alas, have no such magic bullet at this time. The next best thing is to create a "rule" just for the offending thread. Or write a heartfelt email (no CCs) to Satya Nadella.
Microsoft Is Finally Killing Its Darlings
There are a lot of metaphors one could use to describe the decade plus longevity of Windows XP, Microsoft Office 2003, and Internet Explorer 6. But I'm gonna go with lichen. These software gems were hardy, reliable, unobtrusive, and enduring as wave after wave of technological progress crashed over the jagged rocks they clung to.
What, you don't like my metaphor? Microsoft has been working to kill these services, and they just keep holding on. It's apt! But I guess we can also call them zombies, if you insist.
But today Microsoft released seven security updates for Windows XP and four for Microsoft Office 2003. The company made it clear (if it wasn't already) that this is the end of the line. The operating system and Office suite will no longer be supported, which means using them will run major security risks. It's finally happening.
Though a death isn't usually pleasant, this day of Microsoft funerals feels long overdue, especially for IE 6. By 2001, when Microsoft released IE 6, the browser was so dominant that Microsoft didn't work hard to innovate. The company didn't release bug fixes in a timely way, it didn't attempt to compete by adding features that were available in Firefox and other new-generation browsers, and it didn't always follow agreed-upon Web standards. These things weren't that noticeable when generations of IE were dominating the game, but in the five years it took Microsoft to release IE 7, the brand's influence had been significantly eroded. Web developers in particular are thrilled to let IE 6 fade away.

As a developer, I'm more excited about today's demise of #IE6 rather than the end of #WindowsXP. Now if only #IE8 can go take a flying leap.

--Joey Kincer (@kinless) April 8, 2014
And while XP and Office 2003 didn't do anything wrong in particular—in fact, they were innovative in their day—they stuck around much longer than software usually does and just couldn't function normally toward the end.
But wait—they're still fighting from beyond the grave! Windows XP market share is still at almost 28 percent. That's after years of Microsoft efforts to get people to switch. And Office 2003 has been going strong, too. IE 6's market share is still 4.4 percent worldwide, and it's purportedly 22.2 percent in China, though those numbers might not be reliable.
No matter what Microsoft does, it seems like XP and IE 6 zombies will be roaming around for a while. Be safe out there, everyone.
Weather Channel Cuts Back on Reality TV Programming, Makes Peace With DirecTV
Haters of loosely-weather-related reality TV like Coast Guard Florida and Highway thru Hell, your long purgatory is now over.
As of Wednesday, April 9, the Weather Channel will relaunch on DirecTV with an altered lineup, according to a joint press release issued by the two companies on Tuesday afternoon.
Since the spat began in January, the Weather Channel almost made a sport of mocking DirecTV, even appealing to Congress to intervene at one point. But the press release takes a markedly civil tone.
"Our apologies to DIRECTV and their customers for the disruption of our service and for initiating a public campaign," said David Kenny, CEO of the Weather Company, parent to The Weather Channel. "Our viewers deserve better than a public dispute and we pledge to reward their loyalty with exceptional programming and more weather focused news."
"It's a shame these disputes are played out on a public stage, but I'm pleased that we've been able to work together with The Weather Channel in a way that will benefit everyone," said Dan York, DIRECTV's chief content officer. "I know this was frustrating for many of our customers, but their patience was ultimately rewarded with a better deal and a better product."
Shortly after the Weather Channel was dropped, I spoke with its CEO, David Kenny, about his company's negotiating tactics and overall vision. At the time, he seemed receptive to viewers' desires to see more live weather (and fewer reality shows) on air. Today's announcement is further confirmation that the network is changing tack.
To get back on the 20 million-subscriber service, Weather Channel has agreed to reduce reality programming by half on weekdays; return instant local weather and allow DirecTV customers to watch the Weather Channel's video programming on multiple devices inside and outside the home, so long as they can prove they are subscribers.
According to the Wall Street Journal, the Weather Channel will receive a "small increase" in revenue, but "less than the penny a subscriber" it initially demanded.
Via email, Weather Channel spokeswoman Shirley Powell said that the network has already shifted the 2-5 p.m. block of programming from reality to live weather.
The news comes not even a week after the company decided to re-hire meteorologist Dave Schwartz, a weather nerd hero known for his dry sense of humor. He immediately issued a shout-out to new colleague Sam Champion:
On Twitter, I asked people to share their thoughts on the news of the Weather Channel's about-face on reality programming. Some respondents were indifferent.
@EricHolthaus I gave up on them a long time ago. They don't seem to cater to us "nerds" so much.

-- Carl Anderson (@carl67lp) April 8, 2014
But most welcomed the development.
Alas, Powell confirmed that there are no plans to re-hire other meteorologists, or to phase out that pesky winter storm naming, for that matter. When it rains, it doesn't always pour.