| 
Posted Monday, May 13, 2013, at 12:50 PM
R.I.P. Google SMS search
Screenshot

Users of Google's once-popular SMS search function found last week that texting search queries to 466453—"GOOGLE" on alphanumeric keypads—no longer works. Instead of texting back search results, Google responds with a short message noting that the service "has been shutdown" (sic) and that you can continue to search the Web by visiting google.com (duh). Meanwhile, the Web page that used to explain how SMS search works appears to have been taken down entirely.
For the majority of Americans who own smartphones, this would seem unlikely to come as a major blow. That hasn't stopped people from griping about the move on Google product forums, though. The annoyance from folks who still have feature phones without data plans is understandable, given that Google apparently gave no advance warning. But the legitimate frustrations seem to be mixing with generalized ill will toward Mountain View from people who haven't used SMS search in years, if they ever did.
I remember SMS search as a pretty handy trick on my old flip-phone. It offered a way to quickly and easily look up directions, phone numbers, or the score of a game on a phone that either couldn't browse the Web or took forever to load a page. Still, it's hard to blame Google for shutting it down. It basically provided the service as a public good, and now that most of the public no longer needs it, it makes sense for Google to stop paying for it. Instead of blasting Google for discontinuing SMS search, let's take a second to appreciate the fact that it continued providing it long after most of us had forgotten it existed.
 | 
Posted Friday, May 10, 2013, at 2:24 PM
Before the industrial revolution, the proportion of carbon dioxide in Earth's atmosphere hovered around 280 parts per million. In 1958, when scientists began measuring average carbon dioxide levels at an observatory on Mauna Loa in Hawaii, that figure was around 320 ppm.
The last time carbon dioxide levels were this high, Australopithecus was sharing the earth with mammoths and saber-tooth tigers.
For now I'll just present you with this simple chart, which shows our stunning progress from pre-industrial carbon-dioxide levels toward the limit of 450 ppm that the Intergovernmental Panel on Climate Change has warned is necessary to have any significant hope of limiting global warming to 2 degrees Celsius.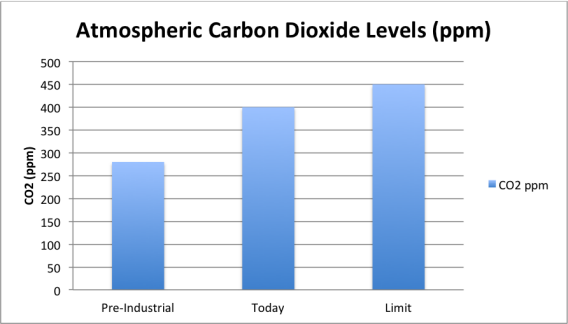 The IPCC has estimated that 450 ppm is the limit beyond which it is likely that the earth will warm by more than 2 degrees celsius, with potentially disastrous results. We're getting there.

 | 
Posted Friday, May 10, 2013, at 1:31 PM
The NSA probably has some good Internet researchers. But its 2007 guide is hardly helpful.
Photo by PAUL J. RICHARDS/AFP/Getty Images
As Wired reported yesterday in an item titled "Use These Secret NSA Google Search Tips to Become Your Own Spy Agency," the NSA just released a 643-page in-house guide to Internet research following a FOIA request made by MuckRock in April. Given the provenance of Untangling the Internet: A Guide to Researching the Internet, one might be tempted to regard the imposing document as the ultimate manual for tech-assisted espionage of the highest caliber. Like Wired, Gizmodo went so far as to urge readers to check out the book if they want to "use the internet like a spy." Indeed, the guide does contain an exhaustive section of useful, lesser-known Google hacks, and one could certainly do worse than read its advice for avoiding computer viruses and Internet scams. Nevertheless, a careful perusal of Untangling the Internet will reward the reader not so much with secret recipes for Internet wizardry as with well-known tips geared to technologically challenged bureaucrats.
But the guide, which was published internally in 2007, won't just make you weep about technological incompetence within our government. Less depressingly, it shows just how much the Internet has changed in only six short years.
Read More »
 | 
Posted Friday, May 10, 2013, at 12:22 PM
The Tesla Model S is introduced at the 2013 North American International Auto Show in Detroit on Jan. 15.

Photo by Stan Honda/AFP/Getty Images
Lest you think the reviewers are giving the car a break for being electric, Consumer Reports' head of auto testing told CNN it was actually the opposite: "If it could recharge in any gas station in three minutes, this car would score about 110," he said, adding that its performance was "off the charts." The Model S got top marks for, among other things, acceleration, braking, ride quality, and pinpoint handling. In its official review, the normally restrained magazine enthused, "It's what Marty McFly might have brought back in place of his DeLorean in Back to the Future."
All of which raises a question that sounds hyperbolic, but really is not: Is the Tesla Model S the best car ever made?
So is the Tesla Model S the best car ever? We wrestled with that question long and hard. It comes close. And if your needs are confined to the Tesla's driving range, it just may be. But for many people, the very thing that makes cars great is the ability to jump in and drive wherever you want on the map at a moment's notice. And on that measure the Tesla has its limitations.
Fair enough. But I have a shorter answer, and that is: not yet. Easily overlooked in the excitement over Consumer Reports' review is the fact that the magazine hasn't actually given the car its iconic stamp of approval—the little red check mark signifying a product that's "recommended." That's because, no matter how it performs on the track, a car can't earn that distinction until the magazine has enough data to judge its reliability. The Model S is too new to be eligible.
Automotive history is littered with cars that dazzled at the outset but fizzled due to maintenance problems. So far, there's no indication that will happen to the Model S. But until we know for sure that the car holds up over time, let's hold off on the "best-ever" superlatives and just enjoy the ride.
 | 
Posted Friday, May 10, 2013, at 11:36 AM
IKEA-assembling robots could save untold relationships
Photo by PASCAL GUYOT/AFP/Getty Images
Last week at the IEEE International Conference on Robotics and Automation, researchers from MIT demonstrated how a tag team of KUKA youBots can figure out how to assemble an IKEA Lack table without ripping the directions out of each other's hands even once. "Just like many Americans would do, we throw out that instruction book," Ross Knepper, a postdoctoral student at MIT, says in a video recorded at the conference.
The robots assemble the table using only CAD files that describe the pieces they have to work with and a geometric reasoning system that helps them figure out what pieces go where. The little guys don't even start off with a preprogrammed destination or finished product in mind—they just figure out what the pieces should create. Watch them in action:
The robots divide labor according to which unit is best suited for each task, presumably without the least bit of passive-aggressiveness. MIT even created a special arm attachment made of magnets and rubber bands that allows one of the bots to turn the table's legs.
When the robot couple is finished, they work together to turn the table right-side-up—a task neither could complete on its own. There is no high-five. Nor does the video show the robots spending hours rearranging everything else in the room to accommodate the new table.
This isn't the first IKEA robotics project we've seen. A month ago, the Italian Institute of Technology had taught a robot to hold the other end of an IKEA piece so your human arms were free to fumble with Allen wrenches, making a highly expensive piece of technology about as useful as your buddy that only shows up for the free moving day pizza and beer.
In the future, the MIT team intends to generalize the collaboration so the robots can assemble all sorts of furniture. How many marriages will the IkeaBot system save? Only time will tell.
 | 
Posted Thursday, May 9, 2013, at 5:11 PM
A demonstration against the government regime of President Bashar al-Assad in the northern Syrian city of Marea in August 2012

Photo by ACHILLEAS ZAVALLIS/AFP/Getty Images
On May 7 at 3 p.m., for the second time in six months, Syria's connection to the global Internet was severed. Web traffic in and out of Syria dropped to zero, according to several monitoring companies and the Google traffic report. The Syrian government attributed the outage to a cut cable, but analysis by some security experts suggested a coordinated effort by the Syrian government similar to a previous 48-hour outage in November 2012.
Amid Syria's mounting crisis, with 70,000 dead, upward of 1 million refugees, alleged use of chemical weapons, and recent Israeli airstrikes, 19 hours of network downtime may seem like a relatively minor matter. But the information blackout that results has real costs. And although total shutdowns, like in Syria and in Egypt at the height of the revolution, are the stories that capture headlines, targeted shutdowns of communications networks appear to be a government option of increasingly popular resort, for responding to revolutions, elections, riots, protests, or terrorism.
Read More »
 | 
Posted Thursday, May 9, 2013, at 4:35 PM
With a Stingray, even innocent bystanders' mobile communications could be collected by law enforcement
Photo by NICOLAS ASFOURI/AFP/Getty Images
Back in March, the FBI was accused of hiding information from judges when seeking authorization for a clandestine cellphone tracking device called the "Stingray." But now a judge has ruled that the feds' use of the surveillance tool was lawful in a case that could have wider ramifications for law enforcement spy tactics.
The Stingray, sometimes described as an "IMSI catcher," is a transceiver used by the FBI to locate suspects. As I have reported here previously, it sends out a signal that tricks phones within a targeted area into hopping onto a fake network. Civil liberties groups have challenged the lawfulness of the Stingray's deployment, particularly because it intentionally gathers data from innocent bystanders' phones and interferes with signals in a way that may be barred under a federal communications law. Documents released under the Freedom of Information Act have also appeared to show that the FBI knows its use of the device is in shaky legal territory. The technology has been used in some capacity by the feds for almost two decades, but only recently has it garnered attention, in part because of a court case in Arizona—U.S. v. Rigmaiden.
The ACLU had argued that evidence gleaned from a Stingray to track down Daniel Rigmaiden, who is accused of conspiracy, wire fraud, and identity theft, should be suppressed. The rights group alleged that when the FBI sought authorization to use the Stingray, it concealed information about the device. In an amicus brief, the ACLU wrote that "[b]y failing to apprise the magistrate that it intended to use a stingray, what the device is, and how it works, it prevented the judge from exercising his constitutional function of ensuring that warrants are not overly intrusive and all aspects of the search are supported by probable cause."
But on Wednesday, Judge David Campbell dismissed the motion to suppress. Campbell concluded that the warrant was valid and that the suspect "did not have an expectation of privacy society is willing to accept as legitimate." Campbell wrote that the suspect could not "credibly argue that he had a legitimate expectation of privacy" because he had allegedly rented his apartment and purchased his computer fraudulently using false identities. The judge also added that the use of the Stingray did not constitute a "severe intrusion" and ultimately held that "no Fourth Amendment violation occurred."
The ACLU responded with dismay, stating that it believes the ruling "trivializes the intrusive nature of electronic searches and potentially opens the door to troubling government misuse of new technology." Linda Lye, staff attorney at ACLU, wrote in a blog post that the group was particularly disgruntled that the judge appeared to dismiss the significance of the Stingray's ability to scoop up data from innocent third parties, which the ACLU believes the feds do not fully disclose. Campbell's approval of the Stingray in the Rigmaiden case, Lye wrote, sends the message that it is "alright to withhold information from courts about new technology, which means that the law will have an even harder time catching up."
Incidentally, new FBI documents related to the Stingray were released by the Electronic Privacy Information Center on Wednesday. Four hundred pages of heavily redacted files, some marked "secret," join several other batches that have been released by the rights group as part of ongoing Freedom of Information Act litigation. Of particular note in the latest trove are documents that show the FBI has been imposing nondisclosure agreements on its staff in order to prevent public disclosure of any information related to the spy technology.
 | 
Posted Thursday, May 9, 2013, at 3:56 PM
Snapchat's users shouldn't be shocked to find that their images can be recovered even after they "self-destruct"—but they will be anyway.
Sylvie Bouchard/Shutterstock.com

The premise of Snapchat is simple: Send a photo or short video to a friend, and it will self-destruct after 10 seconds. That way, it won't wind up on the Internet and ruin anyone's reputation, friendships, or career.
Needless to say, that has made it a wildly popular choice for sexting. But Snapchat's appeal goes far beyond that. In an age in which "privacy" and "technology" have become almost antonymous, it has been billed as the anti-Facebook—a communications tool that deletes your data rather than preserving, analyzing, and trading on it. In short, it's supposed to make messaging fun again.
But the app's security has never been ironclad. As the media have repeatedly warned parents, and parents in turn warned their kids, message recipients can still save a compromising image by taking a quick screenshot. But Snapchat tries to mitigate the risk somewhat by automatically notifying the sender when that happens. If someone screenshots you, it's a virtual slap in the face. If they don't, you can assume you're in the clear.
Except that apparently you can't. KSL-TV in Utah reports that an Orem-based firm called Decipher Forensics has figured out a way to recover supposedly deleted images from the recipient's phone. The process isn't simple: 24-year-old Decipher forensics examiner Richard Hickman told the network that it takes him about six hours, on average, to image the phone's data. So far he can only do it with Android devices, though he's working on doing the same for iOS. But his firm is now offering to perform the recovery procedure for anyone who wants it, from parents to lawyers to the police, for $300 to $500.
She has a point. Forensic software can also recover lots of other things you thought you had deleted from your phone or computer, provided the data hasn't yet been overwritten by other files. The reason we don't all live in fear of this happening is because it requires someone to take possession of your device, then spend a bunch of time and money combing through the hidden data. If they can do that, odds are you have other security problems on your hands besides the potential recovery of some embarrassing snapshots.
Still, Snapchat's users are unlikely to be mollified if it turns out their nude selfies have been preserved for posterity after all.
If Snapchat's young founders soon find themselves on the wrong end of a successful lawsuit, the lesson won't be that they failed at protecting their users' privacy. It will be that it's dangerous to build a business on the illusion of privacy in the first place.
 | 
Posted Thursday, May 9, 2013, at 1:20 PM
A pickup truck with a snowman in the back drives through the snow on Feb. 26 in Kansas City, Missouri.

Photo by Jamie Squire/Getty Images
March was pretty cold this year, and you know what that means: Global warming is a hoax!
OK, that isn't actually what it means. But for a depressingly significant number of Americans, the nippy weather was apparently reason enough to decide that climate change isn't a real thing after all. Yale's latest survey of public opinion on climate change found that the percentage of Americans who believe global warming is happening has dropped to 63 percent from 70 percent just last fall. This is the unfortunate corollary to the post I wrote last July, when tornados and scorching temperatures were driving belief in climate change to the highest levels since 2008.

Some of it is just seasonal variation: Unscientific as it may be, people are more likely to worry about climate change when it's warm outside than when there's a chill in the air. But the 63 percent figure is also lower than the proportion of Americans who believed in climate change at the same time a year ago, at the conclusion of an unusually mild winter. That 3 percent difference is right at the survey's margin of error, but it may suggest that an unusually snowy March has changed at least some people's minds about the underlying phenomena.
This is all very frustrating for those of us whose belief that the climate is changing is based largely on the overwhelming consensus of scientists who spend their lives studying exactly that.
But I'd submit that we should stop worrying so much about the minority of Americans who don't believe global warming is happening. After all, most of us aren't really qualified to make that judgment on our own, especially since the trend is so gradual as to be impossible to observe on a day-to-day or even year-to-year basis. Instead, we should worry more about the stunning 58-percent majority who don't agree that "most scientists think global warming is happening." That is demonstrably false, and testifies to a fundamental failure of communication on the part of the media coupled with widespread scientific illiteracy among the public.
 | 
Posted Thursday, May 9, 2013, at 10:30 AM
A rally against Syrian President Bashar al-Assad in Rome
Photo by FILIPPO MONTEFORTE/AFP/Getty Images
In June 2011, just a few short months after protests first erupted in Syria, the country's president, Bashar Al-Assad, made a speech in which he thanked a group called the "Syrian Electronic Army" (SEA). Calling it a "virtual army in cyberspace," Al-Assad praised the group for its effort in trying to shape the Syrian narrative. Since then, that effort has included taking over the Facebook pages of celebrities from Oprah to Nicolas Sarkozy, hacking the website of Harvard University, and setting up a fake YouTube site to intercept the credentials of users who attempted to log in.

Since its early days, the SEA has used a variety of tactics to gain attention for its cause, but its practice of hacking the Twitter accounts of news organizations, probably by phishing their passwords, seems to have been its biggest success. It has successfully infiltrated the accounts or websites of NPR, BBC Weather, AP, E! News, and, this week, the Onion. But why?
In some cases, like NPR or the AP, the goal may be to counter reporting that the SEA feels put the Syrian uprising in a too-positive light. Still, the impetus behind other hacks—such those targeting E! News or Oprah—is less clear.
Despite Assad's speech, it's not even clear exactly how the SEA is related to Assad's regime. Some have surmised that the SEA is in fact leaderless. If the SEA is leaderless and distributed, like the hacktivist group Anonymous (whose internal motto is "Anonymous is not unanimous"), participants may be free to initiate or take part in hacks that don't necessarily serve the central goals of the group. But others, such as researcher Helmi Noman, have made connections between the SEA and the Syrian government itself. In a paper released in May 2011, Noman found that the SEA's original websites were hosted on Syria's national networks. Noman has also found connections between the SEA and the Syrian Computer Society, which in the 1990s was headed by Al-Assad himself. In a recent BBC interview, however, Noman noted that the connections do not go much beyond "tacit support." Either way, it may be that the SEA perceives entertainment sites like E! and the Onion to be platforms with sufficient reach to serve their goals. And in this case, the goal may just be getting their name out.
While Facebook has been quick to respond to attacks by the SEA on user pages, and some hosting services have booted them from their networks citing sanctions, Twitter is struggling to grapple with the phishing attacks that have plagued some of its high-profile users. While there are technical strategies Twitter could employ to mitigate the potential of such attacks—such as instituting two-step authentication for its users—the ease with which the SEA seems to have conducted its attacks raises the need for more security training amongst the journalistic community.
News organizations have struggled with the embarrassment of being compromised, and in at least one case, economic fallout: After the AP account—compromised by the SEA—falsely tweeted about an attack on the White House, caused a drop of $136.5 billion for the company on the S&P 500 index. Others have merely apologized for their false tweets, while this week the Onion responded by publishing a biting piece of satire entitled "Syrian Electronic Army Has A Little Fun Before Inevitable Upcoming Deaths At Hands Of Rebels."
Apart from increased security on sites like Twitter, there seems to be little that can be done to prevent the Syrian Electronic Army's attacks. Though some members may be located outside of Syria—one Facebook group calls itself the Australian 4th Brigade of the SEA—and could thus be prosecuted under local laws, there is not much that can be done to go after hackers inside of Syria, particularly given the regime's apparent support.