| 
Posted Tuesday, May 14, 2013, at 1:18 PM
Screenshot from Geography of Hate
Courtesy Floating Sheep.

Last week, the Floating Sheep website released a heat map called Geography of Hate, which plots the density of geotagged hate-tweets in the United States. (You may remember these guys from previous user-generated, geocoded projects such as Post Election Racist Tweets and the Great American Pizza Map.) As you can probably guess, the results are none too pretty.
The map allows you to sort for tweets that reflect homophobic, racist, or anti-disability attitudes. Within each category, you can also drill down another level to see, say, how many people are negatively tweeting the word spick—most of whom seem to live on the border between West Virginia and Kentucky.
The fact that some people are racist—or say appalling things on social media—should not surprise anyone. What is interesting, however, is the broad dispersal of hate. Really, the only term with an overwhelming geographic tendency is the affinity Texans apparently have for the word wetback. On the other hand, all you need to see to understand the state of racism in America is to filter for the N-word and watch half the country turn red. And not the half you'd necessarily think. The North appears to be just as racist as the South. It was disappointing for me to see my state, Pennsylvania, bathed in red hate. (Note: If you spend a little bit of time playing with the map, you'll notice some weird things—like how apparently no one is racist in California and how people in northeastern Montana really hate cripples. The map's creators performed all sorts of statistical gymnastics to ensure the project wasn't skewed by population or just a few crazies in a given city. To learn more about the math, check out their blog.)
This effort is interesting because it forces us to confront the degree of racism that still exists. Another project that does this well is journalist Logan Smith's Twitter handle @YesYoureRacist. The premise for the account is simple: Smith retweets people who say something along the lines of "I'm not racist, but …" and then go on to say unthinkably racist things. Classic hits include people who "aren't racist" but think interracial couples are wrong, critics of other races' driving abilities, and those afraid of anyone who looks Middle Eastern.
"We are most definitely not living in a post-racial society," Smith told me. "And publicizing these statements helps others understand that. Hopefully, it spurs the conversation toward changing that or at least educating people on what racism means at the very least."
Smith's account has more than 30,000 followers, many of whom "blow up" the offending person's account with replies and retweets. A vast majority of this conversation centers around the question of what qualifies as racism. And while Smith doesn't hold any grand illusions about winning over the people he retweets or "ending racism" as a whole, he sees the handle as a way to get people talking. (He's also in the process of writing a book about the experience.)
"I'm a firm believer that you have the right to say whatever you want and with that right you have the responsibility to accept the consequences of what you say," Smith told me. "If you're dumb enough to post an obviously racist statement on a public website, you deserve to be called out on it and for your ignorance to be on display."
This whole post could be filed under "Obvious" if you deal with racism, sexism, ableism, homophobia, or other varieties of discrimination on a daily basis. But the point of these projects is to reach the many folks out there unaffected by such hate and likely to underestimate its prevalence.
Just spend five minutes looking at the #NotRacist hash tag on Twitter. There's a lot of work left to be done.
 | 
Posted Tuesday, May 14, 2013, at 11:09 AM
The final section of spire is installed atop One World Trade Center
Photo by the Port Authority of New York and New Jersey via Getty Images
Lucky for you and me, someone decided to slap a high-definition camera on that bugger as it went up, so we have nine glorious minutes of looking down at New York City from a vantage point previously reserved for the likes of King Kong, Spider-Man, and a handful of dudes from the Port Authority of New York and New Jersey.
A day may come when we tire of putting GoPro cameras on everything high and low, but it is not this day.
 | 
Posted Monday, May 13, 2013, at 6:55 PM
Tesla sells its Model S online and has showrooms in several states, but North Carolina wants to prohibit the company from selling cars unless it goes through third-party dealerships.

Photo by Justin Sullivan/Getty Images
The proposal, which the Raleigh News & Observer reports was unanimously approved by the state's Senate Commerce Committee on Thursday, would apply to all car manufacturers, but the intended target is clear. It's aimed at Tesla, the only U.S. automaker whose business model relies on selling cars directly to consumers, rather than through a network of third-party dealerships.
The bill is being pushed by the North Carolina Automobile Dealers Association, a trade group representing the state's franchised dealerships. Its sponsor is state Sen. Tom Apodaca, a Republican from Henderson, who has said the goal is to prevent unfair competition between manufacturers and dealers. What makes it "unfair competition" as opposed to plain-old "competition"—something Republicans are typically inclined to favor—is not entirely clear. After all, North Carolina doesn't seem to have a problem with Apple selling its computers online or via its own Apple Stores.
Tesla's vice president of corporate and business development, Diarmuid O'Connell, told me he's hopeful that the state legislature will amend the bill so that it doesn't prohibit Tesla from doing business there. He said the company has already sold 80 cars in North Carolina, mostly through the Web, and has about 60 more orders in the works. It also has plans to build its first showroom in the state next year. The Raleigh-Durham Research Triangle in particular appears to be a hotbed of Tesla interest, O'Connell said, which makes sense given its similarities to Silicon Valley.
Tesla's O'Connell rejects the idea that laws prohibiting automakers from selling their cars are designed to protect consumers, as trade groups like the North Carolina dealers' association claim. He says the franchise-dealer model might work fine for giant automakers, but not for a startup like Tesla—especially since Tesla's products represent a challenge to the traditional auto industry on which dealerships rely. "How do you sell the future if your business depends on the present?" he asked.
Robert Glaser, president of the dealers association, told the News & Observer that the law prohibiting Tesla sales isn't just about his industry's self-interest. Pointing to the Tesla representatives at a recent hearing, he said, "You tell me they're gonna support the little leagues and the YMCA?"
If that's the real issue, then I may have some good news for all concerned: I asked O'Connell, and he assured me Tesla would be happy to support the little leagues and the YMCA if that's what North Carolina requires in order to do business there. Problem solved! Right, Mr. Glaser?
 | 
Posted Monday, May 13, 2013, at 5:35 PM
Federico Zannier is selling his personal data on Kickstarter to make a point about privacy

Photo courtesy Federico Zannier

Federico Zannier is trying to find out. Emails, chat logs, location data, browser history, screenshots—you name it, the New York-based software developer is selling it all. With a Kickstarter campaign launched earlier this month, Zannier, a 28-year-old Italian-born master's student at NYU, is offering to hand over a day's digital footprint for a measly $2. He says he "violated his own privacy" starting back in February for about 50 days straight, recording screenshots and webcam snaps of himself every 30 seconds and tracking his every footstep using GPS technology. He logged the address of each Web page he visited—storing some 3 million lines of text—and accumulated a massive trove of 21,124 webcam photos and 19,920 screen shots.
Zannier's aim, somewhat paradoxically, is to take ownership of his own data by selling it. He points out that we often hand over our private data unwittingly, given that few people take the time to read the terms and conditions of apps and online services. Companies rake in millions of dollars selling our information to marketing firms while we receive little in return. But Zannier's Kickstarter is not just out to make a statement about online privacy—he plans to use the funds to create a browser extension and a smartphone app that he says will help others sell their own data. "If more people do the same, I'm thinking marketers could just pay us directly for our data," he writes on his Kickstarter page. "It might sound crazy, but so is giving all our data away for free."
Since launching last week, Zannier's project, which is accompanied by an excellent website, has already far exceeded its modest funding goal of $500. He has currently raised more than $1,000, with 103 backers. For $2 you can get a day's worth of his data, or for $200 you can obtain the lot—the full 7GB trove spanning nearly two months.
What isn't directly addressed by Zannier's interesting initiative is its potential effect on the privacy of others. What he is proposing to do is essentially encourage people to install spyware on their own computer so that they can log their online behavior and then sell this information on to a third party. But this could have many hazards. Selling email and chat logs, for instance, could implicate friends, colleagues, and family—who may not consent to having their private correspondence sold off to the highest bidder. Each user would have to carefully vet the data logs before selling them to ensure no confidential communications, financial records, passwords, or photographs were exposed.
Zannier told me by email that he has kept "other people's privacy out of the data." As for his own personal data, however, could there be a few embarrassing nuggets in the trove? He hints that he might have been careful to avoid doing anything too risqué online while undertaking the project. "I've tried not to censor myself, but I am being careful to remove passwords and other sensitive information," he says. "Knowing you're being tracked does change the way you browse the Internet, of course."
 | 
Posted Monday, May 13, 2013, at 12:50 PM
R.I.P. Google SMS search
Screenshot

Users of Google's once-popular SMS search function found last week that texting search queries to 466453—"GOOGLE" on alphanumeric keypads—no longer works. Instead of texting back search results, Google responds with a short message noting that the service "has been shutdown" (sic) and that you can continue to search the Web by visiting google.com (duh). Meanwhile, the Web page that used to explain how SMS search works appears to have been taken down entirely.
For the majority of Americans who own smartphones, this would seem unlikely to come as a major blow. That hasn't stopped people from griping about the move on Google product forums, though. The annoyance from folks who still have feature phones without data plans is understandable, given that Google apparently gave no advance warning. But the legitimate frustrations seem to be mixing with generalized ill will toward Mountain View from people who haven't used SMS search in years, if they ever did.
I remember SMS search as a pretty handy trick on my old flip-phone. It offered a way to quickly and easily look up directions, phone numbers, or the score of a game on a phone that either couldn't browse the Web or took forever to load a page. Still, it's hard to blame Google for shutting it down. It basically provided the service as a public good, and now that most of the public no longer needs it, it makes sense for Google to stop paying for it. Instead of blasting Google for discontinuing SMS search, let's take a second to appreciate the fact that it continued providing it long after most of us had forgotten it existed.
 | 
Posted Friday, May 10, 2013, at 2:24 PM
Before the industrial revolution, the proportion of carbon dioxide in Earth's atmosphere hovered around 280 parts per million. In 1958, when scientists began measuring average carbon dioxide levels at an observatory on Mauna Loa in Hawaii, that figure was around 320 ppm.
The last time carbon dioxide levels were this high, Australopithecus was sharing the earth with mammoths and saber-tooth tigers.
For now I'll just present you with this simple chart, which shows our stunning progress from pre-industrial carbon-dioxide levels toward the limit of 450 ppm that the Intergovernmental Panel on Climate Change has warned is necessary to have any significant hope of limiting global warming to 2 degrees Celsius.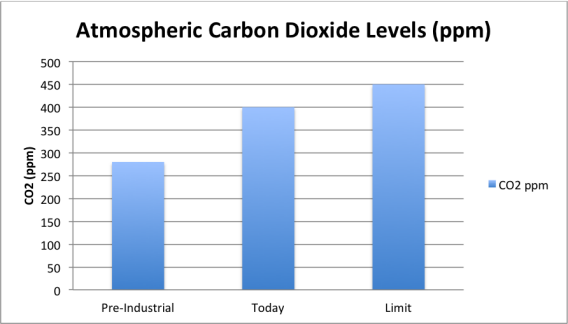 The IPCC has estimated that 450 ppm is the limit beyond which it is likely that the earth will warm by more than 2 degrees celsius, with potentially disastrous results. We're getting there.

 | 
Posted Friday, May 10, 2013, at 1:31 PM
The NSA probably has some good Internet researchers. But its 2007 guide is hardly helpful.
Photo by PAUL J. RICHARDS/AFP/Getty Images
As Wired reported yesterday in an item titled "Use These Secret NSA Google Search Tips to Become Your Own Spy Agency," the NSA just released a 643-page in-house guide to Internet research following a FOIA request made by MuckRock in April. Given the provenance of Untangling the Internet: A Guide to Researching the Internet, one might be tempted to regard the imposing document as the ultimate manual for tech-assisted espionage of the highest caliber. Like Wired, Gizmodo went so far as to urge readers to check out the book if they want to "use the internet like a spy." Indeed, the guide does contain an exhaustive section of useful, lesser-known Google hacks, and one could certainly do worse than read its advice for avoiding computer viruses and Internet scams. Nevertheless, a careful perusal of Untangling the Internet will reward the reader not so much with secret recipes for Internet wizardry as with well-known tips geared to technologically challenged bureaucrats.
But the guide, which was published internally in 2007, won't just make you weep about technological incompetence within our government. Less depressingly, it shows just how much the Internet has changed in only six short years.
Read More »
 | 
Posted Friday, May 10, 2013, at 12:22 PM
The Tesla Model S is introduced at the 2013 North American International Auto Show in Detroit on Jan. 15.

Photo by Stan Honda/AFP/Getty Images
Lest you think the reviewers are giving the car a break for being electric, Consumer Reports' head of auto testing told CNN it was actually the opposite: "If it could recharge in any gas station in three minutes, this car would score about 110," he said, adding that its performance was "off the charts." The Model S got top marks for, among other things, acceleration, braking, ride quality, and pinpoint handling. In its official review, the normally restrained magazine enthused, "It's what Marty McFly might have brought back in place of his DeLorean in Back to the Future."
All of which raises a question that sounds hyperbolic, but really is not: Is the Tesla Model S the best car ever made?
So is the Tesla Model S the best car ever? We wrestled with that question long and hard. It comes close. And if your needs are confined to the Tesla's driving range, it just may be. But for many people, the very thing that makes cars great is the ability to jump in and drive wherever you want on the map at a moment's notice. And on that measure the Tesla has its limitations.
Fair enough. But I have a shorter answer, and that is: not yet. Easily overlooked in the excitement over Consumer Reports' review is the fact that the magazine hasn't actually given the car its iconic stamp of approval—the little red check mark signifying a product that's "recommended." That's because, no matter how it performs on the track, a car can't earn that distinction until the magazine has enough data to judge its reliability. The Model S is too new to be eligible.
Automotive history is littered with cars that dazzled at the outset but fizzled due to maintenance problems. So far, there's no indication that will happen to the Model S. But until we know for sure that the car holds up over time, let's hold off on the "best-ever" superlatives and just enjoy the ride.
 | 
Posted Friday, May 10, 2013, at 11:36 AM
IKEA-assembling robots could save untold relationships
Photo by PASCAL GUYOT/AFP/Getty Images
Last week at the IEEE International Conference on Robotics and Automation, researchers from MIT demonstrated how a tag team of KUKA youBots can figure out how to assemble an IKEA Lack table without ripping the directions out of each other's hands even once. "Just like many Americans would do, we throw out that instruction book," Ross Knepper, a postdoctoral student at MIT, says in a video recorded at the conference.
The robots assemble the table using only CAD files that describe the pieces they have to work with and a geometric reasoning system that helps them figure out what pieces go where. The little guys don't even start off with a preprogrammed destination or finished product in mind—they just figure out what the pieces should create. Watch them in action:
The robots divide labor according to which unit is best suited for each task, presumably without the least bit of passive-aggressiveness. MIT even created a special arm attachment made of magnets and rubber bands that allows one of the bots to turn the table's legs.
When the robot couple is finished, they work together to turn the table right-side-up—a task neither could complete on its own. There is no high-five. Nor does the video show the robots spending hours rearranging everything else in the room to accommodate the new table.
This isn't the first IKEA robotics project we've seen. A month ago, the Italian Institute of Technology had taught a robot to hold the other end of an IKEA piece so your human arms were free to fumble with Allen wrenches, making a highly expensive piece of technology about as useful as your buddy that only shows up for the free moving day pizza and beer.
In the future, the MIT team intends to generalize the collaboration so the robots can assemble all sorts of furniture. How many marriages will the IkeaBot system save? Only time will tell.
 | 
Posted Thursday, May 9, 2013, at 5:11 PM
A demonstration against the government regime of President Bashar al-Assad in the northern Syrian city of Marea in August 2012

Photo by ACHILLEAS ZAVALLIS/AFP/Getty Images
On May 7 at 3 p.m., for the second time in six months, Syria's connection to the global Internet was severed. Web traffic in and out of Syria dropped to zero, according to several monitoring companies and the Google traffic report. The Syrian government attributed the outage to a cut cable, but analysis by some security experts suggested a coordinated effort by the Syrian government similar to a previous 48-hour outage in November 2012.
Amid Syria's mounting crisis, with 70,000 dead, upward of 1 million refugees, alleged use of chemical weapons, and recent Israeli airstrikes, 19 hours of network downtime may seem like a relatively minor matter. But the information blackout that results has real costs. And although total shutdowns, like in Syria and in Egypt at the height of the revolution, are the stories that capture headlines, targeted shutdowns of communications networks appear to be a government option of increasingly popular resort, for responding to revolutions, elections, riots, protests, or terrorism.
Read More »