The Citizen's Guide to the Future
What to Expect From the Coming Thanksgiving Nor'easter
Winter weather watches and warnings have already been posted from North Carolina to Maine, and the National Weather Service is calling for "significant impacts which will disrupt travel." Heck, they're even sending the Hurricane Hunters out into this storm:
Hurricane Hunters to fly tomorrow, gathering data ahead of impending WINTER storm. Quite early for a winter storm mission.

— Michael Lowry (@MichaelRLowry) November 24, 2014
The airlines have already announced a plan to waive change fees, and with the snowstorm expected to peak during Wednesday afternoon and evening, I'm expecting airline delays will be measured in hours, not minutes. Low visibility and clouds hovering near the ground—exactly the conditions that are expected in this snowstorm—can force airports to restrict the rate of aircraft arrivals in half.
But, as always, most of us will be traveling by car. AAA estimates 41 million of the more than 46 million travelers this weekend will be going by road, the most in nearly a decade. As we saw last week in Buffalo, intense snowfall rates can quickly overwhelm highway crews, and you don't want to be spending your holiday in a snowdrift. (But to be fair, 1 foot of snow is much different than 7.)
The brunt of this storm will be felt north of Philadelphia. If you're in New York City and don't have to travel: congratulations! You've got a nice long weekend of snowball fights and hot beverages ahead of you. If you're in central Massachusetts (basically anywhere west of Cambridge), well, you may not be going anywhere for a while.
What follows is a breakdown of what to expect from this storm throughout the Northeast. I'll also be running a live blog all day Wednesday to keep track of latest developments.
The storm starts as rain in the Boston area on Wednesday morning, quickly changing over into snow and peaking Wednesday evening, with snow continuing until Thursday morning. Snowfall rates could reach two inches per hour at the peak.
There should be significant banding and even localized brief whiteout conditions with this storm in the interior. At the coast and on the Cape, this will be a strong rainstorm. Expect coastal wind gusts in excess of 60 mph. The city of Boston, and I-95 in general, forms an approximate boundary between the two, with most of Boston on the snowy side.
If you're in New England and don't have to travel, don't.
As it turns out, this storm is taking an ideal track for heavy snow in New York City—with the center passing over the 40°N/70°W benchmark.
The storm will likely be a mostly snow event for New York City, starting by daybreak Wednesday morning, peaking Wednesday afternoon, and continuing until early Thursday morning. Some sleet may mix in at times.* There will be less snow on Long Island, because temperatures will be just 1 or 2 degrees warmer. The result will be mostly slush from JFK to Montauk. The latest models have shown a potential for banding and heightened totals directly over the city, so there's still a bit of a wild card in play. Anything from 4 inches to a foot is possible in Manhattan.
The storm starts as rain in the Philadelphia area on Tuesday night, with accumulating snow starting by Wednesday morning and continuing until Wednesday evening. Timing may keep snow totals from getting too high in Philadelphia: The heaviest snow is expected during the daylight hours on Wednesday, and those 2 or 3 degrees of additional warming may be enough to melt much of it before it reaches the ground. The result may be, according to the local National Weather Service office, "sloppy, wet snow that could cling to trees and wires and obscure road signs." Power outages are a concern should snow totals come in just a bit above the current forecast—and the NWS says 3 to 6 inches in Philadelphia is definitely possible.
SUGGEST TRAVEL INTO EASTERN PENNSYLVANIA AND NORTHWEST NEW JERSEY BE COMPLETED NO LATER THAN 7 AM WEDNESDAY, OR WAIT TIL AFTER 7 PM WEDNESDAY NIGHT (IE...AFTER ROADS ARE CLEANED UP/CLEARED OF SLUSHY SNOW). ITS THAT 12 HOUR WINDOW DURING THE DAY WEDNESDAY THAT IS GOING TO BECOME A SIGNIFICANT TRAVEL PROBLEM, ESPECIALLY THE HILLY AREAS.
Washington, D.C., and Baltimore
The storm starts as rain early Wednesday morning in Washington and Baltimore and will likely morph into a slushy snow by midafternoon. There could be some nice big snowflakes as the storm winds down, but don't expect them to accumulate much on the ground. You'll probably have to go to higher elevations to build a snow fort. Keep in mind, Washington hit a record high of 74 degrees on Monday.
Even if you're not on the East Coast, it's likely that this storm will impact your journey to Grandma's house if you're going by plane. Airlines run a tight schedule around the holidays, and this is just the kind of storm that could cause cascading delays coast to coast.
One place where snow won't cause travel delays is Alaska. At the Alyeska ski resort just outside of Anchorage, there hasn't been enough snow for a traditional Thanksgiving Day opening. What's more, it's been too warm even to make snow. According to KTUU in Anchorage, this weekend local ski shops are planning to promote mountain biking instead.
Update, Nov. 25, 4:15 p.m.: This post was updated to include new snow maps for Philadelphia, New York City, and the Washington, D.C., area. It was also updated to include new travel advice for eastern Pennsylvania/northwest New Jersey and to note that the latest forecasts call for New York City to receive mostly snow; previous forecasts suggested it would be a snow-only event.

You Might Need a Pilot's License to Fly Commercial Drones Under Rumored FAA Proposal
The Federal Aviation Administration has needed to set drone regulations for, ahem, years, and now it seems like it's finally on their way. But drone advocates may not be happy.
On Monday the Wall Street Journal published a report about the direction the FAA proposal seems to be going in. Sources told the Journal that the agency will require drone operators to have a license, to fly drones during the day below 400 feet, and to keep the drones in the operators' sights at all times. Drones will also be put in broad weight categories, so, for example, a 2-pound drone and a 50-pound drone would be regulated the same way.
Sources said that the licenses would probably require people to spend hours learning to fly normal planes. The Journal points out that drone advocates have been lobbying against a traditional pilot training requirement for people who only want to fly drones. The FAA already required pilot's licenses when, earlier this year, it granted exemptions to six film companies, allowing them to use drones on set.
But the FAA has a lot to manage and seems tentative about issuing loose rules. The agency told the Journal in a statement that it is working to "integrate unmanned aircraft into the busiest, most complex airspace system in the world—and to do so while we maintain our mission—protecting the safety of the American people in the air and on the ground. That is why we are taking a staged approach to the integration of these new airspace users."
On the other hand, many drones have real-time, first-person viewing tech that allows operators to have accurate and intuitive information about exactly where the drone is going and what it's doing. Drone advocates say that all the different tracking and sensor technologies available make a pilot's license unnecessary for flying a drone. Proponents also note that only being able to fly drones during the day in an operator's line of site pretty heavily limits the usefulness of drones for things like large-scale surveying of land or structures.
Drone advocate Michael Drobac, who is the executive director of the Small UAV Coalition, is struggling to stay positive. "I feel like there's a colossal mess coming," he said.

Politicians, Please Stop Blaming Meteorologists for Inept Storm Response
During a weekend press conference in Buffalo, New York Gov. Andrew Cuomo shot a dagger through the heart of meteorologists:
Cuomo said that "no one had an idea" that Buffalo was in for such a wallop and that the National Weather Service "was off" on its forecasts.
Well, Mr. Governor, the National Weather Service wasn't off. In fact, if you look back at official forecasts in the days and hours leading up to the first flakes, it was pretty much spot-on—nailing the 5-inch-an-hour superstorm of snow the city received in the initial stages of a double-whammy snowstorm that produced up to 88 inches. Instead, highways were left open and commuters traveled to work—only to be frozen in place for most of the rest of the day.
One trapped motorist wrote a farewell note to her daughters after being trapped for 13 hours in a Chevy Cobalt. At least one person was reported dead after caught in a similar situation. Given the forecast, those roads should have been closed on Tuesday morning.
Although the National Weather Service continually updated its forecast as the storm peaked Tuesday, the New York Post reported that state planners stuck with a plowing strategy that was based on Monday's initial call of just (just!) 3 feet of accumulation—with clear wording showing more was possible. The first round ended up producing about twice that in the hardest-hit locations, and a second round later in the week brought an additional 2 feet. The post-storm regret was echoed by local officials, who said their plows couldn't keep up.
Moderate flooding was reported Monday as temperatures soared to near record highs and high winds battered storm-weary trees and houses in the Buffalo area, but the firestorm of words continued from meteorologists, aimed squarely at Cuomo.
Shame on Cuomo for throwing @NWS under the plow. They were brilliant. We don't tell you how to run a state. Don't tell us how to forecast.

— Kevin O'Neill (@KevinBuffalo) November 23, 2014
Governor Cuomo's claim the Natl Weather Service didn't issue a good forecast in advance of this storm is unfair and Dead WRONG.

— Don Paul (@4warnweather) November 23, 2014
The Weather Channel, too, pointed out that Monday's forecast from the National Weather Service mentioned "historic" snow falling at rates that "far exceed the ability to keep roads clear."
TWC continued its criticism on air, led by Tom Niziol, who headed the Buffalo office of the National Weather Service before joining the Weather Channel: "If you're going to imply that the office is responsible for at least 13 deaths last week because of a bad forecast, then we here at the Weather Channel feel a responsibility to correct your mistake."
On Sunday, Cuomo appeared to walk back his criticism, saying: "It is not that the National Weather Service failed us … they perform the best they can with the information they have."
The 125 weather stations the governor plans to build across New York state will do a great job telling him what storms are actually doing (if they happen to pass over one of them—it's a big state, after all), but won't do much to predict the weather. For that, you need supercomputers, weather balloons, and meteorologists—exactly the meteorologists he pissed off this week.
New York politicians have a knack for passing the blame during major weather events. Most famously, then-New York City Mayor Michael Bloomberg, in the hours before Hurricane Sandy's 2012 landfall, inexplicably said the storm wouldn't produce "a tropical storm or hurricane-type surge." A botched blizzard response earlier in his term also cost him severely; Bloomberg was rumored to be in Bermuda at the time.
A humble recommendation for those pursuing a career in political science: a few meteorology lessons.
When Making Babies Goes High Tech: A Future Tense Event Recap
In vitro fertilization was originally intended to help a very specific young, married, and female demographic to conceive. But a lot has changed since Louise Brown, the first test tube baby, was born in 1978. The explosion of single mothers and same-sex parents using the procedure has attracted a lot of attention, but society also needs to grapple with the questions of control, regulation, and access that other emerging reproductive technologies could raise. From pre-implantation genetic screening to exo-wombs, these changes could even evolve our most basic notions of family and society.
A first step may be agreeing to talk about this possible future at all. The highly personal nature of reproductive science and technology makes it a difficult topic to discuss and legislate, according to speakers at a Future Tense event on the future of reproduction in Washington, D.C., last week. After all, we're not talking about hip replacement surgery; this is our future children and grandchildren. As Dieter Egli, a senior research fellow at the New York Stem Cell Foundation, put it: "When we touch the egg, we feel like we are doing something to the human species."
This money can also muddy the ethical waters. Marcy Darnovsky, executive director of the Center for Genetics and Society, suggested that a conflict of interest exists when a doctor takes an egg (a complicated and often risky medical procedure) from a healthy young woman for a paying client. Apple and Facebook's announcement earlier this year that they would cover egg freezing procedures for their female employees is another potentially fraught development for the industry. "Egg freezing is a whole new market for the fertility industry, and commercial pressures do come to bear," Darnovsky added.
High prices also mean that reproductive technology is an area particularly prone to inequities. Though "infertility crosses all lines," as Spar characterized it, the cost of IVF and other methods can make them prohibitive for less affluent infertile families.
Despite the industry's ethical and commercial issues, it's still not clear just how involved the government should be. Many panelists expressed concern about the lack of regulation of new reproductive technologies, while others suggested that the government should stay out of decisions between families and their doctors. Still, all agreed that the United States regulates the industry far less than other Western countries. "Here, for whatever reason, and I think it's political and religious, the government took a back seat in the field of assisted reproduction," Evan Snyder, director of the Sanford-Burnham Medical Research Institute's Program in Stem Cell and Regenerative Biology, said. "And it stood them into good stead until the stem cell debate."
It's also difficult to pinpoint who, exactly, would take up the mantle in the fight for regulation. "The industry doesn't want it. … The parents who are successful [with IVF] don't want to see themselves as infertile," Spar said. "There's no natural constituency."
Ultimately, these technologies, their regulation (or lack thereof), and their effect on society cannot be considered in a vacuum. After all, as Christine Rosen, senior editor at the New Atlantis, pointed out, the history of eugenics in America is tragic, and not particularly distant. California prisons were reportedly sterilizing female inmates without approval as recently as 2010, for example. We need to be vigilant and aware of mission creep, she suggested, especially for technologies that begin to stray into genetic selection. Consider a controversial new procedure, not yet approved by the FDA, which uses the reproductive material of three people to prevent the inheritance of mitochondrial disease. Every parent wants their children to be healthy, but there are still concerns about the slippery slope of beginning to alter people's inherited characteristics. "They are very powerful technologies. They have implications for us personally, they have implications for our families," Darnovsy said. "And larger implications of social justice and human rights."
In the end, it seems emerging reproductive technologies will continue to bring unpredictable social change and challenging ethical questions. Only one thing is certain—we'll struggle to keep up. As Spar put it, "Technology will always move faster than social norms, and both will move faster than the law."
Stealing Your Employer's Wi-Fi? Watch Out.
Last week, Jack Cunningham, a county clerk in suburban Chicago, pleaded guilty to an ethics violation after using county Wi-Fi to answer about a dozen campaign-related emails. In many jurisdictions, including Kane County, public officials may not conduct campaign-related work while on the job. Because of this, Cunningham will pay a $500 fine plus legal fees. One of his employees lost their job over the matter. But when does a seemingly innocuous use of the office Wi-Fi for personal matters become unethical?
Earlier this year, Wisconsin Gov. Scott Walker was investigated for similar charges when a secret wireless router hidden in the office was used to send thousands of campaign-related emails during the workday. The case in Illinois was similarly rooted in political drama—a failed Republican primary opponent filed the complaint against Cunningham—but similar dramas may be coming soon to a private sector near you. Unauthorized use of Wi-Fi is nothing more than office supply theft 2.0. (And here you thought those nifty Command hooks were as advanced as it would get.)
If you want to avoid any trouble at work, actually reading your company's acceptable-use policy is a good start. Hidden deep within some of those endless first-day forms are some pretty vague policies on things like Wi-Fi that can be used against you. Don't be afraid to ask your employers about your workplace privacy. They aren't obligated to share what they do or do not monitor, but most IT departments are happy to field questions about something other than a computer meltdown. And it only takes one vindictive co-worker to question your Wi-Fi ethics. (He's using our bandwidth to download episodes of True Detective! I saw it with my own eyes!)
In the end, personal use of company Wi-Fi could very well be viewed as theft. If you're G-chatting with friends, using social media, and streaming content, you're stealing company resources. If you're only using your smartphone for work-related items, congratulations! You're a model employee. (You're also probably lying.) Checking 12 emails on the taxpayer dime does not seem like a violation worthy of a court appearance, but it happened. Probably should've stuck with 4G.
Sony Pulled This PlayStation Ad Because Everyone Immediately Realized It Was Offensive
The old "Wait a minute ... is this ad about sex??" ploy doesn't fool anyone anymore. So when we see a female doctor saying, "I bet you've already done it today. And I bet you really enjoyed yourself. How many times did you do it yesterday?" we know she's not actually talking about masturbation and we don't really care what she is talking about. But Sony thought we might.
The company released the above ad on YouTube to show off its Remote Play feature, which lets you use PlayStation 4 games on the PlayStation Vita or Xperia Z series smartphones. But all the problems with the ad kind of distract from whatever Sony is trying to highlight, and the company quickly pulled the video. (Business Insider found an extremely similar Xbox 360 ad from 2012, though it features a man.)
The ad includes sultry close-ups on the woman's mouth and face, plus she leans closer and closer to the camera throughout until she pulls back to reveal that she has a PS Vita. How unusual! An attractive and educated female human playing video games!
Though the ad seems like it's trying to promote the idea that anyone can be into gaming, it misses the mark by taking so much time to establish the woman as sexually provocative. As Kwame Opam points out on the Verge, "Our sexy doctor is pretty clearly designed to entice the straight teen male demographic gaming companies have been pandering to for decades."
And BoingBoing notes that Sony ran another sexist ad in 2012 (this one for print) that was also hawking the PS Vita. It's unclear which advertising agencies oversaw each ad, but whoever it was, it's definitely time for a new strategy that sends a better message and also gives consumers some credit. For one thing, we know that's an iMac G4 circa 2002 on the left side of the shot. Super-high-tech.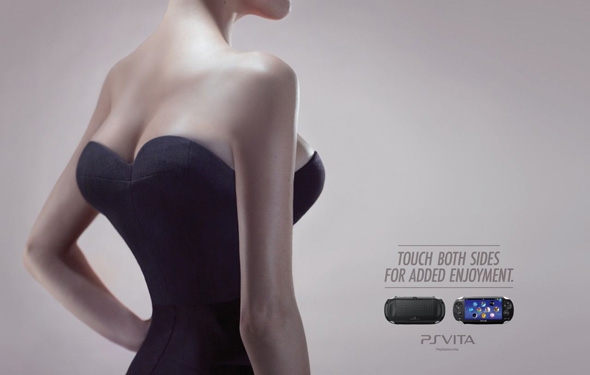 Powerful, Sneaky Malware Called Regin Has Been Spreading Since 2008
Symantec, the cybersecurity company that makes Norton AntiVirus, released research Sunday about sophisticated malware called Regin that has been circulating widely since 2008, most likely as a digital espionage tool for a government.
Regin was active from 2008 to 2011 and then disappeared until 2013. It's been going strong ever since. Symantec says Regin has spread in 10 countries, including Russia, Saudi Arabia, Ireland, and Mexico. Also, 48 percent of Regin infections are targeted at private individuals or small businesses. So, yeah, it's around.

Regin is extremely complex, and Symantec reports that it would have taken months or years to develop, even for a government group with extensive resources. The malware is "a back door-type Trojan" that allows a hacker to do things like collect passwords and files, or take screencaps on a compromised computer. The malware is apparently impressive in how effective it is and how rigorous developers would have had to have been to create it.
Symantec said in its report, "[Regin] provides its controllers with a powerful framework for mass surveillance and has been used in spying operations against government organizations, infrastructure operators, businesses, researchers, and private individuals."
The whole thing sounds pretty intimidating, but Vikram Thakur of Symantec had one (sort of) reassuring thing to say on BBC News:
We think the piece of malware ... is capable of targeting just about anybody who connects to the internet as of today; however, we don't believe that this tool is actually being used to target individuals at home. Considering the level of sophistication and the amount of work which has been put into creating this little tool, it's evident that the powers behind it or the nation state which may have created this is only interested in specific individuals and businesses out there, not mass surveillance.
OK, so you're probably not being targeted by Regin, but if you are, whoever is behind it has access to everything.
*Correction, Nov. 25, 2014: This post originally misspelled Israel.
Future Tense Event: Watch a Hilarious Space Movie With NASA's Chief Scientist
The Dish is the charming story of how a satellite dish and a group of unlikely scientists, stationed in the middle of an Australian sheep farm, helped relay live footage of man's first steps on the moon. Based on real events, it's a timely reminder of just how inspiring the Apollo 11 landing was to people all over the world.

Future Tense will be screening The Dish on Thursday, Dec. 4, at 6:30 p.m. at Washington, D.C.'s Landmark E Street Cinema at 555 11th St. Our host for the evening will be Dr. Ellen Stofan, NASA's chief scientist. Her research has focused on the geology of Venus, Mars, and Saturn's moon Titan, among other topics.

This is an installment of Future Tense's "My Favorite Movie" series. If you would like to attend, RSVP to futuretensedc@gmail.com with your name, email address, and any affiliation you'd like to share. You may RSVP for yourself and up to one guest, and please include your guest's name in your response. Seating is limited, so email now to get in on this opportunity to see The Dish in theaters.
Now You Can Start to Worry About a Thanksgiving Eve Snowstorm
If you've ever wanted to make post-stuffing snow angels, this year could be your chance.
Forget for a moment that Monday will feature near-record highs on the East Coast. (However, if you're in Washington or New York City, you should bask in this afternoon's highs in the low to mid-70s, if you can swing it.)
Forget, too, that in my post on Friday I said not to worry (yet) about a looming Thanksgiving Eve nor'easter. At the time, weather models were all over the place, with only the ECMWF showing a direct hit. Some models didn't show a consolidated storm forming at all, just two separate weak weather systems: a minor storm over the Great Lakes and a stalled-out cold front somewhere between the East Coast and Bermuda.
Since then, there's been growing consensus among the computers that those two systems will join forces. The National Weather Service has already posted winter storm watches for hefty snow totals just inland of the major Northeast cities along I-95. This storm is happening. And there's an increasing chance it'll force a change in your travel plans.
For instance, Sunday's edition of the GFS model showed explosive storm formation on Wednesday—enough to qualify as a meteorological "bomb," which is a deepening of the storm's central pressure by more than 24 millibars in 24 hours.
As the storm grows—starting off the mid-Atlantic on Wednesday morning and heading over Newfoundland on Thanksgiving afternoon—it's now a lock to produce heavy snows well inland and in higher elevations from North Carolina to Canada. The only real question remaining is, how much snow will fall in the major cities along the coast?
Even the National Weather Service can't decide. The agency's local forecast offices—the ones with the most knowledge of small-scale idiosyncrasies of tricky snowfall forecasts—are downplaying the storm's potential to produce snow in the cities.
Here's the local snowfall map from the Boston office, for example:
On the low end, that means this storm will bring only an inch or two of messy slush to the major cities, while Grandma's house upstate gets the bulk.
The agency's centralized forecast office—the Weather Prediction Center—is much more bullish.
In a reasonable worst case put forward by the WPC, 10 to 12 inches could fall in every major city from D.C. northward, snarling traffic and canceling flights coast to coast. A more reasonable guess is 3 to 6 inches of snow in the major cities, with double that just 30 miles inland. But even that outcome is just a blend of two extremes. The most likely scenario is a sharp cutoff between heavy cold rain mixed with a few flakes, and an all-out snowstorm. All the local forecast offices mentioned this annoying feature in their discussions on Monday.
There are still a few key unknowns, like the exact path the storm's center will take offshore, that will determine which possibility becomes reality. Ocean temperatures are still in the 50s, so even an hour or two of wind from a northeast direction rather than due north could warm the lower levels of the atmosphere enough to turn snowflakes into raindrops along the coast. Dynamical cooling—which happens when a storm strengthens at quick enough rates—could help tip the scale toward coastal snow.
It would be just the second white Thanksgiving in New York City since 1938. The last one was in 1989, when the snowstorm's strong winds tore a hole in Snoopy's nose. In Washington, D.C., the storm promises an end to the longest November snowless streak since recordkeeping began in 1888. The last measurable snow during November in the nation's capital was in 1996, when a piddly quarter-inch fell. There was also a big Thanksgiving Eve storm just last year, but no snow fell in either city.
In many ways, this is a weather forecaster/masochist's dream scenario: You've got a potentially high-impact weather event, on the highest-impact travel day of the year, with an unusually high amount of uncertainty. To my fellow forecasters: Good luck getting this one right!
European Parliament May Call for "Unbundling" of Google
Google has grown too powerful, European politicians are convinced, and it may be time for the government to break it up.
That's the gist of a draft resolution that leaders in the European Parliament are preparing for a possible vote on Thursday, as reported by the Financial Times and Reuters. It would be a nonbinding resolution, as the parliament does not have the authority to directly order a Google breakup. Still, its backers are confident the nonbinding resolution will pass, which would put pressure on the European Commission to take action.
The draft motion, brought by members from Germany and Spain, never mentions Google by name, Reuters points out. But the Mountain View-based giant is widely understood to be the target of its call for the European Commission to consider "unbundling search engines from other commercial services" in the interest of fair competition.
The idea is that the dominance of Google's search engine gives it too much control over what people see when they use the Internet. For instance, it's often accused of prioritizing its own services in search results over those of rival companies, like Yelp.
Google was cleared of similar charges by the U.S. Federal Trade Commission last year. As I explained at the time, Google wasn't actually cleared of manipulating its search results. It's just that the FTC decided that such manipulation could be "plausibly justified" as good for consumers.
Europe has been far less inclined to give Google the benefit of the doubt. The European Commission has been investigating Google for years, and its recently departed competition chief threatened formal antitrust charges. How the case proceeds will be up to his successor, Margrethe Vestager, who took over on Nov. 1.
Google was already dealt a blow earlier this year by the European Court of Justice, which ruled that it would have to honor people's "right to be forgotten" by hiding defamatory links about them.
But an attempt to break up the company would amount to a more radical attack on Google's operations in Europe, and could conceivably provoke a U.S. response of some sort. Even a nonbinding resolution by the parliament would mark a rather dramatic step. As the Financial Times notes, "A vote to effectively single out a big U.S. company for censure is extremely rare in the European parliament and is in part a reflection of how Germany's politicians have turned against Google this year."
Reuters adds that resentment in Europe has been building for years:
Google has tried to counter that mistrust, which its executives believe is linked to European perceptions of the United States in general. But recent revelations about U.S. surveillance practices, including that Washington monitored German Chancellor Angela Merkel's phone, have ignited a strong backlash, particularly in Germany, where the historic experiences of Nazism and Communism have left people deeply suspicious of powerful institutions controlling personal data.
Google supporters, however, believe European politicians are motivated largely by the desire to protect their own countries' media and publishing companies.

You can read the full Reuters story here.