A Blog About the Olympic Games
The Best Thing About the Olympics Was That Amazing Opening Ceremony Sweater
Today, American athletes marched in the closing ceremony at Sochi. They were outfitted, once again, by Ralph Lauren. But gone were the bold patchwork sweaters the team wore into the arena two weeks ago. Instead, they sported navy pea coats festooned with a red stripe.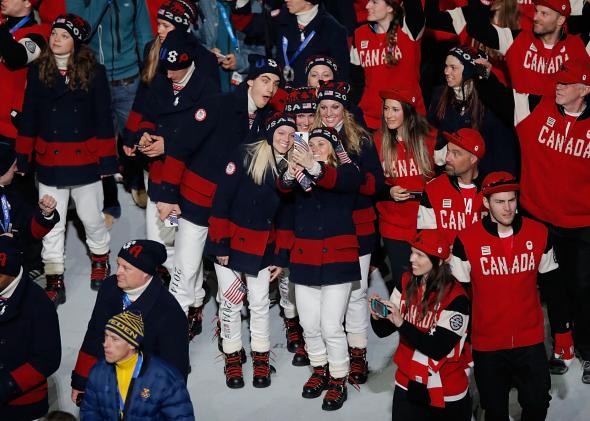 But the sweater wasn't ugly. It was misunderstood. Too often in matters of style, anything loud is assumed to be hideous. But not every bold pattern or bright color is misbegotten. Sure, you might not wear an electric-hued, star-bedecked, shawl-collar cardigan to the office. But if you consider the context for which the sweater was designed—a gigantic pageant in which those wearing it would be tiny, ant-sized participants, appearing in close-up on TVs for a short spurt of time—the solution Lauren came up with was charming, fun, and well-suited to the occasion.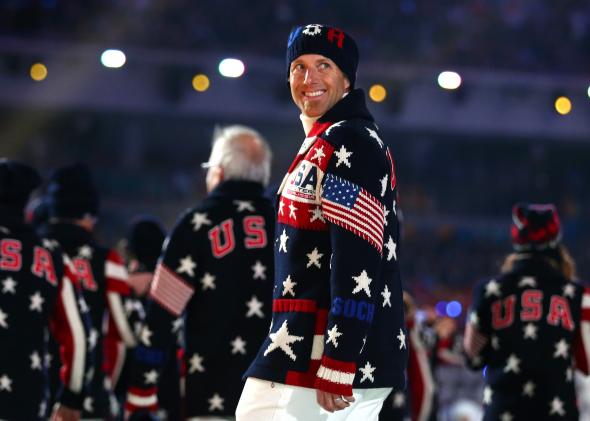 Also: It seemed American. Too often in the past, Ralph Lauren has tried to dress the American Olympic team like a bunch of Air France flight attendants. Classy, fussy, a bit continental and a bit formal.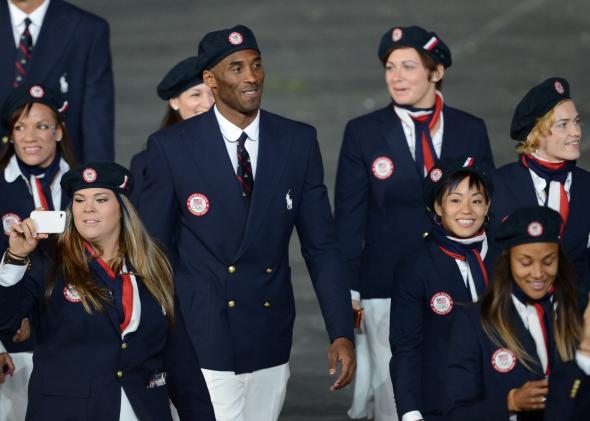 But America is brassy and garish, more Kate Upton than Kate Middleton (much less Catherine Deneuve). The only place in the world that I can imagine spotting the Sochi sweater is in some American cabin in winter—maybe on a Great Lake somewhere, maybe in snowy New England—near a wood stove, with some hot cider and a snowy game of touch football under everyone's belt. Sure, it's a fantasy. But it's an American one.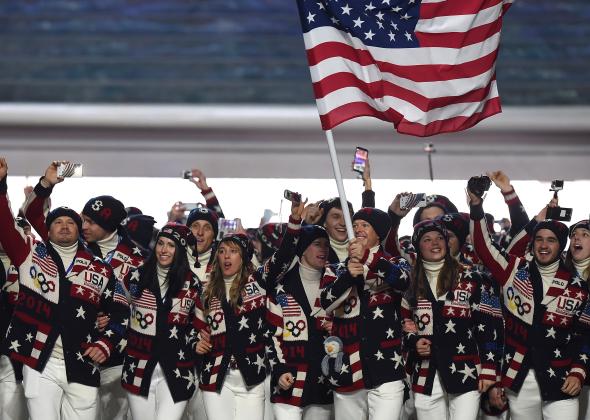 Finally, and most important, the sweater was memorable. No one will confuse it for something you picked up on a sale rack at the Burlington Coat Factory. Which may explain why the sweaters are now going for nearly $4,000 on eBay. That, more than anything else, is why I'd bet Ralph Lauren will be designing Olympic uniforms for many games to come.
"I Couldn't Be More Proud": 26 Years of Insincere U.S. Olympic Committee Post-Mortems
Team USA did not have the greatest Olympics ever. The U.S. speedskaters failed to medal. So did the U.S. men's hockey team. The United States lagged behind Russia in the overall medal count, and trailed the Russians, Norway, and Canada—Canada!—in gold medals. The USA won 28 medals, nine fewer than it did in Vancouver. And yet the U.S. Olympic Committee still says Sochi was an absolute, unmitigated, rip-roaring success. "I couldn't be more proud of our Olympic team," U.S. Olympic Committee chairman Larry Probst told the Associated Press. "We came here with a great team and they've done a great job," agreed Alan Ashley, the USOC's managing director of sport performance.
Are Probst and Ashley being sincere? Or are they just saying what USOC officials say after every Winter Olympics? Let's find out.
2010 Vancouver Games, 37 medals: "It's hard to imagine that we could have done better. On and off the field, it's been a great two weeks for the United States."—Scott Blackmun, CEO of the USOC
Sincerity check: Very sincere. The 37 medals won by the United States in Vancouver are an all-time record.
2006 Torino Games, 25 medals: "This has been an incredible performance. … It's probably a little bit our fault that this team has been viewed as a little less than that because of the high expectations we all had coming into these games."—Jim Scherr, CEO of the USOC
"We're not only happy with the medals we won, but we also had the most top-eight finishes of any nation in these games, more than 60 top-eight finishes. We were very close to ever more medals."—Scherr
Sincerity check: Highly insincere. A reply centering on the volume of top-eight finishes is a strong indicator of ass-covering.
2002 Salt Lake City Games, 34 medals: "I feel like a very proud mother today. … We all put a lot of work into these games. The USOC really made a plan. This is not serendipity."—Sandy Baldwin, president of the USOC
Sincerity check: Very, very sincere. Team USA more than doubled its previous best Winter Olympics medal haul.
1998 Nagano Games, 13 medals: "The performances here showed what we all believe about this team, that it had tremendous depth."—Paul George, USOC delegation chief
"We could have had 18 or 19 medals. … We had 60 athletes finish in the top 10. That's an all-time high."—Dick Schultz, USOC executive director
Sincerity check: Extraordinarily insincere. Note the regression from supposed pride over top-eight finishes to supposed pride over top-10 finishes.
1994 Lillehammer Games, 13 medals: "I think this answers the question of whether we should be fielding full teams in every sport. A lot of these athletes should be considered national treasures. I think we've shocked a lot of people, especially in alpine skiing. … I'm glad we've been able to see such positive record results because of the hard work of our athletes."—Harvey Schiller, USOC executive director
Sincerity check: Deeply insincere. The United States certainly shocked a lot of people in Lillehammer, but that was because of the Tonya Harding/Nancy Kerrigan soap opera, not our athletes' performance on snow at ice. When "at least we fielded full teams" is the highest praise you can give, maybe you shouldn't be giving any praise at all.
1992 Albertville Games, 11 medals: "Some people measure in medals, and I don't want to take away anything from that, for what it means to the athletes, their families and coaches. But in terms of competitiveness in every discipline, our performance has been enhanced since Calgary."—USOC executive director Schiller
"Not only are the medals a success, but the overall performance of all the athletes is, too. … In just about every discipline, there has been movement from 1988 to now. Even if we don't win a medal, that shows the strength of the team. In men's figure skating, for example, there truly were three world-class competitors."—Schiller
Sincerity check: Pretty sincere. Even though Team USA only won 11 medals, Albertville was a relative triumph compared to the disastrous Calgary Games.
1988 Calgary Games, 6 medals: "There's no reason we can't do much, much better. Our athletes have the capability. What we're looking for is support, financially and with programs. … Focusing on medals is a mistake. What does count is competing and if we compete and compete well, medals will come."—Robert Helmick, USOC president
Sincerity check: Sincere, if smarmy. For once, the USOC is honest about wanting a fat load of gold, silver, and bronze. Even so, it's a bit lame to say that "focusing on medals is a mistake" when you are acutely embarrassed that America didn't win more of them.
Nude Mesh vs. Nude Lycra: Figure Skating's Faux-Nudity Secrets Revealed
This is the enduring image of the Sochi Games: Russia's Adelina Sotnikova with her palms facing the ceiling, imploring the crowd to cheer her on during the women's free skate. The home fans complied, helping to lift Sotnikova to a controversial victory over South Korea's Yuna Kim. Take a closer look at that iconic photo, and you'll see something else besides Sotnikova's sly grin. The 17-year-old gold medalist is wearing flesh-colored fabric in three different places: on her upper torso, her hands, and her legs.
A figure skating fashionista must hew to the golden (and frequently sequined) mean: not too clothed, not too bare. The International Skating Union requires that costumes "be modest, dignified, and appropriate for athletic competition" and "not give the effect of excessive nudity." Griffies uses a stretchy, translucent fabric called nude mesh; he prefers it to the alternative, nude lycra, because it allows you to see a skater's muscle tone. In creating his readymade line of dresses, Griffies says, he'll go through a couple hundred yards of nude mesh per year, at a cost of $6 or $7 a yard.
Figure skating costumes are made to be sparkly enough to be seen from a distant galaxy, or at least the back row of a large arena. In close-up shots and on high-definition television, it's a certainty that the nude illusion will be broken. Nevertheless, designers try as best they can to incorporate flesh-colored fabrics that are truly flesh-colored. Griffies says this is more of a challenge for black skaters, "because they have so many colors on their skin." The costume that Griffies created for Mae Berenice Meite to wear in Sochi featured nude fabric the designer custom-dyed to match the French skater's skin tone.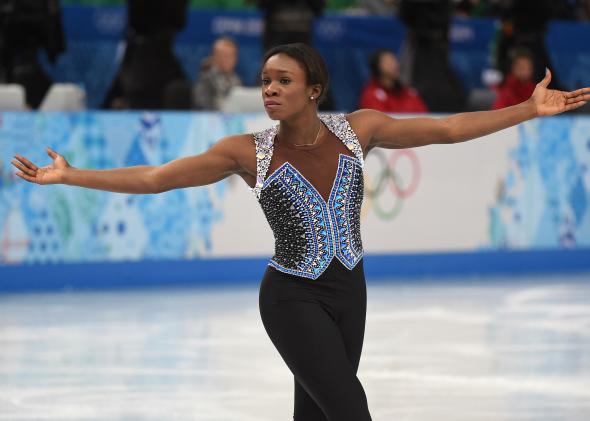 What about the nude gloves that Sotnikova was wearing? Griffies, who was a competitive figure skater before he moved into fashion, explains that most triple-toe-loopers wear gloves in practice to stay warm, as well as to prevent cuts and scrapes (which can arise from falling on the ice or grabbing your blade during a spin). It feels strange to compete without them, Griffies says, so many skaters go with flesh-colored gloves, which make them feel comfortable but don't distract the judges.
Sotnikova completed her flesh-colored look with a set of over-the-boot tights. Griffies hates that look—he prefers the classic feel of a bright white skate. (So does Gracie Gold.) Sotnikova and other skaters wear those "OTB tights" for a bunch of reasons: because they supposedly make their legs look longer, and to protect their skates so they don't need to be polished as often. But over-the-boot tights can lead to a different kind of wardrobe malfunction, as Sotnikova discovered during her free skate.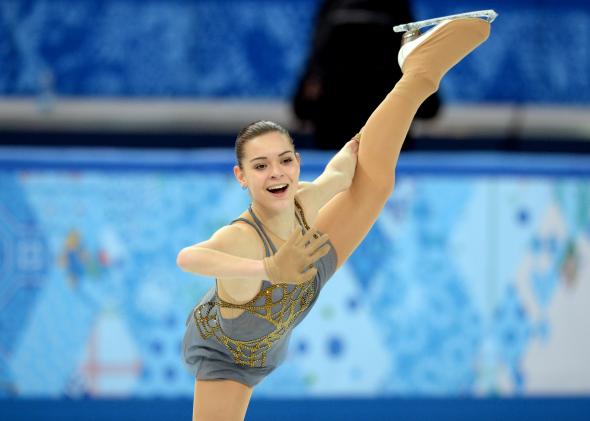 This skate-peekaboo situation, thankfully, did not cost the Russian her gold medal.
This Insane 120-Mile Speedskating Race Makes the Winter Olympics Look Easy
As the 2014 Winter Olympics draw to a close, one thing, at least, is clear: The Dutch are the greatest speedskaters in the world. The Netherlands won 23 speedskating medals in Sochi; the second-most-successful nation, Poland, only won three. Why are the Dutch so good at speedskating? For one thing, the sport is a bonafide national obsession. (Seriously: I hope someday to care about anything as much as the Dutch apparently care about speedskating.) And if you want to understand the depths of that obsession, it helps to understand the Elfstedentocht.
The Elfstedentocht—Dutch for "Eleven Cities Tour"—is a 200-kilometer outdoor speedskating race over the frozen canals of Friesland, a northern province of the Netherlands. It has been described as "the Super Bowl, Stanley Cup and World Series rolled into one"—and it might just be my favorite athletic event of all time. The race was first held in 1909, and has since become a national tradition, an epic test of Dutch citizens' endurance, athleticism, and sanity. On the website Cafe Babel, a fan posted an ominous ode to the race: "Think, endless stretches of ice in a barren landscape/ Think, the wind cutting on your face and sweeping snow in your eyes/ Think, frozen toes, fingers, noses and ears/ Think, the hardest race in the world." Sign me up!
There's no set schedule for the Elfstedentocht; it only happens when the ice is sufficiently thick—at least 15 centimeters in depth throughout. But the impromptu nature of the race is a big part of what makes it so exciting. Once the organizers decide that the conditions are right for an Elfstedentocht, plans are made, and the race is held within 48 hours of the official announcement. The race kicks off at 5:30 in the morning, and must be completed before midnight that same day. The skaters pass through 11 cities, collecting a stamp in each one, cheered by millions of spectators. Though professional speedskaters are the ones competing for the fastest times, thousands of ordinary Dutch citizens skate the route, too, just for fun. In 1986, Dutch Crown Prince Willem-Alexander skated the Elfstedentocht, under the pseudonym "W.A. Van Buren."
The most memorable Elfstedentocht happened in 1963, when temperatures were so low and conditions so snowy and windy that fewer than 200 out of approximately 10,000 participants actually finished the race. Countless skaters suffered frostbite and other weather-related injuries. The race became known as "The Hell of '63," and this video gives you a sense of why the name was apt:
There hasn't been an Elfstedentocht since 1997, when the race was won by Henk Angenent, a speedskater and Brussels sprout farmer, who finished in 6 hours and 49 minutes. But every winter, the Dutch hope that the race might happen. In 2012 temperatures dipped low enough that an Elfstedentocht seemed possible, and the Netherlands went crazy. Skating fans booked every hotel room in Friesland. Speedskaters declared that they would skip the upcoming world championships to skate the Elfstedentocht. "Busy sharpening skates, rummaging through layers of clothes, training soon for the elfstedentocht. I'VE GOT THE FEVER," Vancouver speedskating gold medalist Mark Tuitert posted on Twitter. Unfortunately, the organizing committee decided that the ice was insufficiently thick, and the race was canceled. According to the BBC, an Elfstedentocht official "urged skaters not to despair and instead get out on the ice and skate their disappointment away."
And I think that explains why the Dutch are so good at speedskating. All year, they look forward to this horribly grueling outdoor skating contest, and when it doesn't happen, they console themselves with more skating. Now that's devotion! With global temperatures trending upward, some wonder whether conditions will ever again be right for the Elfstedentocht. Let's hope so. Until then, the Dutch will have to console themselves with continued international dominance of a sport that nobody comes close to caring about as much as they do.
Why All of the Worst (and Most Lovable) Winter Olympic Athletes Are in the Men's Slalom
If you're the sort of person who thinks the Winter Olympics have been going downhill ever since they stopped letting Michael "Eddie the Eagle" Edwards blunder his way through the ski jump, then you're probably a big fan of the men's slalom race. Slalom skiing is the last bastion of enthusiastic amateurism in these modern, professionalized Winter Games, a venue in which world-class racers like Ivica Kostelic and Ted Ligety compete against Olympic tourists like Kanes Sucharitakul of Thailand (average yearly snowfall: zero) and the eccentric 55-year-old Prince Hubertus von Hohenlohe of Mexico. How does this happen?
To be eligible for the Winter Olympics, skiers must rank in the top 500 in the International Ski Federation standings for their respective events—a standard which Mexican and Thai skiers will rarely meet. But! If a nation doesn't have any skiers who meet those standards, they can still send a male and a female athlete to the Olympics, as long as those skiers have competed in at least five FIS-sanctioned races and received no more than 140 FIS points in each.* (With a little bit of training, you could probably meet that standard. Well, OK, a lot of training.) If a skier meets those relatively low standards, then he can come to the Olympics, but he can only compete in the slalom and the giant slalom. This is to prevent overmatched skiers from maiming or killing themselves in the speed events.
And so, at every Winter Games, the slalom start list is longer than that of any other event, filled with proud representatives of the just-happy-to-be-here brigade—many of whom, it must be said, actually live in the nations for which they're competing. The best known of these Olympic tourists is the aforementioned Hubertus von Hohenlohe, the 55-year-old Mexican skier and aristocrat who is finally having his Olympic media moment in this, his sixth Winter Games. "If you cannot win, then at least be stylish," he told the Today show recently. Words to live by.
Prince Hubertus lost a ski not long after he started down the mountain on Saturday, and he was unable to finish the course. "I feel cool," he said, which is understandable given that he was wearing a mariachi-themed outfit. "I gave my best, I would have liked to make it down, but I'm OK with this." He continued, "But honestly, it was so difficult, I'm kind of happy that I don't have to do the second run. It was really tough." Now that's the Olympic spirit!

Prince Hubertus is wonderful, for sure. But the slalom skier with the best story is Yohan Carlos Goutt Gonçalves, who skis for Timor-Leste, and is the first Winter Olympian in that young and troubled nation's history. Goutt Gonçalves, who grew up in France—his mother is from Timor-Leste—is 19 years old and is ranked No, 2,263 in the world in the slalom. On his Facebook page, he posted a photo of a letter he received from the prime minister of Timor-Leste. "Enjoy your day and go fast! Viva Timor-Leste!" the prime minister wrote. What a nice note!
While the FIS lets these lesser-known athletes take part in the games, it doesn't do them any favors. They are forced to ski at the end, after the course has been torn up by the good racers. Nobody even bothers pretending that they have a shot at winning a medal, which is sort of hilarious and sad at the same time. During the second run of today's slalom race, the announcers on the NBC online feed called the gold medal for Austria's Mario Matt even though there were many, many skiers left to go.
And yet! The slalom course was very difficult this year, with subpar snow conditions, and many of the medal favorites failed to finish the course. As a result, several of the underqualified skiers—who were not skiing aggressively enough to crash—ended up placing much higher than they could have ever dreamed, simply because they finished the course where others did not. Before the Olympics began, Yohan Carlos Goutt Gonçalves told the media that he knew he wouldn't finish first. "But I have a friend, Samir Azzimani, who represented Morocco at the Vancouver Games and came 44th in the slalom," he said. "I would love to do better than that so that Timor is ahead of Morocco!" Goutt Gonçalves made his way down the slope with great deliberation, finishing at a glacial 2:30.89—49 seconds behind the leader. He came in 43rd place. Viva Timor-Leste, indeed!
Correction, Feb. 27, 2014: This post originally stated that skiers must have competed in at least five FIS-sanctioned races and finished no worse than 140th in each to qualify for the Olympic slalom and giant slalom. In fact, the skiers must average no more than 140 FIS points per race to make the Olympics. (As with golf, lower point totals are better in skiing.)
The Saddest Olympian in Sochi Says He Feels "Like One of Those Stray Dogs"
On Saturday morning, the loneliest snowboarder in Sochi competed in the least popular event of the Winter Olympics, to the complete disinterest of his teammates, the media, and the American public. The event is parallel slalom snowboarding. The snowboarder is Justin Reiter, a 33-year-old American who has been racing competitively for a decade and a half, getting no attention and little support from the snowboarding community and the sporting media. But Reiter embodies the Olympic spirit more than anyone else on Team USA. And he could really, really, really use your support.
Reiter has the misfortune to compete in Alpine snowboarding, a discipline that few Americans even know exists. Alpine snowboarders race downhill on a weird elongated board, focusing on speed, not style. The discipline does not involve tricks, or halfpipes, or Flying Tomatoes; it's not very sexy, and thus doesn't get much attention. Reiter is probably the best competitive Alpine snowboarder in America. He is also one of the only competitive Alpine snowboarders in America.
Reiter used to have a colleague, an American slalom snowboarder named Vic Wild—until Wild moved to Russia, which treats its Alpine snowboarders like kings. "If I was still riding for the [U.S. Ski and Snowboard Association], I'd be back home maybe with some mediocre job, doing something mediocre," Wild told the Wall Street Journal the other day. When Wild won gold for Russia in the giant slalom on Wednesday, Reiter, who finished in 24th place, started crying. (Tears of joy, he claimed.) "The only difference between [us] is that he has a complete team of people supporting him," Reiter said.
Reiter does not. He apparently gets so little support from the U.S. Ski and Snowboard Association that "he spends much of his time living in his truck," according to the Wall Street Journal. Reiter raised some money to fund his Olympic bid via a crowdfunding project on the website RallyMe. He didn't raise all that much, though: When last I checked, he's raked in $14,566. The Jamaican bobsled team, by contrast, got almost $200,000 in four days.
"I bust my ass to be here and make a lot of sacrifices because I love what I do," Reiter told ESPN recently. "But to not even be recognized by your own industry, an industry that raised me and hopefully I've put something back into ... I'd be lying if I said it didn't hurt." Truly, Justin Reiter is Sochi's saddest Olympian.
Reiter should be followed around everywhere he goes in Sochi by a guy playing a sad trombone. During the opening ceremony, most of the other skiers and snowboarders apparently thought Reiter was a coach. When freestyle snowboarders learn that Reiter is an alpinist, they automatically assume that he is lame and square. Reiter isn't, and he recently told ESPN that his teammates "don't take the time to look below the surface, dig a little deeper and ask." (The jerks.) "Everyone's talking about stray dogs in Sochi," Reiter recently told Al-Jazeera. "I feel like one of those stray dogs." This is a sad, sad man.
Going into Saturday's parallel slalom race, Reiter had high hopes. He had done well on the world circuit this year—he took silver in parallel slalom at the 2013 World Championships—and he thought he could compete for a medal. "I'd like to show kids that they can do this without the support of the USSA, without an industry behind them, without a country behind them," he told ESPN. "They can succeed on their own." Instead, he showed kids the exact opposite, failing even to make it out of the qualifying rounds. Then, to add insult to injury, he had to sit and watch as Vic Wild won yet another gold medal.
Reiter's Sochi experience feels like it was scripted by Charles Schulz. But you know what? At least he made it to the Olympics, and he got there on his own, which is even more impressive. The man can hold his head high. On his Facebook page in January, Reiter posted a quote from Pierre de Coubertin, the founder of the modern Olympics: "The important thing at the games is not to win but to take part, for the essential thing in life is not to conquer but to struggle well." Justin Reiter took part. Justin Reiter struggled well. And now, somebody needs to buy Justin Reiter a drink.
A Field Guide to Olympians Who Really, Really Hate Their Bosses
Over the last few weeks, Sochi has become a hotbed of dissent. Not political dissent, mind you—that's still being suppressed with horsewhips. Rather, Sochi is full of athletes who hate their bosses. All over the Olympic Village, various competitors have voiced their displeasure with the federations that supervise their sports, blasting those bodies for mismanagement, poor financial support, and general idiocy. Which athletes are angriest, and are their complaints justified? Read on and find out!
U.S. speedskaters vs. US Speedskating: American speedskaters have had their worst Olympics ever, and their terrible performance has exposed a rift between the athletes and the federation that supports them. In a recent interview, Maria Lamb, who finished dead last in the women's 5000 meters, ripped US Speedskating, claiming that the organization is hampered by "leadership that's really just systematically not listened to athletes," and has really bad taste in futuristic racing suits.
Merit score: It seems cheap for the American skaters to blame anyone but themselves for their abysmal performance in Sochi. But the fact that every single skater underachieved makes you think that the organizational chaos is real, and that it has had a real effect on how the skaters train and prepare. We'll give the speedskaters an 8 out of 10.
"Team Outcast" vs. the Australian Olympic Committee: Australian snowboarders Jarryd Hughes, Belle Brockhoff, Scotty James, and Torah Bright think they don't get nearly enough support from the Australian Olympic Committee. This foursome has been calling themselves "Team Outcast" as a way to protest how the AOC allegedly supports some Olympians—like snowboarder Alex "Chumpy" Pullin—while leaving others to fend for themselves. Before the games began, James said, "We're not part of a team and we are not helped along the way in our journey to the games or any other events." This week, Brockhoff's father released a statement blasting the federation for its cheapness and noting "anger and disgust among the Australian snowboard cross community" at the way Team Outcast had allegedly been treated.
Merit score: Bright is a celebrity who can support herself, to be clear, but the other Australian Outcasts aren't quite as fortunate. I'm not sure what to think here, but I will note that Alex "Chumpy" Pullin failed to medal, so if the AOC is indeed unfairly favoring some athletes over others, well, the strategy appears to be ineffective. 5 out of 10 for the Aussies.
U.S. bobsledders vs. the USA Bobsled and Skeleton Federation: Some American bobsledders have blasted their federation for allegedly putting marketing ahead of merit when choosing which athletes to send to Sochi. When USBSA named track star and famous person Lolo Jones to its Winter Olympic squad, some longtime bobsledders protested. This week, American bobsledder Charles Berkeley, who competed for the United States in Vancouver but did not make the squad for Sochi, fanned the flames when he told the Associated Press that "There are athletes who deserve to be there who are not there, on the women's and the men's sides. And you have to ask yourself why is that the case. What is wrong with the selection process? Why is it flawed? Why is it corrupt?"
Merit score: You can certainly empathize with athletes who become upset when they work hard, only to be passed over. But it's not as if anyone else would have done that much better than Jones on the third-string American sled. Jones and her partner may have finished in 11th place, but they had the fifth-fastest average push times during the first two heats. (And as Slate's Ben Blatt has established, the first two heats in bobsled are really the only heats that matter.) USBSF may have had an ulterior motive for choosing Jones, but that doesn't mean Jones was unqualified to be there. Plus, the USA has won five combined medals in bobsled and skeleton thus far. If this federation is doing a terrible job, we should all be so terrible. 2 out of 10 for the bobsledders.
Canada Makes Winning 1–0 Look Incredibly Easy Against Team USA
It wasn't the result the Americans wanted, nor the game casual hockey fans had hoped for. But the Canadian men's 1–0 victory over Team USA in Friday's Olympic semifinal was a thing of order-restoring beauty for the sport's faithful, and a hard-fought victory for a squad that had struggled to play the type of hockey expected from one of the most talented international teams ever assembled.

It was also a reminder that for all the promise the Americans showed in rolling through the group stage, they're still not (if they ever will be) on the level of their hockey-loving neighbors to the north. Canada's victory wasn't easy, but at times it looked that way.
In the lead-up to the big game, the consensus was that the Americans were playing the best hockey of anyone in Sochi. They had beaten two world powers in Russia and the Czech Republic, and dominated two lesser teams in Slovenia and Slovakia. Canada, meanwhile, managed to look uncharacteristically shaky against a slate of teams that were outmatched on paper, if not on ice. The polite handwringing in the Great White North reached its peak on Wednesday during Canada's 2–1 quarterfinal victory against a Latvian team with only one NHL-er. But overshadowed by Team Canada's offensive struggles was its defensive prowess: They'd given up just three goals in four games, the fewest allowed by any team. And, as they showed Friday, it's impossible to lose a game if your opponent never scores.
The Americans entered the game as the highest-scoring men's team at the Olympics, but could not put the puck past Canadian keeper Carey Price, who stopped a total of 31 shots in recording the shutout. More troubling was the fact that with only a handful of exceptions—Phil Kessel's chance in the game's opening moments comes to mind—few of those shots seriously threatened to put the Americans on the board.*
On the other end of the rink, Canada largely controlled the pace of play, cycling the puck in the American zone when they had it and forechecking aggressively when they didn't. Breakaways and slapshots find their way into the highlight reels, but it's tip-ins and redirections that decide the victor in games like this one. Canada scored one of those goals that only a hockey fan could love in the second period when Jay Bouwmeester threw the puck in front of the net and Jamie Benn managed to get his stick on it, deftly redirecting it into the U.S. net. American goalie Jonathan Quick managed to turn away 36 shots on Friday, but he never had a chance on that one.

If there was a surprise, it was that for the first time in the NHL era, players, fans, and the media treated the two teams as equals heading into this game—a conclusion at odds with recent history. "For a long time, the Canadians have been expected to win tournaments," U.S. coach Dan Bylsma explained before the high-profile semifinal. "I think the Americans have challenged that in recent years. You can go back to 2002 or 2010 or world junior tournaments. This will be the next version."
Unfortunately for Bylsma and his squad, he was right: The result was the same as the 2002 and 2010 Olympics, when Team USA couldn't beat the Canadians when it counted.
It would be unfair to the Americans to draw sweeping conclusions from just this one game, especially given how random a best-of-one series can be. But in a sport where mere inches can separate the victors and the vanquished, Canada's best have routinely been better than their American counterparts. In the five times the teams have met in the Olympics since the NHL began sending its players, the U.S. has won only once—and that was a relatively meaningless group-stage game in Vancouver that Canada would go on to avenge in the finals. The Olympic series between the North American rivals now stands at 4–1, and not once over that stretch has Team USA finished above Canada in the final standings. If the Americans are Canada's equals, they've yet to prove it on the international stage.

The Americans will now face off with an always-solid Finnish team for bronze on Saturday. They'll then watch along with the rest of the world as Canada takes on Sweden for gold on Sunday before waiting another four long years for their next chance to upend the North American pecking order.

*Correction, Feb. 21, 2014: This post originally misidentified the player who had an early scoring chance for Team USA.
The Secret of Mikaela Shiffrin's Success: Always Practice, Never Compete
Eighteen-year-old American Mikaela Shiffrin won the slalom today in Sochi, making her the youngest gold medalist in the history of that Olympic event. Last year Shiffrin finished atop the World Cup slalom standings, becoming the youngest woman to accomplish that since 1974. As Shira Springer wrote today for the Boston Globe, Shiffrin is the "present and future of US ski racing … a precocious talent who someday could surpass the achievements of Lindsey Vonn." But "precocious" might not be the best word to describe Shiffrin, whose success isn't entirely attributable to her innate ability (which, to be clear, is considerable). What's more interesting is the calculated way that she's refined her skills.
If you're a gifted young skier, with an eye toward Olympic competition or the World Cup circuit, chances are you spend a lot of time testing your skills against those of other top young skiers. Someone like Shiffrin can spend all winter going from mountain to mountain, competing in junior-level races organized by the International Ski Federation (FIS). These races let you know how you compare to others your own age, and also whet your appetite for the senior-level competitions to come. In an interview with the Last Magazine in December, Shiffrin talked briefly about the rigors of the junior ski circuit. "Once you're FIS legal," she said, "they basically just put you right in it. Most kids are racing 25 to 50 races, and it's a lot during the season."
This isn't necessarily the best way to prepare yourself for world-class competition. Not only are these lower-level races a huge time commitment, they can also cause a young skier to de-emphasize proper technique in favor of winning races that don't really matter. Even worse, they increase the risk of injury at a young age. Shiffrin's father, a physician, recently told the Wall Street Journal that "in skiing, the risk of injury is so high that trying to perform at a level you've never practiced at is asking for a trip to the O.R."
So, like a baseball manager limiting a young prospect's pitch count, the Shiffrins limited their daughter's racing commitments. While other kids were racing, Shiffrin was taking training runs on her home mountain, "fine-tuning an efficient, no-nonsense skiing style with dogged repetition and a reliance on fundamentals," as Bill Pennington put it in a 2013 New York Times profile.
Shiffrin also limited herself to a mere two events—the slalom and the giant slalom—and stayed away from the downhill and super-G. While the downhill and super-G are speed events, the slaloms reward technically precise skiing, and technical precision has always been Shiffrin's game. "In the kitchen of the family home," wrote Pennington, "Eileen Shiffrin would use broomsticks to simulate slalom gates and have her daughter weave through them trying to learn the intricate rhythm and tempo of hand movements needed to block and push away gates."
Shiffrin's story is reminiscent of how Venus and Serena Williams honed their games as children. The Williamses' father, Richard, kept the sisters out of tournaments and had them practice their strokes against each other, ensuring that when they did make it to tournaments they'd be ready to play. As Matthew Futterman wrote in the Wall Street Journal last year, Shiffrin's "train-at-home strategy stands apart in a competition-obsessed culture that subjects young soccer players to 100 games a year and budding golfers to every-weekend tournaments." But maybe it's a smarter way to go.
We like to think of child prodigies as naturally brilliant, geniuses who emerged fully formed from the womb. But talent isn't necessarily enough. Shiffrin's brilliance lies in her preparations and her perspective. She's Mikaela the machine, finely tuned for optimum performance. And she's just getting started.
How to Biathlon-ize Every Winter Olympic Sport
If you haven't yet caught a biathlon race, well, you should, because biathlon is great. What's not to like about a sport that combines cross-country skiing, target shooting, and a very excitable announcer? As we approach the final days of the Sochi Games, I am left with one big unresolved question: How can we make all of the Winter Olympic sports more like the biathlon?
The easy answer is just to give every athlete in every event a rifle and call it a day. But we're not looking for easy answers here. The biathlon isn't great because people on skis shoot stuff. It's great because it's the peanut butter and chocolate of the Winter Games, a sport that combines two entirely disparate things and makes both of them better. And yes, there are guns. Keep all of that in mind as you read my proposal for biathlon-izing every Winter Olympic sport—including biathlon.
Alpine skiing: While Alpine skiing is already pretty exciting, it could be much more exciting if each skier tossed a grenade into the snow, and then was forced to outrace the ensuing avalanche.
Biathlon: What's that? You say it's redundant to biathlon-ize the biathlon? That's what people said when the good folks at Kentucky Fried Chicken proposed an extra-crispy version of their already-pretty-crispy chicken—but, brother, they forged ahead anyway, and the results were crisptastic! Now, where was I? Oh, yes, the biathlon. Let's juice it up by giving each competitor two guns and four skis. Where will they put the extra skis? On their hands, probably. But then how will they shoot the guns? Exactly!
Bobsled: If a biathlete misses a target, she has to ski an additional "penalty loop." In bobsled, there is no penalty for hitting the wall. That's just wrong—there's no reason an Olympic sport should be more permissive than the game Operation. If you hit the wall, you should have to push your sled back up to the start of the track. Now that's an incentive to improve.
Cross-country skiing: Let's combine cross-country skiing with orienteering, and make this event a true wilderness survival test. We'll bring the competitors way out in the middle of the woods with nothing but the skis on their feet, a compass, and a gun with which to ward off bears, A medal will be awarded to the skier who crosses the finish line first, as well as to the bear who eats the most skiers.
Curling: No more sliding the stones across the ice. Now, you have to shoot them from a cannon. Also, you can stick those brooms in the cannon if you like.

Figure skating: Figure skaters are now required to perform a short program and a free skate. From now on, there will be a compulsory third "military drill" program in which each skater must pirouette with a rifle. Death-defying spins, indeed.
Freestyle skiing: Skiers will get bonus points for tricks that involve shooting a clean hole through the center of a nickel, just like they did back in the day during Wild West freestyle skiing competitions.
Ice hockey: You don't need firearms to biathlon-ize a hockey game. Just replace the tiebreaking shootout with an accuracy competition in which players must shoot a puck through the mouth of a cardboard cutout from 25 yards away. I actually think this is a good idea. Well, a not-terrible idea. Actually, never mind.
Luge: At the end of a run, racers must use their runner blades to saw through a rope, thus releasing balloons containing inspirational messages like "Number 1 Olympian" and "Good effort." In unrelated news, I am currently looking for people who might want to invest in my new inspirational-balloon business. If you're interested, give me a buzz!
Nordic combined: This odd sport already combines two separate disciplines: cross-country skiing and ski jumpng. Thank you, whatever genius biathlon-ized this sport before I had the chance!
Short track: Taking a cue from the television programs Wipeout and American Gladiators, skaters will be made to navigate various obstacles—mud flats, tar pits, referees wielding pugil sticks—as they make their way around the track. This doesn't really have much to do with the biathlon, but it's in the spirit of the biathlon, maybe.
Skeleton: To honor biathlon's emphasis on precision and accuracy, the sport's governing body should reconfigure the skeleton track so that racers have to pass through a series of small, skeleton-racer-sized holes.
Ski jumping: Let's combine this sport with skeet shooting, and have other competitors shoot at the jumper with a paintball gun. Now, you'll be graded on distance, style, and kills.
Snowboarding: Yeah, you probably don't want snowboarders handling rifles, at least not if spaced-out gold medalists Sage Kotsenburg and Jamie Anderson are at all representative of the broader snowboarding community. Just have the biathlon guy announce the snowboarding events from now on, and we'll be fine.
Speedskating: In honor of the American skaters' struggle with their suits, the race will begin with each competitor in one skintight outfit and finish with them in another. How do you change your skinsuit in the middle of a race? That's not my problem.