A Blog About the Olympic Games
How Usain Bolt Could Go Even Faster
After winning the 200-meter dash on Thursday, Usain Bolt, the world's fastest and most-modest man, regaled the press with tales of his own excellence. "I've done something that has never been done before and because of that I am the greatest. The greatest ever," he said.
He might be right. A recent Economist article reviewed some academic research suggesting that Bolt is coming very, very close to the maximum speed at which humans can run.
Mark Denny, a professor at Stanford who studies the biomechanics of mussels, crabs, and kelp, published a paper in 2008 titled "Limits to running speed in dogs, horses and humans." Denny, who analyzed trends in on-track achievement and population data to predict the maximum rate at which humans can run, concluded that the fastest achievable 100 meter speed is probably 9.48 seconds—0.10 seconds faster than Bolt's current world record. Writes Denny: "Bolt's records are not out of line with the logistic fit to the historical data…. there is nothing in Bolt's records to suggest that the predictions made here are inaccurate or that human speeds in the 100-meter and 200-meter races are limitless."
Of course, Denny published his paper before Bolt smashed his own world record in 2009, running the 100-meter dash in 9.58 seconds—a full 1 percent faster than his previous record time of 9.69 seconds. This drastic improvement doesn't necessarily refute Denny's points, but it does serve to underscore the limitations of peak speed prediction. Denny himself acknowledges these limitations, noting in his paper that it is much easier to predict peak speeds for dogs and horses than it is for men, and that, in any event, "all such extrapolations must be used cautiously."
How else might Bolt continue to improve his speeds? Mathematician John Barrow thinks that if Bolt can improve his reaction time off the starting blocks, he could lower his record to 9.55 seconds; if he was also running at altitude and with a tailwind, he might get down to 9.47 seconds. Peter Weyand, who teaches physiology at Southern Methodist University, thinks runners could theoretically go as much as 33 percent faster, if only there was some way to combine the power of one-legged hopping with the speed of sprinting. In his paper "The biological limits to running speed are imposed from the ground up," Weyand and his co-authors explain that hopping generates more force than sprinting, because your foot is in contact with the ground for a longer period of time, thus letting your muscle fibers work to their top potential. How might sprinters harness this power? Weyand suggests two ways: by evolving faster-twitch muscle fibers, or by somehow lengthening their legs.
Here's where this is leading: Someone like Oscar Pistorius, with prosthetics that can theoretically be customized to correct the deficiencies inherent in our puny human legs, is probably the best candidate to break the 100-meter speed limit. (Weyand has published on that topic, too.) Usain Bolt might be the fastest man on earth. But he can't hope to measure up to an equally gifted man-machine.

Why Are American Women Winning So Many Medals? It's Not Just Because of Title IX.
It's been the year of the woman at the London Olympics. Qatar and Saudi Arabia sent female athletes for the first time, women's boxing made its debut, and China and the United States are the runaway leaders in the medal count thanks in large part to huge hauls by their female contingents. On Wednesday night, Bob Costas told the primetime audience that women had won 23 of the United States' 34 gold medals. By the end of Thursday's action, the totals had moved to 26 of 39 golds for the U.S. women and 51 of 90 medals overall.
What's the explanation for the dominance of Team XX on Team USA? On Wednesday, Linda Greenhouse argued in the New York Times that credit should go to Title IX, the 1972 legislation that, among other things, granted women equal access to collegiate athletic scholarships. Greenhouse also credited the Supreme Court for giving it teeth, ensuring that the law would be "the powerful force for women's advancement … that it is today."
Greenhouse is right that Title IX has been a boon for women. It was also a necessary step for government to take, as colleges weren't giving female athletes anywhere near an equal opportunity to earn scholarships or compete. Hundreds of thousands of women, no doubt, have earned college degrees thanks to the scholarships they got to play basketball, soccer, field hockey, and to run track.
But even a cursory look at the results of the U.S. women in these Olympics shows that Title IX is not a one-size-fits-all explanation for what's happening at these games. Even if you consider that the legislation has led to a dramatic increase in participation in high school sports, many of the athletes who compete in Olympic sports opt out of the scholastic system altogether, instead training with private clubs or national teams. This splintering from school teams happens years before top women athletes get to high school.
Take the swimmers, for example. Katie Ledecky, who won gold in the 800-meter freestyle, is 15 years old. Four-time Olympic gold medalist Missy Franklin is all of 17. She began her career, as swimmers of all abilities do, swimming for a summer club. Even today, the bulk of her training is with her private club and the coach she's been with since she was 7. It's also worth noting that in the 1972 Olympics that were held just two months after Title IX was signed into law, American women won eight of 14 gold medals in the pool. In 2012, members of the U.S. team won eight of 16 golds. Title IX or no Title IX, American swimmers have always dominated.
Also consider gymnastics: Aly Raisman and Jordyn Wieber were the grand dames of the U.S. women's team at the ripe old age of 18. Training to be an Olympic gymnast requires a ridiculous amount of practice, and many thousands of dollars, even from a young age. Girls start tumbling as toddlers.
Further, a significant number of the medals won by U.S. women came in sports that the NCAA doesn't sanction and few if any high schools offer, including judo, cycling, and shooting.
There are certainly women on the U.S. Olympic team who can credit their athletic careers more directly to Title IX. Our soccer, basketball, and volleyball programs would not be nearly as dominant if the legislation were not in place. It's also true that Title IX helped create an atmosphere that nurtured girls' ability to play sports, no matter what that sport happened to be. But it takes a tremendous amount of effort and courage and hard work for anyone, man or woman, to make it to the games, much less win Olympic gold. Let them have their moment, and let them take credit for it.
American Sprinter Manteo Mitchell Broke His Leg and Kept on Running. How Is That Possible?
"I heard it and I felt it," American sprinter Manteo Mitchell told the Associated Press after breaking his leg on Thursday. Mitchell, who was halfway through his segment of the men's 4-by-400 relay when he felt something snap, did what he said "almost any person would've done in that situation"—he finished the remaining 200 meters. His endurance wasn't for naught: After Mitchell limped off, his three teammates completed the relay and qualified for the 4-by-400 final. After the race, doctors diagnosed Mitchell with a complete break of the left fibula and said the bone would heal in four to six weeks. How difficult is it to run 200 meters on a broken fibula?
Very difficult, but not impossible. The fibula is the smaller of the two bones that make up the lower leg, the other being the tibia. Unlike the tibia, the fibula is non-weight-bearing. As such, it is possible to run on a broken fibula. The pain, though, would be intense and would likely debilitate many athletes. The fact that Mitchell made it around the track in just more than 46 seconds—a time that placed him in a tie for fifth out of eight runners—is extremely impressive.
Yet Mitchell isn't the first runner to finish a race with a broken fibula. In 2009, the New Orleans Times-Picayune reported that high schooler Matt Schwingshakl completed the final 80 meters of a 400-meter race on a broken fibula. "I tried to maintain form, that's what I concentrated on," Schwingshakl said. "I ignored the pain." And a 1998 Daily Telegraph story noted that an English amateur runner named Joanna McAdam completed a 10K on two broken fibulas. "I don't think I'll be doing that distance again," McAdam said.
Will Ashton Eaton Make Decathlon Popular Again? A Look at the Rise and Fall of the Olympics' Marquee Event
1912: The first Olympic decathlon that uses today's format—10 events held over multiple days—is won by Jim Thorpe, a Native American whose impressive performance leads Sweden's King Gustav V to declare, "You, sir, are the world's greatest athlete." An endorsement from King Gustav meant a lot in the pre-broadcast era. Decathlon popularity rises 80 percent.
1913: Thorpe is forced to return his medals after officials learn that, prior to the Olympics, he had compromised his amateur status by playing semi-professional baseball. A nation of credulous track-and-field fans loses its innocence. Decathlon popularity drops 30 percent.
1954: After winning gold as a 17-year-old in London in 1948 and repeating the feat four years later in Helsinki, American decathlete Bob Mathias stars in a biographical film, The Bob Mathias Story, which one IMDB user describes as "interesting." Decathlon popularity rises 25 percent.
1966: Bob Mathias is elected to Congress as a Republican from California's San Joaquin Valley. He spends eight years in office, during which he directs a suspicious number of government subsidies to the discus industry and loses his seat in the wake of the Watergate scandal. Richard Nixon could ruin any sport's reputation. Decathlon popularity drops 20 percent.
1976: Bruce Jenner captures the public imagination after setting the decathlon world record at the Montreal Games. The young, good-looking Jenner succeeds in helping everybody forget the last big Olympic hero, creepy mustache-jockey Mark Spitz. Decathlon popularity rises 70 percent.
1979: The animated special "You're the Greatest, Charlie Brown" airs, teaching a generation of children that the decathlon is for wishy-washy, prematurely bald losers. The show revolves around Charlie Brown's efforts to train for and compete in the Junior Olympics decathlon. (LUCY: "Boy, who would be that dumb? To want to enter the decathlon?" CHARLIE BROWN: "Hi, everybody!") The youth of America recoil in horror. Decathlon popularity drops 15 percent.
1984: The brash British athlete Daley Thompson wins his second consecutive decathlon at the Los Angeles Games. Thompson, who sort of looks like Richard Pryor, appeals to Hollywood types, who speculate that he might combine athletic prowess with pointed racial humor to carry decathlon to new heights. Also, Daley Thompson's Decathlon wins the 1984 Golden Joystick Award for best arcade-style game of the year. Decathlon popularity rises 10 percent.
1984: Daley Thompson proves to be something of a jerk, shocking audiences by whistling "God Save the Queen" on the medals podium rather than singing along, and by questioning Carl Lewis' sexuality by wearing a T-shirt asking "Is the world's 2nd greatest athlete gay?" Hollywood switches its attentions to a Belgian sprinter who resembles Michael J. Fox. Decathlon popularity drops 10 percent.
1992: American rivals Dan O'Brien and Dave Johnson star in a series of Reebok commercials promising that "this summer they'll battle it out in Barcelona for the title of 'World's Greatest Athlete.'" The commercials are a bit premature: O'Brien doesn't even qualify for the American team. If there's one thing Americans hate, it's false advertising. Decathlon popularity drops 20 percent.
1996: O'Brien makes a stirring comeback, winning gold in Atlanta four years after his shocking failure to make the Olympics. An American populace that's still struggling to throw the tiny yellow discus in that Bruce Jenner board game fails to notice. Decathlon popularity drops 10 percent.
2009: A year after he won gold in Beijing, the New York Times reports that Bryan Clay has 1,197 Twitter followers and has launched a campaign to add 7,635 more to match his high score in the decathlon. Meanwhile, Jenner finds new fame as the doddering stepfather on Keeping Up with the Kardashians, the reality show in which he relentlessly spouts his famous catchphrase: "Who's up for another stirring round of the Bruce Jenner Decathlon Game? It will only take two full days!" Decathlon popularity drops 10 percent.
Her Gloves Are Golden: In Praise of Claressa Shields, the Most Intimidating American Woman in Olympic History
In the middle of her fight for boxing gold, Claressa Shields bobbed her head left and right, dodging a series of punches from Russia's Nadezda Torlopova. The 17-year-old middleweight from Flint, Mich., then made a move equal parts fighter and teenager. Just as Sugar Ray Leonard used to do, Shields stuck out her tongue. She was mocking the Russian, and there was nothing Torlopova could do about it. Clad in red, clench-jawed, and as unyielding as the name of her hometown, Shields went to town, connecting more blows and showing more energy throughout the four-round clash. The American was too tough and too fast, and she wasn't going to lose.
Though her margin of victory wasn't as large as in the semifinals, the teenage star still managed to make history in winning the fight 19-12. Shields, who was profiled extensively in the months leading up to her London showdown, is the second-youngest Olympic boxer to win a gold medal, the first woman boxer to win an Olympic middleweight competition, and perhaps the most intimidating American woman in the history of the games.
American boxing fans pinned their hopes on Shields after flyweight Marlen Esparza lost her semifinal bout. They'd already given up on the men's team, which will leave the Olympics empty-handed for the first time ever. (Could it be that "the worst jab that can be leveled on America's playgrounds today is that one fights like a guy?" asked the New York Times). But Shields' win represents a victory for more than just the red, white, and blue. As a woman in an intensely physical, aggressive sport, she's a standard bearer for radical female athleticism. She's not cutesy (like some gymnasts) or sexy (like some—OK, all—beach volleyball players). She's strong and ferocious and confrontational—yes, she broke into the Dougie right before her title was announced, but "Baby Robinson" shows few other signs of messing around. And like all great boxers, she's outrageously cocky, her deep reserves of self-confidence written all over her face.
Shields' victory signifies that we've left the era in which women's boxing can be dismissed as an uncouth sideshow. The case against the sport goes that ladies are too precious to put at risk of injury—and that allowing them into the ring would be a sign of disrespect. (Combat sports, coach Tommy Gallagher explained to the New Yorker's Ariel Levy, are modeled after the fighting our ancestral forefathers did to protect our ancestral foremothers.) Yet for Shields, boxing means proving her worth, not discounting it. She walked into the ring for the first time because her father told her that "boxing is a man's sport"; she was determined to prove him wrong. Her aunt Tammy Rutherford-Maynard revealed in Levy's New Yorker piece that Caressa takes after the other Shields women: "All the ladies in the family, you can't tell us we can't do that. Whatever you can do, we can do it, too."
Sure enough, Shields did it today. And anyone who watched her perfectly self-possessed performance shouldn't be surprised to see her do it again and again.
That New York Times Piece on Lolo Jones Got a Lot Right about Women in Sports
I am showing up late to the Lolo Jones party to raise an eyebrow over New York Times public editor Arthur Brisbane's rebuke today of Jere Longman, the writer of a weekend profile of Jones that's been widely denounced as a nasty-gram. Brisbane now agrees that Longman's piece was "too harsh." Maybe, but Longman was also correct to focus on an obnoxious aspect of how attention gets doled out among female athletes. And who says that every piece of analysis in the Times has to be staid and polite?
Yes, the Lolo profile was mean. Longman argued that the Olympic hurdler "has decided she will be whatever anyone wants her to be—vixen, virgin, victim—to draw attention to herself and the many products she endorses." Longman believes that Jones has gotten far more attention than she deserves as an athlete because of her "exotic beauty" and "sad and cynical marketing campaign." Examples: posing nude for ESPN the Magazine and for Outside in a bathing suit made of ribbon. And another example: trumpeting herself as a Christian virgin. While Jones snapped up all of her endorsements, Dawn Harper, another American, won the 100-meter hurdles in Beijing wearing borrowed spikes.
There is nothing fair about how companies decide which athletes to pay for product placement. And to a point, I agree with Alyssa Rosenberg's vigorous defense of Jones: There's no shame in taking an endorsement deal because you need the money. I also don't fault Jones for talking about her dysfunctional, impoverished family background, a decision that Longman suggests was in poor taste. You can talk down your family in a way that exploits and cheapens them, sure, but you can also just decide to be honest about where you come from so fans, including girls growing up like you did, will find inspiration in how hard you worked to get there.
But what Longman is right about is the outsized value for female athletes of being gorgeous. It's unfair to the women who are working their asses off and who get passed over by magazines and TV shows and advertisers, and by the rest of us, too. This doesn't happen to male athletes: When was the last time a pretty boy who wasn't at the top of the pack got all the attention? And that's my problem with the nude and near-nude magazine covers Jones did: You can fault the editors for asking her, but it's also fair to hold her accountable for playing their game.
All of that said, good for Jones for placing fourth in the 100-meter hurdles this week, and I say that without the slightest scoff. She was seventh in Beijing four years ago, and Longman wrote before Wednesday's race that "19 hurdlers internationally have posted faster times this year than Jones' best." So if you block out the hype, she didn't fall short—she outdid expectations. And when Jones said she felt like a "big disappointment," she won my sympathy for the first time. She sounded human, and also like a real athlete who cares about competing, and winning, most of all.
From Ben Franklin to Wolf-Themed Bathing Suits: A Brief History of Synchronized Swimming
Yes, synchronized swimming is the most-ridiculous Olympic sport, and that's even before you add in those fearsome wolf bathing suits. But let's be clear: It definitely counts as an athletic activity. (Try it yourself, and then see how funny you think it is.) Swimmers perform an intricate, tightly choreographed aquatic dance routine that starts on the deck of the pool, where they march out in unison, strike poses, and take to the water in ostensibly artistic fashion. The sport requires great strength, endurance, grace, and timing. You also have to smile the whole time, even if your teammate just botched that twirly thing she was supposed to do.
Olympic synchro comes in two- and eight-person varieties. Competitors perform technical routines, in which they're judged on how well they execute various required elements, and free routines, which put more of an emphasis on artistic interpretation. The performances last between two-and-a-half and four-and-a-half minutes. Check out this one, from the 2000 Sydney Games, in which the Japanese team engages in some intimidating karate-inspired maneuvers.
Also not to be overlooked, though it didn't come during the Olympics, is Team Canada's cowboys and Indians routine from 2009.
Where did the idea for this sport come from? In Synchronized Swimming: An American History, Dawn Pawson Bean theorizes that Benjamin Franklin was America's first stunt swimmer, a skill he picked up in his spare time between inventing bifocals and flying kites in the rain. She explains:
In a letter to Oliver Reeve, Franklin described his swim in the Thames from Chelsea to Blackfriars, performing, on the way, "many feats of activity, both upon and under the water, that surprised and pleased those to whom they were novelties." He authored a book, The Art of Swimming Rendered Easy. ... [It] was published in Glasgow in 1781.
More than 100 years after Ben Franklin's damp balletics, a vaudeville performer named Annette Kellerman toured the country giving stunt-swimming exhibitions. Kellerman later went on to Hollywood. "But for swimming, I might have been hobbling about on crutches instead of making my regular livelihood today as a moving picture mermaid," she said in 1918. (Hooray for America!) Later, the films of Esther Williams, "America's Swimming Sweetheart"—which featured singing, dancing, and spectacular synchronized swimming displays—helped promote harmonious marine movement to the entire world.
In her exceedingly odd paper "A History of Synchronized Swimming," Synthia Sydnor notes that the first synchronized swimming club was founded in the 1920s. This was also the age in which the endurance sport of flagpole-sitting became amazingly popular. So why did synchro make the Olympics, while perching on a pole is still awaiting its hipster-fueled comeback?
As you might have suspected, you can blame the 1933-34 Century of Progress World's Fair. A woman named Kay Curtis was the driving force behind promoting synchronized swimming as a sport rather than just a watery dance craze. At the Chicago World's Fair, Curtis put together a synchronized swimming show called the Kay Curtis Modern Mermaids. Their performances were hugely popular, drawing thousands per exhibition. Some of those people returned to their hometowns and founded synchronized swimming clubs of their own. In 1939, Curtis helped plan the first competitive synchro meet; in 1941, the Amateur Athletic Union sanctioned synchronized swimming as a bona fide competitive sport.
After a long, soggy slog, synchro finally became an Olympic sport in 1984, when duet and solo synchronized swimming made their debuts. "Solo synchronized swimming? Has the world gone topsy-turvy?!?" you might ask. Well, simmer down, cranky. It was sort of like a gymnastics floor routine, with a swimmer performing along to music. Regardless, it was dropped in 1992 in favor of the team synchro event that we all know and love today.
Speaking of which, here's the AP's description of Thursday's action in the team event: "Canada's swimmers wore soccer balls on their suits and caps and simulated goal-scoring kicks as they dove into the water."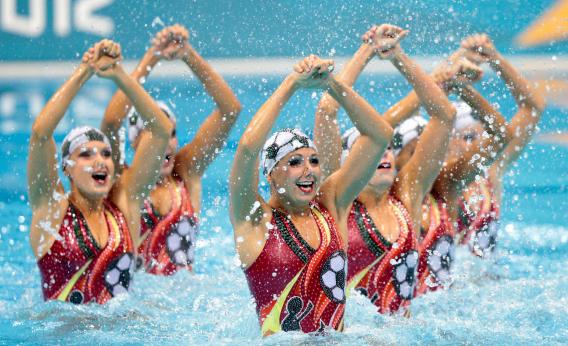 And the day's big stylistic winner: "Australia's athletes swam to a Back in the USSR remix and had Kremlin motifs on their suits."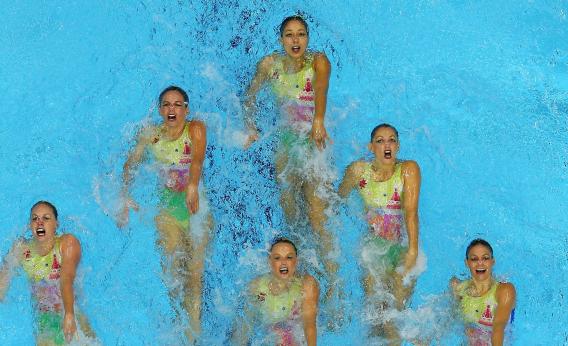 Boobies in the Pool! Why the New York Times Was Right To Focus on Water Polo's Wardrobe Malfunctions
For the first year of my high school water polo career, I was really, really bad. I was a fairly strong swimmer, I could catch the ball and, at least half the time, throw it in the general vicinity of one of my teammates. My crippling fear of physical contact, though, kept me out of the pool, relegated to cheering on my more fearless teammates. It took an entire season of this for me to realize that all of the stuff going on below the surface—the grabbing, pushing, shoving, and kicking—were part of the sport, and that I'd have to grab, push, shove, and kick back if I wanted to play.
On Wednesday, the New York Times' Sam Borden highlighted these more vicious aspects of the game, noting that all the grappling can leave female competitors undressed. A week ago, an American player "pulled at her opponent's swimsuit and briefly bared a Spanish player's breast for all to see." The story also notes that another member of Team USA "played about 10 minutes of a game topless at the 2000 Olympics, when an opponent shredded her suit as they grappled for the ball but play continued."
On Feministing, Chloe Angyal criticized the Times for focusing on the exposure of "lady bits." The NYT "could have used this as an opportunity to talk about how rough water polo is, or how swimsuit technology hasn't yet provided players with suits that don't rip or stretch away from their bodies," Angyal wrote. "Instead: boobies! Tee hee hee!"
Though Angyal is right that the Times seems a little too excited about the possibility of seeing a naked boob, I don't agree that the story was a lost opportunity to talk about toughness. If you watch the women's gold-medal game between Spain and the United States on Thursday afternoon, you'll see instantly that water polo is extremely physically demanding. Everyone can tell that the players are swimming hard and fast and without a break, and it's pretty easy to observe that you have to depend solely on your own legs and swimming ability to keep from drowning.
The facet of the sport that needs more coverage is the below-the-surface physicality—what the Times' Borden calls "underwater warfare." If you can look past the mentions of naked players, the NYT piece does well to highlight the sport's underwater jostling, allowing those who've never played water polo to understand an often overlooked aspect of the sport.
Treading water for 30 minutes is hard enough. The simple task of staying afloat becomes nearly impossible when you have another player practically on top of you, grabbing the crotch of your suit and pulling you down with all her might. Yes, water polo is more than just a collection of nip slips and crotch shots. But if it takes a few mentions of "boobies" to expose the difficulty of playing a contact sport in the water, then I'm all for it.
Medals, Schmedals. Here's Everything You Need To Know About the Purple Ribbons Hanging Around Olympic Champions' Necks
Though there's been a lot of talk about the design of the Olympic medals—they feature the London 2012 logo, the goddess Nike, and the River Thames among other gewgaws—less attention has been paid to the lustrous purple ribbons on which they hang. This must not stand!
If you thought the IOC just went out and bought a couple of rolls of ribbon at a craft store, you would be incorrect. The ribbons are the work of Futurebrand, the international design and marketing firm responsible for unifying and implementing the look of the London Olympics. Futurebrand is charged with taking the logos, fonts, and pictograms designed by various studios and deploying them in a clear, aesthetically pleasing way. The defining element of this unifying look? A bunch of intersecting lines that riff on Wolff Olins' ubiquitous Olympics logo.
That brings us back to the ribbons, which are purple in honor of Queen Elizabeth's 50th year on the British throne and have been woven from three different types of thread. The eagle-eyed among you will notice that the front of the ribbon looks textured. Mark Thwaites, creative director at Futurebrand, told me this was done "to create a sense of luxury and touch."
The ribbons are also emblazoned with a small set of Olympic rings, the words "London 2012," and those abstract, intersecting lines on the back—a design that looks like several unsteady electrical towers. These criss-crossed lines can be found throughout the games: on signage, on the courtesy cars, in the seating design for various Olympic stadia. In the blog Designboom, Futurebrand's Matt Buckhurst says the lines are meant to evoke 'a burst of energy,' " and praises the design as one that's distinct yet adaptable. "The ensuing look is provocative, unexpected, distinctive and bursting with life," he says. "It captures the youthful spirit of London and the energy of the games."
If you're watching from home, though, you might not have noticed this grid motif, and you might have wondered why the Olympic ribbons are decorated with what looks to be a spider web. Wonder no more: It's a unifying grid, dummy!
The Agony and the Ecstasy: Olympic Faces of the Day
Today's winners in Olympics agony and ecstasy have been selected from the last 24 hours of competition. You can also check out the agonized and the ecstatic athletes from Monday and Tuesday's photo collections. Click on the links below to learn more about why these athletes are feeling the way they're feeling.