| 
Posted Tuesday, May 14, 2013, at 3:25 PM
A .22 caliber rifle
Courtesy of Nemo5576/Wikimedia Commons
Crime is Slate's crime blog. Like us on Facebook, and follow us on Twitter @slatecrime.
Last week, I wrote about the 5-year-old Kentucky boy who accidentally shot and killed his 2-year-old sister with a .22-caliber rifle he had received as a gift. I asked whether, in cases like these, the parents who allow their children to access and fire a loaded gun should be prosecuted for criminal negligence. The answer to that question varies from state to state. In Kentucky, the answer is no—state law protects parents from prosecution in cases like these. In New Jersey, however, the answer is yes.
In April, a 4-year-old New Jersey boy accidentally shot and killed his 6-year-old neighbor with his father's .22-caliber rifle. On Monday, the boy's father, Anthony Senatore, was arrested and charged with five counts of second-degree child endangerment (for storing five unsecured firearms in places where they were accessible to his children), and one count of third-degree child endangerment (for storing one of those firearms in a place where it endangered the welfare of the 6-year-old who was killed). Each second-degree count could potentially bring 5 to 10 years in prison, which means that if Senatore is convicted, he could theoretically face up to 50 years in prison. (He won't, of course, get 50 years in prison, but, if he is convicted, he will likely face some jail time—if you are convicted of a second-degree offense in New Jersey, it is presumed that you will face a prison term.)
I am not usually a fan of symbolic prosecutions. Too many people are imprisoned in this country, many on small charges that could have better been addressed with probation or counseling. Jailing Senatore for 50 years—or even 5 years—seems like an overly harsh response to what was essentially an accident.
But a lot of people are accidentally shot and injured or killed in this country every year, and many of these injuries and deaths could have been prevented if the gun owners had just followed some simple safety precautions. The Law Center to Prevent Gun Violence reports that "in twelve states where [laws intended to prevent children's access to firearms] had been in effect for at least one year, unintentional firearm deaths fell by 23% from 1990-94 among children under 15 years of age." But these laws are only effective if they are enforced, which is why, in the big picture, I think prosecuting cases like this one may serve to deter other people from leaving their guns unsecured in a place where they might cause an accidental death.
I don't think symbolic prosecutions work in most drug cases. Say the newspapers report that somebody has received 10 years in jail for heroin possession. That's not going to stop anyone from using heroin, because heroin is addictive. And it's not going to stop anyone from selling heroin, because you can make a lot of money from doing so, and, anyway, you know the risks you run when you sign up to be a drug dealer. The reasons to keep using or selling heroin are generally stronger than the reasons not to.
But there's no good reason to keep your guns lying around where your kids can get at them. You don't do that because you're addicted to it, or because it will make you rich. You do it out of ignorance, or inertia. And even though it seems like simple logic—if you own guns and also are raising children, you should store those guns in a place where the children can't access them—lots of people still refuse to follow basic safety protocols. A big, public prosecution in a case like Senatore's might help change their minds.
 | 
Posted Monday, May 13, 2013, at 3:23 PM
Alvin Cote
Saskatoon Police Service Blog

On Friday, I wrote about Alvin Cote, a homeless Canadian drunk of First Nations descent who befriended much of the Saskatoon police department over the course of his more than 800 arrests for public drunkenness. Cote's recent death hit the Saskatoon cops hard, prompting tears, memorials, and at least one heartfelt blog post in which a constable mourned his alcoholic friend. This wouldn't have happened in an American city, I suggested. Whereas Canadians apparently love and revere their homeless drunks, Americans prefer to scorn them and escort them out of town.
Well, I've got egg on my face. As it turns out, escorting homeless people out of town is as popular in Saskatoon as it is in the States. An emailer alerts me to the practice of "starlight tours," or "starlight cruises," in which drunk or disorderly Aboriginal Canadians—people like Alvin Cote—were allegedly rounded up by Saskatoon police, escorted to the outskirts of town, and left to freeze to death. As a 2001 Amnesty International report put it, "There were reports that members of Saskatoon City Police had for a number of years had an unofficial policy of abandoning intoxicated or 'troublesome' members of the indigenous community away from the population centre of Saskatoon, thereby placing them at great risk of dying of hypothermia during the winter months."
In 2000, for instance, a First Nations man named Darrel Night was allegedly handcuffed after leaving a party, driven out of town, and left on the roadside in sub-zero temperatures. "He called out for them to stop, afraid for his life. 'That's your fucking problem,' was the only reply from the patrol car as it drove away," reports Christopher Thrall in Vue Weekly. Night lived, but others weren't as lucky.
While the two officers in the Night case were arrested and imprisoned, the Saskatoon police claimed that it was an isolated incident, and that "starlight cruising" was not departmental policy. Many locals disagreed, citing several suspicious freezing deaths in which the police may have had a hand. In 1990, a First Nations teenager named Neil Stonechild was found frozen to death in a Saskatoon field; Stonechild's friend reports seeing a handcuffed, bleeding Stonechild in the back of a police car the night he disappeared, saying, "Help me. They're going to kill me." In the early 2000s, the Canadian government investigated the freezing deaths of four Aboriginal men in the outskirts of Saskatoon. While two of the deaths were deemed accidental, coroners' inquests were "unable to determine the circumstances" that led to the hypothermia deaths of Rodney Naistus and Lawrence Wegner in the same area where Darrel Night was abandoned by police. At the inquest, two women testified that they saw Wegner in police custody the night he disappeared.
In 2003, new Saskatoon police chief Russell Sabo confirmed many locals' suspicions when he admitted that, in 1976, an officer was disciplined for starlight-touring an Aboriginal woman. In a television interview, Sabo further admitted that starlight tours had "happened more than once, and we fully admit that and, in fact, on behalf of the police department, I want to apologize. It's quite conceivable there were other times. I think it's important we take ownership when we do something wrong and correct the behavior."
As far as I can tell, there haven't been any new starlight cruises reported since the Night case made headlines. Does this sordid history detract from the specific story of Alvin Cote, beloved First Nation inebriate? Not necessarily. The Cote story remains a lovely testament to the virtues of human kindness. But it just goes to show that kindness to one drunk doesn't necessarily mean kindness to all drunks. And it should remind us not to allow the stories of police work at its best to make us forget the stories of the police at their worst.
 | 
Posted Monday, May 13, 2013, at 1:00 PM
A man shows page one of The Plain Dealer newspaper to a friend while people gather along Seymour Avenue near the house where three women, who disappeared as teens about a decade ago, were found alive, May 7, 2013 in Cleveland, Ohio.
Photo by Bill Pugliano/Getty Images
For the past week, I've been riveted to the website of the Cleveland Plain Dealer, which has been my go-to source for reporting, context, and analysis on Ariel Castro's alleged kidnapping of three women. National outlets, which lack regional knowledge and the bodies on the ground, can't compete with local dailies on these sorts of stories. Just as the Boston Globe did with its blanket coverage of the Boston Marathon bombing, the Plain Dealer has outshone the competition with multiple updates a day that have helped outsiders understand what's happening on Cleveland's west side. From its continuously updated "Frequently asked questions" backgrounder about the Castro case to Robert L. Smith's long, lovely feature contextualizing the women's decade of captivity, the Plain Dealer's collected output over the past week is a testament to the value of the daily regional newspaper in the digital age.
It's also the paper's swan song. This summer, the Plain Dealer will switch to a three-day-a-week home delivery schedule and lay off at least 53 members of its newsroom. Though the paper will continue to publish every day, don't expect greatness from the non-delivery editions. Earlier this year, the Syracuse Post-Standard switched to a three-day-a-week delivery schedule. As Ryan Chittum at the Columbia Journalism Review has reported, the off-day versions are hardly local newspapers at all. The Post-Standard for Monday, April 29 "clocked in at 16 pages and had no original content on page one. At the top of the newshole on the left side of page one is an AP story the paper headlines 'President jokes about aging and cute bangs.' On the right is an AP brief on a stabbing in Albuquerque, 2000 miles away, in which no one was killed."
The Post-Standard and the Plain Dealer are both owned by a company called Advance Publications. Advance also owns the New Orleans Times-Picayune, long the dominant daily in New Orleans. Last year, the Times-Picayune went to a three-day-a-week publication schedule, in what was billed as a shift-to-digital strategy—an odd move in a poor city with scant broadband penetration. The paper has since shed staff and readers, and ceded market share to the Baton Rouge Advocate, which hired away many of the Times-Picayune's top reporters and editors and has made inroads in the New Orleans newspaper market. Just last week, the Times-Picauyne's owners announced that that paper would revert to some sort of daily publication schedule. But the damage has been done.
Chittum at the Columbia Journalism Review (where, disclosure, I'm employed as an editor-at-large—though not for much longer!) has speculated that Advance's strategy is to drive down costs at its newspapers to boost short-term profits before liquidating the print operations entirely in a few years' time. I can't say whether he's right. I do know that the move has been disastrous for the Times-Picayune's news department. New Orleans, crime-ridden and corrupt, needs a journalistic watchdog more than most cities, and the decimated, Web-focused Times-Picayune has shown itself unable to fill that role. "Stories where people of poverty talk about issues of importance seem almost nonexistent these days," an ex-Times-Picayune reporter told Chittum.
The same will likely soon be true in Cleveland. "All of the announced changes are driven by our desire to adapt to market changes and to continue to serve the community as the leading source of news and information for years to come," wrote the paper's editor and publisher back in April, in a post titled "Adapting to better serve our community: a letter to readers." The Plain Dealer can spin this decision however it likes, but it will inevitably result in less coverage of the issues and constituencies that need to be covered most desperately. By reducing its footprint in the community, the Plain Dealer will just end up further marginalizing groups that have historically been marginalized by news outlets: poor people, old people, minority groups. Their communities will get covered less, and—with the limited availability of the print product—they'll be less likely to be able to read the coverage.
On Thursday, I wrote about how the decline of the local beat cop is in some ways responsible for the Cleveland Police Department's failure to locate the missing women or to notice anything amiss at the house of Ariel Castro. If a police officer walks the same beat day after day, she gets to know the neighborhood and its residents, and she comes to realize when something's amiss. By being present in a community, you develop contacts, intuition. Basically, you do a better job.
What's true for cops is true for reporters. Community policing has vanished from Cleveland, a victim of budget cuts. Community reporting is the next to go.
 | 
Posted Friday, May 10, 2013, at 4:17 PM
Alvin Cote
Saskatoon Police Service Blog
In America, homeless drunks are routinely ignored, or despised, or given one-way bus tickets out of town. In kind-hearted Canada, homeless drunks become local celebrities. Chris Purdy of the Canadian Press wire service has a great story today about a homeless alcoholic named Alvin Cote who died last month at the age of 59. Cote befriended most of the cops on the Saskatoon police force, largely because he interacted with them so often. "It's believed Cote had been arrested more times for public drunkenness than anyone else in the city's history," writes Purdy. In February, Saskatoon's Star Phoenix reported that Cote had racked up 843 public drunkenness arrests.
If you spend that much time in the company of police officers, you are bound to develop a personal relationship. Saskatoon cops took to Cote, despite the fact that he was often belligerent, or perhaps because of that fact. (His catchphrase was "I'm a fighter.") "Cote was such a character that a worker at the police detention centre sketched his picture, put his mug on some T-shirts and gave them to other staff," writes Purdy. "Orders for more are now rolling in so people will have something to remember him by."
My first thought after reading this story was that it's always good to hear about the human side of police work. Purdy writes about officers buying Cote food, celebrating his birthday, and giving him free eyeglasses "from boxes of used, donated pairs that were supposed to go to Africa." One time, Cote raised hell because officers gave him a free magazine with a cover that featured the singer Anne Murray, whom he despised. It's like a Canadian version of The Andy Griffith Show, with Cote playing the part of Otis Campbell.
But real life isn't as hilarious as fiction. While the 1986 TV movie Return to Mayberry revealed that Otis the town drunk had gone sober and found work as an ice cream vendor, a happy ending was never really an option for Cote. The February Star Phoenix profile noted that Cote was physically and sexually abused as a child; that he suffered from brain damage after falling down a flight of stairs years ago; that his family was unequipped to deal with his frequent drunken rages. Cote spent his days begging for change to get his fix of vodka and mouthwash; he spent his nights passed out in various alcoves across the city, or in the Saskatoon Police drunk tank, his shelter of last resort:
Even though exact numbers are impossible to calculate, every year Alvin costs taxpayers at least hundreds of thousands of dollars. Aside from medical bills and regular ambulance rides, he is also a drain on police resources. He takes up hours of police time every week. He's been kicked out of almost every shelter in the city—more often than not because he refuses to stop drinking. The police are the ones who end up taking him in.
Locking a guy up over and over again seems like a really inefficient way of addressing a serious alcohol problem. Purdy reports that Saskatoon hopes to build a treatment center, to be used as an alternative to incarceration for the city's substance addicts. But, as the city's police chief notes, it can be hard to help someone who doesn't want to be helped. In situations like those, all you can do is offer empathy and kindness.
One officer who eulogized Cote on the official blog of the Saskatoon Police told Purdy "he had a good cry after writing the online tribute." That tribute is well worth reading. "Alvin was not a rich or well accomplished man. He drank daily and chose to make the street his home, but he was tough, he was a fighter, and he was a survivor," wrote Constable Derek Chesney. "It brings a tear to my eye to think of the bad things that happened to Alvin in his past to push him to lead the life that he led, but in that, I do hope that he will find peace wherever he now may be."
 | 
Posted Friday, May 10, 2013, at 1:17 PM
A police car blocks a street near Capitol Hill in Washington, D.C.
Photo by JEWEL SAMAD/AFP/Getty Images
Name: Unnamed alleged domestic abuser
Crime: Simple assault – domestic violence.
Fatal mistake: Not realizing that what goes around comes around.
The circumstances: Domestic abusers are bullies and cowards who deserve nothing but scorn, societal disapprobation, and, every now and then, a humiliating public comeuppance. That brings us, via Washington, D.C.'s PoPville blog, to a Metropolitan Police Department bulletin that is as satisfying as it is brief, and an example of the sort of vigilantism I can get behind.
On Saturday, April 27, around 4:15 a.m., the unnamed perpetrator and his girlfriend got into an argument near the intersection of Vermont Ave. and K St. NW in downtown Washington. The argument escalated, and the guy started physically assaulting his girlfriend. Luckily for her, three passers-by intervened. Unluckily for him, the passers-by started to rough him up—or, as the MPD put it, "commenced to strike the complainant about the body"—before taking some cash and his cell phone and fleeing the scene. When the three guys departed, the original girlfriend-beater apparently did what any theft victim might do, and complained to the police. This was a bad idea—for him. As MPD put it, "The complainant was arrested and charged with simple assault-domestic violence regarding the assault that he allegedly committed on his girlfriend."
Details are scarce from this point on, so we don't know exactly how this guy went from contacting the cops about his stolen phone to being arrested himself. But in general, it's a bad idea to call the police to report a crime if there's a chance they're going to arrest you for some other crime. This seems obvious. If you're robbed in the process of committing some other crime, consider it karmic justice and go home, tend to your wounds, and reflect on the error of your ways.
How he could have been a lot smarter: Don't hit your girlfriend. Ever.
How he could have been a little smarter: Seriously, don't hit your girlfriend.
How he could have been a little dumber: "It was Chris Brown, I swear! Look, he's getting away!"
How he could have been a lot dumber: "You're arresting me for hitting my girlfriend? I'll show you hitting!" (lunges at police)
Ultimate Dumbness Ranking (UDR): Dumb and cowardly. And it just goes to show that good things very rarely happen after 4 in the morning, especially not at K and Vermont in downtown D.C. What, did he think the Juice Joint was going to unexpectedly open its doors and start handing out free juice? There's no such thing as free juice! 9 out of 10 for the unnamed alleged domestic abuser.
 | 
Posted Thursday, May 9, 2013, at 4:21 PM
Otis Nixon
Courtesy of Cherokee County Sheriff's Office
Though the Cleveland kidnapping is foremost on everyone's mind right now, I don't want to let too much time pass without mentioning the sad case of former professional baseball player Otis Nixon, who was arrested last Saturday for possession of cocaine and drug paraphernalia. Nixon was pulled over by police in suburban Atlanta; upon further investigation, the cops discovered a crack pipe in Nixon's pockets and what appeared to be crack cocaine scattered throughout his truck. Nixon claimed the drugs and the pipe belonged to his son, which seems like a particularly lame excuse. He was arrested anyway, and his astoundingly haggard booking photograph should serve as a reminder of the consequences of hard living.
These new charges against Nixon are relatively benign, as athletes and their legal problems go, and it's sad to see him apparently fall victim to his old demons. Nixon—full name Otis Junior Nixon, Jr.—stole 620 bases and collected almost 1,400 hits during his 17-year major league career. He had drug problems as a player, too, and he was suspended during the 1991 season after failing a drug test, missing the World Series as a result. Nixon retired in 1999, but his name still popped up in the news now and then. In 2004, for example, he was arrested at an Atlanta-area motel for pulling a knife on his bodyguard and threatening to cut his heart out. (He did not follow through on his threat.) But, recently, Nixon had actively embraced Christianity and sobriety, and wrote an autobiography titled Keeping it Real. "My life today is Christ-Centered free from the past experiences and storms of drugs and alcohol, trials and tests of keeping it real," he wrote on his website. "My testimony speaks for itself."
Earlier this year, Nixon was implicated in a bizarre fraud scheme in which he allegedly tried to scam prisoners' relatives out of thousands of dollars by promising he and his non-profit organization could win the prisoners early parole—for a fee. "A player still using his fame to push what some tell authorities is a clever scam targeting desperate families," said Fox 5 anchor Lisa Rayam in the lead-in to a hidden camera segment in which investigative reporter Randy Travis went undercover as someone hoping to get a relative released early from jail. Nixon claimed that he had connections with Georgia Gov. Nathan Deal—"I sit with him. I know his wife," Nixon told the undercover Fox 5 reporter—and with parole board member Gen. James E. Donald, whom Nixon clamed was his "best friend." If Nixon ever needed friends in high places, it's right now.
 | 
Posted Wednesday, May 8, 2013, at 4:41 PM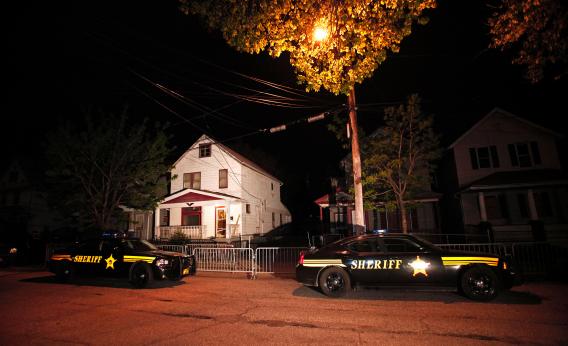 A general view of the exterior of the house where three women who had disappeared as teenagers approximately ten years ago were found alive on May 7, 2013 in Cleveland, Ohio.
Photo by Bill Pugliano/Getty Images
On Monday afternoon, after escaping from the house where she and two other women had apparently been held captive, a frantic Amanda Berry called 911. "I've been kidnapped. And I've been missing for 10 years. And I'm here. I'm free now," she told the dispatcher. The dispatcher didn't respond with the excitement or sympathy that Berry might have been expecting. Instead, she questioned whether Berry was providing the correct address, promised to send police "as soon as we get a car open," and seemed to rebuff Berry's attempts at conversation, repeatedly telling her to "talk to [the police] when they get there."
Charles Ramsey, the entertaining neighbor who helped Berry break free, reported similarly curt behavior from the person who fielded his 911 call. According to the Cleveland Plain Dealer, "Ramsey said the dispatcher didn't take his call seriously."
The Plain Dealer reports that the city's Department of Public Safety will review the behavior of the dispatchers who handled both of these emergency calls. Department of Public Safety Director Martin Flask told the newspaper that "this matter will be investigated, and if necessary, appropriate corrective action taken." That should ease the minds of the many Internet commenters who are outraged over the dispatchers' perceived rudeness. As you might expect, there's already a "Fire the dispatcher that took Amanda Berry's call" Facebook page. "Hey everyone! Invite your friends so we can get this going!" reads one of the posts on the page. "The dispatcher had no right to act so insensitive to Amanda's pleas for immediate assistance. The said dispatcher needs swift and just disciplinary action!!"
But from where I'm sitting, the dispatchers were just doing their jobs. The primary responsibility of a public safety dispatcher is to get accurate information from the caller as quickly as possible, so as to determine the best response. The good people at Dispatch Magazine, an Internet magazine for and about public safety dispatchers, have posted a training manual in which novices are told that "the caller usually knows what occurred, but not how to report it to the police. It's up to you to direct the caller's knowledge into meaningful answers."
When you listen to the recording or read the transcript of Amanda Berry's call, it's clear that the dispatcher lived up to that expectation, determining the relevant address despite Berry initially saying she was at 2207 (the house where she'd been held captive) rather than 2210 Seymour (the place where she'd escaped to). The dispatcher also got the name, age, and ethnicity of Ariel Castro, and sent the police on their way.
The dispatcher who took Charles Ramsey's call seems to have been similarly focused.
Whereas Berry was frantic and terrified, Ramsey began his call with a long and colorful story:
I'm at 2207 Seymour, West 25th. Hey, check this out. I just came from McDonald's, right? I'm on my porch, eating my li'l food, right? This broad is tryin' to break out the fuckin' house next door to me. So, it's a bunch of people on the street right now and shit, so we like well, what's wrong? What's the problem? She like, 'This motherfucker done kidnapped me and my daughter and we been in this bitch.' She said her name was Linda Berry or some shit, I don't know who the fuck that is. I just moved over here, bro.
This makes for great reading material after the fact, but in the moment, it's a lot of superfluous information. "Talkative or insistent callers are difficult to question and may take a longer time to handle," says the Dispatch Magazine training manual. The way to deal with these chatty types is to encourage them to slow down and to try to elicit as many details as you can. Sure enough, the first thing the dispatcher said to Ramsey was "Sir, sir, sir, sir. You have to calm down and slow down." The dispatcher then got some details and sent the police.
Some have criticized the Amanda Berry dispatcher for not remaining on the line with Berry until police arrived. That's fair. When you're dealing with a kidnapping or another manner of crime in progress, a dispatcher ought to keep the caller on the line to keep her calm and to elicit more information that might help emergency personnel when they arrive. Why didn't that happen here? Presumably this is one of the things the Cleveland public safety director will investigate.
But an emergency dispatcher shouldn't be expected to be a counselor. While Dispatch Magazine does say that a 911 operator "should sound sympathetic and never make light of a caller's situation," a crime victim isn't primarily calling 911 to be validated by the person who answers the phone. They are calling because they want the police to come and help them. And, in this situation, that happened really quickly. As Martin Flask told the Plain Dealer, "Within one minute and 18 seconds from the time that the call-taker answered the call our dispatcher was broadcasting the assignment to available police units." Police were on the scene within two minutes of the initial call, Flask claims.
Berry and the other two women have been freed, and three suspects are in custody—a job well done, more or less. So why are people getting so upset about the 911 operators? I think it's because news organizations now have the ability to post recordings of 911 calls. The people listening to these recordings have already had time to develop empathy for the victims, and they think the dispatcher should share their empathy rather than focusing on getting the proper information. But the dispatcher's job isn't to empathize—it's to send the police. That's exactly what happened in Cleveland. Bravo, dispatchers.
 | 
Posted Wednesday, May 8, 2013, at 1:03 PM
Small diamonds on layered coal.
Photo by Jeffrey Hamilton/Digital Vision/Thinkstock
In February, I wrote about a brazen diamond heist at Brussels Airport in Belgium, a scheme in which thieves dressed as police officers cut a truck-sized hole in the airport's perimeter fence, drove onto the tarmac, and made off with about $50 million in jewels from the cargo hold of a Zurich-bound airplane. As my colleagues at the Slatest reported this morning, police have arrested at least 33 people in France, Switzerland, and Belgium in connection with the caper. "In Switzerland, we have found diamonds that we can already say are coming from the heist, and in Belgium large amounts of money have been found. And the investigation is still ongoing," a representative of the Brussels prosecutor's office told The Telegraph. Most of the arrestees appear to have been involved in planning the crime and disposing of its spoils; only one of the people collared thus far is thought to have actually participated in the robbery.
The words "the perfect crime" were bandied about quite a bit in connection with the Brussels robbery. The fact that it unraveled less than three months later goes to show that there is rarely such a thing, especially when it comes to heists. We all know the expression two's company, but three's a crowd. Well, in terms of crime, two's company, three's a crowd, and 33 is a disaster waiting to happen.
As anyone who's seen one of the several dozen Ocean's 11 movies knows, any heist worth its name is going to have a lot of people involved. You don't just wake up one morning and decide to drive your truck onto the tarmac and boost some jewels. The heist has to be planned and funded, and arrangements have to be made for the disposal of the stolen goods. The Brussels diamond heist was so precise and well-executed—the thieves knew exactly where to go, and they only needed three minutes to get away with the jewels—that there were obviously a lot of unseen partners helping the eight costumed guys on the tarmac.
A gang of that size leaves a lot of clues. It's unavoidable. People get drunk and run their mouths off at pubs. People flash their money around. There can't have been that many people who knew where the stolen diamonds were going to be at the time they were taken; I'm guessing the police probably identified everyone who might have had that information, looked for any suspicious behavior among those suspects, and worked things out from there. The Telegraph article also notes that at least 10 of the 24 people arrested in Belgium are known to be connected with "the Brussels criminal underworld," which makes a lot of sense. Robbing an airplane isn't a novice crime. The cops likely identified all the people in their files with the wherewithal to pull something like this off, and then waited for them to do something stupid. Which they inevitably do.
At the end of February, Bruce Reynolds died in South London. Reynolds led the gang that robbed a cash-laden mail train in 1963, a heist that came to be known as the Great Train Robbery. The Great Train Robbery was itself called "the perfect crime." But as I wrote in early March, the aftermath was anything but perfect. The robbers were undone when they forgot to wipe down the fingerprints from the farmhouse where they holed up following the caper. Almost everyone involved with the heist—nearly two dozen people—spent time in jail, and very few of them stayed free long enough to spend their share of the loot. It was a perfect mess, one that was inevitable from the moment they started planning the caper.
 | 
Posted Tuesday, May 7, 2013, at 4:06 PM
Amanda Berry poses for an undated photo. No photos have yet been released of Michelle Knight.
Photo by FBI via Getty Images
Two of the missing women who were just found alive in Cleveland, Amanda Berry and Gina DeJesus, had been the subject of much media coverage over the past ten years; the Cleveland Plain Dealer called them "two of Cleveland's most famous missing persons." The other woman, Michelle Knight, hadn't received nearly as much attention. It's worth asking why.
Knight was either 18 or 20 years old—her age has been reported differently in different articles—when she disappeared in 2002 from her cousin's house in west Cleveland, only a couple blocks away from where Berry and DeJesus would vanish in 2003 and 2004, respectively. At the time, Knight was apparently upset that she had lost custody of her son, and authorities believed she had run away of her own volition. As such, the investigation into Knight's disappearance was short-lived. Knight doesn't even appear to have been listed in the official Ohio Missing Persons database.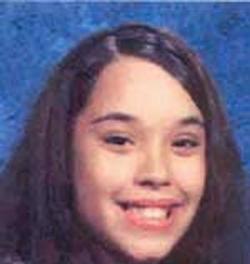 Georgina DeJesus poses for an undated photo. No photos have yet been released of Michelle Knight.
Photo by FBI via Getty Images
According to a Plain Dealer article, though, Knight's mother, Barbara, "never believed that her daughter would disappear without a trace, without so much as an occasional phone call." Barbara Knight continued to search for her daughter for years thereafter, periodically posting missing-person flyers around the west side. According to the Plain Dealer article, she searched alone.
You can understand why, at first, Michelle Knight's disappearance might not have struck the police as particularly suspicious. Knight was a legal adult when she vanished, and there was nothing stopping her from leaving home and severing all family connections. What's more, the police report into her disappearance notes that Knight "had a mental condition and frequently was confused by her surroundings," which perhaps led them to believe she might have wandered off. News reports indicate that most of Knight's family members believed that she left of her own accord, which means that—her mother's flyers notwithstanding—there probably wasn't much family pressure on police to advance the investigation.
If Knight had been a minor when she vanished, then her case would undoubtedly have received more police attention. As I wrote earlier today, a 14-year-old girl named Ashley Summers disappeared from west Cleveland in 2007 after a fight with her family. Though she was deemed a runaway at the time, the investigation into her disappearance nevertheless continued, and her case was consistently mentioned in connection with those of Berry and DeJesus.
Why wasn't Knight linked with the other missing girls? In hindsight, it seems clear that the Cleveland police should have done more to look for her, especially considering the subsequent disappearances of Amanda Berry and Gina DeJesus from the exact same neighborhood where Knight was last seen. To be sure, we still don't have all that much information about the case, and it's possible the police did in fact tie the three disappearances together. But at this point, it looks like Michelle Knight slipped through the cracks.
 | 
Posted Tuesday, May 7, 2013, at 11:29 AM
Ashley Summers, circa 2007
Federal Bureau of Investigation

After apparently being held captive for years, three missing women were found alive on Monday in a house on Cleveland's west side. Michelle Knight, Amanda Berry, and Gina DeJesus vanished as teenagers in 2002, 2003, and 2004, respectively. While authorities believed that Knight had run away from home, Berry and DeJesus had been the subject of much press attention over the past decade. (The Plain Dealer has dubbed them "two of Cleveland's most famous missing persons.") A 52-year-old school bus driver named Ariel Castro and his two brothers have been arrested in connection with the case.
This is still a breaking story, and much remains unknown—we'll be getting a lot more information about Berry, Knight, DeJesus, and the Castros over the next few days. But, unfortunately, there's one name we're not hearing: Ashley Summers.
Ashley Summers was 14 years old when she disappeared in 2007 from the same Cleveland neighborhood where Berry, DeJesus, and Knight went missing. She was presumed to have run away from home after a family dispute, but when she was never seen or heard from again, authorities began to suspect she was being held against her will. Summers' grandmother claimed she saw Ashley in a car in November 2007, with short, dyed-blonde hair. In a 2009 Oprah segment about the disappearances of Summers, Berry, and DeJesus, FBI Special Agent Phil Torsney seemed to discount this, saying "there's been no legitimate sighting of Ashley since she left her house."
Authorities have long speculated that the disappearances of Berry, DeJesus, and Summers were linked, and that "one or more of the girls may have been forced into prostitution." Looking at a map of the neighborhood from which they all disappeared, you can see why the crimes could've been related. Before yesterday's rescue, Berry was last seen at a Burger King at W. 110th St. and Lorain Ave. in Cleveland, while DeJesus was last seen five blocks away, at W. 105th St. and Lorain. Ashley Summers was reported missing from her family's house at W. 96th St. and Madison Ave., about a mile and a half from where Berry and DeJesus disappeared. The neighborhood is about three and a half miles away from Ariel Castro's house at 2207 Seymour Ave., where Berry, DeJesus, and Knight were found yesterday—a quick jaunt down I-90. (In a 2009 blog post, Summers' step-grandmother said that Ashley actually went missing from her great uncle's house on Holmden Ave. in Cleveland's west side. If that was the case, Holmden Ave. is less than a mile away from 2207 Seymour Ave.)
Did Ariel Castro and his brothers have anything to do with Summers' disappearance? At this point there's no indication that they did, and it would be irresponsible to jump to any conclusions. But you'd have to imagine that Summers' family is asking that question today, and hoping they get some good news.