Feb. 2: What I Ate. The Day I Fell in Love With Wheatberries.
For breakfast I cooked wheatberries in a crockpot overnight, then added skim milk and apple butter in the morning. I know, the apple butter looks like a gift the dog leaves you in the middle of the night, but it tastes like rich appley, cinnamony goodness. It's really the hot fudge of apple products. I think I've found my Pop-Tart replacement. And — ding! ding! ding! ding! — I think we have a winner. Wheatberries rock. These are obviously overcooked — in fact, luckily I woke up at 2 a.m. and turned the crockpot off — but they were still hearty and textured: a bit like steel-cut oats or brown rice or barley. I guess I like a little texture in my morning grains. Someone send me a recipe for wheatberry salad, please. I could eat wheatberries all day long. I kind of hoped to avoid wheat altogether this week, since I've probably never gone a week without it in my entire life (at least once I got on solid food), but I had an inkling I would like these.
I was in a bit of a grocery bind today. New York City got an ice storm, and everyone else had beat me to putting in a grocery order. I couldn't go out and get my own groceries because it was too slippery, and my order wouldn't be delivered till 8 p.m. at the earliest. So what did I have in the house that was new?
Lunch: Swiss chard (the first I've ever eaten, as far as I know) cooked as commenter "Nina" suggested. Sort of. She had written to saute it in olive oil and garlic, add raisins and pine nuts, then salt and red pepper flakes. I did as she said, except I didn't have pine nuts — I looked at some in a store yesterday and they were 10 bucks! — so I used pistachios instead. That's the other duck egg I bought, fried. Turns out I do like dark leafy greens — they just feel healthy and nutritious. I would have been happy without the nuts and raisins even. I didn't have a new grain to try though, and I didn't want to indulge my new love of wheatberries.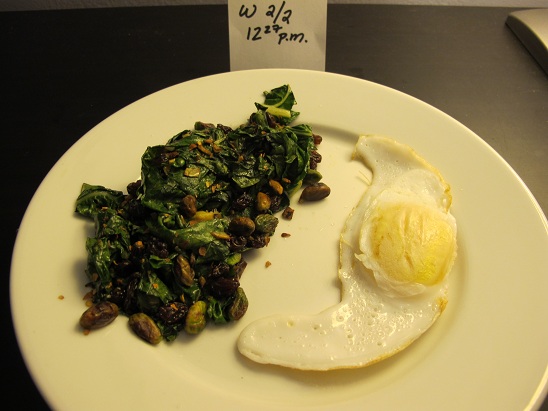 But this wasn't enough food and I was hungry again soon after. Time to break out the uglifruit . I gotta be honest: I was a little scared of finding out what was under that peel. When I bought this there wasn't a sign near it, so I didn't even know what it was. The cashier didn't either, so she went to find out. When she returned I said, "What is it?" She said, "Uglifruit." I said, "Sho' is."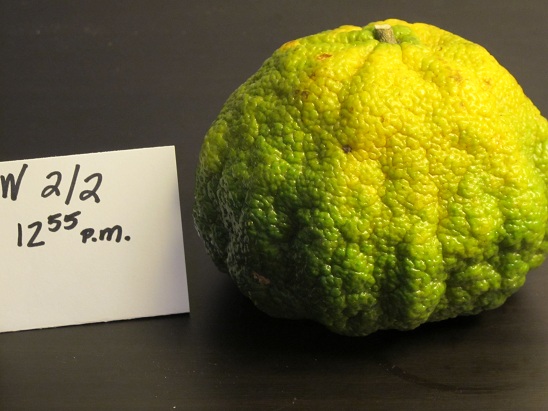 Here's what it looks like inside: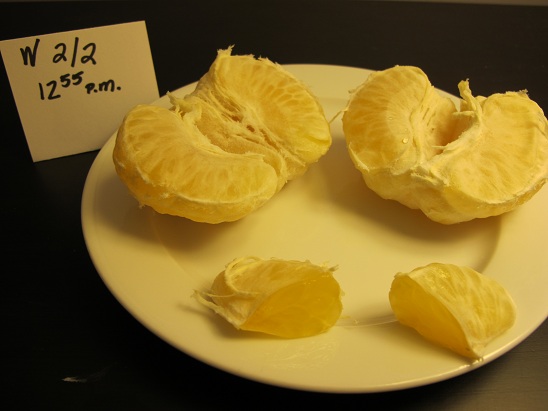 Just like an orange or a grapefruit. In fact, it's a hybrid of a grapefruit, an orange, and a tangerine. It's not as sweet as an orange and not as bitter as a grapefruit. It was quite delicious, though I'd still prefer a good orange.
I was pretty hungry again a couple hours later, so I had a snack of yogurt, Grape-Nuts, and apple butter. Nothing new here; I was just hungry and craving this. However, this does make my new addiction to apple butter official. Does anyone know if there's a chapter of Apple Butterholics Anonymous in New York City?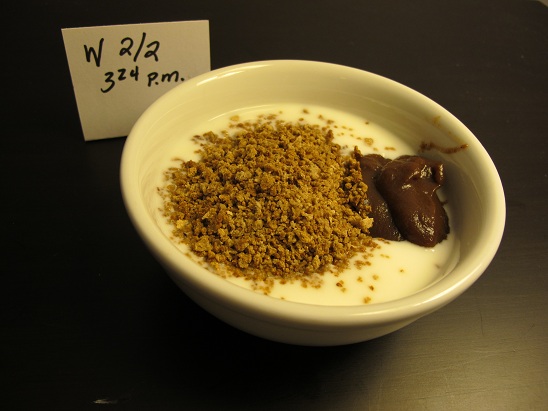 Then, of course, my 5 p.m. edamame — a bit early: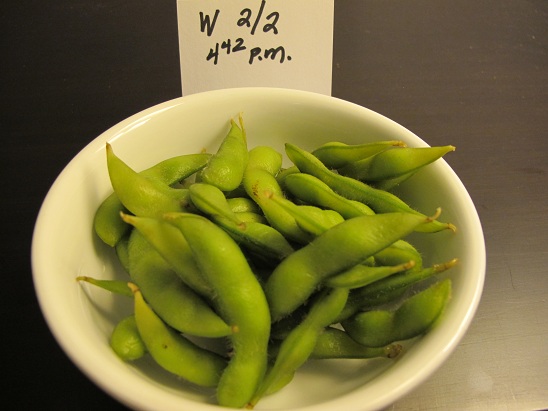 And dinner: I thought I'd have leftovers for dinner, but the husband wanted to get something new delivered. I said OK as long as I could try some new foods. We ordered from one of our favorite places, an "Asian fusion" restaurant (I know it sounds horrible but it's not). I chose seaweed salad (at 12 o'clock on the plate below) and shiitake spinach (on the right). We split "Fantastic Four," which is tofu, string beans, broccoli, and eggplant in malay curry.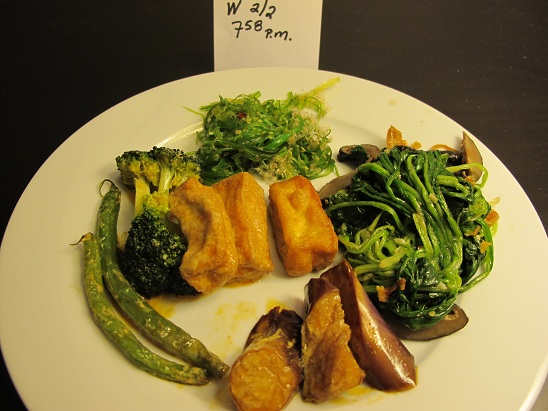 You know, I have given cooked spinach chance after chance after chance, and it's just too mooshy for me. I like it raw and baby and in a salad or sandwich, or stirred into sauces where I won't notice it, but I'm just not going to like it cooked and that's going to have to be OK. I've tried. I was not a fan of the seaweed salad either. It was too gelatinous. I've had "Fantastic Four" before and it is one of my favorite dishes. How can I get my tofu crispy on the outside like that?
So, not bad for a day with limited resources. I will always remember it as the day I fell in love with wheatberries.
The new groceries did arrive — so many vegetables that I had to clean out my fridge. I bought lemongrass: What the heck am I gonna do with that?