Analyzing the top news stories across the web
Lord of the Rings Is Helping Facebook's New Artificial Intelligence Project Learn How to "Think"
Lift the curtain on almost any tool on Facebook, and you're likely to see a robot at the controls. That's because artificial intelligence (AI) is responsible for powering things like automatic tagging and newsfeed.
To make their AI even more intelligent, Facebook researchers are harnessing the power of fantasy fiction—they're teaching it the Lord of the Rings.
According to Popular Science, the social media behemoth is working on an AI, called Memory Network, that can understand and remember a story, and even answer questions about it. Any story could be used, but researchers taught Memory Network a short summary of J.R.R. Tolkien's fantasy saga Lord of the Rings. Memory Network is powered by deep learning, a statistical approach that allows the AI to improve over time.
Facebook CTO Mike Schroepfer presented Memory Network at a developer's conference in San Francisco in March. He said the AI's ability to answer questions about Frodo and the ring shows it understands how people, objects, and time in the narrative are related.
Though Memory Network's knowledge of the Lord of the Rings is very stripped down, it's a first step into an AI that has a common sense understanding of the relationships between objects and topics, something that's so far been very difficult to encode in computers.
Eventually the AI could be used to improve newsfeed and search, Schroepfer said, because it's relationship understanding qualities would know what you're interested in before you even ask for it. If the AI can deduce that you're a dog person and not a cat person, for example, from your dog pictures you share, and therefore a smart newsfeed would show you a lot more videos of puppies and fewer cat videos.
"By building systems that understand the context of the world, understand what it is you want—we can help you there," Schroepfer said at the conference. "We can build systems that make sure all of us spend time on things we care about."
You can see how the AI works in the short video below. Asked "where was the ring before Mount Doom?" the AI was able to deduce that the ring was in the Shire. (Spoilers: Frodo and Sam make it). The AI references passages and sentences that give it the information it wants to know.
Some of the leading minds in AI research are working at Facebook to build intelligent machines. One of the group's more recent advances is a technology called Memory Networks, which enables a machine to perform relatively sophisticated question answering, as in this example of a machine answering questions about a Lord of the Rings synopsis.

Posted by Facebook Engineering on Thursday, March 26, 2015
It's also part of a larger project called "Embed the World," a project aimed at teaching machines to better understand reality by representing relationships between things as "images, posts, comments, photos, and video," according to Popular Science.
Yann LeCun, Facebook's AI research director told Popular Science that the project can tag photos taken in the same place based on the image and the caption alone.
Memory Network is just one example of Facebook's increased investment in AI. Facebook's digital assistant M uses some AI. They're also working on image recognition for video.
This Twitter Bot Will Tell You How "Good" Your Selfies Are
A new artificial-intelligence program can predict which selfies are likely to get the most love, and now you can test it yourself.
Karpathy also made @deepselfie, a Twitter bot that can look at people's submitted selfies and judges them automatically. Give it a try by tweeting a square image or link to an image.
I tried it myself with my last Instagram selfie.
It replied with my results in just a few seconds—52.1 percent, just slightly better than average.
The AI behind @deepselfie established a few arbitrary rules about what makes a good selfie, after examining two million images. My selfie inadvertently follows a few of those rules—it's pretty washed out, filtered, cuts off my forehead, shows long hair, and I'm more or less in the middle. It also helps that I'm a woman, though I'm not sure if the napping kitten made much of a difference.
Here you can see which 100 selfies the AI determined were the best out of 50,000 selfies. What they have in common is pretty obvious—almost all of them include long-haired women on their own. They're also filtered, washed out, have borders, cut off foreheads, and feature faces in the middle third of the frame. There are no men, and very few people of color.
On the other hand, the worst images, or the selfies least likely to get any love, were group shots, badly lit and often too close up.
Spotify's New Parental Leave Policy Is So Great It Could Only Be Scandinavian
Spotify just announced that it will offer a full six months of paid parental leave to all full-time employees (maternity or paternity).
Parents will be able to take the leave at one time, or spread it out in three sections over three years. The leave is 100% paid and parents can take the leave up until a child's third birthday.
Spotify pointed to the place where it was founded, Sweden, as influencing this decision.
"This policy best defines who we are as a company, born out of a Swedish culture that places an emphasis on a healthy work/family balance, gender equality, and the ability for every parent to spend quality time with the people that matter most in their lives," Spotify's top HR officer, Katarina Berg, wrote in a statement.
Swedish parents get up to 480 days leave—until children are up to 8 years old, according to Berg.
Say Hello to the First Highway-Ready 3D-Printed Car
For the competition, contestants were asked to "create the first highway-ready vehicle using large-scale 3D printing and the full extent of Direct Digital Manufacturing (DDM)," according to Local Motors challenge page.
They not only had to 3D print the majority of the car, but also reduce part count and prove that using DDM is more economical than conventional manufacturing methods.
Kevin Lo, an auto manufacturer, 3D printed the LM3D—the winning car that won over 60 submitted designs. The car was chosen based on a mix of community votes and a judging panel that included former Tonight Show host Jay Leno, according to a Local Motors press release.
This will be the first road-ready 3D-printed vehicle.
Local Motors is planning to sell several models of the LM3D while conducting federal test crashing and getting highway certifications. Presales of the car are slated to begin Spring 2016 with a $53,000 cost, but vehicles won't be delivered until 2017.
The car is being built in a Local Motors microfactory in Knoxville, Tennessee.
Learn more about the LM3D:
Why Are People Going Nuts Over This Sweet-Potato Pie at Walmart?
Walmart is suddenly facing a widespread shortage of sweet-potato pies. The $3.48 pies starting flying off shelves last weekend. They are now sold out in many stores and selling on eBay for as much as $40, NPR reports.
But when the pies—which were created with singer and cookbook author Patti LaBelle—first debuted in September, no one paid much attention to them. So why the sudden frenzy?
Walmart can thank James Wright, a man who posted a musical tribute to the pies on Facebook a week ago. The video went massively viral, racking up more than 9 million view on Facebook and 2 million views on YouTube in the past six days.
In the three-minute spot, Wright unwraps the pie and breaks into song as he consumes it. He addresses LaBelle and says you "turn into Patti" when you eat the pies.
Walmart is now scrambling to make more sweet-potato pies. "We are working very hard with our supplier to try and produce more product," Kerry Robinson, vice president for bakery and deli at Walmart, told NPR. "We're in the process of securing another 2 million pounds of sweet potatoes."
Watch Wright's full review:
Fatburger's Bet for Taking on Shake Shack and Five Guys: Burger Delivery
In the restaurant industry, little is hotter right now than fast-casual. And within the fast-casual space, nothing is hotter than burgers.
Smashburger and Five Guys are on international expansion sprees. Shake Shack has become constant fodder for conversation for foodies and financial analysts alike. Even McDonald's is trying to upgrade its options, with the fast-casual-inspired Create Your Taste platform that offers upscale ingredients like guacamole and ciabatta rolls.
To succeed in such a crowded market, burger companies need to set themselves apart—which is exactly what Fatburger is trying to do.
Last week, the burger chain announced a partnership with the digital food-ordering company GrubHub. Fatburger customers can now order delivery from 75 locations on GrubHub's platform. GrubHub will also deliver directly in 24 locations, the first partnership of this kind GrubHub has made with a restaurant chain since the company entered the delivery business last February.
The partnership is part of a broader attempt by Fatburger to tap into the delivery business, without sacrificing the money and effort necessary to organize its own delivery services.
"We're engaging with brands in ways I don't think anyone would have thought they would a few years ago," Thayer Wiederhorn, Fatburger's vice president of marketing, told Business Insider.
According to Wiederhorn, Fatburger franchisees had already been testing GrubHub services independently. The company is additionally in discussions with Postmates, an app-based delivery service that delivers big-name chains such as Chipotle and McDonald's, in select areas.
The company also partnered with Uber Eats earlier this year in Los Angeles, with the transportation company delivering burgers to customers for a limited period of time.
But the most important partnership Fatburger is hoping will set it apart from the competition is internal. In 2011, Fatburger's parent company, Fog Cutter Capital Group, announced plans to purchase the Marietta, Georgia-based wings chain Buffalo's Cafe.
Since the purchase, the two chains have begun mixing their offerings and cobranding locations. According to Wiederhorn, sales at cobranded locations have increased by about 30 percent.
Now most new Fatburger locations are cobranded with Buffalo Express. Over half of existing locations are already cobranded, Wiederhorn says.
Fatburger has hard-won experience that many upstart fast-casual burger chains lack. The company was founded in 1952. It became a hip-hop legend of sorts in the 1990s, with shout-outs from West Coast rappers such as Notorious B.I.G. and Ice Cube, and celebrity franchisees including Queen Latifah, Pharrell, and Kanye West.
Fog Cutter purchased the chain in 2003, and in 2009 the companies that owned Fatburger's locations in California and Nevada declared bankruptcy. Since emerging from bankruptcy in 2011, the chain has been determined to expand.
Instead of focusing on domestic growth and franchising, however, Fatburger wants to be a worldwide brand. Half of all new restaurants the company opens are overseas.
This year, the chain opened locations in Iraq, Qatar, Fiji, and Pakistan, with development agreements in Malaysia, Egypt, and the Philippines. With these new locations, Fatburger is poised on the brink of an expansion explosion—the 150-location chain has 200 locations under development.
*Correction, Nov. 18, 2015: Due to a production error, this post was initially attributed to Kate Taylor, the arts reporter at the New York Sun.
This Chinese Smartphone Battery Charges 50 Percent in Five Minutes
Huawei, the Chinese smartphone giant, has developed a battery that can charge to 48 percent in around five minutes, the BBC reports.
Huawei also developed a battery that can charge to nearly 70 percent in two minutes, but it is not big enough to power a smartphone for an extended period of time.
Enabling fast battery charging is one way of compensating for the relative lack of progress being made by big tech companies.
Here is a video of the smartphone charging to 50 percent in five minutes:

Why Is Urban Outfitters Getting Into the Pizza Business?
Urban Outfitters just bought a pizza chain and several fine-dining restaurants. The fashion company announced Monday that it had purchased the group of restaurants, including the fast-casual chain Pizzeria Vetri, from The Vetri Family, which is based in Philadelphia.
Urban Outfitters' foray into the food business comes after several quarters of sales declines at its namesake stores. The company's stock price has lost half its value since March.
Urban Outfitters, along with the rest of the apparel industry, is suffering from sales and traffic slowdowns as consumers have started saving more and shifting their spending to experiences and big-ticket items, such as cars, homes, house renovations, and electronics.
The acquisition signals that clothes and shoes alone aren't enough to boost sales and drive traffic to Urban Outfitters' stores anymore.
And unlike retail, the restaurant business—and especially fast-casual chains—is growing.
"Spending on casual dining is expanding rapidly, and thus, we believe there is tremendous opportunity to expand the Pizzeria Vetri concept," Richard A. Hayne, CEO of Urban Outfitters, said Monday.
Urban Outfitters will most likely start integrating Pizzeria Vetri and other new concepts into its existing and new stores. The company has already started offering food, coffee, books, and even salon services at several of its newest stores, which the company now calls "lifestyle centers."​
The shift is meant to give customers more than one reason to visit an Urban Outfitters store.
"We think retailing needs to become more experiential," Dave Ziel, chief development officer for Urban Outfitters, told Philly.com. "I think there's a craving for real socialization beyond social media."
Ziel told Philly.com that people were increasingly shifting their disposable income from retail into food, and he noted that e-commerce was not a threat to the restaurant industry.
We reached out to Urban Outfitters and The Vetri Family group for comment. The company will probably reveal more details about the acquisition on Monday afternoon after its earnings release.
Pizzeria Vetri, which has two locations in Philadelphia and one in Austin, Texas, serves a rotating menu based on seasonal ingredients. The pizza is baked in a wood-fired oven and topped with premium ingredients such as smoked provolone cheese, sausage, and roasted fennel. The chain also serves salads, beer, wine, cocktails, and desserts like Nutella pizza topped with marshmallow.
Financial terms of the deal weren't disclosed.
Marriott International Is About to Become the Biggest Hotel Company in the World
Marriott International is acquiring Starwood Hotels & Resorts, creating the world's largest hotel company.
The deal is valued at $12.2 billion, consisting of $11.9 billion worth of Marriott stock and $340 million in cash. For each share of stock, Starwood investors will receive $2.00 in cash and 0.92 shares of Marriott, with Marriott priced at $72.08 per share.
Marriott (MAR) closed Friday at $72.74. Starwood (HOT) closed at $75.00.
Combined, the company will be able to offer 1.1 million rooms in more than 5,500 hotels across more than 100 countries.
"Marriott expects to deliver at least $200 million in annual cost savings in the second full year after closing," the announcement read. "This will be accomplished by leveraging operating and G&A efficiencies."
"This is an opportunity to create value by combining the distribution and strengths of Marriott and Starwood, enhancing our competitiveness in a quickly evolving marketplace," Marriott CEO Arne Sorenson said. "This greater scale should offer a wider choice of brands to consumers, improve economics to owners and franchisees, increase unit growth and enhance long-term value to shareholders."
Sorenson will remain president and CEO of the combined company.
The deal will come with $100 million to $150 million in one-time transaction costs, which the company expects to incur over the next two years.
Marriott will not be acquiring the entirety of Starwood's current business. Starwood will first spin off its timeshare business.
"Starwood shareholders will separately receive consideration from the spin-off of the Starwood timeshare business and subsequent merger with Interval Leisure Group, which has an estimated value of approximately $1.3 billion to Starwood shareholders or approximately $7.80 per Starwood share, based on the 20-day [volume-weighted average price] of Interval Leisure Group stock ending November 13, 2015," management said. "The timeshare transaction should close prior to the Marriott-Starwood merger closing."
Deutsche Bank served as adviser to Marriott. Lazard and Citigroup served as advisers to Starwood.
"I'm delighted to welcome Starwood to the Marriott family," Marriott chairman J.W. Marriott Jr. said.
Microsoft Is Trying to Make PowerPoint a Lot Less Boring
PowerPoint presentations are the standard for presentations in the workplace.
It's not really Microsoft's fault. PowerPoint gives you all kinds of templates and graphics tools, but all anyone ever uses is boring bullet points on a white background.
Today, Microsoft is introducing a pair of new PowerPoint features, Designer and Morph, that make it a lot harder to create a boring presentation.
"We want to make PowerPoint smarter," PowerPoint Partner Group Program Manager Shawn Villaron tells Business Insider. "The quality of your slides is going to go up."
The catch is that you'll need a Microsoft Office 365 subscription to take advantage, and the new features are only on the Windows desktop and Windows Mobile versions of PowerPoint thus far. Microsoft promises it's coming to other versions of PowerPoint in the future.
The first feature, called PowerPoint Designer, actually suggests slide layouts and features based on the content. If you include a picture, for example, it suggests a series of remixed slide designs that might change the color scheme to match the photo, or place the photo at an interesting, eye-catching angle, or both.
So you drag a picture into your slide, like so. Note the Designer suggestions on the right: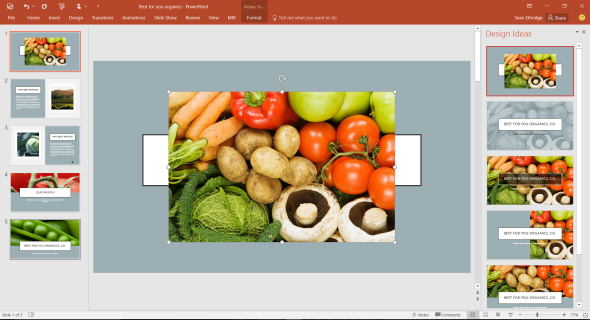 If you choose one, it looks like this:
Nothing that Designer suggests is anything that you couldn't do yourself. But even if you knew the right menu options to get to the features, you don't necessarily have the design background (or the patience) to make it all sing.
And so, rather than take control away from the user, Villaron says, the whole point of Designer is to shorten the loop between Microsoft's internal team of graphics experts and users.
Furthermore, Microsoft is actually leaning on its machine learning expertise on the backend to constantly update Designer with new, more relevant and good-looking suggestions. This is a big part of why you need that Office 365 subscription to take advantage: Villaron says it's going to get better and smarter over time.
The second big update is PowerPoint Morph, which makes it much easier to do simple animations in your presentation.
Sure, you can do animations in PowerPoint today. But, again, even if you know how, they're weird and fidgety and take lot of steps to accomplish.
Meanwhile, check out this presentation by Microsoft PowerPoint Senior Manager Chris Maloney, made with PowerPoint Morph:
That cute little cartoon? Done in PowerPoint. Maloney says that people retain information better when it's done in this more visual, animated way, and it certainly looks more interesting than bullet points.
Villaron says that this is the kind of pace that customers should expect from PowerPoint going forward: The presentation is a cornerstone of Office, and Microsoft is working on making it smarter across all devices.
Villaron also notes that the PowerPoint organization has a "very close relationship" with the team behind Microsoft Sway, the app that many (Business Insider included) have called a PowerPoint-killer, meaning that it could be an early indicator of things to come.
With Office 365 giving Microsoft the path to update its software faster, Villaron says this is only the beginning. In fact, Microsoft is also launching into beta an "Office Insider" program that lets brave souls sign up and test out new Office features a few weeks ahead of schedule.
"We've never been able to do this with Office," Villaron says.