Analyzing the top news stories across the web
A Feisty Linux Company That Wants to Take on Android
Canonical is a 650-employee software company best known for its version of the Linux operating system. Now its rich-and-famous, daredevil founder, Mark Shuttleworth, is trying to re-create Canonical into the next Apple, knocking Google Android out along the way.
As of 2013, he's guided Canonical into a $66 million private company mostly by selling its flavor of Linux software and its version of cloud computing software to enterprises.
But it's known in the Linux world for its PC software, called Ubuntu. Ubuntu is an easy-to-use Linux alternative to Mac or Windows popular with those who want to use free and open-source software, but don't want to hack everything together on their own.
For the past few years, Canonical has been trying to expand its desktop operating system into phones, tablets, and internet TV. Shuttleworth first discussed his vision with Business Insider in 2012, shortly after announcing a cloud service intended to compete with iTunes and Dropbox called Ubuntu One. People could use it to buy music and store documents.
But it's harder to compete with Apple than it seems. In April, Canonical CEO Jane Silber announced that she was shutting down Ubuntu One, saying that "the free storage wars aren't a sustainable place for us to be."
BI: So your big initiative is smartphones, tablets, and internet TV devices. Why would you want to take on companies like Apple, Microsoft, and Google?
Jane Silber: If you look at the phone industry five years ago you would have said the same thing about Nokia and BlackBerry. They're big. They're dominant. They've been largely displaced.
I don't think the status quo is permanent. And I don't think the status quo is desirable, either for end users of the industry. People find it increasingly hard to participate in the Android eco-system. Google is the only one that will make money off of Android.
That leaves a lot of pent-up unfulfilled needs of operators and OEMs who do need an alternative and can't participate in the Apple or Google eco-system.
BI: So this is about making app developers happy?
JS: Our product is better designed to meet the needs of users. We are building a great device, mid-to-high-end range. It is a unique experience. The competition is grids of icons. We think that's outdated.
For years we've talking about convergence. The division between phones, tablets, desktops, TVs are becoming blurred. Our vision is happening. There is room in the industry for options.
Here's what the new Ubuntu phone looks like:
This $4 Billion Social Network Has No Revenue, Assets, or Employees
The company's stock gained nearly 25,000 percent in just 16 trading days, giving it a market cap of over $4 billion. But as we noted, it's not clear if the company really exists, as financial statements indicate that it has no revenue, assets, or full-time employees.
But there is a website, IntroBiz.com, that the company operates. Not that this makes the picture much clearer.
CYNK Technology appears to operate the website IntroBiz.com, a social network (the website calls it a "social marketplace"), where users pay to be introduced to business professionals or celebrities. Or at least, this is what it seems like the site does.
Here's what you find under the "Entertainment" tab on IntroBiz.
Chances seem low that you'd be able to get connected with Emma Watson, or Charlize Theron, or Leonardo DiCaprio for $50, via IntroBiz or otherwise.
The ability to connect with these celebrities is marketed by artistblackbook, one of two "Top Socialites" on IntroBiz.com.
artistblackbook and worldtalent appear to be the only two "socialites" on IntroBiz. But the numbers don't make a ton of sense.
We're not exactly sure what the difference between an "introduction" and a "sale" is, but since the company hasn't reported any revenue, it's not clear what exactly a "sale" or "introduction" entails.
But neither artistblackbook nor worldtalent have any followers.
Under the "Business Professionals" tab, you can buy connections to professionals in different areas, like consulting, motivational speaking, and fitness.
And the individual pages for some of these people is quite interesting.
Harvey Bird: The Fitness Guru, for example, says to prospective customers that, "I am experience in sculpting the body."
Harvey Bird's offer, which seems basically like some health and fitness consulting (though only a diet plan, not a fitness one, is marketed), also has a great deal for members who pay from their IntroBiz account: $5 off a $1500 offer.
The most expensive service on the site appears to be storytelling.
For $5000, John Sterd offers to help clients tell their 'story' (quotes his) and "engage people."
This package has apparently been purchase 23 times, and after 11 votes, has a 5 star rating. It is also a worldtalent product.
As of about 10:30 am EST, shares of CYNK Technology were trading at nearly $16, or up nearly 8 percent from yesterday.
It remains to be seen how the stock story—which at this point is certainly divorced from any business plans the company has—plays out.
IntroBiz indicates that there has some buying and selling going on, but it appears this hasn't resulted in any revenues for CYNK Technology.
Eventually, something's got to give.
Why Parents Hate Common Core Math
The Common Core has come under fire by parents who say the new education standards make math needlessly complicated.
Last week, the New York Times' Motoko Rich wrote about a Louisiana mother who decided to homeschool her kids, who are 7 and 10 years old, because she disagreed with the new math methods.
The new standards require a different method of solving math problems—and proving you have the right answer.
Take this test question about subtraction that went viral in March:
"Number lines" are a product of the Common Core and have been criticized by some as tedious and overcomplicated. (You can read about how this method works here.)
Here are a couple more examples of Common Core test questions:
The Common Core was created in 2009 and is meant to even the playing field by giving every state a universal set of standards to measure learning and comprehension. The program is incentivized with federal grant money that is given to states that implement the standards.
The goal is to help students understand that subtraction problems are essentially asking you to measure the distance between two numbers. It's a method of teaching math that relies more on theory than rote memorization.
While this method supports the Common Core's goal of putting more of an emphasis on critical thinking, it can be a headache for parents who grew up on rote learning and were taught completely different ways of doing math. These parents may have trouble helping their kids with their homework.
A "number sentence" is another way of saying "equation," like 2 + 2 = 4.
The new math problems are aimed at getting students thinking about what they're doing instead of solving equations with no real-life application.
The CIA's Style Guide Is Surprisingly Good
The U.S. government has hidden important information from the public yet again.
Previously unknown until early 2013, the 8th edition of the CIA's style guide surfaced on social media last week. Despite being intended to guide both creators and analyzers of government intelligence, the document helps us plebeian writers, too. Even Strunk and White, the godfathers of writing style, lent their expertise for it.
The guide explains general grammar and punctuation rules (finally addressing the ubiquitous who vs. whom question). But it also includes general tips and preferences.
We broke out some noteworthy points below from the 190-page guide:
Favor active voice. "Lifeguards clear beaches when forecasters predict storm." Not: "Beaches are cleared when storms are forecast."
On that note, avoid beginning sentences with "there is" or "there are." Instead, look for a stronger verb.
"Be frugal in use of adjective and adverbs; let nouns and verbs show their own power." (Side-note: The CIA is all for the semicolon.)
Spell out a range of numbers. For example, write "10 to 15 kilometers," not "10-15 kilometers."
Use "around" for approximations of time and "about" or "approximately" for distance and other numbers.
The CIA endorses the oxford comma, also known as the serial comma, although the agency admits some disagreement over its use.
Although the guide offers relevant advice for all writers, it does so in a fashion that seems typical of the CIA. Naturally, the document dedicates three pages to the use and capitalization of titles, with an added emphasis on hierarchy. It also includes a noticeable level of patriotism, as the Guardian notes, by insisting writers "Americanize" British spellings, even as proper nouns.
Here are some other strange points:
Don't capitalize the "w" in Vietnam war because it was "undeclared," just like the Yom Kippur war and the Falklands war. (I had to Google both.)
Treaties that haven't been ratified don't get the uppercase treatment, either. Write "Treaty of Paris" but "Kyoto treaty."
Casualties, surprisingly, refer to all persons injured, captured, or missing in action, as well as those killed.
"'Disinformation' refers to the deliberate planting of false reports. 'Misinformation' equates in meaning but does not carry the same devious connotation.'" (Whatever that means.)
Avoid using "feel" as a verb in writing, as it can convey agreement or emotions. Instead, use "calculate" or "estimate."
Use "fear" only to describe "strong emotion, not a vague concern, an uneasy feeling, or an ill-defined skepticism."
"Good intelligence depends in large measure on clear, concise writing," the CIA's guide states. Maybe the agency should take its own advice when it tweets.
Scary World Cup Head Injuries Show Why Soccer Needs to Change
A similar scene occurred during Uruguay's win over England at the World Cup as Uruguayan midfielder Alvaro Pereira was injured when his head collided with the knee of an English player. Even though he appeared to be momentarily unconscious, Pereira remained in the game, in large part because FIFA's antiquated substitution rules do not allow teams enough time to properly evaluate players for concussions. This particular case is a perfect example. It was clear to anybody with access to a replay just moments after the collision that the contact with Pereira's head was not only severe but that he was clearly out of it as he laid on the pitch: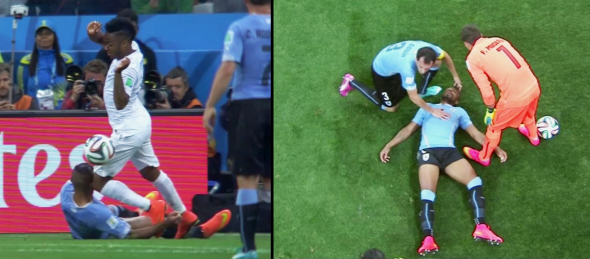 Pereira was able to get up and walk off the field, but he was clearly woozy and a person who appeared to be the team doctor immediately signaled to the sideline that a substitute was needed: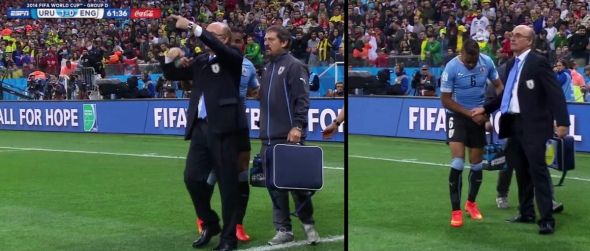 But once Pereira saw the signal for a substitute he immediately argued that he was staying in the game, saying no to both the doctor and to the coaches: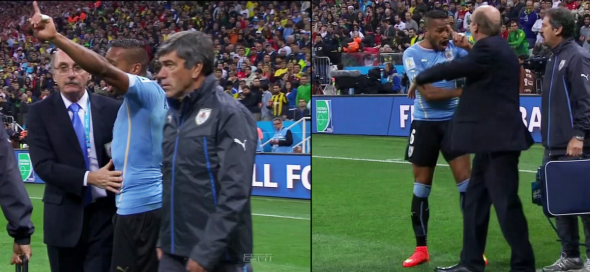 After the match, the team doctor signed a statement saying he had completed a full neurological examination before allowing Pereira to return.
And here is where soccer has its biggest problem when it comes to head injuries.
The team's manager must make a decision right now, and he has three choices.
He can insert a substitute and lose one of his best players for the rest of the match. In soccer, once a player is replaced by a substitute he cannot re-enter the game.
He can have the player evaluated for a concussion. But this forces a team to play with only 10 players until the evaluation is complete. According to the NFL, a proper concussion evaluation takes a minimum of eight minutes and includes a test where a player must recall a specific word five minutes later.
He can just trust his player and put him back in the game at the next dead ball.
The Uruguayan manager opted for the third option, reinserting Pereira without a proper concussion evaluation. Most managers would make the same decision.
While this particular injury was a freak accident, head injuries are not rare in soccer. Concussions are actually a huge problem because of headers in general and especially when two opposing players attempt to head the ball at the same time: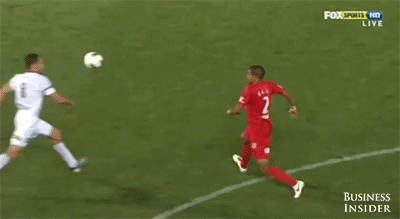 The simple solution is that FIFA is going to have to allow special temporary substitutions when a head injury is suspected, something already being tested in Rugby. Allow teams to enter a substitute while the injured player is tested along with a time limit on the return of the player (e.g. if the player is not cleared to return in 12 minutes, he cannot return).
To minimize abuse of the rule, these substitutions could count toward the allotted three substitutes. Another possibility is to give each team one such concussion substitution per match. Teams will still abuse the rule, but this is a risk FIFA must take for the safety of the players.
Like the NFL, a concussion crisis is coming to FIFA and the sport of soccer. Changes will have to be made that will affect the tradition of the sport. But those changes must be made.
Here's Why Samsung's Smartphone Business is Under Pressure
To put this in context, last year, when Apple's stock was battered and people were murmuring that it was doomed, it had never posted negative sales growth.
So what's happening to Samsung?
Basically, at the high end, it's struggling to take share from Apple, and that market is quickly saturating. At the low and mid-end, it's struggling to compete with Chinese phone makers who sell phones that are cheaper than Samsung but otherwise are pretty much the exact same thing.
This trouble for Samsung is not surprising. In February at Mobile World Congress, the big mobile industry conference in Barcelona, we saw this coming. When I walked around the showroom floor, I had two takeaways: Android is everywhere, and there is an army of low-cost smartphone makers selling phones that look just like Samsung phones.
The following is what I wrote at the time (including the photos below):
On Android, it's just amazing to see all these no-name companies taking Android and making their own OSes. (Bigger companies, like Nokia and Yandex, are doing the same thing.)
I can't help think of Microsoft and how it totally whiffed on mobile. Billions of people are going to be using Android in the future.
As for Samsung ... coming from the U.S., I expected to see a bunch of Apple knock-offs. Apple is the leading company in the U.S. But so far, I've seen relatively few Apple clones. It's the Samsung look that's all the rage for copying.
Why so many Samsung knock-offs? If I had to guess, I'd say that it's easier to replicate the Samsung design and still have a decent product than it is to replicate the iPhone design and still have a decent product.
Seeing all of these phones that look just like Samsung phones boosted my respect for the company.
In a world of smartphones that all pretty much look the same and are approaching feature parity, that all have the same software (Android), it's really impressive that Samsung has built a standout smartphone brand.
All these phones are a little scary, though. The high end of the market seems to be saturating. Samsung has no desire to compete in the low end. And even if it did, the low end is crowded with companies selling $100 smartphones that look just like Samsung's $500 phones.
Looks and performance are two different things of course. The phones on the floor worked well. The cameras weren't great, but overall they seemed fine enough.
Here's a look at some of the phones that are copying Samsung:
This is the Grand S II from ZTE. That "S" looks a lot like the S in Samsung's S4 logo. The plastic backing on this phone also looks a lot like old Samsung plastic.
This is the S4 logo. See the similarity to the logo above?
And here's the back of an older Samsung phone that looks like that ZTE phone.
This is a big phablet from a company we never heard of called Umeox. We couldn't get a price on this phone. If we had to guess it will sell for $150-$200. Take a look at how it copies the stitching that Samsung is doing with its Note III.
For comparison, this is the Note III with faux leather backing and stitching.
Umeox also did the Samsung phone cover thing where it has a window that shows the front of the phone.
This was at the booth of JZH, a company that's doing 1 million in sales on a monthly basis. (Or so it tells me.) Its phones sell mostly in South America and cost $50-$90.
If that font looks familiar ... it's because it's a straight rip from Samsung.
These are more phones from JHZ. As you can see, they look a lot like Samsung's phones.
This was Konka, a Shenzen-based company, taking Samsung's stitching backing style.
More from Konka. This is the generic look/design of a Samsung. It's also all over the place here at MWC.
We didn't see this phone on display from Konka. It's an attempt to copy Apple and Samsung.
In closing, here's the real thing. A Samsung tablet.
And the Samsung Galaxy Note III.
What Larry Page and John Maynard Keynes Have in Common
People are endlessly musing on the future of the labor market these days, given the idea that robots can perform more and more jobs that were once thought to be the sole domain of humans, and because tech-enabled productivity has enabled a few lucky people to reap huge fortunes with relatively few workers.
In light of this, Page wonders why everyone is working so much, and he suggests that perhaps people don't need to work themselves to the bone, since it's relatively easy for a modern society to fulfill most people's basic necessities.
Here's part of his comments:
I totally believe we should be living in a time of abundance, like Peter Diamandis' book.
If you really think about the things that you need to make yourself happy—housing, security, opportunities for your kids—anthropologists have been identifying these things. It's not that hard for us to provide those things. The amount of resources we need to do that, the amount of work that actually needs to go into that is pretty small. I'm guessing less than 1 percent at the moment.
So the idea that everyone needs to work frantically to meet people's needs is just not true. I do think there's a problem that we don't recognize that. I think there's also a social problem that a lot of people aren't happy if they don't have anything to do. So we need to give people things to do. We need to feel like you're needed, wanted and have something productive to do. But I think the mix with that and the industries we actually need and so on are-- there's not a good correspondence. That's why we're busy destroying the environment and other things, maybe we don't need to be doing.
Page goes on to say that the solution may be work sharing, basically everyone doing a little less to help ensure that everyone has a job to do.
His thinking actually echoes the economist John Maynard Keynes, who envisioned this kind of future in his paper The Economic Possibilities Of Our Grandchildren. He anticipated, writing in 1930, that in the not so distant future, our absolute human needs would be easily met, and that how to deal with our leisure time and relative needs would be the pressing issue of the day. He even anticipated shorter work hours as a way to deal with this "problem."
Here's a key passage. You can just read the bolded parts if you want to get the point:
Thus for the first time since his creation man will be faced with his real, his permanent problem-how to use his freedom from pressing economic cares, how to occupy the leisure, which science and compound interest will have won for him, to live wisely and agreeably and well.
The strenuous purposeful money-makers may carry all of us along with them into the lap of economic abundance. But it will be those peoples, who can keep alive, and cultivate into a fuller perfection, the art of life itself and do not sell themselves for the means of life, who will be able to enjoy the abundance when it comes. Yet there is no country and no people, I think, who can look forward to the age of leisure and of abundance without a dread. For we have been trained too long to strive and not to enjoy. It is a fearful problem for the ordinary person, with no special talents, to occupy himself, especially if he no longer has roots in the soil or in custom or in the beloved conventions of a traditional society. To judge from the behaviour and the achievements of the wealthy classes to-day in any quarter of the world, the outlook is very depressing!
For these are, so to speak, our advance guard-those who are spying out the promised land for the rest of us and pitching their camp there. For they have most of them failed disastrously, so it seems to me-those who have an independent income but no associations or duties or ties-to solve the problem which has been set them. I feel sure that with a little more experience we shall use the new-found bounty of nature quite differently from the way in which the rich use it to-day, and will map out for ourselves a plan of life quite otherwise than theirs. For many ages to come the old Adam will be so strong in us that everybody will need to do some work if he is to be contented. We shall do more things for ourselves than is usual with the rich to-day, only too glad to have small duties and tasks and routines. But beyond this, we shall endeavor to spread the bread thin on the butter-to make what work there is still to be done to be as widely shared as possible. Three-hour shifts or a fifteen-hour week may put off the problem for a great while. For three hours a day is quite enough to satisfy the old Adam in most of us!
It all sounds great! Now how to get all of society in a different mentality, where we learn to "enjoy" rather than "strive" is a harder matter.
Gizmodo Writer Trades Her iPhone for a 2004 Motorola Razr
Anyone born before 2007 already knows the answer, but it's hard to imagine what life today would look like without our smartphones by our side. For something that hasn't even been around for 10 years, we as a society have grown extremely attached to the little pocket computers we'd simply feel lost without.
Here's what she didn't realize she'd miss about her smartphone:
"In retrospect this is obvious, but I hadn't even considered the fact that my Razr wouldn't have access to a maps app," Feinberg wrote, noting that she doesn't even own a printer to obtain directions from old favorite MapQuest.
I spent an inordinate amount of time trying to bring these 1.3 megapixel wonders into the modern world. During my quest, I found multiple message boards with people bewailing similar problems, and they'd found solutions! My problem was solved, is something I would say were it 2009. Because as far as I can tell, that is the last time someone successfully got photos off a Razr V3 using the software itself.
But perhaps the most eye-opening takeaway is that for the entire 30 days, she only had to charge her Razr phone 8 times. Eight times! Such is not the case with iPhones or Androids.
The American Poker Frat of Playa del Carmen
PLAYA DEL CARMEN, Mexico—When Matt Block walks into Big Al & Redneck Steve's Beer Bucket on 10th Street on a brilliant sunny Sunday afternoon with a tan and the tropics-approved outfit of a light polo, simple shorts, and low tops with no socks, he looks like the thousands of people who flock to the vacation paradise 45 minutes south of Cancun.
Except unlike the tourists hemorrhaging cash on watered-down margaritas and overpriced beach chairs, the New Yorker is here to work. On this Sunday, he makes $7,100 in a few hours sitting in front of his computer, playing online poker. He arrived a month ago and has no plans to leave anytime soon. Life is too good, cheap, and easy, with an endless string of women "actively looking to make bad decisions," as he puts it.
The 28-year-old—"ancient for poker," he says—is a new addition to the informal brotherhood of about 150 mostly young men, the majority American, who have flocked to this beach resort on the so-called Riviera Maya to make their fortunes at online poker, spending their spare time partying, hitting on women, and living large. Members of the loosely connected group span more than a dozen years in age and varying degrees of card-playing talent. Some bonds are tighter than others. People come and go, but together they make up what you could call the Poker Frat of Playa del Carmen.
The life sounds like a dream. And for the most part it is.
On April 15, 2011—"Black Friday" in the poker world—the Department of Justice shut down access to PokerStars, Absolute Poker, and Full Tilt Poker for users in the U.S., freezing players' accounts in the process. Thousands of professional players, mostly young men who knew nothing other than poker, had a choice: Find gainful employment at a real job or move abroad and continue plying their trade. Many chose the latter option, alighting to Canada, Costa Rica, Malta, and elsewhere. A few found their way to Playa.
It's a manageable, walkable place, where it's possible to pay $700 a month to live five minutes from the famous Mamitas Beach Club. Life centers around Fifth Avenue, just two blocks up from the ocean, where cars are banned on a stretch of the road, turning the avenue over to tourists. Häagen-Dazs is big, as are, for some reason, the Montreal Canadiens. Five Starbucks dot the streets around the center of town. (Block credits the chain's dominance for his mother's willingness to support his move.) A shiny new mall, a sign of the coming Cancunification, has a Forever 21, Aldo, and Victoria's Secret. On the next block, a novelty T-shirt shop sells shirts reading "I [Heart] Justin Bieber" and "I'm in Cancun, Bitch."
When Gus Voelzel arrived in 2011, he was one of the first 30 or so poker players here. A lawyer turned cash-game maestro, he was planning on staying three weeks and still hasn't left. He made a few friends, but the group wasn't tight. Shaun Deeb changed that a few months later when he won four tournaments during the 2012 PokerStars Spring Championship of Online Poker, totaling more than $160,000. Deeb invited everyone to a local bar, Coco Maya, to celebrate. The gang got along famously, bonding over booze, women, and cards. The Poker Frat of Playa del Carmen was born.
Each day they would wake up late, shake off a hangover, and log on. Most of the online players are in Europe, and the easiest way to make money is take it off the casual player who signs on after work. The seven-hour time difference between Mexico and Central Europe makes Playa the holy grail, says Seth Davies. So they'd play 10, 12, 16 tables at once for between four and eight hours, grab a six-pack per person, meet on the beach, and then head to a bar or club. They'd cut lines and skip cover charges, since managers and doormen soon came to understand that the group had money to spend. The boys would dance, drink, hook up with tourists, then go home and do it again the next day, reliving the highlights on a group Skype chat.
Word quickly spread around the expat poker community. Playa was cheaper than Canada, safer and more convenient than Costa Rica, and more fun than Rosarito on the west coast of Mexico. There's fishing, snorkeling, scuba diving, golf, paintball, beach volleyball, soccer, and other activities within easy access. Living on $1,000 a month isn't difficult, and $2,000 is more than enough. Block rents a two-bedroom apartment with a pool and a security guard for $1,150. Voelzel's three-bedroom place, which he shares with an ever-rotating cast of roommates, sets him back $1,800. And there's no need to learn Spanish. Playa Now, a service started by two non-poker-playing expats, will deliver food for 25 pesos (about $2). The delivery charge for other items—use your imagination here—is 50 pesos.
Thirty players doubled, then tripled, and they now sit at more than 150. The population peaks for SCOOP, the second-biggest online poker tournament of the year with $40,000,000 in guaranteed payouts, when another 50 or so players arrive. Being an online poker player is a transient profession. All you need is an internet connection, and most players in Playa have backup service.
"The lifestyle is badass," Seth's older brother, Nick, says. "We're not playboy gangster helicopter guys, but we have freedom. There are kids who I think could run Fortune 500 companies and there are kids who I wouldn't want watching my dog." Players of all sorts are welcome in Playa.
Seth Davies does not look like a guy who won $243,437.17 less than three days ago. He's "grinding," a term the players use reverentially to signify how diligently they work and how fastidious they are in their approach. Davies is shirtless, wearing only University of Oregon basketball shorts, his Luke 14:11 tattoo clearly visible on the inside of his right bicep, staring intently at the Apple monitor that displays the four tournaments he's playing concurrently. He spends at least 50 hours a week here—more during SCOOP—sitting in a leather chair at the kitchen table in the large, open apartment with purple walls and hideous modern art that he shares with Voelzel and another roommate, Drew. (He and Drew are Voelzel's 11th and 12th roommates in the past two years.) His roommates' laptops with huge auxiliary monitors are also on the table, and they're grinding away, too, looking to score.
Davies had a big win Thursday morning. The two-day No Limit Hold 'Em tournament he dominated began at 4 p.m. on Tuesday. It ran for 12 hours, then started up again at 4 on Wednesday afternoon. Davies was also playing in other tournaments, splitting his attention and attempting to maximize the opportunities to cash. About 8 p.m. Wednesday, he decided to focus, "one-tabling" as opponents busted and he began to think he had a real shot to win. Evening became night became daybreak. "I never felt really tired," he says. "It was adrenaline-fueled. All of a sudden I looked up and the sun was up."
At 8:16 Thursday morning Davies won. Voelzel, who had been watching the live stream in his room upstairs while simultaneously catching up on "How I Met Your Mother," walked into the kitchen, high-fived his roommate, then passed out from exhaustion. Davies was too amped to sleep. "I took a shot of warm vodka," he says, laughing. "I just hung out here for awhile. No one was awake. I felt like a fucking crackhead. I was so hopped up on adrenaline. I needed to do something, so I walked to the store and bought deodorant." Then, he took a nap, woke up, went to his friend's to start drinking, partied, went to sleep, and started playing all over again.
Tales of poker marathons are common. The guys like to tell the story of a high-stakes player who had such horrible food poisoning he wound up lying on the tile floor in his bathroom while continuing a game. He was playing heads-up against a "fish" (a rich guy with cash to lose), and couldn't afford to step away. Eventually he made $220,000 while leaning on the porcelain, hurling into the toilet.
Online poker moves at a remarkable velocity. I watched Voelzel for an hour and a half. He played roughly 1,200 hands, with 15 seconds to make a move on each turn. He rarely took that long, though, glancing at his cards, processing his decision, then acting. He sat at 16 tables at once, 12 on his large Samsung monitor and another four a laptop that also ran two programs designed to help maximize winning. One kept the various games organized on his screen. The other tracked every hand Voelzel had sat in with different opponents, reporting the percentage of time that person took a specific action in a given situation.
The volume of data was astonishing. Voelzel had sat in 130,000 hands on one guy, 41,000 with another, and 15,000 with a third. At one point, he had A2 (a "bad hand") but he raised an opponent because the stats told him that the person folded to a raise 81 percent of the time. The opponent folded; Voelzel took the pot. It seems like cheating, but of course there's nothing to stop his opponents from doing it as well.
Voelzel also collects information on the players he sees frequently, taking notes on particular plays and tendencies. Sometimes they help, sometimes not. "Fuck, I have to fold because I don't have time to read all my notes," he says at one point, turning his attention to one of the other 15 hands he's playing. During 90 minutes of low stakes $1 or $2 big blinds, Voelzel made $400. Not bad, but not the $1,000 an hour he tries to earn.
It's getting harder to make money all the time. Black Friday eliminated a huge number of American recreational players, who made up 70 percent of the market. Those people, who played for fun rather than profit, were easy marks. Meanwhile, the velocity of online play allows inexperienced players to gain a decade's worth of experience in a few months, while the proliferation of poker books, TV programs, and the general popularity of the game mean the average player is better. "You'll often have five good players and one bad player at a six-max table, whereas pre-Black Friday the ratio was normally three to three or even two to four," Voelzel says.
The final factor is the Balkanization of the online sites. PokerStars.fr and PokerStars.es force players in France and Spain, respectively, to play only against players in their country; as a result, many of the pros from those nations have moved to nonsegregated places where they can play against a larger player pool. One of the biggest fears of the online poker players in Playa is that Brazil and Russia, two of the countries with the biggest poker playing populations and the most fish, will go the route of France and Spain. That would be a disaster. "It would be very difficult to make more than $50,000 or $60,000 a year," Nick Davies says. "And it's already difficult enough."
Surprisingly, most tournament poker players prefer not to gamble with their own money. The majority are staked—given a bankroll to pay for buy-ins. Staking provides a hedge against the ups and downs of tournament poker, and a way for the "stable" owner to diversify his investments. These staked "horses" split any winnings 50-50 with the person who stakes them, but only after they have paid back the original money. If they haven't, 100% of the earnout goes toward getting the "makeup" back to zero. As a result, it's possible to win a tournament and see no money. One player in Playa earned $81,000 in one tournament but had had such a bad run of luck that he was still $19,000 in makeup after the victory.
Seth Davies is staked in part by Nick, who started a staking business with a friend in March 2009 with $3,000 and ran it up to $300,000 before Black Friday. Almost all their money was frozen when the feds descended on the sites, but Nick has slowly built his bankroll back. The elder Davies, who has about 20 horses, made $50,000 when his brother won his SCOOP.
When staking works, it pays off. But it's based on trust. "This morning I had to deal with a kid who stole $8,800 from me last fall," Nick Davies says, sipping a glass of water with a shot of vodka in it. (He is trying to cut a few pounds; a $5,000 bet is riding on the outcome.) "He kept giving me excuses, saying his girlfriend had a nine-month miscarriage, and then changing it to an abortion. That's the downside, Makeup can be zero or 100 cents. I used to value my makeup at about 95 cents on the dollar but Black Friday changed the moral compass of our industry. People got very shady."
For Block, getting staked helps with the emotions of the game. "Last week I lost $25,000. This week I made $25,000. The swings are a little tough sometimes," he tells me at Big Al's while C+C Music Factory's "Gonna Make You Sweat (Everybody Dance Now)" played over the speakers. "If you think of it as money, you're fucked."
The downside to being staked is that you don't win as much. Seth Davies took home roughly $90,000 of the $250,000 he won. His brother got some and another guy earned $80,000. Seth had to pay back makeup, too, the result of a year spent treading water. And even when he earned the payout, he needed to be careful. Another long dry spell could be coming. "As a tournament player, it's all about being smart with your real-life money," the younger Davies says. "It's about being able to get a $50,000 paycheck and not go spend it. It's funny as I'm telling you this while we're talking about planning a yacht party."
The Davies boys, Voelzel, and some of their closer friends made a deal that if anyone won $100,000 or more in a SCOOP event, they would pay for a yacht party. The question now was when to hold it. One faction hoped to rent the 56-foot boat the week after SCOOP but another group wanted to wait until they could recruit some girls. Negotiations on the Skype "Yacht Party" chat were tense, dozens of messages popping up every hour.
Ultimately, the decision would come down to the Davies duo, who were paying, and Voelzel, one of the few poker players who speaks Spanish, who would order the boat. (There was a 100-foot one to rent, but it was limited to 22 people instead of 30, apparently because the owners were wary of letting too many drunk 20-somethings on their vessel at one time.) If the Playa gang has a social chair, it's Voelzel.
"He's going to be governor of this place," Nick told me about his friend. Voelzel, skinny with a shaved head and a vague resemblance to Steve Nash, previously worked as an entertainment and sports lawyer in Austin, playing poker on the side. He's affable and easy-going, the type of guy who would go out until 4 a.m., pick up the backpack he left with the owners of a nearby bodega, jump in a cab to the airport, and take the redeye to Austin, where he'd tailgate before the University of Texas football game, go to the game, go out to party, and then take the redeye back to Cancun, arriving home in time to play the big Sunday Million tournament. "It was a lot," he admits with a smile as we took a shot of coconut-flavored mescal chased by a Corona at La Mezcalinna, the closest thing to a dive bar on 12th Street. A girl walked by wearing only her bra and a skirt. No one seemed phased.
Playa is a non-stop circus of vacationers from all around the world, beautiful women looking to party. The Norwegian University Colleges has an exchange program in Playa (offering Spanish and Personal Training among other courses), meaning there's another group of tall, blonde Norwegian exchange students arriving every few months. The general consensus of the poker players is that you could pretty much take home a girl any night you wanted.
The transient nature of life in Playa can be a blessing but also a curse. "The first lesson I learned down here is that tourists are great, but they are bad for you," says Block, who's hooked up with half a dozen girls during his first month in Playa. "The first 12 days I was here, I got absolutely nothing done. You meet people who are on vacation and you end up going on vacation with them. They are here for four days and you go out for four days with them. You know that feeling you get when your vacation is over and you're sad? You feel that."
"It sounds cliche," he adds later, "but when it comes to women here, it's pretty limitless. I've calmed down now, though. I've been living with a really amazing girl from the Netherlands for the past two weeks. In one more week she leaves, though. Fuck, that's going to be weird."
There's a terrible movie called "Runner Runner" starring Ben Affleck as a shady entrepreneur who runs an online poker empire from Costa Rica. At one point, he's sitting in a hot tub, lamenting about his situation. "It's not that I'm homesick. I'm not away at camp. It's an issue of freedom," he says. "I can't walk down Michigan Avenue. I can't walked down Broadway. I can't walk down Art Rooney Avenue and have Primanti's kielbasa and cheese. You know what that's like for a lifelong Steelers fan?"
The players in Playa can return to the U.S.—and many of them do, some to play live events like the World Series of Poker, and others to visit family—but they can't play there legally. States such as New Jersey have legalized online poker, but the player pool is so small that there's no money to be made. For many of them, this is the only career they know. "About 80% to 90% of the people here are going to have a very difficult time post-poker," Nick Davies says. "That's the nature of the beast."
He continues: "We have a skill set that's immeasurable but kind of unadaptable to the real world. I think that if you put me in a room with the right i-banking guy, we could get on. But then you have to be a bitch for six years, and then maybe be a VP, and maybe make 300 or 400k and still be a slave. I can hustle that in my own and live in Playa. If I want to go to the beach I can. If I want to go diving in Cozumel on a Monday with Gus, we do it."
And they do. Play poker, go diving, go clubbing, go drinking. Repeat. There's a saying down in Playa that there are two days: Sundays, when the weekly PokerStars Million tournament happens, and Fridays, which is every other day.
The night I arrive, around 2 in the morning, Voelzel and I are talking at the Blue Parrot, a club just off the beach at the end of North 12th Street, when the music stops and a group of people start breakdancing. The crowd circles around them, cheering aggressively. Voelzel glances over, looks away, then takes a sip of his Tecate Light. "It's the same breakdancing show every night," he says.
"It's like 'Groundhog Day,'" he adds with a resigned sigh.
If he could he'd return to Austin. He misses the family ranch near Laredo, Texas. Marco Johnson, who owns a condo in Walnut Creek, California, would go home, too. Nick Davies might not, but more because of the profits he makes from sports betting. If that were legal, he'd probably return. Block isn't sure, but he'd like to have the option.
As the group grows, the connections between the players weaken. They used to roll 30 at a time; now it's a little more fractured. "We can't go out and party then Skype each other the next morning anymore," Johnson says. The poker frat still exists, but it's never going to be the same as it was those first 12 months.
"Stay Away From the Foam"
The night SCOOP ends, Voelzel, the Davies brothers, and a few of the other poker boys stand watching a "foam party," albeit from a safe distance.
A crowd of women in miniskirts frolic in a bubbly cascade that pours from a machine strung 15 feet in the air.
"Stay away from the foam," Kevin Killeen, a 24-year-old from Dublin who earned more than $120,000 in March for winning a tournament while wearing a fuzzy ski hat bedazzled by a monster, advises with the gravitas of someone who has been there before. "I've lived in Greece and Spain and that's what I've learned." He buys another round of mojitos for himself and a few friends and the night marches onward.
The foam inches ever closer to our spot by the "Ladies Bar" where women are served sugary rum drinks for free. Block walks by and says hello. Then he bounds off toward the dance floor, looking for the pretty blonde bartender he's planned to meet.
Another hour passes before Voelzel and the gang tire of the Parrot. We move to another club just down 12th Street. The bouncers at La Vaquita let our group of 10 through without charging a cover. Voelzel talks to one of the waitresses, who gives us a table overlooking the dance floor where 150 coeds dance. Someone buys a round of Tecate, then another, and another. The poker players yell back and forth to one another, voices rising and falling above the ear-splitting dance music.
The bar closed at 5:30. Three couples peel off. Voelzel and I walk up the street to a taco joint, where we sit in white plastic chairs, eating perfectly fried fish tacos topped with fresh pico de gallo, talking optimistically about our hopes and dreams in that way you do when you're a bit buzzed and the dawn is breaking over the beach. The bill comes to less than $10. We part ways at 10th and 26th. Voelzel ambles toward his house, shaved head bouncing. There's another yacht party to plan and thousands of poker hands to play.
The 22 White House Staffers Who Make the Most Money
The White House released its annual staffer salary list this week, unveiling the president's most highly paid aides, assistants, and advisers. Since President Obama's decision to freeze White House pay scales in 2010, the top White House salary has capped out at $172,200. Twenty-two presidential aides, eleven men and eleven women, are making top dollar this year.
Anthony John Blinken: Assistant to the President and Deputy National Security Adviser
Harvard University grad Tony Blinken, 52, has served as deputy national security adviser for President Barack Obama since January 2013. Prior to his current position, Blinken was Democratic staff director of the Senate Committee on Foreign Relations from 2002 to 2008. He then worked on the 2008 presidential campaign of Sen. Joe Biden. In his spare time, he enjoys music and film.
Joshua R. Earnest: Assistant to the President and Press Secretary
Kansas City native Josh Earnest, 37, was tapped by Obama on May 30, 2014, to succeed Jay Carney as White House press secretary. Earnest graduated from Rice University in 1997 and went on to join Obama's first presidential campaign as Iowa communications director in 2007. Most recently, he served as principal deputy press secretary under Carney.
Jeffrey D. Zients: Assistant to the President for Economic Policy and Director of the National Economic Council
Jeff Zients, 47, is a native of Kensington, Maryland, and graduated from Duke University. Before accepting his nomination to become director of the National Economic Council, he was tasked by Obama with resolving the issues that plagued healthcare.gov in late 2013. Zients' success in that job earned him the nickname "Mr. Fix-It" in the Obama administration. Before his current post, he served as director of the Office of Management and Budget from January 2012 to April 2013.
Warren Neil Eggleston: Assistant to the President and Counsel to the President
Eggleston, 60, of West Lafayette, Indiana, was named by Obama to become White House counsel in April 2014. Eggleston has enjoyed a long legal career both in and out of the White House. He worked as deputy chief counsel for the U.S. House of Representatives Select Committee charged with investigating the Iran-Contra Affair in the 1980s, and as a partner at Washington-based law firm Kirkland & Ellis until 2014.
Lisa O. Monaco: Assistant to the President for Homeland Security and Counterterrorism and Deputy National Security Adviser
Monaco, 46, is a federal prosecutor who has served as homeland security adviser since March 2013. Before assuming this position, she worked as former FBI director Robert Mueller's chief of staff from 2007 to 2009 and as the assistant attorney general for national security from 2011 to 2013. Monaco graduated from Harvard University in 1990 and grew up in Boston.
John D. Podesta: Counselor to the President
Podesta, 65, assumed office as counselor to President Obama on Jan. 1, 2014. So far, his tenure has been focused on elevating environmental policies in the Obama agenda. Before becoming counselor, he served as White House chief of staff under President Bill Clinton from October 1998 to January 2001. In 2003, he founded the Center for American Progress, a liberal think tank based in Washington, D.C, where he also served as president. He also works as a visiting professor of law at the Georgetown University Law Center.
Katherine Beirne Fallon: Assistant to the President and Director of the Office of Legislative Affairs
Fallon, better known as Katie Beirne, was tapped by President Obama to take over as director of legislative affairs in December 2013. Formerly, Fallon served as an aide to Sen. Chuck Schumer (D-N.Y.) and as staff director for the Senate Democratic Policy and Communications Center, where she gained her strong reputation as a democratic strategist. She was named deputy communications director to the White House in May 2013. Fallon attended the University of Notre Dame from 1994-98.
Kristie A. Canegallo: Assistant to the President and Deputy Chief of Staff for Policy Implementation
Canegallo, 34, was appointed deputy chief of staff for policy implementation by President Obama in May 2014. Canegallo began at Goldman Sachs as a derivatives analyst before working for the U.S. embassy in Afghanistan in 2007. She then served as a civilian Pentagon official detailed to the White House beginning in 2009 until becoming director of the National Security Council's Defense Policy and Strategy Directorate. In 2011, Canegallo was named senior adviser to then Deputy National Security Adviser Denis McDonough.
Christina M. Tchen: Assistant to the President and Chief of Staff to the First Lady
Tina Tchen, 58, is an attorney who serves both as chief of staff to first lady Michelle Obama, and as executive director of the White House Council on Women and Girls. Tchen became chief of staff to the first lady in January 2011. From 2008-11, she served as director of the White House Office of Public Engagement. Tchen's career before joining the White House consisted of 25 years spent as an attorney and partner at the law firm of Skadden, Arps, Slate, Meagher & Flom, based in Chicago.
Katy A. Kale: Assistant to the President for Management and Administration
Kale, a Massachusetts native, served as director of operations for the Obama-Biden transition team, and as special assistant to the president and director of White House operations during President Obama's first term. She was tapped to move up to assistant for management and administration in early 2013, at the same time that Denis McDonough was made chief of staff.
Broderick D. Johnson: Assistant to the President and Cabinet Secretary
Johnson originally joined the Clinton White House in 1998, where he served as the president's principal liaison to the House. He then turned to the private sector, co-founding the Collins/Johnson Group, where he acted as a partner specializing in strategic policy advice. He then joined President Obama's re-election team in 2011 as an adviser. He also lectures at the University of Michigan Law School. He was chosen to become Cabinet secretary in January 2014.
Benjamin J. Rhodes: Assistant to the President and Deputy National Security Adviser for Strategic Communications and Speechwriting
Rhodes, 37, graduated from New York University in 2002 before becoming assistant to the director of the Woodrow Wilson International Center for Scholars, Lee Hamilton. As Hamilton's assistant, Rhodes helped to draft recommendations of the 9/11 Commission among other contributions. In 2007, he joined the Obama presidential campaign as a speechwriter and quickly rose to the top foreign policy writing position, penning influential addresses like Obama's "A New Beginning" speech, which was delivered in Cairo in 2009.
Susan E. Rice: Assistant to the President and National Security Adviser
Rice, 49, assumed office as national security adviser in July 2013. Previously, she served as United States ambassador to the United Nations from 2009 to 2013. Rice was reportedly considered as a replacement for former Secretary of State Hilary Clinton but voluntarily withdrew her name in light of ongoing controversy regarding the 2012 Benghazi attacks.
Valerie B. Jarrett: Senior Adviser and Assistant to the President for Intergovernmental Affairs and Public Engagement
Jarrett, 57, took her current job in January 2009 at the beginning of Obama's first term. She was born in Shiraz, Iran, and moved to Chicago at age 7. Before joining the Obama administration, Jarrett worked in mayoral politics in Chicago and served as CEO of the Habitat Company, a real estate development firm. Her relationship with President Obama began in the 1990s, where first lady Michelle Obama was her former employee. She now acts as one of three senior advisers to the president.
Denis R. McDonough: Assistant to the President and Chief of Staff
McDonough, 44, assumed office in January 2013 and is currently serving as the 27th White House chief of staff. A Minnesota native, McDonough joined the Obama administration as a senior foreign policy adviser when then Chief Foreign Policy Adviser Mark Lippert was called into active duty, thus needing a swift replacement. McDonough continued to work as an adviser during Obama's 2008 presidential campaign, and then served as deputy national security adviser from 2010 to 2013.
Jennifer M. Palmieri: Assistant to the President and Director of Communications
Palmieri took her current post in January 2013, for which she leads President Obama's media campaign and promotes his agenda to the public. Before this role, she served as president of the Center for American Progress Action Fund and as the national press secretary for the Democratic National Committee. She also worked in the Clinton White House for eight years as deputy press secretary and as a special assistant to chief of staff Leon Panetta.
Cecilia Muñoz: Assistant to the President and Director of the Domestic Policy Council
Muñoz, 51, assumed her current position in January 2012 at the start of Obama's second term. Previously, she served as White House director of intergovernmental affairs from 2009 to 2012. Before joining the White House, Muñoz, a Detroit native, had a long career in civil rights, working as the senior vice president for the Office of Research, Advocacy and Legislation at the National Council of La Raza, where she advocated for Hispanic Americans.
Anita J. Decker Breckenridge: Assistant to the President and Deputy Chief of Staff for Operations
Decker Breckenridge, 35, is President Obama's personal assistant. This job has her at Obama's side consistently, as she executes the president's daily schedule and handles all relations with the Cabinet, among other responsibilities. Before becoming deputy chief of staff for operations, Decker Breckenridge led Obama's downstate operations in Illinois during his time in the Senate post-2004.
Cody S. Keenan: Assistant to the President and Director of Speechwriting
Keenan, 33, was hired to Obama's presidential campaign as an unpaid intern in 2007 before getting hired by the administration as a junior speechwriter in 2008. He entered the national spotlight when he stepped up to write Obama's speech for the Arizona memorial service honoring the victims of the deadly shooting involving then-Rep. Gabrielle Giffords in 2011. He became director of speechwriting in March 2014, after Jon Favreau stepped down.
David M. Simas: Assistant to the President and Director of the Office of Political Strategy and Outreach
Simas, 44, was tapped early this year by President Obama to lead the Office of Political Strategy and Outreach, which was closed down by the Obama administration in 2011. Obama decided to reopen the office this year and enlist Simas for two reasons: to oversee Democratic congressional candidates and to help evaluate and bolster support for Obama's agenda during his last two years in office. Before this role, Simas served as aide to Massachusetts Gov. Deval Patrick and as deputy senior adviser for communications and strategy.
Danielle White Crutchfield: Assistant to the President and Director of Scheduling and Advance
Crutchfield, 31, deals with the creation of President Obama's schedule. She previously worked as the deputy director of Obama's 2008 presidential campaign and as deputy schedule director for Sen. Maria Cantwell (D-Wash.). She was named director of scheduling at the start of Obama's first presidential term in 2009.
Howard "Daniel" Pfeiffer: Assistant to the President and Senior Adviser
Dan Pfeiffer, 38, is President Obama's senior adviser for strategy and communications. Prior to this job, which he took in January 2013, Pfeiffer served as White House director of communications from 2009 to 2013. He worked as a spokesman for Vice President Al Gore in 2000 and began his relationship with the Obamas when he joined the 2008 presidential campaign as traveling press secretary.