Analyzing the top news stories across the web
Tesco, the U.K.'s Biggest Supermarket Chain, Faces "Operational Paralysis"
Gigantic U.K. retailer Tesco faces "operational paralysis" over the busy Christmas shopping season as a forensic investigation into how the company overstated its profits by £250 million ($316 million) would require executives to hand over their laptops and be interrogated.
In addition, 10 of the company's most senior staff have been suspended, have been asked to leave, or have stepped down from the company.
In a note, Cantor Fitzgerald analyst Mike Dennis said:
The forensic investigation could, in our view, create operational paralysis for Tesco ahead of the very busy Christmas build up. We believe the investigation requires all commercial department personnel to hand over communication systems (laptops) to be interrogated and all supplier meetings to be postponed then, we believe Tesco's ability to operate could be compromised at a critical period ahead of the start of the build up to Christmas trading.
Tesco is the U.K.'s biggest supermarket by a long way, and the world's second-largest retailer. Its share price is down 1.91 percent on the latest news today, and has been slashed by more than 50 percent in the past year.
Seven senior directors have previously been kicked out of the company. The most recent pair left yesterday: company secretary Jonathan Lloyd and chairman of the audit committee Ken Hanna. Before them, commercial director Kevin Grace left, preceded by Chris Bush, managing director for the U.K.; Carl Rogberg, who worked with him in Tesco's business in Thailand and is UK finance director; John Scouler, food commercial director; and Matt Simister, who is responsible for sourcing.
Company chairman Sir Richard Broadbent is regarded as another exec who may be required to leave the company. One of Tesco's directors is searching for a replacement, according to Sky.
Will Private Contractors Like Blackwater Join the Fight Against ISIS?
Erik Prince, founder of the controversial security contractor Blackwater, recently claimed that for-hire ground troops were the missing element of the US-led campaign against jihadists in Iraq and Syria.
"If the old Blackwater team were still together, I have high confidence that a multi-brigade-size unit of veteran American contractors or a multi-national force could be rapidly assembled and deployed to be that necessary ground combat team," Prince wrote on the website of Frontier Services Group, a security and logistics contractor where he is now the executive officer and chairman.
"A competent professional force of volunteers would serve as the pointy end of the spear and would serve to strengthen friendly but skittish indigenous forces," he continued.
Prince's private expeditionary force may seem a bit far-fetched. Then again, one of Barack Obama's favored analogues for the situation in Syraq is Somalia, a place where the US pursued a "strategy of taking out terrorists who threaten us, while supporting partners on the front lines," as the president explained in his speech announcing US military action against ISIS. And in Somalia, security contractors are playing a fairly significant and hands-on role in stabilizing the country.
In terms of his larger point, Prince may be hinting at something that's inevitable. After all, in Somalia, private security contractors are one of those "partners on the front lines" that Obama referred to.
Here's a photo tweeted by George Mason University Horn of Africa scholar Tres Thomas of two employees from the US-based private security and investment company Bancroft Global Development operating with the Somali military:
An African Union (AU) peacekeeping force and the national military have quietly made progress against Al Shabaab, an Al Qaeda affiliate, in Somali in recent weeks—earlier this month, Shabaab was expelled from Barawe, a coastal city and one of the last major population centers the group controlled.
But it's not as if Bancroft just showed up to provide the finishing touches on an already successful mission.
This paragraph from a US Joint Special Operations University study demonstrates that the company played a significant role in shaping the AU force's strategy against Shabaab in the months after the group's blitz through the country in 2007 and 2008:
Bancroft was first approached by Ugandan leadership and invited to work with the [Ugandan military] contingent in Mogadishu in November 2007 ... The Ugandans were well aware that the Somalia campaign would take them into unknown military territory, especially with regards to the challenges of urban warfare. This is where they sought Bancroft's expertise. After a few reconnaissance trips, Bancroft deployed an initial team of four advisers into Mogadishu in early 2008. Within four months, their team had expanded to 12. After being impressed with their work in the field, Burundi approached Bancroft in August 2008 to provide them with similar assistance.
"Bancroft Global Development's urban warfare training" proved vital to the peacekeepers' success in eventually kicking Shabaab out of the Somali capital of Mogadishu and most other major cities, the study states.
And while it adds that Bancroft scrupulously adhered to a UN embargo on small arms importation to Somalia, much of that ban was actually lifted in 2012, meaning that contractors could take on more traditional combat-advisory type activities—note that both of the purported Bancroft employees in the photo that Thomas tweeted are armed.
Bancroft has diversified within Somalia as well, anticipating a time when they could use their years of involvement in the country to pivot towards more peacetime-orientated activities.
As the Wall Street Journal reported in April of 2013, the company is developing a secured hotel and conference complex along a relatively quiet stretch of Mogadishu beachfront. The WSJ described the property as "a fortified compound sprawled across 11 acres of rocky white beach [offering] 212 rooms including $500-a-night villas, several dining rooms, coffee and snack shops, and a curving slate-colored pool where sun-seekers can loll away Somali afternoons."
Private security contractors are controversial. Opponents claim that these companies are effectively above the law in the countries where they're hired. They're sent to some of the most unstable places in the world, weak states where a private contractor's power and organizational capacity can outstrip that of the local government (G4S's operations in South Sudan are a case in point). Private contractors have a mercenary character to them—they seem like hired guns, sent to foreign countries with little apparent oversight or consent. They can also covertly implement US policy in a way that strikes many as unaccountable.
At the same time, Bancroft's story demonstrates that a private-sector component to the anti-ISIS campaign could be inevitable, as these companies provide a level of expertise, funding, capability, and willingness that other potential on-the-ground actors simply don't have. They can take risks that a foreign government cannot, while also serving as a cats' paw for US policy—as the SOCOM study noted, the Burundian and Ugandan militaries paid Bancroft using money from a US bilateral assistance package, and the company was given an official US State Department contract in 2010.
Maybe companies like Bancroft won't be sending combat forces of the type that Prince envisions. But if history is any guide, they'll be involved in the fight in some form or another—assuming they aren't already.
Marissa Mayer's Secret Plans for Tumblr
Just after Yahoo bought Tumblr for $1.1 billion in the spring of 2013, several of Marissa Mayer's top product and media executives presented her with detailed plans for what Yahoo should do with its new property.
To every proposal Mayer said no.
In her efforts to persuade Tumblr CEO and founder David Karp to sell his company to Yahoo, Mayer had promised Karp that Tumblr would remain an independent property—much the same way YouTube runs separately from its parent company, Google, and Instagram its parent company, Facebook. A source close to the situation says Mayer was determined to prevent Tumblr from becoming a "shiny new toy" for Yahoo executives to play with.
Over the next few months, it was decided that Tumblr would use Yahoo's ad sales force and ad technology, and that Yahoo would use Tumblr's publishing tools to power some of its media brands. The integration of Karp's company into Yahoo would go no further.
Sometime between the late fall of last year and spring of this year, this stance softened. Mayer and her team now have an expanded vision for what Tumblr could be for Yahoo—a vision that did not originate from the mind of Tumblr's CEO, David Karp.
According to several sources, Yahoo executives believe Tumblr should become the company's answer to YouTube. In this vision, Tumblr would become the exclusive distributor of videos from YouTube stars like JC Caylen, JennXPenn, Teala Dunn, Ricky Dillon, Connor Franta, JackJack, and Bethany Mota.
In late March 2014, Re/code's Peter Kafka and Kara Swisher reported that Yahoo was "working on a plan to lure some of YouTube's most popular stars and networks to show their stuff on the site." Kafka and Swisher said that the plan was "aimed at taking advantage of persistent complaints by both video creators and owners, who think that they don't make enough money on YouTube."
The story continued: "Yahoo executives have told video makers and owners that the company can offer them better economics than they're getting on YouTube, either by improving the ad revenue or by offering guaranteed ad rates for their videos." What Swisher and Kafka didn't mention was where the videos from former YouTube stars would go.
Many people assumed that Yahoo would stick them on its Yahoo-branded video product, Screen. But we are told by three sources—one close to Tumblr, one close to Yahoo, and a third close to a digital-media publisher approached by Yahoo about the plan—that Yahoo envisions its poached YouTube stars setting up their new channels on Tumblr.
Yahoo's thinking was pretty simple, says one source. Having concluded that poaching YouTube stars would be a good strategy, it simply looked in its portfolio for a user-generated content network. Tumblr was the obvious choice.
It makes sense. Yahoo product executive Mike Kerns has done a nice job of turning Screen into a slick product that's easy and fun to use. But the tweens and teens who love Ricky Dillon have probably never heard of it. Tumblr, they know.
The other reasons executives may favor Tumblr is that its so "social." Tumblr has a dashboard like the Facebook News Feed. As you can subscribe to YouTube channels, users can already "follow" Tumblr blogs. Videos and other Tumblr posts can be "reblogged" spread virally throughout the platform.
That said, the plan could obviously change. In fact, while the idea has been in the works at Yahoo for many months now and is still going forward, its implementation has been more slow than some originally expected.
One reason: YouTube stars are happier with YouTube than they used to be. In February, Google executive Susan Wojcicki became the CEO of YouTube, replacing Salar Kamangar. Wojcicki's first initiative was to repair the company's relationship with its homegrown stars. She went on a listening tour. She's put ads marketing YouTube stars in TV commercials, on billboards, and in subways.
We heard a story about how business is so good for some young YouTube stars, it's not unusual for them to turn down offers from basic cable channels offering them shows. For whatever reason, Yahoo has been running hot and cold on its big YouTube plan over the past few months. There were reports of delays at the beginning of the summer. The CEO of one digital-media company that Yahoo approached about setting up a Tumblr channel says he liked the idea but that his contact at Yahoo seemed to drop it.
There is some gossip attributing the delay to a lack of enthusiasm from Tumblr CEO David Karp. But a source close to the company tells us that's not the case. This source said Yahoo and Tumblr are working together to lure YouTubers, but that it's still "early."
Yahoo may soon feel more pressure to speed the process along. So far, the Tumblr acquisition has not been material to Yahoo's revenues. Tumblr was hardly mentioned during Yahoo's last earnings call. On Oct. 2, Fortune's Miguel Helft wrote a story headlined "Was Yahoo's Tumblr acquisition a flop?"
Late last month, activist investor Jeff Smith of Starboard Value published an open letter to Marissa Mayer, accusing her of wasting $1.3 billion of Yahoo's money on nonrevenue-generating acquisitions since 2012.
Smith said that Yahoo was better off selling to AOL than continuing down the path Mayer has established. "The $1.3 billion spent on acquisitions has clearly not delivered value to shareholders," he wrote. "Not only do we believe that many of the acquired companies were, and still are, losing a considerable amount of money, but we also believe that these acquisitions, on a combined basis, have failed to deliver material revenue growth."
Tumblr's and Yahoo's spokespeople declined to comment on this story.
Bill Gates Sure Spends a Lot of Time at Microsoft
That's a surprisingly big chunk of time, and more than most people realize. When Nadella became CEO, Gates gave up the Microsoft chairman job and took on the vague title of "Founder and Technology Advisor." That made it sound like he was practically dusting his hands of Microsoft.
During the CEO search, Gates had repeatedly told people that he would not, under any circumstances, come back as CEO.
And for a decade he's been selling off his Microsoft shares. He once had a 45 percent stake of Microsoft, or 1 billion shares. He's down to just under 300 million shares, less than a 4 percent stake and is no longer the company's biggest shareholder. Former CEO Steve Ballmer (with 333 million shares) is. If Gates continues selling his Microsoft stock at this rate, he'll be out of Microsoft entirely by the end of the decade.
But, with a new CEO of his own choosing, his attention to the company has returned in force. When Microsoft announced Gates' new role, it said that Gates would "devote more time to the company, supporting Nadella in shaping technology and product direction."
That turned out to be very true. But it also might turn out to be a big mistake. The same one Gates made with Ballmer. Gates gave up the CEO title in 2000, (in the midst of the company's anti-trust litigation with the Justice Department), but he actually didn't leave his full-time job at Microsoft for another eight years. He became "Chief Software Architect" until 2008.
During those eight years, Gates pretty famously, and regularly, undermined Ballmer. Ballmer told Vanity Fair, "I didn't feel completely in charge until Bill left [entirely in 2008]. ... He didn't know how to let me be CEO, and I didn't know how to do it." Ballmer and Gates had epic fights during that time, especially the first year. When engineers grew frustrated with Ballmer, they would go to Gates, McLean reports. Employees say it was like living with a mom and a dad and not knowing who was in charge.
Gates told McLean he won't make the same mistake with Nadella. If the two of them disagree, "Satya runs the company, so he gets to decide," Gates says, admitting that as a part-time Microsoftie, he may "not have the full picture. So I get to give input. And if I say to Satya, 'Hey, this project needs 10 or 15 people, 'I'll bet I'll get it, but it's up to him."
For his part, Nadella, who is more tactful than the hard-charging Ballmer, notes that he's been at Microsoft for 23 years, including those "mom-and-dad" years. "The thing you've got to remember is I grew up in a Microsoft where Bill and Steve were there," Nadella told McLean. "If there's anything that I know it's how to get stuff done with Bill around."
But given Gates' clout in the world, the tech industry, and, especially, at Microsoft, you have to wonder: As Nadella's term proceeds and he wants (or needs) to defy Gates, will that really be possible?
The Man Who Invented the Cubicle Hated What They Became
While the cubicle is today seen as a symbol of the drudgery of office work and the control companies have over their employees, the design was originally meant to give workers more freedom when it was first introduced in 1968.
In his book Cubed: A Secret History of the Workplace, author Nikil Saval writes that what we today call the cubicle was actually first marketed as "The Action Office II," the second attempt of designer Robert Propst to create a workstation that gave people individual autonomy and the ability to work in a variety of settings.
Initially, the adjustable walls that make up the modern cubicle were meant to be kept at a 120-degree angle, giving workers privacy when they needed it, while also making them available to coworkers they wanted to speak with.
Inside the workstation, the Action Office II contained pushpin walls that people could personalize, several levels of shelving, and room for both a standing and sitting desk. The idea was to give office workers a flexible space that allowed them to move seamlessly between their various individual and collaborative tasks.
Saval writes that the design, produced by the office furniture company Herman Miller, was met with public acclaim, including a New York Post column titled "Revolution Hits the Office."
Of course, many companies were more interested in saving money than providing their employees with flexible working arrangements. So once they figured out they could put people into a smaller space by repositioning the walls to form a box, that's exactly what they did.
As other companies began to copy the design, their versions increasingly were marketed as the small, closed boxes modern workers are familiar with—in contradiction to Propst's original intentions.
By 1997, three years before Propst's death, The New York Times estimated that upward of 40 million Americans were working in cubicles. It was then that Propst told the Times that he had designed the Action Office II to "give knowledge workers a more flexible, fluid environment than the rat-maze boxes of offices."
Instead, corporations had perverted his intent to cut costs.
All Propst had left was this final denouncement of what his creation had become: "The cubicle-izing of people in modern corporations is monolithic insanity."
Fast-Food Customer Service Has Never Been Worse
Service at fast-food drive-thrus is slower than ever, according to a new study. Customers' average wait time is now 220 seconds, up from 181 seconds last year, the study by QSR Magazine found. That's the slowest service time in the 17 years that QSR has been conducting the study.
To be fair, QSR expanded its research from seven chains last year to 23 this year. But "the numbers this year were still telling," writes Sam Oches, the editor of QSR. "Speed used to be a badge of honor for many chains," he writes. "Faster service means happier customers and more cars through the line, both of which can boost perception and sales."
But service times are now suffering because many fast-food chains, in an effort to stem widespread traffic declines, have been rapidly expanding their menus, which slows down workers.
McDonald's executives have acknowledged the adverse effects of their expanded menu on service times. The chain announced plans last year to add a third window to its drive-thru lanes to address complaints about service times.
The company also launched a limited one-minute guarantee program for lunchtime customers at McDonald's locations in South Florida this summer. If customers' food wasn't ready within one minute of ordering, they would be awarded a coupon for a free lunch item.
Taco Bell has also been expanding its offerings, adding a premium Cantina Bell menu in 2012 and launching a breakfast menu this year. "Consumer needs are changing rapidly," Taco Bell chief operating officer Mike Grams told QSR. "There are going to be more complex products coming in, and we just have to change our training methods, our engagement plans in the restaurant, and how we approach them so that we can execute and still be relatively at a good speed that customers are going to be comfortable with."
The Number of Public Sector Jobs Has Not Exploded Under Obama
If you think the Obama administration has been characterized by a big expansion of government employment, you're wrong.
As you can see, it's not even close.
Obama in the dark blue line has seen a sustained and violent slump in public sector employment since he became president, and we're not even close to closing the gap.
Reagan had a brief decline in public sector employment, but it came back fast. All the other presidents saw only gains on this measure.
Partisans will point out that Obama doesn't deserve any "credit" for the decline in government employment, because most of it has happened at the state and local levels.
And that's true as far as it goes, but it misses the simple story, which is that the Obama economy is facing a headwind that simply has not been seen in decades. If it hadn't been for the collapse in public-sector employment, the jobs picture would currently look much brighter than it is.
If you want to understand why Obama's jobs recovery had been mediocre, this is a great place to look.
The Explosion of Crayon Colors Since 1903
First invented in 1903, the original Crayola box contained only eight colors, including red, orange, yellow, green, blue, violet, brown, and black. It sold for only a nickel.
A chart posted on Reddit shows how Crayola crayon colors have grown from eight basic hues to dozens in a little over 100 years.
Now, there are 120 colors in the Crayola color wheel. The names have evolved as well to include colors like "denim," "screamin' green," "dandelion," and "razzle dazzle rose."
Stephen Von Worley, a visualization researcher at Data Pointed, created the visual crayon chronology with his pseudonymous friend who he calls "Velociraptor." They used Wikipedia's list of Crayola colors and added the standard 16-count crayon box released in 1935 for schools to create the beautiful graphic.
The pair also figured out that the average growth rate of crayon colors was 2.56 percent annually, meaning that the number of colors doubles every 28 years.
So by 2050, our future children could be coloring with 330 different colored crayons.
Busting One of Tech's Biggest Myths
Adam Savage and Jamie Hyneman, the hosts of Discovery Channel's MythBusters, were keynote speakers at Thursday's Evernote Conference.
Although not the typical guests you would expect at a tech conference, Savage and Hyneman said Evernote reached out to them because they're both "esoteric makers" for many different kinds of projects. They're working on a future collaboration project that will be revealed to the public in the near future.
After the speech, Business Insider caught up with the MythBusters hosts to ask what was the single coolest tech myth they've ever busted on the show.
"Using a cellphone will not blow up the gas station," Savage said, referring to the common myth that you could accidentally blow up a gas station with a cellphone.
He said it's not the cellphone, but static sparks created when drivers rub themselves on the car that cause most of these fires. A lot of times, the drivers talk on their phones when the spark happens, so it just looks as if the cellphone is the cause of the fire, when it's actually irrelevant.
"When you're moving in and out of your car, you're generating static electricity. If you feel a spark, that's usually between 10 and 20,000 volts of static electricity—and that's plenty strong enough to make gas fume," he said.
In fact, this is something the cellphone industry acknowledges, too. According to an ABC report, two industry studies have concluded there's no evidence that cellphones are a hazard around gasoline. Instead, it notes drivers should avoid static fires.
Savage said his show might have actually helped raise awareness of this problem. Since that episode aired nearly 10 years ago, the American Petroleum Institute told him, "the number of fires at gas stations has dropped by two-thirds."
You can see part of that episode below:
Some McDonald's Monopoly Properties Matter More
McDonald's kicked off its annual Monopoly sweepstakes this week, so of course we are thrilled to devour the stats.
Here's how it works. Every time you purchase certain items at McDonald's over the next couple weeks—any one of 26 different menu items—you'll get to peel off a game piece composed of two stamps.
These game stamps can correspond to either an instant prize, or they can correlate to a space on the Monopoly board. For spaces on the Monopoly board, if you get all the properties of a single color—or the Railroads — you win a prize.
So, let's take a look at your odds of winning prizes by buying McDonald's.
Before we get into the stats, there are a few basic elements of the game you need to know.
First of all, nobody cares about the online sweepstakes games. This is the last we will mention it, ever, because it's boring. All we care about is the in-store game, where you peel game pieces and win.
There are approximately 602,490,060 game pieces in play.
This means that there are 1.2 billion game stamps, or individual attempts at victory.
There are 135,540,995 food prizes
There are 15,838,729 instant win prizes.
The odds of winning a prize at the in-store game are 1 in 4, or a 25 percent probability.
Here's what all that looks like: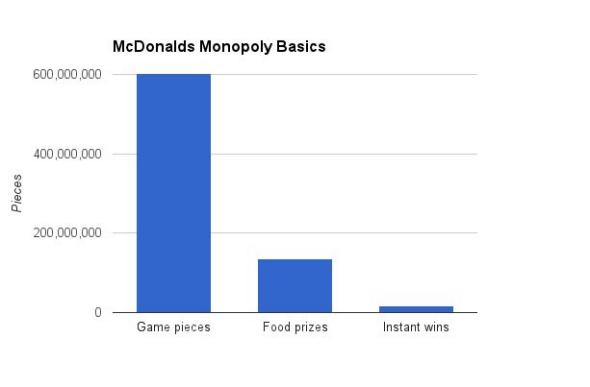 If you win a prize on McDonald's Monopoly, it is probably going to be a food prize. There's 1 in 4.45 odds—a 22.5 percent chance—you win a food prize when you get a McDonald's game piece. As we mentioned earlier, the odds you win any prize is approximately 1 in 4, a probability of 25 percent.
So what does this mean? Well, comparing the two probabilities, 89.9 percent of the prizes will be food prizes. Hope you're hungry.
In fact, 4 out of every 11 prizes allocated will be a medium fries.
So let's look at the potential food prizes:
Medium Fries ($1.75): Odds 1 in 9, or 11.1 percent chance you win.
Quarter Pounder w/ Cheese ($3.60): Odds 1 in 44, or 2.3 percent chance you win.
Small McCafe or Smoothie ($2.40): Odds 1 in 44, or 2.3 percent chance you win.
McFlurry ($2.55): Odds 1 in 44, or 2.3 percent chance you win.
Breakfast Sandwich ($2.65): Odds 1 in 22, or 4.6 percent chance you win
Since there's a 25 percent chance of winning an instant prize, and a 22.5 percent chance of winning a food prize, that means that there is roughly a 2.5 percent chance of winning one of the other instant prizes.
These range from a Redbox DVD (1 in 101 chance) to a pair of headphones (similar probability of drawing the Ace of Spades from a shuffled deck of cards four consecutive times) to $100,000 (drawing the Ace of Spades five consecutive times).
But let's get to the real fun.
Here's the secret to McDonald's Monopoly. Many people assume that all the spaces are equally likely. For instance, most people think if McDonald's wants the Brown prize probability to be 1 in 1,000,000, they'll make the probability of drawing Baltic 1 in 1,000 and Mediterranean 1 in 1,000, making the probability of getting both 1 in 1,000,000.
Instead, McDonalds was much smarter about it. They make Baltic show up 1 in 10 times and Mediterranean show up 1 in 100,000 times. This means that almost all the game pieces are entirely worthless, and only one game piece from every set is actually tantamount to winning the prize. It's easy to get a hold of some of the worthless properties. They're outstandingly common, most with a 1 in 10 or so chance of popping up. Just hit Craigslist or something.
So here are the only game pieces that are actually very valuable. Don't trade these away:
BROWN: Mediterranean Ave, odds 1 in 30 million wins $1,000.
LIGHT BLUE: Vermont Ave, odds 1 in 40 million, wins $5,000.
PINK: Virginia Ave, odds 1 in 200 million, wins $10,000
ORANGE: Tennessee Ave, odds 1 in 602 million, wins Super Bowl tickets.
RED: Kentucky Ave, odds 1 in 15 million, wins one of 40 plane tickets for two.
YELLOW: Ventnor Ave, odds 1 in 300 million, wins $20,000
GREEN: Pennsylvania Ave, odds 1 in 40 million, wins one of 15 Fiat cars.
BLUE: Boardwalk, 1 in 602 million, wins $1,000,000 in $50,000 annual payments.
RAILROADS: Short Line railroad, 1 in 150 million, wins a year's supply of gas.
So, if you find one of those pieces, you're actually special. If you find any other piece, it's basically worthless, unless you can find a guy with an actually valuable piece to sell it to.