Slate's Culture Blog
The Director of Diary of a Teenage Girl on Underage Sex Scenes and Getting That R Rating
When watching The Diary of a Teenage Girl, it's easy to be struck by how different the film feels from pretty much every other cinematic account of female adolescence and sexuality. Fifteen-year-old Minnie (played by Bel Powley, who was 21 when she was cast in the film) lives in 1970s San Francisco with her sister Gretel and neglectful, free-wheeling mother Charlotte (Kristen Wiig). She's obsessed with the idea of sex and begins an affair with her mother's boyfriend, Monroe (Alexander Skarsgård). But it's not the plot that feels so revelatory—it's the way in which its young female protagonist is given agency: As Slate's Laura Miller writes, "When other films … have dealt with similar relationships, we're meant to understand the girl as used, motivated by emotional rather than sexual hunger. Minnie, on the other hand, feels pleasure and wants more of it."
I spoke with writer-director Marielle Heller, who adapted Phoebe Gloeckner's graphic novel of the same name for the screen about what drew her to Minnie's story, how society views the sexuality of young girls, and dealing with censors.
You adapted and starred in a stage version of Gloeckner's graphic novel for several years, and then went on to make the film adaptation. What is it about the story that has compelled you to work on the same project for such a long period of time?
It was really that I fell in love with this character—I fell in love with Minnie. I found her to be this teenage heroine that I had been seeking. It wasn't one thing at all but it was really her voice and when I read Phoebe's book it was such a clear voice of a really curious, honest girl who says everything we think but she doesn't have shame about exploring what she's really thinking.
How the Tiny Graywolf Press Became a Big Player in Book Publishing
This article originally appeared in New York magazine.
Before she won multiple awards and wrote one of the Times Book Review's top-ten books of 2014, the young poet Eula Biss tried to sell a book of essays to major publishing houses. "They were looking to push her into a more polemical voice," says her literary agent Matt McGowan. Biss wouldn't change her diffident, lyrical approach, and nothing came of it. Then she won a publication prize from Graywolf Press, a nonprofit outfit in St. Paul, Minnesota. After the resulting book, Notes From No Man's Land, won a National Book Critics Circle Award, publishers were the ones doing the courting. "I could have easily sold On Immunity for more money," says McGowan of Biss's follow-up. Instead, "I made Graywolf do a little song and dance to make sure they were going to make this big." They did, and Biss's study of vaccination merited wide acclaim, strong sales, and another call from a commercial house—this time offering six figures for the paperback. McGowan declined: "Why change a winning team?"
Graywolf has been winning for a while. Over the past few years, as publishing conglomerates merged, restructured, and grappled with Amazon, a midwestern press snuck in and found a genuinely new way forward for nonfiction. Leslie Jamison's The Empathy Exams entered the Times best-seller list at No. 11, while Claudia Rankine's Citizen, a half-versified meditation on racism, stormed post-Ferguson America. Each has sold more than 60,000 copies, putting them in Graywolf's all-time top five. Citizen just went back to press for a tenth time, putting it close to having 100,000 copies in print. That hardly puts Graywolf in league with Penguin Random House, but neither is it just a scrappy little press punching above its weight. It's a scrappy little press that harnessed and to some extent generated a revolution in nonfiction, turning the previously unprepossessing genre of the "lyric essay" into a major cultural force.
The term lyric essay was popularized in the '90s by the writer John D'Agata (a Graywolf author) to describe a hybrid form of nonfiction that accommodates verse, memoir, and criticism. But its origins go back at least as far as Susan Sontag and Joan Didion, journalist-critics whose work is magnetically personal. Its present-day progeny is more diverse and more direct, answering to a very modern hunger for well-worded social arguments rooted in identity and experience. It's a rapidly expanding niche, where Ta-Nehisi Coates and Roxane Gay can turn painful confessions into powerful exhortations while—in a different mode—Karl Ove Knausgaard and Sheila Heti can make universal claims out of private stories. On this shifting ground, Graywolf's poet-critics are punching above every weight class.
The publisher's very good 2014 wasn't a fluke but a culmination (and its lyric-essay run continues with this year's The Argonauts, Maggie Nelson's deconstruction of both gender and genre). Publishing just over 30 books a year, Graywolf has had authors win four NBCC awards, a National Book Award, two Pulitzers, and a Nobel Prize — all in the last six years. This year, it will exceed $2 million in sales for the first time. No other independent press, never mind a 41-year-old nonprofit, has come so far so fast. It didn't happen by accident.
"I think of success as being able to say yes to something that doesn't necessarily look like a commercial winner," says Fiona McCrae, Graywolf's publisher since 1994, over yogurt and decaf on one of her monthly visits to New York. "Knowing something is good and having to say no, that seems to me the bigger failure." An affably owlish Brit, McCrae started out in London's legendary literary Faber & Faber before transferring to its small American spinoff in Boston. Three years later, she heard that Graywolf's founder was resigning.
The Best Movies and TV Shows Coming This Month to Netflix, Hulu, HBO NOW, and Amazon Prime
Every month, tons of new movies and TV shows become available to stream for free for subscribers to Netflix Instant, Hulu, HBO NOW, and Amazon Prime. With so many different streaming services, it can be hard to keep track of them all—especially if you belong to more than one service. Below, we present to you the ultimate streaming guide. We'll let you decide which service has the best new titles.
The New Google Logo Is Perfect for Google
Tuesday morning, Google rolled out of bed and stepped out the door with a fresh new look and a new attitude. Gone are the logo's familiar sharp turns, hard edges, and slightly medieval look. Say hello to something a little more fun, bold, and, most importantly, "now."
It's amazing what clipping off a few serifs can do. Introducing a new font family called Product Sans, Google has chosen to go with a strong-yet-sleek look that will look equally as pretty on small, handheld devices as it will on large-scale displays. From a design aspect, that's where the sauce lies: legibility and adaptability. The "less is more" mantra is on full blast here. Meanwhile their trademark rainbow color palette remains: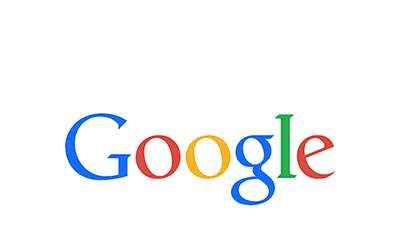 The majority of the knee-jerk takes on Twitter Tuesday all revolve around the complaint that the new logo has a childish feel. And I'm sure the Google Doodle depicting a hand drawing the new logo with sidewalk chalk only reinforces those reactions. But that's not what I see.
I see six letters that represent a youthful, dynamic creativity—a notion that this company was built on. Without that playful spirit, Google isn't really Google. But of course, we're talking about a massive media conglomerate here, so they couldn't get too crazy. How does Google show us that they aren't that stiff? A slightly tilted E.

In a New Daily Show Promo, Trevor Noah Assures His Colleagues "Nothing's Going to Change"
If the first teaser trailer for The Daily Show With Trevor Noah emphasized the differences between Noah and his predecessor, Jon Stewart—specifically, their height difference—the second strives to reassure fans that "nothing's going to change" when the new host takes the helm of the beloved satirical news show. In an exchange that plays like a scene from The Office, correspondents Jessica Williams, Hasan Minhaj, and Jordan Klepper (all of whom are familiar from Jon Stewart's Daily Show) attempt to welcome Noah with a cricket bat, a rugby ball, and a vuvuzela. But Noah promises them that the South African sporting gear is unnecessary—after all, he says, "It's still The Daily Show."
The Danish Hit Show Borgen Is Finally Available to Stream in Its Entirety in the U.S. Go Watch It!
The hit Danish political drama Borgen, often compared to The West Wing, topped many critics' best-of lists in 2013, and is finally available in full in the U.S. thanks to iTunes just in time for your Labor Day binge. The show was available for awhile via Los Angeles' KCET, but never all at once and never for on-demand streaming.
Borgen, which means castle in Danish, is the nickname of the country's parliamentary building. The show explores what it means to have power and manipulate influence, but instead of a ruthless leader like Francis Underwood in House of Cards, it follows the extraordinary Sidse Babett Knudsen as Birgitte Nyborg, the country's first female prime minister. It has all the political savvy and liberal superiority of the Aaron Sorkin classic, but as Slate's TV critic Willa Paskin wrote about the show—while naming it her favorite of 2013—it also has tinges of an "Eric and Tami Taylor–level good marriage" (that's beloved couple Coach and Mrs. Coach in Friday Night Lights). Not to mention the scheming political fixers and their super smart erstwhile journalist girlfriends who would take Olivia Pope any day. As June Thomas noted in her Slate post also praising the show, it's almost perfectly plotted, "with enough twists and turns to be surprising, but never so many that they become tiresome." It's also a nice peek into Danish life, where politicians bike to work and vicars wear Hamlet-like neck ruffles.
The Danish show seems to take all the best parts of some of the U.S.'s greatest shows and combine them into the Platonic ideal of a political drama. There are only three seasons, or 30 episodes—just enough for you to spend the last days of summer pretending you're in a far-off country instead of on your couch. Don't believe me (or the other critics who are obsessed with the show)? Try it for yourself at no cost—the pilot is streaming for free.
Was Kanye West's Presidential Announcement Inspired by This Shout From the Audience?
Kanye West shut down this year's MTV Video Music Awards with a ten-minute-and-forty-five second acceptance speech that ended with an announcement: "I have decided in 2020 to run for president."

It's possible that the speech was painstakingly written down and memorized, word by word, before West received the Video Vanguard Award on Sunday, but given West's penchant for "visionary streams of consciousness" (West's name for the extemporaneous speeches he gave on the Yeezus tour and has delivered at other shows), it seems more likely that he made it all up on the spot. For anyone on the fence about whether West's mic-drop of a conclusion was serious and planned out, there's now this video posted by a fan who was standing close to West. Seconds before West announces his presidential bid, the fan screams, "Kanye for President!"
Idris Elba Just Got Called "Too Street" to Play Bond. Here's Why That's Even Crazier Than it Sounds.
A man named Anthony Horowitz has thrown his two cents into the long-running debate over who should play the next James Bond after Daniel Craig, and he says that Idris Elba is "a bit too 'street'" to take on the role. "For me, Idris Elba is a bit too rough to play the part. It's not a colour issue … Is it a question of being suave? Yeah."
Anthony Horowitz is the author of the latest James Bond novel, Trigger Mortis, so obviously he's qualified to assess the British actor's chops for the role. And yet …
Prior to playing the legendary spy, Craig was known to play "street"—or whatever we call it when working-class white people are involved—in movies like Layer Cake and The Mother. He was even pretty "rough," some would say. Original Bond Sean Connery, son of a truck driver, was in the Royal Navy, where he got two—two!—tattoos.