| 
Posted Friday, May 17, 2013, at 8:19 PM
Torpedoes, or drones?
Photo by Zade Rosenthal © Paramount Pictures 2013. All Rights Reserved.
Major spoilers ahead

The mission of Star Trek might be to explore strange new worlds, to seek out new life and new civilizations, but the concerns of the latest star Trek movie, Star Trek Into Darkness, are strangely earthbound. And I don't just mean because it's more interested in phasers and explosions than in pseudoscience and applied phlebotinum. I'm referring to how, even as it ramps up into a full-on action flick, Star Trek Into Darkness offers up a surprisingly nuanced critique American military power.

It's no secret that Star Trek Into Darkness is meant as a post-9/11 allegory about American foreign policy. In fact, we've known this since 2009, when director J.J. Abrams and screenwriter Roberto Orci revealed that they thought the sequel "need[ed] to do what [Trek creator Gene] Roddenberry did so well, which is allegory," for "modern-day issues," like torture, terrorist threats, and politicized wars. Star Benedict Cumberbatch, speaking to BBC America earlier this month wasn't afraid to be more specific: "It's no spoiler I think to say that there's a huge backbone in this film that's a comment on recent U.S. interventionist overseas policy from the Bush, Cheney and Rumsfeld era," he said. And then there's the message that appears on screen right before the credits: "This film is dedicated to our post-9/11 veterans."
Read More »
 | 
Posted Friday, May 17, 2013, at 5:37 PM
Adam Driver and Greta Gerwig.
IFC Films.
If you've read any reviews of Noah Baumbach's latest, Frances Ha, which was co-written with the film's star, Greta Gerwig, you know that it is a departure, in some sense or another, from his previous movies. It's sunnier and less autobiographical than his previous three films (Greenberg, Margot at the Wedding, The Squid and the Whale). It's his first film in black and white, and it has probably the happiest ending of any of his films.
What you won't learn from any of the reviews—any I've seen, anyway—is just how much the movie is concerned with money, and, more specifically, the way money's relative (key word here) absence affects the lives of young, middle-class white people. This is a subject Baumbach has circled around in most of his movies, but in Frances Ha it's front and center. And yet, it's barely come up in the film's reviews.
Read More »
 | 
Posted Friday, May 17, 2013, at 1:26 PM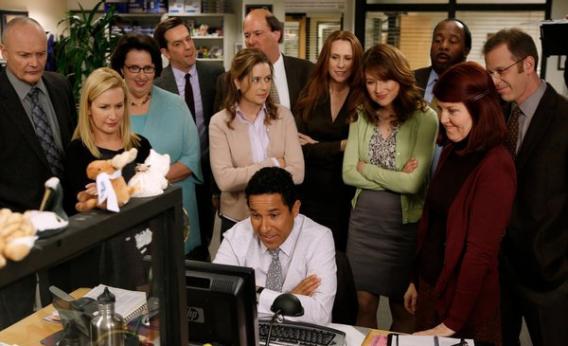 The cast of The Office
Photo by NBC – © 2013 NBCUniversal Media, LLC
Among the virtues of last night's series finale of The Office was a memorable last line. Talking one last time to the documentary crew, and mulling their decision to spend years on a documentary about a paper company, Pam says, "There's a lot of beauty in ordinary things. Isn't that kind of the point?"
That got us thinking: What sitcom had the very best last line? We've collected our picks below, from the bar where everybody knows your name to one of TV's most famous (and least likely) twist endings, and we've ranked them roughly in order of preference.
Which ones were we crazy to leave out? Chime in with your own picks for best sitcom signoff in the comments.
Read More »
 | 
Posted Friday, May 17, 2013, at 11:02 AM
Let's get Trek back on television.
Paramount Pictures.
At the end of Star Trek: Into Darkness the USS Enterprise is prepared to jet off into the literal darkness of deep space. But thematically it's a move out of darkness and into the rosy utopianism that is the hallmark of the Trek franchise. After a film full of violence, betrayals, and internal conspiracies, Captain James Kirk is prepared to leads its crew on a five-year mission to seek out new life and new civilizations, to boldly go where no one has gone before. It's a great finish to a film that was surprisingly successful at delivering a mainstream pop cinema experience while simultaneously doing a much better job than the previous J.J. Abrams movie of hewing to the true Trek faith.
In the rankings, I'd put it just above Abrams' first Trek offering. That's above average for the films, and it's always a good thing when a sequel beats its predecessor. But I do have reservations about the film. Spoilers follow.
Read More »
 | 
Posted Friday, May 17, 2013, at 10:21 AM
This week in Slate, Mark Blankenship took a guess at what "adult-oriented rock" songwould play on the final episode of The Office, suggesting everything from Amy Grant's "Baby Baby" to "Just the Way You Are" by Bruno Mars.
But last night the series writers threw a curveball: The episode's final song was not a familiar Top 40 hit, but an original tune by Creed Bratton, the actor who plays afictionalized version of himself on the show. Yes, Bratton really was in a band called The Grass Roots, and he continues to write and record music, including "All the Faces," which you can listen to above.
You can also watch him play the tune, out of character, below.
Read More »
 | 
Posted Thursday, May 16, 2013, at 5:52 PM
 | 
Posted Thursday, May 16, 2013, at 5:21 PM
Nothing washes popcorn down like hatred

Photo by Joe Corrigan/Getty Images for Universal Music
Something wonderful, terrible, and then wonderful again happened this weekend. I was sitting in a packed theater waiting to see The Great Gatsby. The lights dimmed, the music cranked up, the world smelled of butter and salt. Roll previews! In one trailer, a pair of astronauts tended serenely to repairs on a space station as Arvo Part's Spiegel im Spiegel twinkled in the background. The details—the explorers' weightlessness, the luminous view of earth—made the scene just unreal enough to seem real.
It was magical.

Read More »
 | 
Posted Thursday, May 16, 2013, at 3:47 PM
Just how retro is it? So retro that Gabriel Zev Kenny swapped it in for some Curtis Mayfield on an old episode of Soul Train and none of the dancers missed a beat.
 | 
Posted Thursday, May 16, 2013, at 1:36 PM
Is Mr. Spock spreading misinformation?
© Paramount Pictures 2013

Toward the end of the latest Star Trek film, Captain James T. Kirk makes yet another in a string of bold decisions: He decides he will join forces with one of his enemies to fight another even more dangerous enemy, rationalizing his decision with the axiom that "the enemy of my enemy is friend." Spock, as ever, is more skeptical, and warns Kirk that this saying was an Arab proverb coined by a prince who was soon decapitated by his "friend." It's one of the movie's better laugh lines—but is it right? Or has Spock's Vulcan memory somehow failed him?

Read More »
 | 
Posted Thursday, May 16, 2013, at 12:57 PM
Mork and Buffy, together at last.
CBS.
Now that the CW has officially released its 2013-14 schedule, we have the full picture of what next TV season's program grid will look like—at least until the first cancelations occur. Since a couple of minutes of highlights are all we've seen of the new shows, it's silly to spend too much time speculating—oh, who am I kidding, there's no better time to pontificate!
Read More »