The entire universe in blog form
A Brief Meandering About the Polar Vortex
In yesterday's post about Arctic ice melting away, I started writing a little bit about the "polar vortex" but decided it needed its own post. There's a thing that's been bugging me about it for a while, and now's as good a time as any to clear it up.
People have been using the term "polar vortex" to describe the sudden and sometimes vicious drop in temperatures we've been experiencing in the U.S. east. However, this is a misnomer. Despite the bloviations of Rush Limbaugh (who recently doubled down on his denial dumbosity), the term "polar vortex" has been around for decades, and it refers to the circulating wind pattern centered roughly over the North Pole (a vortex is any sort of circulating fluid, and in this context we've seen polar vortices on Saturn—and they're gorgeous— Titan, and even Mars and Venus).
The details are complicated, but the vortex is bounded on its south edge by a jet stream of air. This is not a constant, steady flow of air that keeps the vortex sharply defined; it's not like north of a certain latitude you can say, "Here be vortex." The jet stream meanders north and south depending on lots of factors, giving the boundary a wiggly appearance. Sometimes the jet stream can weaken, and the meanders can become large. When this happens, a big ol' clump of frigid Arctic air can drop south, and sometimes very far south.
But that's crap. For one thing, many of them forgot (or were hoping their audience would forget) that while it's winter in the Northern Hemisphere, it's summer in the south, and Australia has been seeing record heat. Very record heat.
The high temperatures were exacerbated due to the persistent ridge of high pressure that prevented the cooler air from coming back; we saw the same thing happen in Alaska in the summer of 2013.
My point? One is that any of the periodic bitter cold snaps brutalizing the U.S. shouldn't actually be called a "polar vortex"; instead they're due to a southern excursion of the vortex. That's a bit of a nitpick, I admit, but in this case it gave me an excuse to go into a little scientific detail of the situation. And second, these cruel drops in temperature in no way disprove global warming (despite what non-climate-scientist Ted Cruz keeps saying long after he's been thoroughly debunked).
And finally, while these meanders may not be accelerated or created by global warming, there may yet be a connection. I've written about this before; warming water in the Arctic leads to ice loss which leads to more warm water. Some climate scientists think this may be disrupting the air flow in the polar vortex, which in turn leads to the meanders in the jet stream. This idea is pretty new, and not yet verified. But the irony is clear: If these scientists turn out to be right, not only does the cold weather not disprove global warming, it may actually be caused by it.
Not-so-incidentally, there's a prediction that we'll be seeing another southern excursion of the vortex next week, and the Midwest can expect more ridiculous temperatures … just as we can expect more ridiculous claims about those temperatures. But just because some folks stick their fingers in their ears to escape reality doesn't mean we all have to.
*Correction, Feb. 21, 2014, at 16:00 UTC: In the original text I converted the change in temperature from Celsius to Fahrenheit incorrectly; I did it as a conversion of temperature instead of a change in the temperature. A change of 18° C is a change of 32.4° F, not 60. My apologies for any confusion.
INCREDIBLE Footage of An Aurora Dancing in Real Time!
There's been a lot of aurora activity the past few months, though few big "storms" where the northern lights can be seen even at midlatitudes. But there was a warning of a possible geomagnetic storm around Valentine's Day, so "skydivephil" flew to Iceland, hoping to capture the aurora on his camera. What he got was magical: real-time video of the lights flickering, moving, and dancing across the sky!
(You know the drill: make it hi-res, and full screen; you'll be glad you did.)
As far as I can tell, this footage is authentic. Certainly his reaction is the same one I'd have! Usually, the movement of an aurora is so slow it takes time-lapse video to reveal it, but clearly the Earth's magnetic field was feeling feisty that night. Let me explain …
An aurora is caused by subatomic particles streaming away from the Sun. The Sun blows a wind of them all the time (the solar wind), but sometimes there can be highly enhanced bursts of them from a solar storm, like when there's a flare or a coronal mass ejection. Both of these are huge explosions on or above the Sun's surface, and can blast millions or even billions of tons of particles into space.
If they are aimed our way, these waves of particles can interact with the Earth. A basic principle of electromagnetism is that a moving charged particle has a magnetic field, and that's true for a solar storm. Normally, the Earth's magnetic field rebuffs the oncoming particles, the way two magnets can repel each other if their poles are aligned. But sometimes the oncoming wave has its poles flipped, so the particles can then stream into and along the Earth's magnetic field.
When that happens the particles slide along the geomagnetic field a bit like beads on wires, and get fed into the Earth's upper atmosphere. At a height of about 100 kilometers (60 miles) above the ground these high-speed particles slam into our air, exciting (giving energy to) electrons in the molecules. When the molecules settle back down, they emit light. Depending on the molecule itself (like nitrogen or oxygen) the light can be green, red, blue, purple, and sometimes even look hot pink! That's the aurora. I'll note that we can get aurorae from just the solar wind without a big storm from the Sun, but when there is a storm the aurora are much brighter and more active.
The shape of the aurora seen from the ground depends on the shape of the Earth's magnetic field. It can form long ribbons or sheets which look like curtains of light in the sky, or it can just be a diffuse glow. The shape can change as the solar wind's magnetic field interacts with the Earth's field, and it's usually slow and stately. But it can also happen very rapidly, as you can see in the video. Then the aurora is like a living thing, writhing and shimmering.
I've seen dozens of videos where it takes several minutes for the aurora to change shape, and it wasn't until fairly recently that I saw a real-time video of them snapping and flapping around. It's amazing. I love the sideways slipping motion, like a vertical wave blowing across the sky (it kinda reminds me of Tinkerbell spreading pixie dust in the Disney animations, actually), the colors changing as different molecules in the air react to the subatomic onslaught.
You can hear the photographer talking about a "corona": that's when it looks like a crown in the sky, wrapped around the point over your head. It's a perspective effect, because you're looking up into a bunch of parallel sheets and ribbons of light. They seem to converge or point to a spot over your head, something like the way a road looks like it converges on the horizon. Normally, photos of aurorae show them from the side, but when you're directly under it you can get this corona effect. skydivephil was lucky enough to be in precisely the right location to see this perfectly.
And he was even luckier than that. He went to Iceland because he heard there were going to be storms, but those storms never really materialized. According to spaceweather.com, the puffs of material from the Sun never really got their act together enough to create huge aurorae, but there was enough to create that stunning display in Iceland.
Despite some nice magnetic activity from the Sun recently, there still hasn't been a strong enough storm to be visible as far south as my home town of Boulder (at least, not when we've had clear skies). To this day I still have not seen an actual aurora! I'm hoping my time will come, but if it doesn't come soon I may have to wait many years; the Sun's activity is cyclical, and may be on the way down right now. It'll be a decade or so before we get to the next peak, and the Sun becomes stormy once again.
There are lots of ways to keep tabs on auroral activity. You can follow Aurora Alerts on Twitter and read SpaceWeather.com. You can get more technical info from the NOAA Space Weather Prediction Center, too. It's better the farther north you are (or south, if you're in the southern hemisphere), but a good storm can reach lower latitudes. skydivephil has a video on how to find out if there will be an aurora near you, and how to photograph it, too. Let's hope we get some good activity and a free sky show soon!
Old Arctic Ice Is Disappearing and Taking the Rest of the Ice With It
The National Oceanic and Atmospheric Administration recently released a video that shows compellingly just how bad things are getting at the top of the world. The animation displays Arctic ice over time not just by how much area it covers, but also by age, with white being the oldest ice (nine years or older):
It's not hard to see that over the past few years, the oldest ice has melted away, and over time the ice gets younger. That's not good: Older ice is thicker and tends to hang around longer; young ice is generally thinner and melts away every summer. That means that the year-round amount of ice is dropping, and dropping rapidly. As the Arctic warms, its ability not just to form ice but to keep it wanes.
It's not just area, either, it's volume. Yes, the ice is covering less area of the sea, but it's also thinning. That means it will melt even faster in the summer. This is very bad, because as far as we can tell this is a runaway process. Ice is white and reflective, while the water under it is darker. When the ice goes away it exposes the darker water which absorbs sunlight more efficiently, raising the temperature further. That's one of the reasons we're seeing the ice dwindling in the Arctic with alarming rapidity.
This is fact, pure and simple. Yet I still see some global warming deniers claiming the Arctic ice has "rebounded" from its low in 2012. That is 100 percent pure grade-A fertilizer (and I'd use far stronger words if I didn't want to keep this blog at least semi-family-friendly). There were several reasons the ice hit a record low in 2012—including an overall thinning for years that made it prone to break up in big weather events. There was just such a storm in August 2012. But that thinning is due to increasing temperatures in the Arctic, and that's due to global warming.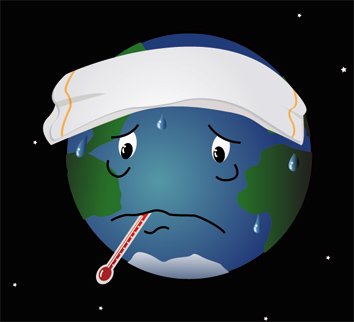 Incidentally, Arctic ice is right now at a record low for this time of year. It's far too early to be predicting how low it will get during the spring and summer thaw—the current amount is not lower than the previous February minimum by a statistically significant amount—but it's definitely worth keeping our eyes on it. The warmer-than-usual temperatures up north are certainly to blame for this.
Thousands of San Francisco Bay Area People Potentially Exposed to Measles
He rode BART between Feb. 4 and 7, 2014, so anyone who rode at that time should be aware they may have been exposed. Symptoms take about one to three weeks after exposure to crop up and include fever, runny nose, red eyes, and coughing. A few days later the red rash appears, generally in the face before it spreads to the rest of the body. You can read more about measles at the Centers for Disease Control and Prevention website.
People who are unvaccinated have a much higher risk of contracting it than people who are vaccinated. The young man, confirmed to have a case of measles, was unvaccinated and had recently traveled to Asia, where he may have contracted the disease. Measles had been wiped out natively in the U.S. by the 1990s, but local epidemics can be triggered when unvaccinated people travel to other countries. This has happened over and again here in America in the past few years, which is why measles cases tripled in 2013. Tripled.

I'll note that not much information about the Berkeley student was released, so we don't know why he wasn't vaccinated. Some people just don't bother, some have objections based on religion, and of course some people have fallen for the dangerous medical misinformation of the anti-vaxxers.
Remember: When you get vaccinated, you are not just protecting you and yours. You're also helping protect babies too young for their shots, older people, and people with compromised immunities (for example, those who are on immunosuppressants for cancer or arthritis treatment). Herd immunity is real, and important.
If you live in the San Francisco area, please be on alert for the symptoms of measles, and if you see them, don't take a chance. Call a doctor (a real doctor) and find out what you need to do.
A Corkscrew Unwinds From a Galactic Cannonball
Sometimes, when the Universe does something, it does it big.
The picture above shows the aftermath of a colossal event: 20,000 light years from Earth, a massive star exploded, showering the space around it with high-speed debris and flooding it with fierce light, which for a time outshone the entire galaxy. But it did more than that: The core of the exploded star collapsed into a ridiculously dense neutron star, which then shot away from the explosion like a multi-octillion ton cannonball.
Got that? Because it gets even weirder and awesomer. The intense energy emitted by the neutron star is blasting out a wind that trails behind it like a comet tail and also focused twin jets of matter blasting away from the poles of the star like a corkscrew hundreds of trillions of kilometers long.
So yeah, I love this image.
The picture itself is a combination of observations from three different telescopes in three very different flavors of light. X-rays from the orbiting Chandra observatory are colored purple; radio waves seen by the Australia Compact Telescope Array are in green, and infrared light from the 2MASS survey is shown in "natural" (that is, red, green, and blue) colors. I've written about this object before, but what's new here is the detail; this is seen in X-rays better than ever before.
X-rays are generated by very high-energy and typically violent events. The cloud in the upper left qualifies: It's the expanding debris from the supernova, which we see something like 10,000–20,000 years after the event. Shock waves inside that material can heat it to fierce temperatures, causing it to glow in X-rays.
We see that a lot in supernovae remnants. What's really interesting in this case is the neutron star, to the lower right. Here's a close-up I've annotated that'll help:
When a massive star explodes, it's only the outer layers that are cast away. The very innermost core of the star actually collapses, and depending on the mass of the star, will either form a black hole or an über-dense neutron star, a ball of material the mass of the Sun but squished into a sphere just a few kilometers across (for comparison, the Sun is well over a million kilometers in diameter). The star here was only fair-to-middling in mass as these things go, so the core formed a neutron star.
If the supernova explosion is just a wee bit off-center, it can exert a huge force on the neutron star, shooting it away from the explosion site at high speed. In this case, given the age of the supernova and the distance from the neutron star, the star must have been ejected at about 1,100–2,200 kilometers per second—that's more than 2.5 million miles per hour!
Neutron stars are born spinning very rapidly and have an intense magnetic field, billions or trillions of times stronger than the Earth's. The process is extremely complex, but this can result in focused beams (also called jets) of matter and energy blasting away from the magnetic poles of the star. We see these a lot in young neutron stars. In this case, you can only see one of these jets clearly. The astronomers who made this observation calculate that the matter is flying away from the star at speeds up to 80 percent of the speed of light! When matter moves this quickly, a bizarre effect of relativity pops up; the light emitted from the material tends to get focused in the direction of travel. So if the beam is aimed more or less toward you, it appears far brighter, and the jet moving in the opposite direction fades proportionally.
In the image, the jet on the right is quite bright, but you can barely see the other one (called the counter-jet). That's due to relativity! Einstein, right again.
The jet is also corkscrew-shaped. That's most likely due to a wobble in the star's spin, like a top that wobbles as it spins. This is called precession, and it happens to many spinning objects (including the Earth). As the neutron star slowly wobbles (probably once every 66 years or so) the beam moves in a circle, like a garden sprinkler. This creates a helix, a corkscrew, which we see at an angle here. It's at least 35 light years long, which is immense.
Not only that, but there's a "tail" of material pointing right back to the supernova debris. This is what's called the pulsar wind nebula, an energetic blast of subatomic particles blowing away from the neutron star. It's pointing back to the debris due to the star's high velocity, a bit like the wake of a boat behind it.
To an astronomer this is all pretty cool, but there's one final weird thing: The beams from the neutron star are pointing perpendicular to its direction of motion. In cases like this, the beams are usually seen pointing along that direction, not at right angles to it! This is something of a mystery; there are a few possible reasons this can happen, but none seems very likely to me. It could be a new mechanism, or a combination of ones already known that have produced this oddity.
All in all, a ridiculously cool object created in a ridiculously cool series of events. And it's a testament to the scale of force in the Universe: The most titanically violent events can still be survivable by some objects, which can then go on to produce quite lovely if totally bizarre structures. I certainly wouldn't want to be anywhere near this thing—it's blasting out X-rays at levels that outstrip the Sun's total brightness—but from our safe distance we get a pretty good view of it, and hopefully it'll help us understand what happens at the end of the life of a massive star.
X-Raying a Monster Black Hole
Every now and again an astronomical image will be released, and when I look at it I just go, "Huh?" It takes me a second to understand what I'm seeing, and when that happens, it's always both surprising and awe-inducing.
The image is from the Chandra X-ray Observatory, one of NASA's Great Observatories—think of it as Hubble for X-rays. Chandra has been observing Cen A closely for years. In fact, this image is a combination of observations taken during a 14-year period starting in 1999—a total exposure time of an astonishing 800,000 seconds. That's over nine solid days!
X-rays are a high-energy form of light, and it takes a lot of energy to create them. In the very heart of Cen A is a supermassive black hole, one with more than 50 million times the Sun's mass (compare that to our Milky Way galaxy's black hole, a "mere" 4 million times more massive than our Sun).
Black holes like this can be the source of huge amounts of power. Material like gas and dust can fall toward the hole, forming a vast disk of material that gets heated to terrifying temperatures by friction and other forces. Magnetic field lines twisting into coils can then launch twin beams of energy away from the black hole, dragging matter along with them. These beams blast outward at a very high speed, which then slams them into material inside and outside the galaxy.
That's what you're seeing here. The bright dot in the center is from X-rays booming out of the disk around the black hole. The beams are easy to spot, too. The one to the upper left is headed more or less in our direction. Because it's moving so quickly, the beam gets its light amplified by relativistic effects. That likewise dims the beam moving in the opposite direction, making it fainter. Both are emitting copious amounts of X-rays.
I love that bubble of material to the lower right. That's where the beam is slamming into material, which is expanding away in a vast wave. That's a bit more clear when you look at the galaxy using submillimeter waves (between infrared and radio waves in the spectrum; this image also has X-rays in blue and visible light, too):
As you can see, the structure of the beams is a bit more complicated than you might first think. After they ram enough material they slow down and expand, forming those huge lobes. Sometimes the lobes point in opposite directions; that can be due to the galaxy's motion, or the beams slowly moving around as the disk precesses (wobbles) over time.
The galaxy itself glows softly in X-rays (lower energy X–rays are shown in red, medium in green, and high-energy in blue). This is from various objects like supernovae, hot gas, star-forming regions, and more.
The X-ray image shows a broad gap across the galaxy's middle, which is even more obvious in the submillimeter image. That is a vast swath of dust orbiting around the galaxy, almost certainly stripped from a smaller galaxy during a collision. Cen A is in the process of eating the smaller galaxy! That's probably what is fueling the material falling down into the black hole as well.
So all of this weirdness is most likely due to the collision: the bright central source, the jets, the bubble, and the swoosh of dust. You are what you eat.
Cen A is pretty close, about 12 million light years, and is one of the brightest galaxies in the sky. As the closest active galaxy (one with a bright central black hole actively devouring material), it's very well studied. And that's what caused my momentary confusion when I first saw this image. I knew it was in X-rays, but I assumed that it was a composite of X-rays and visible light, and the structure I saw in the image is not at all what I'm used to seeing. The colors, the shape, even the "texture" of the image looked off to me. It wasn't until I read that the image is only showing X-rays that it made sense in my head.
And then the wave of awe struck me. X-rays are very difficult to detect, and sources are generally not that bright. To see this kind of detail in an X-ray image is astonishing, and over such a large area of the sky, is nothing short of exceptional. This is a phenomenal image, digging incredibly deep into the galaxy structure.
When you combine it with other deep images (even ones taken by amateurs) a lot can be learned; different mechanisms produce different kinds of light, revealing more about the physics going on behind the scenes. Active galaxies are very bright and can be seen for billions of light years; having one this close is a gift to astronomy.
And to our eyes and brains, too. I never get tired of how such amazing objects are also so beautiful. It does make them more pleasurable to study, even if they weren't so magnificently interesting on their own.
To Map a Thousand Million Stars
Our Milky Way galaxy is a huge place: It has something like 200 billion stars in it. When you go out on the darkest night imaginable and look up, it seems like the sky is filled with stars, but in reality you can only see a few thousand at most. That's a paltry figure compared with what's really out there.
Over the years telescopes have mapped many more stars; the Hubble Space Telescope has a catalog that contains tens of millions of them. But even that is just scratching the surface.
The European Space Agency is fixing to change all that. In 2013 it launched the Gaia observatory. Its mission: Map the positions and characteristics of more than a billion stars and other objects in space. A billion. With a B.
It's an unusual mission. Normally different cameras would be used to perform the different tasks, but Gaia puts them all into one instrument. And its accuracy is amazing: It will have a stunning resolution of 24 microarcseconds (an arcsecond is 1/3,600th of a degree; the full Moon is about 1,800 arcseconds across).* That's equivalent to seeing a cellphone sitting on the Moon and is several thousand times sharper than Hubble can do!
Gaia will also measure the change in positions of the stars as they move around the galaxy, as well as their apparent motion as the Earth moves around the Sun (called parallax). All this information can be combined to get far more accurate distances to stars than has ever been achieved before.
On top of that, it will also take spectra of the stars, breaking their light up into colors, which allows astronomers to determine what kind of stars they are, how hot they are, and more. Finally, it will also use very fine measurements to find the motions of the stars toward and away from us (using the Doppler shift) that will nail down their precise motion through space.
Let me ask you: Do you have a phone camera? If so, it probably has a few million pixels in it, allowing you to take nice, hi-res pictures. But don't get too cocky about it: Gaia's camera has nearly a billion pixels! Yes, it's actually a 1,000 megapixel camera, which when added all together is physically a ridiculously huge 1 x 0.4 meters (40 x 16 inches) in size.
Unlike most telescopes in space, it won't be sending gorgeous images back to us on Earth; instead, it will determine all those stellar characteristics and then return that data to us, creating a huge catalog. Even then, the amount of data will be huge; if it sent back actual images it would be impossible to store it all. It will take five years to map out the whole sky several times, and three more years to process the data.
However, right now scientists and engineers are fine-tuning the telescope, making sure they understand how it's aimed and focused. So Gaia is, for the moment, sending back some pretty cool images. At the top of this post is the Cat's Eye nebula, a dying star about 3000 light years away (I've written about this object before). Here's a shot of the star cluster NGC 1818, located in another galaxy about 200,000 light years away:
The image looks a little funny, and I found out that's because the pixels in the camera are rectangular, not square. That's done to match the rectangular mirrors used in the telescopes. It's odd, but should work very well. Anyway, the image was morphed a bit, making it look nicer. Incidentally, the image of the cluster only occupied about 1 percent of Gaia's total field of view. This observatory really is a monster.
And it will revolutionize galactic astronomy. With this much information at their fingertips, astronomers will understand the Milky Way better than ever. And more than that, too; Gaia will see asteroids, gas clouds, and far more distant galaxies, too. While it won't give us images, it will provide a vast treasure trove of data that will be tapped by scientists for decades. And since the stars are all in motion, it will provide a baseline for future missions as well.
The geek in me can't help but think that this is the first step in having something like Star Trek's astrometry lab. A billion stars … who knows? Maybe someday this data will be used by some future explorer, mapped out, and used as a navigation tool. That would be a future I'd very much like to see.
*Correction, Feb. 17, 2014: This post originally misstated the width of an arcsecond.
Solar Interloper, Part 2
I recently posted a video showing a contrail moving across the Sun; I just missed getting the airplane that made it jetting directly across the Sun's face.
In 2012, Dean and Melinda Ketelsen had better luck. While testing out their camera rig just minutes before a solar eclipse began, they got this shot:
Looking over fighter silhouettes, I strongly suspect it's an F-18, but I'm not sure. Given the size of the plane relative to the Sun, I'd wager it crossed the Sun in less than 1/10th of a second. The picture was taken at 1/2,000th of a second, sufficient to freeze the plane's motion pretty well. Had her timing been off even a tiny amount, she would've missed it. It's a total coincidence, but a very cool one.
Fall and Spin Along With a Camera Dropped From an Airplane
A few days ago, a very interesting (and very funny) video was posted to YouTube. A skydiver's helmet-mounted camera came loose and fell out of the airplane just before the diver was ready to jump. The camera fell all the way to the ground, survived the impact, and landed in … well, see for yourself. Trust me, it's worth it.
The video quickly went viral, and generally I don't bother posting stuff like this once it seems like the whole world has seen it (and it does have more than 6 million views as I write this). But a couple of things happened that I think are worth pointing out.
One is that a lot of people questioned the veracity of the video. That's fair, I think. The circumstances of the video are a little suspicious; the camera happens to come loose, happens to survive the fall, happens to land lens side up, happens to have a curious and apparently hungry pig come to investigate immediately. And it's odd that it took eight months for the farmer to find it and post the video. That's all pretty weird.
But also apparently true; Amanda Kooser from CNET investigated, and the story panned out. Truth is stranger than fiction, at least in this case. Mind you, I said it's fair to question whether the video was real or not, but the howls of "fake!1!!" I saw were off-putting. Better to have an open mind, I think, and look at the evidence first. That's why I waited to post; I poked around trying to get more data, and happily my friend Bonnie sent me a link to Kooser's article. I'm satisfied the footage is real, though if someone can come along with better evidence, I'm listening.
The camera is a GoPro, built to be tough, and it landed in somewhat soft mud, lessening the impact. The camera also spun madly as it fell, which can also slow the descent speed a bit … and that's the second thing I wanted to bring up.
People have a funny prejudice about cameras, thinking that they work the same way our eyes do. "The camera doesn't lie," as the old expression goes. But that's flat out wrong, plain and simple. Cameras lie all the time. They do not show us what's really going on in the world, because cameras perforce change the light entering them before making a picture.
Digital cameras turn incoming light into electronic signals, stored on little sensitive chips with tiny pixels. They use filters, or can see slightly farther into the infrared than our eyes do, and distort the image a bit. Everything changes when it's seen through a camera.
It's worse for video, because each frame has to be read out rapidly, each one in the stream stored. That can cause all kinds of weird effects, like freezing motion or making things appear to move backwards (like when it looks like car wheels rotate the wrong way on TV).
This exact thing happens in the falling camera video. The camera starts to spin as it falls, more and more rapidly. As it does so you can see the landscape and sky dizzyingly whirling. But then a weird thing happens: At about 30 seconds into the video, the picture seems to steady, showing two slightly different angles on the ground.
This happens because the spin rate of the camera matches (or is a simple multiple of) its readout rate. Think of it this way: Imagine standing with a camera in your hand. Take a picture, then spin all the way around and take another picture. Do this again and again, and string the pictures together to make a video. The video will not show your motion, because every time you took a picture you were facing the same direction! It'll look like you were just standing there.
This is more or less what happened in the falling camera but with a twist; it looks like the spin rate didn't exactly match the readout rate, so you get what's called aliasing, more than one shot of the ground in each frame. It gets even more complicated because the camera was tilted, and spinning so rapidly that the time it took to read each frame out was distorting the picture. So, for example, the top pixel row of the detector was read out, then the next, then the next, all in a fraction of a second. But during the time between reading out the top row and the bottom row the camera spun a bit, distorting the angles of the picture.
This spin rate stays fairly steady until the camera hits the ground. I suspect there's more going on as well here; the type of detector the camera used (called a CMOS sensor) can actually do image stabilization on the chip itself, as well as other tweaking, so that may also be playing into this.
All in all, it goes to show you that a lot of weird stuff can happen that can make you suspicious, and rightly so, but you should wait for evidence (and a cool analysis of the facts) before making up your mind.
Also—and stop me if you've heard this before—when looking at the world, what you see is most assuredly not what you get. Just click any of the links in Related Posts below for a ton of mind-bending evidence of that.
One Year After Russia's Sky Exploded
At about 9 p.m. MT a year ago, I was sitting at my desk wrapping up a long day of writing. I was about to get up to watch some TV when I saw a tweet come in saying something innocuous enough, like "Have you seen this?" with a link to YouTube. It was a video from a Russian commuter's dashboard camera, and showed a streak of light sailing across the sky leaving a huge smoke trail behind it. At first I thought it was a hoax; many such videos are. Then I saw another one pop up on YouTube, and another … and then the videos of the shock wave came in, and I knew I was in for a long night. But not as long as the people who live in Chelyabinsk. While this event was a boon to science, it was a chilling reminder that we need to be more aware of what's going on in the Universe around us, and should the need arise, we must be ready to act.
One year ago today, the citizens of the city of Chelyabinsk, Russia, had a bad day.
In the early hours of Feb. 15, 2013, a small rock, probably 19 meters (60 feet) in diameter, was gliding silently through space … but a blue-green world lay directly in its path. Moving at a speed of 20 kilometers per second—45,000 miles per hour, two dozen times faster than a rifle bullet—the asteroid entered Earth's atmosphere at 03:20 UTC (11:20 Eastern).
After billions of years orbiting the Sun, its demise took mere seconds. As it plunged through our air, the pressure built up tremendously. It compressed the air in front of it, heating it up enough to cause the surface of the asteroid to begin to melt and blow away. Seconds later the pressure had increased so much that the rock began to crumble as surely and suddenly as if it were hit with a massive hammer. The rock violently shattered into a dozen smaller pieces blasting through the air. These shattered too, again and again, a cascading catastrophe, each member of this rapidly multiplying army heating up due to its tremendous velocity.
The incredible energy of their motion was converted into light and heat within a few moments. It happened so suddenly that it was by all intents and purposes an explosion—the equivalent of a half-million tons of TNT detonating. Still dozens of kilometers above the ground, a huge shock wave from the explosion began sweeping downward.
People in and around the city of Chelyabinsk were just getting their day started, the Sun barely risen at the local time of 9:20 a.m. on that winter day. The first warning they had of what was to come was a flash of light, brightening as it moved across the sky, leaving a thick plume of dust behind it. It flared as bright as the Sun within a second or two, pulsing with energy, moving silently across the sky nearly from horizon to horizon.
That silence was not to last. Moving at the speed of sound, it took the shock wave less than a minute to reach the ground. Like explosive thunder but hundreds of times more powerful, that wall of sound slammed down, shaking the ground, setting off car alarms, shattering windows, and causing structural damage to some buildings.
Amazingly, no one was killed, but significantly more than a thousand people were injured by flying glass. Much of the original 12,000-ton asteroid burned up in the atmosphere. Countless thousands of tiny pieces rained down from the sky (to the future glee of meteorite collectors), with one chunk nearly a meter across and weighing half a ton punching a hole in a frozen lake nearby. Had that hit a house or a car … well.
In the end, this event has been rated as the largest impact the Earth has suffered since the Tunguska explosion more than a century ago. Still, what became known as the Chelyabinsk impact, for all the damage it did, was from a chunk of rock no bigger than a house. Countless millions of such rocks orbit the Sun on paths that intersect the Earth's. A million or more are far larger, the size of a football field or bigger, massive enough to do catastrophic damage should they hit us.
We don't have to go the way of the dinosaurs; we have a choice. Astronomy and space exploration can literally save the world. We just have to choose wisely.