Your Guide to the World's Hidden Wonders
The Real Location of True Detective's Carcosa
In the climactic scene of True Detective's season finale, Messrs. Cohle and Hart storm Carcosa, a creeptastically dilapidated lair perfectly suited for a serial killer.
In the realm of reality, Carcosa is better known as Fort Macomb, a 19th-century brick fortress that once guarded the waters of Chef Menteur Pass in New Orleans. Fort Macomb, originally known as Fort Chef Menteur, then Fort Wood, was completed in 1822. (The Americans had just fended off the British in the Battle of New Orleans and figured a few extra forts around the place couldn't hurt.)
Fort Macomb saw some action during the Civil War — Confederate soldiers camped there until the Union captured New Orleans and took the fort for themselves. In 1871, Fort Macomb was decommissioned and has sat idle ever since. Crumbling, overgrown, and battered by Hurricanes Katrina, Rita, and Gustav, it is too hazardous for the public to visit. But just hazardous enough for Matthew McConaughey.
If you squint and employ your imagination, you can get the Carcosa experience at nearby Fort Pike. Built to the same design as Fort Macomb, it's in much better condition and welcomes even non-celebrity visitors.
The Golden Pagoda on the Edge of a Cliff
At 24 feet tall it may not be the biggest pagoda around, but it is certainly one of the most eye-catching. Kyaiktiyo Pagoda sits atop a huge golden boulder balanced precariously on the edge of a cliff. The boulder, painted gold by Buddhist devotees, sits on a natural rock platform but looks as though it's about to tumble down Mount Kyaiktiyo any second.
According to legend, a Buddhist hermit was given a strand of hair from the Buddha himself, which he then gave to the king. For his gift, the king offered the hermit a stone shaped like his head, and used his magical powers to pull the boulder from the ocean. The king then built the small pagoda atop the rock to enshrine the Buddha's hair for eternity.
Pilgrims have flocked to the site for centuries. The hike uphill takes about 30 minutes — if you are unable or unwilling to make the climb, four porters will carry you in a bamboo sedan chair.
Once at the peak, you are welcome to purchase gold leaf and add it to the rock. Unless, of course, you are a woman — the rules state that ladies must conduct their veneration at least 15 feet from the pagoda.
Other precariously perched places of worship:
Victoria's Way: A Sculpture Garden Designed to Change Your Life
Feeling a bit lost on this meandering path called life? Need to discover your ultimate purpose and feel at peace with yourself? Perhaps you ought to venture to County Wicklow, Ireland, and look at a statue of a man screaming in agony as he cuts his own head in half.
The Split Man is one of the sculptures at Victoria's Way, a garden built to induce self-reflection. Creator Victor Langheld established the park in 1989 after traveling to India in search of spiritual enlightenment. He describes it thusly on his website:
Victoria's Way was designed as a contemplative space to be used by individuals (i.e. single wanderers) between about 28 to 60 years of age who feel the need to assess the quality and direction of their lives. It's a sort of mid-life (-crisis) self-reassessment and self-reorientation pilgrimage.
The process of rebirth begins at the gate — to enter the park, you walk through a large black granite vagina dentata guarded by a stone snake. Then it is time to confront the seven forest sculptures that will lead you from pain and confusion to self-actualization.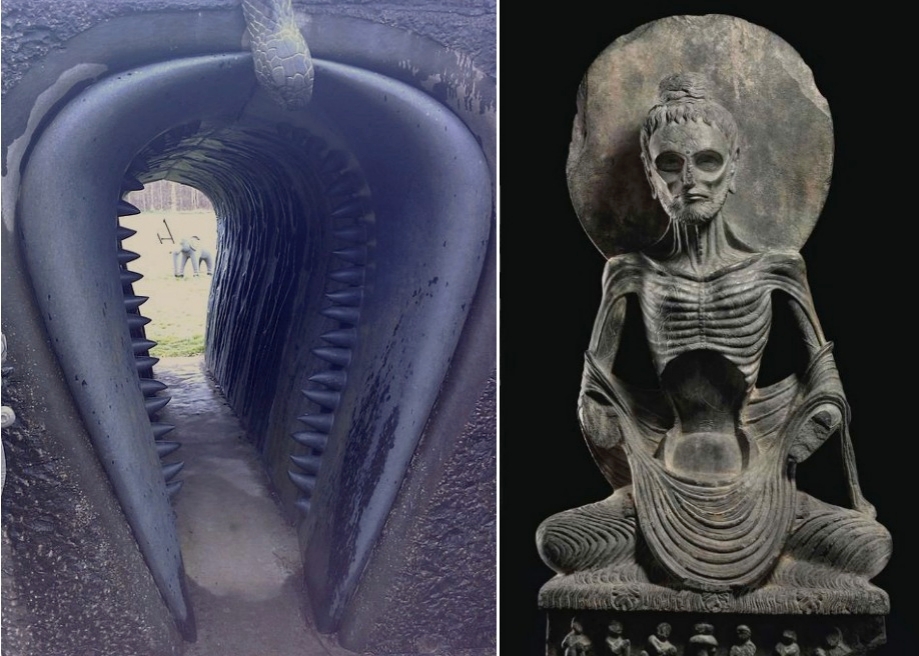 First up is the Birth of the Ferryman, a sculpture of a child being born from a giant, rotting human fist. Then comes When One Becomes Two, a large-breasted woman with a scaly tail for a right leg who laughs maniacally as she clutches at a young girl. The Split Man is next — he represents the self-destruction that results from failing to commit oneself to a life goal — followed by Dark Night of the Soul, an emaciated Buddha in the lotus position.
A giant finger sticks up from the ground at the next contemplation stop. "Create or die" is painted on the fingernail. Whether it is intended to be a middle finger is open to interpretation, but there is a feeling of defiance regardless.
Two sculptures remain: the Nirvana Man, a calm character who sits on a ledge with his eyes closed, and the Ferryman's End, which rivals the Split Man in the disturbing stakes. (The Ferryman, a cadaverous old fellow, sits half-submerged in a green-tinged lake, crying out as his boat slowly sinks.)
If all goes according to plan, you ought to be self-actualized now. As a reward, take a moment to admire Victoria Way's Ganesh statues, carved by Indian sculptor T. Baskaran. The elephant-headed Hindu god is depicted dancing, reading, reclining, and playing musical instruments.
Intense and scary sculptures around the world:
Diver's Cemetery: The Blue Hole of Dahab
On the east coast of Egypt's Sinai Peninsula, a few miles north of the city of Dahab, is a diving and snorkeling site known as the Blue Hole. Every day, divers make the journey from Dahab by jeep or camel, eager to explore the coral-lined, 394-foot-deep underwater sink hole known as the Blue Hole.
At the water's edge, beside some wooden lounge chairs, is a faded, hand-painted sign. Decorated with pictures of fish, a friendly dolphin, and a bubble-blowing diver, it reads "EASY ENTRY - BLUE HOLE." It's only a few feet from the sign to the sink hole.
Technical divers — those who venture blow the 130-foot limit recommended for recreational diving — love the Blue Hole because its unusual structure offers a unique challenge. On the northeast side of the sink hole, 184 feet below the surface, is a horizontal tunnel that leads to the open sea. Known as The Arch, the 85-foot-long passage is difficult to enter due to the darkness, poor visibility, and down currents that grab at a diver's fins. But with fish wriggling by in the silent depths and coral formations catching the eye, it's certainly beautiful.
In April 2000, Russian diver Yuri Lipski strapped on an air tank and a helmet camera, loaded his belt with weights, and plunged into the Blue Hole. He never resurfaced.
Lipski died at just over 300 feet underwater. At this depth, the body is subject to nitrogen narcosis, which can play havoc on the mind by inducing overconfidence, euphoria, hallucinations, confusion, and impaired judgment. It didn't help that Lipski had just one tank full of air — technical divers are better served by multiple tanks filled with trimix, a combination of oxygen, nitrogen, and helium that reduces narcosis.
When a diver went to retrive Lipski's body at the request of his parents, he made an unnerving discovery: the footage captured by Lipski's helmet camera was still intact. The doomed diver had recorded his own death.
Lipski's final moments are now on YouTube. Titled "Fatal Diving Accident Caught On Tape," the six-minute video has garnered over eight million views. Though his face is never visible, his distress is palpable and haunting — what starts as a routine dive deteriorates into panicked thrashing as he becomes more disoriented. Clouds of kicked-up sand billow into view as Lipski's breathing rate doubles. In the end, he removes the breathing apparatus from his mouth and the frame goes still.
Lipski is not the only diver to have died at the Blue Hole. On a cliff face on the path leading to the site are 14 memorial plaques dedicated to lost divers. There's Karl Marx, an Austrian who perished in 2008. There's James Smith, whose stone reads, "Don't let fear stand in the way of your dreams." He died in the water in 2003, aged 23. There's a stone for Daniel Malak and Tarek el Kadi, friends who died in the hole on the same day in 1988.
These stones represent just a fraction of the deaths at the Blue Hole. There is no official count, but an estimated 130 people have lost their lives there within the last 15 years. If anything, the site's reputation — it's nicknamed "Diver's Cemetery" — has only enhanced the appeal of the place for divers who want to test their limits.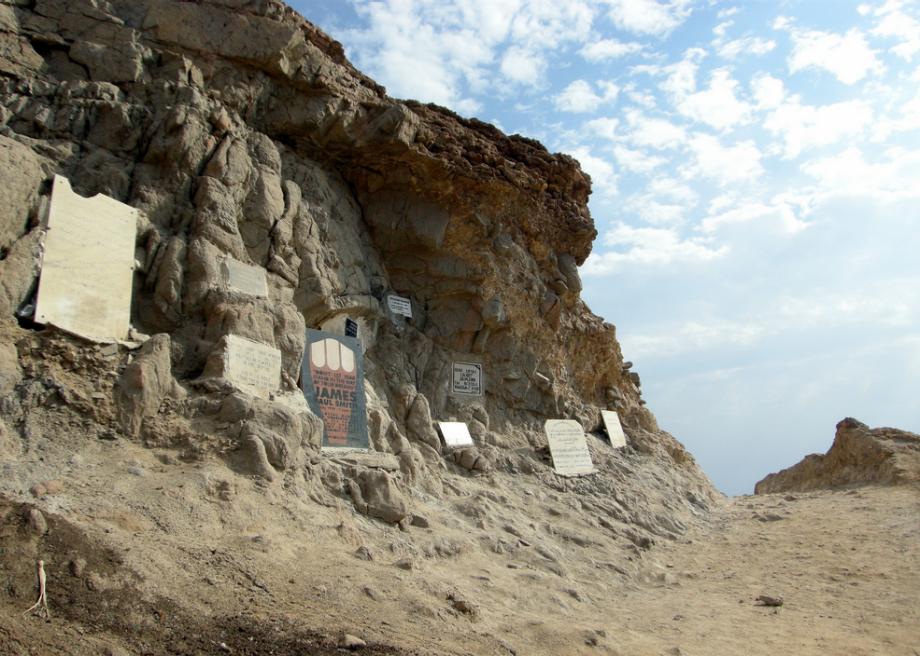 Other blue holes around the world:
Where Eagles Dare: The Jetpack Mystery
Test pilot Bill Suitor was getting ready to fly. Wiping the sweat off his brow, Suitor pulled the 120-pound Rocket Belt 2000 onto his back, and held the trigger. With 300 pounds of thrust, Bill Suitor shot straight up into the air, tilted forward slightly and flew forward. For 28 seconds over Texas' Houston Ship Channel, Suitor flew powered by the "jetpack" strapped to his back. This 1995 flight was the Rocket Belt 2000's first glorious flight. It was also its last.
Of the three men who worked to make this rocket belt test flight happen, one would end up dead, one went to prison for kidnapping one of the others, and the third man, well…he's the only one who knows where the Rocket Belt is.
Considering more men have walked on the moon (12) then free-flown a jetpack (11), the contraption has gained a remarkably weighty place in our cultural consciousness. Thought up in the 1920s as a cover gimmick for a pulp magazine, experimented with by the Nazis in the 1940s, and featured in B-Movies in the 1950s, it was finally brought to fruition and tested by NASA in the 1960s as part of Project Apollo. The Rocket Belt — later to be more commonly referred to as a "Jet Pack" — was always that imaginative technology that was "just around the corner." For a time, as with flying cars, jet-packs, like the "Jetsons" who used them, simply felt like the future.
As time went on and the jetpack failed to materialize in everyday life, it became a symbol of a charmingly retro future. However, in the early 1990s an insurance salesman and rocket belt enthusiast named Brad Barker became determined to bring the rocket belt back to the future.
The American Rocket Belt Corporation was set up in 1992 by Brad Barker, Larry Stanely, and Joe Wright to kick off this new rocket belt renaissance. Barker was the visionary, Stanley the funder, and Wright provided free space and equipment. More than just a quest for flight, they wanted to be rich. In Barker's words, "That was pretty much it: build the belt, go out and make a lot of money."
Despite the pragmatic ends, by 1994 the three had successfully done what many others before them had failed to do; they had created a working Rocket Belt prototype, the RB-2000. Besides being lighter and stronger than the 1960s NASA model, it allowed for 30 seconds of flight, up from the original's scant 20 seconds.1 But the technical aspects of the Rocket Belt turned out to be the least of the American Rocket Belt Corporation's problems. There were other complications.
Long before the RB-2000 was flying over the Houston Ship Channel, the company was already in ruins. Barker and Stanley were at each other's throats, while the third partner Joe Wright had a failing car stereo business and a escalating crystal meth addiction. Even before the inaugural flight of the belt, Barker and Stanley had had a terrible falling out. Stanley believed Barker was stealing money from the company and when he confronted Barker, they fought violently.
From a 2002 Sunday Herald article:
"Stanley got in my face," Barker recalls. "I grabbed a five-pound, dead-blow, lead-filled hammer off the table. I hit Stanley short blows twice to the back of the head. That pretty much ended the partnership."
Barker grabbed the RB-2000 and took off. It would be some time before Stanley saw the RB-2000 again.
While watching a Houston basketball game on TV, that Stanley saw something that he immediately recognized: the RB-2000 strapped to the the back of pilot Bill Suitor. There, watching on his television set, that Stanely watched his co-creation take that inaugural flight over that Houston Ship Channel. He immediately got in touch with Wright in hopes of tracking down the RB-2000 and Brad Barker. But Brad was on the move. Only hours after Suitor landed the RB-2000 across the Houston Ship Channel, having demonstrated the best rocket pack built in 30 years in front of a cheering crowd of Houston Rockets fans, Brad Barker loaded the RB-2000, or as he named it, the "Pretty Bird," into his truck and took off again.
Stanley was furious. Having sunk hundreds of thousands of dollars into the Rocket Belt he wanted to make his money back, and to do that he needed the RB-2000 back. Despite their own infighting, Stanely turned to Wright to launch a joint lawsuit against Barker. Trouble was that by the time the lawsuit rolled around in 1999, there was only one of them was left to testify.
Eleven days before the trial started, someone went to Wright's house, knocked on the door and when he opened it, pummeled him to death with a blunt object. He was beaten so thoroughly that he was said to be "unrecognizable as a man or woman from the waist up."
Barker was the main suspect. Though the police arrested and questioned Barker about Wright's murder, they didn't have enough evidence to hold him, and after three days he was released, only to disappear with the RB-2000. At the civil trial over the RB-2000, in which Wright was planned to testify, Barker was nowhere to be seen. The judge found in Stanley's favor.
From a 1999 AP article about the lawsuit:
"Fed up with years of stalling, a judge Tuesday granted an aviation enthusiast the rights to a one-man rocket belt, awarded him more than $10 million in damages and ordered the belt returned to him. "I'm relieved this is over with.'' Stanley said after the ruling.
Except it wasn't over. Not quite.
One year later, with Barker refusing to pay and not offering up any information about the whereabouts of the RB-2000, Stanley decided to take matters into his own hands. Luring Barker out of hiding with the false promise of a Hollywood film job, Stanley arranged for four men to kidnap Barker. Holding him for eight days in a small box disguised as a SCUBA-tank container, Stanley threatened and harassed Barker in an attempt to find the location of the RB-2000. As he drilled holes in the box with Barker inside of it, he was heard to say, "The more holes, the faster it'll sink." In the last days of the kidnapping, Stanley held a gun to Barker's head and forced him to sign papers handing over the rights to the RB-2000.
After eight days of this, Barker was eventually able to slip his cuffs and escape. When he was picked up by the FBI, whom he had his brother contact, he was 23 pounds lighter and had cuts on his wrists that went nearly all the way to the bone. Stanley and his accomplice were sentenced to life in prison (later reduced to eight years).
As of 2011 Joe Wright's murder has never been solved, and the RB-2000 has never been found.
When asked about the whereabouts of the Rocket Belt in 2002, and if it would ever be seen again, Barker simply said "You just never know."
1It should be noted that Barker was only able to finish the prototype by enlisting the help of both Bill Suitor — one of the 1960s rocket belt test pilots, pilot of the jetpack in the James Bond movie Thunderball, and pilot of the RB-2000s only flight — and that of inventor Doug Malewicki, famed for creating the Robosaurous, a 40-foot-tall car crushing, fire breathing, dinosaur that puts in regular appearances at Monster Truck rallies.
Clarification, March 3, 2014: This post originally stated in a footnote that Joe's sister Nancy now believed that Larry Stanley murdered Joe. The footnote has been removed.
The Tokyo Sarin Cult's Outback Australian Test Ranch
On March 20, 1995, members of the Japanese doomsday cult Aum Shinrikyo released sarin gas into Tokyo's subway system during the morning rush hour, killing 13 people and injuring thousands.
In order to prepare for the attack, members of Aum Shinrikyo conducted sarin tests in an unlikely location: outback Australia. In April 1993, the cult purchased Banjawarn, a sheep ranch in the state of Western Australia. There they conducted nerve-agent experiments — on the sheep.
When the Australian Federal Police raided Banjawarn following the Tokyo attacks, they found a laboratory hidden in an abandoned house. Inside were piles of labware, Bunsen burners, mixing bowls, and generators. Soil at the ranch contained traces of methylphosphonic acid, a residue of sarin. Twenty-nine sheep carcasses strewn around the site showed signs of sarin exposure.
Besides the nerve-agent tests, Aum Shinrikyo may have been conducting more ground-shaking experiments. Late at night on May 28, 1993, there was a seismic disturbance in the area. A fireball shot into the air, flashes lit up the inky sky, and a low rumble spread across the desert.
Though there is no concrete evidence that the explosion was a nuclear test, Aum Shinrikyo had a keen interest in nuclear weapons and had visited Russia frequently in search of munitions experts. The cult was also mining uranium at Banjawarn — a key ingredient in atomic bombs.
Police concluded that the sect once intended to establish a permanent haven in Australia, but found no evidence of its members living in Australia. Banjawarn has since reverted to its pastoral origins, operating as a cattle farm with a four-bedroom cottage, garden, and orchard.
Doomsday cult sites around the world:
Murphy Ranch, the Abandoned Nazi Compound in the Hills of L.A.
Hidden in Los Angeles' Rustic Canyon, which overlooks the ritzy homes of Pacific Palisades, are the trashed remains of a would-be Nazi stronghold.
In 1933, an affluent couple named Winona and Norman Stephens acquired 55 acres of secluded land and began building a compound. They had been moved to do so by a charismatic German fellow known only as "Herr Schmidt."
Schmidt was a prominent member of the Silver Legion of America, a fascist, anti-Semitic, white supremacist group. He convinced the Stephenses that the USA would soon be invaded by Germany as part of the Nazis' New Order. What Los Angeles needed, he contended, was a hideout where Third Reich sympathizers could sequester themselves until German rule had been established.
Duly persuaded, Winona and Norman oversaw the construction of a power station, fuel and water storage tanks, and irrigated hillside garden beds for growing food. Murphy Ranch was intended to be a self-sufficient community—but that didn't mean sacrificing comforts and luxuries. By 1941 there were plans to build a four-story, 22-bedroom mansion with multiple dining rooms and libraries. Ironically, the man who drew up the blueprints for this secret Nazi haven was Paul Williams, the first African American member of the American Institute of Architects.
The fancy mansion never materialized. In December 1941, right after the attack on Pearl Harbor, the FBI raided Murphy Ranch and took Herr Schmidt into custody. Norman and Winona sold the compound in 1948. During the '60s and '70s it operated as an artists' community—hence the bombed out VW van lying on its side.
Though a major fire ripped through the compound in 1978, a few of its structures remain: a graffiti-covered power station, a buckled cylindrical fuel tank, the garden bed foundations, and a collapsed fuel shed.
Jesus in Japan: The Dodgy Documents that Reimagine Christ's Life
Remember the part at the end of the Bible where Jesus sneakily avoided crucifixion and headed to Japan to become a rice farmer? And who could forget how his younger brother ended up being crucified instead, in a case of the old switch-a-roo?
Okay, so that stuff's not in the Bible — it's in the Takenouchi Documents, an apocryphal set of ancient religious texts "found" by a group of Japanese archeologists in the 1930s. According to the documents, Jesus had a brother named Isukiri, who surreptitiously swapped places with Christ after he was captured by the Romans. Isukiri died on the cross, while Jesus escaped to northern Japan, acquired a wife and three daughters, and died of natural causes at the ripe old age of 106.
All of this explains why there's a mound of dirt in the small Japanese village of Shingo marked "Grave of Jesus Christ." A sign beside the grave gives a bit more background info, including the dozen years Jesus apparently spent hanging out in Japan as a young man:
When Jesus Christ was 21 years old, he came to Japan and pursued knowledge of divinity for 12 years. He went back to Judea at age 33 and engaged in his mission. However, at that time, people in Judea would not accept Christ's preaching. Instead, they arrested him and tried to crucify him on a cross.
The business with his self-sacrificing bro was supposedly pretty low-key:
His younger brother, Isukiri casually took Christ's place and ended his life on the cross.
Beside Jesus' grave is an identical mound that is said to contain one of Isukiri's ears, as well as a lock of hair swiped from the Virgin Mary.
Conveniently, the original Takenouchi Documents were destroyed during World War II. Shingo's Legend of Christ Museum, however, displays a replica. In addition to describing Jesus' second coming as a rice farmer, the documents describe the fate of Atlantis and detail humanity's extraterrestrial origins.
Argentina's Shrines to Difunta Correa, the Woman With Holy Breast Milk
Driving through the San Juan province in western Argentina, you will pass what looks like piles of trash: drink bottles, their labels bleached by the sun, lie clustered around old tires and license plates. Get closer and you'll notice that no matter what the bottles originally contained — Coke; juice; wine — all are filled with water. And at the middle of all the junk is something striking: a woman in a long red dress, lying supine, her eyes closed as a baby suckles her exposed breast.
The woman is Difunta Correa, and the garbage piles are her shrines. According to Argentinian legend, Difunta Correa ("the deceased Correa") was a new mother during the mid-1800s, when her husband was forced to become a soldier in the country's civil wars. During the conflict, he took ill and was abandoned by his fellow fighters.
Determined to bring her husband home, Correa strapped her newborn child to her chest and set out into the desert. After a few days of walking, Correa ran out of food and water and died of dehydration. When passers-by found her days later, her child was miraculously still alive, having spent the time drinking milk from Correa's seemingly self-replenishing breast.
This myth of post-mortem maternal devotion has given Difunta Correa saintly status in Argentina. Though not beatified by the Catholic church, Correa is the subject of roadside shrines and a full-on sanctuary at Vallecito, a town founded in her honor. Her followers visit to offer bottles of water to quench her eternal thirst, and leave license plates and tires to receive her travel-focused blessings.
Though Difunta Correa is the unofficial patron saint of travelers, devotees are quick to attribute all manner of powers to her — rows of trophies pay tribute to her divine intervention on the sports field, while clumps of miniature houses represent prayers for abundance in the home.
The Bubbling Hells of Beppu, Japan
The city of Beppu in southern Japan is set on a steaming collection of geothermal hotspots. Here, at one of the many resorts, you can bathe in a mineral-rich spring, get buried up to your neck in warm sand, or sink into a mud bath. You can also visit Chinoike Jigoku, the blood-red pond from hell.
Translated as "Bloody Hell Pond," Chinoike Jigoku is one of the eight "Hells of Beppu" — where "hell" equals "touristy hot spring meant for viewing, not bathing." Each hell has a theme. Shaven Monk's Head Hell is a pool of simmering mud, so called because the belching bubbles resemble bald guys' noggins. Sea Hell is a brilliant (fake) turquoise, while murky Demon Mountain Hell has been populated with a horde of disconsolate crocodiles. None of it makes much sense, but the swirls of steam that billow from each pond make for dramatic photos.
You can't go for a dip in any of the hells — in accordance with their name, they're too hot — but you can eat eggs, vegetables, and pudding that have been cooked in the springs. On your way out, don't forget to pick up some soothing skincare products made from the crimson sludge of Bloody Hell Pond.
Boiling, bubbling, steaming sites: