Your Guide to the World's Hidden Wonders
Asamkirche: The Rococo Church Where Death Hides in Plain Sight
Atlas Obscura on Slate is a blog about the world's hidden wonders. Like us on Facebook or Tumblr, or follow us on Twitter.
The ridiculously ornate rococo interior of Asamkirche (also known as the Church of St. Johann Nepomuk) in Munich is crammed with winged cherubs, swirling frescoes, and fiddly golden ornamentation. It's hard to know where to look, but one sight in particular draws the eye: a golden skeleton jamming a big pair of scissors at the lolling head of an innocent cherub. On the skeleton's back, ready to be hauled out an any moment, lies a scythe. It's Death!
Look closer and you'll see that Death's scissors are poised to snip a golden string being held by the cherub. If you're thinking "metaphor," you're a sharp one. That string is the thread of life, and Death can cut it at any moment.
Advertisement

The church designers—Baroque-loving brothers Egid Quirin Asam and Cosmas Damian Asam—placed this gilded memento mori right by the entrance when they created it in the mid-18th century. Though Asamkirche is now open to the public, it was originally designed as a private place of worship for the Asam brothers, who apparently preferred to begin each church visit with a dramatic reminder of their own mortality.
Correction, Oct. 21, 2014: The post originally contained photos of a different rococo church in Munich, Heilig-Geist-Kirche. They have been removed.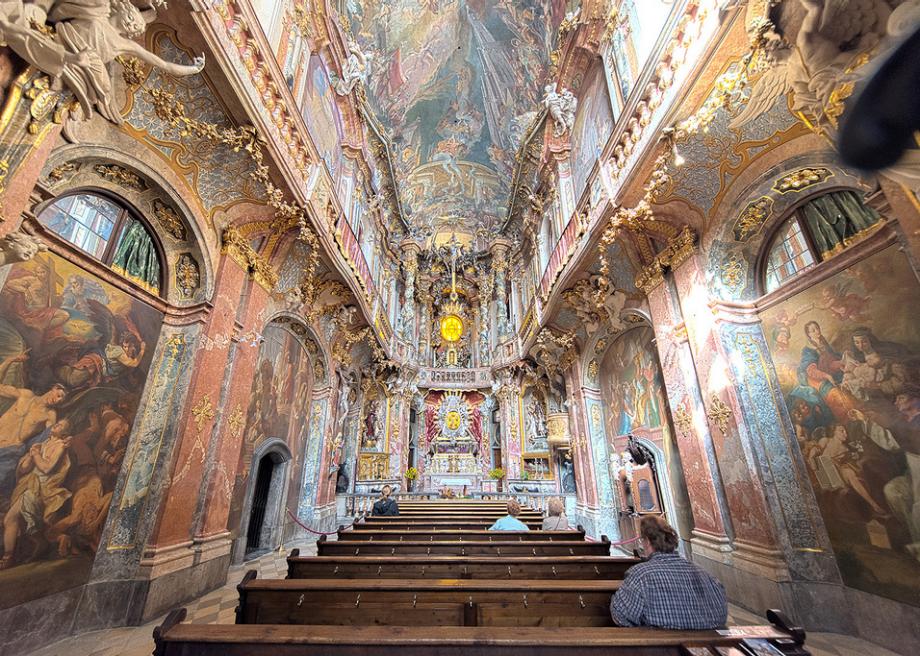 Other ostentatiously ornate rococo places:
Chouara: A Striking 11th-Century Tannery in Morocco
Atlas Obscura on Slate is a blog about the world's hidden wonders. Like us on Facebook, Tumblr, or follow us on Twitter.
Wedged among the ancient buildings and serpentine passageways of Fez's Old Medina in Morocco is a grid of stone wells, each filled with a colored liquid. This is Chouara, an 11th-century tannery that still operates as it did a thousand years ago.
Cow, sheep, goat, and camel hides are brought here to be preserved, dyed, and turned into the handbags, jackets, and wallets sold in the surrounding souks.
Advertisement

The process begins with the raw skins being soaked in a mixture of cow urine, pigeon feces, quicklime, salt, and water—the liquid in the white wells. This loosens the hair from the hides and makes them softer. After a few days of steeping in this concoction, the skins are hauled out and hung from rails on the balconies to dry. Then comes the dyeing. Tannery workers plunge the skins into the colored wells, leaving them there for a few more days to absorb each hue. The dyes all come from natural substances, such as indigo, henna, saffron, poppies, and pomegranates.
Visitors are welcome to observe the tannery in action, and are even given a gift upon arrival: a small spring of mint to hold under the nose when the smell becomes too much.
More amazing sights in Morocco:
Death By Ale Tsunami: The London Beer Flood
Atlas Obscura on Slate is a blog about the world's hidden wonders. Like us on Facebook, Tumblr, or follow us on Twitter.
Two hundred years ago, eight Londoners died in one of the oddest ways imaginable. Or, to invoke the thoroughly British words of The Times' news report on the incident, "The neighbourhood of St. Giles's was thrown into the utmost consternation on Monday night, by one of the most melancholy accidents we ever remember."
On the evening in question—October 17, 1814—one of the vats at the Meux and Co. brewery burst, blowing apart the building's timber walls and sending the equivalent of 3500 barrels of beer cascading onto the streets.
The ale tsunami demolished two homes as it swept along what is now Tottenham Court Road in Bloomsbury. In other homes, according to the Times report on October 19, 1814, "inhabitants had to save themselves from drowning by mounting their highest pieces of furniture." Others were not so lucky, such as a mother and daughter who had just sat down to tea in their first-floor home: in the evocative words of the Times, the daughter was "swept away by the current through a partition, and dashed to pieces."
Eating in Antarctica: Tales of Decadence and Deprivation
Atlas Obscura on Slate is a blog about the world's hidden wonders. Like us on Facebook, Tumblr, or follow us on Twitter.
"The meals were the bright beacons in those cold and stormy days. The glow of warmth and comfort produced by the food and drink made optimists of us all."
So wrote Antarctic explorer Ernest Shackleton of his 1914-1917 Endurance Expedition, a disaster-riddled attempt to make the first land-crossing of the continent. During a horrendous journey in which his ship sank after being crushed by ice, food provided one of the few sources of respite from the bleak surroundings. See Shackleton's ode to salty, waterlogged crackers:
"A few boxes of army biscuits soaked with sea-water were distributed at one meal. They were in such a state that they would not have been looked at a second time under ordinary circumstances, but to us on a floating lump of ice, over three hundred miles from land, and that quite hypothetical, and with the unplumbed sea beneath us, they were luxuries indeed."
For explorers and researchers enduring the dark, frosty monotony of an Antarctic winter, food provides an exciting source of variety. But the continent's remoteness, limited accessibility, and conservation laws place heavy restrictions on what its visitors can eat.
Towers of Silence: The Zoroastrian Sky Burial Tradition
Atlas Obscura on Slate is a blog about the world's hidden wonders. Like us on Facebook, Tumblr, or follow us on Twitter.
Two hilltop towers overlook the Iranian city of Yazd, their simple cylindrical walls giving no indication of the gruesome scenes that once took place within them. The structures are known as dakhma, or towers of silence. The Zoroastrians of Yazd used these places as open burial pits, placing their deceased relatives in rows so their bodies would be feasted upon by birds of prey.
Sky burial—placing a deceased human body in an exposed location so that animals and the elements will hasten its decomposition—has long been a part of Zoroastrian tradition. According to the religion's beliefs, a body becomes impure at death, when evil spirits, or nasu, arrive to attack the flesh and soul of the deceased. By contaminating the corpse, nasu also threaten the living. Sky burial is considered a clean death because it prevents putrefaction—birds of prey such as vultures can eat a body down to the bones in just a few hours.
Advertisement

At Yazd, bodies were hauled up to the towers and arranged in concentric circles with their feet pointing toward the center. Children were placed in the innermost ring, women in the next, and men in the outside ring. Once bodies had been stripped of flesh, muscle, and organs, and the skeletons bleached and weakened in the sun, the bones were placed in a central pit to break down.
When they were first built millennia ago, Yazd's Towers of Silence were far from the bustle of the city. Development and urbanization resulted in a sprawl that skirted too close to the towers. They are no longer used for burial—Zoroastrians have adopted alternative "clean death" methods, such as burying bodies in cement-lined coffins to prevent contamination of the earth.
Though Yazd's Towers of Silence are now relics, Zoroastrians elsewhere maintain the dakhma tradition. The Parsi Zoroastrians of India still practice sky burial—although the ritual has become more difficult to conduct in recent decades due to the dramatically diminishing vulture population. In 2012, NPR reported that Mumbai Zoroastrians have been experimenting with solar concentrators to hasten decomposition via intense heat. Vulture sanctuaries have also been proposed in order to raise more birds of prey to feast on the human dead.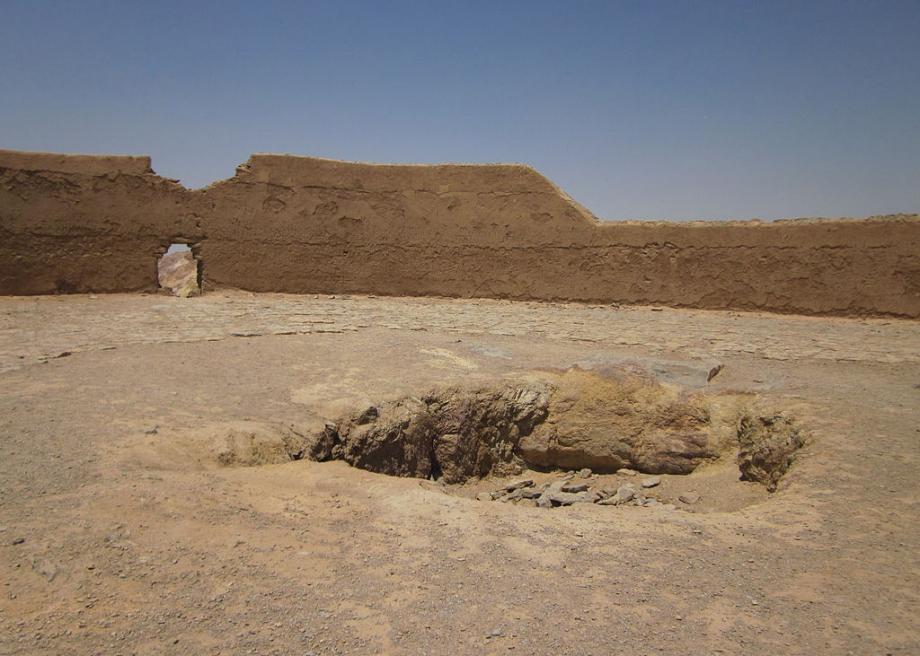 Concrete Carcasses: Where to See Rare Wrecked War Ships Made of Cement
When building a ship, steel is your best bet for optimum seaworthiness and cost efficiency. But there are other options. Concrete, for example.
Though not the material of choice for your average shipbuilder, concrete was used to create experimental fleets during World War I and II, when metal shortages caused transport manufacturers to look to alternative materials. (Remember the Spruce Goose?)
Advertisement

After the United States entered World War I in April 1917, Woodrow Wilson quickly established the Emergency Fleet Corporation to oversee the construction of cargo ships. In addition to thousands of steel ships, the corporation commissioned 24 ships made of ferrocement, or reinforced concrete. By the time the war ended, however, only a dozen were under construction. None were finished in time to carry supplies to the troops, but one, the S.S. Atlantus, was deployed in late 1918 to bring soldiers home from Europe.
A similar shipbuilding situation took place during World War II. In 1942, the U.S. government commissioned two dozen concrete ships from Philadelphia firm McCloskey and Company. This time, all 24 ships were completed before the end of the war. Many functioned as store ships during combat in the South West Pacific.
The post-war fates of these concrete vessels have been mixed. Many lie half-sunk in bays, having either run aground or been placed there deliberately. At Kiptopeke State Park in Virginia, nine of the McCloskey ships have been lined up to form a breakwater for the park's pier. Birds nest in the ships' pock-marked hulls and the concrete has eroded to reveal rusting rebar skeletons. It's a similar sight at Powell River, near Vancouver in Canada, where nine of the World War II ships, along with World War I oil tanker the S.S. Peralta, have been arranged to form a breakwater.
Other ships are all by their lonesome. The wrecked WWI oil tanker S.S. Selma, launched in 1919, sits half-submerged off the coast of Galveston in Texas, after a 1920 collision with a jetty ripped a big hole in her side and took her out of commission. The S.S. Atlantus, or what's left of it, sits in New Jersey's Delaware Bay, having run aground there during a storm in 1926. The S.S. Sapona, commissioned for World War I, rests in the Bahamas, its wrecked hull a playground for fish and divers.
Undulatus Asperatus: The First New Cloud in 60 Years
Atlas Obscura on Slate is a blog about the world's hidden wonders. Like us on Facebook, Tumblr, or follow us on Twitter.
In an attempt to codify cloud vocabulary and aid in weather prediction, the World Meteorological Association (WMO) published the first International Cloud Atlas in 1896. The Atlas divides clouds into 10 genus, 26 species, and 31 varieties, and includes important tips for cloud identification as well as appropriately whimsical descriptions—cloud species range from praecipitatio, "to fall (down a precipice)" to castellanus, "a castle of a fortified town." Though many updates and new editions have been published since, no new cloud types have been added to the Atlas since cirrus intortus ("an entangled lock of hair") was added in 1951. Until now.
Mount Moriah: Exploring an Abandoned Philadelphia Cemetery
Atlas Obscura on Slate is a blog about the world's hidden wonders. Like us on Facebook, Tumblr, or follow us on Twitter.
Philadelphia's Mount Moriah Cemetery has been officially closed and abandoned since 2011, its 380 acres now overgrown, the over 85,000 graves consumed by an encroaching forest. Incorporated in 1855, it was once among the most elite of the Victorian cemeteries. Now you're lucky if you can find a family member's grave without rubbing against poison ivy.
How such a significant place fell into such ruin is complicated, and years after its last burial it's still effectively without an owner. A nonprofit volunteer-spurred group called Friends of Mount Moriah Cemetery regularly cuts a path in the bramble so there is at least some navigation through the grounds. But as the cemetery is divided between Philadelphia and Delaware counties, each with its own potential managing corporation, as of this month Mount Moriah's future is undecided by the two sides.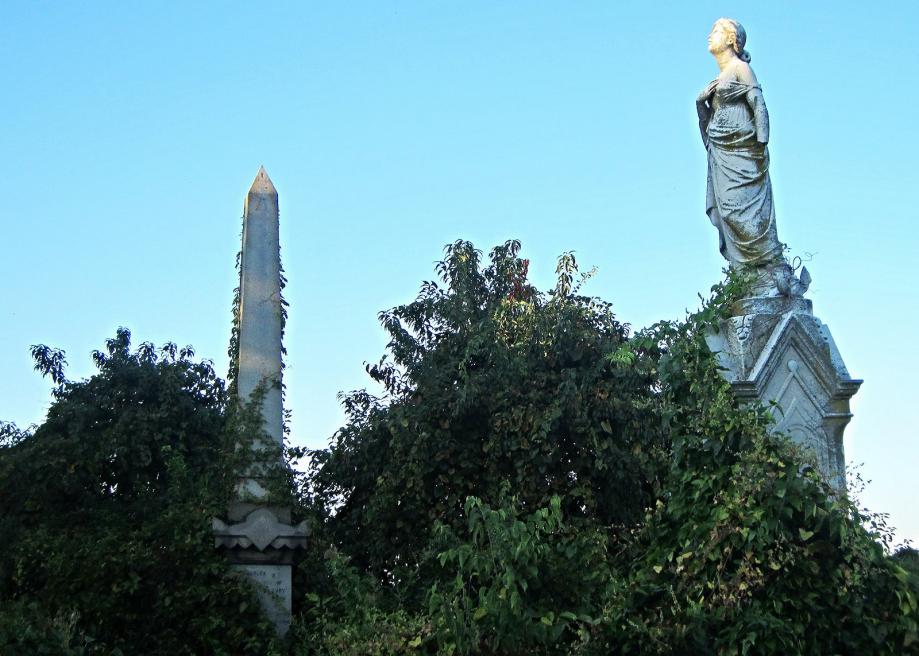 Advertisement

We recently visited the cemetery, drawn to the place by the recent entry posted to Atlas Obscura by Luke Spencer, whose photographs showed monuments swallowed by vegetation with a Victorian decay found more in Europe with places like Highgate Cemetery in London. There were vines winding up obelisks and pillars topped with statues of mourning women who seemed soon to be pulled down into the dense verdure. Graffiti on bricked-up mausoleums was buffed over in white. No one else was in the cemetery, and coming around one of the blind bends of high foliage we were startled to see a group of at least four deer bound away from us into the green labyrinth. While there were definitely some unnerving areas, such as a place where it seemed people had been coming at night to party, it overall was just incredibly sad. Here is a place meant as memorial, as a place of peace for the dead, and they've been left to obscurity and neglect. There is a definite beauty to nature overtaking the old marble and granite monuments, but this is not the burial choice that these people made. The sole exceptions are the mowed Civil War plots which are still cared for by the Department of Veterans Affairs.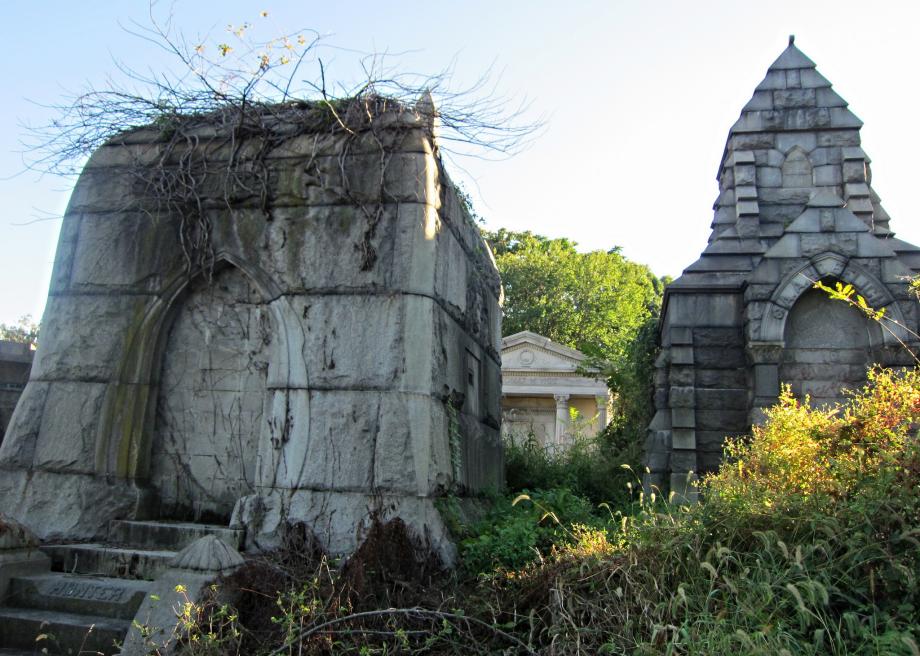 Mount Moriah was once as prestigious a rural cemetery as its city sibling Laurel Hill, which still enjoys a preserved status as a historic space. Even Betsy Ross was once interred in Mount Moriah, until she was dug up and reburied in 1976 at the Betsy Ross House. What brought Mount Moriah down was not just a fall from fashion for the old grandiose monuments and Victorian-style death rituals, but a gradual deterioration of administration, until the last member of its cemetery association passed away in 2004. Now its most visible face is the old Romanesque entrance that is a fragmented vision of what it once was—a fractured, crumbling portal into a cemetery only peaking through the overgrowth.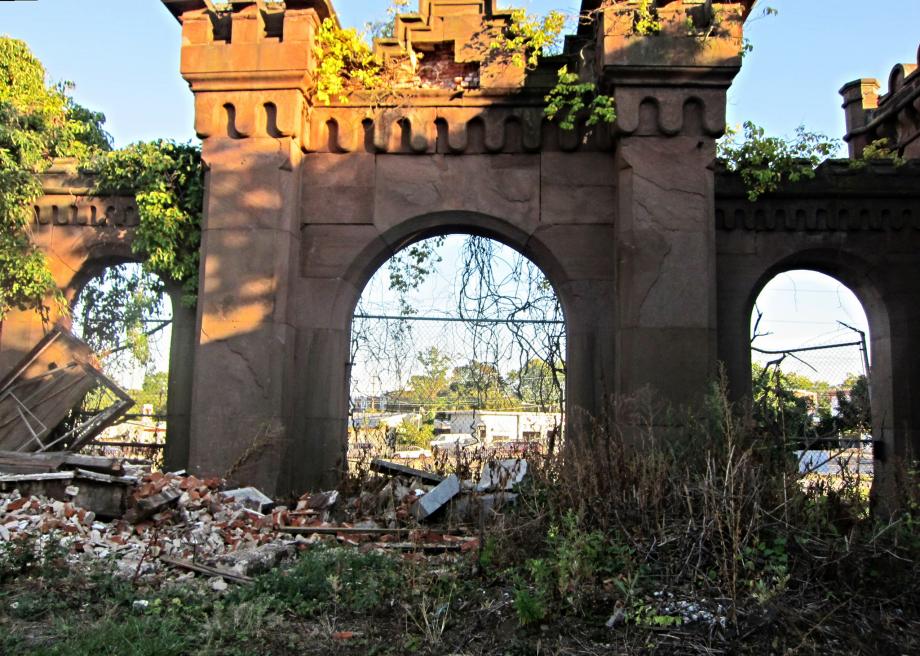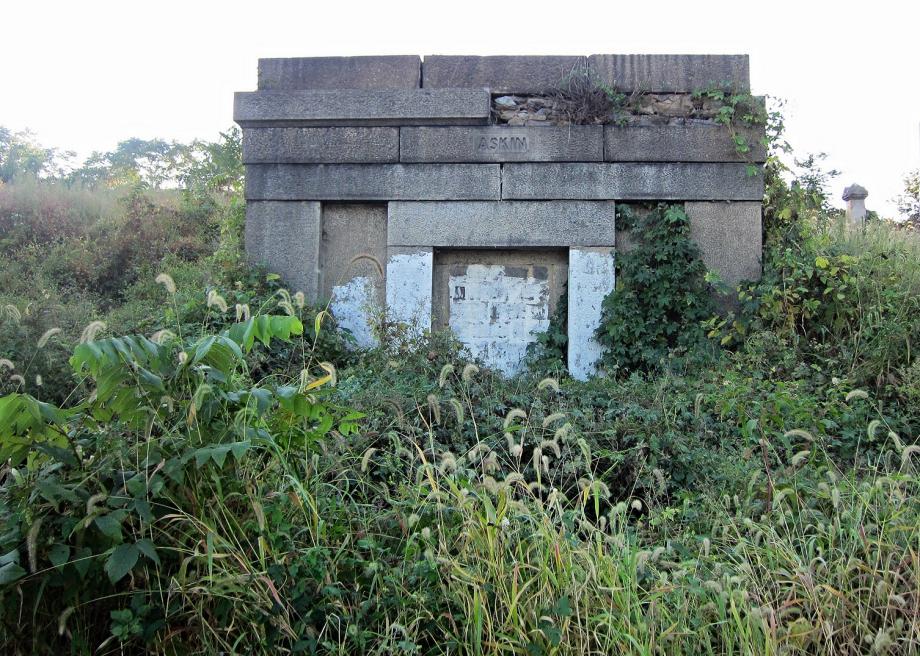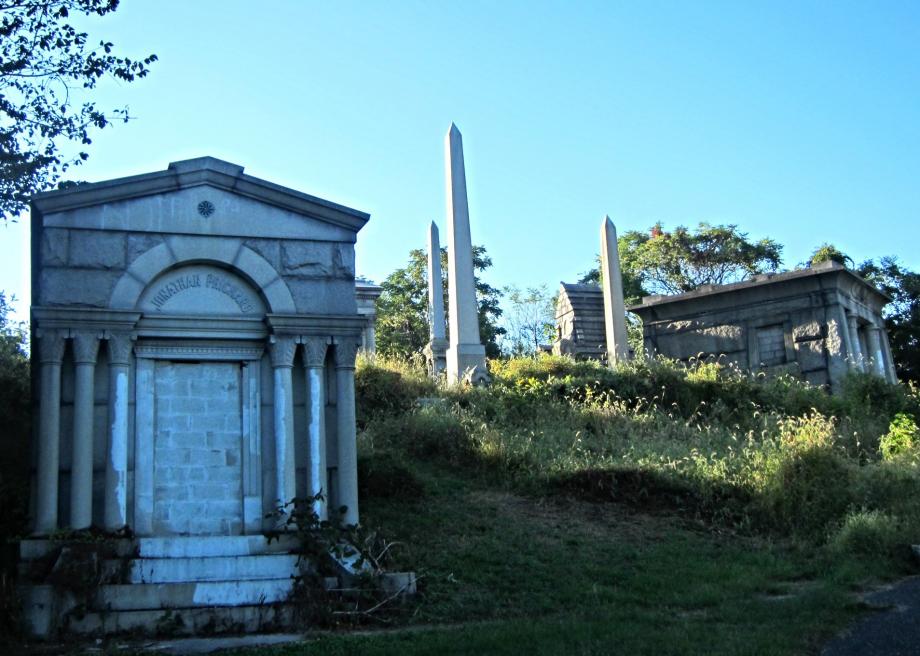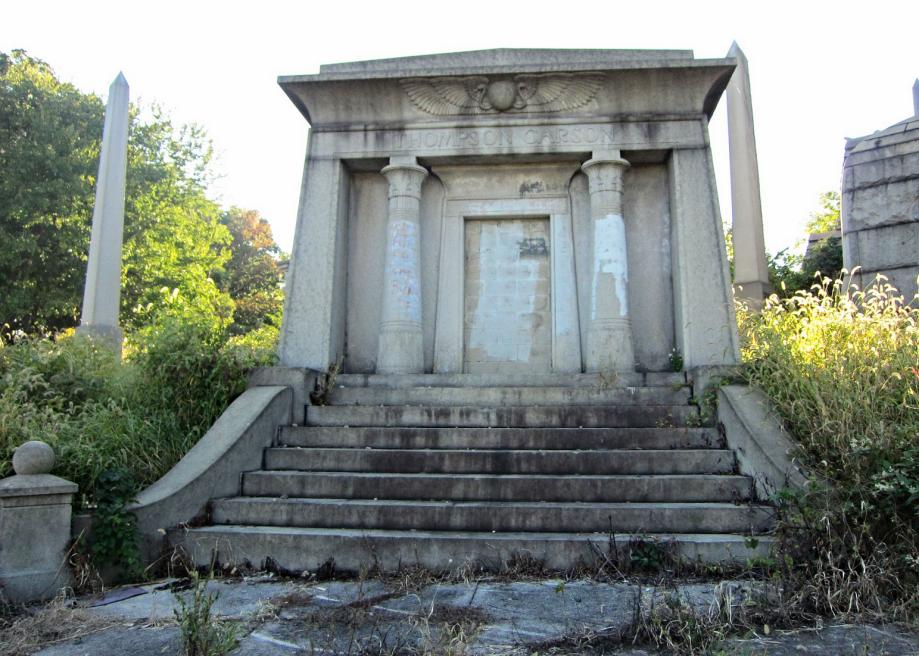 Other abandoned graveyards to explore:
Scratch Marks on Her Coffin: Tales of Premature Burial
Atlas Obscura on Slate is a blog about the world's hidden wonders. Like us on Facebook, Tumblr, or follow us on Twitter.
The Victorian era was prime time for taphophobics—those afflicted with a fear of being buried alive. At the time, medical technology had progressed far enough for doctors to realize that they may have been putting people in the ground prematurely—an act known as vivisepulture—but not far enough to definitively declare death.
This anxiety-riddled state of affairs is illustrated in this account from 1842, as documented in Premature Burial and how it May be Prevented: With Special Reference to Trance, Catalepsy, and Other Forms of Suspended Animation:
"A man apparently died, and his death was certified to both by the attending physicians and the medical inspector; he was put into a coffin, and the religious ceremonies were performed in good style. At the end of the funeral service, and as he was about to be buried, he awoke from his trance. The clergy and the undertakers sent in their accounts for the funeral expenses; but he refused to pay them, giving as his reason that he had not ordered them; whereupon he was sued for the money."