Your Guide to the World's Hidden Wonders
The Star-Shaped Sand of Okinawa
Atlas Obscura on Slate is a blog about the world's hidden wonders. Like us on Facebook and Tumblr, or follow us on Twitter.
Thinking about grains of sand as stars in the sky is a common way of trying to visualize the enormity of the universe. But at a few beaches in Japan's Okinawa prefecture, the sand grains really are stars.
Take a stroll along Hoshizuna no Hama (Star Sand Beach), located on Iriomote Island, and your feet will become encrusted with tiny star-shaped "tests," or shells, produced by microscopic, unicellular protists known as Foraminifera. When Foraminifera die, their shells remain in the sea and the tide brings them ashore. In the case of Hatoma, Iriomote and Taketomi islands in Okinawa, this results in beaches sprinkled with star sand.
Advertisement

The Foraminifera phylum includes some 10,000 species that create shells of various designs. Star-shaped shells, such as the kind above created by the Baculogypsina sphaerulata species, are rare.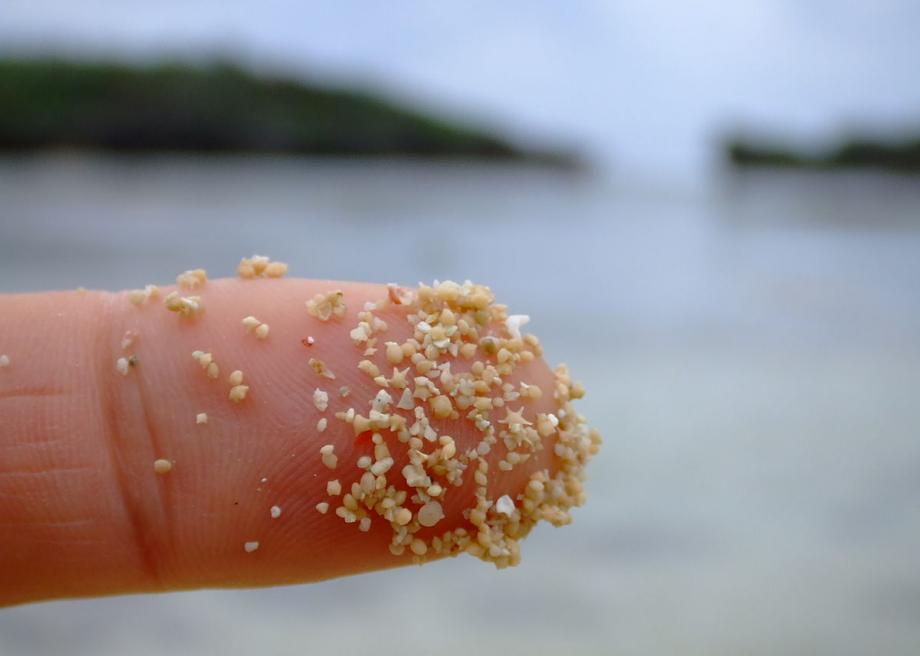 Other intriguing beaches around the world:
Zwentendorf: The Power Plant Completed Just in Time to Be Abandoned
Atlas Obscura on Slate is a blog about the world's hidden wonders. Like us on Facebook and Tumblr, or follow us on Twitter.
For a brief moment in the 1970s, it looked like the future of Austria's power production was going to be in a handful of massive nuclear plants, before the entire vision was put down by massive public outcry. However, before the people could vote down their nuclear future, one plant was completely finished—they just never turned it on.
Built in the mid-to-late 1970s, the plant in Zwentendorf, 25 miles west of Vienna, cost about a billion euros. The tall, monolithic building was outfitted with a modern-at-the-time boiling-water reactor complete with a huge chimney tower scraping the sky next to the central building. The facility was even outfitted with the dangerous radioactive nuclear rods; all it needed was the go ahead to turn the lights on. Then the public had its say.
Advertisement

The Zwentendorf facility was just the first of a number of planned nuclear plants in the country, but anti-nuclear sentiment exploded during its construction. In a referendum passed in 1978, the Austrian people voted by a margin just over 50 percent to ban all nuclear power plants. And with that, the new plant was dead in the water.
After the law was passed, the Zwentendorf plant was partially dismantled and the facility was used as a sort of spare-parts warehouse for compatible plants in Germany. In addition, the space has been used for film shooting and security training. However, more than anything, the massive empty complex stands as a reminder of a pivotal moment in the country's history.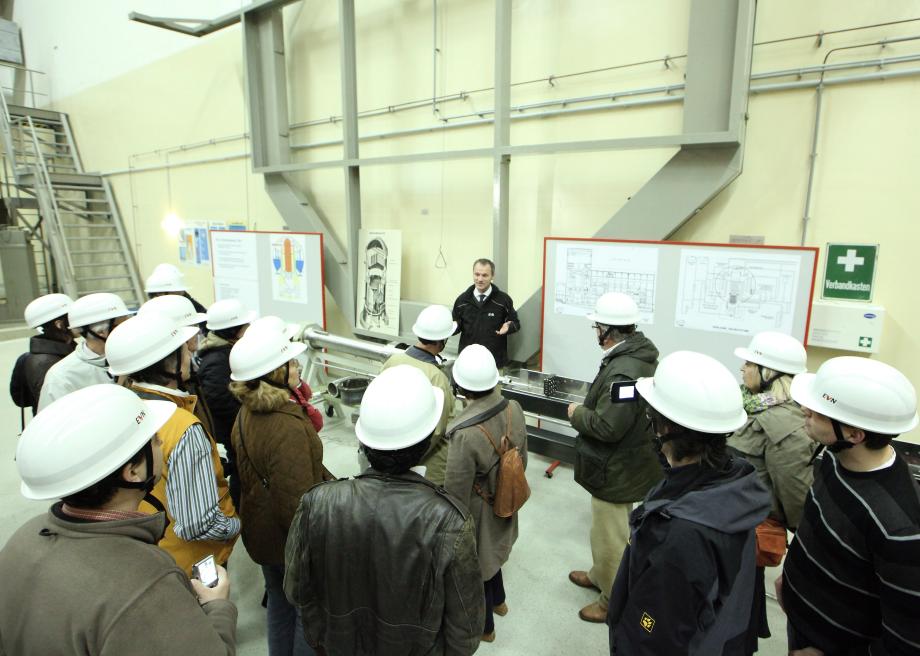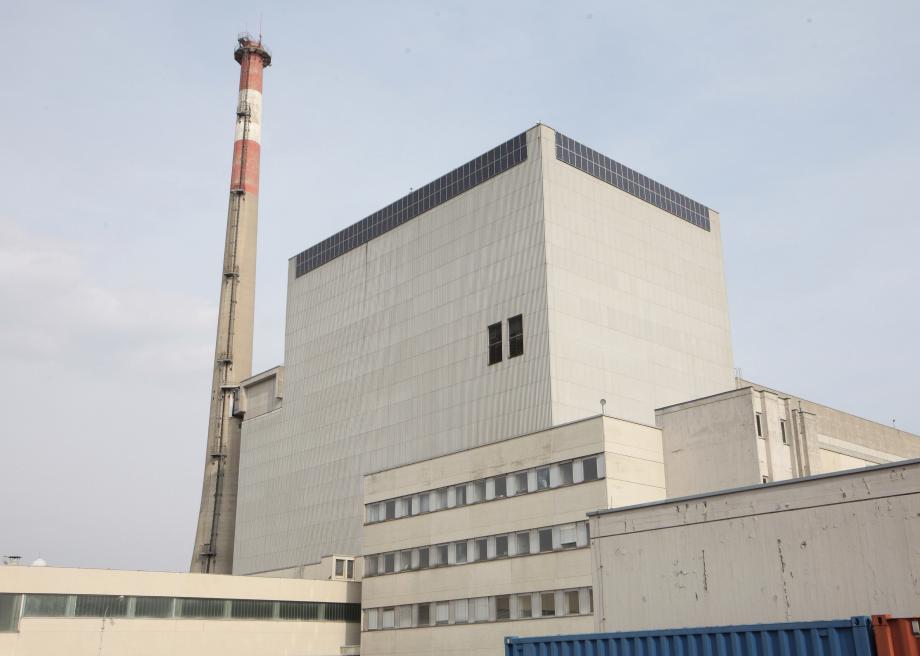 Other abandoned power plants around the world:
Humans Dressed as Animals Dominate Ueno Zoo's Emergency Drills
Atlas Obscura on Slate is a blog about the world's hidden wonders. Like us on Facebook and Tumblr, or follow us on Twitter.
Every February the staff at Ueno Zoo in Tokyo get attacked by rhinos, zebras, and gorillas. The whole thing is very orderly—it's part of the zoo's annual Escaped Animal Drill, which helps train staff for emergency situations such as earthquakes and other natural disasters.
During the drill, zoo employees climb into papier-mâché rhino costumes, two-person zebra outfits, and fluffy gorilla suits. As they attempt to storm the gates and wreak havoc on the streets of Tokyo, their colleagues deploy giant nets and wrestle them to the ground. It's a spectacle enjoyed by many, including school kids and tourists. Some zoo workers really get into the performance, playing dead or feigning injury to heighten the drama. Though big sticks and tranquilizer guns are involved, no one gets genuinely hurt.
Advertisement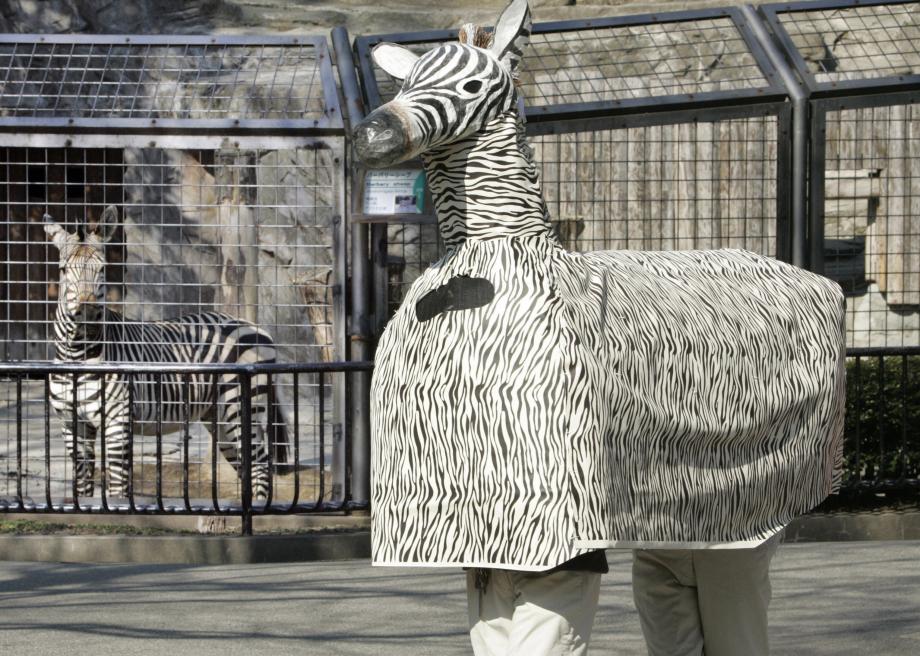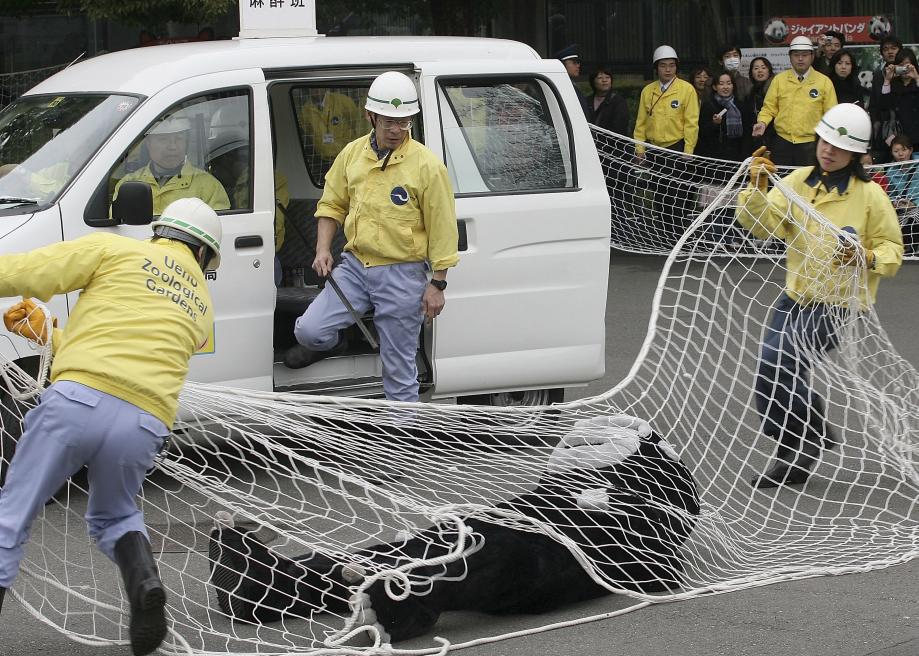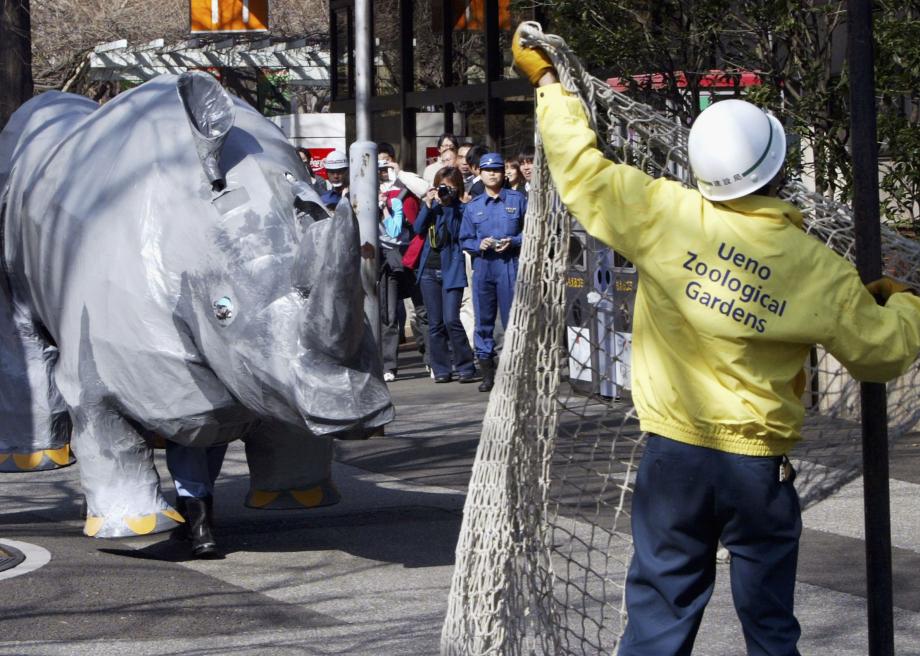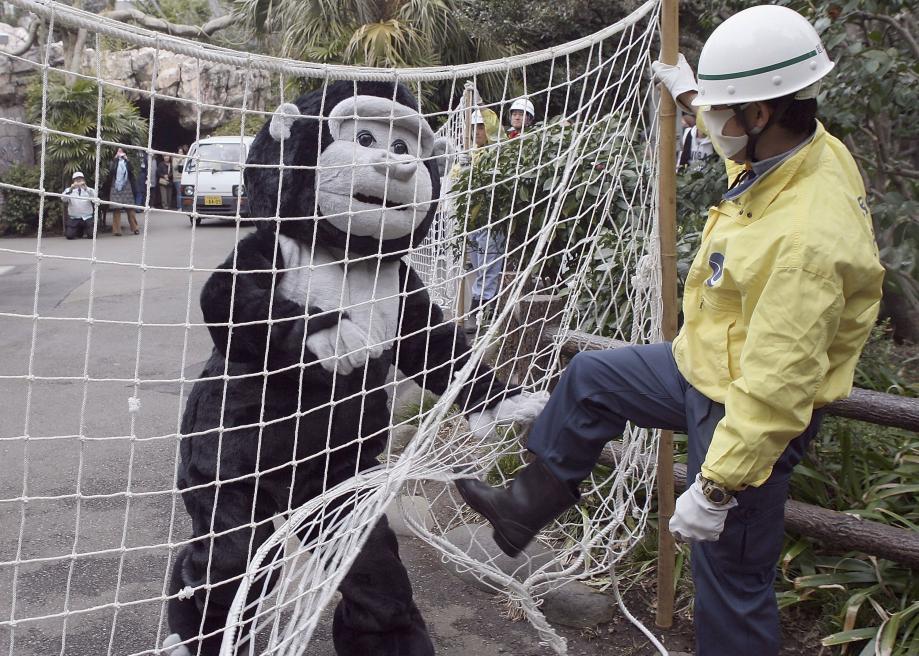 Unusual zoos around the world:
A Towering Legacy: The Massive Head of Chairman Mao
Atlas Obscura on Slate is a blog about the world's hidden wonders. Like us on Facebook and Tumblr, or follow us on Twitter.
Mao Zedong took an active interest in radical politics from an early age. Many of his first forays into communist thinking began in the south-central Chinese city of Changsha, where he is now honored with a massive granite version of his head.
Unlike most representations of China's Great Leader, the 105-foot-tall sculpture built on Changsha's river-bound Orange Island remembers the controversial figure as a man in the full blush of youth. With stone hair looking as though it is playing in the wind, and the smooth features of a dashing rogue, the bust, built in 2007, is based on Mao's look circa 1925. This differs from the usual portrayal of an elder statesman, or "helmsman" of the country.
Advertisement

The statue stands out not just for its size but its bold presentation. This being the case, the piece was not without its critics. Given the estimated cost of $300 million, many people found the tribute wasteful. However, Changsha's pride in Mao's history with the city was so great as to overcome any objections.
No matter how one feels about the great leader, or communism in general, Changsha's towering piece of hero worship is an impressive sight and an indelible reminder of the man's continuing influence in Chinese culture.
More sculptures and statues that make a big impression:
Tuptim Tribute: The Phallic Fertility Shrine in a Hotel Parking Lot
Atlas Obscura on Slate is a blog about the world's hidden wonders. Like us on Facebook and Tumblr, or follow us on Twitter.
Accompanying the jasmine, lotus, and incense gifts left at this humble Bangkok shrine are thousands of phallic offerings. Some are well over 6 feet tall, made of stone, but many are small wooden carvings, colorfully painted, left in bouquets around the site. The result is an extraordinary penis forest found in a quiet corner of the Swissôtel Bangkok parking lot.
The fertility shrine was established in the early 20th century by Thai developer and investor Nai Lert for a spirit inhabiting a ficus tree, the goddess Chao Mae Tuptim. Her nature remains somewhat obscure: it has been suggested that her name comes from the Thai for pomegranate (taptim), evoking fertility. This fruity connection might explain the bright red coloring of many of the offerings left here.
Advertisement

Spirit houses and shrines have sprung up all over Bangkok, and leaving offerings of flowers or coins is an everyday part of spiritual life in Thailand. A place of devotion can appear anywhere, and the explicit fertility offerings left at this particular shrine may well be blush-inducing for the owners of the nearby hotels, but it would be catastrophically bad luck to remove them. It's unlikely that the hotel owners themselves will advertise this shrine, but take a discreet stroll and you will find this astonishing phallic forest.
Other phallic sights around the world:
The Hidden Beach of Mexico's Marieta Islands
Atlas Obscura on Slate is a blog about the world's hidden wonders. Like us on Facebook and Tumblr, or follow us on Twitter.
A gaping hole in the surface of this lush green Mexican island exposes a secret beach, with ample shade, sun, and crystal-clear water.
The Marieta Islands are an archipelago, a chain of islands that exist as a result of volcanic eruption. The islands themselves are natural wonders, but it was something else that caused the burrowed beach to be shown the light.
Advertisement

Playa Del Amor, more commonly known as the Hidden Beach, is a structure of one of the Marieta Islands, located west of Puerto Vallarta, Mexico, at the mouth of Banderas Bay. It is rumored that the hole revealing the Hidden Beach was a result of deliberate bombings. In the early 1900s, the government began using the uninhabited islands as military testing sites. Test bombs are the known cause for many caves and rock formations on the island, possibly including the Hidden Beach.
In the 1960s, scientist Jacques Cousteau led a protest against harmful human activity on the islands. In 2005 the islands were finally named a national park, Parque Nacional Islas Marietas, making swimming, kayaking, and sunbathing the only legal human activities. Extensive military testing damaged flora and fauna on the island for decades, but many years of peace have replenished the islands' pristine waters and marine life.
The Hidden Beach is invisible from the outside, and is accessible only through a long water tunnel that links the beach to the Pacific Ocean. There is approximately 6feet of space above water level, so visitors can arrive at the beach by swimming or kayaking. The islands are still uninhabited, but are frequently visited by tourists who come to enjoy the diverse marine wildlife and the unique tropical Eden of Playa Del Amor.
Other intriguing beaches worth a detour:
The Museum of Miniatures, Where Art Is Tiny but Mighty
Atlas Obscura on Slate is a blog about the world's hidden wonders. Like us on Facebook and Tumblr, or follow us on Twitter.
The Museum of Miniatures in Prague features the tiny works of micro-miniaturist artist Anatolij Konenko, viewed via microscope.
Born in Omsk, Siberia, Konenko is one of only a handful of professional micro-miniaturists around the world. His work ranges from "standards" like Matisse's "The Dance" on a sliver of mammoth bone to more whimsical creations like a caravan of camels parading with ease through a needle's eye.
Advertisement

Konenko always takes an object we can identify—a seed, an insect, a needle, a hair—and breathes life into it. Certainly the objects are there to give a reference for scale, but they are also part of a dance. The micro-miniaturist allows himself to be inspired by the object, to play with the idea of the object, and change the way we view it. For example, one of the most spectacular pieces by Konenko is a flea, his feet clad with horseshoes, and his hands wielding a tiny pair of scissors, a key and a padlock.
To create a minuscule pair of scissors, Konenko, like most micro-miniaturists, invented his own instruments, some of which have been used in eye surgeries. As with other micro-miniaturists, he could only work between his heartbeats, for fear of the slight tremor destroying his precious work.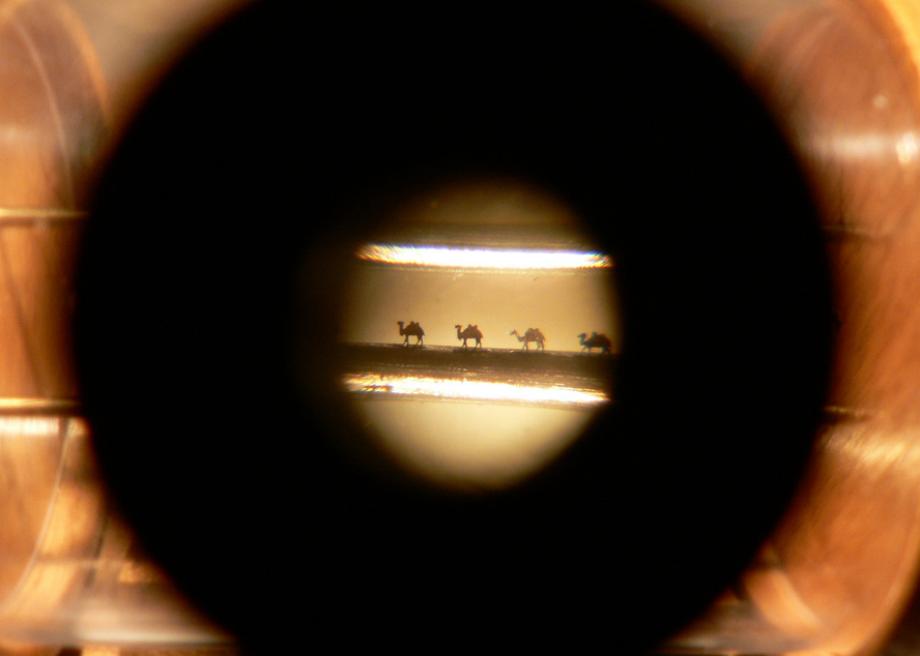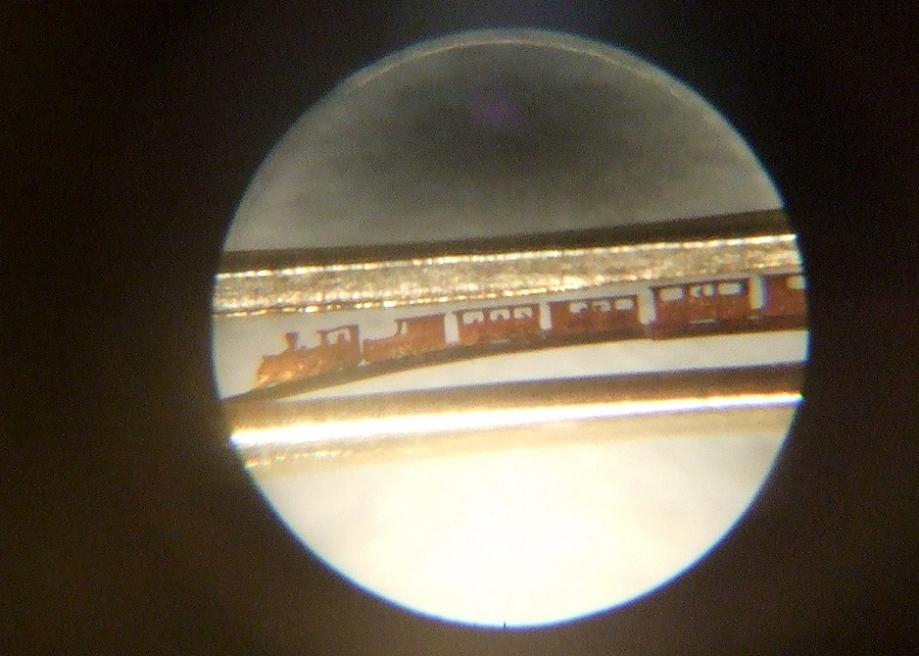 More miniature works around the world:
Quinta da Regaleira: A Portuguese Palace Stuffed With Secret Symbols
Atlas Obscura on Slate is a blog about the world's hidden wonders. Like us on Facebook and Tumblr, or follow us on Twitter.
Given free rein to design a palace in Portugal in 1904, a cashed-up, eccentric entomologist named Carvalho Monteiro came up with Quinta da Regaleira: a mishmash of architectural styles sprinkled with inscrutable symbols said to allude to secret societies.
The five-floor hilltop mansion, located in the southern coastal town of Sintra, mixes Roman, Gothic, Renaissance, and Manueline styles. Its surrounding gardens are a fantasy land of grottoes, fountains, statues, ponds, underground tunnels, and a deep, moss-covered Initiation Well, believed to be the former site of Masonic rituals.
Advertisement

Quinta da Regaleira's architecture hides shapes and symbols relating to alchemy, Masonry, the Knights Templar, and the Rosicrucians. A Roman Catholic chapel in front of the palace depicts Catholic saints, with a few pentagrams thrown in for kicks. It's a confusing mix, but one that's undeniably beautiful.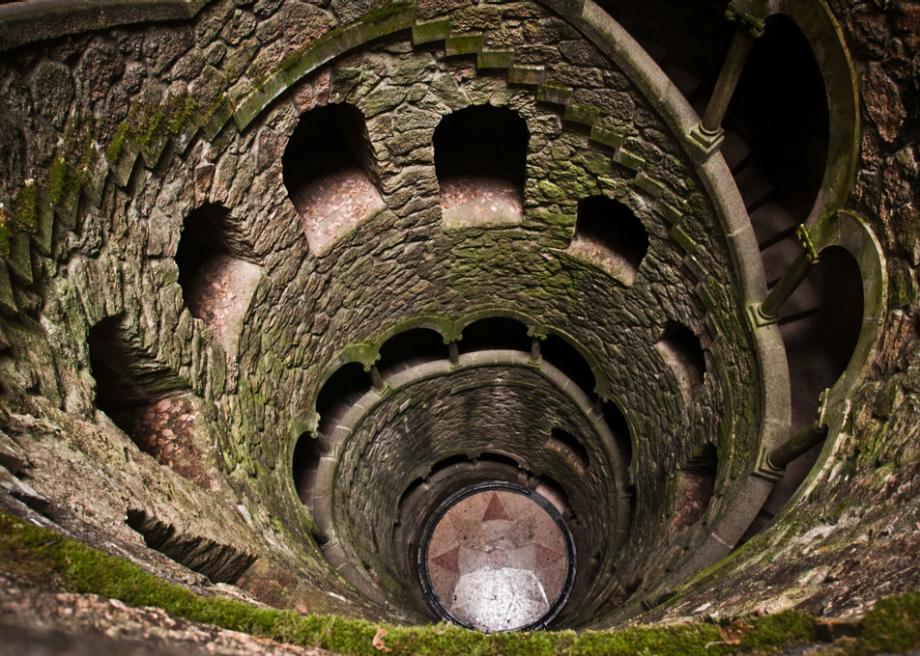 More majestic palaces around the world:
Lookout Mountain, Hollywood's Top-Secret Nuclear Film Studio
Atlas Obscura on Slate is a blog about the world's hidden wonders. Like us on Facebook and Tumblr, or follow us on Twitter.
On Wonderland Avenue in the Hollywood Hills there's an eight-bedroom, 12-bathroom compound that was built in the early 1940s. The exterior is a little drab, and there is nothing particularly remarkable about its appearance. But the complex, once known as Lookout Mountain, has an incredible history. Between 1947 and 1969, some of Hollywood's most talented scriptwriters, producers, editors, and directors made furtive journeys to this place to work on a top-secret project: filming nuclear explosions.
The United States Air Force established Lookout Mountain in 1947 in order to produce movies and photographs of nuclear tests. It was a full-service facility: military and civilian filmmakers would head to test sites in the Nevada desert or Pacific islands, capture footage of exploding bombs, and bring it back to Laurel Canyon for editing and post production.
Advertisement

The facility was equipped with a soundstage, screening rooms, film storage vaults, and, naturally, a bomb shelter. During its 22 years of operation, Lookout Mountain Laboratory produced approximately 6500 classified films for the Department of Defense and the Atomic Energy Commission, documenting nuclear test series such as Operation Greenhouse, Operation Teapot, and Operation Buster-Jangle.
The compound has since been converted into an eight-bedroom, 12-bathroom residence. In January, Variety reported that Jared Leto has purchased the former top-secret studios for $5 million.
More remnants of the Atomic Age:
The Beer Bottle Temple of Thailand
Atlas Obscura on Slate is a blog about the world's hidden wonders. Like us on Facebook and Tumblr, or follow us on Twitter.
In 1984, one monk and his acolytes had grown tired of the mounting litter in the Sisaket area of Thailand near the Cambodian border. To promote recycling and the cleaning of the landscape, the monks encouraged everyone in the area to bring them recycled beer bottles that would be used to build a temple complex. The result was Wat Pa Maha Chedi Kaew: the Million Bottle Temple.
Using mostly green Heineken and brown Chang (the local favorite) beer bottles, the monks began with a temple and later formed a crematorium, water towers, sleeping quarters and even toilets. Pushed into the concrete of the walls, the recycled bottles—around 1.5 million of them—form every detail of the buildings, inside and out. Aside from whole bottles, the monks also incorporated bottle caps to create mosaics and Buddhist designs inside of the temple.
Advertisement

Other eye-catching temples around the world: