Your Guide to the World's Hidden Wonders
Ladonia: An Illegally Created Nation Where Creativity Rules
On a rocky shore in Sweden's southwest sits a pile of sticks that created a nation. Nimis, a mountainous, multi-towered sculpture made of 70 tons of driftwood planks, is the work of artist Lars Vilks.
In 1980, Vilks began building Nimis in secret. Far from civilization and only fully visible from the water, it went unnoticed by Swedish authorities for two years. When they discovered it, they declared it would have to be destroyed. (The land is part of a nature reserve, where it is forbidden to build structures.) Goaded, Vilks ignored the announcement and decided to take control of the area and secede from Sweden. The micronation of Ladonia was born.
Today, Ladonia claims to have a citizenship of over 17,000 people, all of whom reside outside its borders in accordance with the nation's nomadic lifestyle policy. The Ladonian flag is green, with a faint white outline of the nordic cross — a design chosen because it is what the blue-and-yellow Swedish flag would look like if it were boiled. Taxes are payable, but money is not accepted. Instead, citizens must contribute some of their creativity.
The citizenship application process caused confusion among 3,000 Pakistanis who applied for immigrant status with the intent to live in Ladonia, only to be told it was not possible to move there.
Tourists are welcome to visit, however, and encouraged to participate in the local sport of stone racing. For this activity you simply choose a large stone by the shore, and then, in the words of Ladonia's Ministry of Art and Jump, "kick back and relax to wait and see if their stone makes a breakneck journey across the Ladonian shore down to the waterline." The winner is the person whose stone travels the farthest. The ministry describes the race as "fairly slow."
View
Nimis
in a larger map
Delve into Past Presidents' Predilections at these Oddball Destinations
Today, Presidents Day, the nation honors the birth of George Washington and Abraham Lincoln by purchasing discounted cars, maybe getting a day off work, and possibly debating whether the "Presidents" in "Presidents Day" requires an apostrophe. (And if so, where does it go?)
To commemorate this confusing annual holiday, here are five oddball attractions that offer presidential adventures. Visit. Learn. Laugh. Love. And may your February 17 be rife with that thing you are celebrating — whatever it is.
Sit in Taft's Chair at Yale
It is well-documented that William Howard Taft was a man of sizable girth. While the story of him getting stuck in the bathtub on his inauguration day is almost certainly apocryphal — especially the version that involves four strong men and a gallon of butter — Taft did require extra-wide chairs.
Four roomy seats were installed on the Yale campus especially for Taft during his post-presidency tenure at the college. Most have been removed from their original sites, but one remains: seat E-9 at the Woolsey Hall concert auditorium, located on an aisle in the balcony. At a width of 25 inches and a depth of 20 inches — compared to the hall's standard 18-by-17-inch chairs — it's the best seat in the house.
Browse the bestiary at the Presidential Pet Museum
Herbert Hoover had a setter named Eaglehurst Gillette. Taft let his pet cow, Pauline Wayne, chomp on the lawn at the White House. Rutherford Hayes adored his Miss Pussy, and Calvin Coolidge had an entire zoo at 1600 Pennsylvania, featuring two lion cubs named Tax Reduction and Budget Bureau.
These beloved creatures are just a few of the First Pets showcased at the Presidential Pet Museum in Williamsburg, Virginia. (For extra credit, read up on Emily Spinach, the garter snake owned by Teddy Roosevelt's feisty daughter Alice.)
Peek into the itty-bitty White House at the Presidents Hall of Fame
Located in Clermont, Florida, the Presidents Hall of Fame began as a collection of wax world leaders in 1960. Since then it has diversified its offerings.
When you're done gawking at the animatronic Lincoln and have seen the champagne glasses used by Reagan and Gorbachev, take a look at the amazing miniature White House. Hand-made at a scale of one inch to one foot, the model features lavish interiors that mimic the real thing. The decor changes with every administration.
See the bullet that killed Lincoln
The attractions at the National Museum of Health and Medicine in Silver Spring, Maryland, include fetal conjoined twins, a stomach-sized hairball from a girl who chewed her tresses for six years, and the cannonball-blasted lower leg bones of a Civil War soldier.
Among these arresting sights lies the museum's most historically impactful item: the bullet extracted from Abraham Lincoln's skull after that fateful, fatal night at the theater.
Bonus for the intrepid: Find FDR's secret track at Grand Central Terminal
It's shrouded in mystery and decades of dust, so good luck gaining access, but there's a train track in the bowels of New York's Grand Central station that was an alleged escape route for Franklin Delano Roosevelt. Track 61 runs between the majestic midtown terminal and the Waldorf-Astoria hotel. FDR is rumored to have used the secret route in order to hide his worsening case of polio. An antique train car still sits on the track.
Burning Brides and Corpse Queens: Twisted Tales of Love and Death
If your February 14th is a little underwhelming thus far, look on the bright side: at least it hasn't involved murder or self-immolation. Here are three tales of love that end in death — two awful, one uplifting. Happy Valentine's Day!
Ines de Castro: The corpse bride of Portugal
In 1340, 15-year-old Ines de Castro arrived at the court of Peter I, crown prince of Portugal. Peter had just married Constance of Peñafiel, and Ines was her lady-in-waiting. Inconveniently for all concerned, Peter immediately fell in love with Ines. The feeling was mutual. The two began an affair.
Afonso IV, Peter's father, was thoroughly unimpressed by this sordid development. When Constance died in 1345, weeks after giving birth to a son, Peter sought Afonso's permission to marry Ines. Instead of just issuing a polite but firm "no," Afonso banished Ines from the court. Undeterred, Peter continued to see his love. Between 1346 and 1354, the couple had four children, three of whom survived beyond infancy.
Then things took a turn for the horrifically nasty. In 1355, Afonso dispatched three men to murder Ines. They decapitated her in front of her children. Overcome with grief, Peter hunted down two of the three murderers and had them executed in a particularly gruesome and symbolic manner: he ripped out their hearts.
Two years after Ines died, Peter became king. He then revealed that he had married Ines in secret, making her the lawful queen of Portugal. The next logical step was to exhume her body and force his courtiers to swear their allegiance by kissing her rotting hand.
Once the court had communed with the corpse, Peter had his queen interred in the Monastery of Alcobaca. Her intricately decorated tomb is topped with a stone carving of her sleeping body being held up by angels. When Peter died, he was placed in a matching tomb that faces Ines'. Both are inscribed with the phrase "Até o fim do mundo..." or "Until the end of the world..."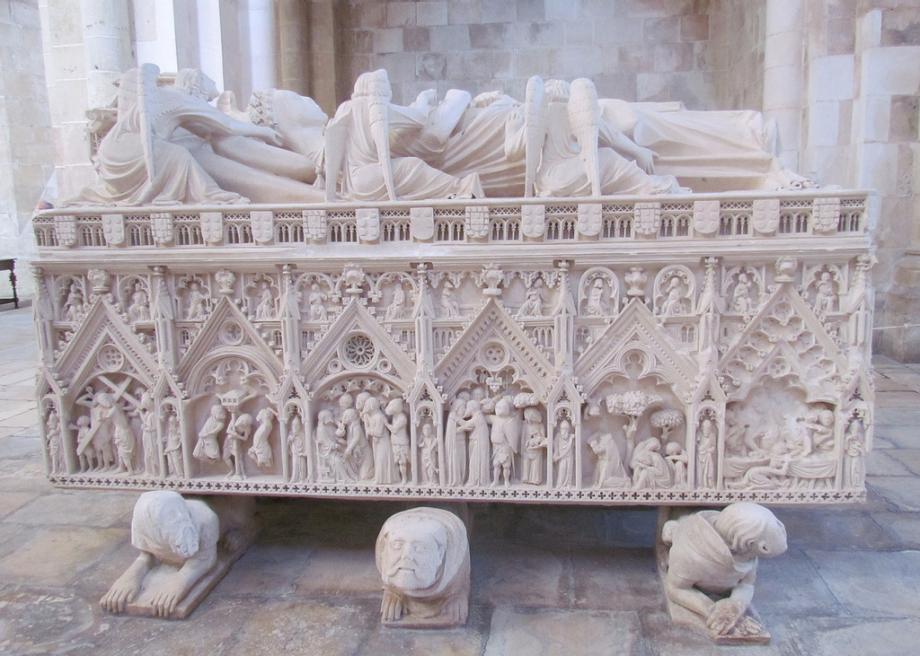 Burning love: India's self-sacrificing Satis
On the wall beside the Iron Gate at Jodhpur's 17th-century Mehrangarh Fort is a grid of 31 raised handprints coated in ochre paint. Many of the prints are child-sized. Each one represents a sati — a woman who touched her red-painted hand to the wall before sacrificing herself on the funeral pyre of her recently deceased husband.
Sati, the Hindu rite in which widows self-immolate in order to prove their devotion to their husbands, is a largely Rajasthani phenomenon, gaining widespread recognition throughout the subcontinent during the 10th century. By committing sati, during which they cradled their husbands' corpses as flames destroyed their bodies, women aimed to die with honor and purity, pulling their husbands with them as they ascended to heaven.
In 1829, the British administration outlawed sati. Still it continued — in 1843, the wife and concubines of Jodhpur Maharaja Man Singh threw themselves on his funeral pyre at Mehrangarh Fort. The most recent documented sati occurred in the Rajasthani village of Deorala in 1987, when, in front of a crowd of thousands, 18-year-old Roop Kanwar burned to death on the pyre of her husband of eight months. Her immolation led to India instituting the Commission of Sati (Prevention) Act, which mandates death or lifelong imprisonment for anyone who encourages a woman to commit sati.
The hand-holding headstones of Holland
At a small cemetery in Roermond, in the southeastern part of the Netherlands, is a pair of unusual gravestones. Identical in shape and height, they are joined by clasping hands that reach over the brick wall dividing them.
Buried beneath these distinctive headstones are Colonel J.C.P.H. van Gorkum — a Protestant — and Lady J.W.C. JCPH van Aefferden, a Catholic. Despite their social and religious differences, the couple married in 1842 and stayed together until the colonel's death in 1880.
At the time, life in the Netherlands was subject to Pillarisation, a policy that separated public institutions according to religious and political affiliations. Van Gorkum and van Aefferden, who died in 1888, could not be buried alongside each other because cemeteries were divided into Protestant and Catholic sections.
The elegant solution: hand-holding gravestones, which allowed the couple to defy the laws and be connected for eternity.
The Bavarian Beauties of Nymph Castle
Though married at 24, Bavarian King Ludwig I kept 36 beautiful young women in the south pavilion of his palace.
Whenever he became enamored of a female acquaintance's good looks, a portrait of her placid face would soon appear in his Gallery of Beauties, a room in Schloss Nymphenburg — literally, Nymph Castle.
The women, milk-skinned and serene, came from royal, noble, and middle-class backgrounds — countesses; princesses; seamstresses; actresses. Though their circumstances varied, they had one thing in common: all of them were totally hot.
Most of the portraits, painted between 1827 and 1850, are the work of Joseph Stieler, the official painter for the Bavarian court. On more than one occasion, Ludwig I asked Stieler to re-do a portrait — either because he didn't think it did justice to the woman's looks, or because the lady in question had become more attractive since being painted.
Among the bevy of beauties, the standout work of the collection is the portrait of Helene Sedlmayr (below right), a doe-eyed, dark-haired shoemaker's daughter who gave toys to Ludwig's children when she was 15. Her beauty was particularly appreciated by the king's valet, Hermes Miller, with whom she went on to bear 10 children.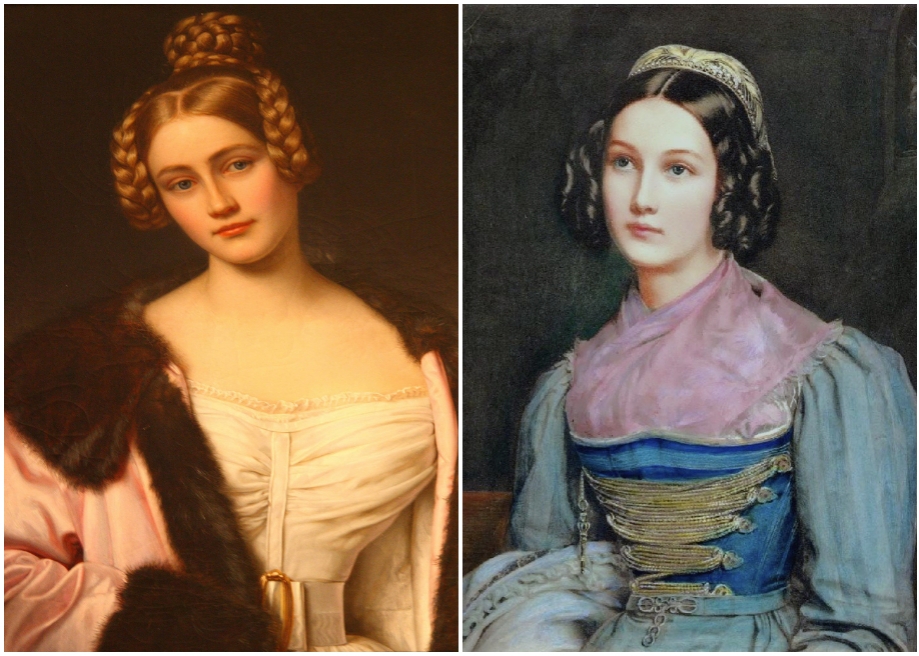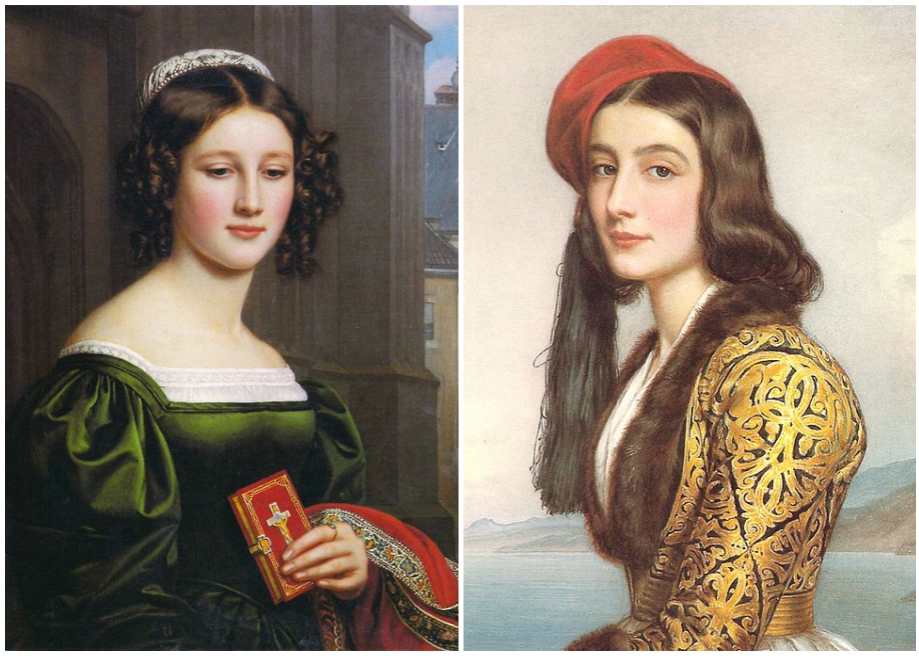 Other German palaces to explore:
Tierra Santa Buenos Aires: Where Christianity Meets Kitsch
If you missed the resurrection of Christ, don't worry — it'll happen again at 10 minutes to the hour.
Every 60 minutes at the Tierra Santa religious theme park in Buenos Aires, a 40-foot statue of Christ rises from inside a plaster mountain as Handel's Messiah blasts out the hallelujahs. When the robo-Jesus has completed his ascent — a process that takes about a minute — he swivels, closes his eyes, and rotates his palms as if to say, "Look ma, no stigmata." Then it's back inside the mountain to await the next hour's resurrection.
Tierra Santa, which claims to be the first religious theme park in the world, opened in 2000. Located next to a water park, it recreates Jesus-era Jerusalem in kitschy, cartoonish glory. Tableaus of biblical scenes feature mannequins with exaggerated features: sleaze-faced centurions; a shepherd with Mr. Universe muscles; a disco-lit Virgin Mary. Visitors are welcome to take snapshots within the scenes — just crouch next to grimacing Jesus as his back is whipped into a bloody pulp and smile for the iPhone.
It's not all plaster and fiberglass at Tierra Santa: human employes in era-appropriate garb weave among the mannequins to serve food and change trash bags. During Easter a team of actors performs the Stations of the Cross — fake blood streams down the bare torso of the long-haired, bearded man playing Jesus as he is helped onto a cross and crucified for the tourists. Following his resurrection he happily poses for photos alongside the woman playing Mary.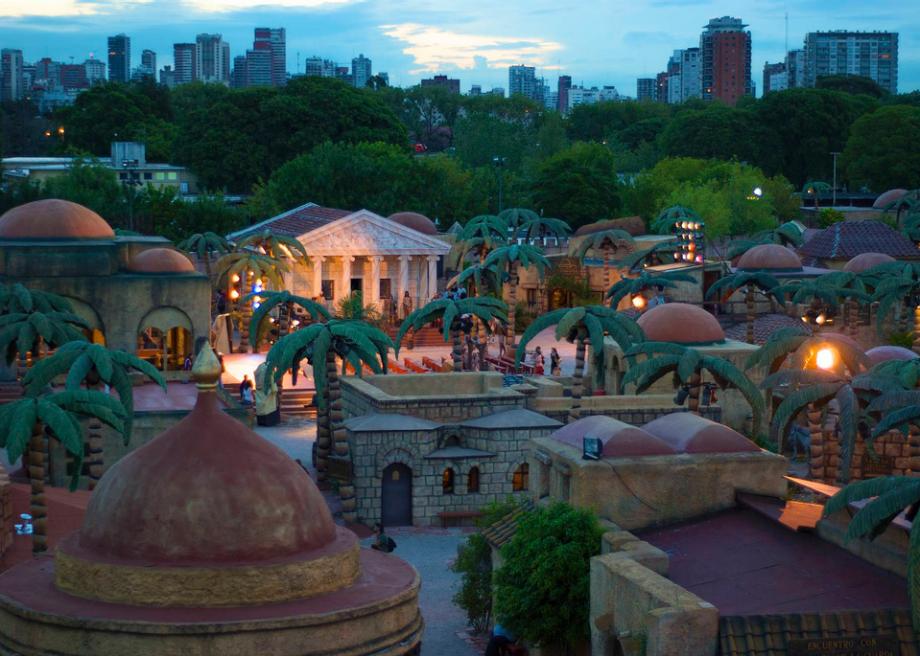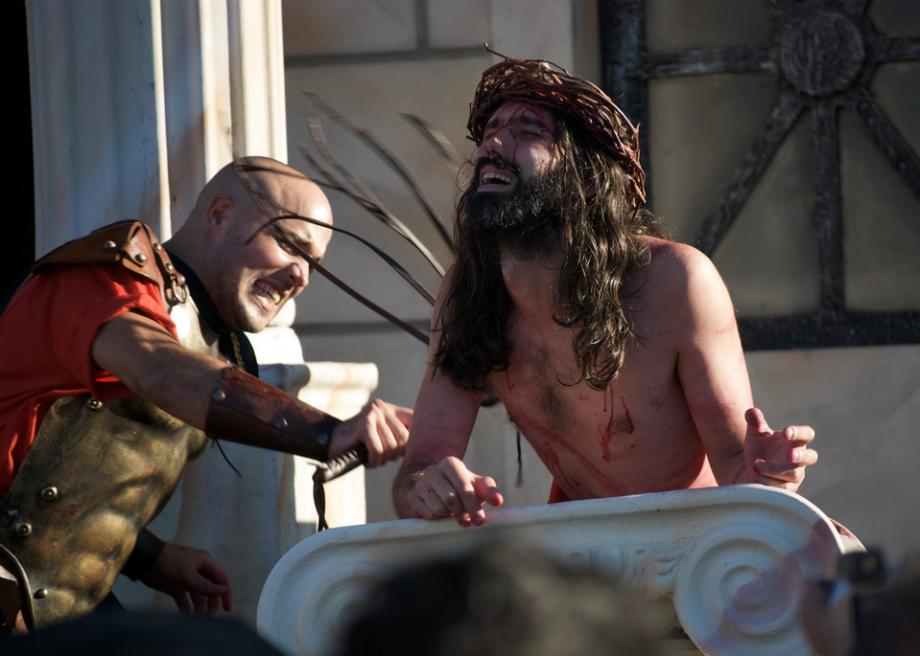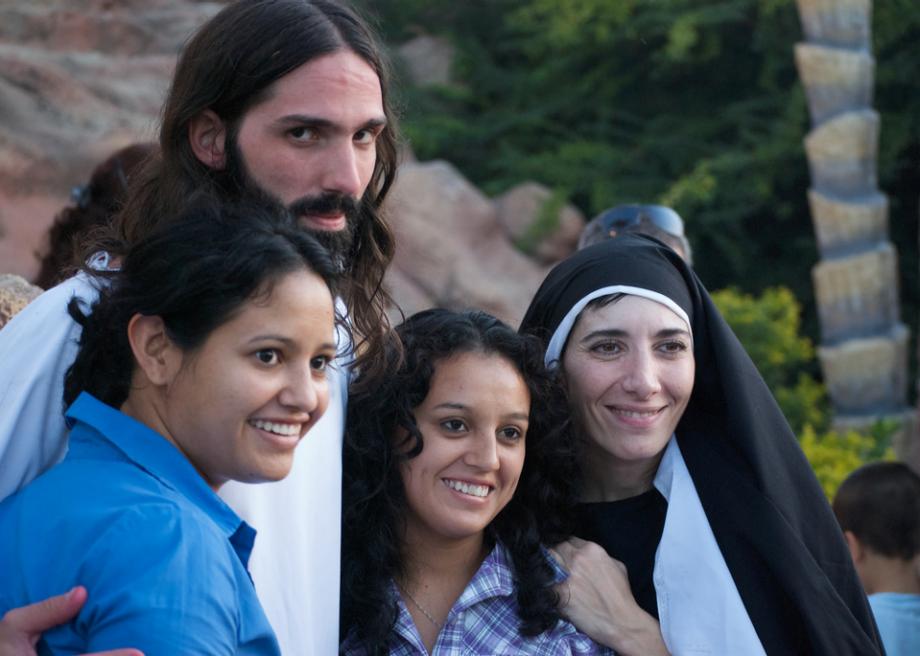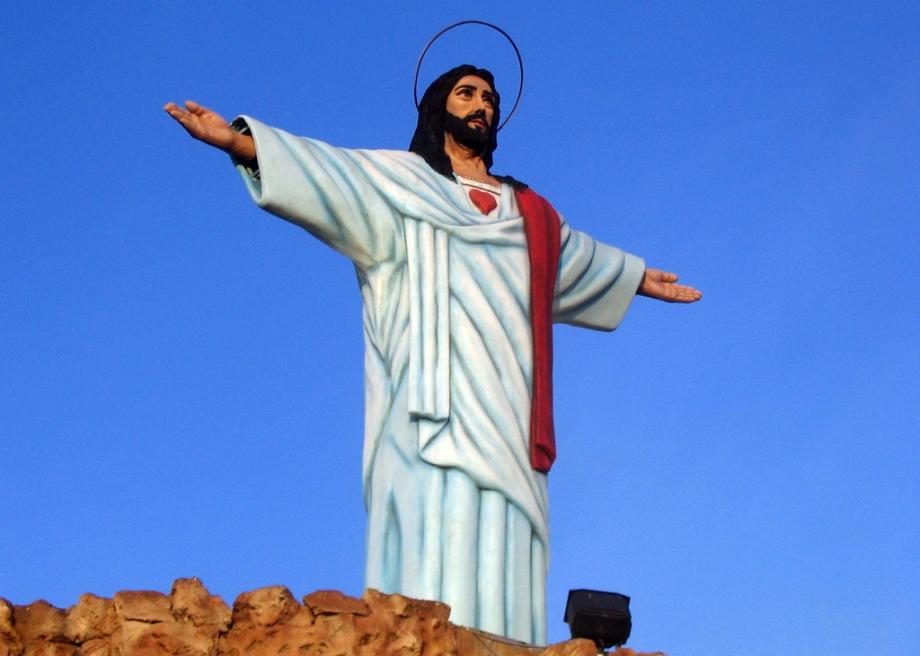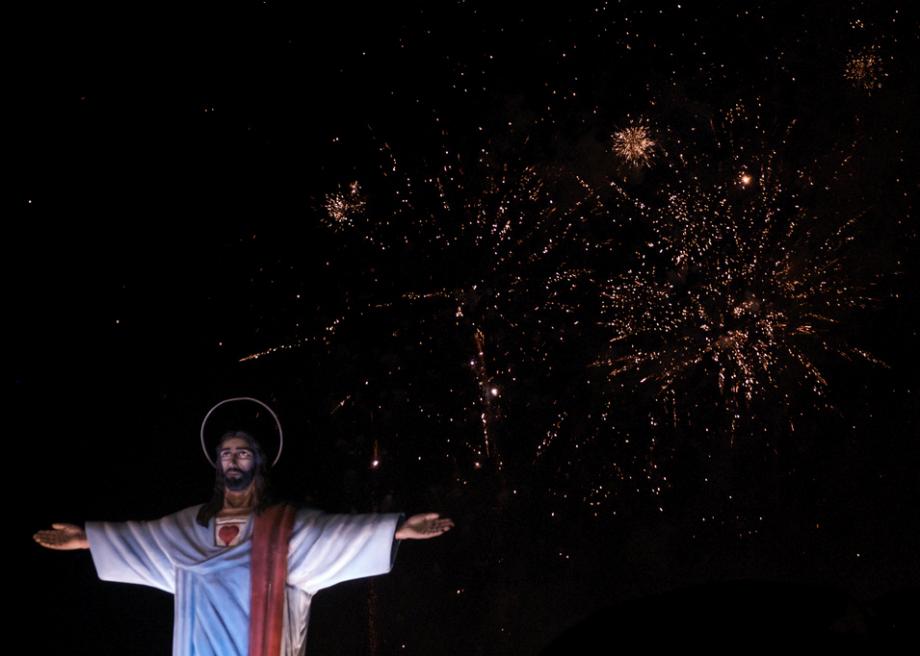 Tokyo's Roppongi Hills Garden is Home to Extraterrestrial Fish
When office workers at the 54-story Mori Tower in the Roppongi Hills urban community need some fresh air, they head downstairs to Mohri Garden. The tranquil green space contains a pond that was once part of a 17th-century feudal estate. Now, the pond is home to thousands of Medaka fish with an unusual pedigree: they are the descendants of fish who were born in space.
In July 1994, four Medaka — a hardy, inch-long species found in lakes and rice paddies around Japan — traveled to space aboard the NASA shuttle Columbia. During the 15-day voyage, scientists observed the breeding of the Medaka to see if the microgravity environment would affect their behavior. The fish mated and their eggs hatched normally, giving the four adult Medaka the distinction of being the first vertebrates to mate while orbiting Earth.
When the shuttle returned, the offspring of the astronaut fish spent a few months being studied in a Japanese lab before being distributed to "foster parents" at schools, museums, and homes across the country. In 2003, the Roppongi Hills complex opened, boasting four apartment buildings, a corporate high-rise, museums, hotels, and a shopping center. During a welcoming ceremony involving 1,000 school children, Japanese astronaut Mamoru Mohri released 10,000 descendents of the extraterrestrial fish into the garden pond.
With a lifespan of three to five years and a breeding age of seven weeks, the Medaka of Roppongi Hills have thrived. Meanwhile, aboard the International Space Station, microgravity experiments on their species continue.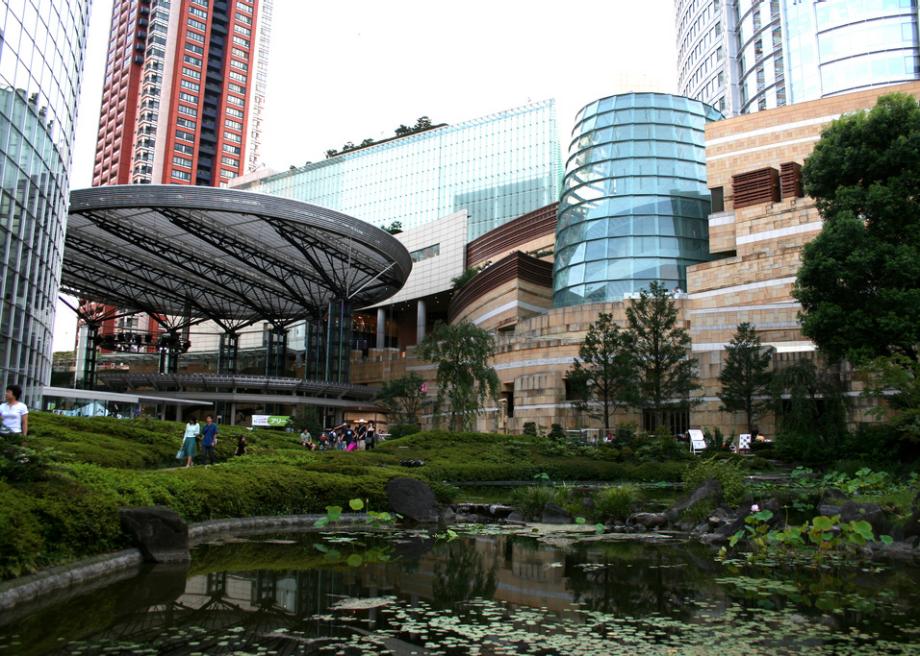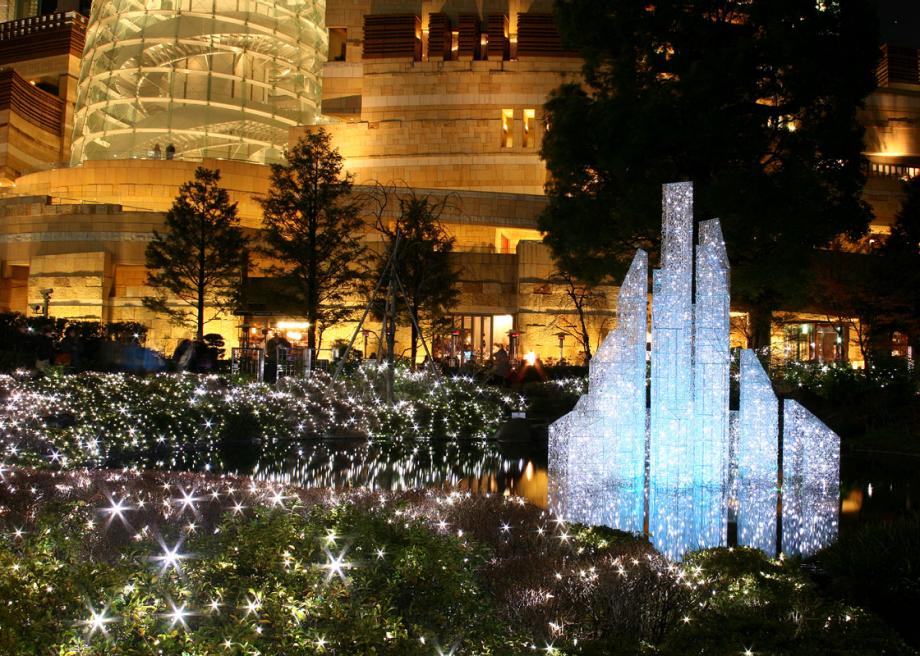 Something fishy's going on here:
Mount Hua, Home of the World's Scariest Cup of Tea
Fancy a cup of tea with a sprinkle of danger? Marvelous. Just toddle on up to the southernmost peak of Mount Hua in China's Shaanxi province. When you get to an altitude of 7,087 feet, you'll see a temple. That's where the tea is. Oh, just a note: if you're toting any caution, you'd best throw it to the wind.
The journey up Mount Hua, or Huashan, is fraught with intimidating challenges. The "Heavenly Stairs" carved into the stone are shallow, steep, and often unaccompanied by handrails or barriers to prevent you toppling down the mountain should you lose your footing. The cliffside "path" consists of uneven planks of wood nailed to struts that stick out of the near-vertical mountainside. These plank paths are so narrow that they can only accommodate one wall-clinging person at once. Should you encounter someone heading in the opposite direction, you'll need to get creative — and cuddly — to pass each other.
In some sections of the cliff path, there are no planks at all — just notches carved into the stone. Put your feet in these and pray to your preferred higher power or collective energy source. (And for the love of all that is good, leash yourself to the chain that's hammered into the wall at waist height.)
Once you've reached the southern summit, you'll be rewarded with spectacular views across Huashan's peaks — and a cup of tea that tastes like victory. Take the time to savor it before embarking on your harrowing descent.
Golden Statues and Mother Bread: The Bizarre Legacy of Turkmenistan's Former Dictator
In a plaza on the southern outskirts of Turkmenistan's capital, Ashgabat, sits a rocket-shaped monument called the Arch of Neutrality. Towering 312 feet above the ground, it is topped with a 40-foot golden man in a suit who stands with his arms outstretched, surveying the land as a flag ripples behind him. His body language and facial expression convey something along the lines of, "Bring it on. I've got this."
The golden man is Saparmurat Niyazov, the quirk-riddled, megalomaniacal dictator who ruled Turkmenistan until his sudden death from heart failure in 2006. This Arch of Neutrality is a modified version of the one that used to sit in the city center. The original was topped with a statue of Niyazov that rotated so that it constantly faced the sun. In the modified monument, the former president is still.
Raised in a Soviet orphanage after his family died in an earthquake when he was eight, Saparmurat Niyazov joined the communist party in his early 20s and quickly rose through the political ranks of Turkmenistan. When the Soviet Union collapsed, Niyazov became president and took on the task of strengthening Turkmenistan's independence and national character.
During his 16-year presidency, Niyazov — who named himself Turkmenbashi, or "Great Leader of All Turkmen" — enacted policies ranging from the enchantingly bizarre to the horrendously repressive. As with North Korean personality-cult hall-of-famers Kim Jong-il and Kim Il-sung, many decrees were based on Niyazov's changeable whims. After heart surgery in 1997 forced him to quit smoking, Turkmenbashi forbade smoking in all public places. His irritation with beards, lip syncing, and gold teeth led to all three being outlawed. (Those who already had gold teeth had to get them extracted.) Niyazov also disliked makeup on TV presenters and, in 2004, mandated that newsreaders had to appear on screen with cosmetic-free faces "the color of wheat."
In addition to outlawing things that annoyed him and plastering his portrait across the nation, Niyazov liked to name things after himself and his late mother. The city of Krasnovodsk and the month of January both became "Turkmenbashi", while the month of April and the word for bread were changed to his mother's name, Gurbansoltan.
Then there was the Walk of Health. To encourage physical activity among the citizens of Ashgabat, Niyazov installed 28 miles of concrete paths and staircases in the parched, treeless Kopet Dag mountains. All government employees had to walk a 23-mile section of the path once per year. Noyazov was not shy about expressing his displeasure when their speed dipped below his preferred pace. He delivered these chastisements at the finish line, which he traveled to via helicopter.
The most comprehensive — but often incomprehensible — insight into Niyazov's mind came in the form of the Ruhnama (The Book of the Soul), a spiritual and philosophical tome he published in 2004. The rambling, repetitive Ruhnama combines revisionist Turkmen history, moral guidance, philosophical teachings, and Niyazov's memoirs — with occasional side-trips to Turkmenbashi's poetry.
Niyazov made study of the Ruhnama compulsory for all school children, to the exclusion of less-important subjects like physics or algebra. Adults were also required to study up — driving tests and job interviews incorporated material from the book. According to Niyazov, familiarity the Ruhnama would confer the ultimate benefit: he stated he had made a deal with God to ensure that anyone who read it three times would get a pass to heaven.
The 2006 death of Niyazov may have dimmed the golden glow of his personality cult, but relics of him live on in the form of strange laws, changed nomenclature, and those ostentatious gold-and-marble monuments. Meanwhile, Niyazov's successor — and former dentist — Gurbanguly Berdimuhamedow is developing a bizarre personality cult of his own.
Berdimuhamedow's fixation is Akhal-Teke horses, Turkmenistan's national animal and emblem. The president's equine predilections are something to behold — his book, The Flight of Celestial Race Horses, opens with the words: "I won't call you horse, I would call you brother, you are dearer than brother." In 2011, Berdimuhamedow decreed that the nation would host an annual beauty contest for horses.
Prora Resort: Beach Vacations Done the Third Reich Way
An imposing, austere row of buildings stretches for almost three miles along the east coast of Rügen, a German island in the Baltic Sea. Blocky and bleak, their unadorned design suggests a prison. But these buildings were meant for leisure: they form part of a Nazi-built seaside resort.
In 1933, the Third Reich established Kraft durch Freude, or "Strength Through Joy," an organization devoted to managing the free time of the working German. The KdF arranged a wealth of enticing leisure activities, such as cruises, ski trips, invigorating hikes, and beach vacations. These pursuits were offered to all Germans, regardless of class, with the aim of inspiring gratitude toward — and preventing seditious activities against — the state.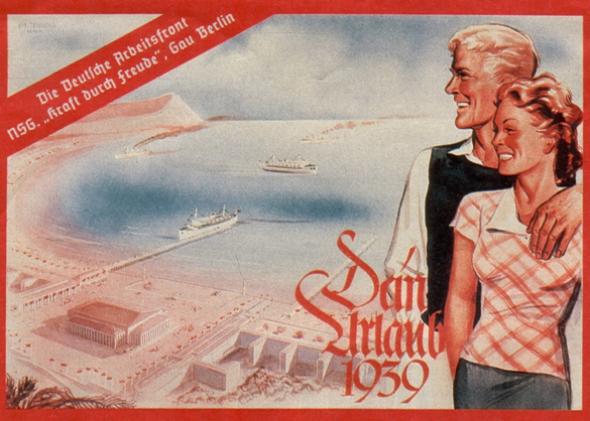 One of Hitler's grander plans for the KdF was to build five colossal beachside resorts, each capable of housing 20,000 vacationing workers. Only one was ever built: Prora. In 1936, construction began on Prora, a complex on Rügen incorporating housing units, a festival square, restaurants, cinemas, swimming pools, and an assembly hall. Each 16- by 8-foot resort room faced the beach and was to have two beds, a wardrobe, and a sink. Communal bathrooms served each floor.
After three years of construction, Prora was close to opening when the dawn of World War II ended the dream. With construction materials and manpower diverted to the war effort, work on Prora stopped. The colossal complex did see some action during the conflict — refugees from the bombing of Hamburg lived there in 1944, and the site was used briefly as a military hospital and training center. Post-war, the East German army made sporadic use of the facilities, but by the 1990s Prora was deserted.
Now there is the question of what to do with this colossal reminder of Nazi Germany. Prora's history makes it both hard to repurpose and difficult to demolish — luxury condos have been proposed, but remain undeveloped.
One building, however, has been converted into a 400-bed youth hostel. While acknowledging that the site has a "checkered history," the Prora Youth Hostel's website promises a "contemporary, casual, multicultural" experience: "Here you can hear the sound of the sea and meet like-minded people from around the world."
Other Third Reich relics:
View
Prora
in a larger map
Salton Sea: From Relaxing Resort to Skeleton-Filled Wasteland
In the 1950s and '60s, Bombay Beach in California was a thriving resort. Guests swam, water-skied, and golfed during the day, then headed to the yacht club to party into the night.
Now, Bombay Beach is a bleached, rusted, abandoned wasteland. The water smells of salt, petrol, and rotting fish. The shores, once lined with sunbathers, are covered in green sludge and desiccated fish carcasses. It's an apocalyptic landscape.
To understand how this place turned from paradise to purgatory, you need to know the story of Salton Sea. Bombay Beach lies not on the west coast, but in the Colorado Desert. In 1905, the Colorado River swelled, breached its levees, and flooded the desert valley known as the Salton Sink. The water flowed for two years, creating a 15- by 35-mile lake dubbed the Salton Sea.
Though the creation of this inland sea — the largest lake in California — was an accident, it initially appeared to deliver substantial benefits. Birds flocked to the area, and fish thrived in the Salton Sea. Developers seized upon the rare setting and branded it the "Salton Riviera," a "miracle in the desert." Hotels, yacht clubs, homes, and schools sprang up along the shores as the Salton Sea became a resort destination. But disaster loomed.
By the late 1970s, the ecosystem was deteriorating rapidly. With no drainage outlet, almost zero yearly rainfall, and runoff flowing in from nearby farms, the sea was polluted with pesticides and saltier than the Pacific Ocean. Periodic flooding brought the poisoned water further ashore. Depleted oxygen in the sea killed scores of fish and dragged their rotting bodies onto the beach, where they shriveled in the sun. As they decomposed, the sand became coated in a layer of fragmented fish skeletons.
Hints of the Salton Sea's heyday still litter the shores. Boarded-up motels, rusting boat frames, and cracked concrete swimming pools covered in graffiti are a few of the sights that remain. People do live here — Bombay Beach is home to around 250 residents, who travel the barren landscape by golf cart and must drive 40 miles to stock up on groceries.
There is one part of the Salton Sea that's shiny and new: the North Shore Yacht Club, long abandoned, was refurbished in 2010 and opened as a community center. The cheery, brightly colored building is an odd sight among a landscape of bones and sludge.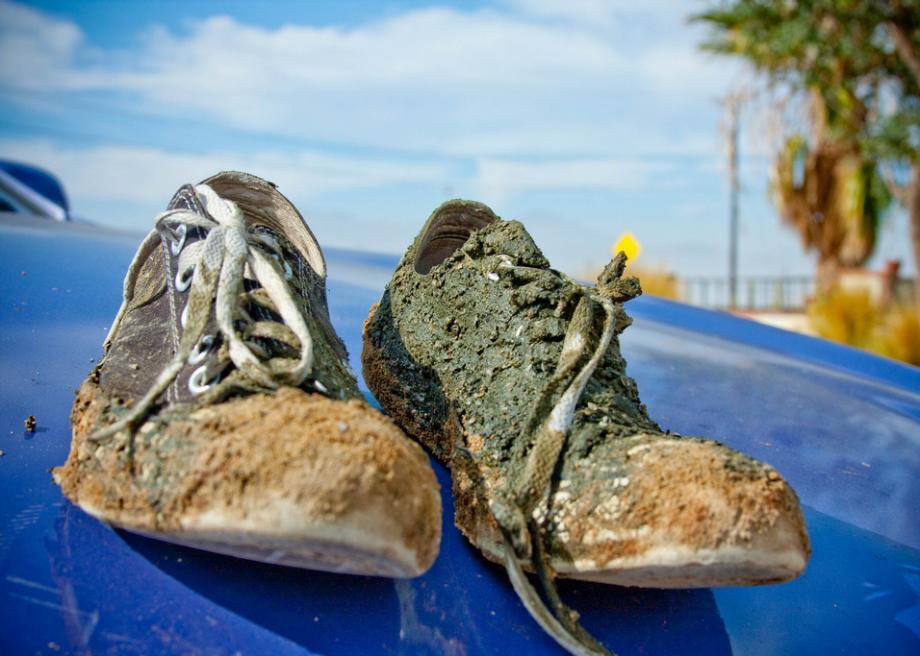 Other resorts gone wrong: