Your Guide to the World's Hidden Wonders
Tanah Lot Temple: Come for the Spectacular Sunset, Stay for the Holy Snake
Atlas Obscura on Slate is a blog about the world's hidden wonders. Like us on Facebook and Tumblr, or follow us on Twitter.
At high tide, Tanah Lot, a rock formation with a temple (pura) on top, looks like a ship made of stone. One of seven ocean temples along the southwest coast of Bali, Pura Tanah Lot was built around the 16th century to honor the spirits of the sea. According to Balinese mythology, a Brahmin priest named Niratha established the temple and protected it from evil by taking off his sashes and throwing them into the sea. The sashes, says the myth, transformed into sea snakes. To this day they are regarded as the slithering security guards of Tanah Lot.
The temple is only accessible at low tide, when the water recedes enough to reveal a land bridge. Non-Hindu visitors are not permitted to enter Pura Tanah Lot, but can get close enough to admire its pavilions and pagodas. For a small fee, anyone is welcome to see and even touch the "holy snake," a black-and-silver striped sea snake that hangs out in a cave by the temple. Though Balinese sea snakes are venomous, handlers promise that the holy snake is too docile to harm you.
Sunset is spectacular at Tanah Lot, though visiting at dusk does require you to pass through a gauntlet of souvenir vendors. Once you've made it beyond the "I love Bali" T-shirts, you'll be rewarded with the sight of Tanah Lot beginning to glow as the sky shifts slowly from pink to black.
Other spectacular temples around the world:
Spain's Stunning Solar Power Towers
Atlas Obscura on Slate is a blog about the world's hidden wonders. Like us on Facebook and Tumblr, or follow us on Twitter.
Two slim towers rise from the fields 20 miles west of Seville, each bathed in the rays of an otherworldly glow. Though they look like portals to another dimension, they serve a much more practical purpose: They are the "power towers" of Solucar, the largest solar energy complex in Europe.
The towers, named PS10 and PS20, began operating in 2007 and 2009. Each is surrounded by a field of angled mirrors known as heliostats, which reflect solar radiation onto a receiver located at the top of each tower. This reflected sunlight illuminates dust and water vapor in the air, resulting in the brilliant glowing rays.
The heliostats—624 for the PS10 and 1,255 for the PS20—move during the day in order to reflect the most sunlight possible. When the rays of light reach the receiver, their heat produces steam, which is used to power a turbine. The turbine drives a generator, thereby producing electricity.
With its abundant, intense sunshine, the Spain's southern Andalusia region is primed for solar plants. And the country is a pioneer when it comes to solar energy: PS10 was the world's first commercial concentrating solar power tower. (The "power tower" design is a type of concentrated solar power, or CSP, which differs from the photovoltaic systems used in the majority of solar farms. CSP uses heat, while photovoltaic methods convert light directly to electricity. The main advantage of CSP is that thermal energy can be stored and used later, when sunlight is low. Photovoltaic power stations do not have that capability, but they are cheaper to build and maintain.)
In July 2014, over 8 percent of Spain's electricity came from solar power. But the country's solar development has hit a few bumps recently. After years of subsidizing solar energy, the Spanish government has introduced laws scrapping premiums and requiring solar power producers to pay a fee for the electricity they generate—a "sun tax," as it's come to be known.
While Spain struggles to regain its position as a top global solar innovator, Abengoa Solar, the Spanish company behind Solucar, has been branching out into the United States. In Arizona, about 70 miles southwest of Phoenix, lies a massive grid of curved, glinting mirrors. These are the parabolic troughs of Solana Generating Station, a CSP plant opened in October 2013 that produces enough energy to power 70,000 homes.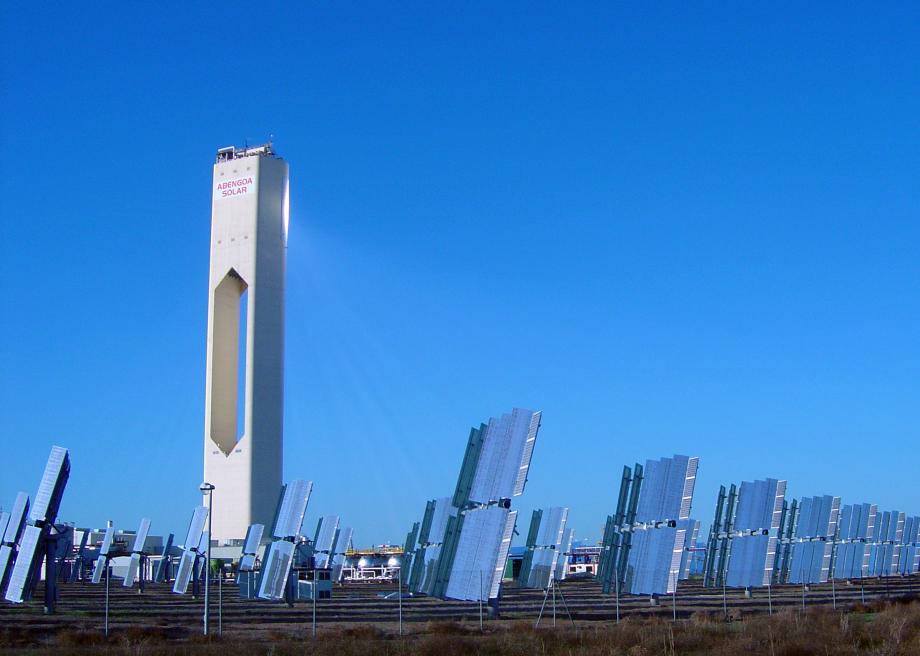 *Correction, Nov. 7, 2014: This post originally misspelled Mojave Desert.
The Soviet-Era Railways Run by Children
Atlas Obscura on Slate is a blog about the world's hidden wonders. Like us on Facebook and Tumblr, or follow us on Twitter.
Gyermekvasút, a seven-station railway line located in the hills of Buda, Hungary, offers a relaxing heritage train ride. But there's something a little Bugsy Malone about it all: Railway operations, from ticket sales to signal switching to traffic control, are handled by pre-adolescent children.
Gyermekvasút is one of more than 50 children's railways established across the USSR and Eastern Europe during the Soviet era. As part of their Young Pioneer activities, kids ages 10 to 14 worked the rails to get training in the practical skills they would need to become adult employees of the train system.
The first children's railway opened in Gorky Park, Moscow, in 1932. During the '30s, '40s, and '50s, similar systems popped up in places as far-flung as Minsk (now in Belarus), Yerevan (now in Armenia), Berlin, and Budapest.
Decades after the fall of communism, many of these kid-focused railways still operate. In Budapest, children must take a four-month training course before they can work their volunteer shifts. They are rostered on for one day every two weeks or so, and are allowed to miss school to tend to the trains. Adults handle the train driving and maintenance duties, and there is one grown-up present at every station in case of emergencies.
Though the political situation is markedly different from the days of the USSR, remnants of the Soviet era remain: The children, wearing military-inspired uniforms, salute every train as it passes.
More remnants of the Soviet Union:
The Dog Suicide Bridge of Dunbartonshire
Atlas Obscura on Slate is a blog about the world's hidden wonders. Like us on Facebook and Tumblr, or follow us on Twitter.
The Gothic stone structure, located near Dumbarton in Scotland, spans a narrow gorge on the grounds of a 19th-century manor. Since the 1960s, some 50 dogs have perished after leaping from the same spot on the bridge. Hundreds more have jumped but lived, some even returning for a second leap onto the jagged rocks 50 feet below.
These apparent canine suicides have baffled the poor dog owners unlucky enough to witness their dear pets jumping off the "dog suicide bridge." Conspiracy theories arose. Suspicions of supernatural forces grew. Was there a disturbance in the magnetic field? Could the bridge be haunted?
A horrific incident in October 1994 provoked further talk of possible paranormal activity: A 32-year-old man threw his 2-week-old son from the bridge because he believed him to be possessed by the devil. He then tried to jump off the parapet himself, but was pulled back by his terrified wife.
In 2005 the Scottish Society for the Prevention of Cruelty to Animals enlisted canine psychologist Dr. David Sands and animal habitat expert David Sexton to investigate the bridge from a dog's-eye view. After taking in the sights, smells, and sounds of the Overtoun gorge—carefully leashed canines in tow—the pair concluded that it was likely the strong scent of mink that was luring dogs over the edge, dulling their other senses and preventing them from seeing the sheer drop until it was too late. It's not a definitive explanation, but it's a little more comforting than the idea of a haunted bridge that forces happy pets to commit suicide.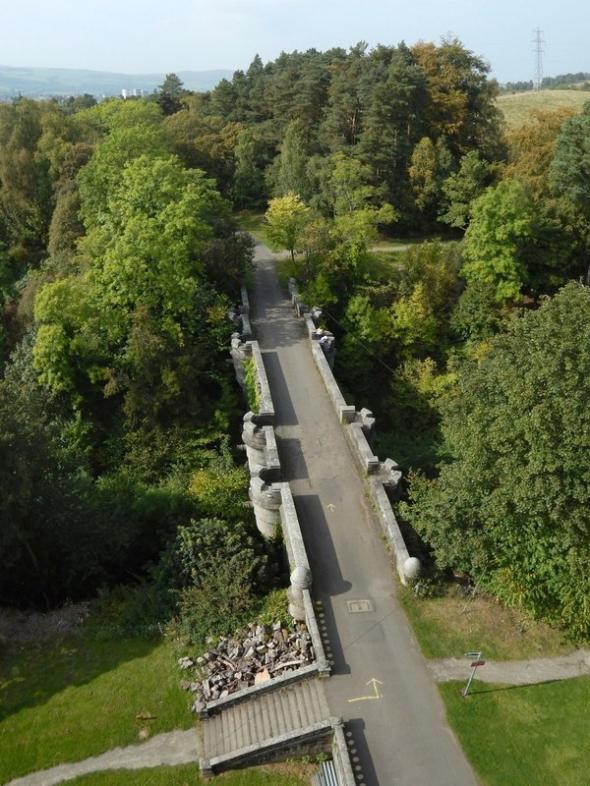 Other tales of strange animal behavior:
Taung Kalat: Mingle With Monkeys and Spirits Atop a 2,400-Foot Volcanic Plug
Atlas Obscura on Slate is a blog about the world's hidden wonders. Like us on Facebook, Tumblr, or follow us on Twitter.
Atop a volcanic plug in Myanmar, 2,417 feet above the sea, sits a Buddhist monastery populated by golden Buddhas, cheeky monkeys, and long-suffering spirits. This is Taung Kalat, an active place of worship and a hub for the Burmese spirits known as nats.
The 37 Great Nats, first recognized during the 11th century, were once high-status humans. All but one—Thagyamin, the lucky sod—perished in violent or painful circumstances. Snake bites, leprosy, beheading, forceful immolation, drowning, and falling off a swing are but a few of the myriad ways in which they died.
Having suffered in life, these nats earned the right to be worshipped post-death. Pilgrims climb the 777 stairs of Taung Kalat—barefoot and dodging monkey dung along the way—to leave offerings at the colorful shrines located at the summit. Money is the standard gift, but other items are acceptable according to the nat in question. Min Kyawzwa, a nat known for his alcoholism and antagonistic personality, is regularly honored with bottles of whisky.
More monasteries in breathtaking places:
The Monkey Astronaut Who Helped Pave the Way for Manned Spaceflight
Atlas Obscura on Slate is a blog about the world's hidden wonders. Like us on Facebook or Tumblr, or follow us on Twitter.
When Peruvian-born, U.S.-raised astronaut Miss Baker died in 1984 at the age of 27, she had been to space once and married twice. Her grave, located at the United States Space and Rocket Center in Huntsville, Alabama, sits alongside those of her first husband, George, and her second husband, Norman. Atop Miss Baker's headstone sits a pile of bananas, each one placed by an admirer. They make a fitting tribute to a fallen pioneer: Like any other squirrel monkey, Miss Baker loved bananas.
In 1959 NASA went shopping for astronauts at a pet store in Miami. At that point, the U.S. had been sending monkeys to space for a decade: In 1949, rhesus monkey Albert II became the first primate in space, reaching a height of 82 miles aboard a V2 rocket. After this momentous flight, rockets were launched containing Alberts III through VI, also known as Yorick. Alas, there was one big problem: None of these animal astronauts survived the trips.
Suffocation and mechanical malfunctions were the main space-monkey killers. On Dec. 13, 1958, for example, a squirrel monkey named Gordo rode a Jupiter AM-13 rocket toward the stars from Cape Canaveral. Dressed in a tiny space suit and hooked up to monitoring equipment, Gordo had a problem-free, 15-minute flight, over half of which he spent weightless. Upon re-entry, however, the parachute necessary to provide a soft landing failed to deploy. Gordo died on splashdown. The nose cone in which he rode was never recovered from the murky depths of the Atlantic.
With the death of Gordo and his simian predecessors in mind, NASA took a more-is-more approach during that Miami shopping trip in 1959. Twenty-six young squirrel monkeys were acquired, and, after rigorous testing and training back at the labs, 2-year-old, 1-pound Miss Baker was judged the most hardy of the lot. Her ability to tolerate confined spaces and electrodes with grace and patience made her a perfect candidate for a whole new era of space travel: one in which astronauts returned alive.
On May 28, 1959, Miss Baker was dressed in a jacket and helmet, strapped into a cylindrical capsule not much bigger than her body, and blasted into space aboard a Jupiter rocket from Cape Canaveral. Accompanying her on the journey was Miss Able, a 7-pound rhesus monkey who had also been selected for the mission. The 16-minute flight went well—the monkeys' vital signs remained normal, and the capsule landed safely in the ocean near Puerto Rico. Here's a jaunty Universal Studios newsreel from June 1, 1959, which ends with the monkey duo "physically unharmed and in jolly good spirits," enjoying their newfound status as "pathfinders for the space men of tomorrow":
Four days after the triumphant landing, however, Miss Able was undergoing surgery to remove subcutaneous electrodes when she had a severe reaction to the anesthetic. The little space monkey died on the operating table, giving Miss Baker the bittersweet title of sole survivor.
The sassy squirrel monkey went on to live a long and cushy life. After a publicity blitz that included an appearance on the cover of Life magazine, Miss Baker retired to the Naval Air Training Station in Pensacola, where she was set up with a custom-built home—and a husband. Big George, a fellow Peruvian squirrel monkey, became officially wedded to Miss Baker during a naval ceremony in 1962. For the next eight years, the couple lived at the training station in, according to a New York Times article, "a home swank enough for a honeymoon cottage, though not much larger than a couple of telephone booths."
Big George and Miss Baker moved to the U.S. Space and Rocket Center in Huntsville, Alabama, in 1971. There they lived a laidback existence, being fed cottage cheese and visited by excited school children. In 1979, Big George died. A mere three months later, Miss Baker was on to her second monkey husband: Alabama's Rome News-Tribune reported on the wedding between "Miss Baker, the space monkey, and Norman, who has never been anywhere to speak of." Despite the disparity in career accomplishments, it seemed an amiable match.
Miss Baker's achievement-packed life ended due to renal failure on Nov. 29, 1984, at which point she held the record for the oldest living squirrel monkey. (Members of the species usually hang around for 15 to 20 years—Miss Baker was a ripe old 27.) The banana-topped headstone marking her Huntsville grave distinguishes her as the "first U.S. animal to fly in space and return alive."
Séances for Houdini: A Halloween Tradition
Atlas Obscura on Slate is a blog about the world's hidden wonders. Like us on Facebook, Tumblr, or follow us on Twitter.
Every year on Halloween, magic enthusiasts across the country gather to rouse Harry Houdini from eternal slumber.
When the great escapologist died on October 31, 1926, he left a promise to his wife Bess: If possible, I will contact you from beyond the grave. Every Sunday thereafter, at the noon hour of Harry's death, Bess Houdini would lock herself in a dark room, sit beneath a portrait of Harry, and wait for a message from beyond. If it were indeed possible to communicate from the next realm, Bess would receive a clear sign—before Harry's death, the pair had agreed on a secret phrase to convey: "Rosabelle, believe." ("Rosabelle" was the name of a song Bess performed in the early days of their courtship.)
In addition to these solitary, weekly listening sessions, Bess led a full séance every October 31st. This tradition continued for a decade after Harry's death, after which a resolute Bess put an end to the annual event. The final séance took place at Hollywood's Knickerbocker Hotel in 1936. As far as anyone knows, Harry did not make an appearance. Here is a partial audio recording of the proceedings:
We are asking everyone on the web to attempt to contact Harry Houdini sometime during Halloween for the 24 hours of October 31st and email us with any results and lack of results. No kooks please, this is a serious seance test and seance tribute.
Once Halloween is over there is always the Magic Castle, which conducts Houdini séances on demand, provided you supply "light paperwork and a $300 deposit" and arrive in formal attire.
Other stories of posthumous communication:
Tsar Bomba: The World's Most Powerful Nuclear Weapon
Atlas Obscura on Slate is a blog about the world's hidden wonders. Like us on Facebook, Tumblr, or follow us on Twitter.
Just after midday on October 30, 1961, the most powerful human-made explosion in history radiated from the Arctic island of Severny, creating a shockwave that broke windows up to 560 miles away. The USSR had just detonated Tsar Bomba, a hydrogen bomb with a yield of 50 megatons—more than 3,000 times the power of the bomb dropped on Hiroshima.
Severny, part of the Novaya Zemlya archipelago north of Russia, is an island of strong winds, ice-covered mountains, and freezing summers. In the 1870s, Russia resettled a small population of its indigenous Nenets people from the mainland onto the island, in order to assert sovereignty over the archipelago, and protect it from a Norwegian takeover. The Nenets survived the severe conditions by hunting polar bears, reindeer, and seals. But their time on the islands was short-lived. In the 1950s, they were returned to the mainland, when the government decided it had new plans for the island: it was to become the Soviet Union's most important nuclear testing site.
Detonations began in 1955. In 1961, Novaya Zemlya acquired the dubious honor of being the proving ground for Tsar Bomba, which weighed 60,000 pounds, measured 26 feet long and seven feet in diameter, and had a yield of 50 megatons. It remains the most powerful nuclear weapon ever detonated.
During its 40 years as a Cold War test site, 224 nuclear weapons exploded over Novaya Zemlya. The last reported detonation took place in 1990, although a seismic disturbance in the area in 1997 raised suspicions of secret ongoing testing.
Read about other bomb test sites around the world:
A Cloying Kernel of Evil: The History of Candy Corn
Atlas Obscura on Slate is a blog about the world's hidden wonders. Like us on Facebook, Tumblr, or follow us on Twitter.
Halloween provides a cavalcade of whimsical scares for children and adults alike, but nothing chills the bones quite as much as the piles of candy corn left at the bottom of pumpkins and pillowcases across America.
A 2013 National Confectioners Association survey found that the vast majority of Americans—72 percent—prefer to eat chocolate on October 31. Just 12 percent of respondents named candy corn as their top Halloween treat. Despite being the consolation prize of confections, candy corn is a ubiquitous part of Halloween and continues to sell billions of kernels each year. The waxy little treat may not be loved, but its relentless domination of an otherwise pleasant night of ghouls and sexy nurses is over one hundred years in the making.
The true creator of candy corn is a mystery lost to time, but the first reports of the multi-colored sugar drops began in the 1880s when the candy began appearing during the Halloween season. Soon after the candy's sporadic appearance throughout the states, the Wunderle Candy Company began mass-producing the treat under the name "Chicken Feed."
In 1898, the homespun recipe for the candy had been adopted by the Goelitz Candy Company who quickly eclipsed Wunderle as the primary purveyor of the faux corn. Despite the sudden adoption by large candy conglomerates, the process for creating candy corn remained remarkably labor intensive. After mixing a cavity cocktail of sugar, corn syrup, fondant, marshmallow, and water, the slurry would be dyed one of the three candy corn hues: orange, yellow, or white. Laborers would then take 45-pound buckets of the hot liquid candy and pour it into long rows of trays of kernel forms, making three passes, one for each color of the corn. Once this back-breaking work was complete, the molds would cool and candy corn was unleashed upon an autumnal population.
The agrarian America of the late 19th century embraced the sweet little treats that recalled the season's harvest time roots and farm-fed lifestyle. In fact, candy corn became so popular during the candy season that confectioners even experimented with other vegetable-formed candies such as candy pumpkins and turnips. Due to the slow, laborious candy creation process of the time, treats such as candy corn were only made from March to November, so the tide of candy corn would only wash across the nation around the time of Halloween, hence the inextricable link between the holiday and the candy.
Candy corn remained a stalwart product for companies through the 20th century as candy trends came and went. The simple recipe for the candy has been unchanged throughout, although the strongmen with the buckets of sugar were eventually replaced by industrial machines which now heartlessly crank out "All Hallows' Tears" year-round.
Breaking its bond to Halloween, candy corn is now produced for a number of holidays in a rainbow of abominations such as the red and green "reindeer corn," or the pastel "rabbit corn." But no matter the coloration, the recipe remains the same, and the chalky sweetness of its frontier roots will continue to haunt candy bowls long after all other treats have gone.
Spooky stories to get you in the mood for Halloween: