Your Guide to the World's Hidden Wonders
Nabokov's Butterflies: The Lolita Author's First, Fluttering Love
Fifty-six years ago today, Lolita was first published in the USA by G.P. Putnam's Sons. But Vladimir Nabokov might never have unleashed Lo-lee-ta, fire of Humbert's loins and subject of many an impassioned seduction-versus-child-abuse debate, if he had devoted himself entirely to his first great love: chasing butterflies.
After catching his first butterfly at the age of six and collecting insects throughout childhood, Nabokov became a lifelong lepidopterist. During an interview in the Summer-Fall 1967 edition of the Paris Review, he made his enthusiasm for butterfly hunting clear:
INTERVIEWER
Besides writing novels, what do you, or would you, like most to do?

NABOKOV
Oh, hunting butterflies, of course, and studying them. The pleasures and rewards of literary inspiration are nothing beside the rapture of discovering a new organ under the microscope or an undescribed species on a mountainside in Iran or Peru. It is not improbable that had there been no revolution in Russia, I would have devoted myself entirely to lepidopterology and never written any novels at all.
After the 1917 Bolshevik Revolution forced his family to flee from St. Petersburg to Crimea, Nabokov studied butterflies to ward off homesickness. When he emigrated to the United States to escape the Nazis in 1940, Nabokov, whose Russian publications had not yet made him famous in America, got a job as Curator of Lepidoptera at Harvard University's Museum of Comparative Zoology. For seven years he spent up to 14 hours a day sorting and mounting butterflies.
In 1945, Nabokov developed a theory of butterfly evolution based on his examination of the Polyommatus blues group: he proposed that the butterflies journeyed in five waves from Asia to Chile before going north to the New World. Although lepidopterists dismissed the theory at the time, he was later vindicated—in 2011, the Proceedings of the Royal Society of London journal announced that scientists had confirmed Nabokov's theory using gene-sequencing technology.
This posthumous achievement joins the 20 species of butterfly named after the author's fictional characters. And Lolita itself is littered with butterfly-inspired language that reflects Nabokov's lepidoptery-heavy lifestyle: as the fragile and beautiful nymphet undergoes her metamorphosis, she is described as frail, silky, and fairy-like. Humbert presses his mouth to Lolita's "fluttering" eyelid, and then there's this moment as he watches her play tennis:
Did I ever mention that her bare arm bore the 8 of vaccination? That I loved her hopelessly? That she was only fourteen?

An inquisitive butterfly passed, dipping, between us.
The remains of Nabokov's butterfly collections are shared between the American Museum of Natural History in New York, the museums of Harvard and Cornell universities, the Zoological Museum in Lausanne, and the Nabokov Museum, established in the St. Petersburg house where he was born.
Budapest's Abandoned Art Deco Power Station
Hidden in Budapest's XI District, on the banks of the Danube in the unfashionable side of Buda, lies an iconic monument symbolizing the dawn of the electrical age. Once Europe's most advanced power station, the semi-abandoned, and now privately owned site, in Kelenföld celebrates its 100th birthday this year.
Kelenföld Power Station is not only a technological marvel, having supplied a large chunk of the city with electricity as far back as 1914, but it's also one of the masterpieces in industrial design.
Gizmo and a Guy with Glasses: Double-Take-Inducing Gargoyles and Grotesques
What would you call the figure pictured above? "Gargoyle" is probably what popped into your head, but—pedantry alert—that's not quite correct. A gargoyle is a decorative figure that conveys water away from the gutter of a building to prevent it from running down the wall. The water is usually siphoned away from the parapet through the gargoyle's mouth, but occasionally the drain is located at the other end of the alimentary canal:
When a decorative figure does not contain a spout, it is referred to as a grotesque or a chimera. Often of a demonic nature, grotesques add architectural interest and wield apotropaic magic: that is, they are intended to ward off evil.
Over the last few decades, development and restoration programs at Gothic churches around the world have led to the sculpting of more unconventional grotesques. Pop-cultural grotesques and gargoyles, such as the Alien xenomorph at Scotland's Paisley Abbey and the Darth Vader grotesque at the Washington National Cathedral bring modern villainy to old church parapets. Some of the newer grotesques attempt to bridge the religion-science divide: in 1992, when restoration work took place on the 16th-century Cathedral of Salamanca in Spain, project leader Jeronimo Garcia added an astronaut to one of the facades.
One of the most striking examples of old-versus-new is the Chapel of Bethlehem in France. Built in the late Middle Ages and restored in 1993, the chapel has 28 modern grotesques, including Gizmo from Gremlins and the anime robot Grendizer.
Today Me, Tomorrow You: Rome's Memento Mori Tombs
The Catholic churches in Rome are full of skeletons. While the bodies of the saints are often the most famous examples, the skeletons lurk around the tombs of the clergy and laity as well. Unlike the saints, the physical remains of former parishioners are largely kept out of sight, but if you imagine the number of bodies resting just beyond every surface, the churches start to look like mega-necropoli. You realize you're walking though Tokyos made of tombs.
You don't need an over-active imagination though; the Baroque skulls and life-sized marble skeletons decorating the graves are designed to grab your attention and speak to you. At Santa Maria dell'Orazione e Mort a skeleton delivers a message to the living on the street from the dead inside the crypt: "Hodie mihi. Cras tibi." "Today me. Tomorrow you." It shrugs. The skeletons are eager to remind you that the bones holding you up will be all that's left some day.
Though their rhetoric is grim, the skeletons are surprisingly lively. At San Francesco d'Assisi a Ripa Grande, they climb out from behind the artwork. At Gesù e Maria, one appears frozen in the middle of a solo danse macabre, flailing so wildly it seems to be coming apart. It's this kinetic quality that's so arresting; life bursts supernaturally from these dark corners devoted to death. The juxtaposition is unsettling but it illustrates the Catholic belief in eternal life. Though the skeletons tell you that you too will die, they're also showing you they believe there is another life to come.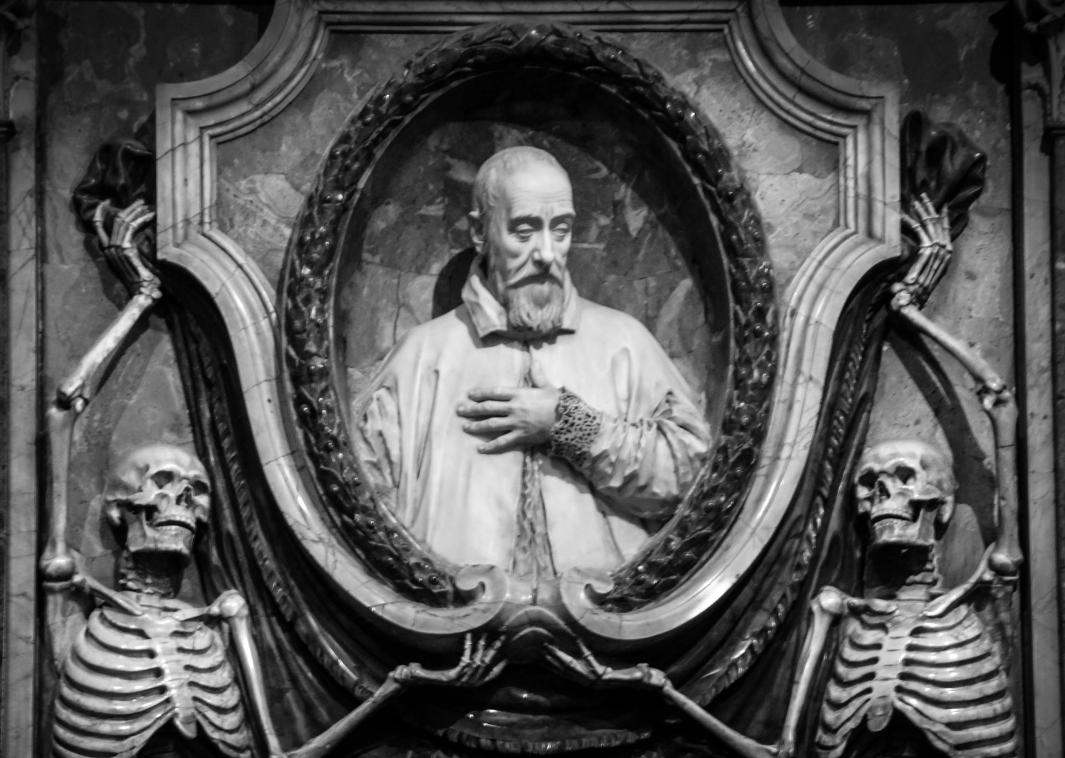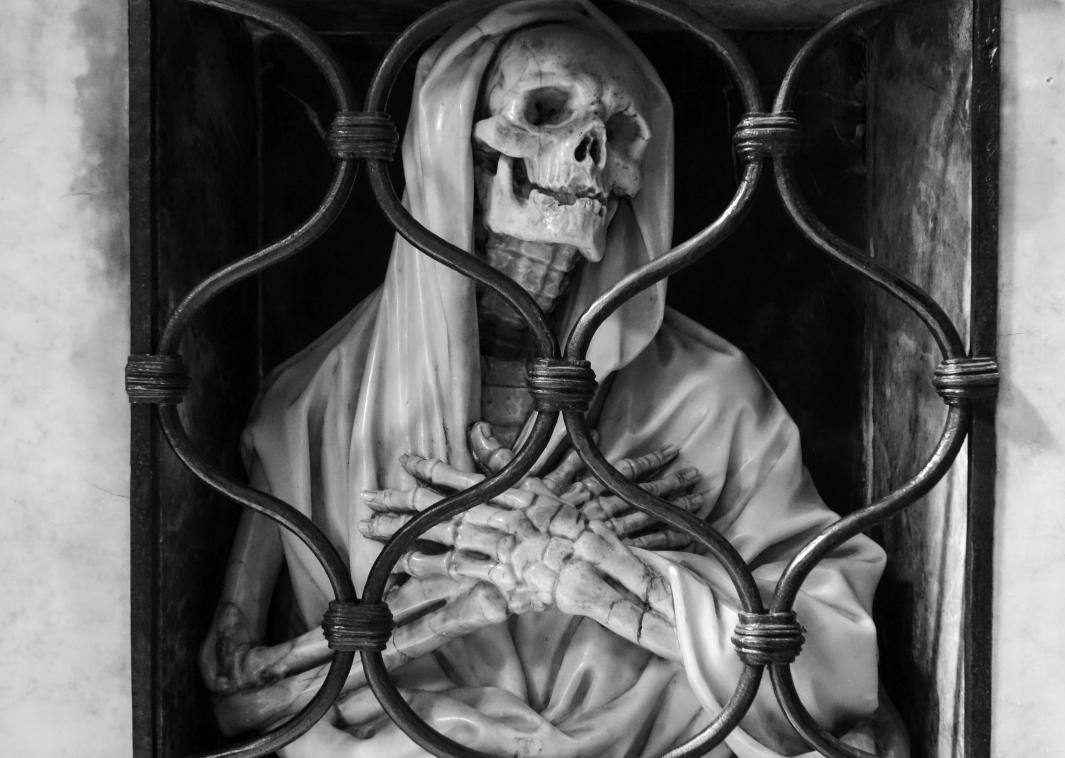 The Controversial Senegalese Monument Built by North Korean Propaganda Artists
On one of the twin hills in the Mamelles district of Dakar, Senegal, stands a mighty—and mightily confusing—monument.
At 160 feet tall, the bronze African Renaissance Monument is over one-and-a-half times the height of the Statue of Liberty. It depicts a man with a bare, ripped torso holding an infant aloft in one arm and guiding a woman with the other. The infant points ahead to indicate the glorious future, while the woman extends her arm behind to acknowledge the troubled past. Her hair is swept back by the wind, as are her scant, gossamer-like garments.
The colossal monument's Soviet-influenced, Socialist realism style makes sense when you consider that it was built by Mansudae Overseas Projects, a division of North Korea's government-run propaganda art factory.
Founded in 1959, Mansudae Art Studio employs around 4,000 North Koreans at its Pyongyang headquarters, 1,000 of which are artists handpicked from rigorous national institutions like Pyongyang University. These artists spend their days producing beautifully detailed propaganda, such as portraits of rosy-cheeked farm maidens, paintings of North Korea's glorious countryside, and One Can Always Lose, a series of 10 paintings depicting North Korea's 1-0 win over Italy during round one of the 1966 World Cup. All public images of Kim Jong-un, Kim Jong-il, and Kim Il-sung, including the enormous statues in Pyongyang, are the work of Mansudae artists.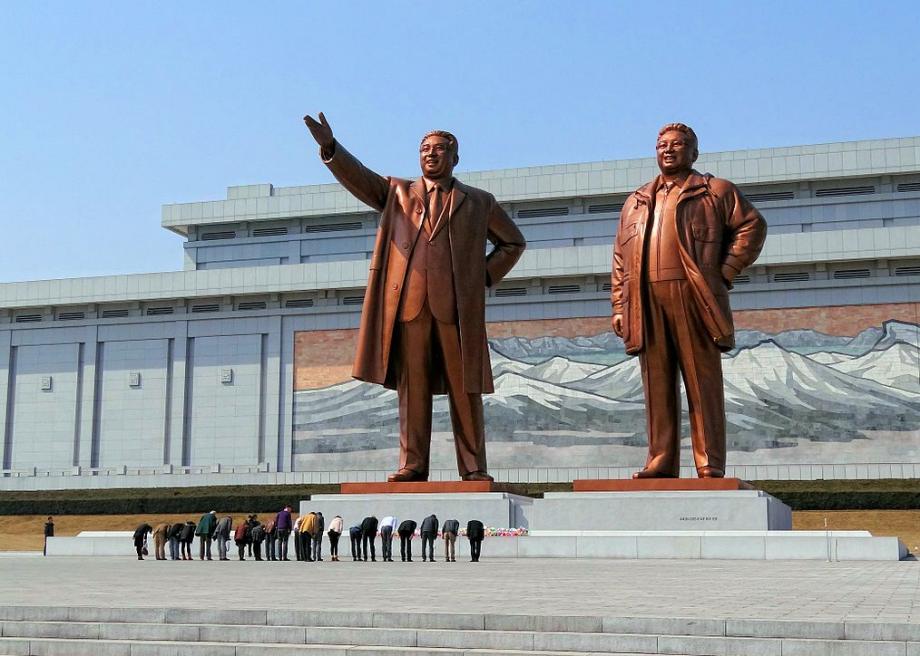 So how did members of North Korea's propaganda art factory wind up sculpting a monument in Senegal? Simple: it was all about the money. Mansudae Overseas Projects can build mammoth statues relatively cheaply, and has done so for 18 cash-strapped African and Asian nations thus far.
The Senegalese monument project began in 2006, when then-president Abdoulaye Wade began planning a massive hilltop monument that would represent Senegal—and Africa—emerging from centuries of slavery and colonialism. After years of planning and construction, the African Renaissance Monument was inaugurated in 2010 to mark the 50th anniversary of Senegal's independence from France. The final cost of the statue was $27 million. Unable to afford the payment in cash, Wade paid North Korea in the form of state-owned land in Senegal.
When the monument was unveiled, Wade was nearing the end of a 12-year presidency marred by alleged corruption, vote rigging, and changing the constitution to suit his own ends. His claim that intellectual property laws entitled him to 35 percent of revenue from tourism at the monument was met with understandable ire from fed-up Senegalese—47 percent of whom live below the poverty line, according to the World Bank. The statue's depiction of a near-naked man holding a woman with an exposed breast also caused consternation among the 92-percent-Muslim population.
Despite the controversy, the monument still stands, surrounded by half-built houses and piles of litter. You can pay to go inside and take the elevator to the giant man's head for a stunning view across Dakar. Just remember: 35 percent of your admission fee goes to Abdoulaye Wade. After fleeing Senegal following his 2012 defeat, Wade has returned to the country to support his son Karim, a former minister in the Wade government currently standing trial for allegedly embezzling $238 million.
The Old Nuclear Bunker Now Staffed by Mannequins
To gain access to the secret nuclear bunker at Kelvedon Hatch in Essex, England, just follow the road signs marked "Secret Nuclear Bunker."
Security at the decommissioned subterranean shelter has gotten a lot more lax since the Cold War days, but the bunker retains its eerie, apocalyptic feel. Built in 1953 to stealthily house hundreds of military and civilian personnel in the event of nuclear attack, the Kelvedon Hatch bunker is accessed through an ordinary-looking bungalow in the woods.
Conditions were relatively comfortable: VIPs tasked with running a nuked nation could do so with the help of air conditioning and heating, a self-contained water supply, generators, radio equipment, and protected telecommunications systems.
Of course, the bunker was never used for its intended purpose. The collapse of the Soviet Union removed the nuclear threat, rendering the Kelvedon Hatch hide-out obsolete. It is now a museum, its corridors full of dusty old telephones, geiger counters, and maps. A few rooms feature an unusual sight: battered shop mannequins in cheap wigs, posed in typical bunker scenarios such as resting and performing minor surgery.
The UFO Welcome Center, for Tired Extraterrestrial Travelers
On Sunday, creationist Ken Ham—who gained fame in February by debating Bill Nye—had some harsh words for NASA and its ongoing search for extraterrestrial life.
"I'm shocked at the countless hundreds of millions of dollars that have been spent over the years in the desperate and fruitless search for extraterrestrial life," Ham wrote in a blog post on answersingenesis.org. "Even Bill Nye 'the Science Guy,' in our recent debate, happily gloated about tax dollars being spent toward this effort."
For Ham and anyone else who balks at the idea of spending money on interplanetary diplomacy, there is a much more economical option out there: the UFO Welcome Center in Bowman, South Carolina.
The center, designed to attract and accommodate extraterrestrial visitors, consists of two stacked, saucer-shaped structures made of scrap wood and metal. Both were built by local alien enthusiast Jody Pendarvis, who began the project in 1994. Clutter, bits of wood, and fallen pieces of saucer surround the center.
Inside the 42-foot-wide bottom saucer is a bed, television, air-conditioning unit, shower, and toilet. The motel-like amenities are intended to offer respite for extraterrestrials who feel a little zonked after racking up frequent light-years of travel.
The smaller saucer, added in 2003, contains an air mattress and a communication system for attracting alien attention: flashing Christmas lights.
Tekapo: A Lake Made Beautiful by Rock Flour
A great benefit of living on a planet with an axial tilt of 23.4 degrees is that when it gets dark and snowy and horrible in the northern hemisphere, you can always escape to summer serenity south of the equator. Herewith, an option for the next northern winter: stunning Lake Tekapo on the south island of New Zealand.
Lake Tekapo gets its turquoise hue from "rock flour," also known as glacial flour. This fine powder is made when thick, heavy glaciers move down mountain slopes, grinding rocks as they go. The glacier then carries this rock flour down to the lake, where the ice melts. The powder remains suspended in the lake water, giving it a turquoise color.
The calming hue of Lake Tekapo combines with purple wildflowers, sage forests, and dramatic, often snow-capped mountains to create a scene of near-illegal tranquility.
A Tour of Wat Rong Khun, the Oddest Temple in Thailand
Wat Rong Khun, or the White Temple, is one of over 33,000 Buddhist temples in Thailand. But it's the only one that features a mural of a plane hitting the Twin Towers as Spiderman and an Angry Bird look on.
Artist Chalermchai Kositpipat began building Wat Rong Khun in Chiang Rai in 1997. The incredibly detailed, all-white exterior represents Buddha's purity. Mirrored trimming symbolizes self-reflection. The bridge to the entrance crosses over a sea of arms reaching out for help from the fiery depths of hell. Skulls, demon heads, and pop-cultural figures from the underworld—Hellraiser; Hellboy—are harbingers of what's to come.
Inside the temple, the decor swiftly moves from pristine white to fiery and bewildering. Murals depict swirling orange flames and demon faces, interspersed with Western idols such as Michael Jackson, Neo from The Matrix, Freddy Kruger, and a T-800 series Terminator. Images of nuclear warfare, terrorist attacks, and oil pumps hammer home the human impact on earth. The presence of Harry Potter, Superman, and Hello Kitty confuses the message somewhat, but the overall moral is clear: people are wicked.
Kositpipat's juxtaposition of traditional Buddhist imagery and pop culture has drawn criticism from the Thai government. Photography of the interior murals is prohibited, but visitors are welcome to purchase prints in the temple gift shop.
On May 5 of this year, a 6.3-magnitude earthquake struck Mae Lao, located 17 miles southwest of Chiang Rai. Wat Rong Khun sustained significant damage, and Kositpipat initially declared that the temple would have to be demolished. Subsequent evaluations, however, have found that the cracked pillars, damaged murals, and broken spire can be repaired. The restoration process is expected to take about two years. Travelers can still visit the temple, but may not be allowed inside depending on the work being undertaken at the time.