Jared Remy Pleads Guilty to Murdering His Girlfriend, Gets Life in Prison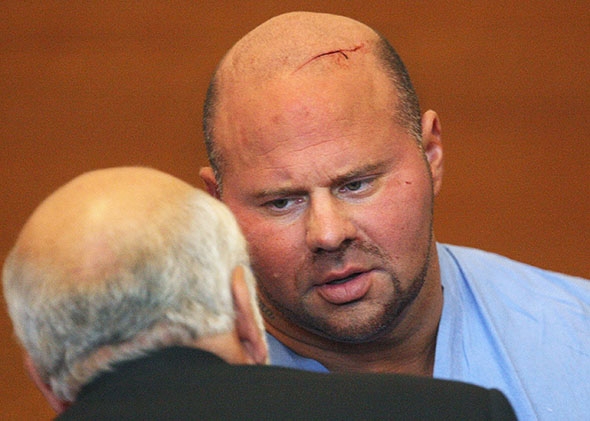 The disturbing story of Jared Remy, the son of famous Red Sox broadcaster Jerry Remy, got some sort of ending Tuesday afternoon, when Remy pleaded guilty to stabbing his girlfriend Jennifer Martel to death. I wrote about his case back in August 2013 for Slate, after the Boston Globe published an extensive exposé of the many times that Remy had been accused of violence, usually against women he was dating, only to walk away with little or no punishment. The concern at the time was that Remy was being let off easy in no small part because of his family's wealth and fame. A murder of the sort that he was accused of committing—stabbing Martel to death in front of three witnesses while her 4-year-old daughter was screaming in the background—turned out to be too serious a crime to wiggle out of. Remy will be serving life in prison without parole.
In his guilty plea, Remy claimed he wanted to take full responsibility for killing Martel, who he described as "an angel." But he also appeared to blame her for provoking him to murder. "I would like you to know that I always told Jen she could leave, but don't threaten me with my daughter," he wrote, and read aloud in court. "That night, Jen had a knife in her hand and threatened me with my daughter, so I killed her." It is worth noting again that this murder is just the latest in a long line of alleged assaults that Remy committed against girlfriends and others, resulting in 14 separate arrests. He had just been released from jail the night before murdering Martel, after being accused of slamming her head into a mirror. Martel's parents testified at Remy's hearing, saying they now see that the relationship he had with Martel was "more like an obsession than love."
The court case revealed one chilling detail not in the Boston Globe exposé. A few minutes prior to Remy chasing down Martel and stabbing her to death in front of neighbors begging him to stop, Martel changed her relationship status on Facebook to "It's complicated."