Feminism Worked: Now You Can Pee Like a Man
A San Francisco company called Stand Up Life has devised the best tool yet for helping women achieve equality with men. The ground zero for the remaking of gender relations will be the bathroom, and the instrument will be the Stand Up, "your first disposable, biodegradable, clutch-purse-fittable, pocket-slippable peeing accessory."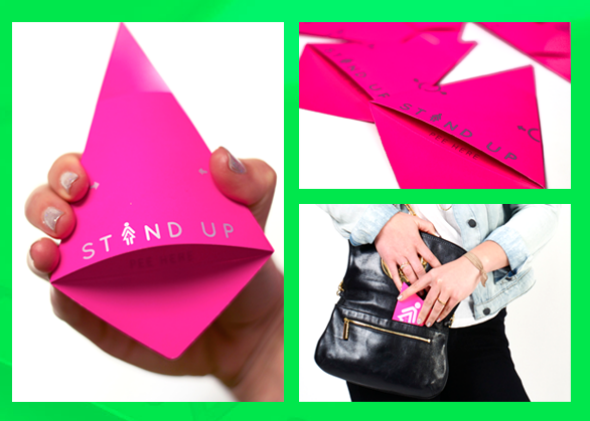 Advertisement

A hot magenta triangle that funnels your pee into the toilet without requiring you to sit down, the Stand Up is perpendicular pee origami. "We'd overheard your voices countless times through the cracks in the stalls of public restrooms before we realized there was a solution," explains the website. "'This toilet is disgusting!' "Never mind, I'll hold it.' 'I wish I could just stand up!' We knew our world needed an update."
World, urine luck. Stand Up Life is the brainchild of Sarah Grossman, a Stanford grad and former staffer for the office of the first lady. (Does Michelle Obama do vertical power pees?) Though her product resembles PeeBuddy, a "portable urine director" developed in India to protect women from contracting diseases in unsanitary public toilets, its vibe is sassier and more glamorous. On the site, one model whizzes stylishly into inexplicably spray-painted foliage; another strikes a pose before a row of neon urinals. "Take a stand. Own any space. Be confidently clean," reads the lettering below. Like the Shenis and the Go Girl before it, Stand Up is about empowerment through both hygiene and body language—after all, hovering uncertainly over a grimy toilet seat and possibly peeing down your own leg is not just a public health risk, it's also demeaning. The patriarchy does not suffer a squat.
Anyway, instructions for using your Stand Up consist of four easy steps: Unfold, squeeze, go, throw! (It's like veni vidi vici for pee.) And you can order your six-pack online for $6 after pledging to "never hold it again." So stand tall and stand proud as you micturate like a man into a little pink envelope that looks sort of like a party hat.
TODAY IN SLATE
Politics
Smash and Grab
Will competitive Senate contests in Kansas and South Dakota lead to more late-breaking races in future elections?