Are Men Getting Away With Too Much Sex? A New Austin Think Tank Says Yes.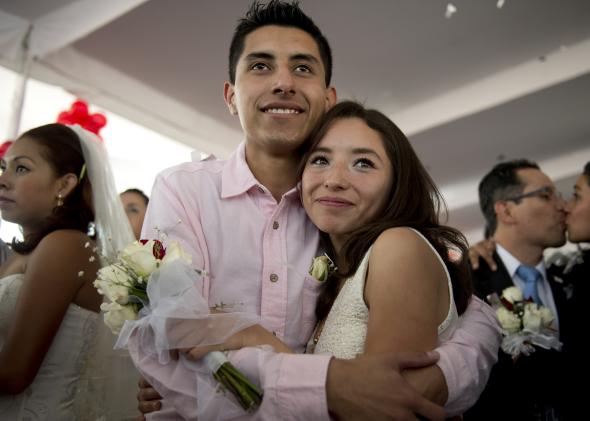 The latest "viral" video—does it count if it has fewer than 100,000 views?—causing eyes to roll at computer screens coast to coast is the "Economics of Sex." This gem of right-wing concern-trolling explains to ladies how contraception has destroyed their lives: No longer can they use accidental pregnancies to trick men into marriage. The theory, which we've all heard a thousand times, is that contraception lowered the "price" women can charge for sex (getting hitched)—so women are all sad now. Clearly the height of a woman's happiness is being saddled for life with a man who barely puts up with her because he fears he can't get sex anywhere else. But it's in a cutesy format, so let's just pretend it's hip.
Watson zeroes in on an article decrying the widespread practice of men taking "me time" in front of computer screens. The post—titled "Masturbation Nation?"—is an attempt to discredit the argument that masturbation is good for you. "Frequent masturbation is modestly associated with lower self-reported happiness as well as greater anxiety in relationships and difficulties navigating interpersonal relationships successfully, especially among men," it says. Of course, if you read the actual report, you'll find, buried deep inside, an admission that the masturbation is probably not causing the loneliness. Common sense would suggest that it's the other way around. But! We should nonetheless see masturbation as a challenge to "human flourishing," claims the report. The possibility that frequent masturbation could be a helpful coping mechanism for lonely people until they get a little less lonely is pointedly ignored.
If gay marriage is perceived as legitimate by heterosexual women, it will eventually embolden boyfriends everywhere and not a few husbands to press for what men have always historically wanted but were rarely allowed – sexual novelty, in the form of permission to stray without jeopardizing their primary relationship. Discussion of openness in sexual partners in straight marriages will become more common, just as the practice of heterosexual anal sex got a big boost from the normalization of gay men's sexual behavior in both contemporary porn and the American imagination. It may be spun as empowering women, but it sure won't … sure doesn't feel that way.
The theme here is that women were once an empowered class that used all their magnificent social power, which was so much greater than that of men's, to make sure men didn't have very much sex. And now, because of gays and porn and contraception—and for all I know, the 19th Amendment—women have lost their power and men are just having out-of-control sex and we ladies can't do anything to stop it. It's an interesting theory, though it does snag against the reality that women don't seem to be bothered by men orgasming without paying the supposedly heavy price of marrying us first. Indeed, we may even think that marriage is not a "price" at all, but something men do for love and companionship.