Ken Cuccinelli Really Wants to Ban Oral Sex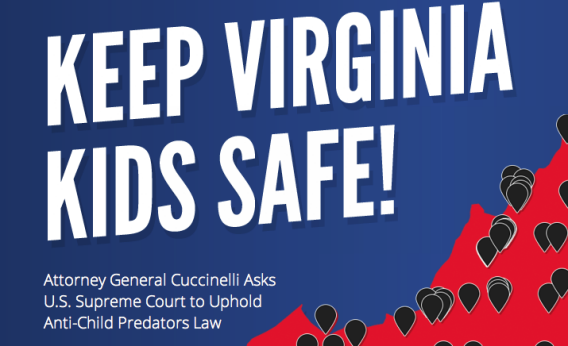 Ken Cuccinelli wants to keep kids safe from sexual predators by banning oral and anal sex—between consenting adults. On a website his campaign just launched, Cuccinelli, the Republican candidate for governor in Virginia, paints himself as the only real protector of children, because of his efforts as Virginia attorney general to reinstate a law banning all naked fun-time acts besides vaginal intercourse.
Cuccinelli's claim is that only by reinstating the Crimes Against Nature law, which Cuccinelli dishonestly calls the "Anti-Child Predators Law," can the state of Virginia prosecute people who rape children. Never mind that rape is already illegal, child molestation is already illegal, and statutory rape is already illegal. His website says that a full 90 sexual predators may come off the sex offenders registry (the site is vague on how) if oral and anal sex isn't banned outright for everyone, a claim that hopefully will remind voters that enforcing such a law would mean that adults having consensual sex in their bedrooms could become "sex offenders" if they're caught.
Advertisement

Like his peers, Cuccinelli knows that you're supposed to come up with a reason these anti-sex measures aren't really about sex, but never has a man been so bad at maintaining a cover story. He swears that the law won't be enforced as written to prosecute consensual sex between adults, even though the Supreme Court ruling that made this type of ban unconstitutional, Lawrence v. Texas, was in fact about arresting a couple having consensual sex in private. Cuccinelli's "just trust me" argument is especially hollow in light of his past behavior, as reported by Think Progress:
In 2004, a bipartisan group in the Virginia General Assembly backed a bill that would have brought the law in line with the Supreme Court's ruling. They proposed to eliminate the Crimes Against Nature law's provisions dealing with consenting adults in private and leaving in place provisions relating to prostitution, public sex, and those other than consenting adults. Cuccinelli opposed the bill in committee and helped kill it on the Senate floor.
TODAY IN SLATE
The Extraordinary Amicus Brief That Attempts to Explain the Wu-Tang Clan to the Supreme Court Justices
The Human Need to Find Connections in Everything
It's the source of creativity and delusions. It can harm us more than it helps us.