Jewish American Princesses Get the Bravo Treatment. Is It a Shanda?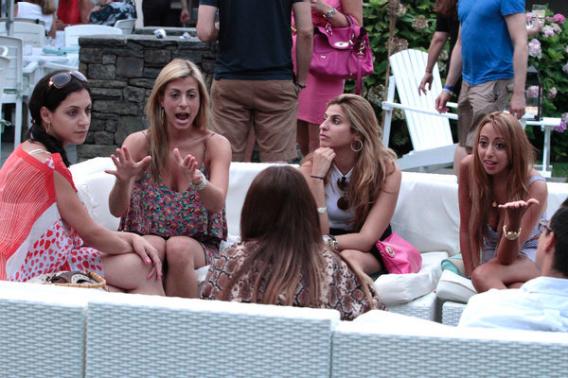 When I heard about Bravo's new reality show, Princesses: Long Island, I was surprised. Not because I'm offended that there's a show about self-proclaimed Jewish American Princesses, but that it took the reality TV gods so long to make it. JAPs are, after all, a well-known, oft-mocked subculture. But Princesses is not just another Real Housewives rip off, the kind that Bravo is so skilled at pumping out. It's a sly cautionary tale about spoiled millennials wrapped up in some of the materialistic trappings of Bravo's already successful franchises.
The premiere opens with Chanel, a 27-year-old modern Orthodox Jew—which means her family keeps Kosher and the Sabbath and is generally very observant—who lives at home with her parents. Though the other women on the show, all over 25, are varying degrees of observant (Erica, 29, who is Reform, says, "We're not that Jewish"), they all live with mom and dad in varying degrees of upper-middle-class comfort and plan to do so until they get married. Chanel says this failure to launch is "a Jewish thing and it's kind of a Long Island thing," but as a Jewish woman who grew up in the New York area, I thought that was a "thing" that died with the sexual revolution. The stereotype of modern Jewish parents these days is that they want their girls to go to Ivy League schools and meet their doctor husbands at medical school.
Advertisement

No matter. The show seems like it was created by irritated baby boomers who are sick of their lazy twentysomethings hanging around the nest, regardless of religion. Princesses subtly and not-so-subtly implies that these women, pleased with themselves for living the high life off mom and dad and throwing pool parties "like high school" at their palatial family homes, are actually stunted. I've never seen a Bravo reality show that puts a woman's age beneath her name when it identifies her on screen, as Princesses does. They also film the customary reality TV confessional in the bedrooms of each girl. Since they all live at home, this provides an amusing bit of dissonance. These women are pushing 30, but they all gossip about each other while perched on their fluffy pink-and-white bedspreads.
Even worse, they all have bizarre relationships with their parents. Ashlee, a 4-foot-9 spark plug who introduced me to the concept of "sweatpants heels" (aka heels that she specifically wears with sweats), brings her dad with her to the nail salon and orders him to pick out a color for her. Then there is Amanda, a Lady Gaga lookalike who goes bikini shopping with her mom, Babs, who insists on trying on the same type of skimpy outfit that her daughter does. Then, in a coup de grace of creepiness, Babs parades around in what can only be described as a plunging V-neck cut-out jumpsuit in front of Amanda's boyfriend. (Babs is not Orthodox.)
What's always been funny about the Real Housewives is that the women involved generally pride themselves on their independence and entrepreneurial skills, despite the fact that they are so-called "housewives." The most successful example of this is Bethenny Frankel, who turned her appearance on the Real Housewives of New York into a multimillion-dollar liquor business with her Skinny Girl brand of booze. In the value system of housewives, working hard outside the home is considered a virtue (in particular if it's working hard on a vanity fashion line). But the princesses are pretty content to live off mom and dad and stay in their provincial bubble—not necessarily a failure to launch due to the economic downturn, but a failure to launch nonetheless. Erica says she's not ready for motherhood, telling a friend, "We're so young!" to which her friend, and America, respond, "Not really."
TODAY IN SLATE
Foreigners
More Than Scottish Pride
Scotland's referendum isn't about nationalism. It's about a system that failed, and a new generation looking to take a chance on itself.