Also, My Wife's Morning Breath Smells Like Cinnamon Buns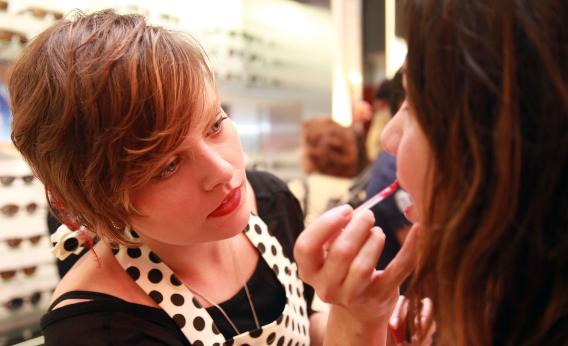 In a bid to demonstrate extreme irrelevance, the New York Times "Room for Debate" section took on the question of women wearing makeup, specifically asking: "If makeup has indeed become the status quo in the public realm, does it ultimately damage a woman's self-esteem, or elevate it?"
Since no one actually cares about this question, the "debate" positions range from "wear makeup if you like it" to "wear makeup or don't, depending on what you prefer." Too bad none of the contributors made things interesting by asking the only real question, which is why men don't get to have any makeup fun. Instead, the male perspective (outside of that of a male makeup artist), came from Thomas Matlack of the Good Men Project, who must have taken a course in "how to talk about your wife's grooming habits":
I just turned 48. So did my wife. We celebrated ten years of marriage on December 28th. She is the most beautiful woman on this planet. That sounds cliché but in my case it's the truth. I love to sneak a glimpse of her first thing in the morning, before she puts on makeup or clothes. She has slate blue eyes that sparkle in a particular way. My stomach turns inside out every time she looks at me. It's as if the whole sun has been transported into those two orbs of light.
He wants you to know his wife restricts herself to a "tasteful" makeup regime and maintains a "rockin' body" before concluding with this:
So when it comes to makeup and self-esteem I plead ignorance other than to say women should do whatever they want. That includes my wife, by the way. As long as she knows that I love her most when she has nothing on.
Scintillating stuff, but sadly for Matlack, preening teenage boys on Tumblr beat him to the punch months ago with the trend of telling women through handwritten signs that boners are best served by presenting a look that men can believe is "natural" beauty.
While some might see this as a positive development on the "just be yourself" front, I do not. It's not liberating to hear a man who has never had to live a day as a woman tell us that we're silly bunnies who don't know what we're doing with that powder brush. And what's more empowering than the pressure to look, without any effort at all, like the media-driven fantasy of "natural" beauty? After all, we all wake up in the morning with dewy perfect skin and naturally dramatic eyes, just like Zooey Deschanel (who wears fake eyelashes to get that natural look) or Kate Winslet (who I've never seen without mascara or her eyebrows drawn on).
So, in closing: You'll pry my black eyeliner and red lipstick—makeup that undeniably looks like makeup—out of my cold, dead hands. I don't always wear it, but regardless, I refuse to embrace the fantasy that women just roll out of bed looking this way.