New Study Is Good News for Women Who Want Men Who Cook and Clean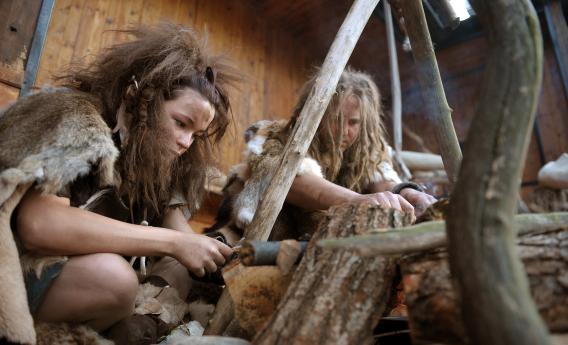 What do you want in a mate? If you're a free-thinking, independent, feminist woman in a relatively egalitarian society, you might want all kinds of things: a guy with a sense of humor, maybe, or who likes to cook exotic foods. And if you're not overly familiar with certain annoyingly persistent theories of mate selection, you'll be surprised to find out that you're looking for all the wrong qualities, evolutionarily speaking. You're supposed to want someone stronger, smarter, and richer than you. Someone who would sire healthy offspring and protect them from saber-toothed cats on the Pleistocene Epoch savanna.
And if you're a free-thinking, independent, feminist man in a relatively egalitarian society, you might not realize that you are supposed to prize youth, fertility, and chastity (a woman who will birth all those babies you're supposed to protect and let you know they're really yours) over quirky taste in movies or a love of travel.
It's tricky to disprove the notion that some human trait is the result of evolution. The logic is circular: if some trait exists, it must not have been fatal to our ancestors and it may have helped them reproduce. To critique a claim of evolutionary privilege, you have to show that the trait has no genetic component and therefore can't be inherited, or demonstrate that the trait is instilled by culture, not necessarily biology.
The researchers used a World Economic Forum measure of gender equality to rank the 10 countries as (a) relatively gender-equal, (b) backwards but improving, or (c) screamingly sexist (my terms, not theirs). And the results were clear: The more egalitarian the country, the less likely men and women were to value traditional qualities that Buss and co. believe to be innate. In Germany, women said they'd very much like a man who is a good housekeeper. In Finland, men were more likely than women to prefer a mate a bit smarter than themselves. In the United States, women ranked chastity as more important than men did. At the other end of the scale, in Turkey and South Korea, women wanted mates with good financial prospects and men valued good cooks.
None of this is especially surprising, but there's something so satisfying about having a chart with a straight line and a steep slope showing that the more egalitarian the country, the less constrained people are by stereotyped sex roles. That is progress.
You can read about mate preferences and sex roles changing in real time in my colleague Hanna Rosin's new book, The End of Men: And the Rise of Women. An excerpt that ran in the New York Times Magazine over the weekend told the stories of women who are adapting (take that, Pleistocene Epoch!) to the new economy and becoming bread winners for husbands who are trained for self-described macho jobs that have disappeared.
And that's the real lesson of evolutionary psychology. The main quality evolution acted on over all those millions of years was our ability to adapt. It's possible there are some ugly, genetically-predisposed legacies of jealousy and mate guarding and sexual deception rattling around in our great ape brains, but they're nothing compared to our capacity to form friendships, value a relationship independent of its ability to produce offspring, and love a highly evolved guy for baking a great loaf of bread.