Jessica Simpson Signs Weight-Loss Deal While Pregnant? Cue the Body Police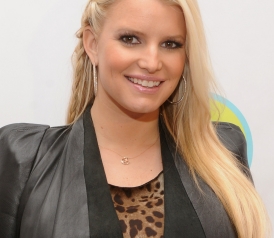 Following an unconfirmed (of course) report by the New York Post's Page Six, rumors that a pregnant Jessica Simpson had signed a $3-million deal with Weight Watchers flurried around the Internet yesterday—and with those rumors came criticism. "All credit to Simpson for taking back control of her body, but … What message does this sprint back to her pre-baby body send to other new moms?" fretted EW's PopWatch. "[S]he might end up spending time at the gym that she should maybe be spending with her newborn child," snarked the Gloss. "The deal would be a great idea since Simspon hasn't bothered to control cravings during her pregnancy, admitting to Rachel Ray that she's been chowing down on toasted peanut butter and jelly sandwiches," clucked the Hollywood Reporter's Fashtrack. (Toasted peanut butter and jelly sandwiches! The horror!)
I'm certainly not thrilled with the news that Simpson is already planning exactly how she's going to lose her "baby weight," but neither am I surprised. Simpson has already experienced in full the media's capacity for weight-related bullying. When she had the audacity to put a pair of high-waisted jeans on her not-perfectly-taut frame in 2009, celebrity blogs were merciless in their excoriation. Simpson later called the mockery she endured for daring to appear unskinny in public her lowest point (which is a pretty good indicator of the moral warping that can occur when a culture values women so highly for their sexual attractiveness).
And now that Simpson has the nerve to try to preempt disparagement about looking anything other than lean and toned within four minutes of giving birth? The same celebrity press that derided her ever-so-slightly-curvy figure in 2009 immediately accuses her of setting a bad example for her fans, having disgusting eating habits (peanut butter!), and being a terrible mother-to-be to boot.
This is a sterling example of the body-policing cycle—weight gain, scrutiny, weight loss, more scrutiny, repeat—that is one of the most powerful motors in the machinery of celebrity journalism. No celebrity can ever achieve the right weight, because there is no right weight; one is always too fat or too skinny, and one is always eating too much or too little. There's no escape. There is only—for the publications that sell copies by stoking readers' body anxieties, for the celebrities who manage to ink multimillion-dollar weight-loss deals, and for the diet companies that rake in consumers' cash—profit.