Questlove Offers Classic Non-Apology to Bachmann for The Roots' Rude Song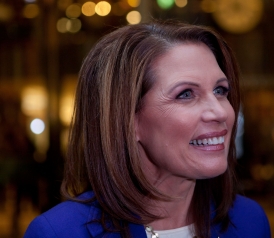 Two nights ago on Late Night with Jimmy Fallon, Fallon's house band, The Roots, played the Fishbone song "Lyin' Ass Bitch," while Michele Bachmann walked on stage (full lyrics from Weigel here). Yesterday, The Roots drummer Questlove made a classic non-apology to Bachmann. You see, he apologizes if her "feelings were hurt," but not for playing the song in the first place:
"The performance was a tongue-in-cheek and spur of the moment decision. The show was not aware of it and I feel bad if her feelings were hurt. That was not my intention."
I can't believe I even have to make this point aloud, but it's never ok to call a woman a bitch, especially not in such a public way, when she is an invited guest. I don't care if she spreads misinformation about HPV or has insane ideas about women's bodies. It's not clever or cute, and Bachmann deserves a real apology from The Roots--not the same "I'm sorry if your feelings were hurt," bullshit. I'm pretty surprised more prominent women aren't coming to Bachmann's defense, so kudos to Rep. Nita Lowey, Democrat of New York, who says it best:
"I do not share Michele Bachmann's politcis....but she deserves to be treated with respect. No female politician — and no woman — should be subjected to sexist and offensive innuendo like she was last night."