A Limited-Edition Rickshaw and Other Absurdities in This NYT Gift Guide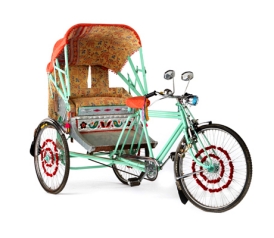 Now that it's officially the holiday season, publications are putting out reams of annual gift guides in order to make a few bucks in commission from readers who click through to purchase. But I don't think any of the guides will be able to hold a candle to this completely insane gift guide in the New York Times dining and home section (via Alex Leo). Granted, the gift guide is touted as "Beautiful household objects for a no-expenses-spared holiday," but even if your wealth is at Bloombergian levels, no one in the universe needs a $2,200 limited-edition rickshaw from Anthropologie. Populist outrage is way too easy to inspire with such fripperies, including $600 salt and pepper shakers.

TODAY IN SLATE
The Extraordinary Amicus Brief That Attempts to Explain the Wu-Tang Clan to the Supreme Court Justices
The Human Need to Find Connections in Everything
It's the source of creativity and delusions. It can harm us more than it helps us.